Sexologist's Guide to Good Sex in 2020
With advances made in sex research, products and resources to help you enhance your sex life, working in this field is a very exciting job! Each year, we are seeing sex toy companies become more innovative than ever and specialists who work in the field offering new and creative ways to overcome sexual issues. If you'd like the insider tips on what to look out for, we've put together this three-step guide on the creators, innovators and technology pushing the boundaries of modern sex. Interviewing some of the people behind the coolest sex-related products and services on the market at the moment, we've delved deep into the latest and greatest to help you improve your game and elevate you and your partner's experience. Think wearable female vibrators (sure to be a winning gift for your girlfriend), eco-friendly sex toys that merge pleasure and sustainability, and an online couple's course that you can do all from the comfort of your own home.
Sex in 2020 can a challenge, but good sex is something that can be controlled. If you're keen to learn more about the must-haves and must-dos in the bedroom this year, let's dive in. Here's 3 of the best sex-related products and services to cop in 2020.
You'll also like:
Sex in These Weird Coronavirus Times; What You Should be Doing
Top 5 Sex Trends of 2020
13 Tips To Spice Up Your Sex Life
Wearable G-Spot Vibrators
The increase in remote-controlled wearable technology has been huge to the fitness industry, but the innovation doesn't stop on the track. We-Vibe's Jive, for instance, is a wearable g-spot vibrator that can be controlled remotely with your smartphone, from anywhere in the world. That's right, if you and your partner are separated by distance, simply have her pop the Jive in and you can take control of her pleasure for the night. For all the readers who love playing dom, this is your ideal toy.
As an added bonus your girl can also use it for solo play and the discreet nature of the product makes it possible for her to enjoy daytime use while she's out and about. Imagine knowing your girlfriend just went grocery shopping with a vibrator rumbling on her g-spot – very kinky! The Jive also comes with 10+ vibration patterns, a silky storage bag and a USB cable. Sure, wearable tech sounds great, but just how does this swanky wearable vibrator stack up?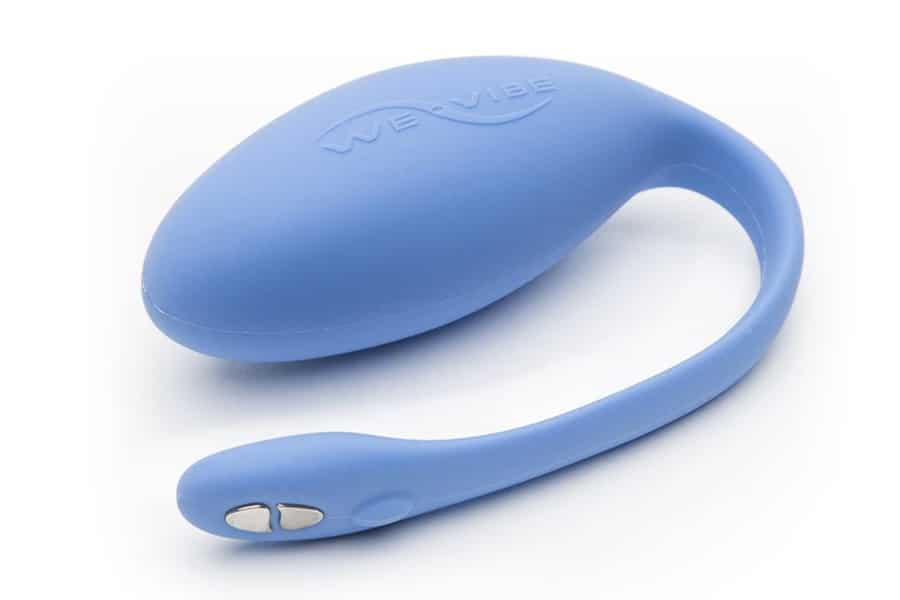 "My favourite things about the Jive is the array of different settings, ability for my partner to control it and how discrete it is for public play," one Jive user told me. "I love that it's versatile and that my partner and I can use it as a foreplay mechanism, privately and publicly. I would recommend the We-Vibe to my friends no doubt, it's so different from any other sex toy I have experienced."
But while toys have been undergoing a mass amount of technological innovation for a fair few years now, there's something to be said for building the intra-personal aspect of the relationship. That's where Georgia Grace's couple's course Modern Sex with Lovehoney comes in handy.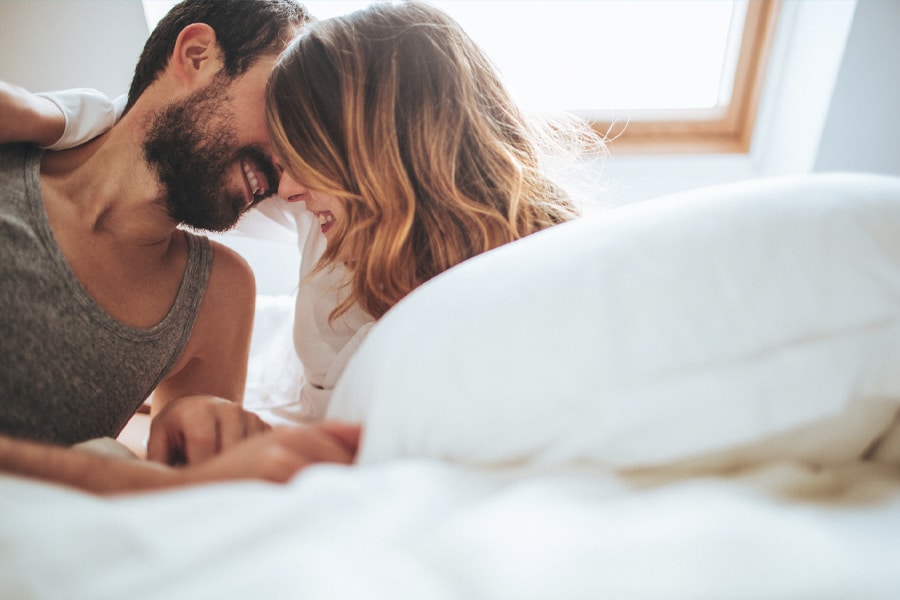 Couples' Courses
If you've noticed your relationship has taken a downward turn lately or perhaps you just feel like you're in cruise control, sex coach Georgia Grace's online couples course Modern Sex with Lovehoney might be the answer you've been looking for. Ideal for couples looking to connect or reconnect with each other, Modern Sex has been designed to teach useful and effective skills to create a fulfilling and pleasure positive sex life. The online resource tackles different aspects of intimacy that you might be thinking about, ones that could improve your sex life dramatically.
"This course is for people of all gender, orientation, identity, relationship choices and stages," Georgia explains. "The course educates, empowers, supports and coaches on a vast range of sexual well-being topics. It is useful for all people regardless of their relationship 'stage' or level of experience. The sessions will be most useful for anyone who is committed, curious and interested."
Connection
The premise of a couples' course might seem a little daunting, but Modern Sex isn't simply an exploration of what's going wrong. Instead, you'll find helpful strategies to create stronger pathways and connections with your partner, building on the positives you've already developed. But trust us, you won't be bored either. "The structure of the course is practical, immersive and hands-on – you'll learn by doing. This is the most effective way to learn, change behaviour and rewire neural pathways for you as an individual, and in your relationship," Georgia says. "There is a range of activities structured for the couple to receive hands-on learning, this includes everything from guided practices, touch-based activities, education basics, communication practices, readings, worksheets, inquiries for the individual and couple, journal and conversation cues and resources. There are theoretical components where you have the opportunity to inquire and discover your emotional, erotic, and physical landscapes, and there are also fun, playful activities, guiding couples to invite joyful exploration into their sensual relationship."
Where the real benefit lies for couples is in the specialisation of the course. Georgia told me that the majority of feedback she's received shows that participants can really get into the personalised nature of the course. "It's designed to meet you exactly where you're at. Couples complete the course in the comfort of their own space and can do it at their own pace (though I do provide a recommended structure to get the ball rolling)," she says. "You can spend as much time as you need, and revisit any topics you want to dedicate your time and attention to."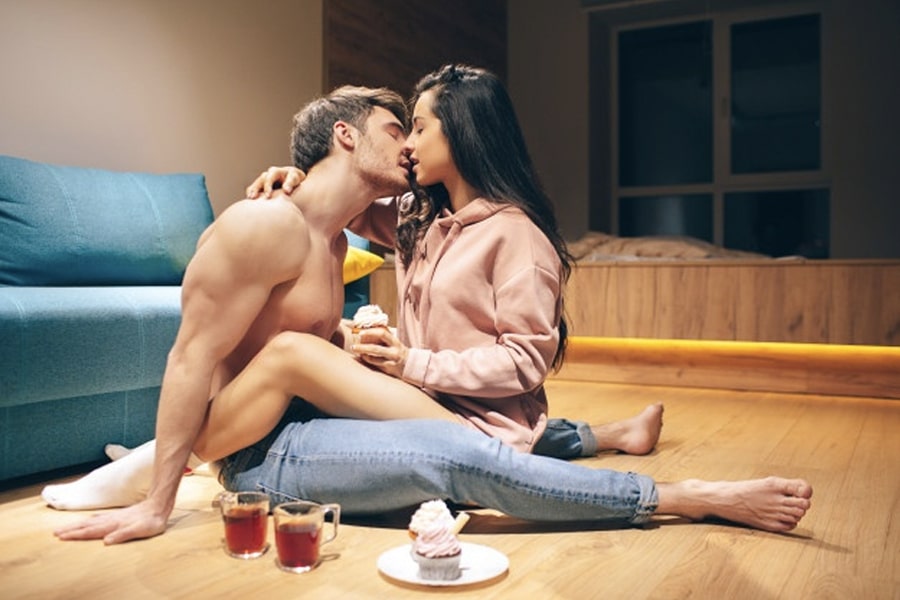 Overcoming Issues
For those going through certain intimacy issues, Modern Sex with Lovehoney has the ability to change perceptions and open new conversations around sex, ones you may have been avoiding for some time. The result is a stronger and power sex life that can enrich your relationship. "They've (the participants) found the content empowering and relationship-shifting. The course makes sense of some of the most common issues couples face," Georgia says. "It normalises the challenges and supports couples to work through issues, empowering them with the skills to then do it on their own. Couples have enjoyed the simple but powerful practices. So often intimacy can feel really complicated, this course strips it right back, brings them back to the basics and sets the foundation for a fun, sensual, grounded, and intimate relationship. Sex and pleasure don't need to be complicated, the course allows for this approach."
Commitment
One thing I had to ask Georgia about was commitment, namely, what happens when one partner is way more into it than the other? "This is pretty common. I often work with couples whereby one person in the relationship is keener to work through the challenges/issues than the other. And that's totally okay – it's just great to see that not-so-keen partner is willing to show up and work through it together," she reveals. "This course will be most useful to participate together, but if your partner isn't interested in learning or doing the exercises with you, there will be activities, ideas and even practices you can take away and integrate into your relationship. It's important for you to know; you are responsible for your own pleasure. So if you do the course on your own, go you!! When you change, shift or grow, you will also influence or change the dynamic of your relationship. When the dynamic between you changes, the relationship also changes. And here's the powerful part, if the relationship changes, your partner changes. So even if you do the course on your own, you alone can have a powerful impact on your relationship."
I love the sound of this course! An added bonus is that it's all online so for those of you stuck in lockdown right now, Modern Sex with Lovehoney is a great way to use your time indoors for growth.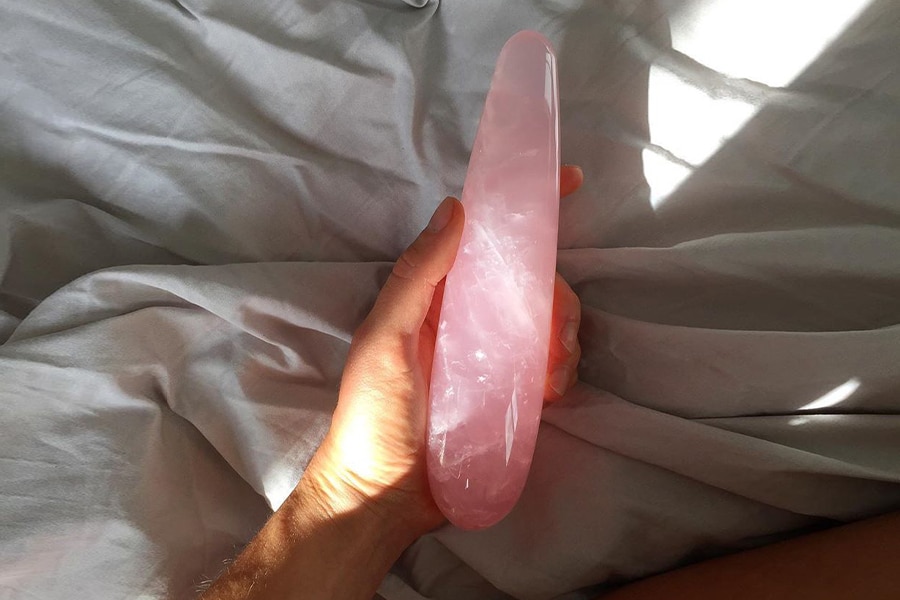 Eco-Friendly Sex Toys
Sex toys – they're great for enhancing your sex life, breaking away from sexual monotony and giving you a new perspective on pleasure, but have you ever thought about the impacts your sexy gadgets might have on the environment? Well, Georgia Wall from Motea has! The third and final part of my guide to good sex in 2020 features an interview with Georgia on all things pleasure. Eco-friendly pleasure that is.
"Melbourne-based pleasure company Motea, the brainchild of an occupational therapist and yoga instructor Georgia Wall, create sex toys that aren't harmful to the environment – so you can have guilt-free orgasms knowing the earth hasn't suffered for your pleasure. Motea's line of products includes sexuality resources, and glass (recyclable) and crystal wands for both anal and vaginal play – making them suitable for all genitalia. If you weren't already sold, each Motea order contains no plastic products, plastic packaging, sticky-tape, stickers, plastic-lined pamphlets or bubble wrap. It's a truly modern take on the sex industry. I spoke with Georgia about why she chose to target sustainability in the sex-toy space.
"I think I kept looking out for someone to create a pleasure brand which had a bigger purpose but also didn't take itself too seriously. Plus, selfishly, I really just wanted to buy a dildo without plastic packaging so thought if I wanted the job done right, I'd do it myself," she jokes. As far as the products go, Motea has a lot to offer. But while you might expect vibrators and plugs to dominate the sales, the best-selling list is a pretty even spread. "I'd say it's a tie between the Pleasure Journal by Georgia Grace or our glass wands (applicable to all genders and sexualities)," Georgia says. "I think that really goes to show that people value and need both education tools as well as physical, practical tools."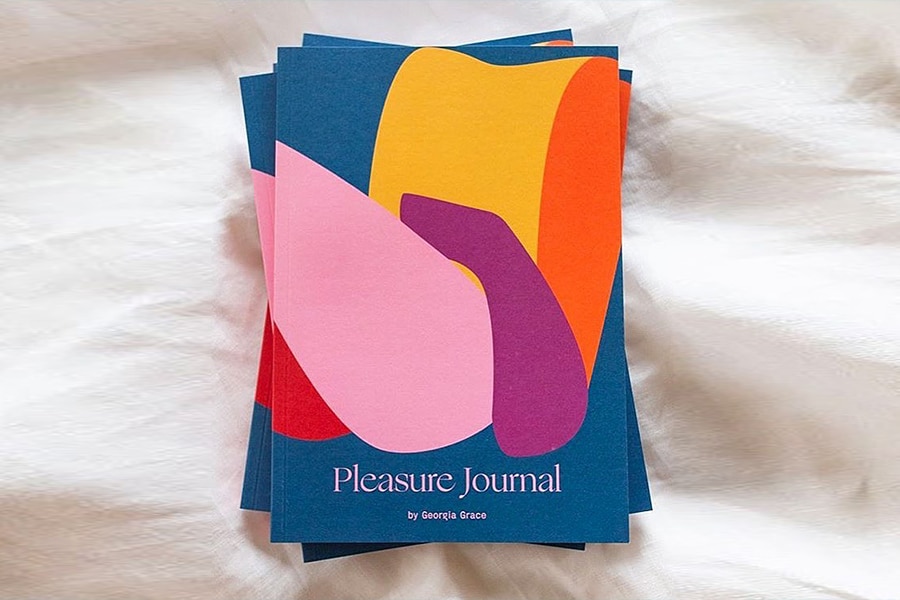 While you might be wondering just what impact sustainable sex-toys will have, the reality is pretty exciting. All Motea products, packaging and postage is natural and plastic-free, with delivery is carbon neutral as standard. "We focus on both the practical side of things through products but also want to empower people with the knowledge and confidence to know how to take care of themselves and feel seen and understood," Georgia says. "We actually give a fuck about what's happening in our community, so engage in programs such as Pay The Rent, 1 Tree Planted and look to support other small, local businesses."
It's great to see a pleasure brand with a more conscious approach. If you feel strongly about looking after the planet as well as your community, I couldn't imagine a better way to shop for sex toys. You'll be masturbating with a purpose!
~ That sums up my insider guide to the industry. Thanks for reading!
Laura Miano is a sex therapist in training whose passion is centred on breaking down barriers surrounding sexuality and encouraging people to explore their sexuality in new ways. She celebrates diversity and believes that each individual is entitled to their own sexual identity. To contact her or see more of her content, email [email protected] or follow her Instagram @lauramianosexology.
You'll also like:
Sex in These Weird Coronavirus Times; What You Should be Doing
Top 5 Sex Trends of 2020
13 Tips To Spice Up Your Sex Life