Inside the $6 Million Renovation for Byron Bay's Sustainable Rain Forest Resort
There is no fighting it. Byron Bay is and probably always will be one of Australia's most loved holiday destinations. The laid-back lifestyle, the good food, the sustainable nature, the beaches, the shopping, the celebrities and, and, and…
It's no surprise then that we jumped at the opportunity to visit a newly renovated glamourous resort to experience this sustainable luxury first hand.
Part of the Crystalbrook Collection (one of Australia's most innovative independent hospitality companies), Byron @ Byron is the latest addition to the hotelier family. From luxury suites, decadent spa treatments, lush rainforest surroundings, and a short stroll to the beach, Byron @ Byron really does have it all.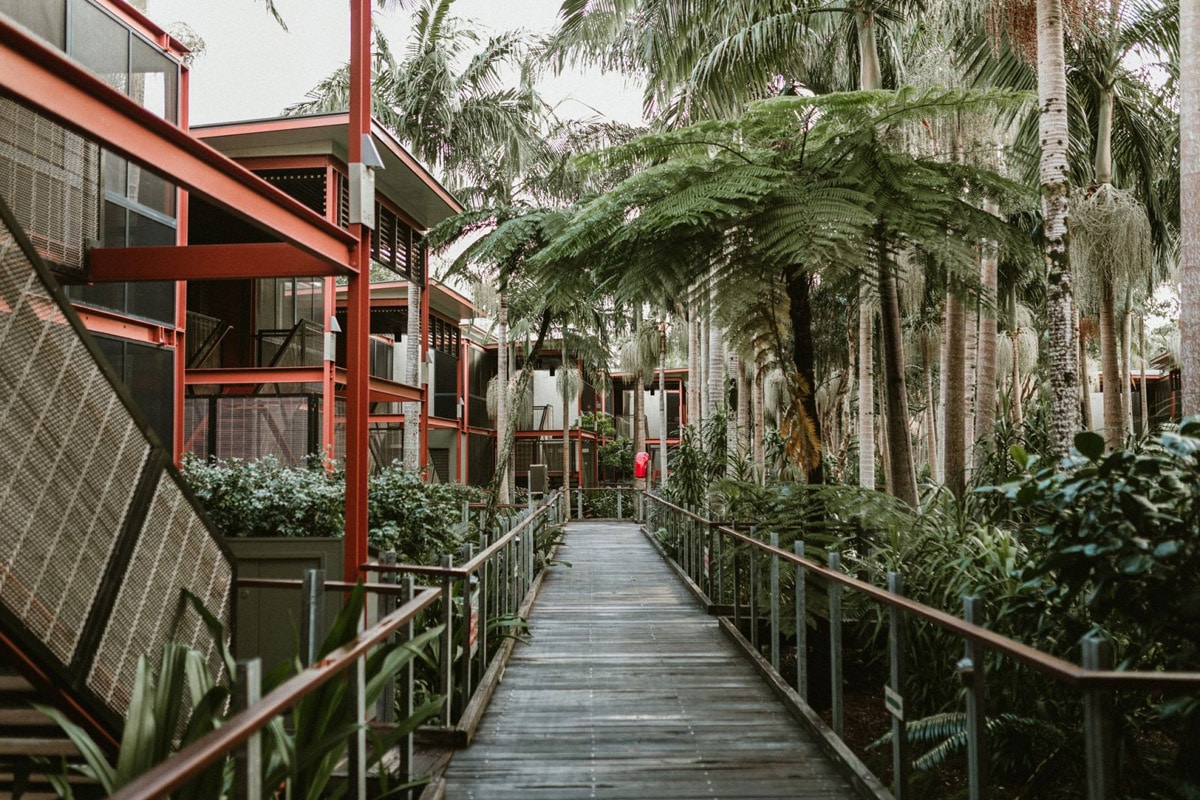 The $6 Million Renovation
Byron @ Byron is everything you love about a resort stay, except it's perched in a beautiful rainforest. The resort is home to 92 guest suites, of which 32 are newly refurbished and utterly luxe. The remaining suites, even though not fully renovated, also feature brand new bathrooms (think retro spa baths & beautiful art) and are a dream to stay in.
With the help of Barney Collins, director at EJE Architecture and Clifford Rip, principal at Suede Interior Design, the new design for the luxe suites was developed consciously by sourcing locally made or recycled materials. In fact, all necessary steps were taken to ensure the resort is as environmentally-friendly and sustainable as humanly possible.
Every single guest suite, whether newly refurbished or not, features its own front and rear veranda for a truly immersive nature experience. When standing on the rear balcony, we almost felt like we were staying in a five-star treehouse.
The on-site restaurant, Forest, is also a must. Led by executive chef Etienne Karner, Forest is passionate about supporting local, so much so that over 80 per cent of their ingredients come from within a three-hour drive of the resort. They also work hand in hand with local farmers and growers to ensure the sustainability theme runs through. The menu is described as being contemporary, approachable, and distinctly Australian, and we couldn't agree more. Even the Byron locals love it.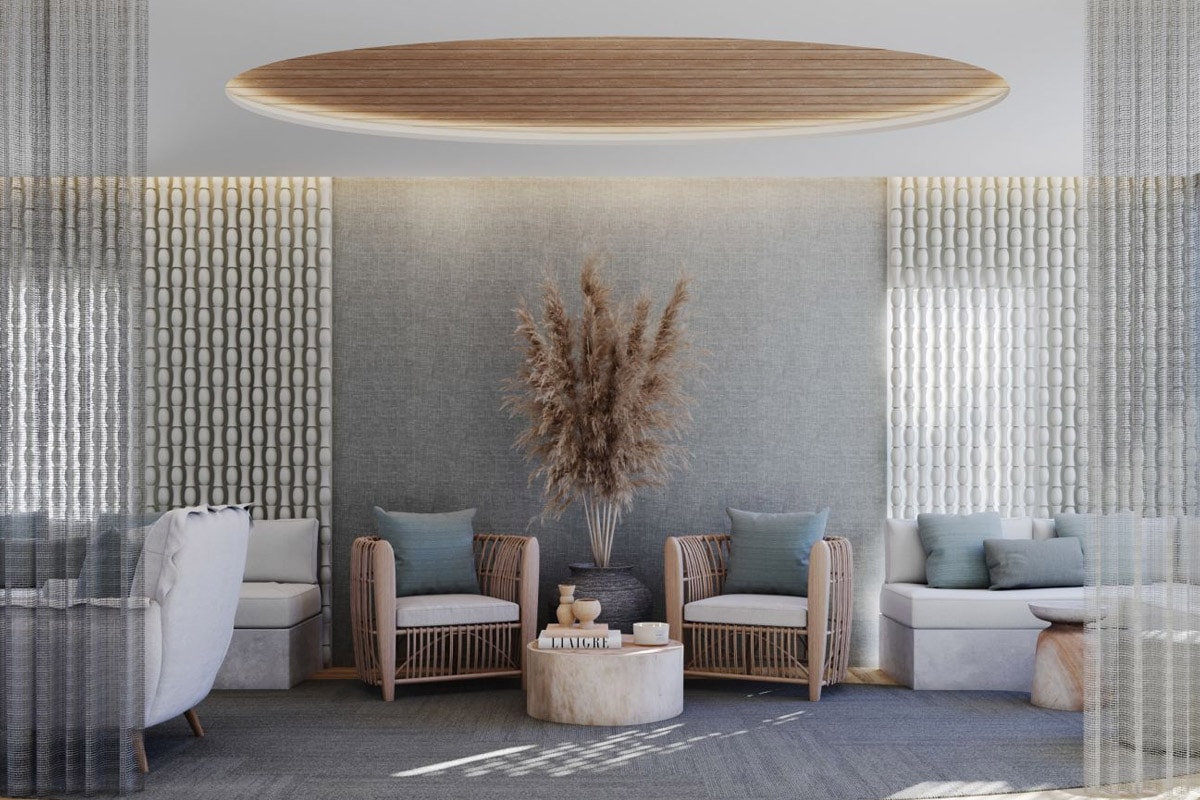 The All-New Eleme Day Spa
What is a resort stay without a spa treatment or two? The Eleme Day Spa is another new addition to the resort having opened in December 2020. The team worked closely with Naomi Gregory, an internationally renowned spa expert, to focus on the healing properties the Byron Bay region has to offer. As soon as you step foot inside, you feel instantly relaxed.
Choose from a range of bespoke face and body treatments, sip on a cup of calming tea and try not to fall asleep during your treatment. Everything about this experience is highly recommended.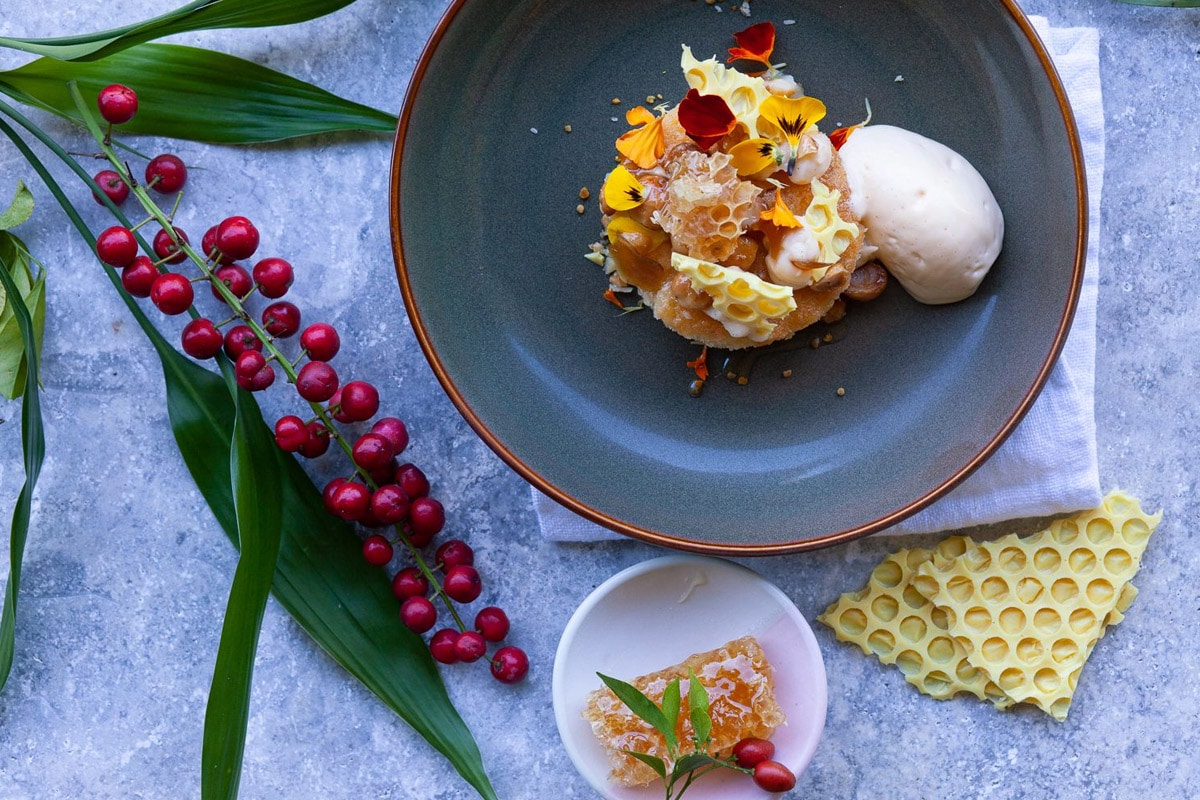 Sustainability
Byron Bay, being the eco-conscious haven that it is, is the perfect backdrop for the Crystalbrook Collection's latest resort. With sustainability at the heart of everything they do, you can indulge without feeling guilty.
If eco-travelling excites you, then wait till you hear about their innovative sustainability initiatives. From housing their own honeybee colonies to providing staff with uniforms from a sustainable local fashion label to donating $2 from every Koala lager sold to the Byron Bay Wildlife Hospital. And of course, all their amenities oblige. Even the coat-hangers are made from 100 per cent recycled materials.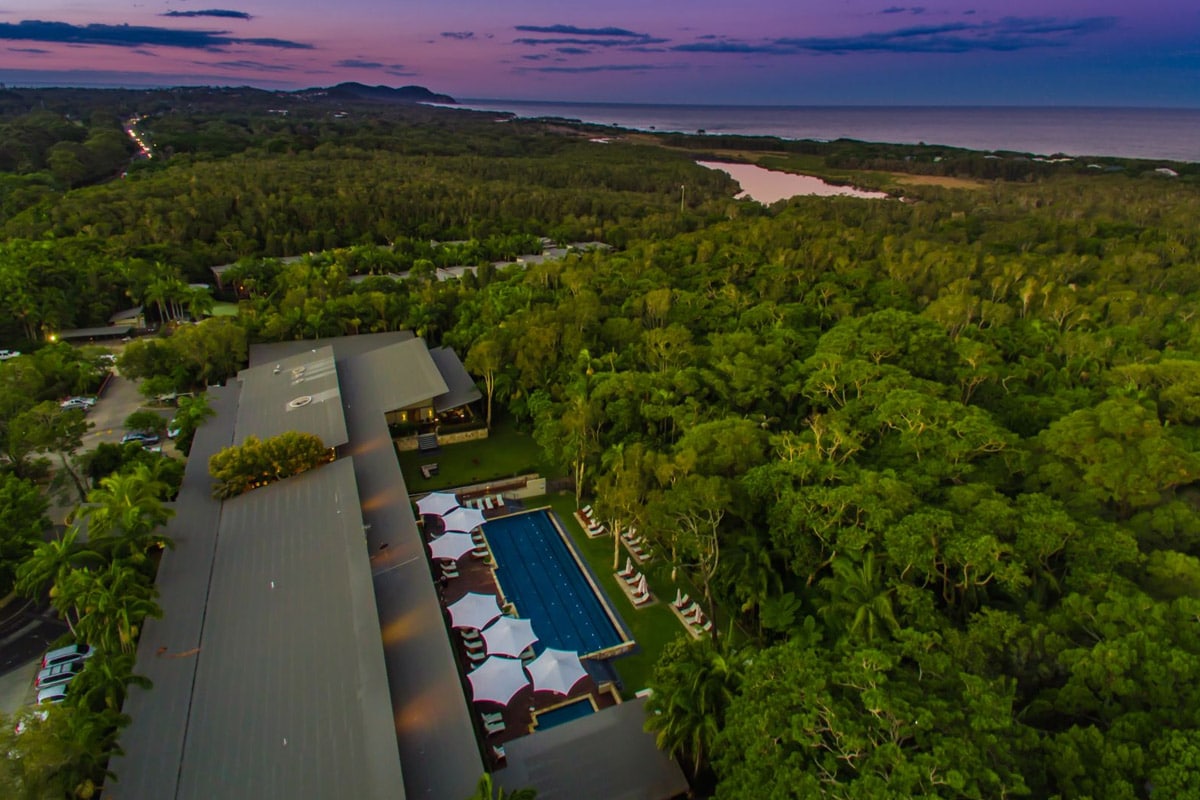 Location
Located on the brink of Byron, the resort is perfectly situated to not be too close to the Byron rush (in peak season) but still close enough to immerse yourself in the Byron energy. The resort also offers free bicycles to all guests which means you're only a short bike ride away from pretty much everywhere.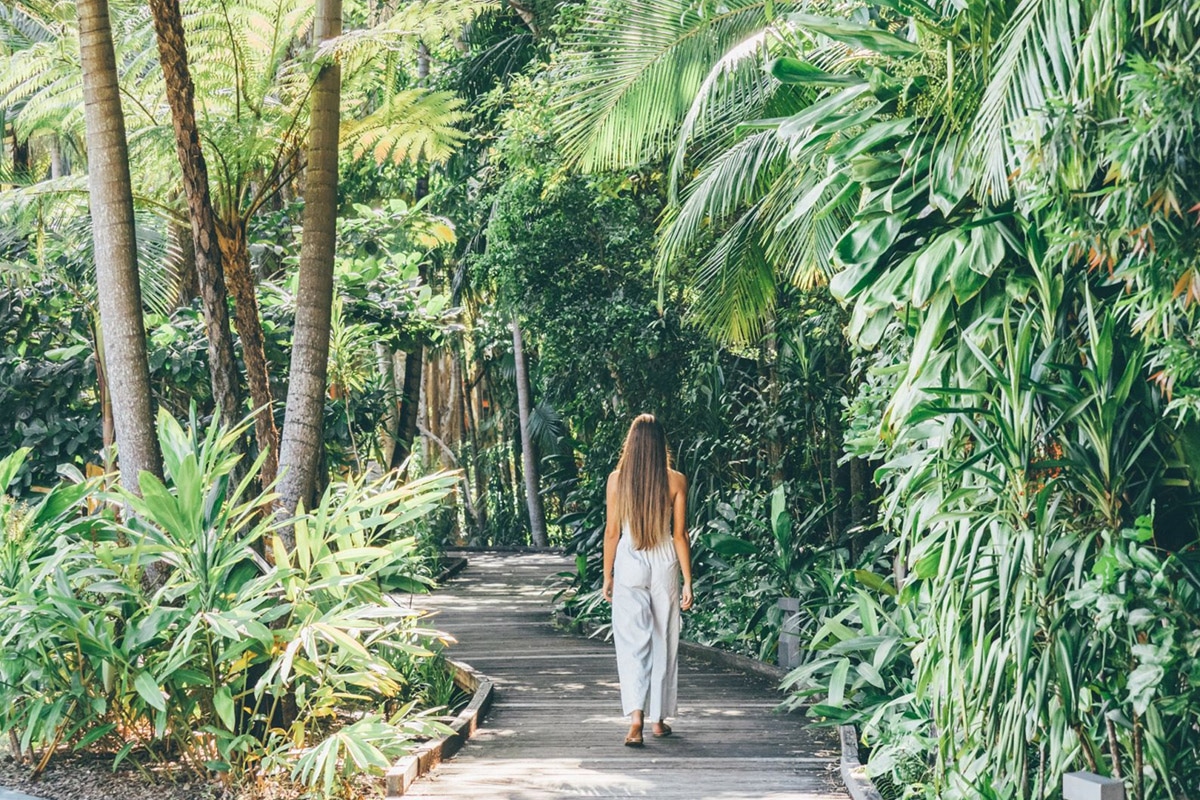 Activities
Where do we even begin?
If you can manage to pull yourself away from the resort (and no one would blame you if you didn't), then there are heaps of activities in and around Byron to immerse yourself in. Of course, there is the usual Byron beaches, shops, cafes, and bars, but if you're up for some adventure, we would recommend these two must-dos: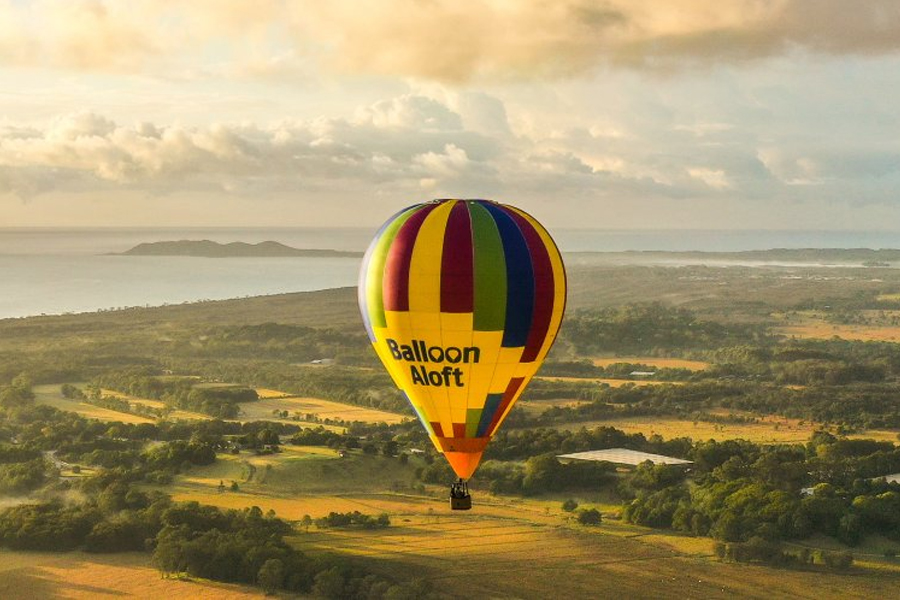 Balloon Aloft
Waking up before 4 am is never ideal, but when you go for a sunrise flight over Byron Bay, it is so worth it. Breathtaking views are a given, but just how breathtaking is mind-blowing. The whole experience is so memorable, from how the balloon is blown up, operated, and steered to the landing, walking inside the grounded balloon, and the packing up of it. What perhaps is even more special, is that unlike the technological advancements over time of pretty much everything in life, with hot air balloons, the same original methods are still used today as all those years ago when it was first invented.
For a true once-in-a-lifetime experience, check out Balloon Aloft. They also have offices in Camden, Hunter Valley, Mudgee & Canberra.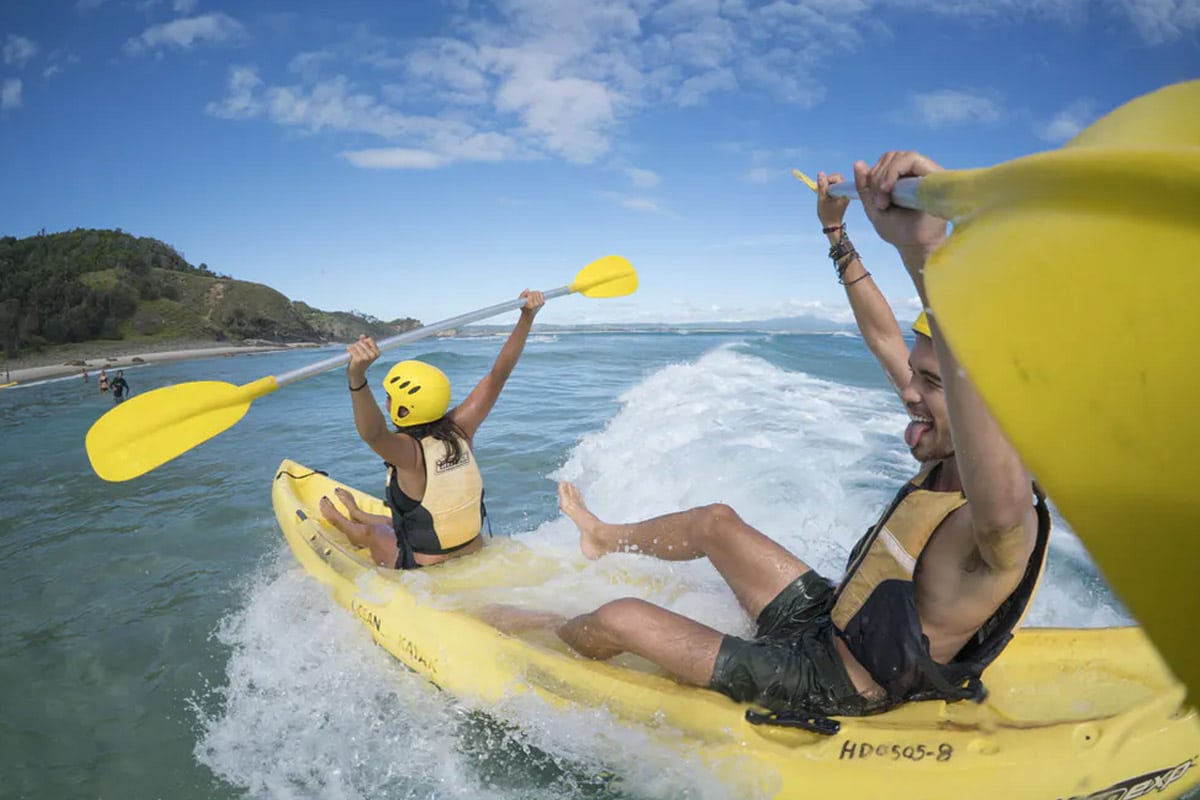 Kayaking with Dolphins
I don't think I know anyone that would not love the opportunity to Kayak with dolphins. Kayaking around the Cape Byron coastline is reason enough to get out on the water, but when you're just about guaranteed to see and paddle alongside dolphins, this would be an activity hard to beat. In fact, they're so confident that you'll see dolphins, and if you don't they'll offer the same experience to you again at no cost any date in the future!
Thank you to the Byron @ Byron team for making our stay so relaxing and memorable. We will no doubt be back.