16 Best Things to Do in Queenstown
It's no secret that New Zealand's Queenstown is the pulse of the South Island, thanks to the activities, adventuring, delicious food and culture waiting to be explored at every turn. From skiing to skydiving and everything in between, there's no shortage of stuff going on in this vibrant New Zealand city. With so much to do, it can feel almost overwhelming, which is why we've broken it down to the best things to do in Queenstown, NZ. Let's go.
Best of Queenstown
Best for Adventure: AJ Hackett Bungy & Swing
Best for Foodies: Fergburger
Best for Luxury Fans: Helicopter to Milford Sound
Best for Fitness Freaks: Mountain Biking
Best Experience: Skiing
Best Things to Do in Queenstown
If you're looking for things to do in Queenstown, you've got a lot of options. From skiing and snowboarding to mountain biking and wineries, the New Zealand city is home to a whole host of terrific activities. Here are the best things to do in Queenstown all year-round.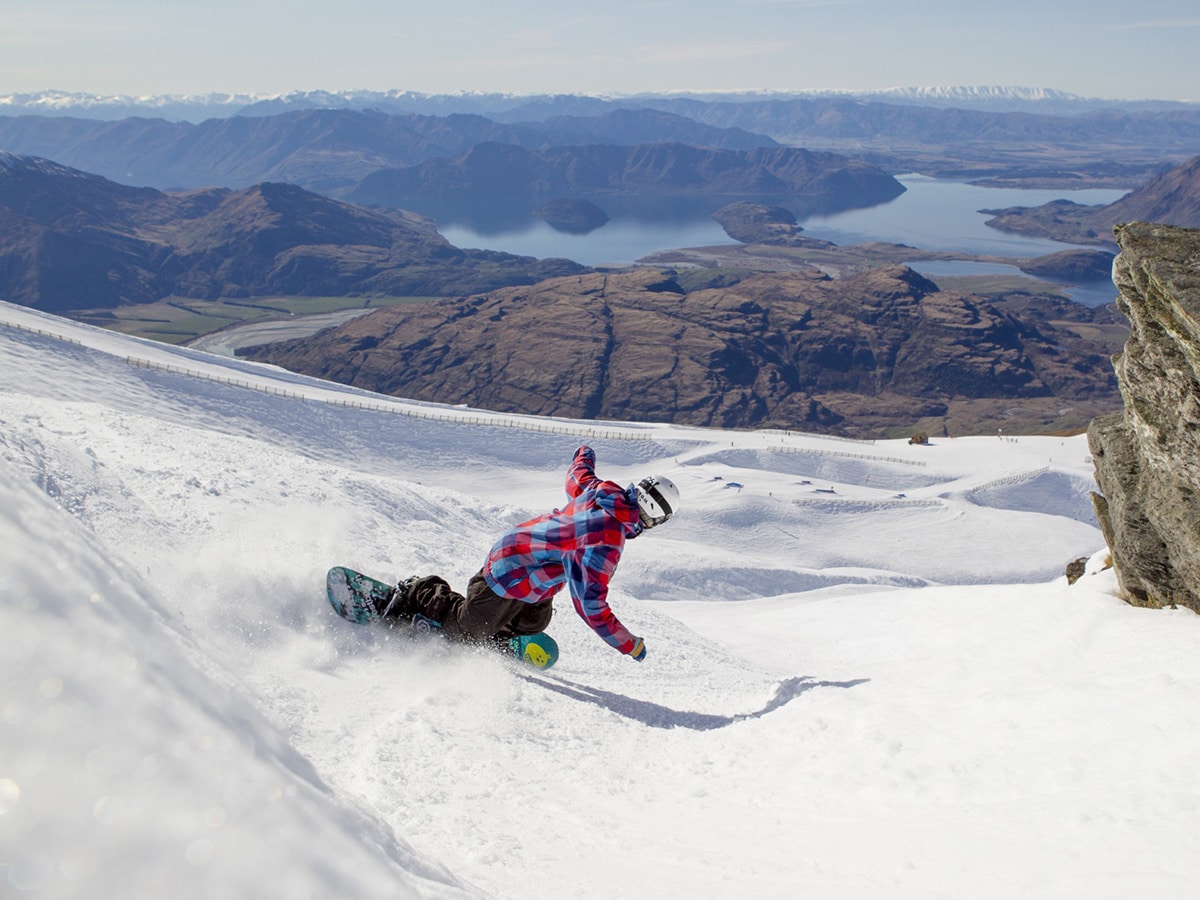 1. Skiing
Best: Experience
If you're visiting Queenstown during the colder months, no visit is truly complete without a trip to the slopes. One of the most popular Queenstown activities thanks to its icy, mountainous landscape, there are plenty of opportunities for skiing in Queenstown. The top ski fields close by are the Remarkables, Coronet, Treblecone and Cadrona. Each one caters for everyone from first-timers to seasoned skiers, and they're all within driving distance – Cardrona even has a shuttle service that takes you from your accommodation right to the snow.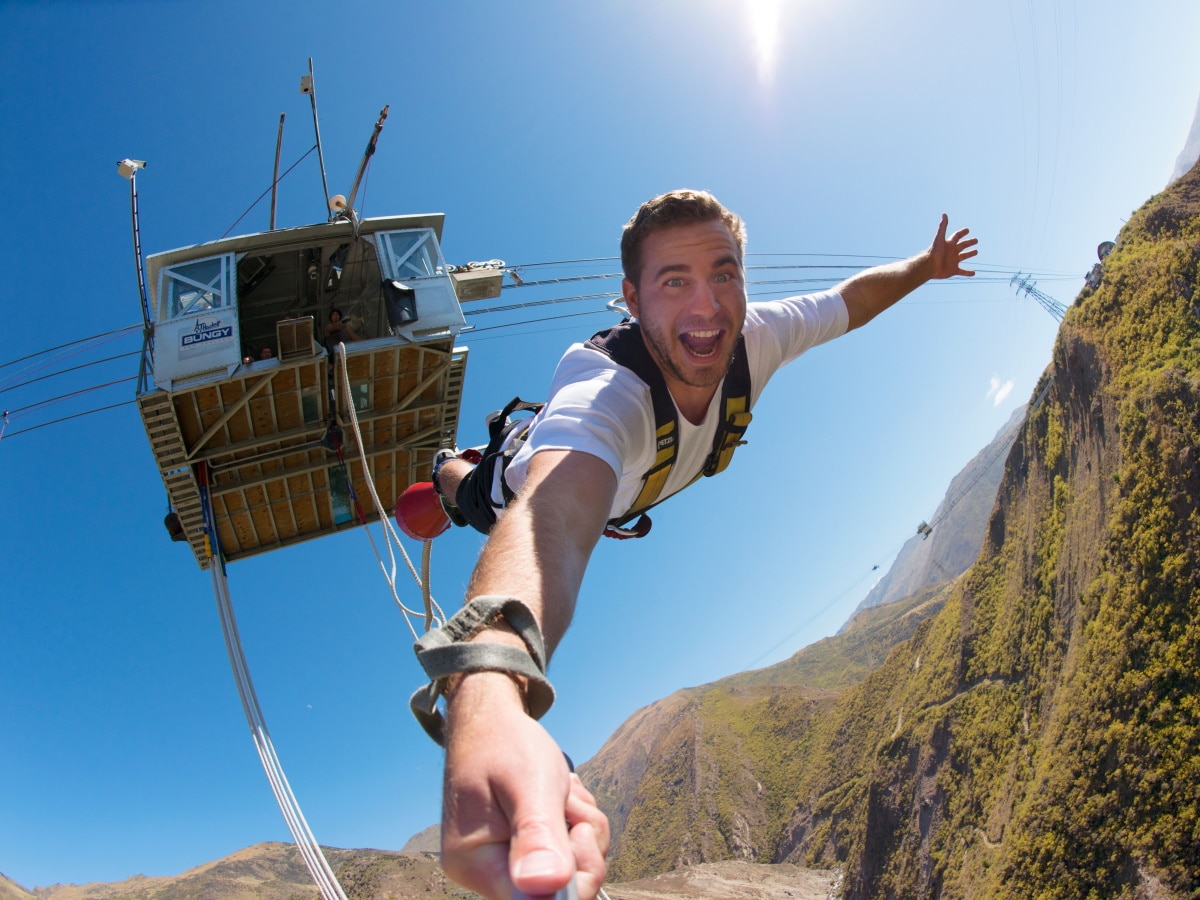 2. AJ Hackett Bungy & Swing
Best for: Adventure
If you're an adrenaline junkie and are wondering what to do in Queenstown, then look no further than a spot of bungee jumping off Kawarau Bridge. Just 20 minutes from central Queenstown is the AJ Hackett Bungy Centre, ready to meet all your adrenaline-fuelled dreams. If you're not quite ready to test your limits bungee jumping, there's also a swing that will take on a 60-metre vertical freefall down a steep cliff face and swing for 200 metres. Either option, you'll get some amazing views and an experience you won't be forgetting anytime soon.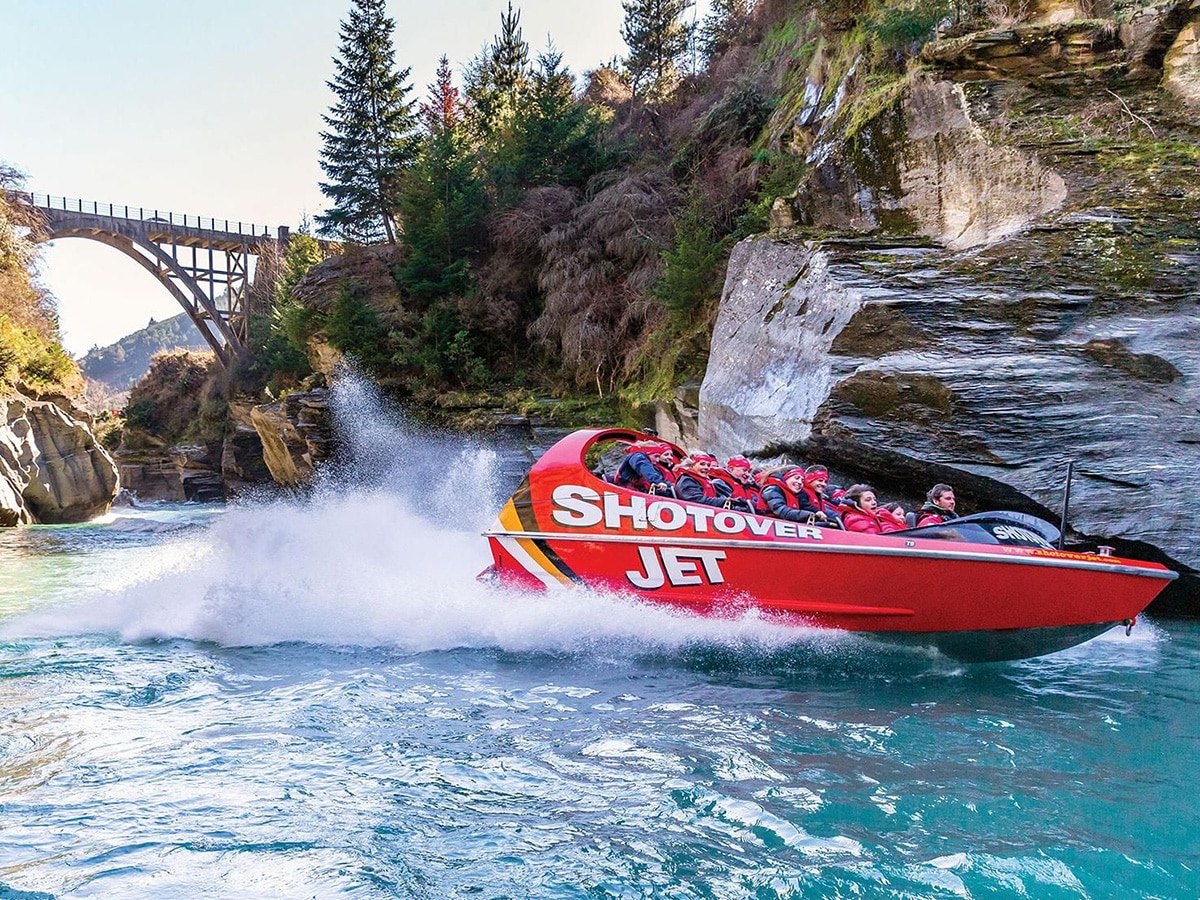 3. Shotover River Jet Boat Ride
One of the best things to do in Queenstown if you like being on the water, and don't mind getting a bit wet while you're at it, is stinging a lift on a jet boat. By far the best way to experience the Shotover River and bask in the surrounding uninterrupted views, the boat takes you to the more unseen corners of town and wind through the Shotover River Canyons. Don't get too distracted by the scenery, however, it's a bumpy ride so hold on!
---
Featured Video from Man of Many
---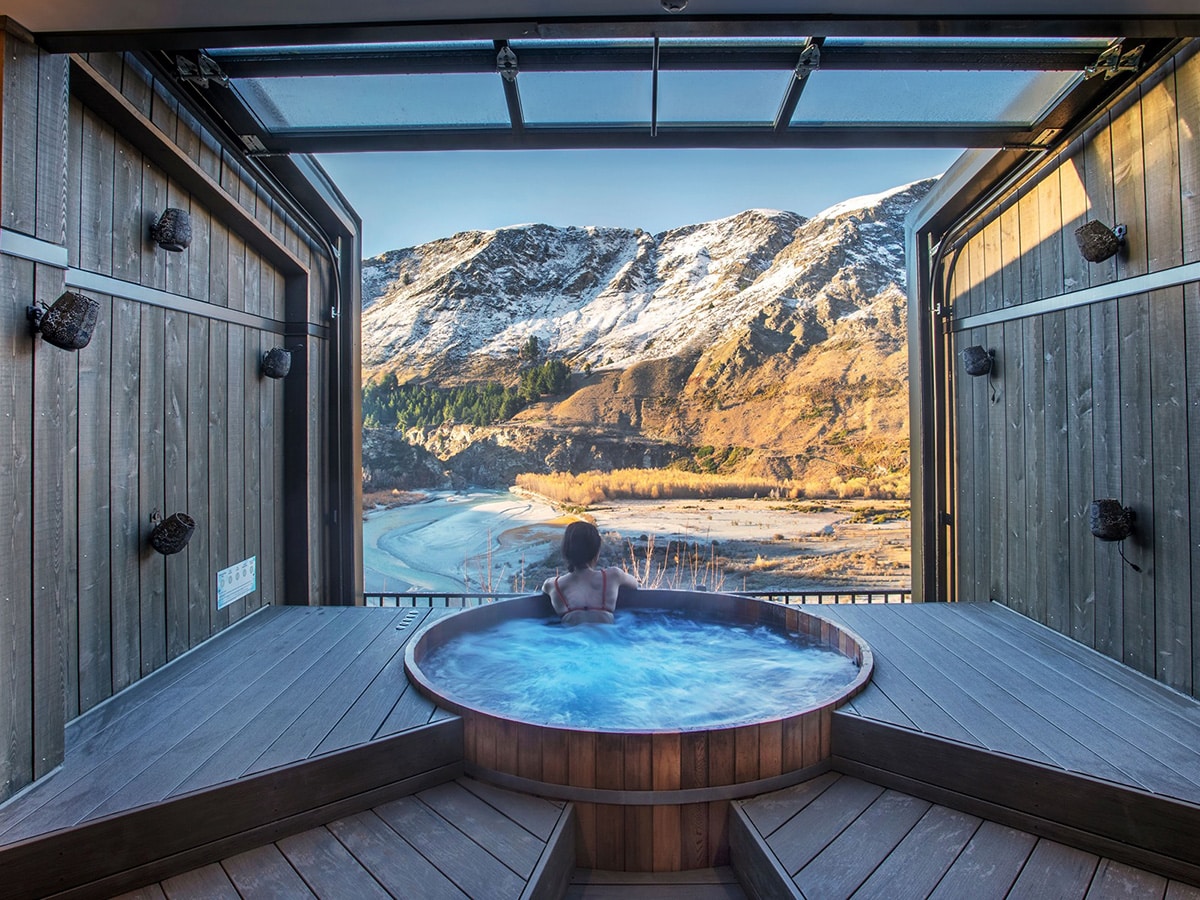 4. Onsen Pools
No matter what you do, if you find yourself in Queenstown, one of New Zealand's most picturesque locales, booking a trip to the Onsen Pools is a must. If you haven't heard of these mysterious pools, they're a sort of day spa offering private, cedar-lined hot tubs overlooking the Shotover River canyon. The ideal way to relax post-adventure, they're boujee, romantic and the closest thing you'll get to the real-deal onsens in Japan in the Southern hemisphere.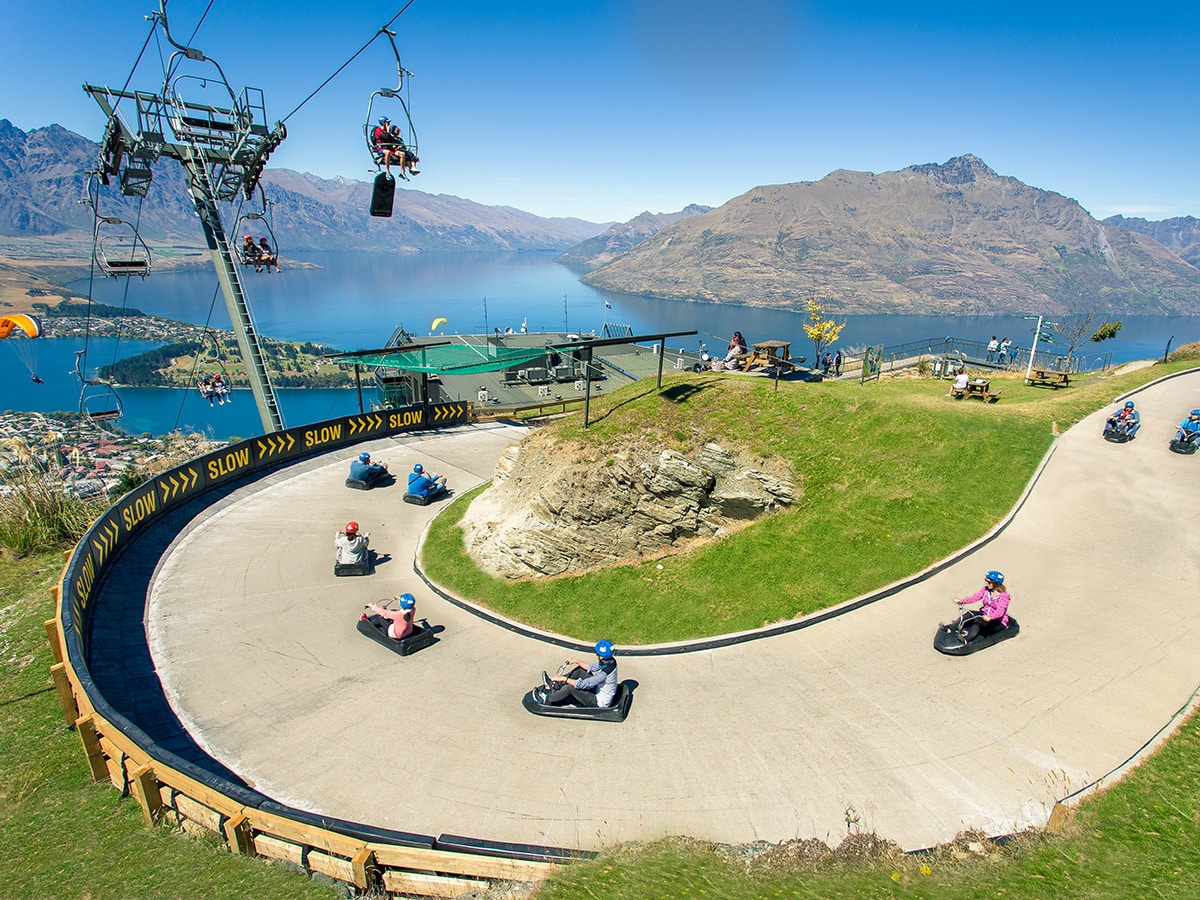 5. Skyline Luge
We all know that when in Queenstown, most things to do consist of an epic mixture of views, adrenaline and all-around good times, and you can experience all three at the Skyline Luge. Jump in a little buggy and make your way down the twisting downhill racetrack – you can also race your friends if they are keen! Try not to get too swept up in the views, or you'll definitely bug a turn.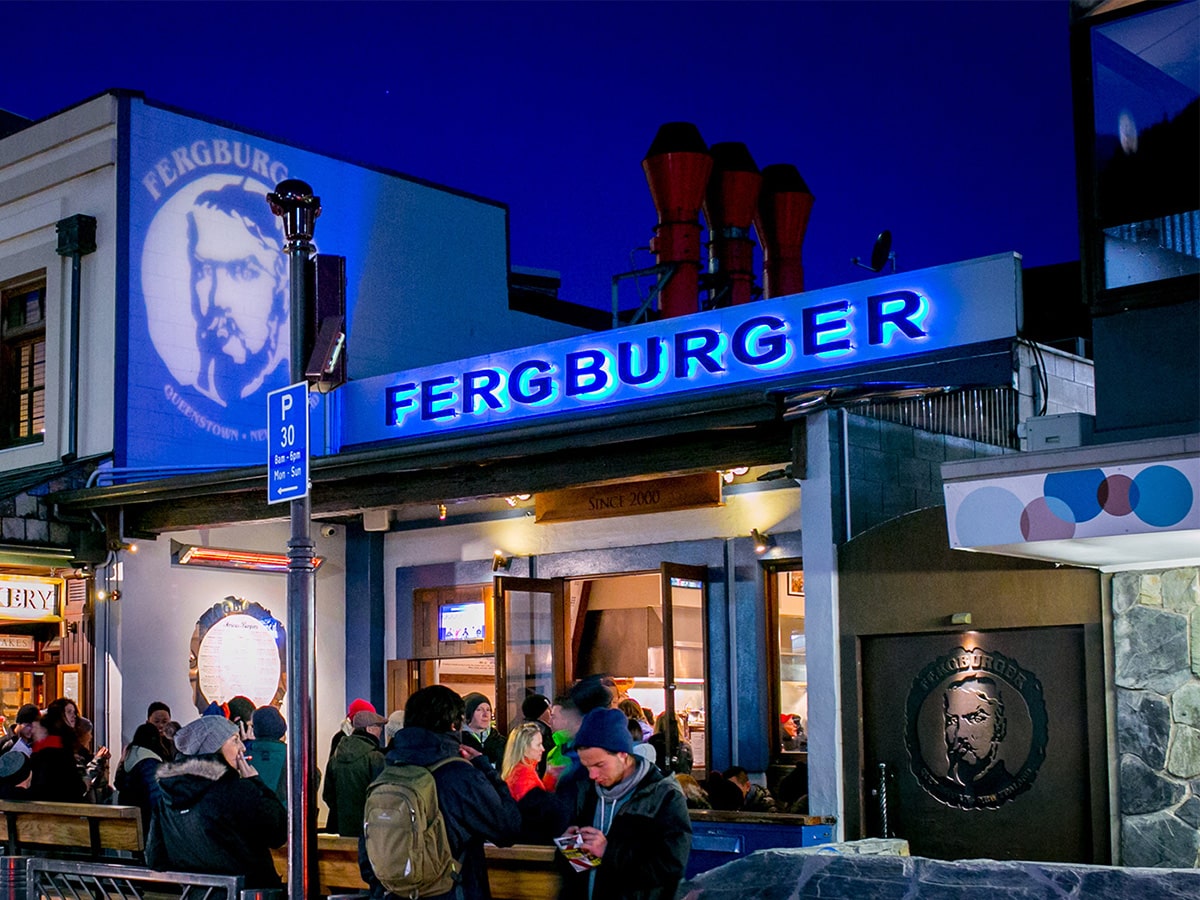 6. Fergburger
Best for: Foodies
A Queenstown must-do for all the foodies out there, Fergburger is an institution. Serving up some seriously delicious burgers for breakfast, lunch and for a drunk feed, we've never tasted anything more delicious. There's always a queue out the store, which says something in itself, and make sure to arrive hungry because these burgers are a feast.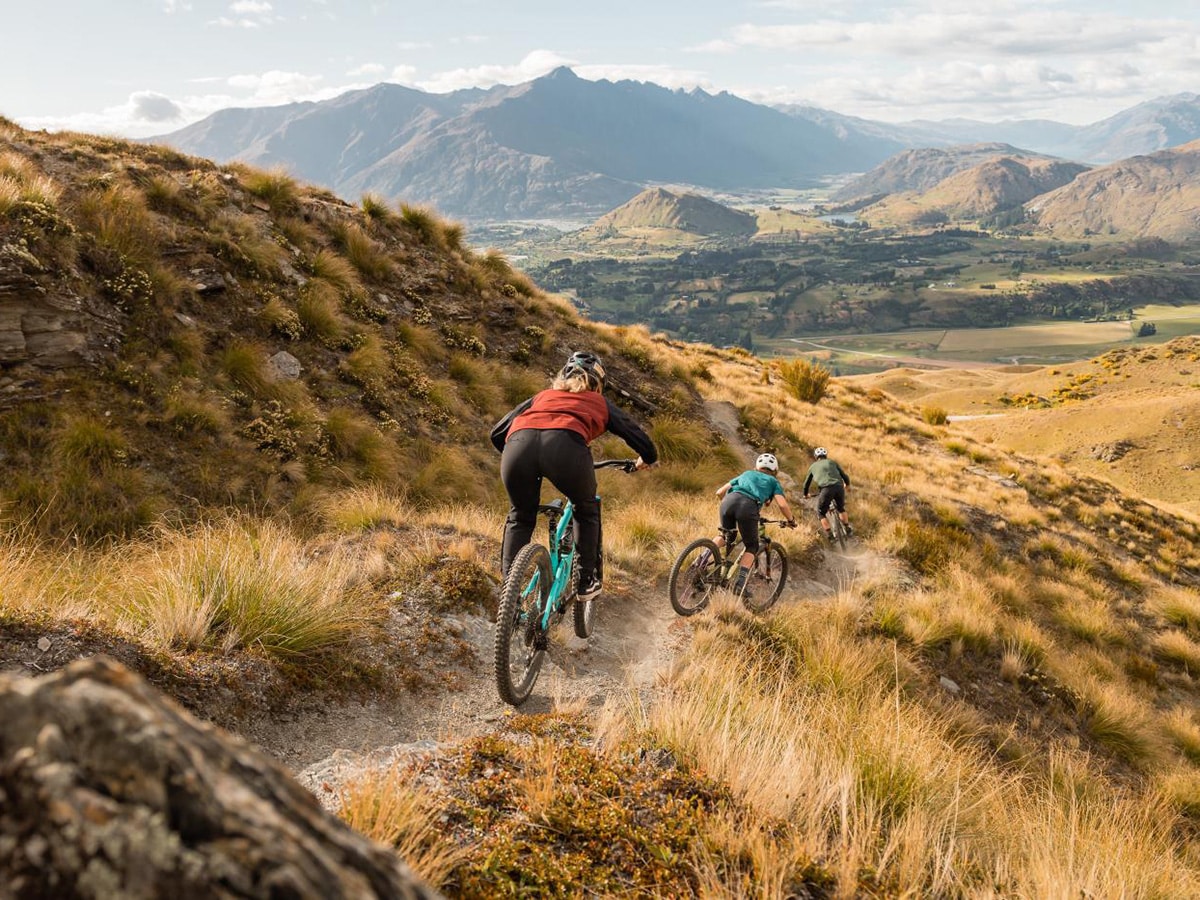 7. Mountain Biking
Best for: Fitness Freaks
The arrival of the summer months in Queenstown means just one thing: instead of hitting the slopes skiing, it's time to hit them with the bike. One of the top mountain-biking destinations in the world, Queenstown has it all, from single tracks and cross country to some epic downhills. You won't have to worry about getting bored.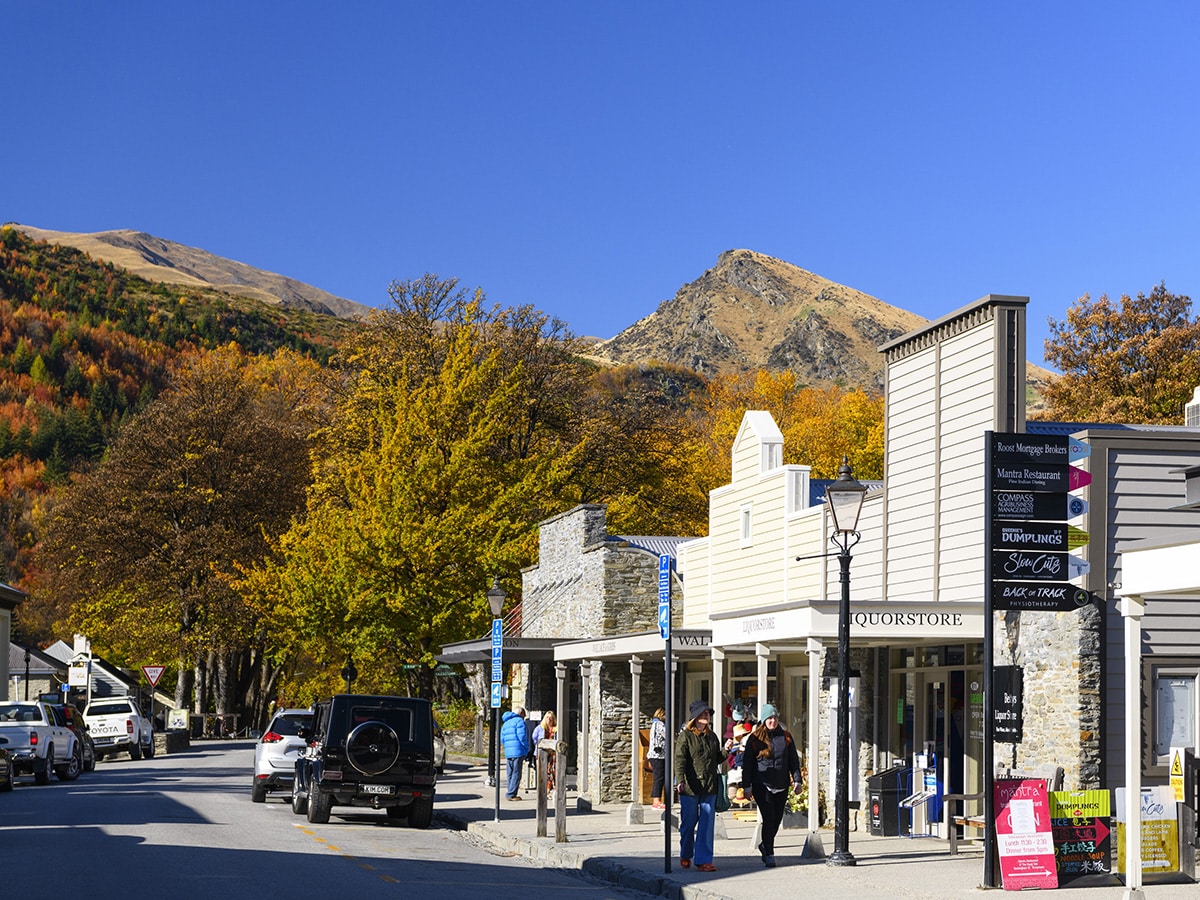 8. Exploring Arrowtown
If you're visiting Queenstown, renting a car is definitely the way to go. With a car, it also means you can explore nearby towns that are just as cool, like Arrowtown, just 15 minutes drive from Queenstown. The town was originally a gold rush settlement, which shines through in its charming, historic streets lined with heritage buildings and old-school pubs. A must-visit if you have some spare time on your hands.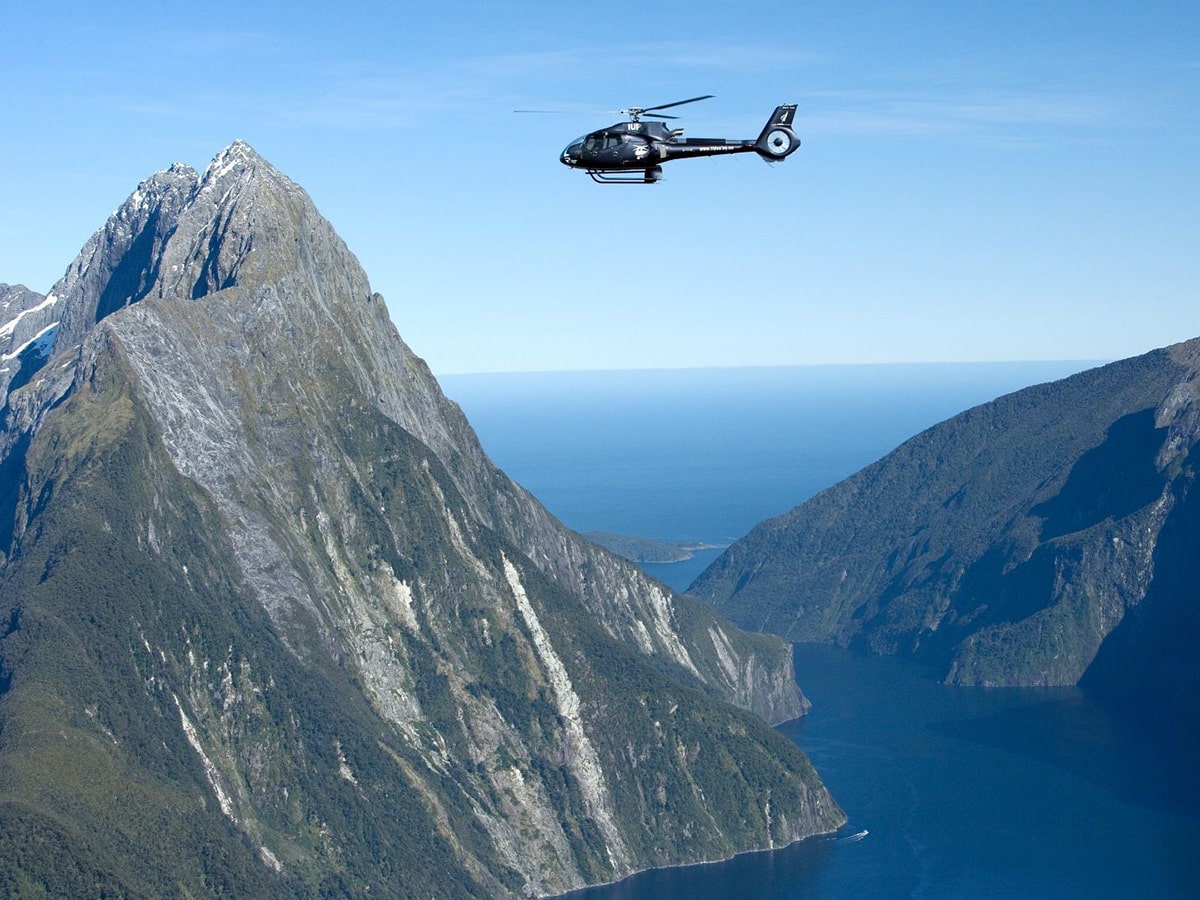 9. Helicopter to Milford Sound
Best for: Luxury Fans
For those boujee travellers looking for things to do in Queenstown, NZ, why not hop on board a helicopter that will take you to Milford Sound? One of the most iconic spots in New Zealand (and the one you see in all the pics), Milford Sound is a trek to get to, to say the least, so seeing it from above is the next best thing. You'll be met with jaw-dropping views, rolling hills and once you arrive, will most likely have it all to yourself!
10. Canyoning
As one of the best things to do in Queenstown, where you get to immerse yourself in the beauty of nature, canyoning here is an adventurer's dream come true. There are lots of canyons here for you to discover, all just a short drive from Queenstown central. If you're more experienced, there are also plenty of climbs where you can jump off waterfalls when you get to the top! How Good.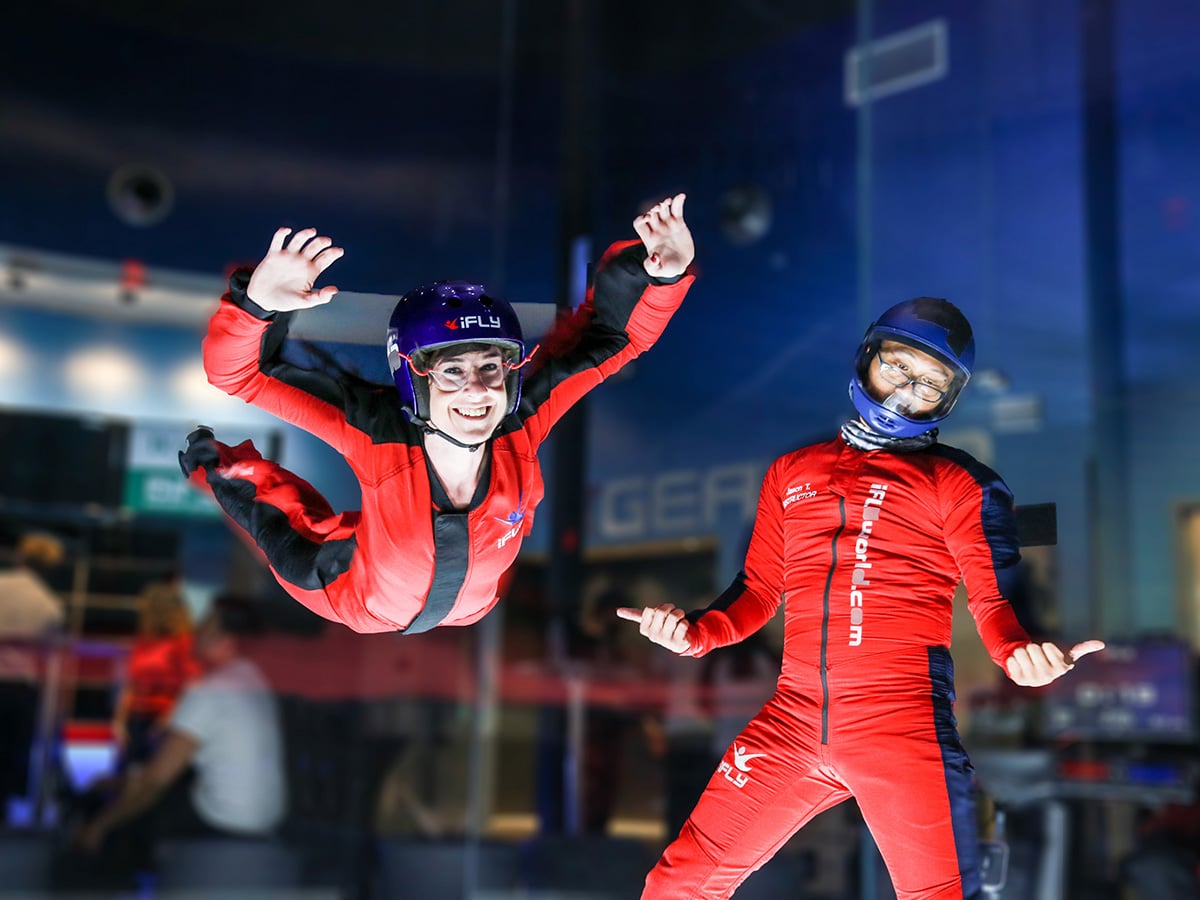 11. Indoor Skydiving
Alright, so maybe all your mates are adrenaline junkies, and you need to ease into things. Luckily, you can, thanks to iFly Queenstown. Experience skydiving in Queenstown with a twist, basking in the views from the comfort of the indoors thanks to their new 360 Virtual Reality Experience. It's basically like the real thing!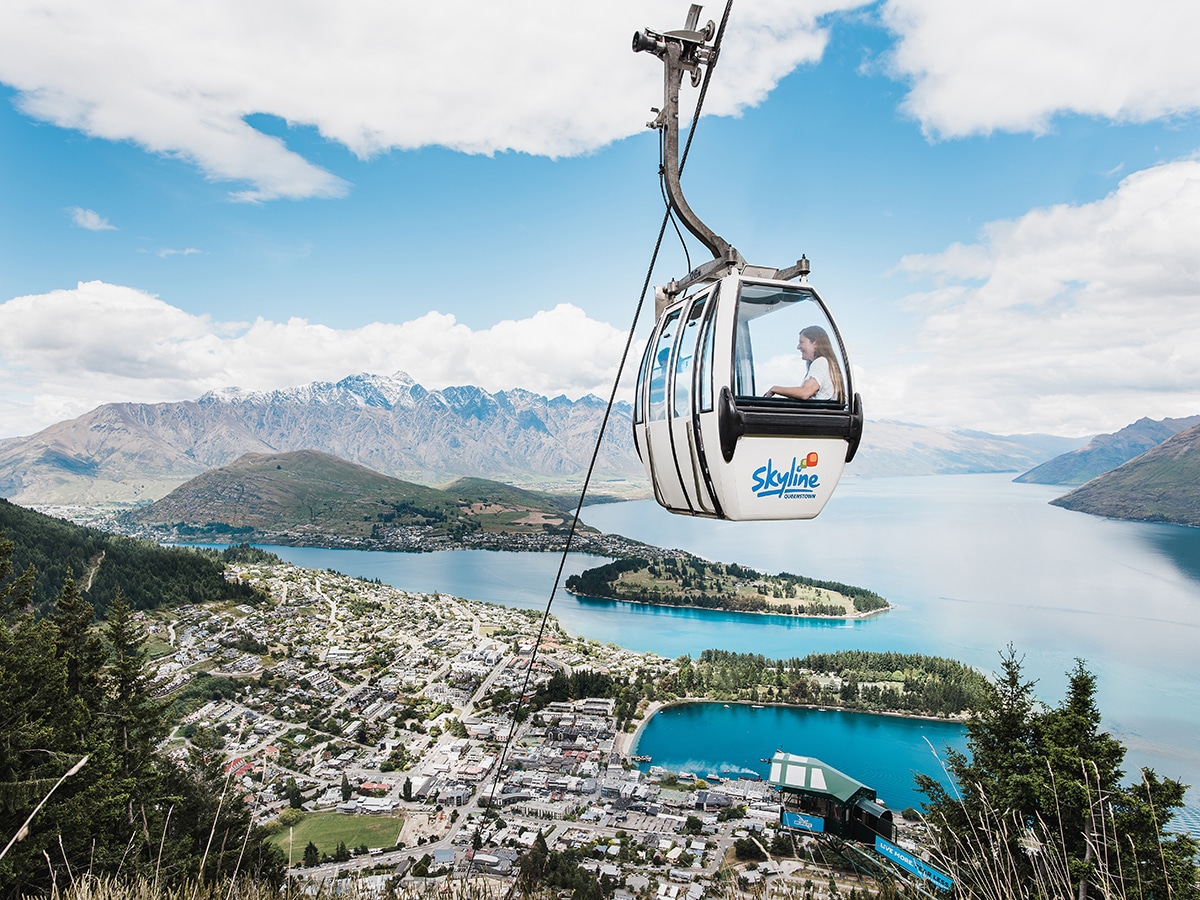 12. Skyline Gondola
One of the best things to do in Queenstown if you prefer sitting back to soak in the views is taking a scenic ride on the Skyline Gondola. The ride will take you 450 metres above Queenstown and Lake Wakatipu. When you arrive at the top, the fun has only just begun, with plenty of things to do like a downhill ride on the Skyline Luge or a delicious meal at Stratosfare Restaurant.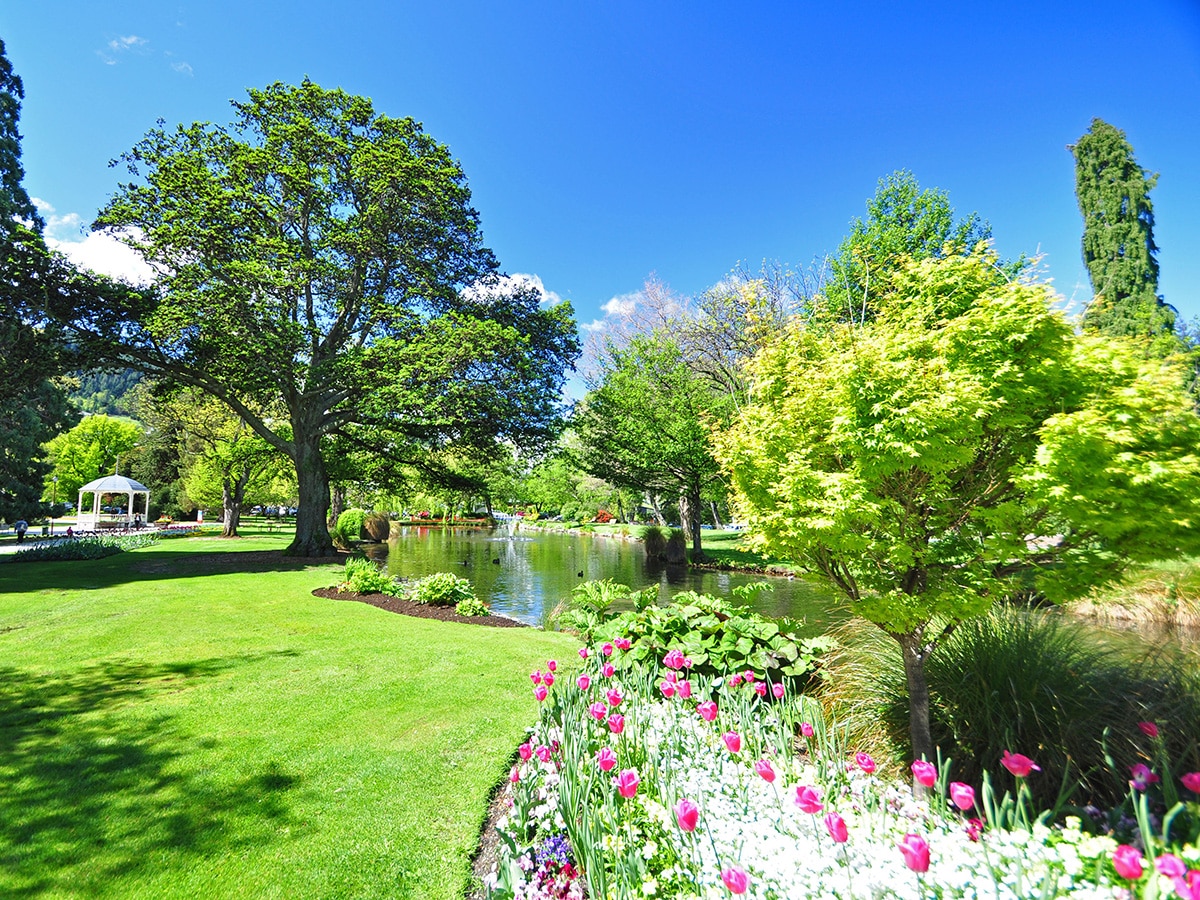 13. Queenstown Gardens Walk
If you're looking for a moment to relax in between all of your adventuring, what better way to do so than a stroll through the tranquil Queenstown Gardens? The gardens are peaceful and offer beautiful views of Lake Wakatipu, in addition to bowling, tennis, and ice skating during the winter months.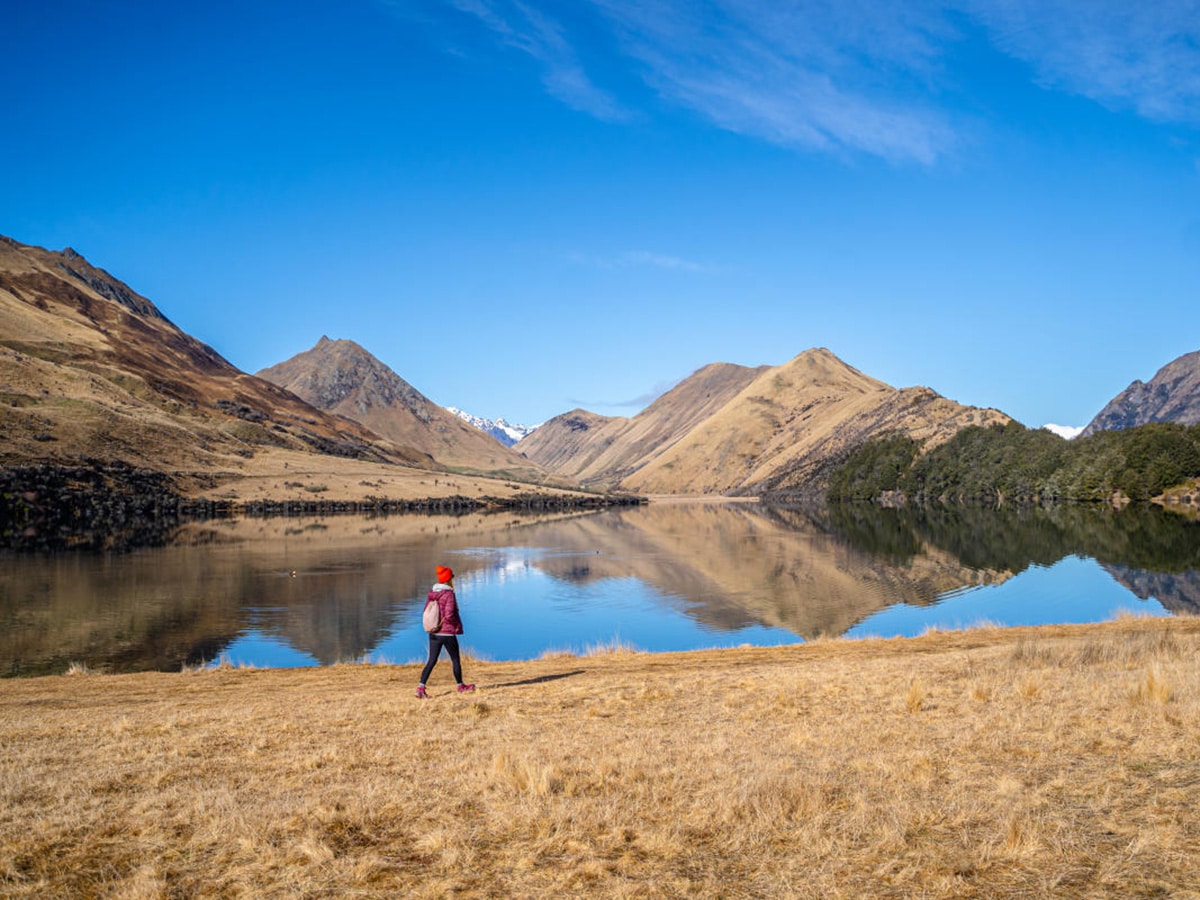 14. Swim in Moke Lake
Not for the faint-hearted, given the chilly temperatures of the water in New Zealand, but for that exhilarating feeling we all love after a cold dip, we recommend a swim in Moke Lake. A short drive from the city and surrounded by beautiful mountains, it's the perfect spot for a swim. Or, if you prefer not to get up too close and personal with the chilly waters, perhaps paddleboarding or kayaking is more your cup of tea.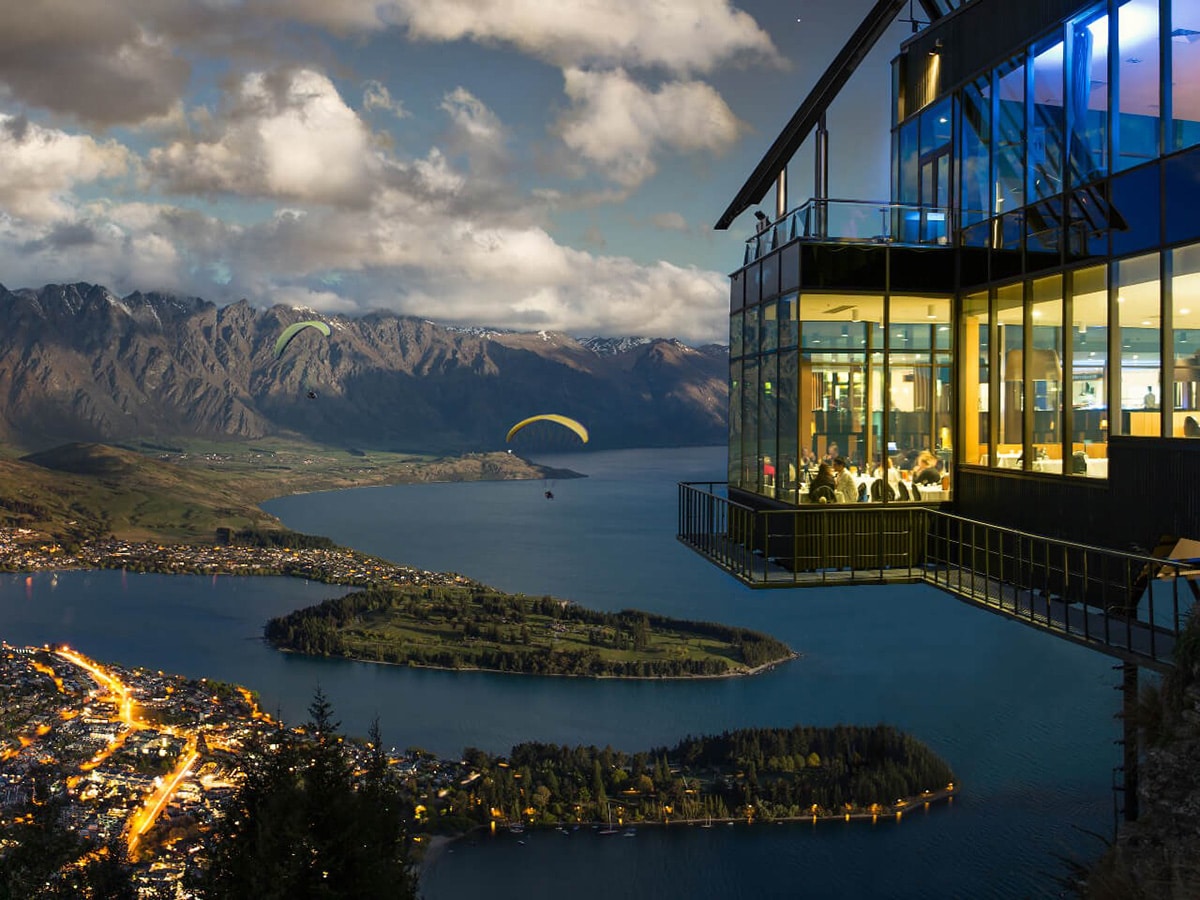 15. Queenstown Restaurants
You don't have to be a foodie to know that one of the things to do in Queenstown is to eat. Essential for fuelling all the thrill-seekers out there by day, there are heaps of amazing restaurants in Queenstown, from fine dining, to contemporary Asian restaurants and everything in between. Check out our rundown of the best restaurants in Queenstown to discover more.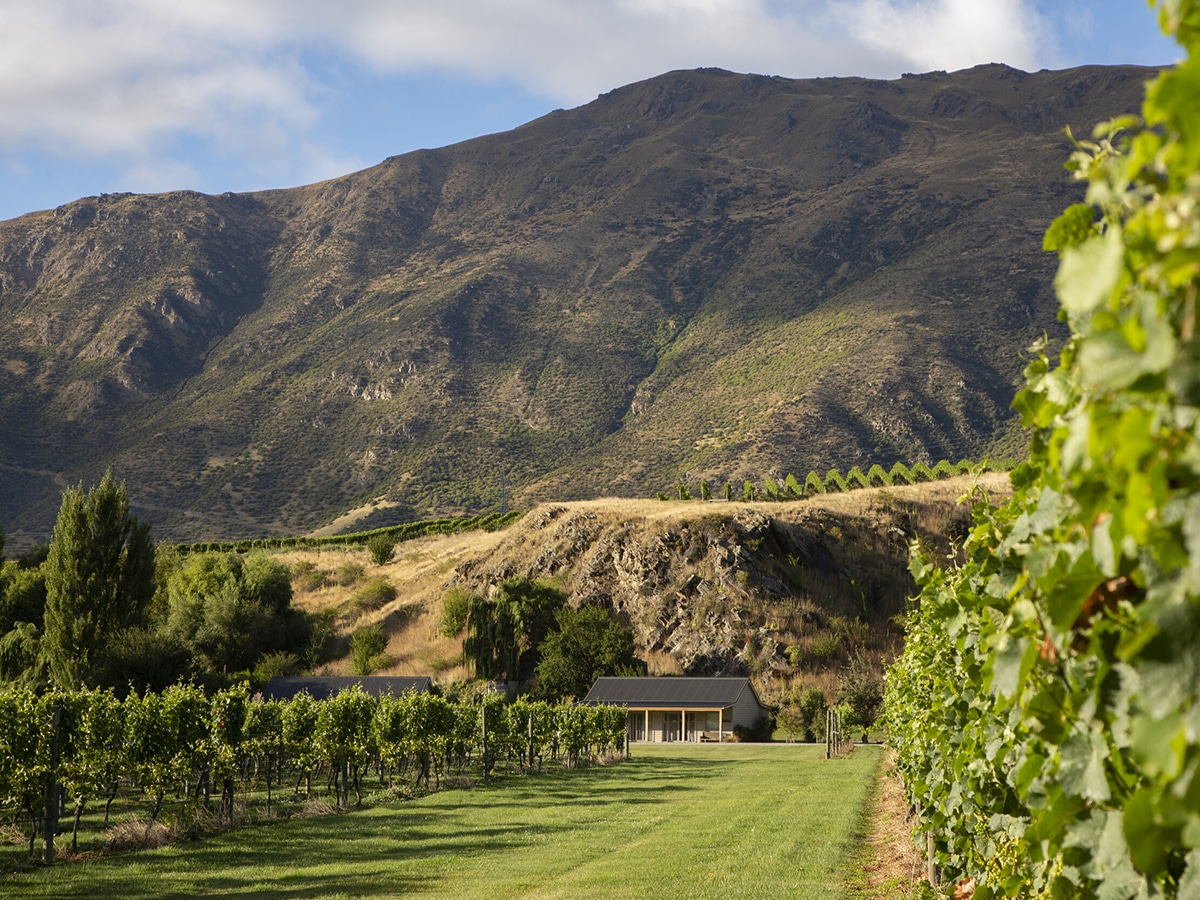 16. Queenstown Wineries
Queenstown is conveniently bordering Central Otago, which you may or may not know (depending on your wine expertise) is one of the top wine regions in the world. Thus, there are countless wineries around the area for you to explore and indulge in all the delicious drops on offer. Go for a wine tour, tasting or visit cellar doors, the world is your oyster! Our favourites include Amisfield and Gibbston Valley.
Things to Consider When Travelling to Queenstown
Accommodation – It's not always easy to find a spot to stay in Queenstown. Try to book ahead early as it can get quite busy during peak season, particularly if you're looking to visit the ski slopes while you are there.
Off-Peak/On-Peak – Queenstown gets busy and as a result, expensive. If you do plan on heading over during the on-peak season, make sure you are well financed. Many of the key areas will be booked out and prices may rise during this period, so be prepared.
Snow Season – While Queenstown is revered for its ski fields and resorts, there's a lot more to the town than just skiing and snowboarding. In the non-snow season, you can enjoy a host of great activities, from mountain hikes to biking and pretty much everything in between. Before you book, consider if it's worth visiting during the off season.
Alternatives to Queenstown Travel
Unsure if you're fully prepared and ready to head to Queenstown this holiday season? Why not check out our other articles on what you need to get your next snow holiday kicked off?
General FAQs
How long is the Queenstown Hill Time Walk?
The Queenstown Hill Time Walk is 1.5km long. Located right in the heart of the city, the walk is highly demanding and challenging, with Te Tapu-nui having been built to show the past, present and future of Queenstown.
Is Queenstown worth visiting?
Queenstown is one of New Zealand's most popular tourist destinations and an absolute must-visit if you are heading to the country.
---
Featured Video from Man of Many