25 Best camping spots in Victoria
If you're looking to set out on a camping trip in Victoria, you'll find it hard to resist the panoramic views from Tidal River or the bustling coastline of the Mornington Peninsula. Camping near Melbourne is waking up in the morning with a fresh cuppa and hearing Kookaburras echoing through the trees of the Grampians while you explore the many epic walking trails of Mount Buffalo.
There are so many options to choose from, and that's why our team of adventure enthusiasts have directly sampled and experienced some of the best camping spots in Victoria compiling an independent list of their favourites.
RELATED: These are some of the best walks near Melbourne when you want some fresh air.
Best camping spots in Victoria at a glance
Our list of the best campsites in Victoria goes like this.
Now we've had a look at our favourites, let's check out the complete list.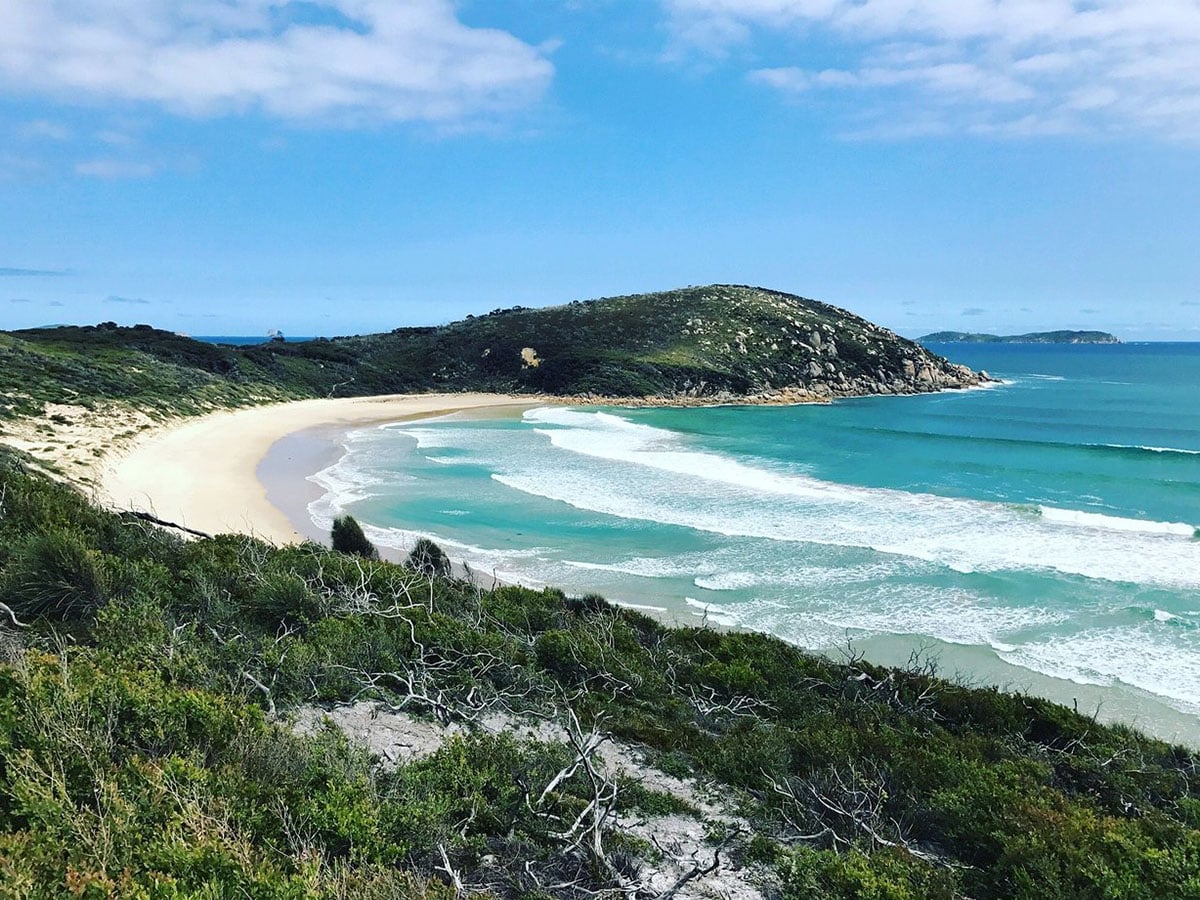 1. Tidal River, Wilsons Promontory
Tidal River is one of Victoria's most popular spots for beach camping because of its modern amenities, which include hot showers, dish-washing stations, toilets and picnic spots with free gas barbecues. Eat hot chips and walk along the post-card-ready Norman Beach or watch the sunset from the peak of a Disney-like Mt Oberon.
Address: Ring Rd, Tidal River VIC 3960
Phone: +61 131963
Nearest Town: Yanakie 35 min
What We Like: Amenities, including hot showers, washing stations and free gas for cooking.
What To Do: You'll find plenty of activities at Wilsons Promontory, but first, you'll want to walk to Refuge Cove, a picturesque cove where you may spot dolphins, sharks, seals or migrating whales. Besides, it looks like something out of a Tolkien book—adventure awaits.
---
Featured Video from Man of Many
---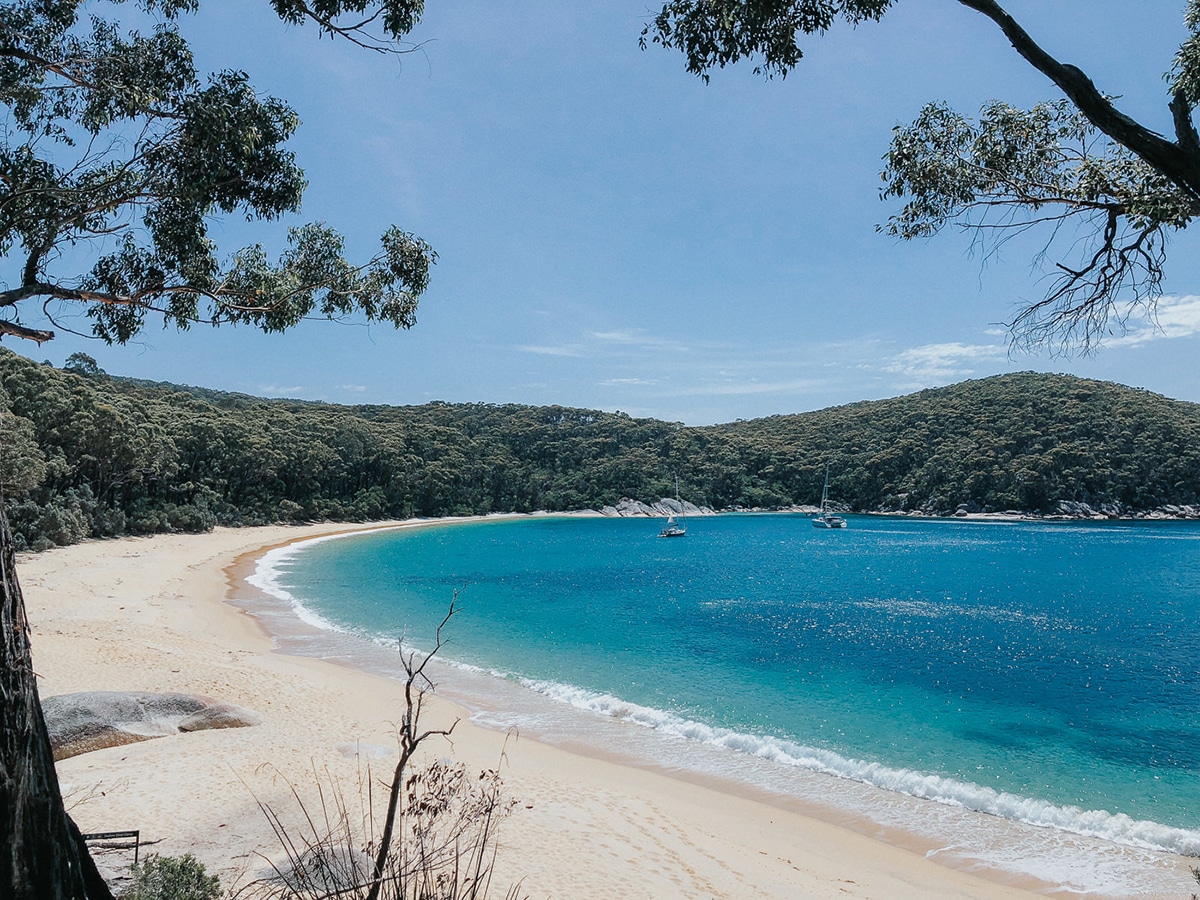 2. Refuge Cove, Wilsons Promontory
It won't matter if you're a local or from interstate. This secluded and pristine beach offers a Victorian camping experience you will never forget. Located on the southern side of the cove, the Refuge Cove campsite is surrounded by nature and only a hop, skip and jump from the water. The camp includes all the expected basic facilities and requires advanced bookings. If you're lucky, you'll hear the sound of a clearing blowhole as whales, sharks, dolphins, albatrosses, seals and even penguins make cameo appearances at the cove.
Address: Refuge Cove Camp, Wilsons Promontory VIC 3960
Phone: +61 131963
Nearest Town: Yanakie 1 hr-47 min
What We Like: You'll feel like you're out of Victoria, and that's the best part of Refuge Cove. Its sweeping panoramic views and sandy beaches will transport you from Victoria and remind you of the sandy shores of Tasmania or New Zealand.
What To Do: Venture to Skull Rock and Cleft Island.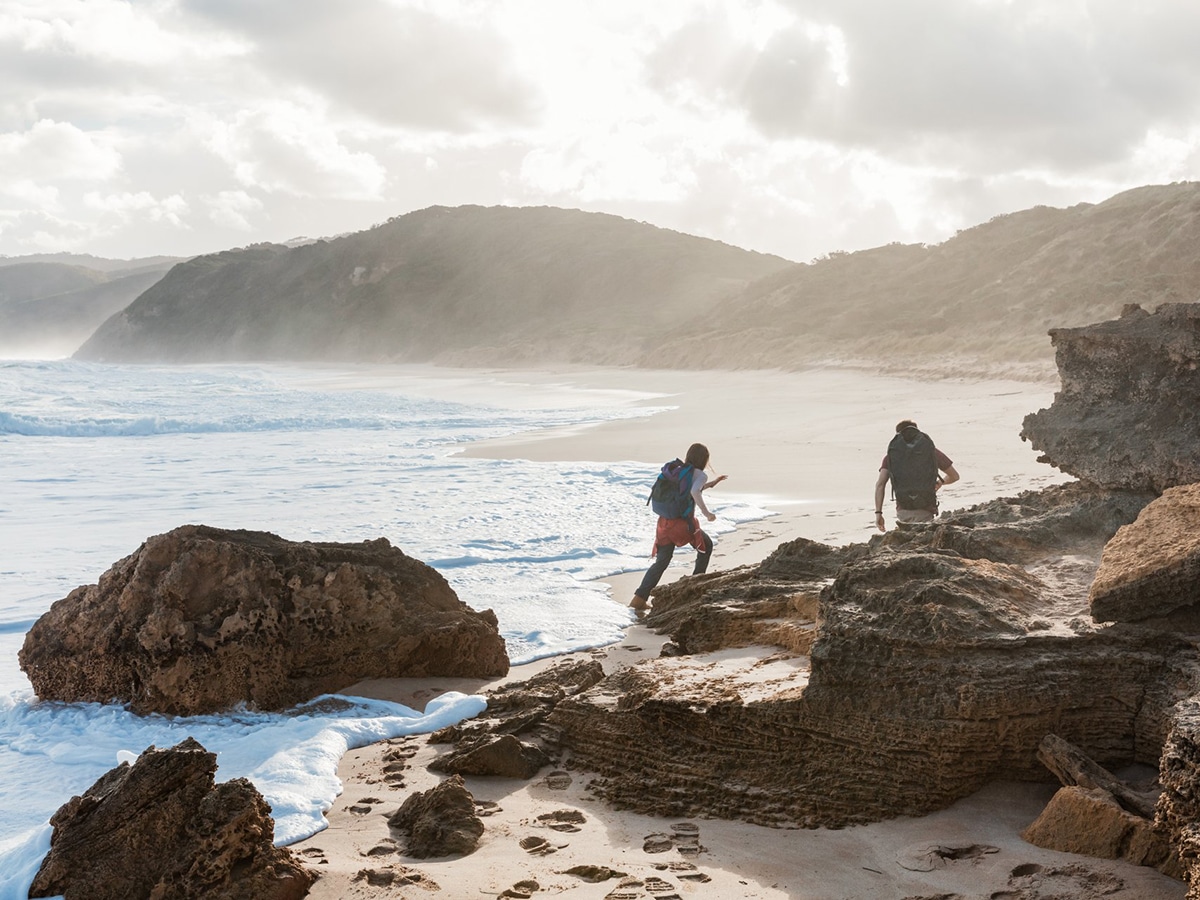 3. Johanna Beach, Great Otway National Park
Behind the dunes at Johanna Beach, this popular campsite is a beloved surfing spot along the Great Ocean Road. Johanna Beach is also one of the few spots for free camping in Victoria, which means the facilities are pretty rustic, so it's perfect for those looking to get back to nature or focus on catching 'gnarly' waves.
Address: Red Johanna Road, Johanna, Victoria 3238, Australia
Phone: +61 3 8427 2002
Nearest Town: Port Campbell 1hr
What We Like: This is for lovers of scenic coastal views. We love this spot as it requires no payment or booking.
What To Do: Walk along the Great Ocean Road, Surf and admire the wild beaches and the sand bluffs over 100 metres high and revel in the rugged coast of Victoria.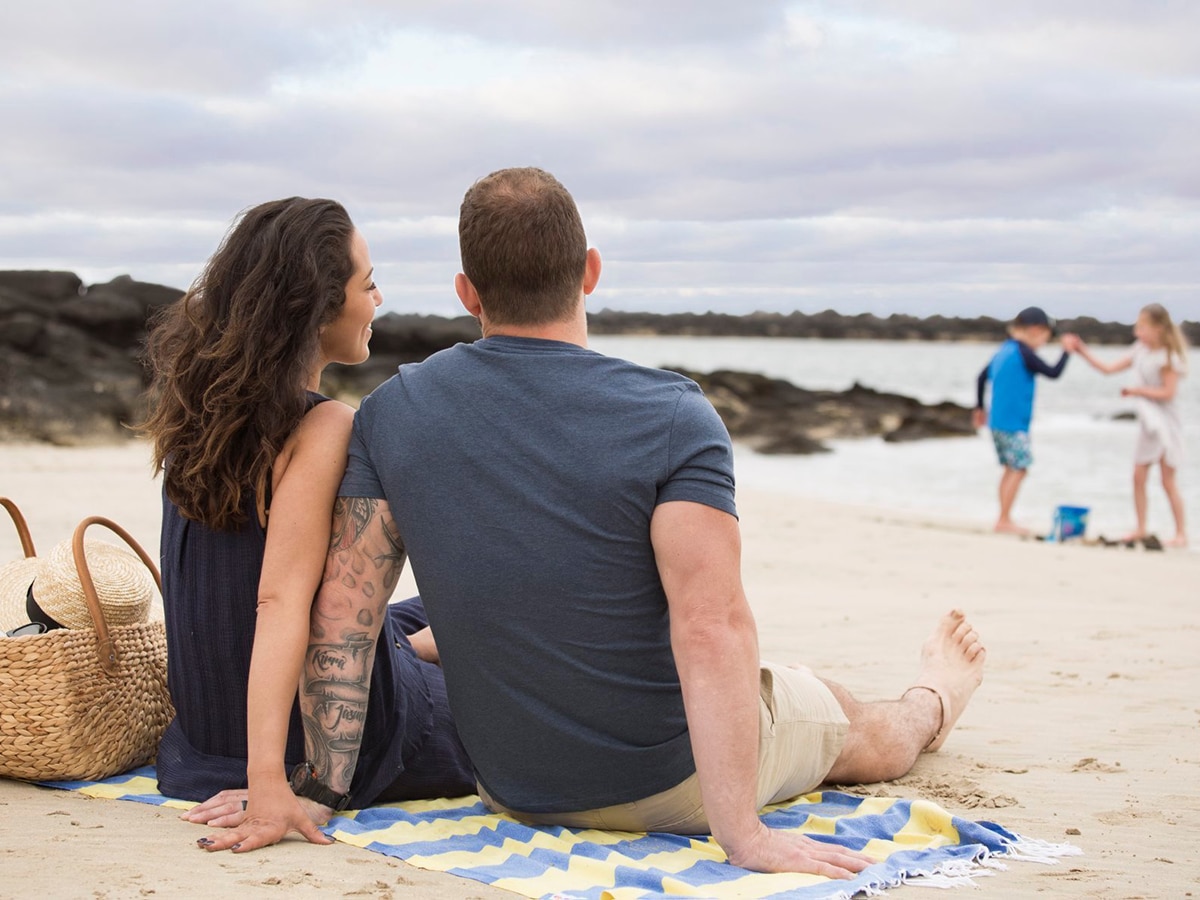 4. Killarney Beach, Killarney
Killarney Beach provides some of Victoria's best camping for anglers as it's known to be the best fishing spot for whiting. Nestled in a small rural setting, known for its sprawling farmlands outside Melbourne, you can book powered and unpowered sites. There's a playground for the kids and all the necessary amenities. It's also pet-friendly!
Address: Beach Road, Killarney, VIC 3283
Phone: +61 428 314 823
Nearest Town: Killarney 3 min
What We Like: It's a three-minute drive into town, and you're in one of the most picturesque campsites in Victoria. Be sure to surf, fish, dive or hike and remember to run to the local bakery for a sausage roll or meat pie.
What To Do: Snorkel or go fishing at Killarney Beach. It's known for some of the state's best 'whiting fishing'.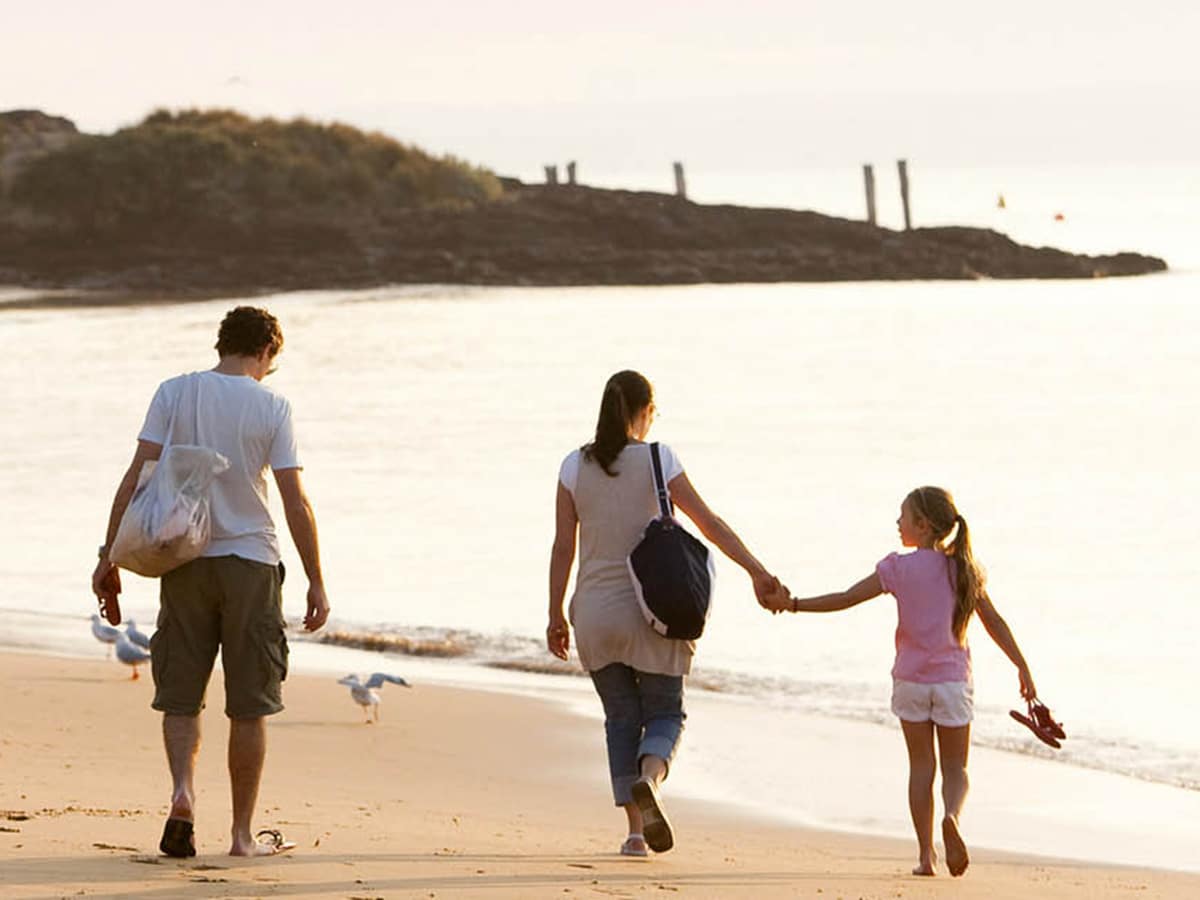 5. Newhaven Beach, Phillip Island
Phillip Island has become an eat, drink and adventure area. If you're not all about sitting around a campfire and not doing much else, Phillip Island's Newhaven Beach has plenty of walking trails, cafes like Cafen Lugano and restaurants like Salt Water, Phillip Island. There's plenty of wildlife and historical landmarks to explore so be sure to catch the sunset penguin parade.
Address: 24 Old Bridge Dr, Newhaven, VIC 3925
Phone: 0466 620 856
Nearest Town: Newhaven 2 min
What We Like: The amount of kid-friendly activities and adult activities.
What To Do: Glide between spectacular cliff faces on a boat tour, take to the sky with a helicopter ride and see Phillip Island from the clouds or check out the penguins and surf or kayak. It is your choice, and there's plenty to choose from.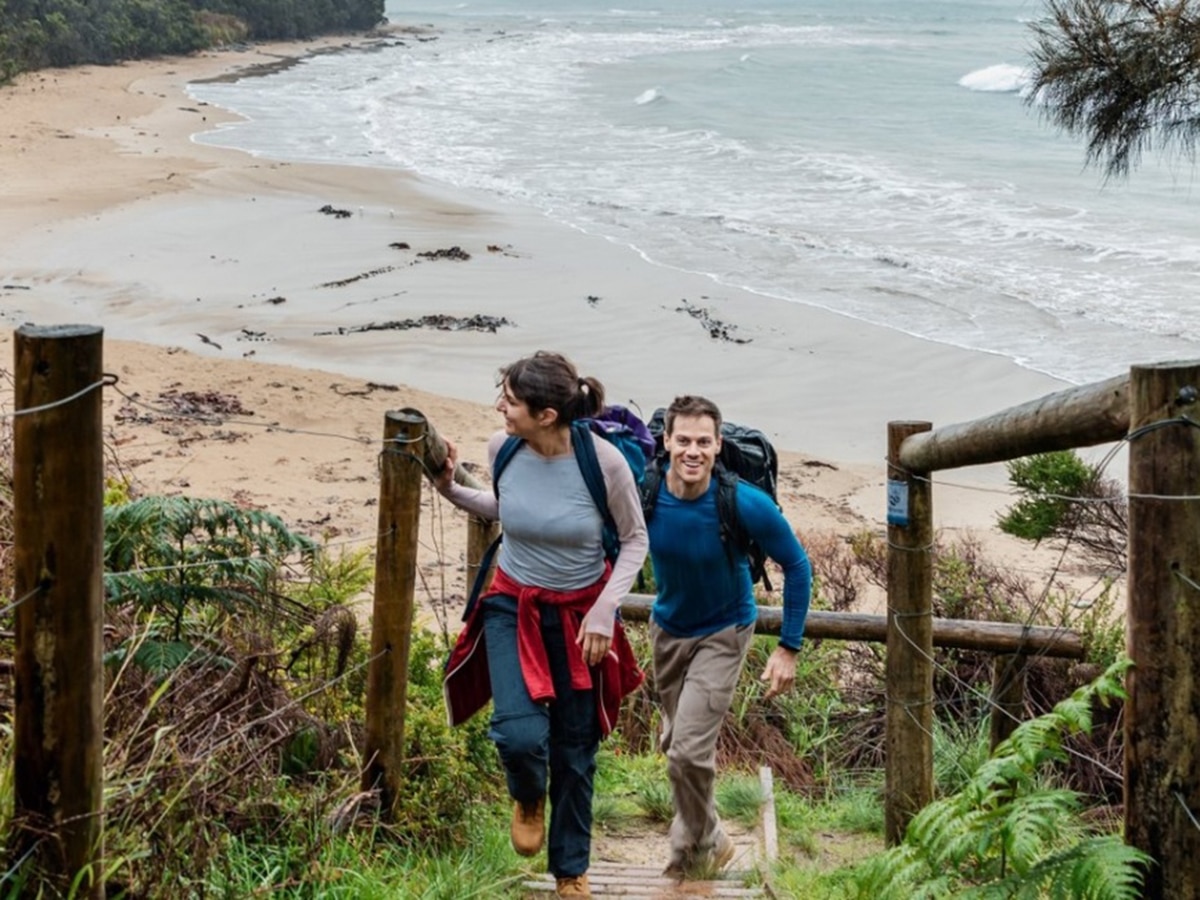 6. Blanket Bay, Cape Otway
Blanket Bay is ideal for those who love hiking or bushwalking and is a popular campsite surrounded by nature with fantastic views. In addition, hikers can experience the Great Ocean Walk, which will take you past several other beaches in the area and provide some spectacular scenery.
Address: Blanket Bay Road, Cape Otway VIC 3233
Phone: +61 131963
Nearest Town: Apollo Bay 40min
What We Like: The abundance of walking trails and scenic views.
What To Do: Fishing, surfing, and hiking are all options at Blanket Bay—it's a place to explore the best of Apollo Bay and its surroundings.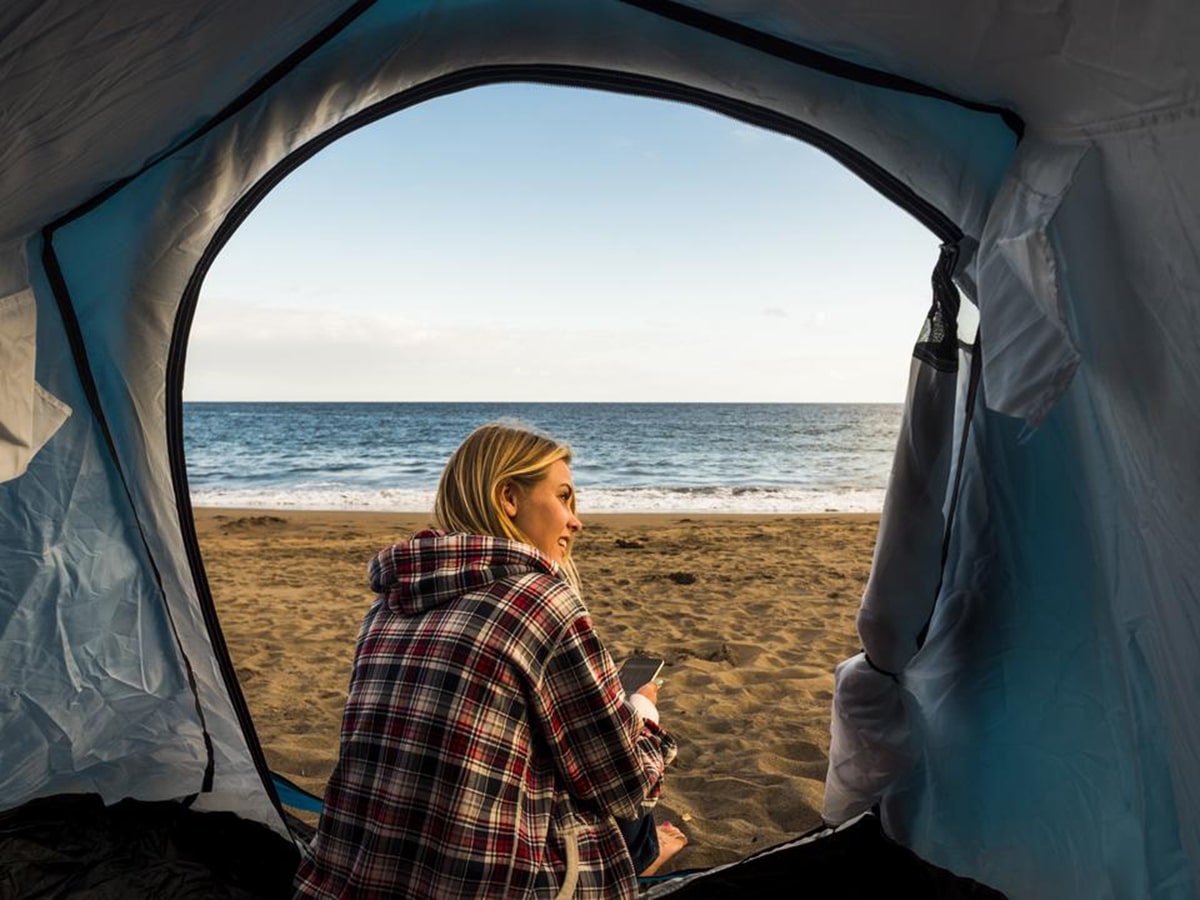 7. Mornington Peninsula Foreshore
The Mornington Peninsula Foreshore contains some of Victoria's most beautiful beaches, including Sorrento and Portsea. Scenic views of the ocean and excellent facilities make this one of the most popular areas for camping on the Mornington Peninsula. Activities include swimming, hiking and cycling, and local shops and cafes are just a stone's throw away. Although this isn't a rural or bush-type camping experience, you can expect floods of people camping along the foreshore and plenty of opportunities to eat and drink in a little more luxury than other towns and camping sites.
Address: 1380 Point Nepean Rd, Rosebud, VIC 3939
Phone: +61 3 5950 1011
Nearest Town: Sorrento, Rye, Dromana, Rosebud and Portsea (0-15mins)
What We Like: If you're looking for the best camping/holiday in Victoria, the Mornington Peninsula is your destination. Dine at award-winning restaurants, and bars, and walk the scenic trails, beaches, and coastal haunts. It's the premiere holiday destination in Victoria for New Year's Eve, Easter, Christmas and most of the summer.
What To Do: Venture to Portsea, Rye, and Mornington and visit the Pillars in Mount Martha. Eat at the Continental Hotel in Sorrento and visit the Portsea Hotel in Portsea.

Mornington Peninsula Foreshore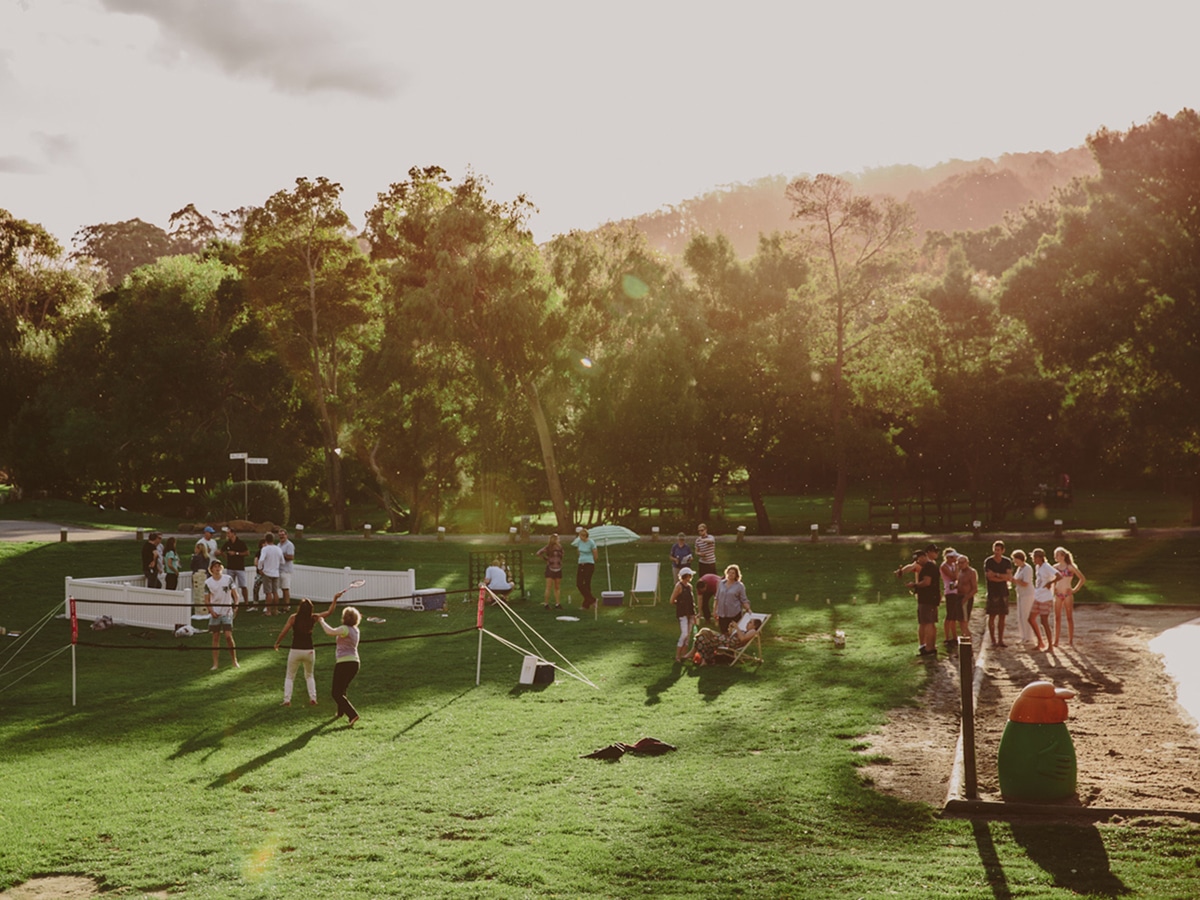 8. Wye River Foreshore
A top spot for camping in Victoria, the Wye River Foreshore offers many things to see and do. Along the Great Ocean Road, this site provides a pleasant pit stop close to the 12 Apostles and Apollo Bay. Essential amenities include BBQ areas, a camp kitchen, hot showers and more. You'll find sixty powered sites and four with no power, and you'll have to book to camp at the Wye River Foreshore.
Address: Wye Rd, Separation Creek, VIC 3221
Phone: (03) 5289 0412
Nearest Town: Lorne 23 mins
What We Like: We like the amenities and BBQ areas, a camp kitchen and hot showers.
What To Do: Lake Elizabeth is an eerie and mysterious place to kayak. The still waters and dead trees protruding from the water will leave you searching for our beloved icon, the platypus.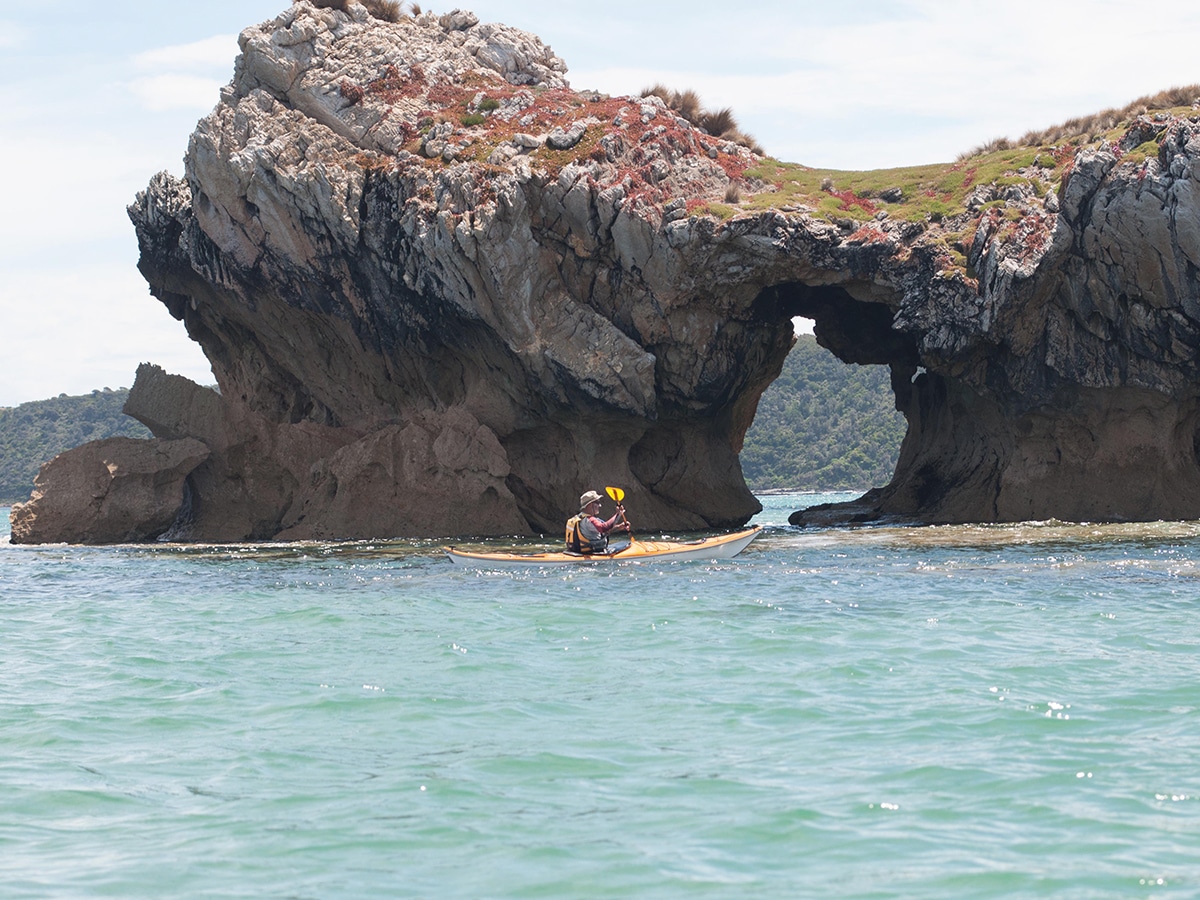 9. Bear Gully Campground, Cape Liptrap Coastal Park
Bear Gully Campground, located near the shores of Waratah Bay, is a popular spot for fishing and rock pooling. Nestled next to the tall banksias, the campground features 33 sites and offers a few basic facilities. Unfortunately, the site is closed due to research conducted with First Peoples-State Relations to investigate the possible impacts on a cultural heritage site. However, you can check when or if the campsite will open again.
Address: Bear Gully Rd, Tarwin Lower VIC 3956
Phone: +61 131963
Nearest Town: Walkerville 3 mins
What We Like: The natural coastal adventures draw people to Bear Gully Campground. It's for explorers of the coast and for time away from people, space and time.
What To Do: Visit the Cape Liptrap Lighthouse and the Waratah Bay Foreshore Reserve.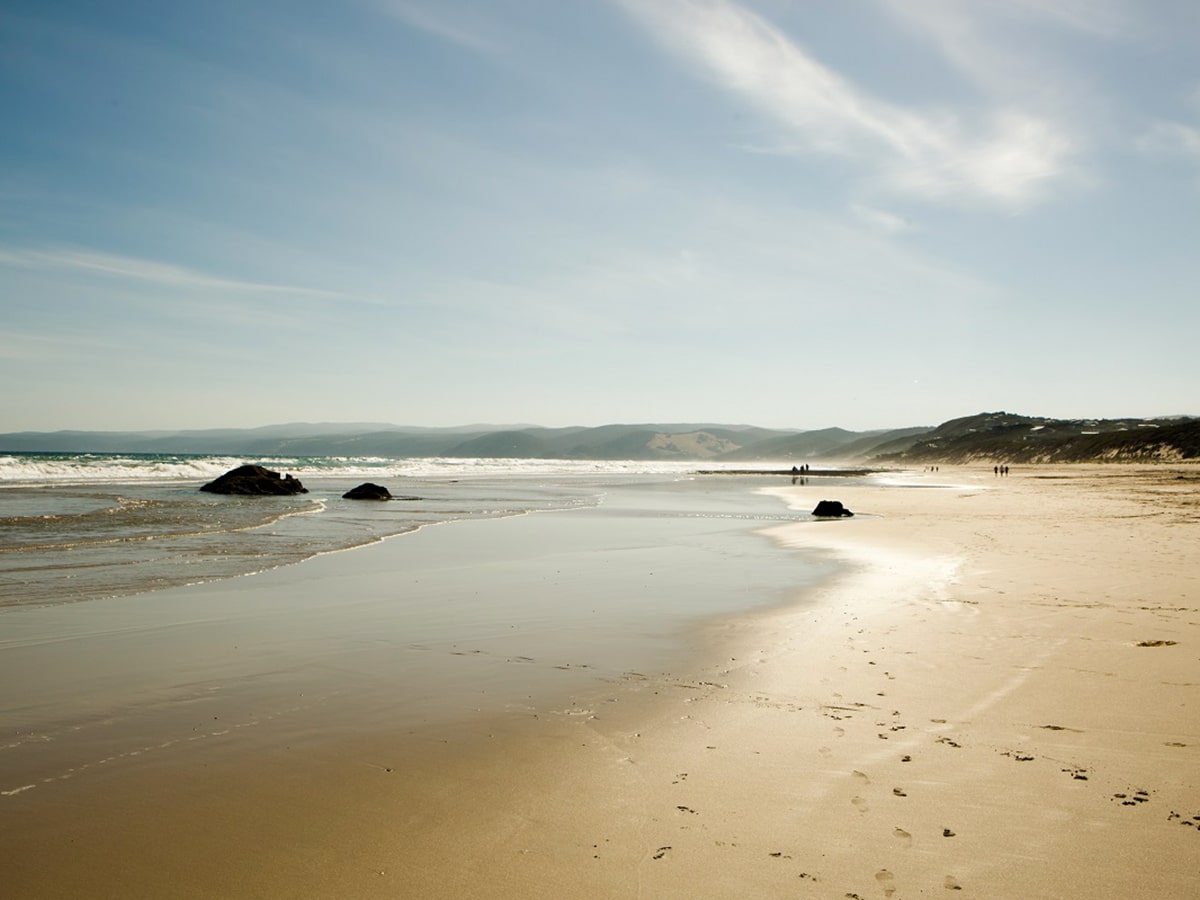 10. Fairhaven, French Island National Park
Fairhaven is only accessible by passenger ferry, so tent camping is your only option. Activities are abundant, explore Clump Lagoon and the Wetlands. You'll need to bring cooking supplies as the only amenities waiting for you are toilets and drinking water (you'll need to boil before consuming). A note of caution, there's a notice to beware of snakes, so ensure you're always prepared, wear thick clothing, multiple layers, if you're sleeping outside make sure you're elevated off the ground, when walking make lots of noise, at night don't walk without a torch and wear thick boots.
What to do: if someone has been bitten by a snake, or if you have. Try to see and remember the colour and shape of the snake, which can help with treatment of the snake bite. Keep the bitten person still and calm. Lay or sit down with the bite in a neutral position of comfort. Remove rings and watches before swelling starts. Wash the bite with soap and water. Cover the bite with a clean, dry dressing. Seek medical attention as soon as possible.
Do not: Wash the area of the bite or try to suck venom out of it. Don't discard clothing or try to catch or kill the snake to identify it
Address: Coast Rd, French Island, VIC 3921
Phone: (03) 5257 4565
Poison Information Hotline: 131 126. For more information, visit the poison information site
Nearest Town: Tankerton Ferry trip to Tankerton Jetty 12 mins
What We Like: French Island is as remote as you want to camp in Victoria. It channels serious isolation vibes.
What To Do: Walk the tracks, check out Clump Lagoon and explore the Wetlands.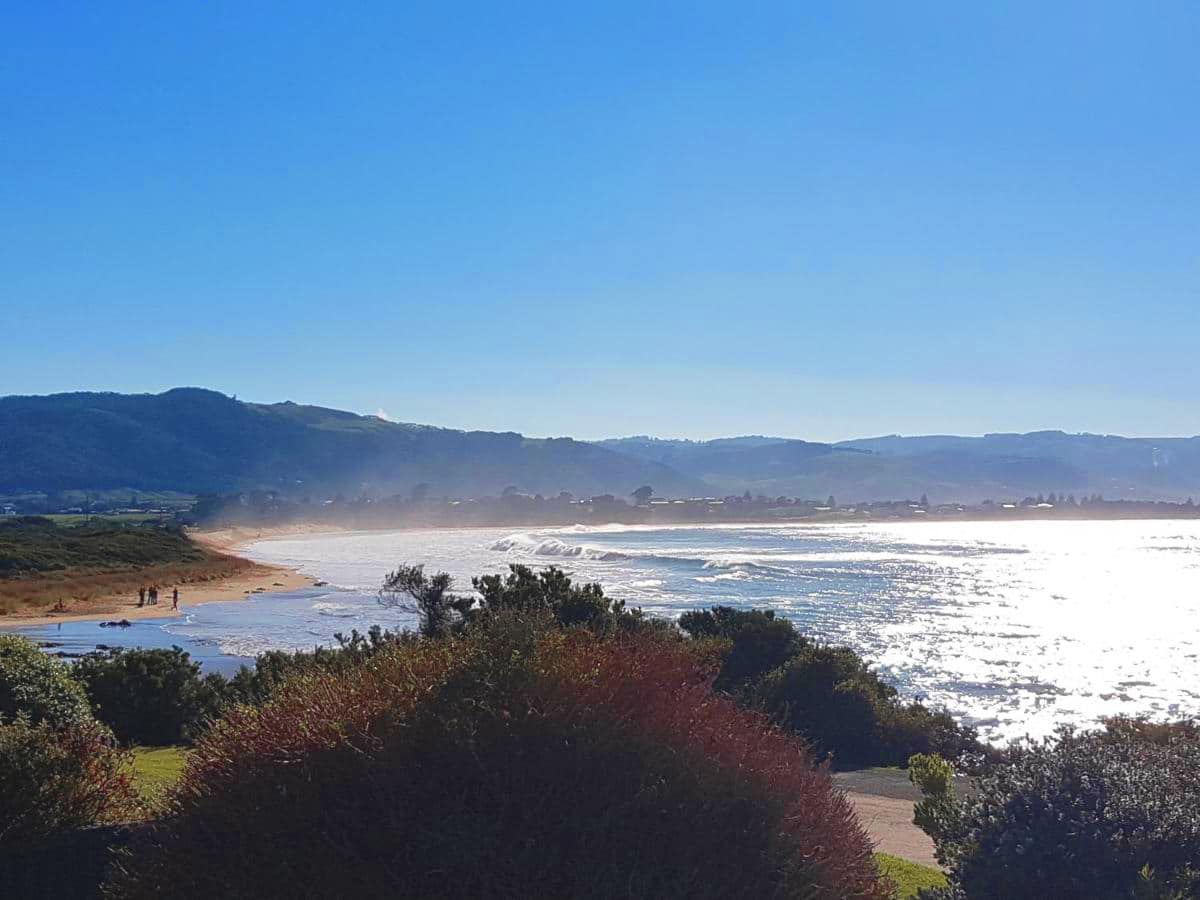 11. Marengo Holiday Park, Apollo Bay
Marengo Holiday Park in Apollo Bay offers powered and non-powered sites with stunning ocean views. This pet-friendly park is also within walking distance of several local beaches where your furry friends can stretch their legs. All the essential facilities are taken care of and include bathrooms, laundry, camp kitchens and BBQ areas. The park is also adjacent to Marengo Reef Marine Sanctuary, where you might even catch a peek of the resident seal colony.
Address: Great Ocean Rd, Apollo Bay, VIC 3233
Phone: +61 3 5237 6162
Nearest Town: Apollo Bay, 5 min
What We Like: Located 2km outside Victoria's treasured coastal town, Apollo Bay, you can expect sweeping coastline views, seal colonies, good vibes and sandy days.
What To Do: You must go snorkelling and walk the Apollo Bay Harbour Walk, Apollo Bay Marriners Lookout and Apollo Bay-Marengo-Shelley Beach trails for maximum coastal appreciation.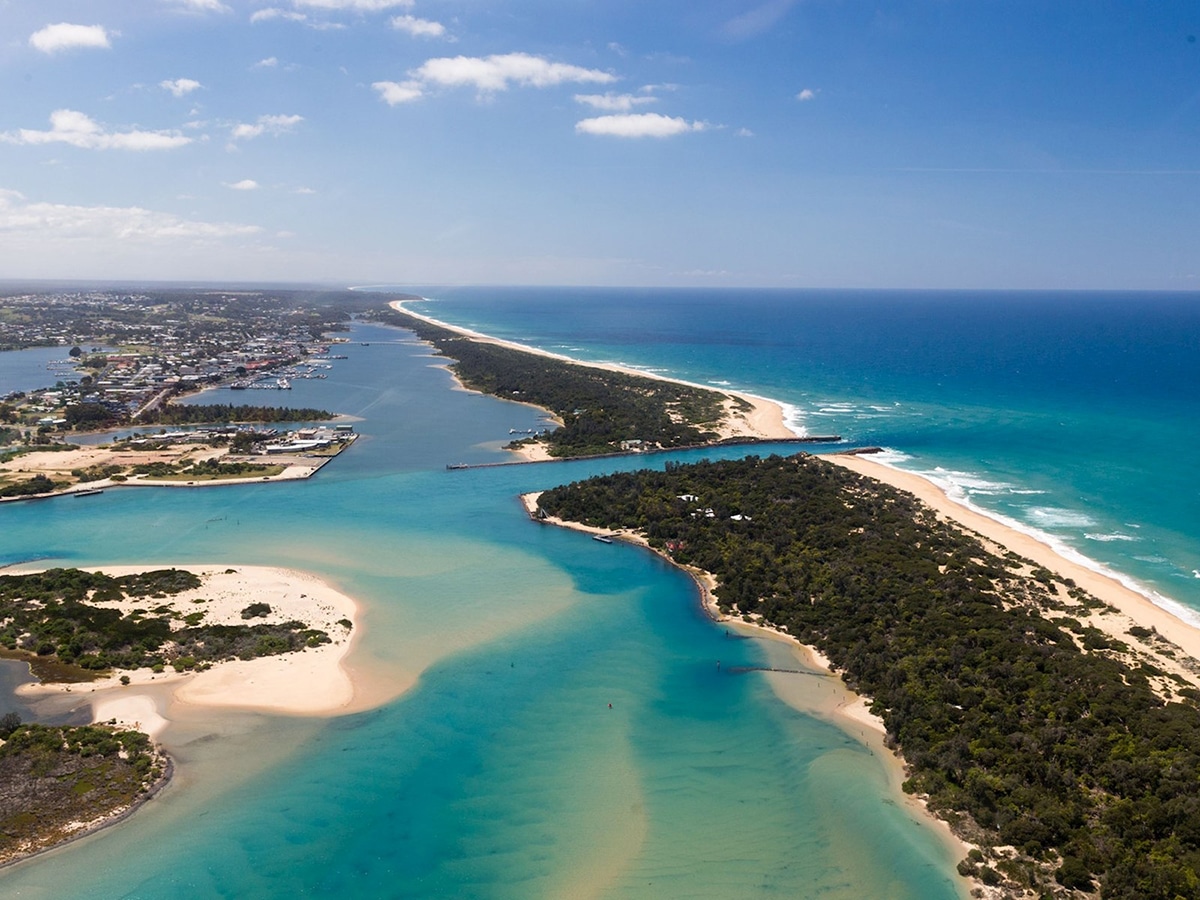 12. Shoreline Drive, Gippsland Lakes Coastal Park
Shoreline Drive Campground offers plenty of campsites, suited for both caravan camping and tent camping. The sandy dunes protect all areas from gusty winds and the campsite has easy access to the beach. Laze around on Golden Beach and take time to explore the surroundings. Only some sites are pet friendly, so if you're bringing your four-legged friend, make sure before pitching a tent. This is a free beach camping spot, and you don't have to book here but take note, it's on a first-come, first-served basis.
Address: Shoreline Dr, Flamingo Beach, VIC 3851
Phone: +61 131963
Nearest Town: Lakes Entrance 1 hr-57 mins
What We Like: Pet-friendly beach camping makes this your perfect getaway with your best friend.
What To Do: Keep an eye out for marine wildlife. Dolphins make frequent appearances.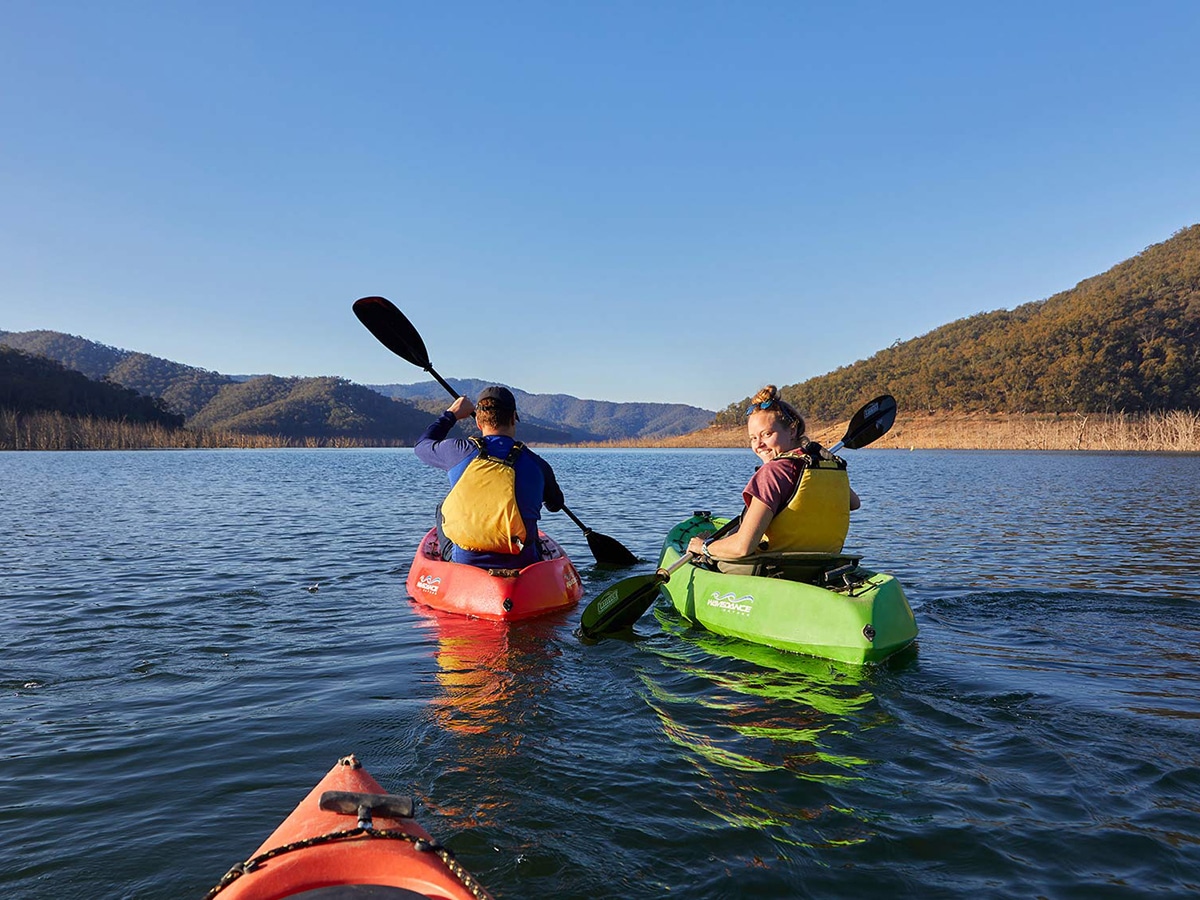 13. Fraser Camping Area, Lake Eildon National Park
Unfortunately, due to an onsite issue, this campsite is currently closed. Before you plan your trip you should check when it will reopen. When it is open, three different camping grounds are available at Fraser Camping Area. Devil Cove, Lakeside and Candlebark are all within the Lake Eildon National Park. Just a two-hour drive from Melbourne, the park protects acres of natural woodlands and forest. All campsites have full amenities, and the lake offers loads of activities. In the evening, the shoreline is scattered with kangaroos, where they can be seen up close and personal.
Address: Lake Eildon National Park, Eildon VIC 3713
Phone: 03 5770 8128
Nearest Town: Eildon, 20 mins
What We Like: Lake Eildon is a Victorian treasure. You will love the sweeping spaces, natural woodlands and kangaroo sightings.
What To Do: Check out Snobs Creek Falls, kayak Lake Eildon or hike Mount Torbreck.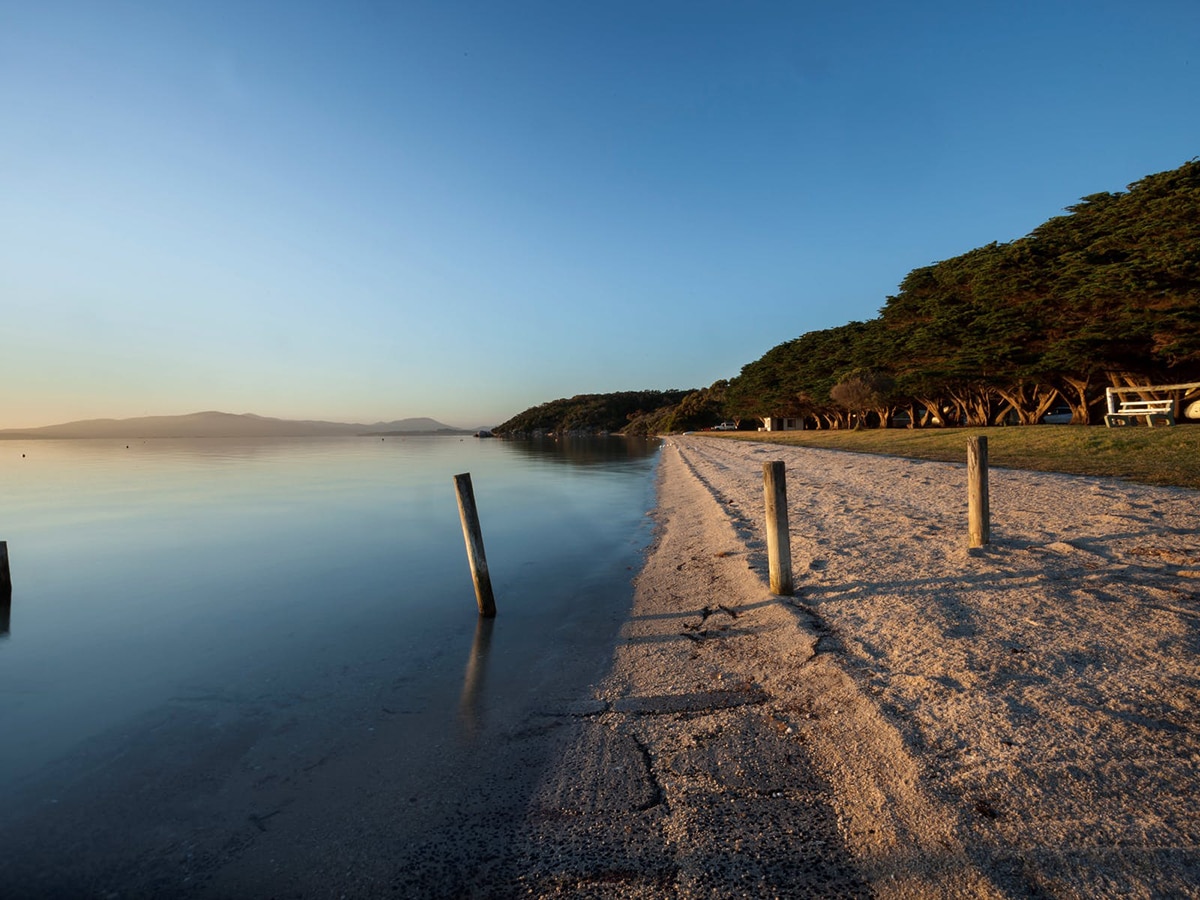 14. Yanakie Campgrounds, Wilsons Promontory
Just five minutes from entering Wilsons Promontory National Park, Yanakie Campgrounds offers an ideal spot for waterfront views. Loads of activities are provided with fishing, swimming, hiking and more. In addition, there's a park kiosk for essential items.
Address: 390 Foley Road, Yanakie VIC 3960
Phone: +61 3 5687 1295
Nearest Town: Yanakie 8 mins
What We Like: Head to the park kiosk for fishing gear and bait.
What To Do: Snorkel at Victoria's largest Marine National Park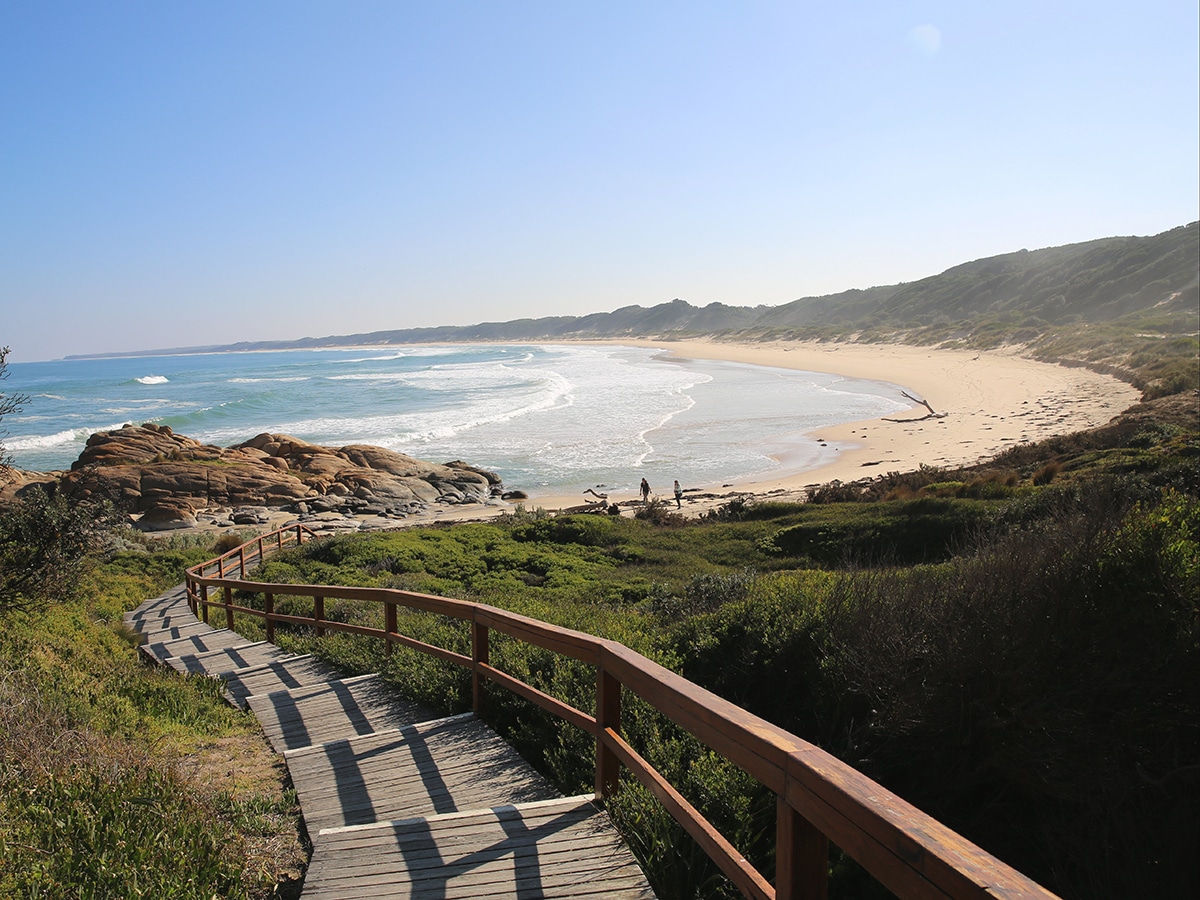 15. Cape Conran, Gippsland
Cape Conran campgrounds is metres from the beach, so explore your surroundings at one of the best Victorian camping spots due to whale migration and the amazing underwater ecosystem you can check out by snorkelling. Campers have reported dolphins catching waves and seals at the Beware Reef Marine Sanctuary.
Address: Yeerung Road, Cape Conran VIC
Phone: 07 5486 5486
Nearest Town: Orbost 27 mins
What We Like: Cape Conran is home to a strong cast of animals. From whales to wombats, lizards to bandicoots, it's bound to make the kid's year and even your own.
What To Do: From May to October, you'll find whales migrating, so pack your binoculars and long camera lenses.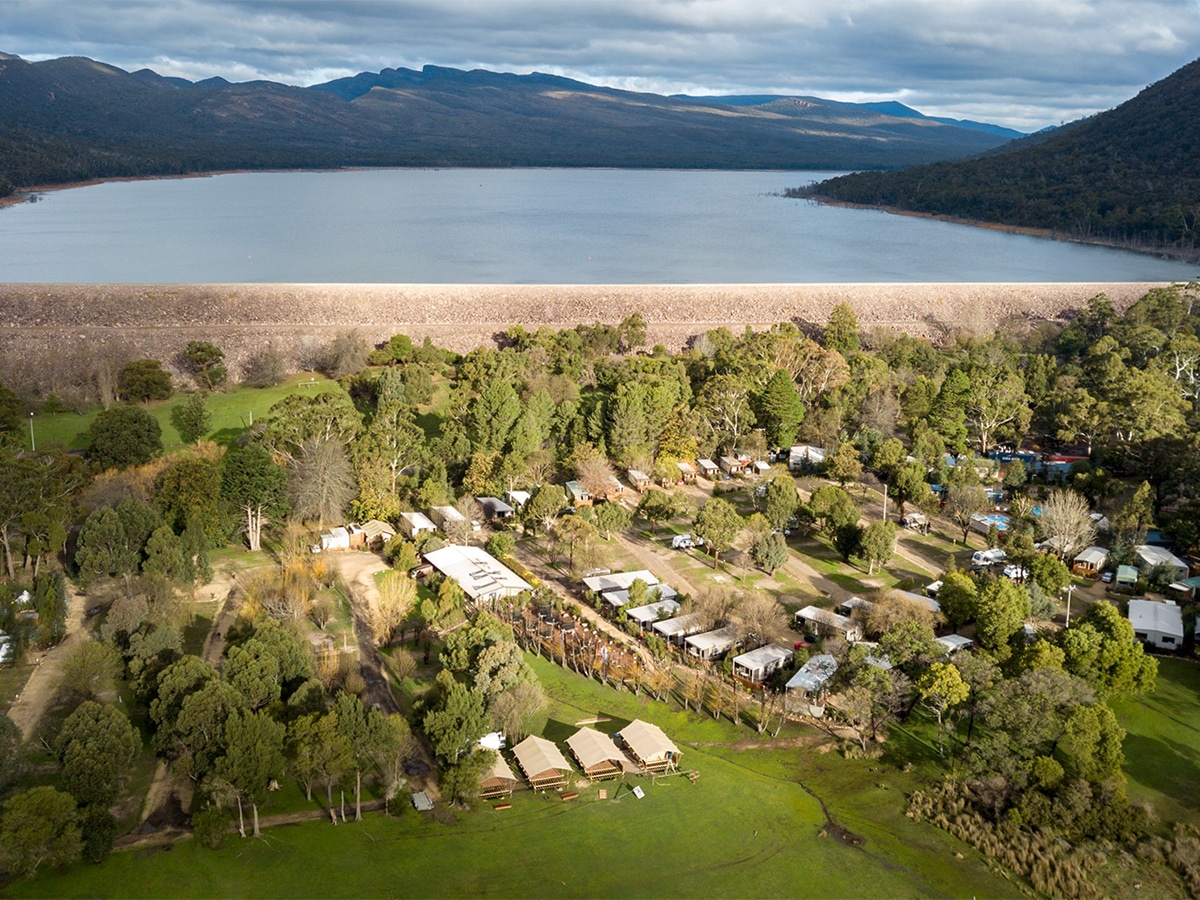 16. Halls Gap Lakeside Tourist Park, Grampians National Park
One for all seasons, Halls Gap camping park has something for everyone, no matter the weather. This fun-filled camping spot encompasses large outdoor areas, trampolines (available for adults, too), and even an eleven-metre-long-heated outdoor pool – which is open all year round! It also boasts a camp lounge fitted with a TV, bar, and a big cosy fireplace. Halls Gap Lakeside Tourist Park, offers endless fun for all the family; home to an extensive playground, complete with a rock-climbing wall and even a seasonal ice cream kart, this certainly is one of the best camping spots in Victoria!
Address: 27 Tymna Drive, Halls Gap 3381
Phone: 03 5356 4281
Nearest Town: Stawell, 21 mins
What We Like: It's family-friendly and has something for everyone. In addition, it's nice in summer and cozy in winter.
What To Do: Halls Gap is home to the Sandstone Mountains, the entrance to the Grampians. If you want to witness some Middle-Earth-looking scenery, you'll find it here. Head to the Grampians Great Escape, typically during April. It's a festival with food, award-winning wine and many local businesses to support.
Halls Gap Lakeside Tourist Park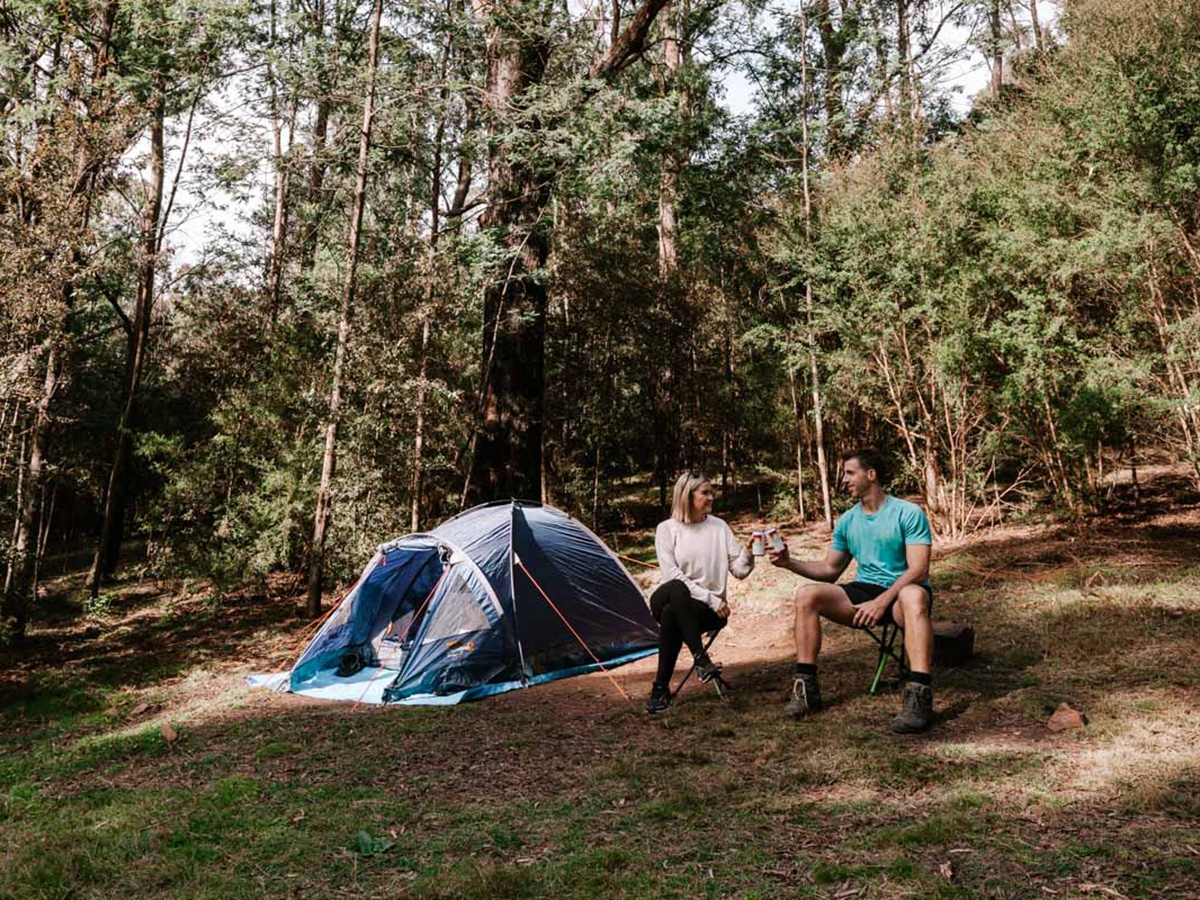 17. Neds Gully Campground, Cathedral Range State Park
Breathtaking, rugged ridges set the backdrop for this awe-inspiring region, which is the perfect destination for adventurous travellers. Neds Gully is set deep in the woodland clearing and provides a fantastic base camp for lovers of bushwalking and mountain hikes. Neds Gully campground offers quick and easy access to the rocky ridges of Neds Peak, boasting panoramic views across the entire Cathedral Range. Situated in open woodland, Ned's Gully Campground has basic camping facilities. Still, it offers an overall pleasant experience as campers can pitch their tents on the grassy meadows of the banks of Little River. The sites here are unpowered and suitable for tents only, as they are close to the car park.
Address: Little River Rd, Taggerty VIC 3714
Phone: +61 13 19 63
Nearest Town: Buxton 21 min
What We Like: Challenge yourself to hike the most difficult paths or stick to the beginner's level. Either way, this is a good bush experience. So soak it up and forget time and space ever existed.
What To Do: Easy walks include: The Friends Nature Walk, Little River Walk, Messmate Walk and St Bernards Track. Advanced walks include Cathedral Range Circuit Walk, Cathedral Range Northern Circuit Walk, Cathedral Range Southern Circuit Walk, South Jawbone Peak Walk, North Jawbone Peak Walk, and Razorback Track. The Canyon Track and Wells Cave Track are not recommended for children or anyone fearing heights and exposed cliffs.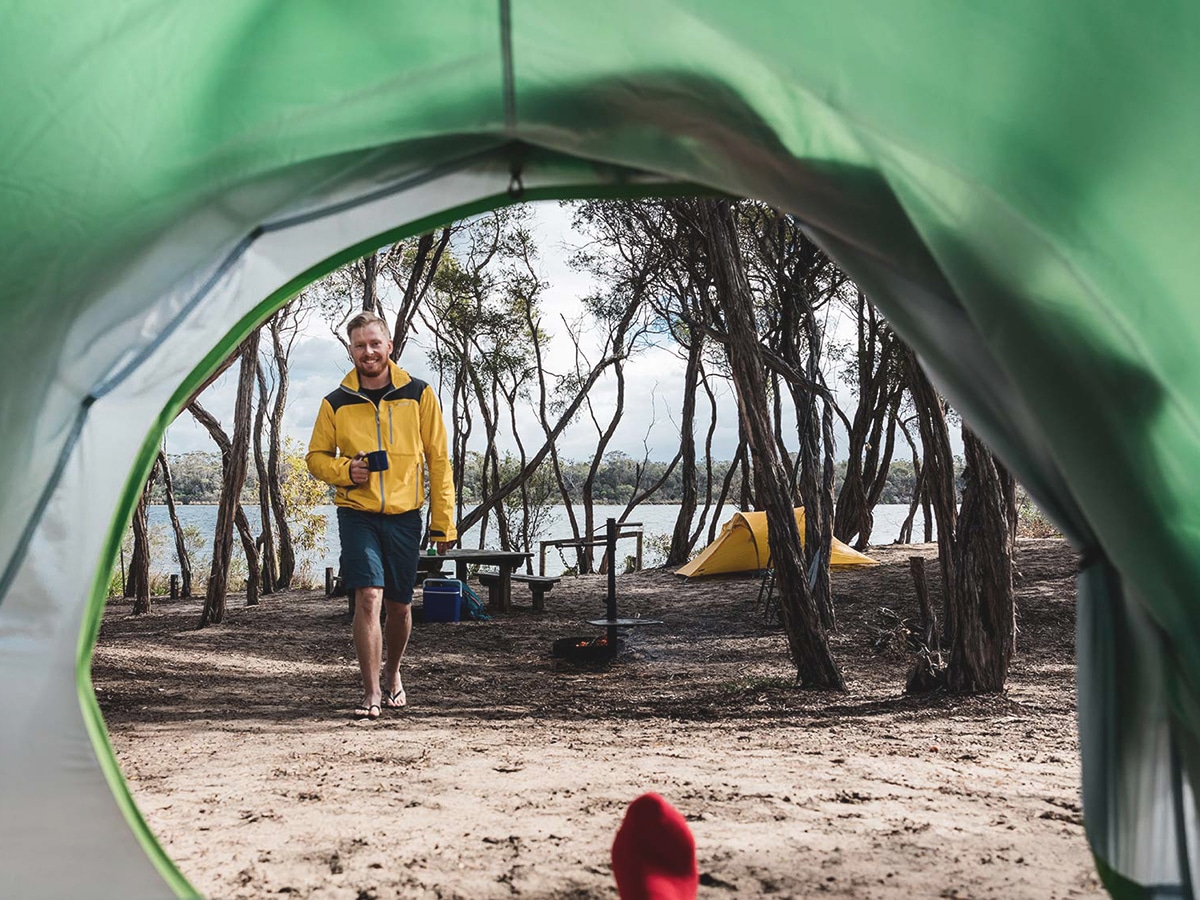 18. Bunga Arm, Gippsland Lakes Coastal Park
Bunga Arm is accessible only by boat, with daily crafts leaving from nearby Paynesville. Boats make stops on the beach at designated campgrounds and day visitor areas along the length of the arm, and here you will find seven grounds along the water's edge to choose from. The site provides kayaking tours and waterskiing adventures for all the family, or just relax with a gentle swim and take in the natural beauty of this unique lakeside location. There are many fish to be caught at the river's edge or cast a line into the ocean to catch local salmon and snapper. You can even spot dolphins while taking a coastal walk along the banks! Non-flush toilets and covered picnic facilities are available. Fires may be lit in the firepits provided by Parks Victoria, but the collection of firewood from the site is not permitted, so make sure to plan!
Address: Boole Poole VIC 3880
Note: Camp 3 Closed, Shoreline Drive To Golden Beach Due To Asbestos And Cultural Sensitivity
Phone: 13 19 63
Nearest Town: Old Gippsland Town 1hr 40 mins
What We Like: The opportunity to fish flathead, bream, salmon and snapper.
What To Do: You should go fishing and dolphin spotting.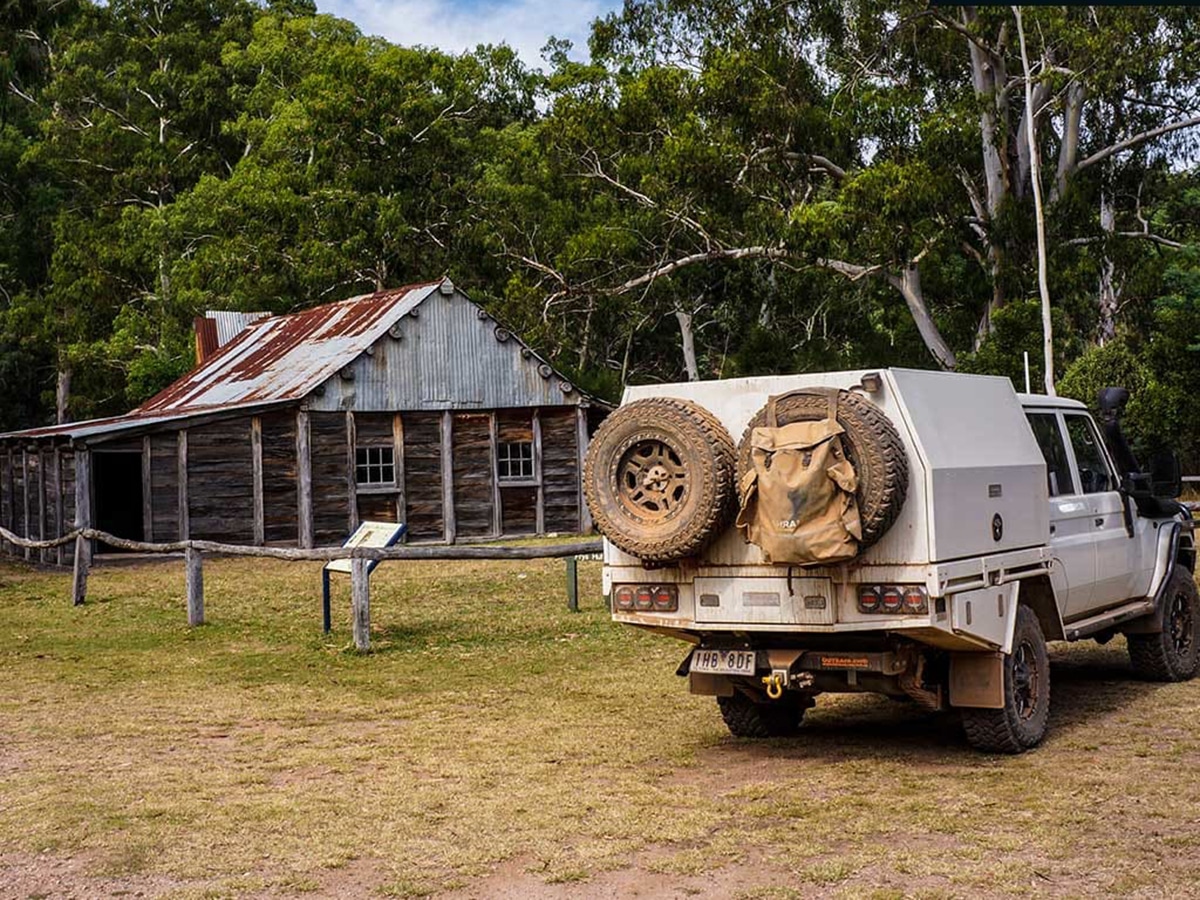 19. Sheepyard Flat, Howqua Hills
Sheepyard Flat is one of the top campsites in Victoria and, best of all… it's free! Camp under the stars in open woodland surrounded by Peppermint and Manna Gum trees. Sheepyard Flat is situated in a natural valley on the banks of the Howqua River. The site is primarily grassy, and has plenty of shade. It's a perfect location for swimming, you can check out the deep swim holes by the bank, where you'll also find fishing spots along the river. It's important to note how popular this campsite is during peak season, as it's a great starting point for 4wd adventures into the Victorian High Country. Many wildlife species can be spotted here, too—visitors often see koalas, wombats, and kangaroos. Wood barbeques are available, but you must bring your firewood and check on local fire bans.
Address: Brocks Rd, Howqua Hills, VIC 3723
Phone: 13 19 63
Nearest Town: Mansfield 44 min
What We Like: 4wd tracks, horseback riding and swimming in the local river
What To Do: Check out Tunnel Bend, Horse ride or sit and stargaze by a toasty fire.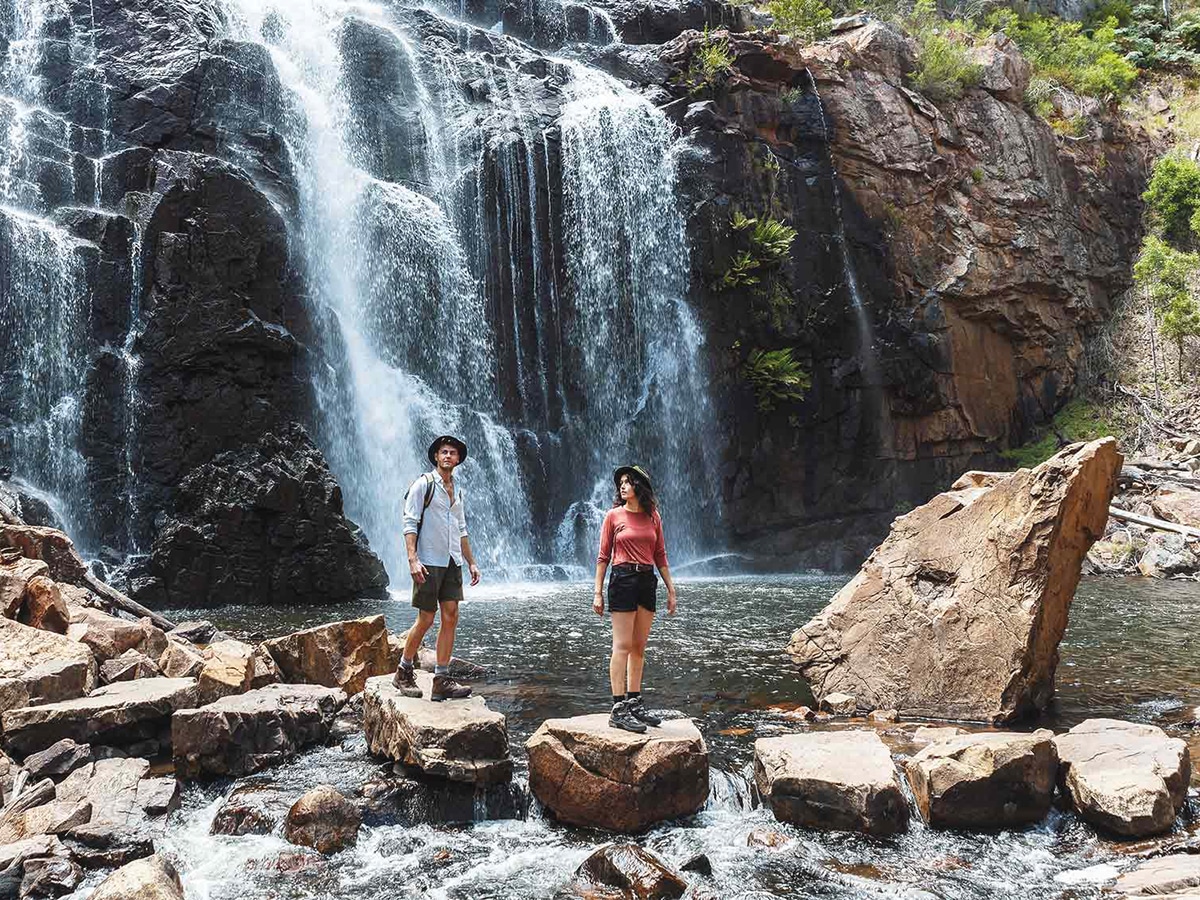 20. Smiths Mill, Grampians National Park
In the heart of The Grampians, Smiths Mill campground is a perfect spot to explore the largest number of significant and ancient Aboriginal rock art paintings and shelters in southern Australia. Traditionally known as Gariwerd, based on the site of an old sawmill and surrounded by picturesque woodlands, this campground is also one of the best to explore Victoria's native plant species and wildlife. Nestled in the valley of the Mackenzie River, the campsite provides you with the company of kangaroos and emus, which can be spotted close by while pitching your tent. In addition, Smiths Mill Campground is also a great base to explore the local attractions of Mackenzie Falls and Lake Wartook and a just a short drive to many majestic local lookouts. Camping permits are essential and can be purchased from The National Park & Cultural Centre.
Address: Old Mill Rd, Zumsteins, VIC 3401
Phone: +61 13 19 63
Nearest Town: Stawell, 27 mins
What We Like: The Grampians is Victoria's most treasured outback setting, offering Indigenous art, history and hikes.
What To Do: You should admire the largest number of significant and ancient Aboriginal rock art paintings and shelters in southern Australia. A visit to Brambuk – The National Park & Cultural Centre will help you get the most out of your trip to these rock shelters. Explore Mount William, and check out the list of overnight hikes such as the Grampians Peaks Trail, Major Mitchell Plateau, The Fortress, and Mt Thackeray.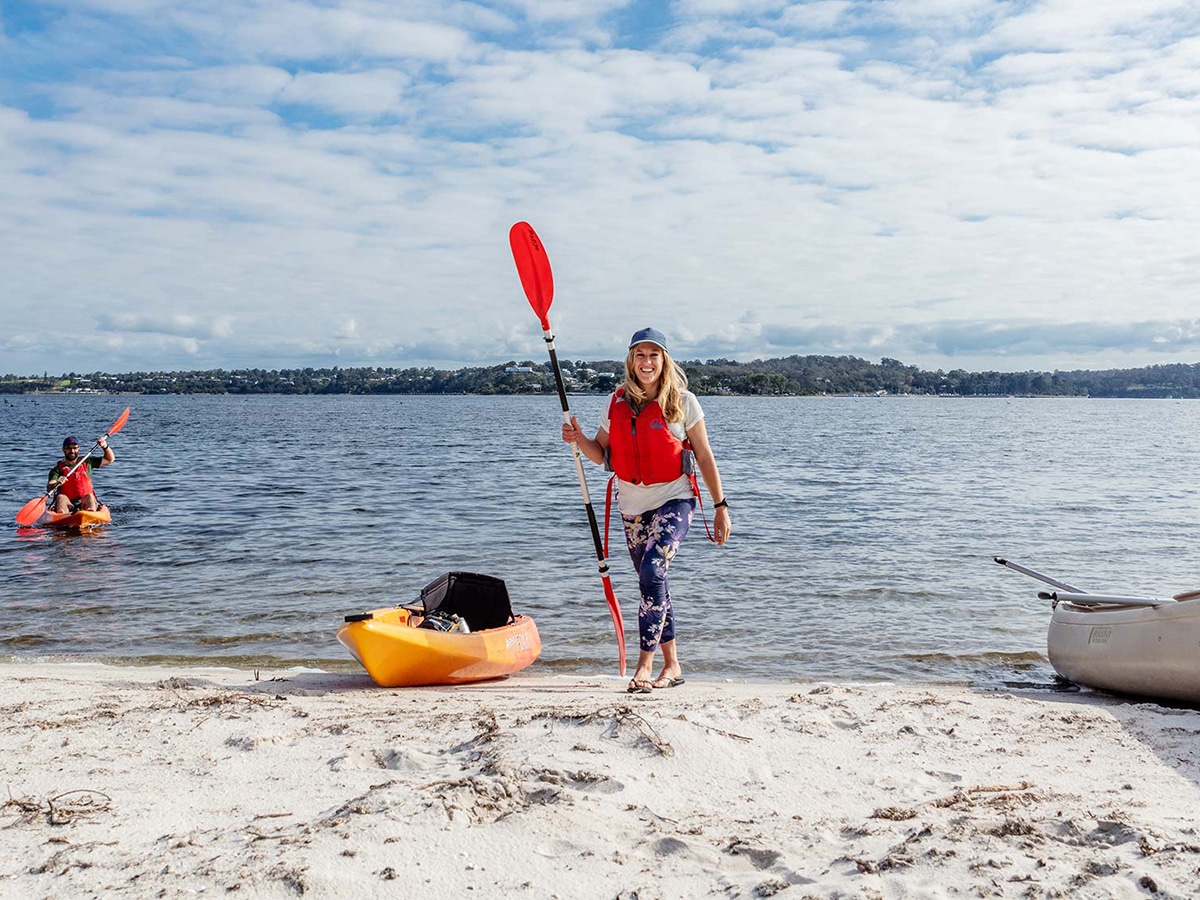 21. Spoon Bay, Gippsland Lakes Coastal Park
Just south of Holland's Landing, Spoon Bay campground is situated amongst the tranquil coastal lagoons of the Gippsland Lakes. Spoon Bay is unique because it offers two different camping experiences in one location. Shoreline Drive and Paradise Beach attract those who love the coast, complete with access to the beach. Further across, we have Red Bluff, which offers an inland bush camping experience and is only a short drive to Lake Victoria and Lake Wellington, two famous spots in the area. All sites have easy access to tents, camper trailers, and campervans, and there are even a few spots for caravans.
Address: Seacombe VIC 3851
Note: Camp 3 Closed, Shoreline Drive To Golden Beach Due To Asbestos And Cultural Sensitivity
Phone: +61 13 19 63
Nearest Town: Old Gippsland Town 1hr 40 mins
What We Like: Choosing between bush and coastal camping without moving far.
What To Do: Kayak to explore the various lakes, and you might also spot a rare Burranan Dolphin.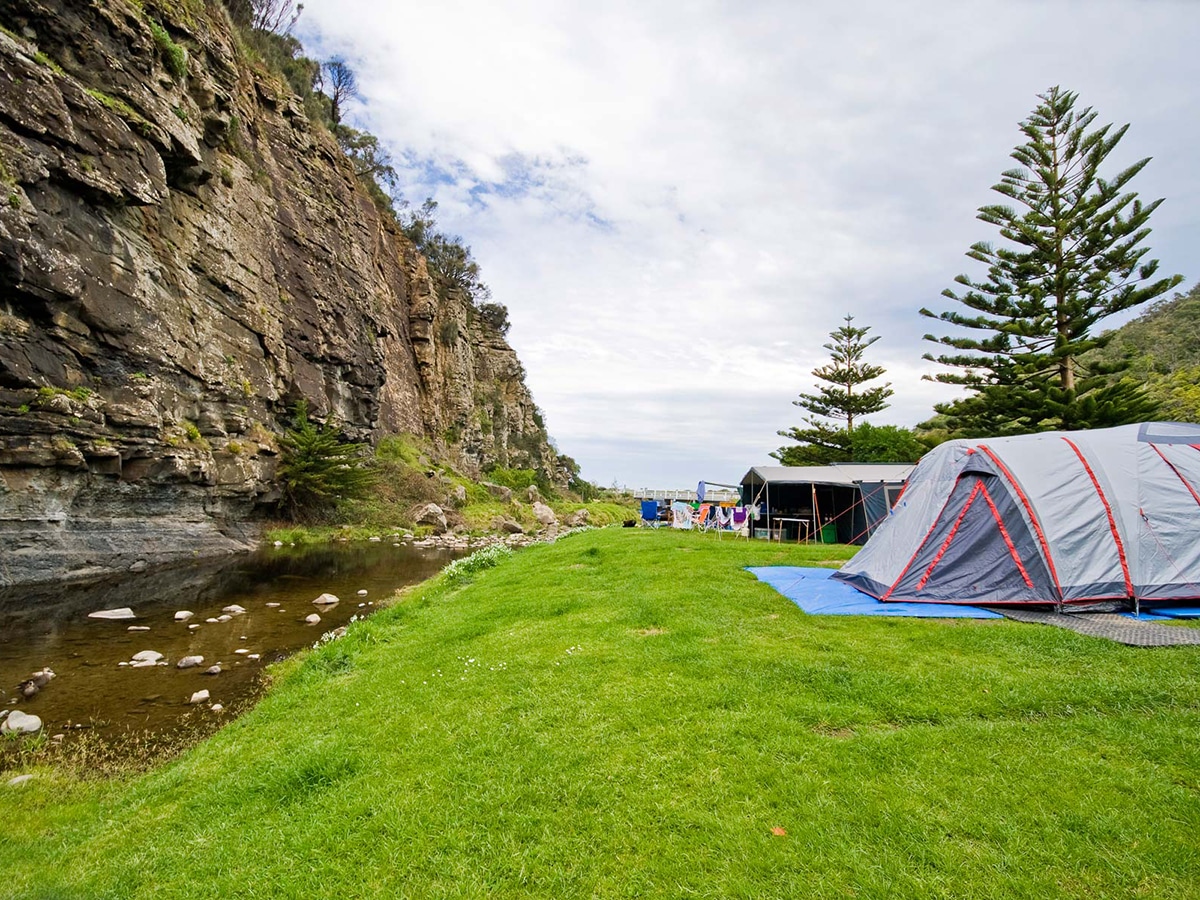 22. Cumberland River Holiday Park, Lorne
Cumberland River Holiday Park is the ultimate travel destination and certainly one of Victoria's best camping spots. Right on the edge of the Great Ocean Road, this evergreen campsite has meticulously maintained plots and boasts the most spectacular views! Swim, snorkel, or surf at the park's private beach (only a two-minute walk from the campsite) or take in the scenery on one of the famous coastal walks. Fed up of your tent? There are even glamping options here. Alongside the grassy site areas, the campsite is home to cedar cabins with full-length verandas and beautiful riverside units overlooking the cliffs. Each camp (or place) has its own campfire or BBQ, and no need to BYO, as Cumberland River Holiday Park has a highly well-stocked shop full of gas supplies, ice, and firewood.
Address: 2680 Great Ocean Road, Cumberland River, VIC 3232
Phone: +61 (03) 5289 1790
Nearest Town: Lorne 46 mins
What We Like: Glamping options will set the mood for you and someone special, making it a more luxurious camping trip.
What To Do: Drive to Aireys Inlet, check out Erskine Falls and drive to the Lorne Township.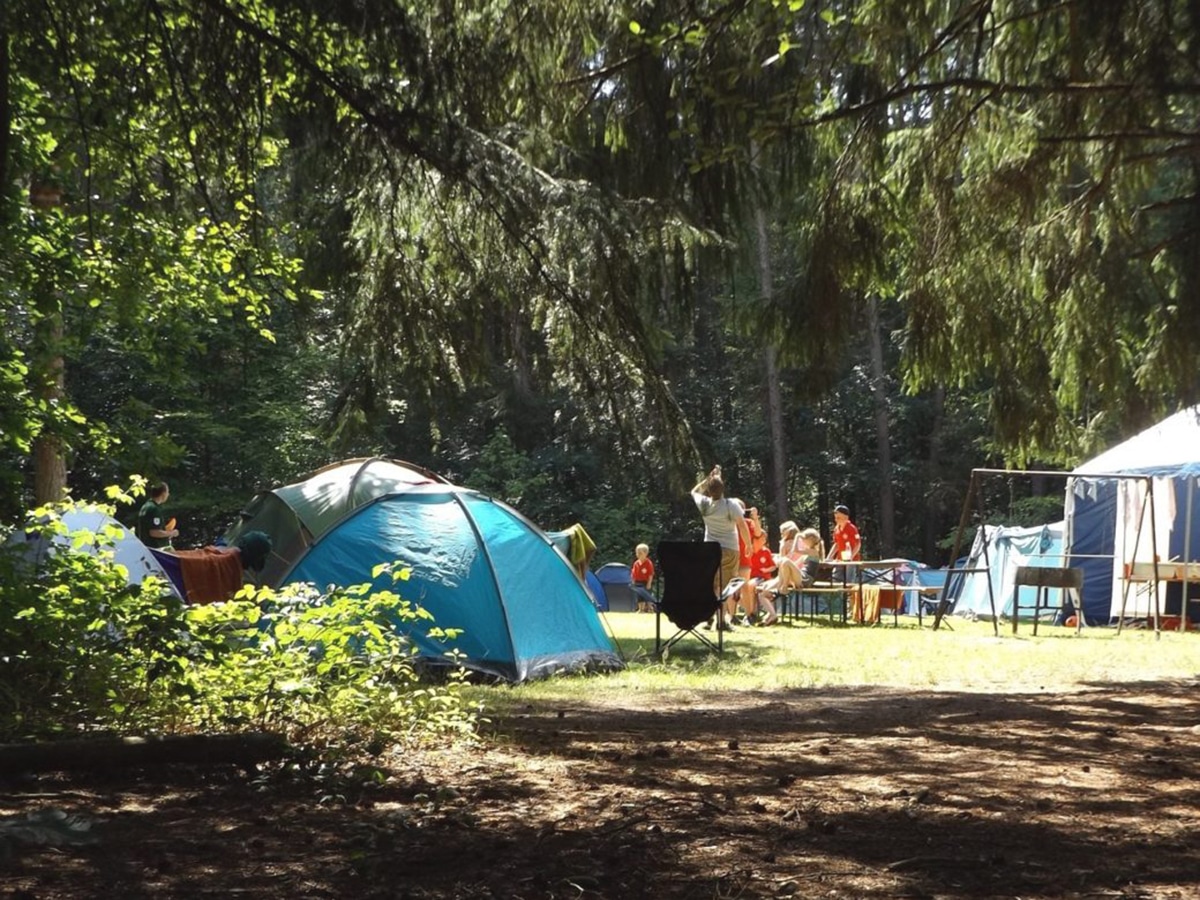 23. Cooks Mill, Cathedral Range State Park
Just over a two-hour drive from the Melbourne CBD, Cooks Mill is one of the best camping spots in Victoria for rock climbing, abseiling, and hiking. From here, you can explore all the delights the Cathedral Ranges offer. Set amongst the Stringy-barks, this campground allows you to get amongst the Australian native wildlife, including Kangaroos and wombats. There is also a fantastic spot for bird watching, where there are many species of native birds and plenty of Kookaburras. Cooks Mill Campground is equipped with non-flush toilets and communal fireplaces. It is suitable for camper vans and caravans, but as it is in a dense forest, there is very little light for tent campers…so be sure to remember your flashlight! Oh, and make sure you book ahead on the Parks Victoria website.
Address: Little River Track, Taggerty VIC 3714
Phone: +61 13 19 63
Nearest Town: Buxton 10 min
What We Like: The amenities and communal fireplaces.
What To Do: Take a trip to the Cathedral Ranges and challenge yourself by rock climbing.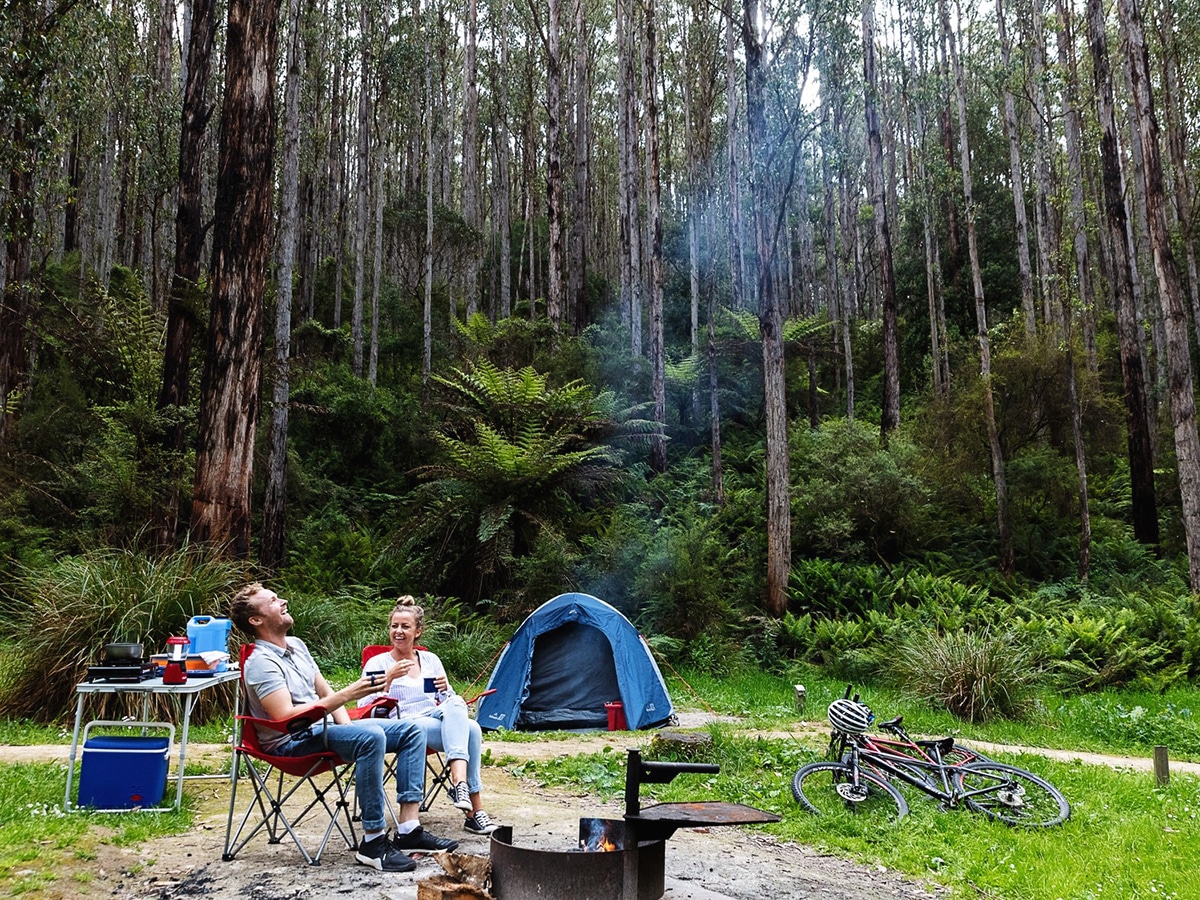 24. Lake Elizabeth, Great Otway National Park
The height of river camping in Victoria, Lake Elizabeth campground is deep in the Otways forest. It is abundant with local flora, including towering Eucalyptus trees that grow over 100m in height. The trees and bushes provide privacy to each site, but the park has a cosy and friendly feel. Take a 10-minute stroll through the tree ferns, over to the lake and continue to Lake Elizabeth Loop for a few more kilometres (4.7 to be exact) for one of the most picturesque walks in The Otways. A popular time to walk this trail is at night, as the sides of the course are covered in incredibly bright glow worms!
Address: Great Otway National Park, Forrest, VIC 3236
Phone: +61 13 19 63
Nearest Town: Forrest 11 mins
What We Like: The picturesque views and woodlands
What To Do: You have to see the infamous glow worms. It's a must, and as a result, you'll need to walk at night.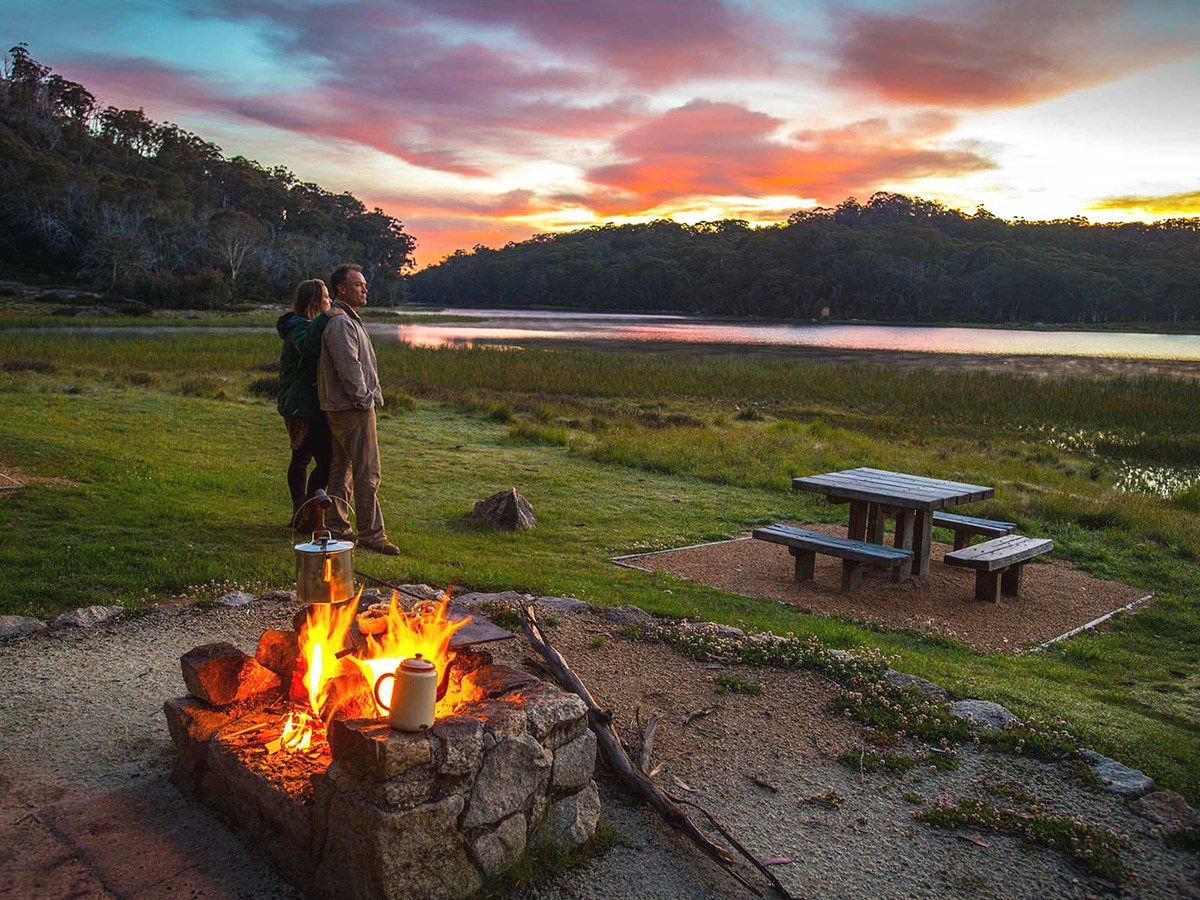 25. Lake Catani, Mount Buffalo
Lake Catani is an incredibly picturesque area located on the Mount Buffalo Plateau. From Lake Catani campground, you will find a variety of walks suitable for all levels. The trails will take you to the many swimming spots on the pristine alpine waters and beautiful picnic spots. You can even get out onto the water for a sunrise paddle as the lake is just one minute walk from where you pitch your tents. Discover the natural beauty of the alpine landscapes and woodlands around the lake or adventure to the region's top waterfalls just a short drive away. The site is easily accessed by road and boasts flushing toilets and hot showers. The campground is open from November to April, and bookings are essential.
Address: Mount Buffalo Rd, VIC 3740
Note: The park will be closed on the following dates 29th May-June 2nd, June 5th – 9th
Phone: +61 13 19 63
Nearest Town: Porepunkah, 34 mins
What We Like: Alpine escapes in Victoria are always a fantastic experience, especially during summer.
What To Do: There's plenty to do; it's about fitting all the activities into one stay. Otherwise, you'll have to return. Go canoeing, kayaking, cycling, rock climbing, abseiling, and hang gliding.
How Man of Many chose the best camping spots in Victoria
With an editorial team full of adventures, Man of Many has had the unique opportunity to directly sample and experience campsites from the best spots in Victoria. As expert journalists who guide people between competing products and services, we have provided our independent opinion in formulating Man of Many's selections. Our editors have taken into account location, safety and amenities while also making a concerted effort to highlight a few spots outside of the CBD. You can review our editorial policy here surrounding how we maintain our independence in our editorial reviews.
Key things to consider when camping in Victoria
The camping spots above and selections have been chosen using three critical criteria that make a camping trip in Victoria memorable—the quality of the scenery or view, the opportunities to see landmarks or embark on adventures and access to facilities or amenities at campsites.
The key factors to keep in mind when deciding where to go:
Location – How far will are you willing to travel?
Value – Is it value for money?
Safety – Ensure you are safe and check warnings on the campsite's website.
Preparation – Ensure you have everything you need and prepare for all types of conditions.
Alternatives to camping spots in Victoria
If you're looking for other things to do in and around Melbourne, we've got you covered with some of the options listed below. You can also check out our list of the Best Brazilian BBQ in Melbourne or, if you don't feel like heading out for food in Melbourne you can look to go fishing or find 100 other fun ideas in Melbourne.
General FAQs
Where can you camp for free in Victoria?
There are a wealth of free camping sites in Victoria, however, the best include Sheepyard Flats and Shoreline Drive.
What campsites in Victoria have family-friendly amenities?
While most camping spots in Victorian will have amenities, those at Tidal River, Refuge Cove and Killarney Beach are suited to full family trips.
What is the best month to go camping in Victoria?
Most experienced campers will tell you Autumn is the best month for camping, This way, you get to experience the full seasonal change, without copping the searing heat of summer or the freezing temperatures of winter.
You'll also like:
---
Featured Video from Man of Many