2023 BMW M2 Review: The Pinnacle of New Sports Cars?
It's difficult to quantify, but there seems to be subtle nervousness creeping through sports car enthusiasts across the globe. What was once a smorgasbord of options, the sports car segment has slowly been eroding away in plain sight. Whether it be companies prioritising sales and profitability, tighter emissions restrictions, or simply a diversion in automotive values, like boiled frogs, in less than a decade, the sub AUD$150,000 sports car market has almost died without us realising.
But all is not lost. BMW's M division is still keeping the sports car torch alight, albeit with some technological gusts trying to extinguish the purist flame. You see, even BMW has admitted that it is transitioning to a more electrified future, with the majority of the M lineup featuring either a fully electric or hybrid powertrain before the end of the decade. While this transition won't concern the majority, there's a large cult of M followers that will cling to the more analogue cars with dear life. Cars that communicate via their chassis, encourage involvement and prioritise human engagement—cars like the new BMW M2.
A lot rides on the shoulders of the new BMW M2. Not only is it carrying the weight of the company's 'M' badge, but it's lugging the viability of a once cherished format; front-engined, rear-wheel drive vehicles with a manual gearbox. On paper it's the last of a dying breed, but is it any good? Let's find out.
Update: After Justin's initial launch review, Ben has had the chance to spend some more time with the new BMW M2 fitted with the automatic transmission. He's added additional information about the effectiveness of the safety and driver assistance features, warranty and servicing, and provided his own verdict on the car at the end of this review that closely resembles the ownership experience.
RELATED: We also recently drove the practically perfect BMW M3 Touring.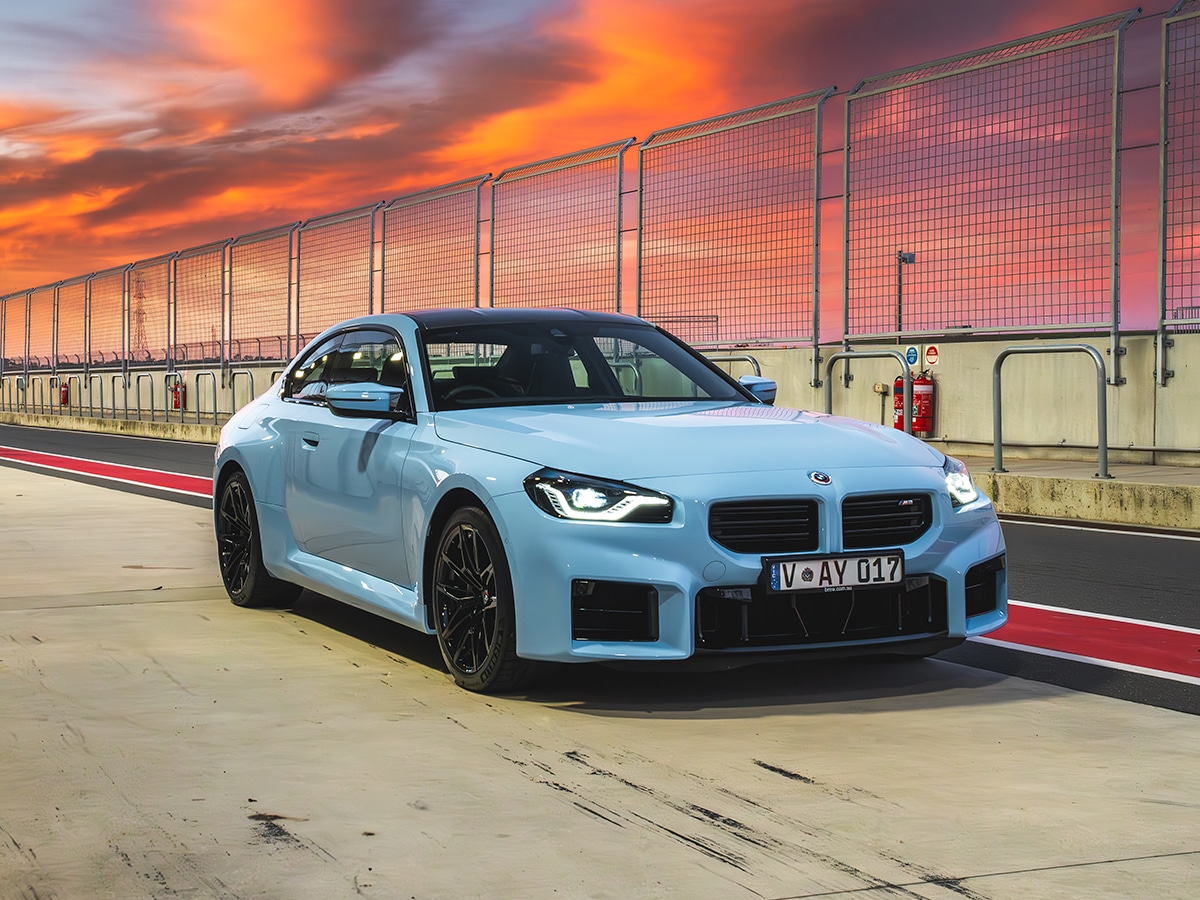 Price
The 2023 BMW M2 is priced from AUD$121,700 plus on-road costs in Australia and is available now in BMW dealerships Australia-wide. It's still an 'affordable' sports car by today's standards, although, it's worth mentioning this price represents an increase of AUD$18,800 for the manual and AUD$11,800 for the automatic over the previous-gen M2 (AUD$102,900 to AUD$109,900 plus on-road costs).
Looking at the competition for the new BMW M2 and we think the Audi RS 3 makes the best case, priced from AUD$91,400 in hatch or AUD$93,900 in sedan body style. The Mercedes-AMG CLA45 S is priced from AUD$128,000 plus on-road costs but it's something we've not had the chance to drive just yet.
The current list of options includes the following:
---
Featured Video from Man of Many
---
M Carbon Experience (AUD$14,500):
M Carbon bucket seats
BMW M Driving Experience Advance 1
M Driver's package
Paint:
Alpine White (non-metallic).
M Zandvoort Blue (non-metallic).
Black Sapphire (metallic).
M Toronto Red (metallic).
M Brooklyn Grey (metallic).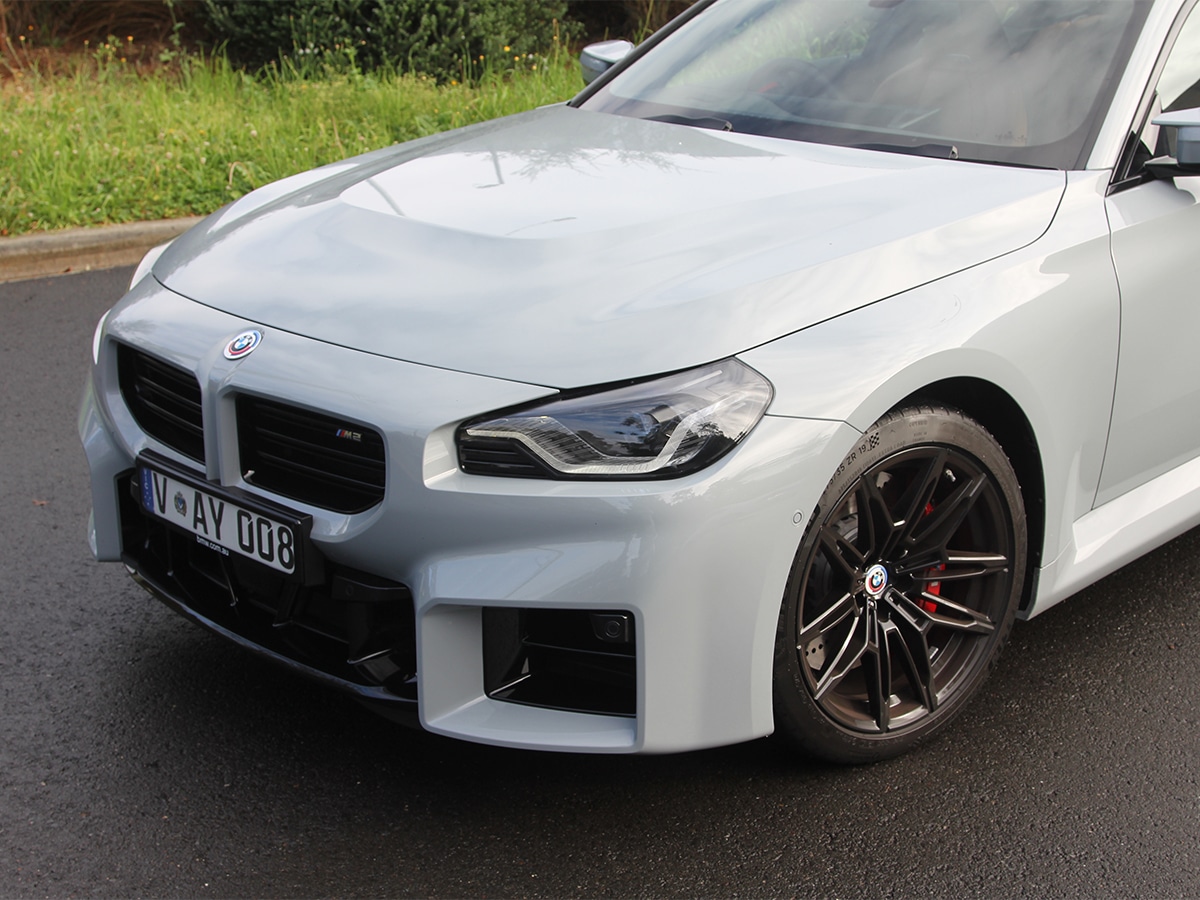 Engine and Transmission
The new BMW M2 is powered by the familiar 3.0-litre straight-six engine developed with M TwinPower Turbo technology. It's a derivation of the engine found in the current generation BMW M3/M4 cars with only a small number of detailed differences resulting in a lower power output compared to its bigger brothers (details below). Power is up on the older BMW M2 CS, now producing 338 kW, but the torque figures are identical at 550 Nm.
Power makes its way to the rear wheels via a standard torque-converter automatic eight-speed M Steptronic transmission with Drivelogic as standard (three shift settings), however, a manual transmission is available as an option. The manual gearbox includes the Gear Shift Assistant, which uses engagement speed control to ensure slip-free operation when downshifting under braking into corners.
There's an Active M Differential at the rear axle included as standard that can generate a locking effect of up to 100 per cent whenever required. Essentially, skids at will.
| 2023 BMW M2 Power Comparison | Engine | Power | Torque |
| --- | --- | --- | --- |
| 2023 BMW M2 | 3.0-litre turbocharged 6-cylinder | 338 kW @ 6250 rpm | 550 Nm @ 2,650 rpm |
| 2021 BMW M2 CS | 3.0-litre turbocharged 6-cylinder | 331 kW @ 6250 rpm | 550 Nm @ 2350 rpm |
| 2023 BMW M4 | 3.0-litre turbocharged 6-cylinder | 353kW @ 6250 rpm | 550Nm @ 2650 rpm |
| 2023 BMW M4 Competition | 3.0-litre turbocharged 6-cylinder | 375kW @ 5510 rpm | 650Nm @ 2700 rpm |
The 2023 BMW M2 will accelerate from 0-100km/h in 4.1 seconds with the eight-speed M Steptronic transmission and in 4.3 seconds when fitted with the six-speed manual gearbox. The 0-200km/h sprint will take just 13.5 seconds (automatic) or 14.3 seconds (manual). Top speed is 250 km/h (155 mph) or 285 km/h (177 mph) by specifying the optional M Driver's Package.
Interestingly, our friends at Performance Drive tested the 2021 BMW M2 CS and it completed the 0-100km/h sprint in 4.09 seconds.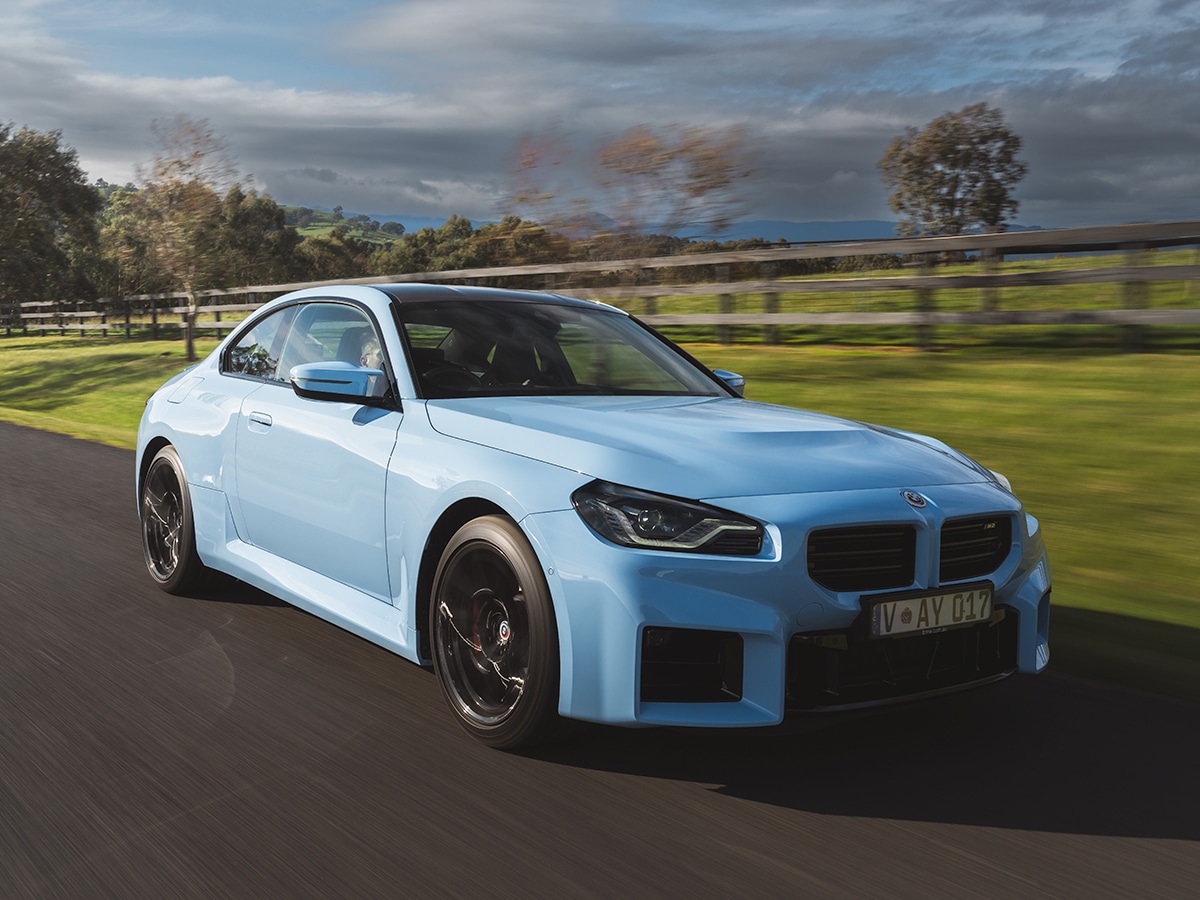 Ride and Handling
You're probably wondering by now what it's like to drive on the road. Well, like its M3 and M4 siblings, the twin-turbo inline-six under the bonnet is an absolute goliath. This powerplant is more than just an engine; it's an anthem to the old guard of internal combustion, carrying the weight of multi-cylinder sports cars on its swole shoulders.
Thanks to 338kW of power (36kW more than its predecessor), the M2 is ferociously quick. Match this engine with the six-speed manual, and you have a purely intoxicating concoction. Shifting through the gears on twisty country roads and the M2 propels you forward with a savage urgency that never fails to provoke a grin. There's a whisker of rubberiness between shifts, but the guttural roar out of the exhaust makes up for such trivialities.
This remarkable performance is met with an insatiable appetite for revs, with the engine hitting its peak output at 6,500rpm and maintaining power up to the 7,000rpm limit. It feels every bit as quick as the claimed 0-100km/h time of 4.3 seconds in the manual and 4.1 seconds in the 8-speed automatic.
Yes, the 8-speed auto that we've also driven is faster, more fuel efficient, and easier as a daily, but this is an M2 and it should be engaging.
With great power comes great responsibility, and the M2's chassis takes the obligation very seriously.
Whether it be sweeping country roads or tight hairpins in the Adelaide hills, the M2 felt planted, precise, and engaging. It begs you to push harder, rewarding you with a satisfying connection to the road that is rare in today's world of all-wheel drivetrains and constant torque vectoring. The handling is sublime, with razor-sharp precision and superb feedback through the chassis, allowing you to dance with the car on the edge of its limits.
There's a noticeable chasm in the front-end grip between the previous model, with the new M2 mechanically clawing at every bit of tarmac it can get its mitts on. It feels sure-footed in every scenario, with a perfect 50:50 weight distribution providing the gruff unit with a sense of balance and agility that many performance cars would envy.
The adaptive M suspension is a saviour on our roads, with the electronically controlled dampers provided as standard for the first time on an M2. Set the suspension to comfort, everything else to sport, and Australia's best driving roads will be at your mercy.
Stopping power comes in the form 380mm discs with six-piston fixed callipers up front, while the rear utilises 370mm discs with single-piston floating callipers. Unsurprisingly, the M2 is extremely capable under braking, with an excellent combination of bite and feel, even with a solid dose of heavy abuse.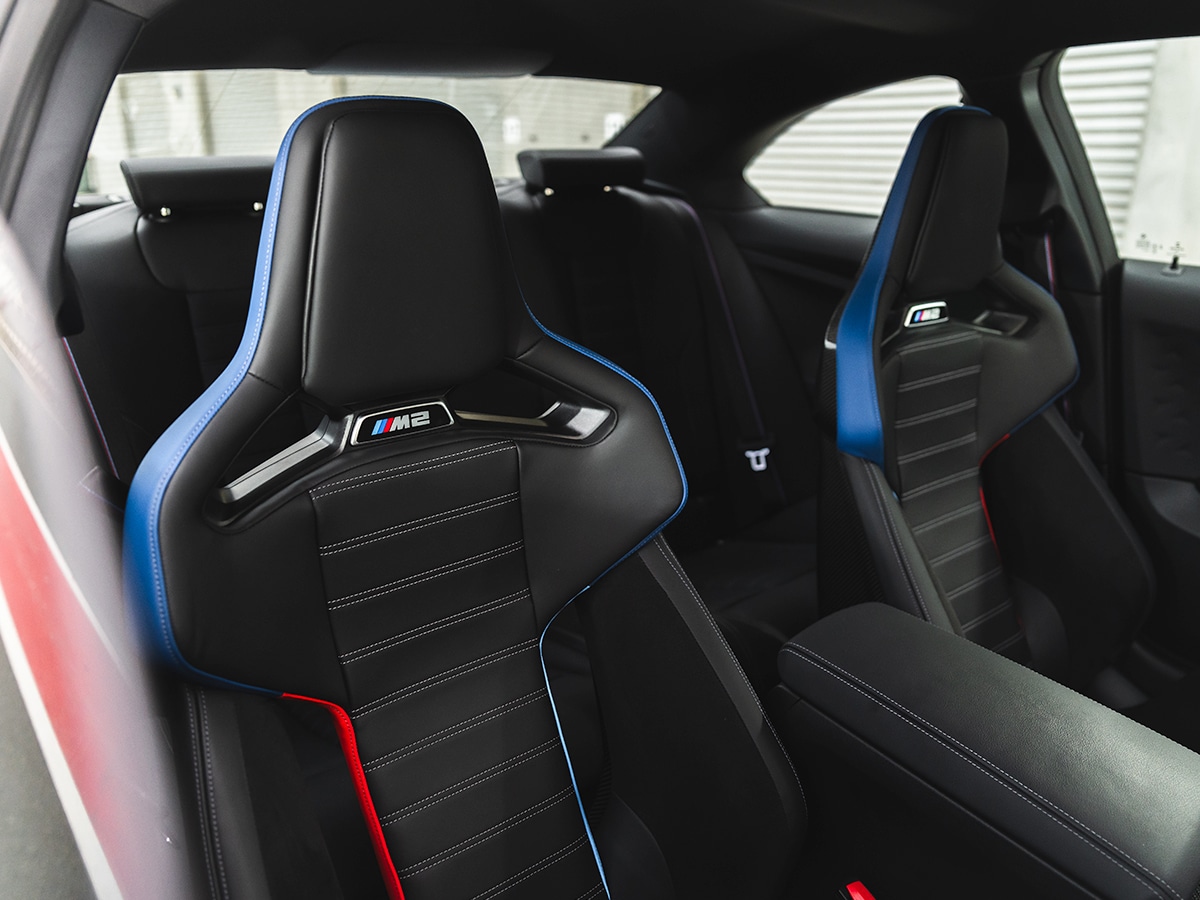 Interior and Comfort
Sports seats are pulled from the M-division in a model-specific design with Sensatec/Alcantara surfaces. And before you even ask, yes, you can choose the spine-tingling M Carbon bucket seats which use carbon fibre-reinforced plastic (CFRP) in the structural elements of the seat cushion and backrest and also feature cut-outs in the side bolsters and below-the-head restraints, thereby shaving around 10.8 kilograms off the vehicle's weight. Should you option them? Yes, unless you're planning to commute in the car.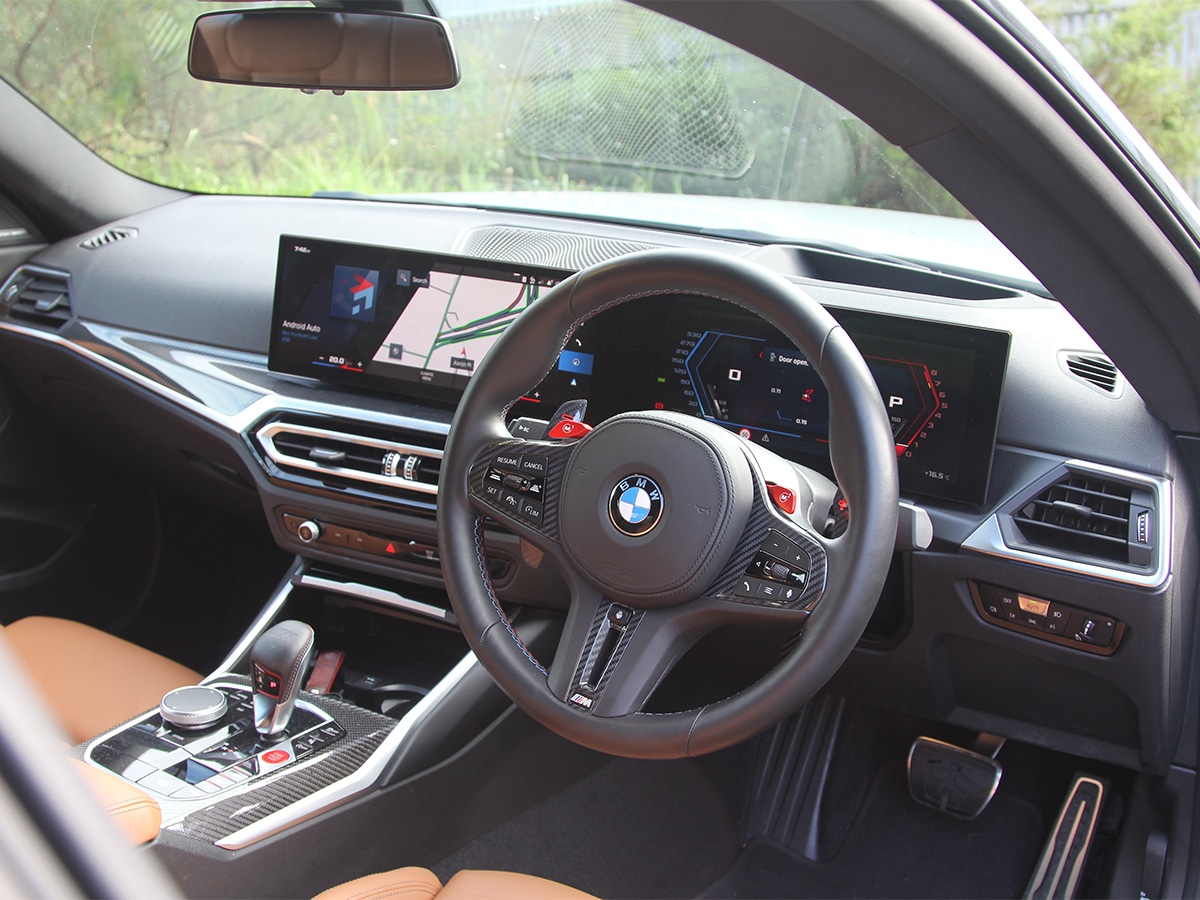 Infotainment
Your eyes are immediately drawn to the giant 27-inch BMW Curved Display with wireless Apple CarPlay and wireless Android Auto featured alongside BMW Intelligent Personal Assistant that forms part of the BMW OS8 Drive system.
While we're not the biggest fans of tablet displays in sports cars, it's a system we've become familiar with in the BMW IX electric SUV and the new BMW M3 Touring. In the case of the BMW M2, all your driving-related information including Shift Lights appears in a new graphical layout on the 12.3-inch information display. M-specific widgets for vehicle setup and tyre condition are just two of the items that can be called up in the 14.9-inch control display. The optional BMW Head-Up Display also features M-specific readouts.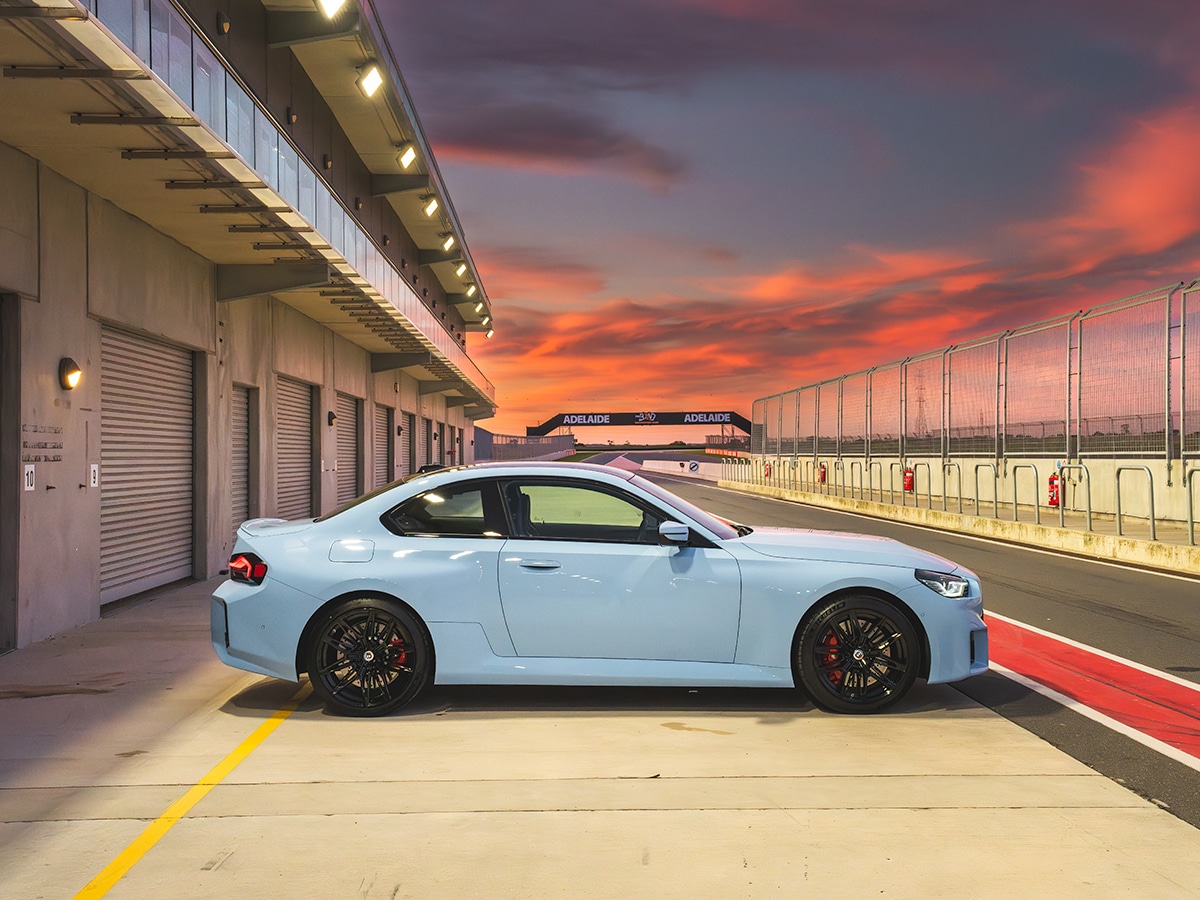 Thoughts on the New Design
The instant you set your gaze upon the new BMW M2, you're treated to a feast of aggressive styling. While the initial press photos were the target of keyboard warriors, with its broad-shouldered muscularity and low, sweeping lines, the M2 looks every bit the performance machine it claims to be.
It wears its flared wheel arches like a badge of honour, murmuring at the beast that lies beneath, even when stationary. The side profile illustrates a blend of meticulously crafted surfaces, prominently flared side skirts and those mighty wheel arches. Simultaneously, the rear end brings complimentary touches to the table, including a subtle boot lid spoiler, a less subtle rear diffuser insert, and two pairs of imposing 100mm diameter exhaust pipes. Everything about the muscular rear end screams 'wide track' and 'aerodynamics' in a purposefully sculpted landscape.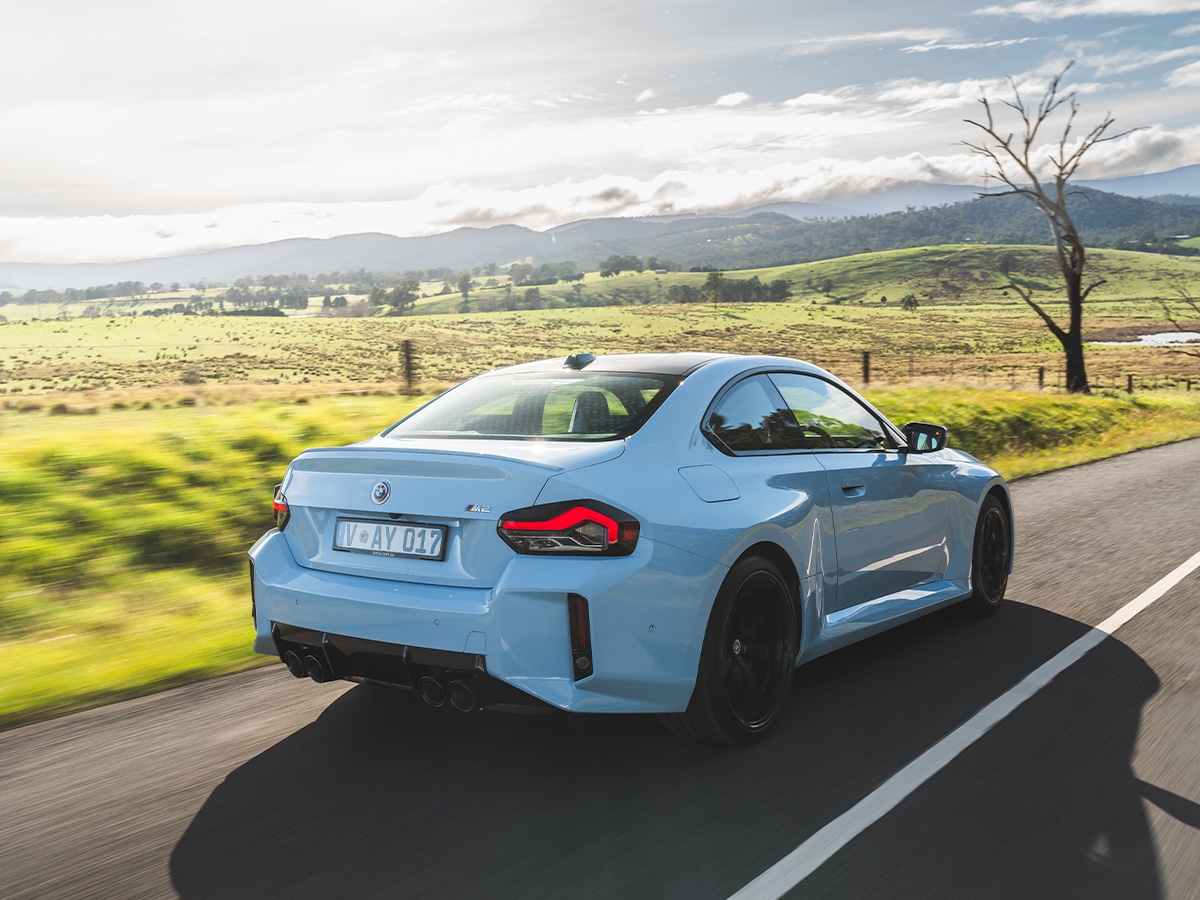 Up top, the M2 debuts an M Carbon roof as standard, which looks as tasty as the weight savings it delivers. The lightweight roof sheds approximately six kilograms compared with traditional steel roofs, which might not seem like much, but considering it's the highest point on the car, its performance implications are critical; A lower centre of gravity translates into even greater handling agility.
BMW has gone with a staggered M light alloy wheel combination with 19-inch up front and 20-inch at the rear, wrapped in 275 and 285 section rubber, respectively.
Overall, the M2's appearance is a love letter of sorts, a nod to the wide-flared 2002's and M cars of the '70s and '80s, but with a brawny, modern edge. The entire visual terrain is a constant dance of form and function, with function seeming to out-muscle at every opportunity. While it might not be the safest choice, the Zandvoort Blue looks stunning in the flesh and would easily be my first choice on the configurator.
Warranty and Servicing in Australia
The new BMW M2 is covered by BMW Australia's standard five-year/unlimited km warranty. There are no planned service intervals for the M2 as it's condition-based and the car will tell you when it's time for a service. That being said, you can purchase a five-year/80,000km service plan for AUD$3,480 when you purchase the car.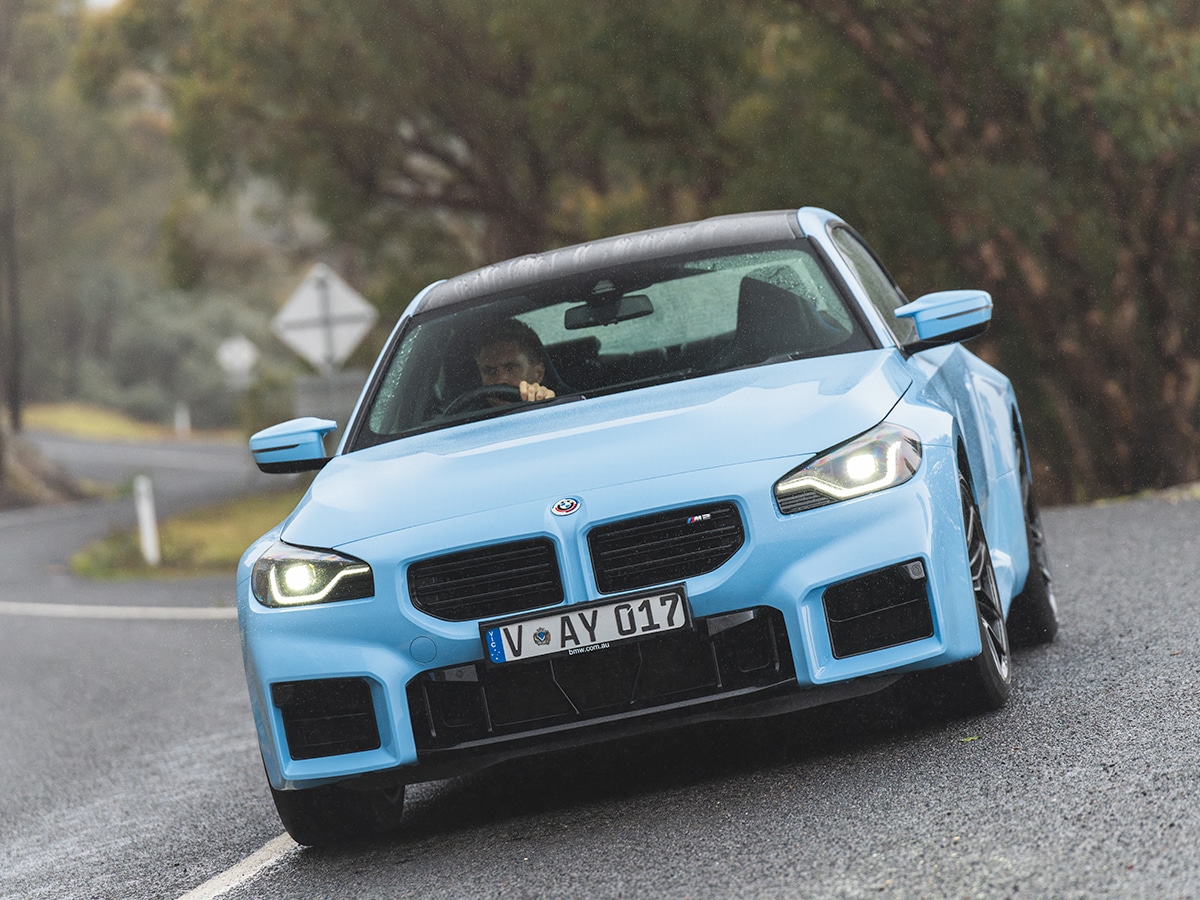 Justin's Verdict
So, back to addressing my original question: "Is the new BMW M2 a Frankenstein of the 'M' parts bin or the sports car enthusiasts have been craving?" I believe it's unequivocally the latter.
It's a car that not only respects its roots but also embraces the present, offering a driving experience that's as thrilling and engaging as it is refined and sophisticated. The M2 is a beacon of hope in the dwindling sports car market, a vivid reminder that engagement, fun, and character can still coexist with modern expectations.
Not only is it the best sports car I've driven this year, but it's also one of the best sports cars I've ever driven. It carries the weight of the M badge and the expectations of purist drivers worldwide, yet somehow still exceeds expectations. It's everything a BMW M car should be. And with a manual gearbox and rear-wheel drive, it's a defiant salute to the sports cars of years past.
The new BMW M2 is a heartening affirmation that the sports car is still alive and kicking, and cars like this give driving aficionados a cause for optimism. I sure hope BMW doesn't ditch the analogue driving experience in pursuit of other causes because its cars like these deserve a place in the garages and hearts of driving enthusiasts the world over.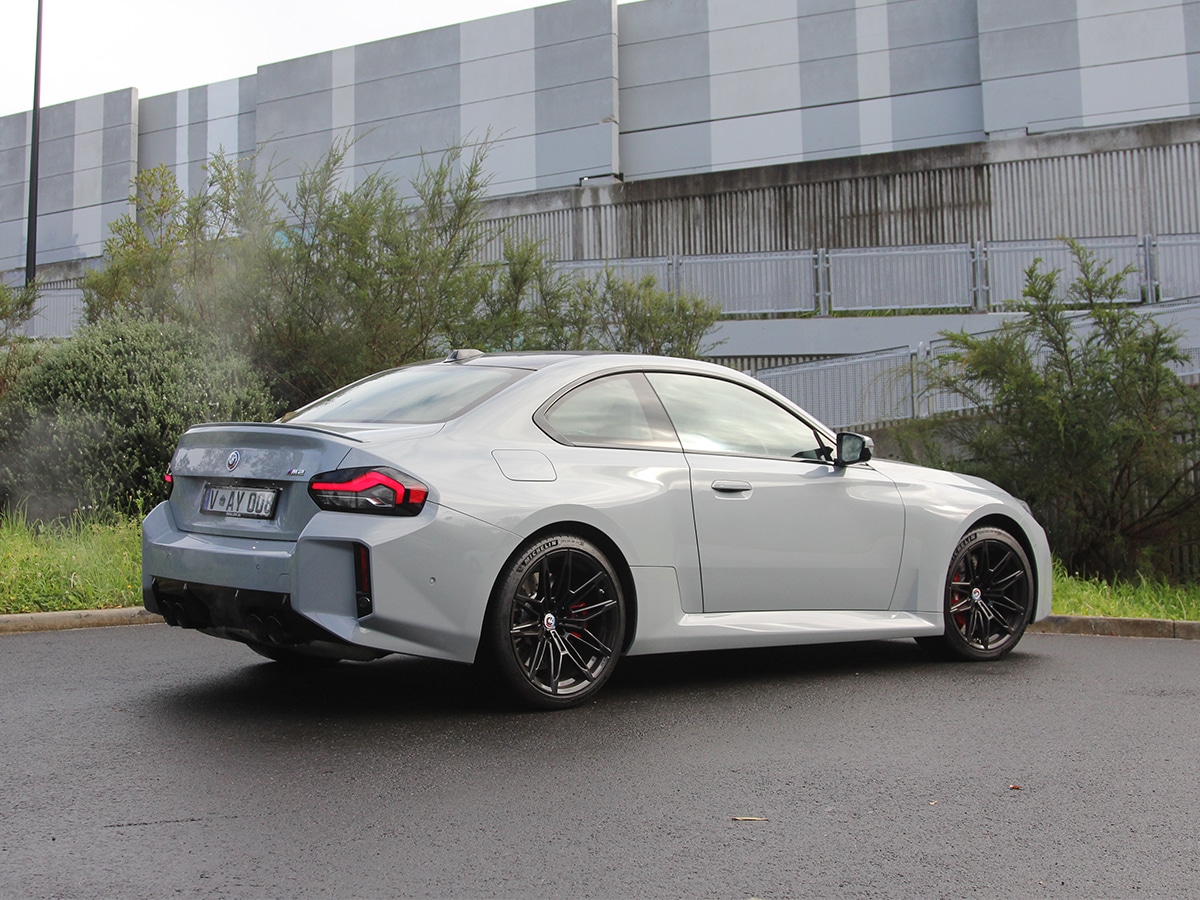 Ben's Verdict
After spending a week living with the new BMW M2, I have to play the role of devil's advocate with Justin's verdict. The M2 and I never got along. Looking back at my time with the car and I still struggle with the weight and swollen appearance. This is a car that represents the ultimate expression of BMW driving purity, but I believe that title still belongs to the BMW M2 CS which remains maybe the greatest BMW driver's car I've ever driven and probably one of the best they've ever produced.
To put it into a sentence, it feels like a slower BMW M4 Competition. This is a good thing if you're looking at the near AUD$40,000 price difference between the two models, but with substantially less power (338kW vs. 375kW) and an identical unladen weight of 1,725kg, the result is hard to get your head around.
The BMW M4 in RWD format is one of my favourite M cars, but that's mostly because of its hilarious speed and composure through sweeping bends thanks to a wheelbase that's considerably longer than the M2s (2,746 mm vs. 2,857mm). The harder you push the M4, the more it gives back. On the other hand, the harder you push the new M2 the livelier it gets, something that is traditionally confidence-inspiring in a lighter-weight car like the M2 CS (1,575kg), but something a little disconcerting in a car weighing on the wrong side of 1.7-tonne.
Every enthusiast bone in my body wanted to love the new M2 but we didn't get along this time around. Strangely, my heart still lies with the underdog BMW 230i Coupe that remains one of the best bang-for-buck sports cars on the market at just $74,300 before on-road costs.
Standard Features List
Standard specifications for the Australian-delivered BMW M2 are as follows:
19"/20" M light alloy wheels
Active M Differential
Adaptive LED headlights incl. High Beam Assistant
Adaptive M Suspension
Alarm system
Ambient light
Automatic climate control, 3-zone
BMW Head-Up Display
BMW Live Cockpit Professional with 12.3" Instrument Display and 14.9" Control Display w. BMW Operating System 8
BMW M 50 year anniversary badging (available until March 2023 production)
Comfort Access system (incl. BMW Digital Key for 8-speed M Steptronic transmission)
Connected Package Professional
DAB+ digital radio
Driving Assistant
Active cruise control with Stop&Go#
Electric seat adjustment
Leather 'Vernasca' Upholstery
harman/kardon Surround Sound System
Lumbar Support for driver and front passenger
M Compound Brake, Blue (also available with red high gloss callipers)
M Drive Professional
M high-gloss Shadowline with extended contents
M interior trim finishers Carbon Fibre
M Lights Shadowline
M seat belts
M Sport Seats for driver and front passenger
Metallic paintwork
Parking Assistant
Seat Heating for driver and front passenger
Smartphone integration with Android Auto and Apple CarPlay
Steering wheel heating
Storage compartment package
Tyre pressure monitoring system
Tyre repair kit
Wireless smartphone charging
#Replaced with cruise control with braking function for manual transmission models
Optional Features List
M Carbon Experience: AUD$14,500
M Carbon bucket seats (10.8kg weight reduction)
– Cut-outs in the rear seat backrest, side sections and functional belt guides for multi-point seat belts
– Visible carbon surfaces across back sections
– Removable headrest cover for additional helmet space
– Trimmed in Leather 'Merino' upholstery with exclusive highlights
BMW M Driving Experience Advance 1
– Voucher for BMW M Driving Experience Advance 1 course at BMW Driving Experience
M Driver's package
– Vmax increase from 250km/h to 285km/h
– Voucher for BMW M Driving Experience Advance 2 course at BMW Driving Experience
Paint finishes (all no-cost options)
Non-metallic
– Alpine White
– M Zandvoort Blue
Metallic
– Black Sapphire
– M Toronto Red
– M Brooklyn Grey
Alloy wheels (both no cost options)
19″/20″ M light alloy wheels Double-spoke style 930 M with mixed tyres, Jet Black
19″/20″ M light alloy wheels Double-spoke style 930 M Bicolour with mixed tyres
Upholstery
Leather 'Vernasca' (both no-cost options)
– Black with exclusive highlights
– Cognac with décor stitching
Leather 'Merino'
– Black with exclusive highlights (included with M Carbon Experience package; see above)
Interior trim
M 'Carbon Fibre': Standard equipment
– CFRP inserts in steering wheel
– CFRP gearshift paddles on steering wheel
---
Featured Video from Man of Many