'Go Like Hell': 2025 Ford Mustang GTD is a Street-Legal Race Car
The story of the Ford Mustang GTD starts with a small group of engineers hiding in a metal storage garage behind a wind tunnel building in Allen Park, Michigan. It doesn't sound like the base for a limited production $300,000 street-legal race car now does it?! But these engineers have been busy creating the fastest road-legal Mustang ever, ready to take on everything the Europeans can throw at them.
With more than 800 horsepower and a sub-7-minute Nürburgring time in their sights, the Mustang GTD is a limited-edition, ultra-high-performance street-legal performance car that maintains the soul of a 'stang. 
"Mustang GTD shatters every preconceived notion of a supercar," said Jim Farley, Ford president and CEO. "This is a new approach for us. We didn't engineer a road car for the track, we created a race car for the road. Mustang GTD takes racing technology from our Mustang GT3 race car, wraps it in a carbon fibre Mustang body and unleashes it for the street."
RELATED: Ford Mustang Mach-E Price and Specs for Australia.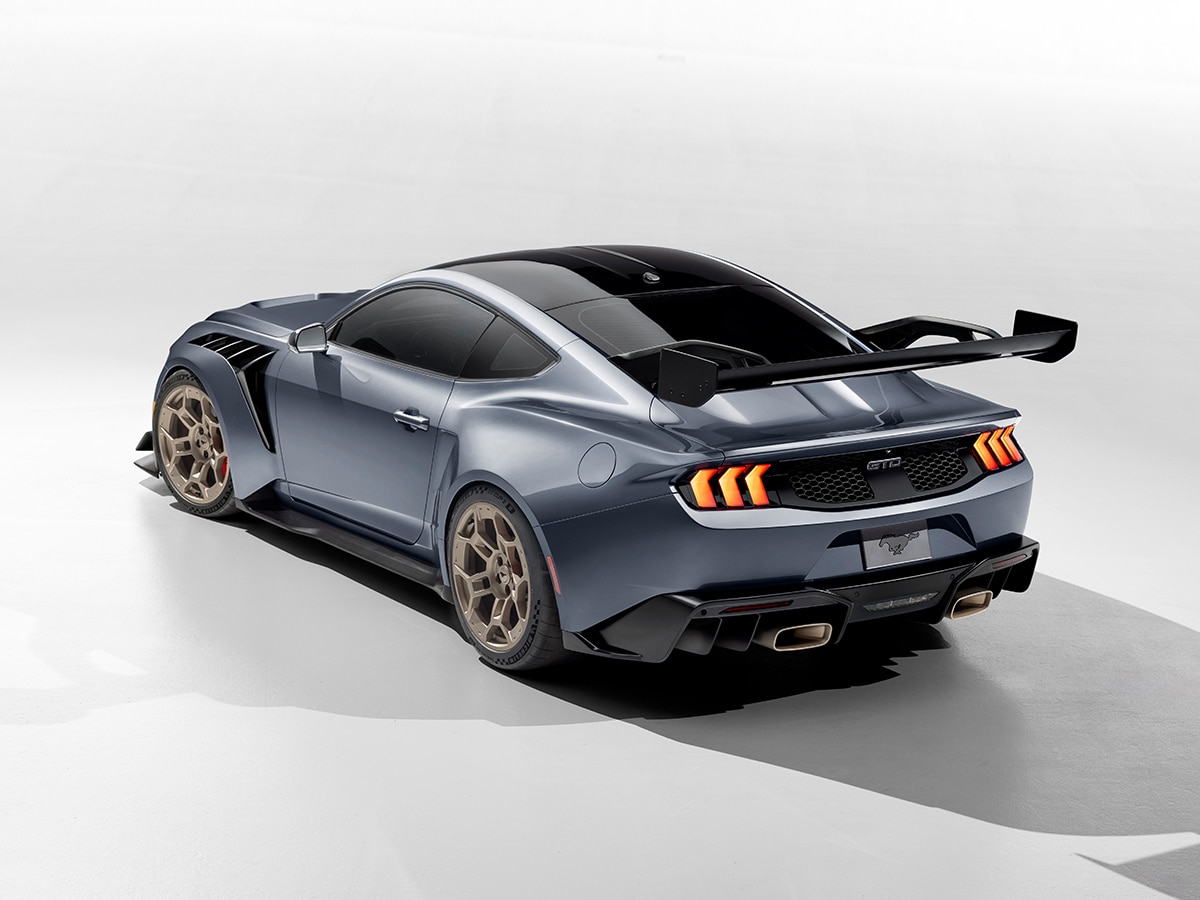 It might look batsh*t crazy in photos, but every form is followed by a function. The brand isn't letting too much out of the bag, but what they've promised is the fastest road-going Ford Mustang ever built. And it all starts with a giant front splitter, vented hood, fenders, and C-pillar mounted hydraulically controlled active rear wing.
Power is supplied by a supercharged 5.2-litre V8 targeting an estimated 800 horsepower. It will scream past 7,500rpm before power it's sent to the wheels via a rear-mounted 8-speed dual-clutch transaxle and lightweight carbon fibre driveshaft for near 50/50 weight distribution. Sticky 345-millimetre tires are wrapped around 20-inch forged aluminium wheels with a forged magnesium option also available just like a Porsche GT4 RS.
"The hardware has been carefully selected and developed to enable blistering lap time performance," said Greg Goodall, Ford chief program engineer, "The target for this project was clear – go much, much faster than we've ever gone before with a targeted sub-7-minute Nürburgring time. This makes it the fastest roadgoing Mustang ever from Ford."
The body is mostly constructed from carbon fibre, including the fenders, hood, cover that replaces the trunk lid, door sills, front splitter, rear diffuser and roof are all carbon fibre with optional carbon fibre front and rear fascias.   
Even the underbody has been treated to a little carbon, ready for your local shopping centre speedbump.
Maybe the coolest piece of all is the semi-active suspension (40 mm lower ride height in Track Mode) that takes up space in the boot. Here, the rear suspension features an integral link pushrod and rocker arm with inboard shock absorbers and coil-over springs arranged in a horizontal cross pattern.
It's joined by a hydraulic control system and a transaxle cooling system that uses a special boot lid to direct air through heat exchangers into the area for cooling. It's proper race car stuff.
What's it like inside? Well, we haven't seen inside just yet. But Ford tells us there are RECARO racing seats, 3D-printed titanium paddle shifters, a rotary dial shifter, and a serial plate. All of which are made from retired Lockheed Martin F-22 titanium parts. 
We can see the bald eagles flying, even all the way down here in Australia.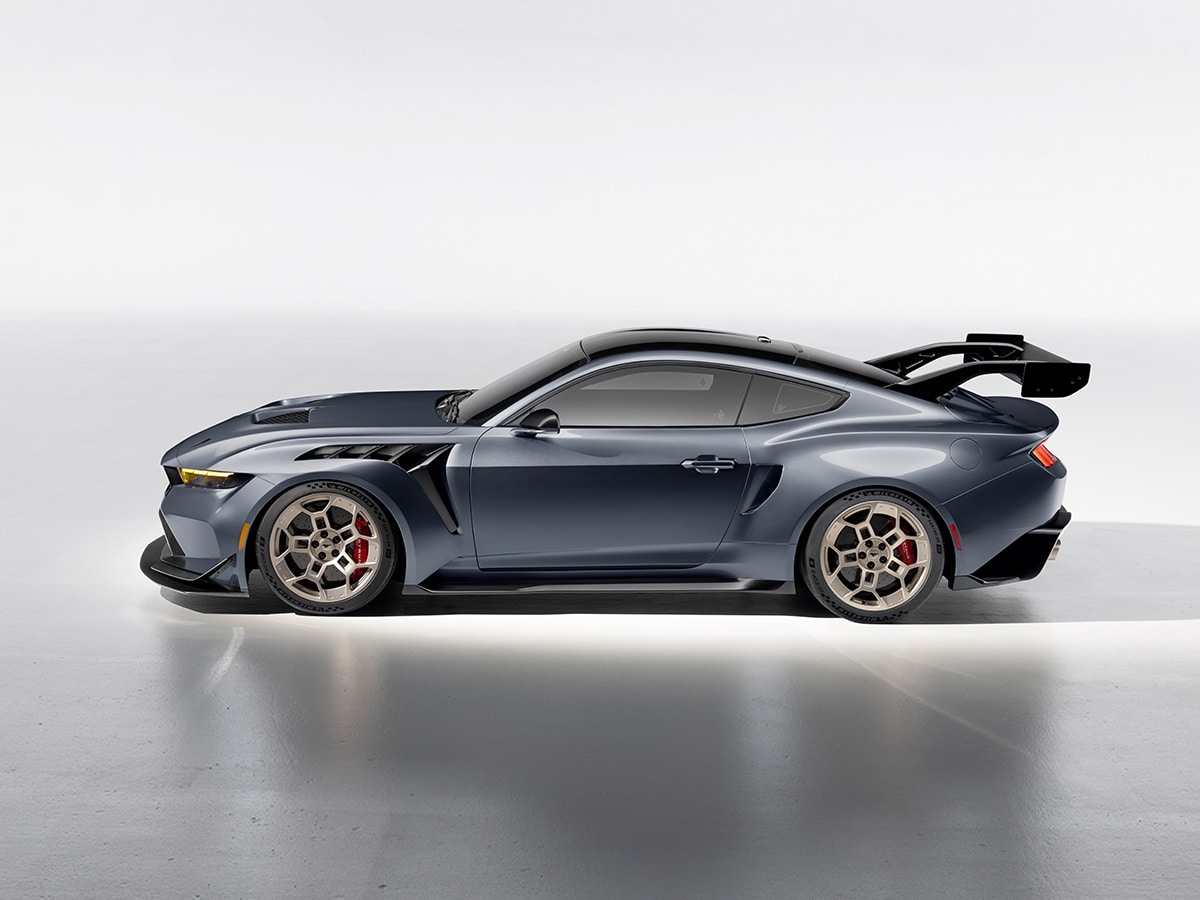 Want to get your hands on a Mustang GTD? Good luck. To quote the media release; Production of Mustang GTD will be limited, and pricing is expected to begin at approximately $300,000 MSRP. Not only will you have to have friends at Ford, but you'll have to have money. Lots of it.
In terms of production, it will start life at the Ford Flat Rock Assembly Plant before it's transported to Multimatic facilities in Markham, Canada, where it will be handcrafted for racing-inspired precision by the Ford Performance and Multimatic teams.
During the purchasing process, customers will be able to choose multiple interior colour combinations and several special option packages that "take the exterior to another level." It will also be able to be ordered in "any colour."
Look out for the Mustang GTD as it becomes available to customers in late 2024, early 2025.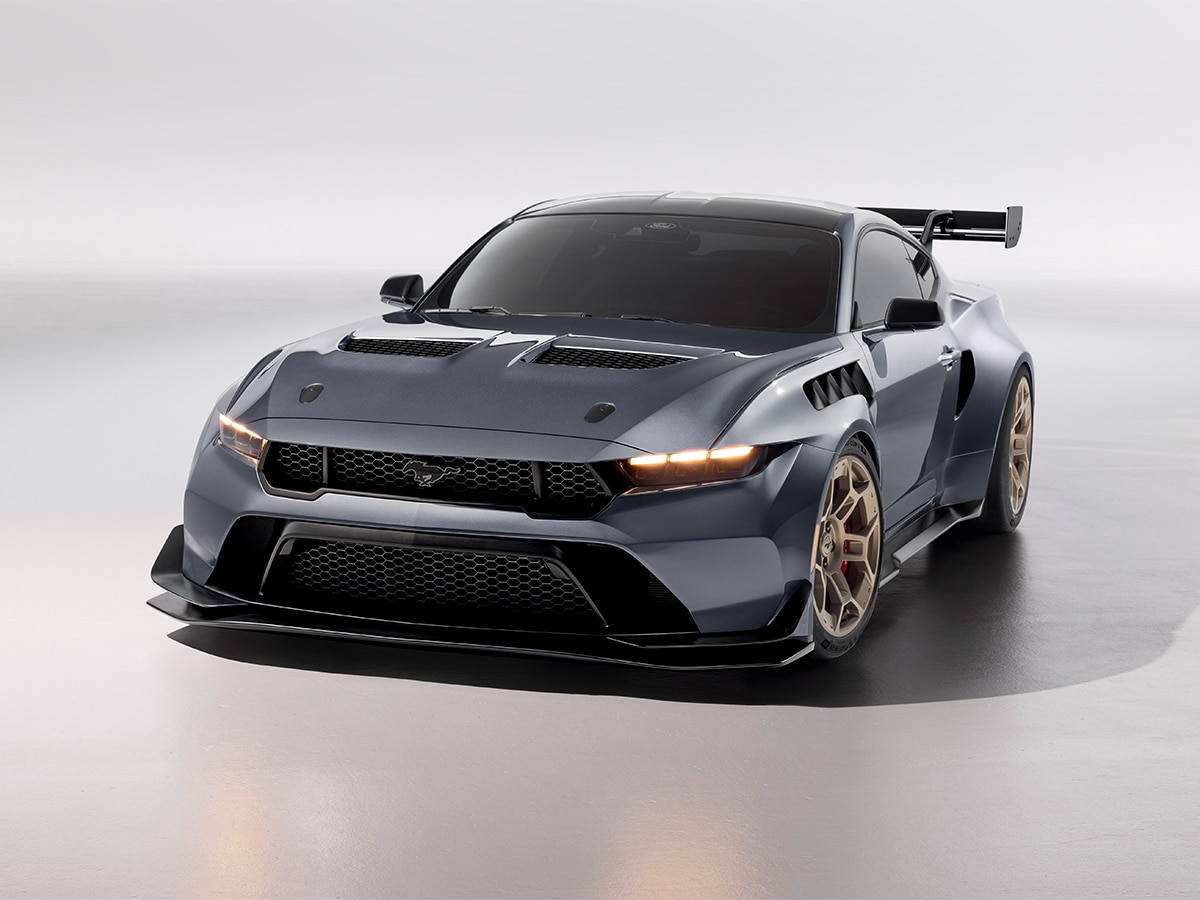 You'll also like: