Every year, we Australians buy larger and larger TVs, splashing out in an effort to create an ever more immersive, cinema-like experience that can be enjoyed from the comfort of our own homes. However, the audio component of this experience is all too often overlooked, despite being an absolutely crucial ingredient in that immersion recipe. And as our TVs become ever thinner, their form factors grow less suited to housing speakers, resulting in a situation that sees very poor sound emanating from even the most stylish, high-end panels. The point being that if you're not boosting your audio in some way, you're only getting half the experience. Enter Sennheiser with an absolutely outstanding solution that will see you enthralled in your favourite movies, shows and games like never before.
Let's get one thing straight. Before the latest release, Sennheiser's award-winning AMBEO Soundbars were already a force to be reckoned with. The AMBEO Soundbar (now the AMBEO Soundbar Max) had received praise from anyone who heard it and was the soundbar of choice for many a discerning audiophile. But that wasn't enough for Sennhesier. Instead, the German brand has expanded its range with the introduction of the AMBEO Soundbar Plus and the AMBEO Sub, each a piece of envy-inducing high-end audio kit that combined will transform your living room into an entertainment arena of astonishing potency.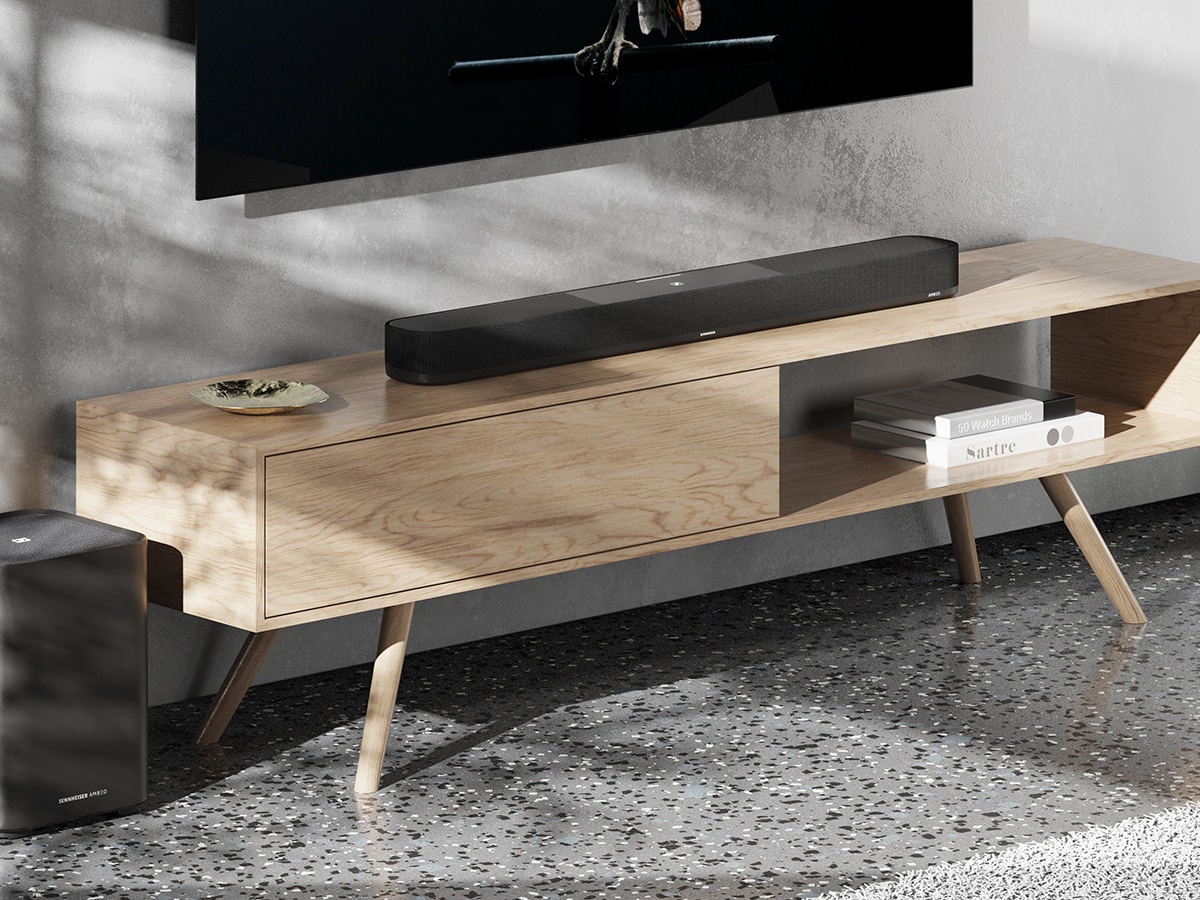 AMBEO Soundbar Plus
As the world's first 7.1.4. standalone soundbar, the AMBEO Soundbar Plus puts you right in the thick of it, whether you're watching the latest high-intensity action blockbuster or listening to your favourite party playlist on Spotify. Taking all of Sennheiser's ingenuity, innovation and know-how and squeezing it into a more compact form factor than should reasonably be possible, it still delivers the brand's signature 3D sound that was developed in collaboration with the world leader in audio research and development, the Fraunhofer-Institute for Integrated Circuits IIS. If that name doesn't mean anything to you, trust us, it's a big deal.
The Soundbar Plus is smart too. An automated self-calibration system will sense the acoustics of your room and adapt flawlessly, ensuring the best sound every time. This enables it to make the most of its four-inch dual subwoofers, delivering thundering bass to symphonic effect, while its ability to upmix stereo content results in the kind of room-filling sound stage only Sennheiser can deliver.
Discover Sennheiser's AMBEO Soundbar Plus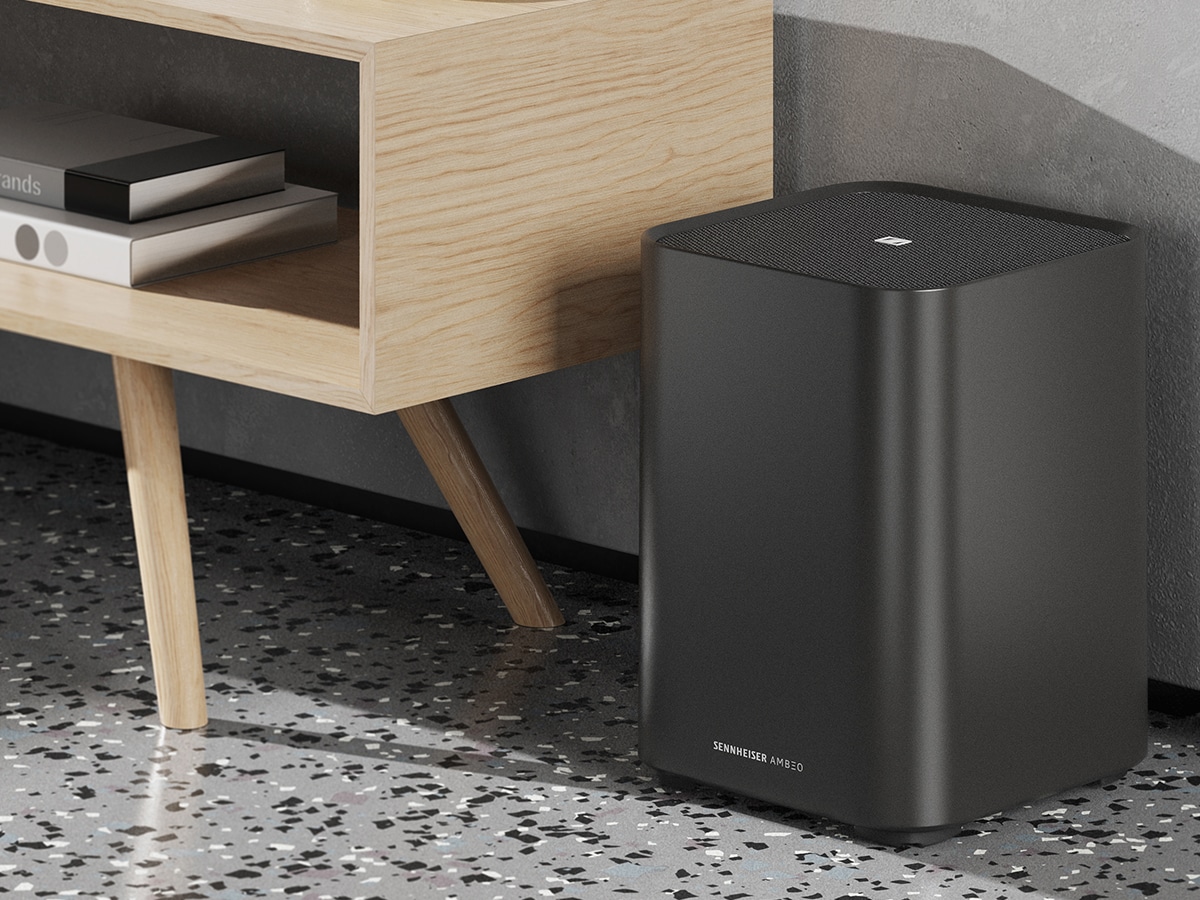 AMBEO Sub
You wanted more bass? You got it. The Sennheiser AMBEO Sub goes deep, taking the same 3D sound technology offered by the Soundbar Plus and combining it with an eight-inch, high-end proprietary woofer and 350W Class-D amplifier delivering frequencies down to 27Hz. That's the kind of bass that would make Sly Stone blush.
Plus, if one AMBEO Sub isn't enough – we're playing with fire here – advanced multi-sub array technology will enable you to connect up to four subwoofers wirelessly and calibrate them individually for optimal sound. That sounds like a beautiful kind of madness to us.
Discover Sennheiser's AMBEO Sub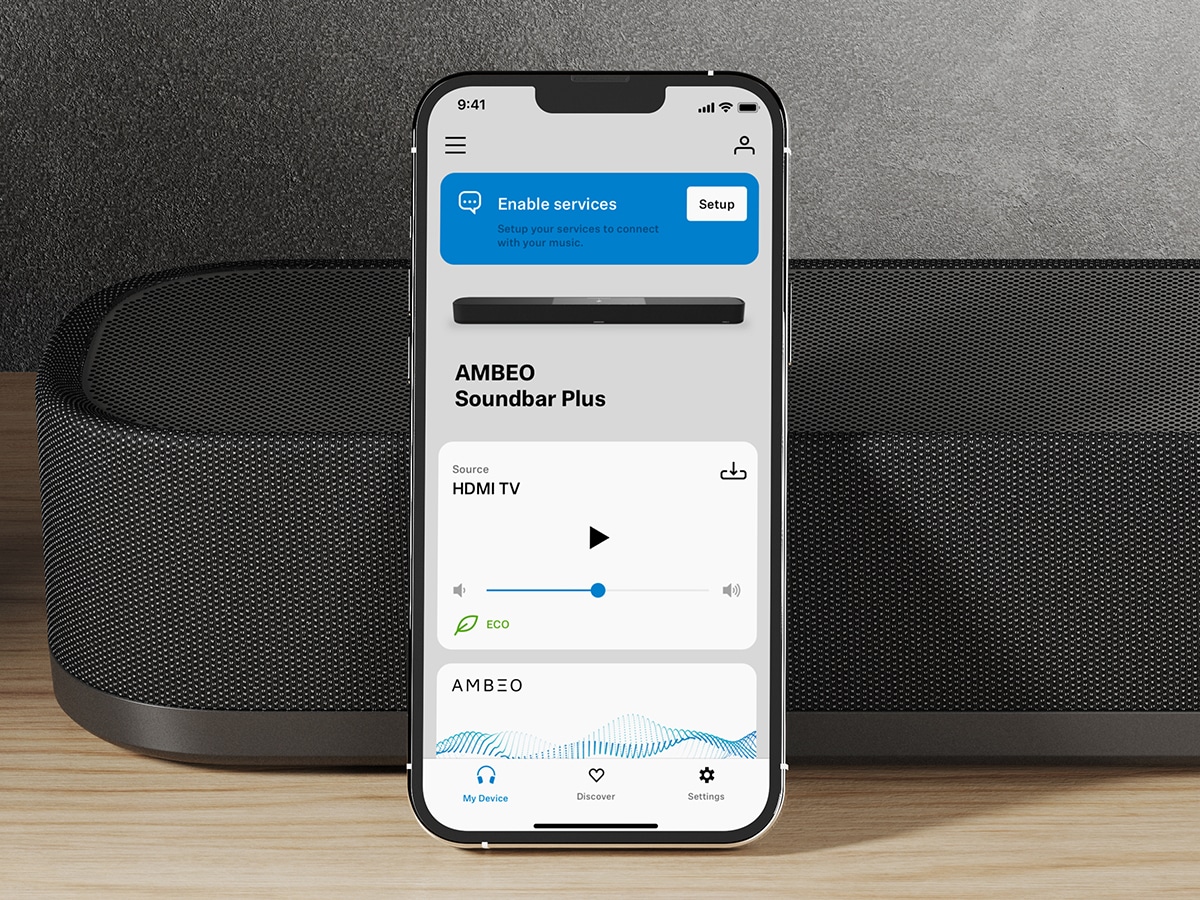 Welcome the AMBEO Soundbar Plus and AMBEO Sub into your home and you'll be astonished by the transformational effect it has on your entertainment setup. Everything – from the latest Hollywood action extravaganza and AAA game titles to your favourite party anthems – will sound more epic, lush and immersive than it's ever sounded before.