10 Best Desktop Microphones & PC Mics
You might feel a bit overwhelmed when it comes to shopping for desktop microphones, with a ton of different factors playing into your decision. The bottom line is that these little devices are not created equal. Some PC mics have expansive user controls while others are compatible with certain types of software and so on. Don't let the abundance of choices and overload of information paralyze you. We have done a lot of the digging on your behalf. Let's take a look at some of the best desktop microphones on the market.
You'll also like:
26 Best Desks for the Home Office
10 Best Desk Lamps for the Home Office
17 Best Office and Desk Chairs for Any Office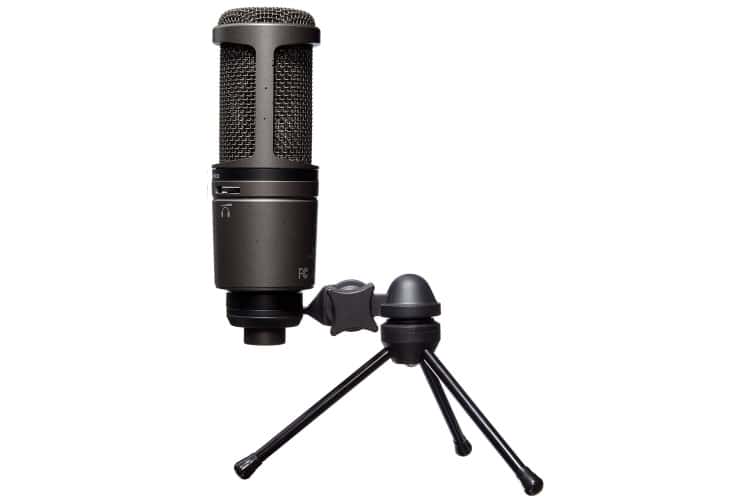 1. Audio-Technica AT2020 Desktop Microphone
This condenser microphone features a USB output that allows for high-quality digital recording sessions. It has a top of the line A/D converter along with a 16 bit, 44.1/48 kHz sampling rate for stellar audio. Its headphone jack features a convenient volume control so the user can track the microphone's signal in a timely manner. There is even a mix control that empowers users to mesh the microphone's signal with already-existing audio. All in all, these desktop microphones provide elite clarity, considerable volume and flexibility, and are compatible with just about any type of recording software. If you are a podcaster, singer or voice over artist, you will certainly be happy with the Audio-Technica AT2020 desktop microphone.
Features: condenser microphone with USB output for digital recording; high quality A/D converter with 16 bit, 44.1/48 kilohertz sampling rate; high output internal headphone amplifier
Price: from $149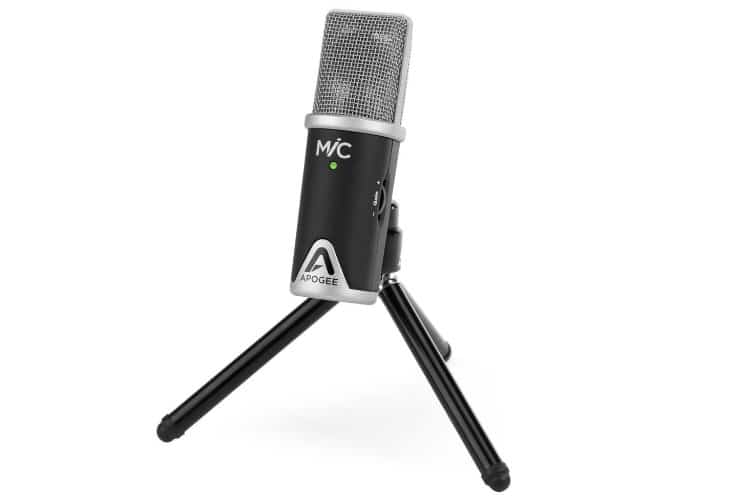 2. Apogee MiC 96K Computer Microphone
The Apogee MiC 96K ranks right up there with professional studio microphones. It was engineered to provide crystal clear audio recordings for acoustic instruments and vocals. Musicians, as well as those conducting interviews or taping/broadcasting podcasts, will love this desktop microphone. It functions with Mac computing devices like the iPad, iPhone and iPod touch. All of the necessary Mac USB cables are included. Go ahead and take the Apogee MiC 96K with you to a friend's place or even on a cross-country trip. It is well-made, small enough for an easy transport (fits in your pocket) and priced quite competitively.
Features: cardioid condenser microphone; up to 96 kHz/24-bit HD recording
Price: from $229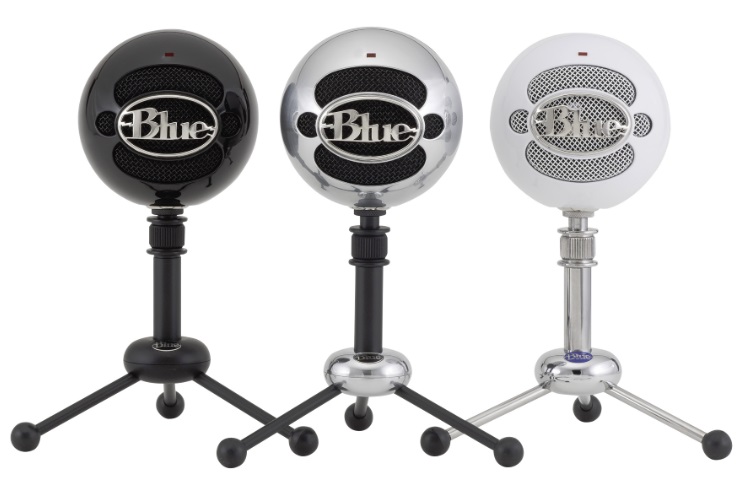 3. Blue Microphones Snowball PC Mic
If you are on the prowl for USB desktop microphones with HD audio, this one might suit your fancy. Its custom condenser capsule provides perfectly clear sound. You can plug it right into a PC or Mac without having to install a series of drivers. It also comes with a USB cable and an adjustable desktop microphone stand to boot.
Features: Blue condenser capsule technology; 3 Pickup Settings – Cardioid, Omni & Cardioid w/ -10dB Pad; Plug and Play (with Mac & PC)
Price: $69.99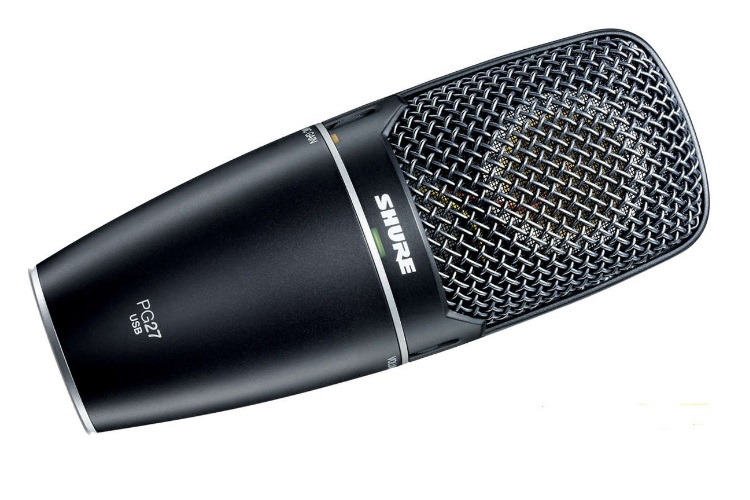 4. Shure PG 27
The Shure PG 27 provides convenient digital recording on the go. It features an integrated pre-amp, Microphone Gain Control to easily alter the strength of the input signal, a 1/8" headphone jack, zero latency monitoring that allows multi-tracking / real-time playback. Whether you desire to record music from instruments, music vocals or something like a podcast, this mic will certainly meet your expectations. Out of all the podcast desktop microphones on the market, the Shure PG 27 is undoubtedly one of the best. It functions quite nicely for lengthy podcasts with multiple participants, band rehearsals and just about any other type of audio capture effort. Keep in mind that Shure Microphones have been around for 80 years. This company has a sterling reputation for providing unparalleled sound quality.
Features: USB Plug and Play connectivity; zero Latency Monitoring; 1/8″ Headphone jack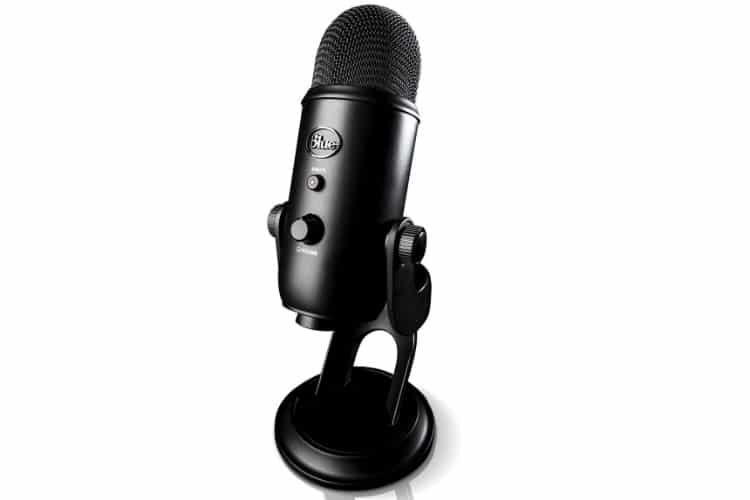 5. Blue Microphones Yeti
The Yeti is unquestioningly one of the best desktop microphones around. It is jam-packed with uber-cool features. There's a headphone output with zero latency, a mute button, gain control and so much more. Its tri-capsule array is composed of three condenser capsules that will be able to record just about anything. Users can also select their own pattern, from omnidirectional to bidirectional, stereo and cardioid. It also has "plug 'n play" capability for computers that run Windows 7, 8, 8.1, XP, Vista or Mac's OS X version 10.4.11 on up.
Features: tri-capsule array; multiple pattern selection – cardioid, bidirectional, omnidirectional & stereo; frequency Response- 20Hz – 20kHz
Price: from $159
6. Samson Meteor
The Meteor is a fairly large desktop studio condenser microphone that functions with iPads (laptop microphone). It offers an extremely smooth and flat frequency response. The stereo 1/8" headphone jack allows for latency-free monitoring. The Meteor is widely lauded for its rich, professional sounding audio. You can record just about anything on this bad boy without a problem. Its chrome-plated body features a special fold-back leg that makes your desktop look that much cooler. You can adjust the legs to your desired position to get the perfect recording position. Flick the microphone's mute switch and you'll have complete privacy when using it for conferencing purposes. Don't worry about an elaborate setup routine. The Meteor works right out of the box.
Features: cardioid pickup pattern; smooth, flat frequency response of 20hz–20khz; 1/8″ stereo headphone output; zinc die-cast construction with chrome-plated finish
Price: from $149.99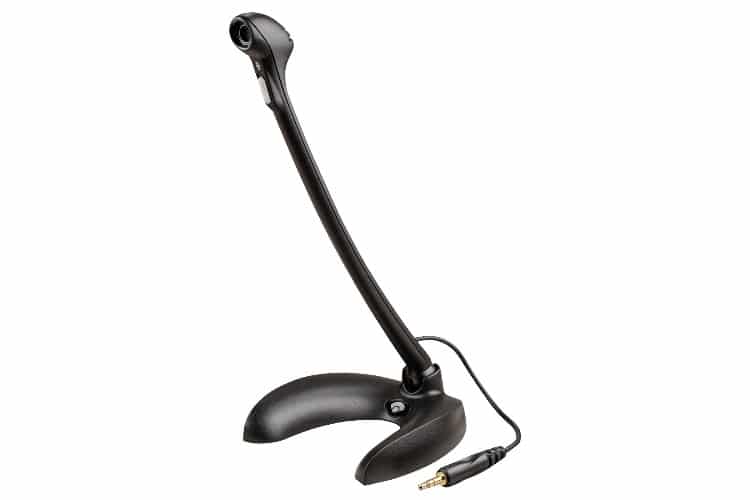 7. Plantronics Audio 300 Microphone
Plantronics desktop microphones are ideal for a number of different purposes, ranging from general PC mic usage like online computer gaming to voice recording and video conferencing. Think of them like the utility players on a baseball team that really do it all. Each one comes with a helpful monitor mount attachment, noise cancellation, and a weighted base.
Features: USB connection; mute button; standalone noise-canceling microphone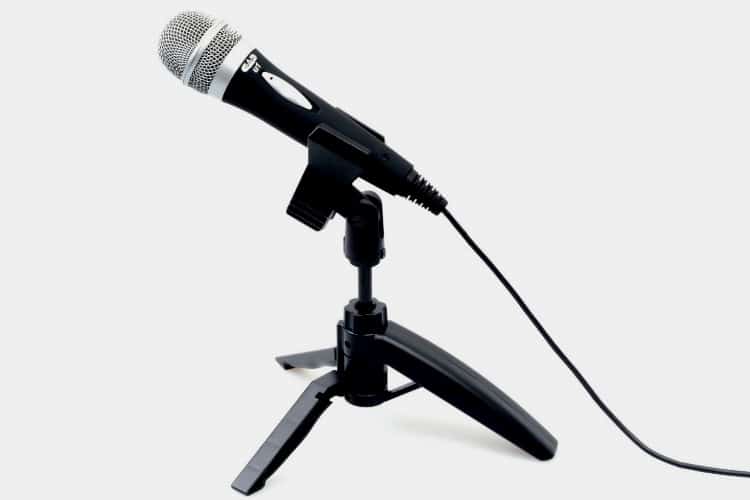 8. CAD U1 USB Dynamic Recording Microphone
This desktop microphone is built with a cardioid pick-up pattern to drown out background audio and highlight the primary source of sound. Its pop-filter drastically reduces "P-popping". It also features an instant mute capability, an uber-smooth frequency response, a desktop microphone stand and a 10 foot USB cable.
Features: cardioid pick-up pattern; smooth, extended frequency response; built-in pop filter minimizes "P-popping"; on-off switch for instant mute
Price: from $24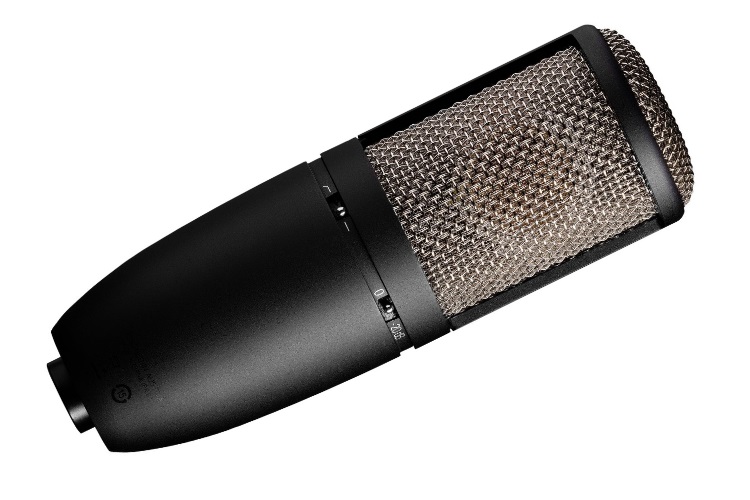 9. AKG Perception 420 Professional XLR Condenser Microphone
Anyone in the market for desktop microphones with high dynamic range, a bass cut filter switch and superior sound quality will love the 420 from AKG. Its other niceties include an attenuation pad that can be switched at a moment's notice for high SPL applications. It is also built with three polar patterns: omni, cardioid and figure-8. You'll never have to worry about wind or various low frequencies ruining your audio thanks to its bass kill filter. It is hands-down one of the best desktop microphones around.
Features: one-inch dual-diaphragm microphone with three selectable polar patterns for the perfect setting; low noise electronics and transformer less output for high dynamic range; switchable attenuation pad for high SPL applications up to 155 dB SPL
Price: from $199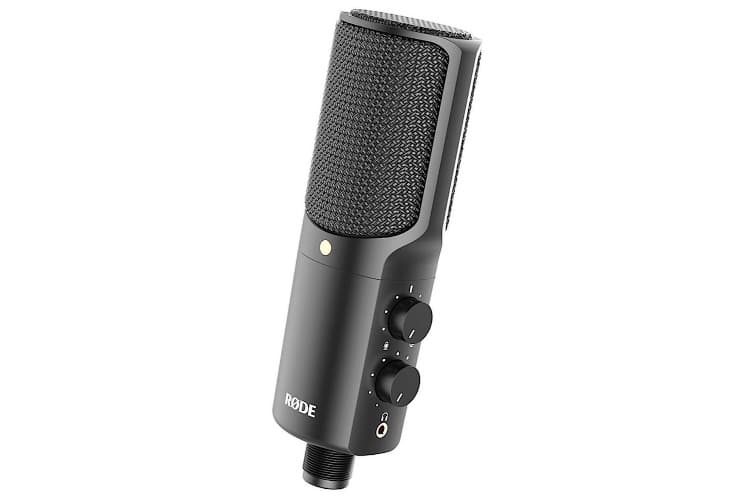 10. Rode NT-USB
Would you like to capture digital recordings wherever you decide to take your computer? If so, this microphone just might be the one for you. This versatile desktop microphone provides convenient USB connectivity for quick and easy use with Mac OS / Windows based computers. The Rode NT-USB is also equipped with on-mic mix controls, a ring mount, pop shield and a tripod stand.
Features: USB connectivity; comes with a pop shield, tripod desk stand, ring mount, storage pouch and 6m (20') USB cable; 3.5mm stereo headphone jack for zero-latency
Price: from $240
You'll also like:
26 Best Desks for the Home Office
10 Best Desk Lamps for the Home Office
17 Best Office and Desk Chairs for Any Office