An In-Depth Look at the $1 Billion Star Wars Rise of the Resistance Ride
Even those with Star Wars fatigue will find it hard to resist Galaxy's Edge at Walt Disney's Hollywood Studios in Florida. Building upon decades of teamwork between Walt Disney Imagineering and Lucasfilm Ltd., the theme park within a theme park (within a resort) welcomes guests to the remote planet Batuu. Located on the galaxy's Outer Rim, Batuu represents a wild frontier of possibility, drawing in smugglers, adventurers, and heroes alike. Of course, what it all really amounts to is a slate of thrilling new experiences and rides, the type of which only Disney can execute. And Rise of the Resistance might very well be the best among them. If not, it's certainly the most ambitious.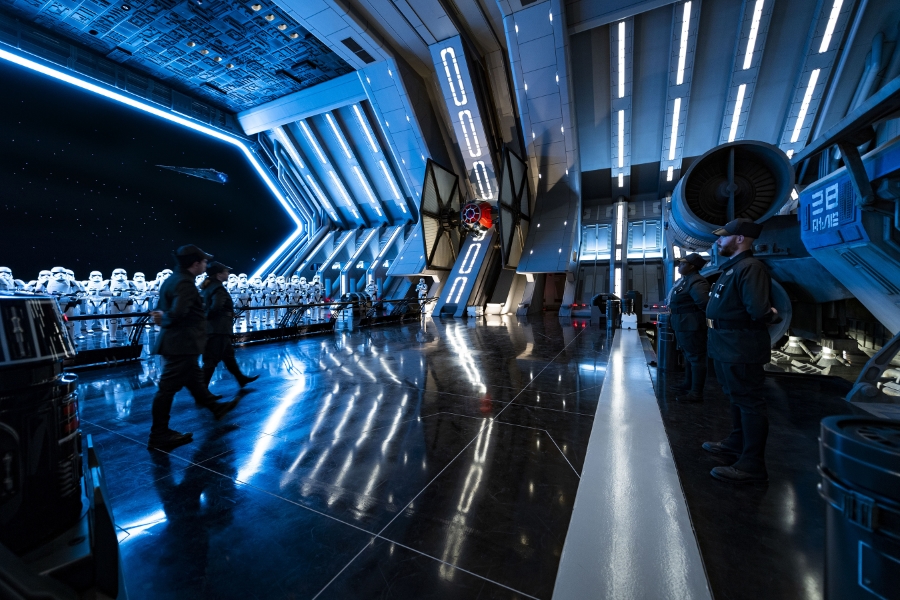 Five years, over 5 million lines of code, and approximately $1 billion in the making, Rise of the Resistance is pretty much as close as one can get to being inside a Star Wars movie. Clocking in at about 18 minutes, it deftly blurs the line between fantasy and reality while leaving no detail or special effect behind. It's currently open at Walt Disney World Resort and will open at Disneyland in early January. No matter where you encounter this legendary ride, be prepared for an immersive adventure of truly epic proportions.
Having just returned from our own trip to Disney World, we can personally vouch for Rise of the Resistance, which begs to be experienced more than once. To help make that happen, Disney has created a virtual queue system through the My Disney Experience mobile app. By utilising the app, you're able to reserve a boarding group for you and your peers, allowing you to enjoy the rest of the park or resort while waiting for your turn. Bear in mind this helps buffer excessive crowding and not eliminate the wait time. Should you be hoping to avoid any long lines, FastPass is your friend.
Thankfully, Disney keeps things stimulating as early as you enter the queue, which takes the form of a Resistance hideout on Batuu. Enter through a secret rocky cave entrance as if fleeing from the First Order, to soon find yourself in a truly elaborate matrix of passageways. Nifty Resistance artifacts and uniforms are pretty much everywhere, as are a number of places to sit or lean. Like one long coming attraction, the queue manages to entertain and engage as it gradually builds up to the main event.
Winding your way through the mineshaft, you end up deep within the Resistance base. It's here that the pre-show begins, with the appearance of an actual BB-8 droid and an authentic holo-transmission from Rey herself. Now officially part of the good fight, you're tasked with meeting General Organa at a secret base on another planet, all in an effort to help the Resistance take down the First Order.
After a brief outdoors scene, you and your fellow soldiers are ushered into an Intersystem Transport Ship, where you'll get your first taste of genuine action. More than an impressive simulator, this is also one of four ride systems you'll take throughout the experience. As it lifts off the surface of Batuu and blasts into space alongside Poe Dameron and his X-wing starfighter, you can feel the authenticity at every turn. Meanwhile, a First Order Star Destroyer is advancing.
As you might suspect, the mission doesn't go exactly as planned. Before you can launch into hyperspace, you're scooped up by a First Order Star Destroyer via tractor beam. Here begins the second stage of your adventure, as you and the other Resistance fighters emerge onto the Star Destroyer's deck, exiting your ship through the same door by which you entered (meaning the simulator does actually move). There to greet you is a legion of virtual Stormtroopers, all of whom emanate with life-like authenticity. Beyond them is a gigantic window into space itself, which is so epic that you'd have to book a ticket on Virgin Galactic to one-up it. Like we said before, you'll probably have to ride multiple times if you want to catch every detail or even half the details.
Just when you thought the experience couldn't get any more interactive, you head into a ride-loading room, where First Order officers are waiting. Played by cast members, the officers not only berate you but humor your questions or comments with a response. In the vein of live performance art, you're encouraged to execute the role of Resistance fighter to its fullest potential. In other words: the more you put into your character, the more you get out of it when the cast members respond in turn.
Next stop: jail. It's here that Kylo Ren and General Hux ply you with mind tricks while trying to uncover the location of General Organa's secret base. Before you can suffer the full wrath of their interrogation techniques, a Resistance soldier blasts through the wall and leads you into a Fleet Transport. If you can believe it, this is when the main ride actually begins.
Controlling the ship is a reprogrammed droid, who comedically navigates its way out of the Star Destroyer. All the while, you and your fellow riders are evading Stormtroopers, dodging turbo blasters, and outmaneuvering Kylo Ren himself. It's all completely engaging and expertly realised, taking the entire concept of simulation rides to brilliant new heights.
As if the stunning details and gripping interactions weren't enough, your adventure can vary based on the ride profile. What's more, your position on any given ship or in any given room will carry with it a specific perspective, meaning your overall experience can slightly vary depending on where you're placed or where you roam. It all makes for yet another reason to take the ride multiple times and we promise this is the last time we'll suggest doing so.
Ultimately, Star Wars: Rise of the Resistance provides a dizzying blend of set pieces, systems, and experiences. To use Disney's own words, it "throws out the rulebook for traditional attraction design, eschewing and/or blending industry notions such as "queue," "preshow" and "ride" to create a seamless, holistic experience."
Indeed, when you're not losing yourself in the thrill of a high-speed pursuit, you're engaging with real-life cast members or taking in a full spectrum of epic visuals. Meanwhile, the overall narrative begins as early as the entrance, which purposefully takes on the appearance of a Resistance hideout. There's almost literally no aspect of this ride that doesn't aim to keep you engaged or immersed and that's no small feat, given the 18-minute runtime.
The Rise of the Resistance duly fulfils the vision of Galaxy's Edge, which is that of new and unexplored terrain. More to the point, Planet Batuu and all the narratives therein represent new chapters in the Star Wars saga, as opposed to a retread of old tropes, locations, and storylines. Unsurprisingly, this direction has drawn its own fair share of criticism, as no small percentage of the fanbase was actually hoping for some sort of retread. We imagine there's probably room for both moving forward, as Disney continues to expand upon its own proverbial Star Wars universe.
Speaking of which, some might be wondering what lies in wait for Galaxy's Edge. For the time being, the biggest project on the horizon is the Galactic Starcruiser, a Star Wars-themed hotel that's currently under construction and expected to open in 2021. Galaxy's Edge will also be populated with more costumed characters as it draws larger crowds. And while new rides will almost inevitably emerge at some point in the near future, Disney and Lucasfilm aren't pointing to anything finite.
Should you venture to Walt Disney World Resort in Florida over the coming months, we definitely recommend carving out a solid week for the trip. If you want a hotel that's closest to Galaxy's Edge, your best bet is the Walt Disney World Swan and Dolphin Resort (which will have to do until the Galactic Starcruiser comes to fruition). In addition to rides like Rise of the Resistance, Smuggler's Ride makes for a similarly thrilling and immersive journey. That's not to mention the slew of other interactive experiences, putting you smack in the middle of your own Star Wars adventure.
No matter where you stay when visiting Disney World, expect there to be an endless string of activities at your disposal. After all, the resort delivers so much more than the Star Wars experience. Having just visited, we can easily say that this place is better than ever before. How can it not be? Next to old classics like Space Mountain and Tower of Terror are newer rides such as Avatar and Aerosmith Rollercoaster. Throw in all the hotels, restaurants, bars, monorails, gift shops, festivities, boat rides, games, buildings, and characters and you have a guaranteed great time for people of all ages. In fact, you may never want to leave.