8 Best Outdoor Cinemas in Sydney
There is no shortage of options when it comes to outdoor cinemas in Sydney. These open air cinemas in Sydney are dotted all over the city, each in a different magical setting amongst the stars – from parks to beaches to the harbour front. The outdoor setting, combined with curated food and beverage menus and novel seating options rejuvenates the cinematic experience to get you excited about catching a flick at the cinemas.
Whether you're searching for a romantic date idea, a more exciting group activity with your mates, or a fun and family-friendly outing, the 8 best outdoor cinemas in Sydney will have you covered. Enjoy Sydney's pristine Summer weather, admire stunning sunsets and spot your favourite stars…and this is all just the lead-up to the showing of cult classics or hot new releases on one of the huge screens at these 8 outdoor movies in Sydney.
You'll also like:
16 Best Meat Pies in Sydney
Learn to Surf at One of the 9 Best Surf Schools in Sydney
7 Best Hidden Beaches in Sydney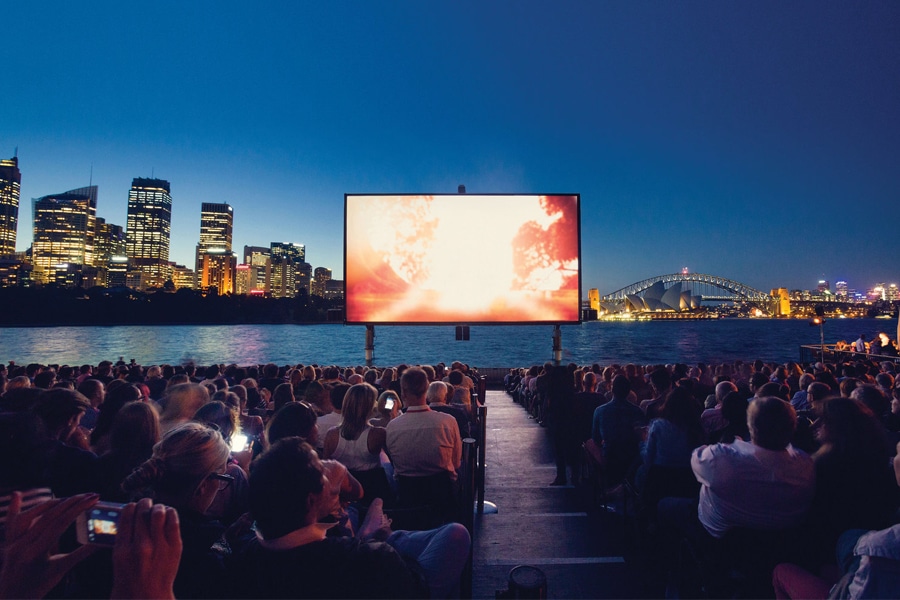 1. St George Open Air
Hailed as 'the world's most beautiful cinema' the St George Open Air cinema sits on one of the most sought after viewpoints overlooking Sydney harbour and the city skyline. A giant screen standing three storeys high is hydraulically lifted to stand before a 2000 seat grandstand to deliver one of the best outdoor cinemas in Sydney. Showing the top new movies (the 2018 season featured 44 movies with 18 premieres and previews), complemented with a mouth-watering menu and extensive beverage list makes for an unparalleled evening of charm and fun.
Address: Fleet Steps, Mrs Macquarie's Point, Sydney NSW 2000
Contact: +61 1300 366 649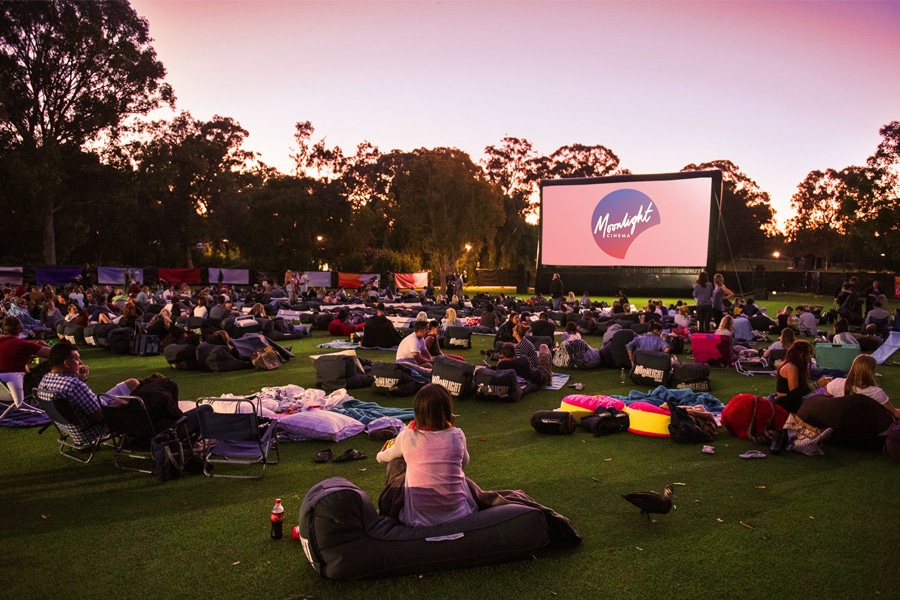 2. Moonlight Cinema
Surrounded by the leafy backdrop of Sydney' stunning Centennial Park and seated in a natural grass amphitheatre, the Moonlight Cinema is not only one of the best outdoor cinemas in Sydney, but easily the most enchanting. This outdoor experience is ideal for a date idea or groups of friends. Settle in and admire the sunset before enjoying one of the new releases or cult classics being shown over the Summer season. While you're there make the most of their food truck and bar, or you even have the option to BYO.
Address: Belvedere Amphitheatre, Centennial Park, Cnr Carrington Drive and Broome Ave, Paddington NSW 2021
Contact: [email protected]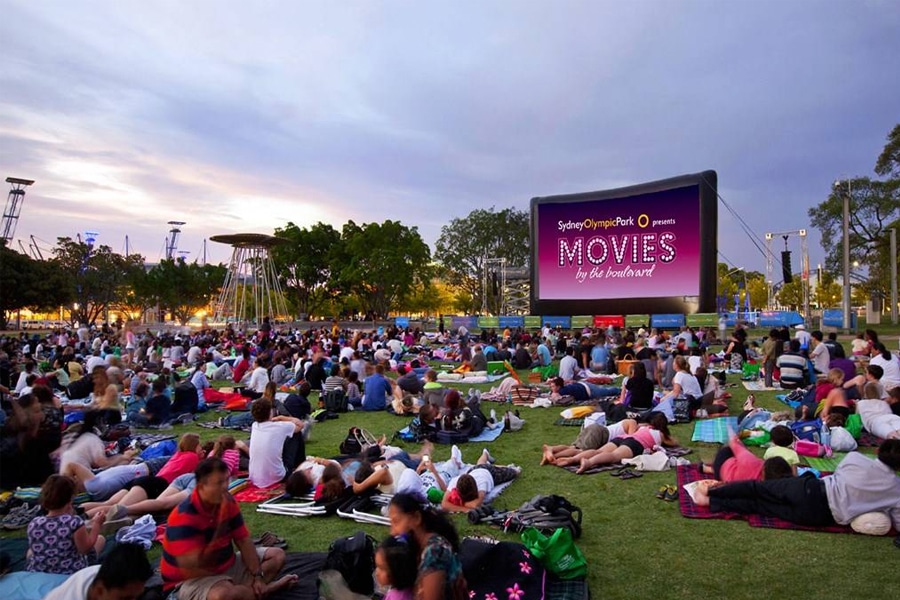 3. Movies by the Boulevard
Give your kids something to look forward to and keep your wallet happy by visiting this free outdoor cinema in Sydney. Movies by the Boulevard has a great range of popular blockbusters for all ages, as well as food and beverages and kids activities. On selected evenings they have face-painting, arts and craft and lawn games – and did we mention this is all free? Stay tuned for the release of their 2019 program and get your picnic rug ready.
Address: Cathy Freeman Park, Olympic Boulevard, Sydney Olympic Park NSW 2127
Contact: +61 2 9714 7888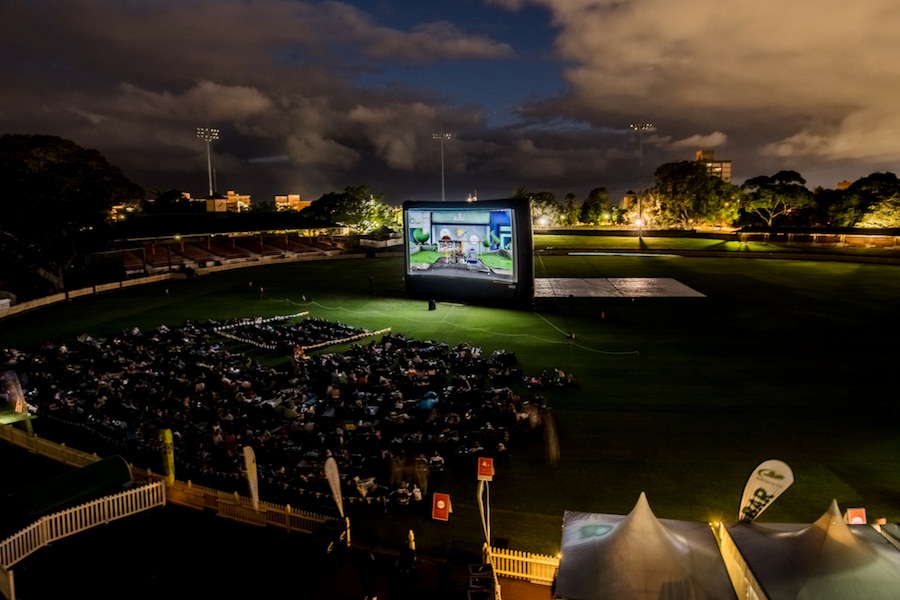 4. Sunset Cinema
Anyone hailing from Sydney's North will be pleased to know that there are also outdoor movies in Sydney catering to their side. The Sunset Cinema is a great way to kick back and relax while being entertained by the top new release movies. You can bring your own picnic, enjoy their must-have movie snacks or make the most of their on-site dining. You can also whet your whistle with this year's partners Young Henrys and Grant Burge wines. For a special occasion, opt for the Lawn Lounge, which gives you a primely positioned bean lounger, free drink on arrival and a box of popcorn.
Address: North Sydney Oval, Miller Street, North Sydney NSW 2060
Contact: [email protected]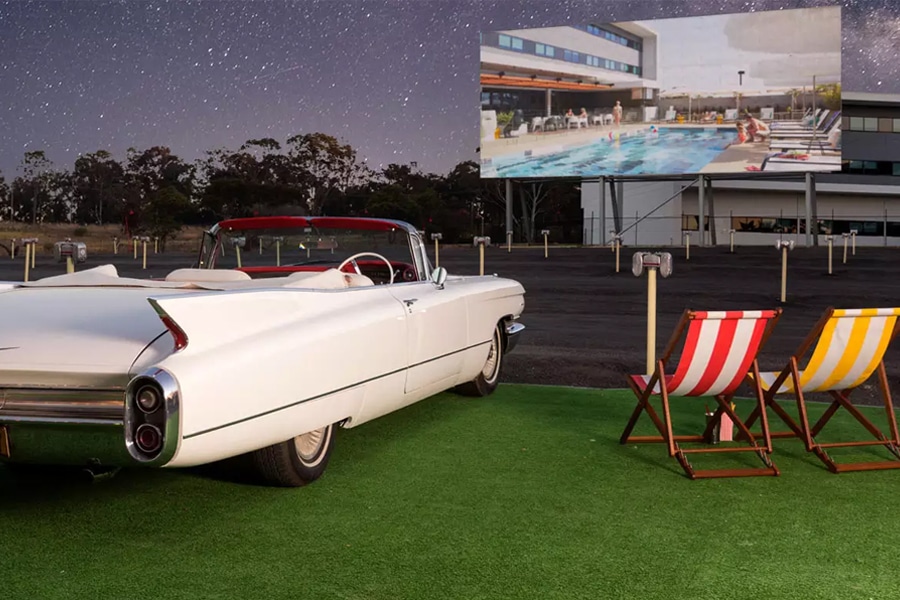 5. Skyline Drive-In Blacktown
Relive the retro diner, drive-in movie experience at the only drive-in outdoor cinema in Sydney with the Skyline Drive-In Blacktown. Enjoy an evening under the stars as the big screen lights up the night sky and creates an evening equal parts funky and magical. Whether you want to BYO pickup truck or rent a deck chair, you'll settle in for an evening full of fun.
Address: Cricketers Arms Road, Blacktown NSW 2148
Contact: +61 2 9407 2750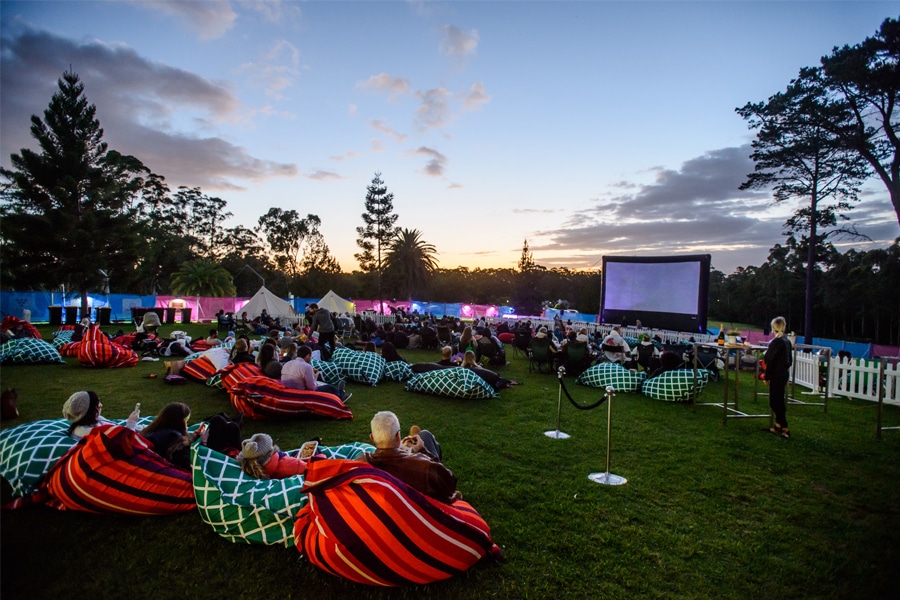 6. Sydney Hills Outdoor Cinema
The Sydney Hills Outdoor Cinema is an ambient outdoor theatre in Sydney with a range of viewing options to suit every occasion. Go cabana class for a king-sized cabana bed, make the most of a VIP bell tents with your pals or opt for the smooth VIP for the best seats in the house. Be sure to hit up the bar and the candy bar for the most delicious and nostalgic movie treats. Presented by smoothfm 95.3 you know the evening will be filled with classic hits and good times.
Address: Castle Hill Showgrounds, Showground Road, Castle Hill NSW 2154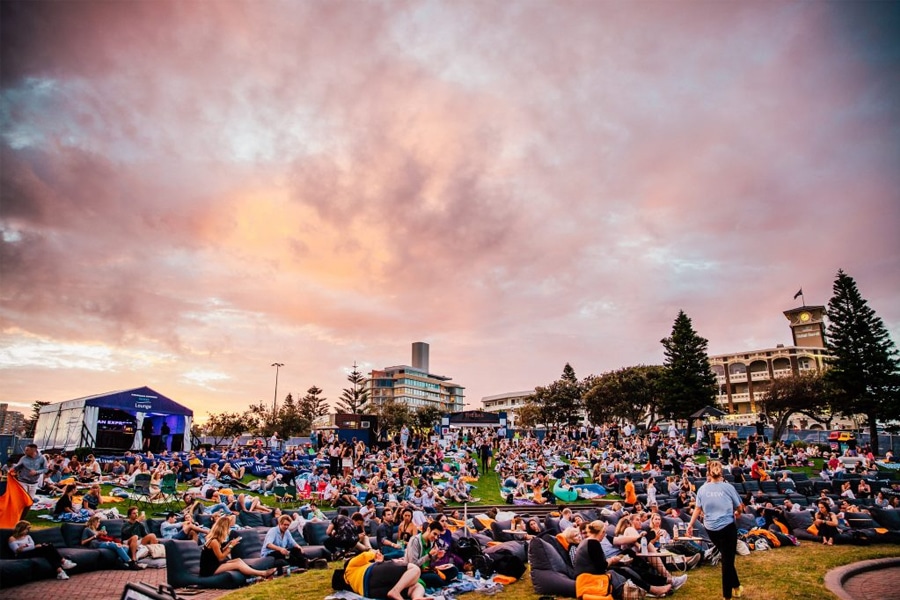 7. Open Air Cinemas
Perch yourself on a bean bag in the middle of Sydney's leafy Inner West while being entertained by a new release movie on the huge outdoor cinema in Sydney. The Open Air Cinemas features live music, sunset drinks, food and of course top-notch flicks. Quench your thirst with 4Pines craft beer and Giesen wine and enjoy a mouth-watering curated menu by Salt Meats Cheese. American Express members can enjoy the full VIP experience in the lounge and also receive complimentary blanket hire.
Address: Cadigal Green, University of Sydney, Darlington NSW 2008
Contact: [email protected]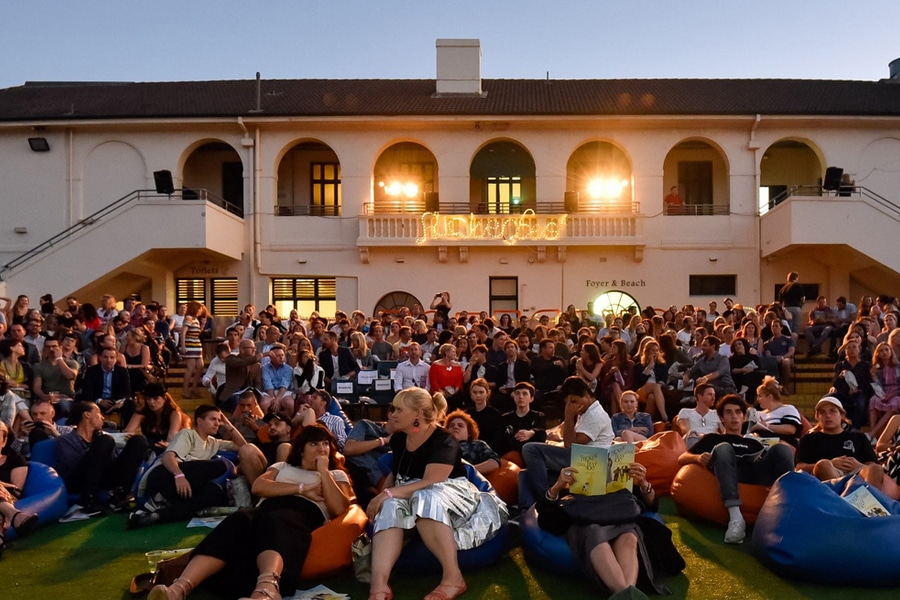 8. FlickerFest
Check out FlickerFest at Bondi Beach for the best short films from Australia and the world – at one of the best outdoor cinemas in Sydney. The festival then tours to over 50 venues nationally, giving you the coveted initial sneak peek of the most captivating short films in the country. FlickerFest is Australia's leading Academy Accredited and BAFTA recognised Short Film festival, meaning you'll only watch the most thought-provoking, hilarious or heartfelt short films. Top this high quality off with one of Sydney's most iconic waterfront views and an unparalleled outdoor theatre in Sydney and you've got a guaranteed unforgettable evening.
Address: Bondi Pavillion, Queen Elizabeth Drive, Bondi Beach NSW 2026
Contact: +61 0455 037 441

General FAQ
Are there outdoor cinemas in Sydney?
Yes, a few of the outdoor cinemas in Sydney are Open Air Cinemas, Sunset Cinema, and Moonlight Cinema.
What is Gold Grass Moonlight Cinema?
Gold Grass is the premium movie-watching experience at Moonlight Cinema.