Man of Many's Binge List: Underrated Holidays – April 2022
In Partnership with Uber Eats
Talk sh*t about Easter all you want, but the simple fact remains: The mid-April seasonal holiday is still criminally underrated. Freshly baked hot cross buns, a four day weekend, egg hunts, a four-day weekend, crispy roast potatoes and oh, did we mention, a four-day weekend? Religious or not, Easter represents something bigger than all of us. A cavernous black hole of time where calories don't count and you can swim in a proverbial river of chocolate. Or, like one of our less-fortunate fatties, drown in one. And before anyone saddles up their high horse, we know Easter has already passed, but what better time to dive into the thrills of seasonal eating than when chocolate eggs have all been slashed to half price? Best before dates be damned, we're embracing Easter all April long.
Welcome to the Binge List, our culinary, cocktail-heavy expedition through the wide world of cinema. Curated by yours truly, this content series puts a sword to the best movies, beverages and meals on your binge-list, providing a full stay-home itinerary. Watching Anton Ego dip his silver fork into a slice of Ratatouille while sipping on a glass of vino, what could be better? Maybe the Grilled Cheese from Jon Favreau's iconic Chef? Or perhaps sliding five raw eggs down your gullet in one go like Sylvester Stallone in Rocky is more your style? Cholesterol issues aside, film is full of great food moments and we're diving into a tasty one. Fire up the grill, slap on a streaming service and settle in – the menu has been set.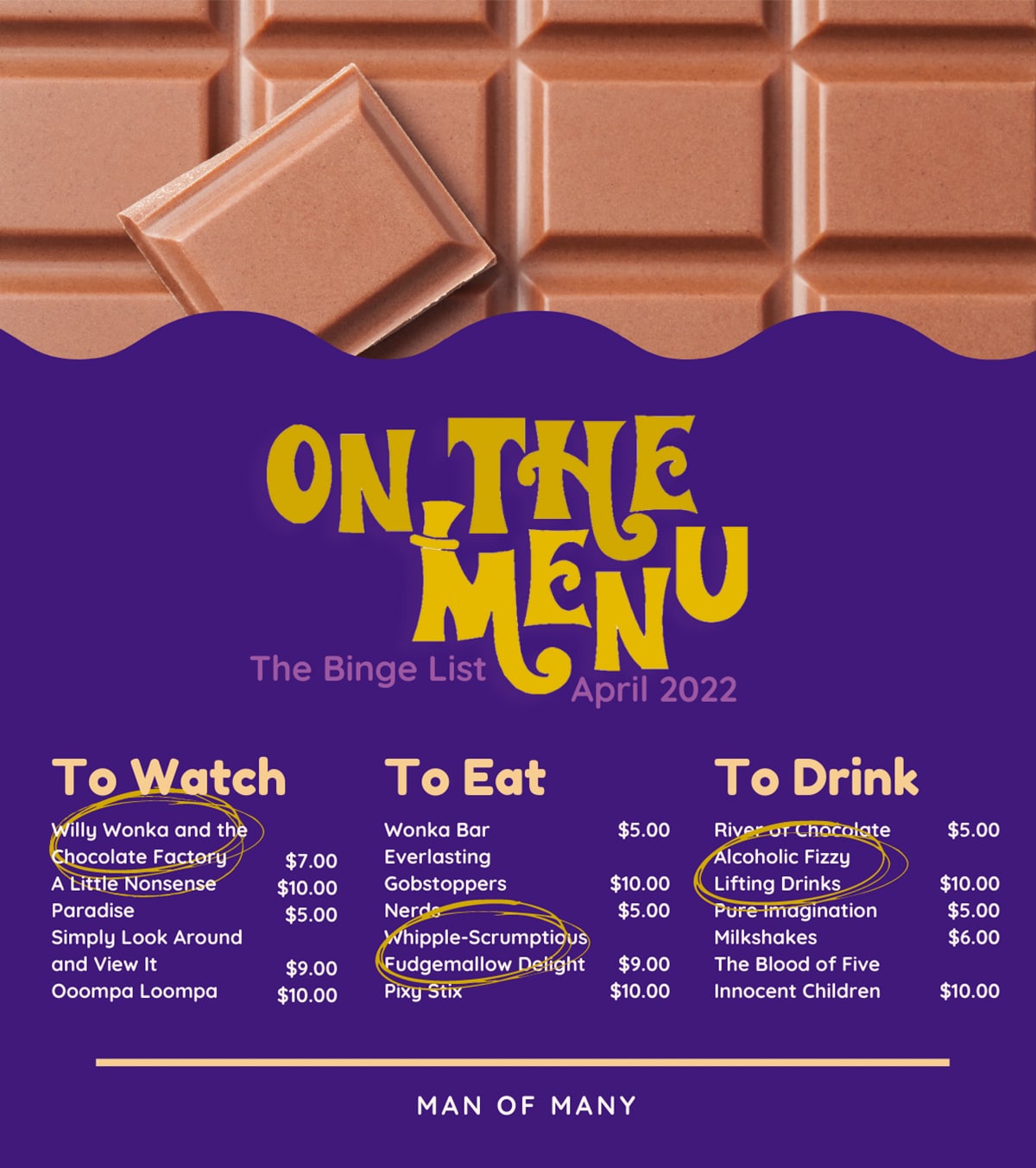 To Watch – Willy Wonka and the Chocolate Factory
When it comes to celebrating Easter in all its glory, we can think of only one film that gets it right, the 1971 adaptation of Roald Dahl's iconic novel (of a slightly different name) Willy Wonka and the Chocolate Factory. From the exploding blueberry treats to the tube of torment filled with chocolate, the story of five beleaguered children led into a mysterious warehouse belonging to an eccentric old man with an army of oddly dressed dwarves is perhaps the perfect ode to the holiday spirit. Namely, you don't take candy from strangers, no matter how many songs they sing.
Prospective murders aside, Willy Wonka and the Chocolate Factory has a far deeper meaning than you may have initially realised. What starts out as a wild goose chase with children eager to find the golden ticket, quickly turns into a spiritual journey. Each of the so-called winners exhibits a personality trait that can be closely linked to one of the Seven Deadly Sins. From human garbage disposal Augustus Gloop embodying Gluttony and know-it-all Violet Beauregarde representing Pride to slacker Mike Taevee as Sloth and Veruca Salt capturing the essence of Greed, the kids all have one thing in common – they suck. But not as much as Grandpa Joe.
Seriously. The guy spends 20 years in bed collecting welfare cheques, complaining that the floor is too cold and letting his nine-year-old grandson go to work for the family, but the second he's got the chance to go to a chocolate factory? Suddenly that hip doesn't hurt so much and the ground has warmed up a bit. As many have far more eloquently put it before, Grandpa Joe is the real villain in this sordid story, not Wonka.
Instead, we note that if each child really does represent a Deadly Sin, then Willy Wonka must be God, the omnipotent being surrounded by his Oompa Loompa disciples, ultimately judging them on their actions. The crown prince of chocolate, Wonka winds up giving it all away for the greater good of mankind. And if you haven't quite figured out the incredibly long-winded segue we're attempting to make with this tenth-grade literature studies assessment of a classic gem, then perhaps Easter isn't for you. Nevertheless, the Gene Wilder-led classic is an incredible ride through the avant-garde world of cinema, highlighted by fun-filled special effects and some seriously catchy tunes.
Available on: Stan Australia
Release date: 30 June 1971 (USA)
Director: Mel Stuart
Screenplay by: Roald Dahl
Adapted from: Charlie and the Chocolate Factory
Distributed by: Warner Bros. Pictures, Paramount Pictures Studios, Warner Bros. Home Entertainment
To Eat – Whipple-Scrumptious Fudgemallow Delight
Sounds like a mouthful and it is. Described as "the best of them all" by newly crowned villain Grandpa Joe, Whipple-Scrumptious Fudgemallow Delight is a fictional Wonka Bar that makes a brief appearance in the film. In the book, however, the chocolate has a much bigger part to play. Charlie receives one for his birthday and then when he goes to the candy shop, he buys two, kickstarting the whole Golden Ticket race. We've managed to track down an official recipe for the Whipple-Scrumptious Fudgemallow Delight, courtesy of Roald Dahl himself. Best of all, you don't need Oompa Loompas to make it. Many of the ingredients we needed were already in our pantry, but for everything else, we turned to Uber Eats. The platform to go anywhere and get anything just bumped up its grocery and alcohol offering, dishing out $0 delivery on orders of $20 for Uber Pass members, and with foodie favourites Woolworths and IGA on-platform, you can make sure your pantry is stocked.
Whipple-Scrumptious Fudgemallow Delight Ingredients
Saucepan
Large bowl of your favourite ice cream ready in the fridge
60g dark chocolate
1 Cadbury's Crunchie or similar chocolate bar
60g butter
80g dark brown sugar
150ml double cream
8 marshmallows
Whipple-Scrumptious Fudgemallow Delight Recipe
Break the chocolate and the Crunchie into large chunks and set to one side.
In a saucepan, over a low heat, melt together the butter, sugar and cream.
Stir until all the sugar is dissolved and then turn the heat up and continue stirring for 10 minutes. Be careful, as it gets very hot and can splutter. Use a very long wooden spoon or a tall adult with a long arm.
Turn the heat down again, and get your bowl of ice-cream from the fridge.
Put the marshmallows, chocolate and Crunchie into the saucepan, stir around once and pour over your ice-cream.
You can keep the leftover sauce in the fridge and reheat it in a microwave.
To Drink – Alcoholic Fizzy Lifting Drinks
Let's face it, if you were going to pick one beverage from Willy Wonka and the Chocolate Factory to bring to life, it would have to be the Fizzy Lifting Drink. Filled with a "special kind of gas", the flight-inducing liquid gets you up when you're feeling down and while we haven't exactly recreated it perfectly, we've got something that will do almost the same. Trust us, our Alcoholic Lifting Fizzy Drink, which is actually known as a Flying Red Devil, might not make you touch the sky, but it will give you wings. After all, candy is dandy, but liquor is quicker.
Alcoholic Fizzy Lifting Drink Ingredients
25ml Grenadine
100ml Red Bull
25ml Chambord
Dash Strawberry Purée
5 Raspberries
Tonic Water
25ml Absolut Raspberry
25ml Stolichnaya Raspberry
Alcoholic Fizzy Lifting Drink Recipe
Crush the raspberries at the bottom of a cocktail shaker
Add the Chambord, raspberry purée, both types of raspberry vodka and ice.
Shake well for 10-15 seconds or until the outside of the shaker becomes frosted.
Pour into the glass and add Red Bull
Top up with tonic water
Slowly pour over the grenadine and serve.
There you have it, turns out crafting a Willy Wonka and the Chocolate Factory itinerary, menu and drinks list is easier than you may have thought. All it takes is a little inspiration, which according to Wonka himself is 93 per cent perspiration, 6 per cent electricity, 4 per cent evaporation, and 2 per cent butterscotch ripple. Add it all up together and you've got 105 per cent pure imagination…and five ongoing manslaughter trials. No wonder Wonka took off in that flying elevator.