Dennis Rodman's 8 Most Outrageous Hairstyles Ranked
If you, like 90 per cent of the earth's population have been tuning in to The Last Dance, ESPN's docu-series on Michael Jordan and the Chicago Bulls, you would have been blessed with two things. The first being the silky-smooth skills of sir swish himself, and the second of which being, the glorious locks of one, Dennis Rodman. While the power forward should probably be remembered as the greatest rebounder of all time, his legacy has been indelibly linked to his off-court antics, solo marriages, dictator-relations and of course, the hair.
According to legend, Rodman was inspired to change up his appearance after watching the Wesley Snipes' film Demolition Man. The change in aesthetic sparked a change in personality for Rodman and he embraced his bad boy side; partying, fighting and even dating Madonna. His time in Detroit, San Antonio and Chicago were outstanding and the years that followed have played out like some kind of strange, interactive avant-garde theatre piece.
How a shy, skinny, 5'6 kid from Texas grew up to be a 6'7 power forward and the most controversial sports star in history is a story that deserves its own retelling. But instead, we'll focus, as many often do, on the cosmetic. After all, when it comes to Dennis Rodman, it's hard not to fixate on the outside.
Here is a list of the 8 most outrageous Dennis Rodman hairstyles, ranked in order.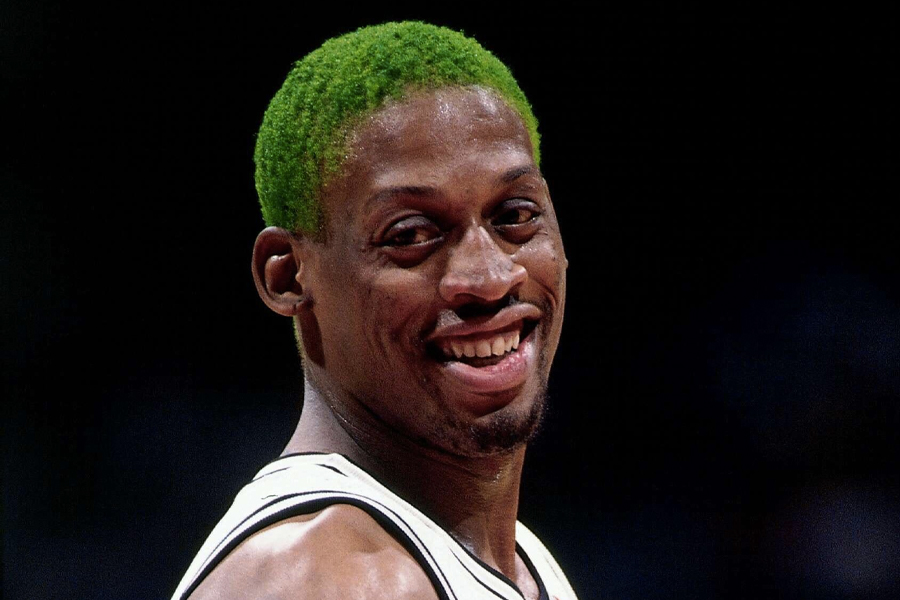 1. Green Machine
This fluorescent, highlighter green number is one of the most insane haircuts ever seen in sport. How Rodman managed to get it that colour is still a mystery, but you can't deny, a 6'7 floating tennis ball flying through the air must have been pretty distracting for his opponents.
Era: 1993-95
Team: San Antonio Spurs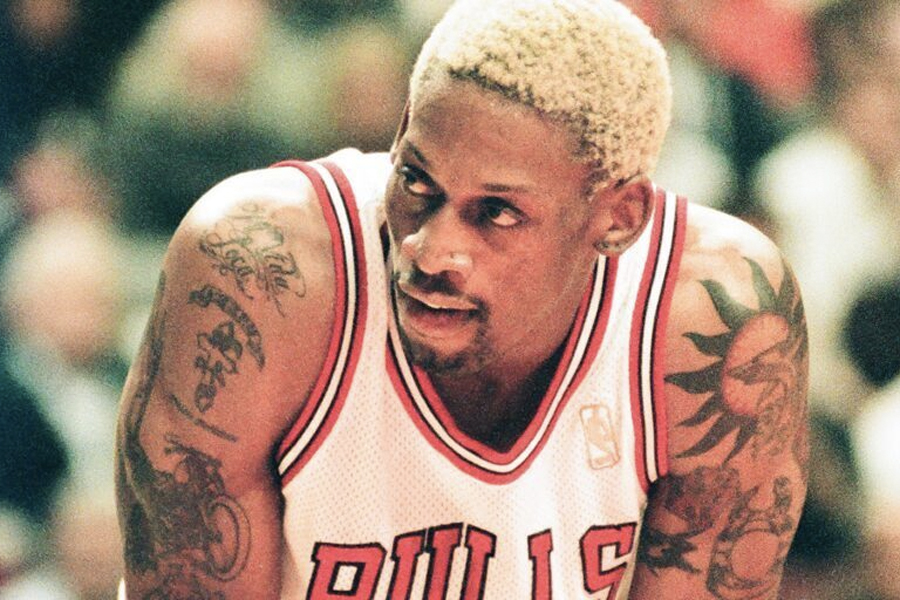 2. Blonde Bombshell
One of the first of Dennis Rodman's hair choices, the blonde bombshell was one that he adapted and evolved throughout the years. Starting first with a blonde mohawk in San Antonio, Rodman then moved to the more traditional blonde regrowth while playing at the Bulls.
Era: 1993-95, 1995-98
Team: San Antonio Spurs, Chicago Bulls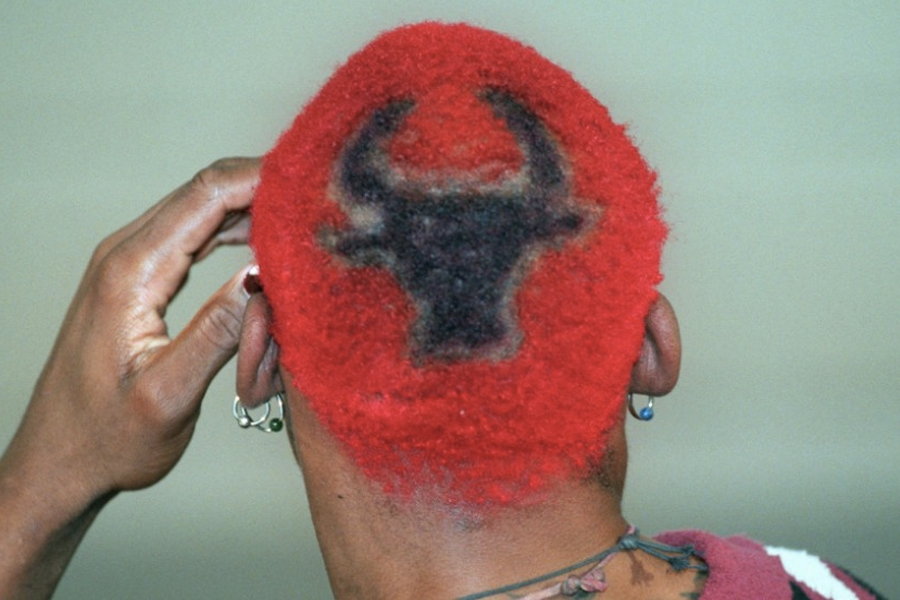 3. Bulls Logo
Another one of his Bulls-era moves, the Dennis Rodman hair logo was the height of team pride. Featuring the iconic Chicago Bulls symbol, shaved and dyed into the back of his head, this outrageous cut was the last thing opposition teams would see walking off the court after being demolished by Jordan and co.
Era: 1995-98
Team: Chicago Bulls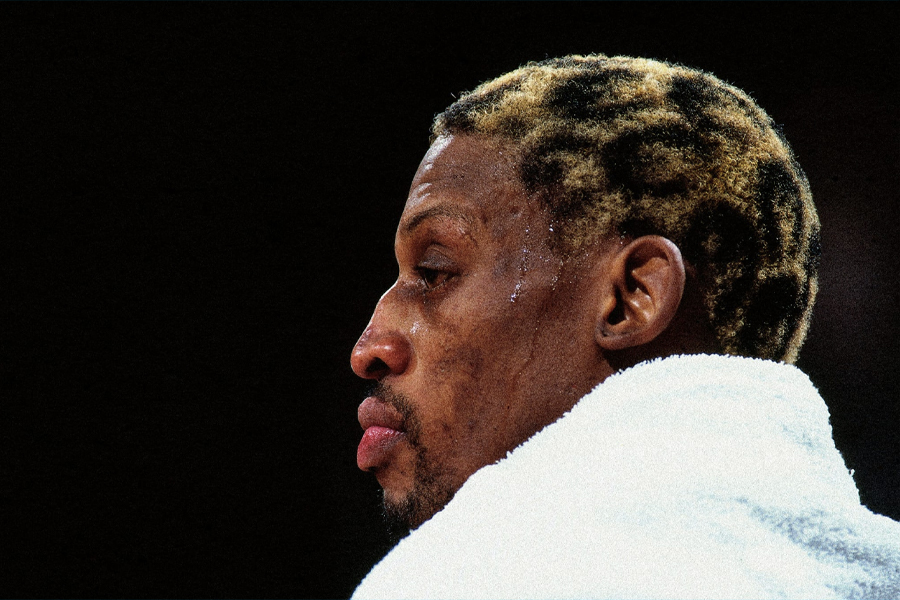 4. Pippen Tribute
When Rodman arrived at the Chicago Bulls, the power forward was in an interesting place mentally. While still a dominant force on the court, his gameplay began to take a backseat to his partying and off-court antics. He found solace in team-mate Scottie Pippen, who took Rodman under his wing. In 1995, after Pippen missed the opening 35 games recovering from foot surgery, Rodman marked his return by dying Pippen's No.33 in his hair.
Era: 1995-98
Team: Chicago Bulls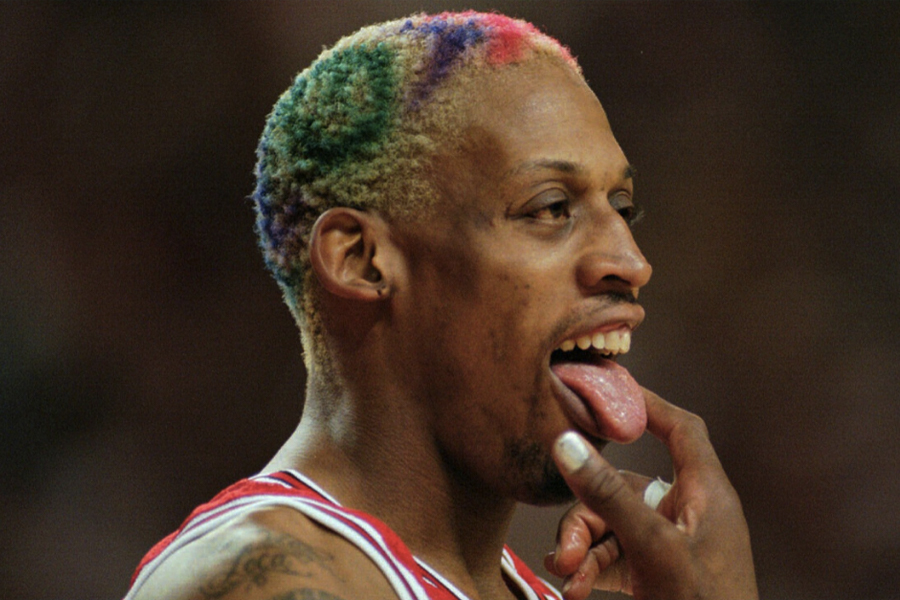 5. Rainbow Road
A Dennis Rodman hairstyle almost as colourful as the man himself. The Rainbow Road is a journey through the aisles of CVS and into the dark back-alleys of home-job hair dying.
Era: 1995-98
Team: Chicago Bulls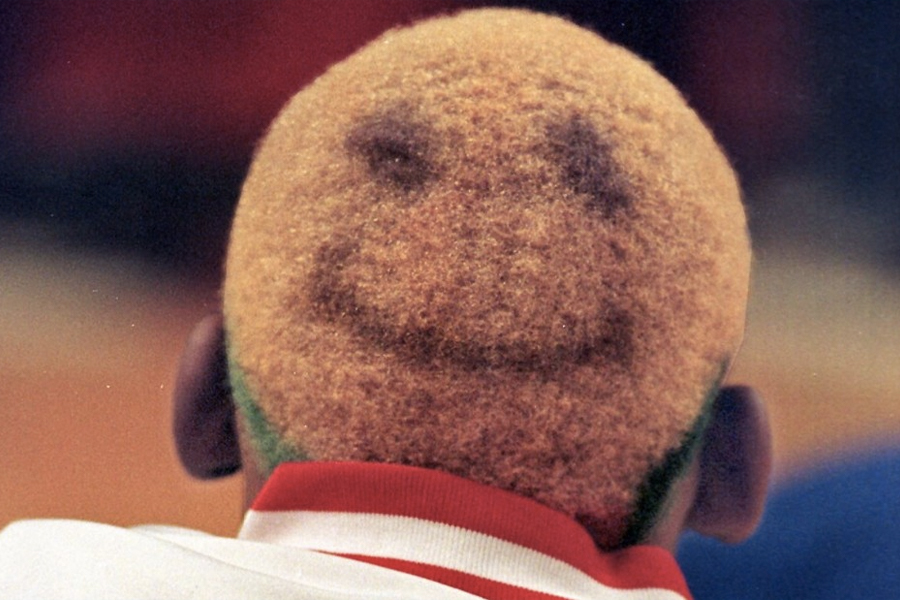 6. Smiley
The consummate joker, Dennis Rodman wasn't afraid to make people smile, even when he was kicking their teeth out.
Era: 1995-98
Team: Chicago Bulls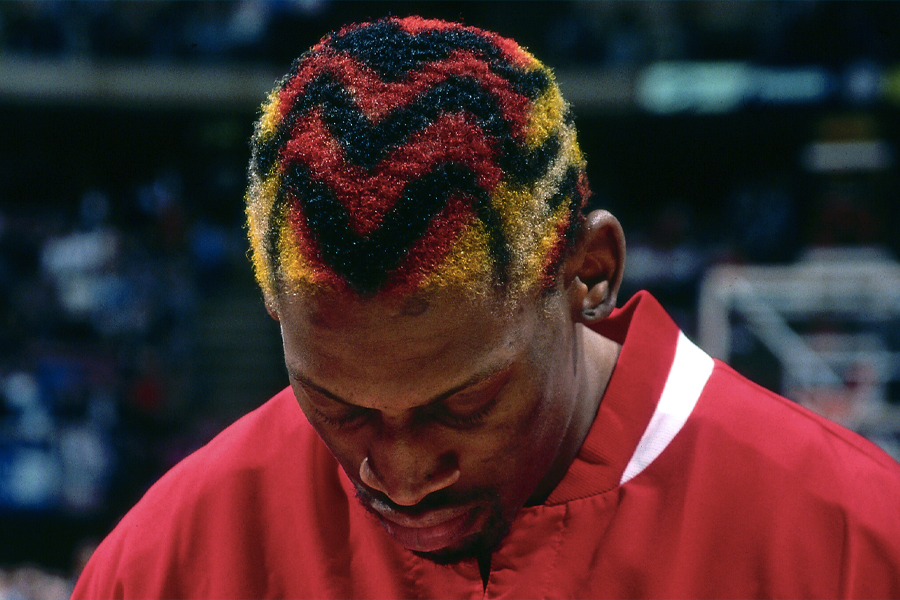 7. Zig-Zag
While the multi-coloured Zig-Zag isn't he best Dennis Rodman hair choice on this list, it is definitely the most impressive. Whoever did this masterpiece of colour and straight lines deserves some kind of design award.
Era: 1995-98
Team: Chicago Bulls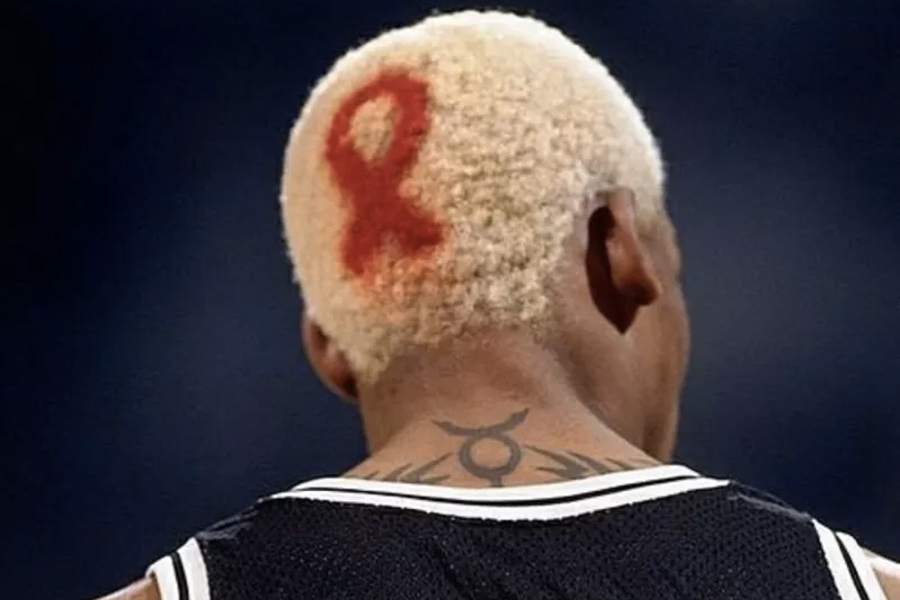 8. Ribbon
Unlike many of the Dennis Rodman haircuts on this list, the final one is perhaps the most important. At a time when the LGBTI community and those suffering from AIDS were being persecuted against in popular culture, Rodman stood up. "I felt like calling attention to AIDS. I had the AIDS Ribbon coloured into my hair during the playoffs in 95," Rodman said at the time.
Era: 1993-95
Team: San Antoni0 Spurs
If there is one thing that Dennis Rodman has never been, it is ordinary. Players of his skill set don't exist in the modern game, but without him, we wouldn't see the trademark flair that we've come to expect from our athletically gifted. The worm was and still is a trailblazer. Who knows? Maybe we'll see more NBA players befriend dictators in the future. Only time will tell.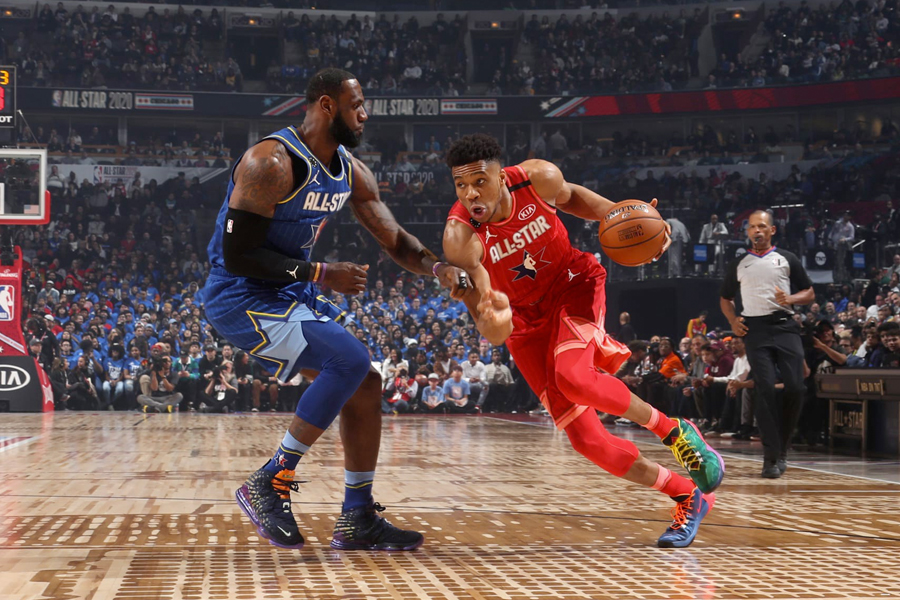 NBA Leauge Pass
Love Basketball? Never miss a bucket by signing up with NBA League Pass to unlock on-demand access to 24/7 NBA content. Every team, every game.
You'll also like:
Doctor Reacts to Chris Weidman's Broken Leg at UFC 261
10 Highest-Paid NBA Players for 2020
Michael Jordan's Net Worth & Spending Habits
General FAQ
What is Dennis Rodman's net worth?
Dennis Rodman's net worth is $500 thousand.
Who was Dennis Rodman's hair stylist?
David Alfonso Chapa was Dennis Rodman's hairstylist, transforming his hair into so many different colors and designs.