INTERVIEW: The Timing is Right for Marcus Bontempelli
There are sliding doors moments in football that can make or break you. A mean-spirited bounce, dropped mark or missed call can swing momentum in a way that can be near-impossible to wrangle back. Caught in the moment, you're entirely vulnerable. No amount of training or preparation can pull things in your favour, it's simply the luck of the draw, something Western Bulldogs captain Marcus Bontempelli knows all-too-well.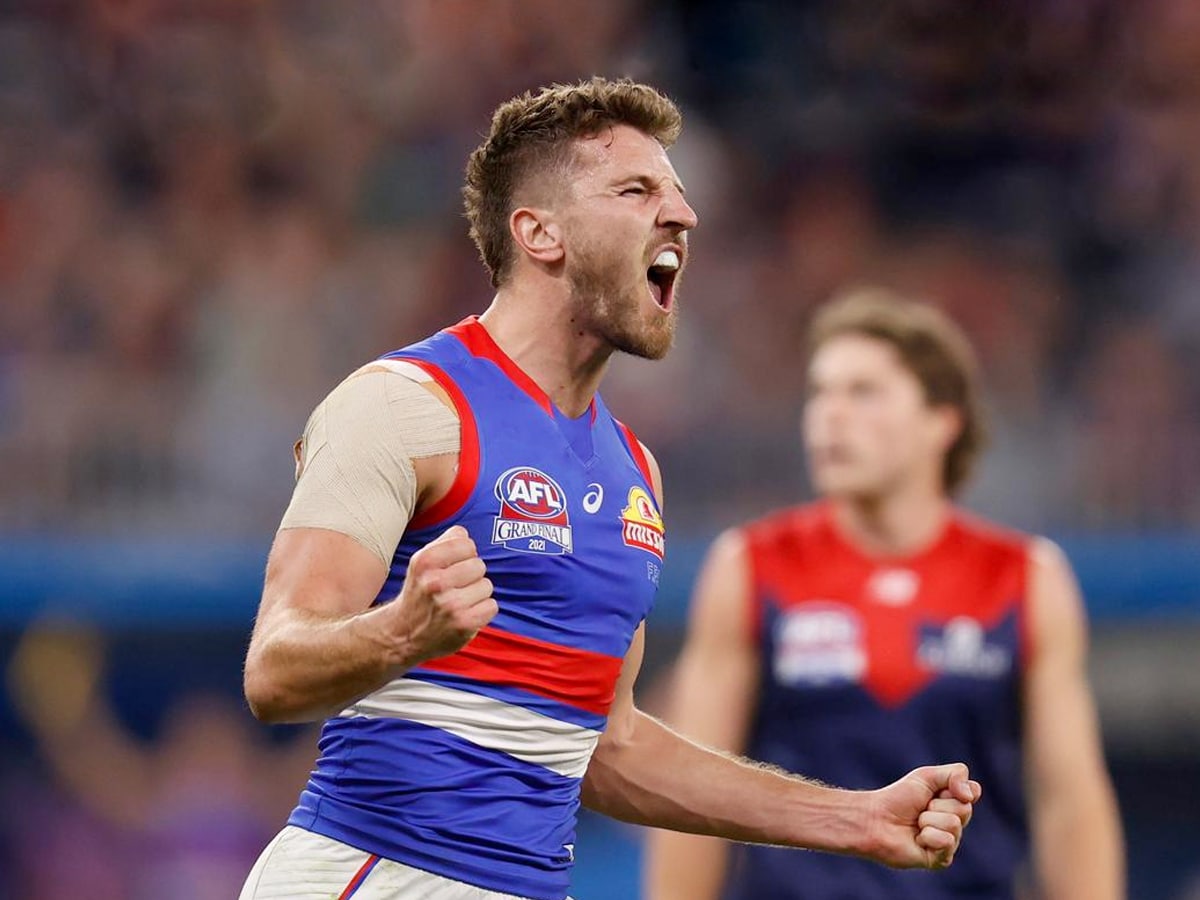 Runner-up in the Brownlow Medal, and arguably just shy of a Norm Smith in a Grand Final birth that certainly didn't go his way, Bontempelli could stake a claim for the greatest 'almost' season of all time, and he's not forgetting it.
"I was lucky enough to experience the 2016 premiership. That does help you when it comes to probably playing in finals and your understanding of what they're like in big games," he tells us. "If you look at it as a whole, it was definitely a successful season. We just couldn't quite make the most of our chance at the end of the year."
The Bulldogs endured a 2021 like no other, battling through finals in Launceston, Brisbane, Adelaide and Perth, and despite the frequent disruption, constantly over delivered. Such was the team's grit that the Doggies looked set to deliver the ultimate success, finding themselves up by 19 points in the third term of the grand final after a trademark Bontempelli snap across the body, his third of the night, but it was not meant to be. The Dogs watched on as the Demons booted seven goals straight, capping a 43-point turnaround in 16 minutes, going on to win the game.
Falling agonisingly short has done nothing but fuel the fire. Just weeks after the season climax, The Bont is back on the training block, prepping himself for another season as one of the AFL's elite midfielders, and it's no surprise. Bontempelli has been to the top of the mountain before, with a stronger team and experience now on his side, the timing is right for Marcus Bontempelli, in more ways than one.
The Western Bulldogs captain has joined forces with renowned Swiss watchmaker Tissot for the T-Touch Connect Solar, the latest iteration of its stylish sports watch. A marriage of ideals, the latest campaign, shot in Perth, sees two finely-tuned performance machines become one. It's a fitting connection landing just in time for the birth of a new rivalry.
The Demons have requested a blockbuster grand final replay against Bontempelli's Bulldogs to start the 2022 campaign, in light of the Perth Grand Final. Slated for the MCG in a Friday night primetime slot, the 2022 edition could prove to be the redemption the Footscray faithful have been calling for. We caught up with Marcus just after the 2021 Grand Final to talk football, training and the art of great timing.
---
Featured Video from Man of Many
---
MOM: First off, congrats on a spectacular season, both for yourself and for the team. Now that it's come to a close, have you had a chance to reflect on the last 12 months that have been for you and the doggies?
MB: A little bit. It's been, once again, a unique year where we've been push and pull every which way, and then obviously had to respond and act accordingly to the changes with the COVID situation in our state and in other states. Maybe for us, a bit more this year, when we've definitely able to stay home a little bit more as opposed to last year, but spent the last sort of four weeks on the road. So when you consider how the season played out, where we finished, and then obviously making it to a grand final, you have to look at that as a success. But the game clearly didn't play out the way that we wanted to.
In terms of reflection, you do reflect these sort of moments and you obviously reflect on the good things. Then, clearly, when we have our group awards situations and whatnot, that gives you a chance to understand the results of the season. In terms of the game, things move pretty quickly from when the game finished. We had a couple of days to enjoy each other's company and try and reflect beyond the final game that we played. Everyone was pretty much scattered then after a couple of days so it'll be something we do when we come back together. I think if you look at it as a whole, that it was definitely a successful season. We just couldn't quite make the most of our chance at the end of the year.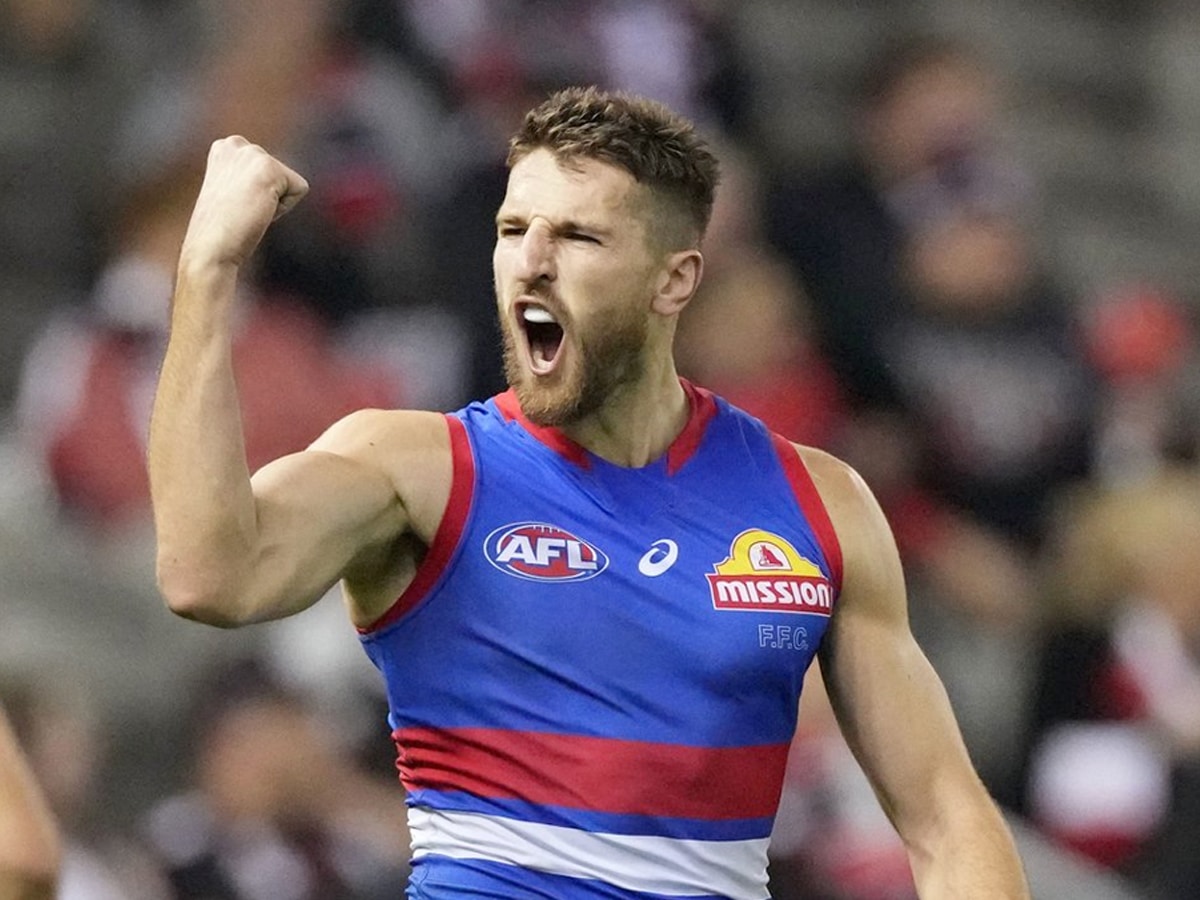 MOM: Just from the outsider's perspective, it really seemed like things came together for the team the best they have for a long time. What was different about this season internally for the Bulldogs?
MB: We found a level of maturity in the group, in terms of our age demographic and in terms of how we sit across the board with years played and experience. It seemed to come together in a really nice place this season where we've had a number of players who played some good football. We've got these young players who just really found another gear to go to in blokes like Aaron Naughton, Bailey Smith, Timmy English. These young lads are now starting to discover that their best really compliments some of the maturity in the players who've played 150 plus games.
I was lucky enough to experience the 2016 premiership. That does help you when it comes to probably playing in finals and your understanding of what they're like in big games. Then we lost a couple of close ones, we won a couple, and then that just holds you in good stead come the end of the season. I feel like we got some really good growth out of a number of players across the board. We're one of the teams probably that used the most players, I think across the year in terms of our squad. We played around 41 players of the 43 listed. I think that speaks to one of our big priorities, is to spread the load and have everyone contributing. It really brings through probably that message in we're playing so many players. They're probably a couple of things that really probably put us in a spot this year to do something reasonable and then play some good football.
MOM: For you personally, obviously a big step up into the captaincy role, and it's been a few years now. How have you handled the reigns and that added pressure?
MB: It's been another adjustment. You find there are these junctures in your career where you progress through and you face different challenges. The first one is obviously playing the game, and then finding yourself comfortable and consistent at a level. Then after a few years, people take more notice. The microscope probably sharpens in your direction, and that's off-field or even on field in opposition teams. Then how they're trying to stop what you're doing, and then how you face probably another step up, like I did with regards to moving into the formal leadership position of the skipper. Then the COVID situation hit out my first sort of real experience of trying to be a captain of the football team was during a pandemic.
Bob Murphy said it to me once on a phone call, just as we were chatting about different things. He said, "After one season of football, I almost had 150 games worth of leadership experience because of the different situations we were trying." I like to think that sounds pretty true because the fact of moving away for three months, not knowing, initially, how long we'd be away for, dealing with the challenges of the season.
It really was difficult. Then, obviously, we weren't playing as well. We just scraped in last year in the finals and it really felt like we were short on what we were capable of. I feel like this year was probably a better reflection of what this group's capable of. We probably underachieved the last few seasons and this year was definitely more aligned with what we think and feel and believe as a footie team, and I certainly do as a skipper.
So I'm quite lucky. I'm well supported with Beveridge. He's a super coach, but a massive mentor for me when it comes to making decisions, and then trying your best to set the tone and then lead the lads in a good direction. I get so well supported. Luckily, sometimes you get all the credit, which isn't fair, for sometimes for things that others do, which I try my best to shy away from or spread as much as I can. I've got a good group that just cares a lot about where the football club wants to go.
MOM: We think you can at least claim a little bit of that as your own. Now, tell us a little bit about working with Tissot.
MB: We had a little shoot the other day, so it was my first experience with the T-Touch. Clearly, it's a versatile watch, that's the thing that strikes you straight away is you can use it when you're moving around, out and about, but also as a stylish day-to-day casual watch, which I like. I like the versatility. I've probably been unaware for when you're out a walk. Yeah, we'll see how many steps taken or, especially with the football, those calories burnt is the key one, especially in the offseason. And especially after last couple of weeks of the season where I've probably eaten too much, so it's a pretty important feature for me to rely on for the next little bit.
I've had a few Tissot watches in the past and I like what they're about. The style is key in that what they produce and how it looks and feels. It was a fun day shooting, actually. With COVID, again, trying to organise a time to get together and shoot different locations that I've never been before. You're trying to familiarise yourself with the state of Western Australia, which I haven't spent much time at all in.
Actually, one of my other partnerships or branding partnerships with Nike, and they sent me across this bright red Nike tracksuit. So even if I was trying to hide and get through discretely there was no way I was hiding from anyone in the Nike tracksuit.
MOM: Tissot has a real connection to sport, and in particular, things like the NBA. I know you're a bit of a basketballer yourself. Are you gearing up for the NBA season?
MB: I am, man, I am. I can't wait. There's a football on throughout the COVID times and when people have been bereft of things to do, sport has been an avenue to throw yourself into and engage with. It's certainly something that I love. I love watching, and then it's great between games, before your training to be able to tune in to what the NBA is doing, and then the NFL as well, and the American sport.
I spent a lot of time over in the States in my offseason. It's probably one of the things that I've loved doing, is travelling and one of those opportunities I get with such a long offseason is to get away. I obviously follow some of the Aussie boys that are now playing it and paving their way in the league.
MOM: This season, probably more than any, there are a few more Aussies in there, so it'd be good to watch. Any ideas of guys that could transition over from the NBA to the AFL easily?
MB: Wow. So going back that way from the NBA to the AFL? Oh, I mean, LeBron seems pretty talented so I'm sure he could fit in somewhere.
MOM: It's the obvious answer.
MB: I know. Well, I mean, naturally, some of our Aussie boys would go well, like Paddy Mills, maybe Joey Ingles would go alright. I think it's interesting. The skill of the games are very different. It's not like rugby or where the games would be more similar. Regardless of who it was, I'm sure it'd be a good watch.
MOM: You do have a long offseason. I've seen a couple of other teams already into the strength training. Is now the best time for you to try and put on muscle while there are no games upcoming?
MB: It's going to depend on each player and what their focuses are or what their key workups are coming out of the season and going into the next. I think for the younger boys it's trying to build their base, trying to build their bodies to be able to cope with the rigours of the league, and especially if you're a key position, or depending on which position you play. For me, I won't probably chase too many straight games. My focus for the last few seasons has been probably more speed and power work. I spend pretty much the couple of weeks prior to coming back to training, which is, I know it's about the 6th of December. So the couple weeks prior to that, trying to focus on some strength and speed and power, I guess, connections
It's the one thing I feel I've taken my game as far as it is now. A few years ago I decided to head across to the US and train with some people over there where I could learn a few things, add a few different exercises, train a bit differently. That, I felt like it definitely progressed me. It's a slow, probably build up from now to the next six to eight weeks, once they're back in training. You want to give yourself as much time as possible to rest after what's been a pretty rigorous season.
I was one of a couple who played every game this season so it's pretty important that your body gets the rest it needs. Then you slowly build yourself back in, and then after about four weeks, that you're pretty rearing to go. I'll probably look to do some more speed and power stuff again to get myself, hopefully, elevating again next season.
MOM: We've seen a few AFL players like yourself and Travis Boak who have made their way over to the US for specific training. What does that actually look like? What do they do that's so different over there compared to what we do here?
MB: I think that the main difference is the functional element. A lot of their movements are functional. They try to replicate the movements you'll be making, break it down and make it as similar as possible in the gym. That's probably the main part. The running is all pretty similar. You can just train speed and power work in a similar fashion, but it's probably in the gym. The specificity and the detail of the actual movements they're trying to replicate are well thought out. Whereas in the AFL we're getting there, but we're still probably a touch behind in terms of the detail we go to with the movements.
Boaky was probably the first one that I'd seen had been across the US and had sounded out a few people. He's a good mate of mine and I've done some training with him in the years just gone by. He's one that I've said, geez, he looks after his body in such a way and obviously, at the age that he is he's still producing amazing football. So he's someone I think we're all chasing in terms of his longevity and his ability to produce at a bit of an older age. He continues to impress with what he's doing. He's definitely a bit of a trailblazer, I think when it comes to the sounding out the best he can be for as long as he can be.
MOM: With the new Tissot T-Touch, there are a whole lot of things around altitude. Have you thought about adding some kind of altitude training into the mix?
MOM: It would be fun. I think you've got to probably chase it a little bit, but it's just another one of those key functions that would help. A few of our boys have done trips in the past over and trained down at the tube and said that it's been definitely worth it. So if you can, for sure, but I find the heat is a good one. Heat stimulus is awesome. Over here in Perth it's going to get a bit warmer, but I'll spend a couple weeks on the Gold Coast trying to taste a bit of heat to train with, and under. No doubt, the watch will definitely be able to produce some info that'll help me going forward.
MOM: Not just a football, you're an author now as well. What can you tell me about Little Bont and The Big Secret?
MB: Yeah, man, a really cool opportunity because it's a really nice legacy to leave behind. If I finished football tomorrow, there's a few things that I'd be really proud of having done throughout my time. A children's book is definitely in the top three, especially with relation, the ties to my family and the story and the connection with my nana. It is just one of those things that I know I'll look back on.
We've talked about reflecting on the season. I'm even already reflecting on the end of my career and when I've got something that I can hold and show my kids and show my grandkids and give to people to share the story. It's just something that you feel football kids do a lot of things, but especially something like that, you really do feel quite proud about being able to put together something like that. It's out on the 26th of October, so not too far away. I'm just hoping everyone enjoys it and can learn a few things from it.
The T-Touch Connect Solar watch is available Online and In-store at Tissot Boutique Mid City, Sydney and Tissot, Myer Melbourne.
---
Featured Video from Man of Many