Style Guide: How to Dress Like Jonah Hill
If you're one of the most recognisable individuals on the planet, it can be nice to fly under the radar. Remaining under the radar to most, but appealing to some, can be a way to affirm you have what it takes to retire as a fashion icon. When you reach the upper echelons of fashion, logos dissolve, names start to become harder to pronounce and you start to gravitate towards material and structure. Style isn't always about wearing the loudest pieces, the flashiest sneakers or the most logos. Nothing epitomises this heightened level of fashion awareness then Jonah Hill himself. He just gets it, and with some of the most underrated fits to ever grace the internet, we're here to show you why.
When you're seen alongside the likes of George Clooney, Leonardo DiCaprio, and Channing Tatum, it can be hard to receive the style acclaim you deserve. The leading men receive widespread acclaim for their sharp jawlines and flawlessly tailored red carpet suits, but they hardly push the boundaries of fashion. It's Jonah Hill who has continuously pushed the boundaries of cultural norms and in the process. He's made a name for himself outside of the blockbuster films and directors roles. Jonah has symbolised a cultural shift from the logo-heavy streetwear era to the style conscience experimental garment era we see today.
We've curated a guide on the key ingredients to a Jonah Hill inspired outfit in our style guide on how to dress like Jonah Hill. In this guide, we've included the Tips on How to Dress Like Jonah Hill and the 5  Best Jonah Hill Outfits of All Time. So open your sartorial sunnies and let's dive in.
You'll also like:
Style Guide: How to Dress Like John Mayer
Style Guide: How to Dress Like Michael B Jordan
A Complete Guide to Selvedge Denim
Tips on How to Dress Like Jonah Hill
The Superbad star is one of the few celebrities who doesn't have a stylist. Jonah Hill's style knows no boundaries. He draws heavily from street-style culture, including graphic tees, and athleisure. It doesn't stop there, some of his most famous outfits have been heavily inspired through contemporary high-fashion labels. Jonah has an uncanny knack of knowing when to peel it back and allow his style to simultaneously toe the lines of aspirational and relatable.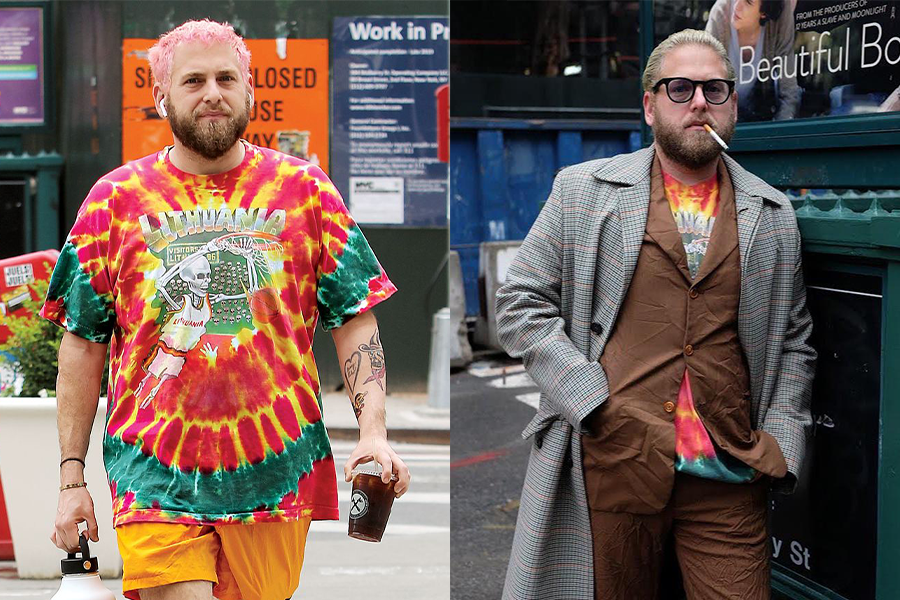 Nail the Iconic Jonah Hill Dyed Hair
Jonah Hill's short-lived flamboyant dye jobs are some of his most iconic style moves to date. Channelling the fashion trends of the mid-'90s, Hill has allowed his hair to move from a candy-floss pink to a platinum blonde. These vibrant hues emphasise Hill's refusal to conform to traditional menswear rules, whilst allowing his facial hair to retain its natural brown prevents the look from being too jarring and difficult to style. When you colour your hair, there's no argument you want to make an impressive statement. Make sure you have the attitude and attire to back-up whatever hair colour you choose.

Jonah Hill Tattoos
In case you missed it, minimalist tattoos are in, and Jonah sports some of the best in the business. Jonah is happy to show off a continually growing collection of minimalist arm tattoos when he's spotted out in LA. Some of his best work includes a dagger, skeleton cowboy with a red bandana, and a dragon. In March 2018, Hill acquired a particularly personal tattoo, getting 'HELLO BEANIE' inked on his arm to celebrate his sister Beanie Feldstein's success in the critically acclaimed film Lady Bird.
If you're looking to get some permanent arm art inspired by Mr Hill's we've got you covered. Check out our article on the 40 tattoo ideas for men.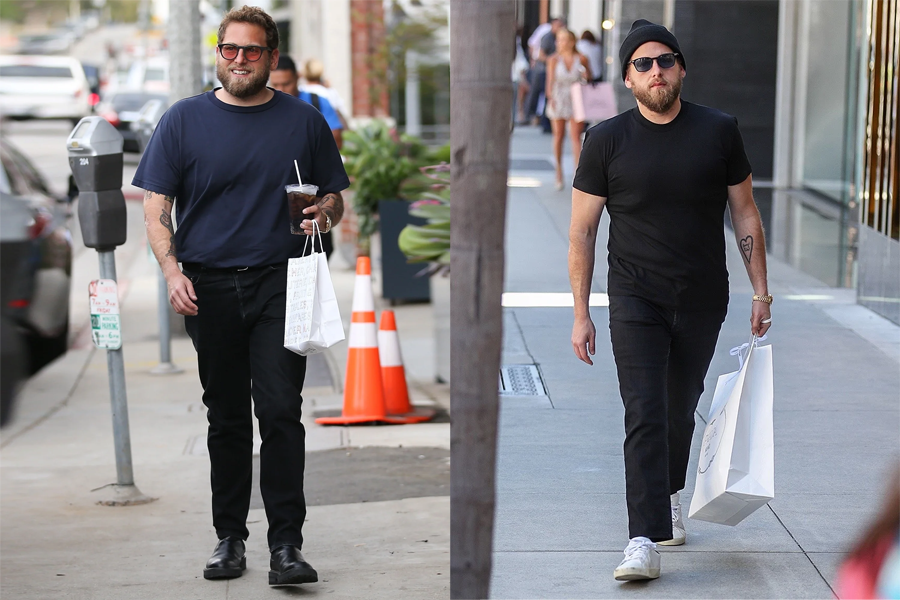 Incorporate High Fashion Pieces
Jonah has found a high-low symbiosis by pairing luxury pieces with traditional streetwear. He has teamed Prada jackets with Adidas shirts and straight-legged burgundy chinos with boots from OAMC. There's really no limit to pairing the barely obtainable with the mainstream favourites.
If you're looking to blend in traditional streetwear with some higher-end pieces, there's a few dos and don'ts. Don't mix brands that have a history of disassociation, for example, blending Adidas track pants with the likes of an Off White sneaker is a big no-no. Look to match brands that have previously worked together or could work together. Try matching those Adidas track pants with a pair of Prada x Adidas Superstars and you have a stylish fit with designer flair.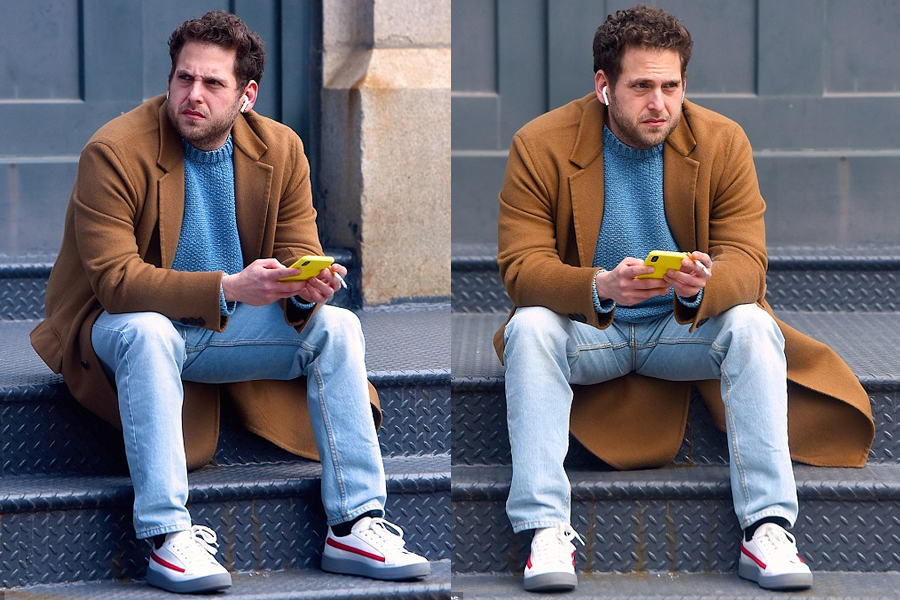 Invest in Statement Outerwear
An oversized coat or jacket has the ability to elevate an otherwise simple outfit. Hill's outerwear choices have made waves on fashion blogs over the last few years. Oversized jackets lend an edge to an otherwise plain outfit. They scream 'high pricepoint' and when executed properly can remind everyone why fashion elitism exists. Pairing a well-cut piece of outerwear with darker trousers or jeans can elevate a casual outfit for semi-formal wear.
While oversized can appear expensive and premium, don't go ahead and purchase something that's too big just because you like the print. High-end designer pieces like Jonah's aren't bought two sizes big, they're designed from the ground up to look two sizes bigger. When purchasing an oversized piece look for items that are designed with an oversized fit from the start. Balenciaga has made a name off oversized garments but consider articles from Dries Van Noten and Acne Studios as well.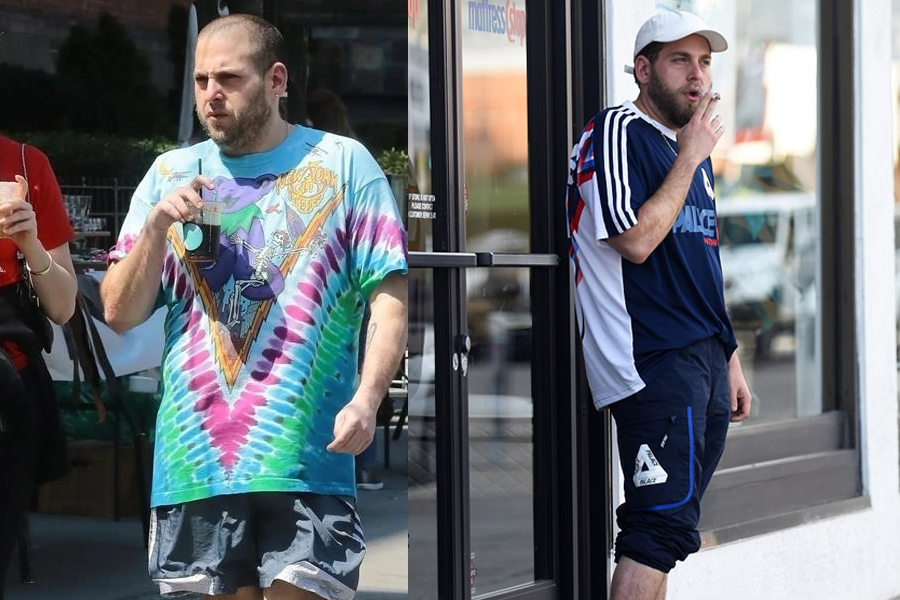 Graphic Tees
Graphic t-shirts have seemingly been around since the dawn of fashion time. Today, they divide themselves into subcategories that best reflect the individual's taste. There's vintage graphic t-shirts, tie-dye graphic t-shirts, and branded graphic t-shirts to name a few. Our man Jonah has exhibited some of the most memorable graphic t-shirts we've seen. His repertoire includes flamboyant tie-dyes to vintage band tees and designer pieces, he's done it all.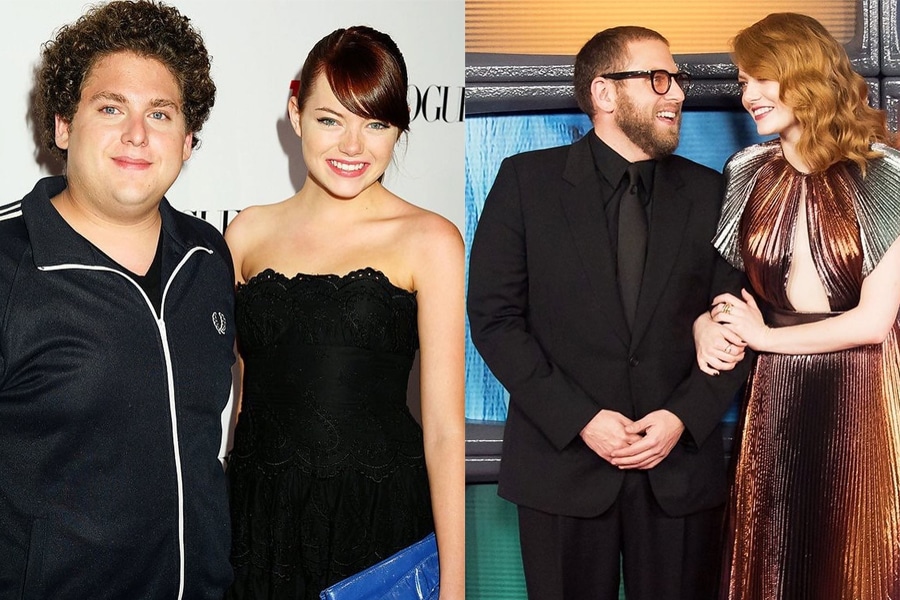 Jonah Hill Weight Loss
A key element in his journey from underdog to style god. Though it fluctuates for movie roles, Hill's weight loss, along with a wardrobe change, cemented his transformation into sartorial god we see today. In an appearance on The Ellen DeGeneres Show, he told DeGeneres "I spent most of my young adult life listening to people say I was fat, gross, and unattractive," crediting his recent writing and directors stints with helping him tap into that emotion. "It's only in the last four years writing and directing my movie Mid 90s, that I've started to understand how much that hurt and got into my head," said Hill.
So how did Jonah Hill lose weight? Hill told ABC News that he lost the excess weight by improving his diet with the help of a nutritionist. Cutting down on beer was a major help, as was incorporating Japanese food like salmon and tuna sushi into his diet.
5 Best Jonah Hill Outfits of All Time
We thought you might need some inspiration. We're bringing you all the style inspiration you need from the man himself. Just be careful, we don't want you going too overboard here, after all, we're not of celebrity acclaim. Check out our list of the 5 Best Jonah Hill Outfits of All Time as we break them down below.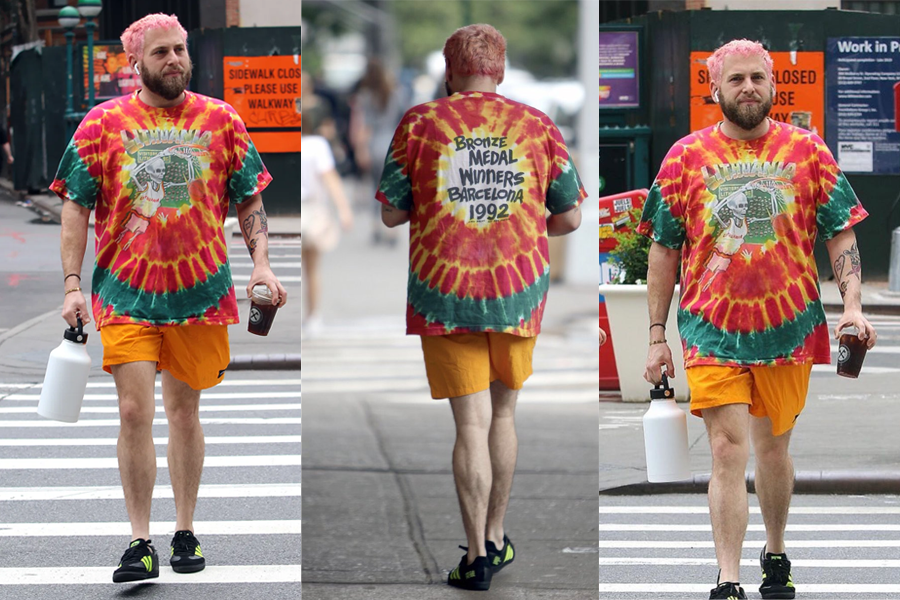 1. The Domineer of Tie-Dye
Tie-dye often has connotations regarding the hippie counterculture of the 1960s. Today, tie-dye is having a massive resurgence in culture, maybe thanks to the king himself. Jonah loves to pair a flagrant tie-dye fit with black Adidas sneakers. He chooses a 5-inch leg option from the likes of Patagonia to really show off his athletic physique.
Shirt: Original 1992 (Barcelona Olympics) Lithuanian Tie Dye Basketball
Shorts: Orange gym shorts 
Shoes: Adidas Samba Neighborhood Winning Collection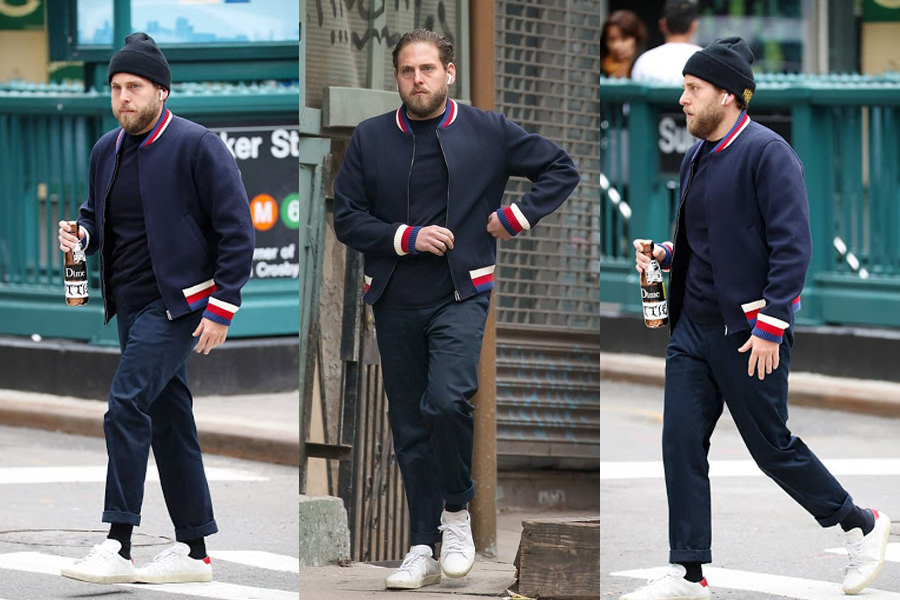 2. The Saint Laurent Don
Jonah loves these SL06 Saint Laurant sneakers, and so do we. The simplicity of these sneakers is showcased here where Jonah matches the navy trousers with a Gucci bomber jacket. He finishes off this fit with a black shirt matching the black beanie and crop rolls the pants to show off his SL's.
Jacket: Gucci Jersey Bomber Jacket 
Pants: ID Unknown, similar to Carharrt Sid Pants 
Shoes: Saint Laurent SL06 low-top sneakers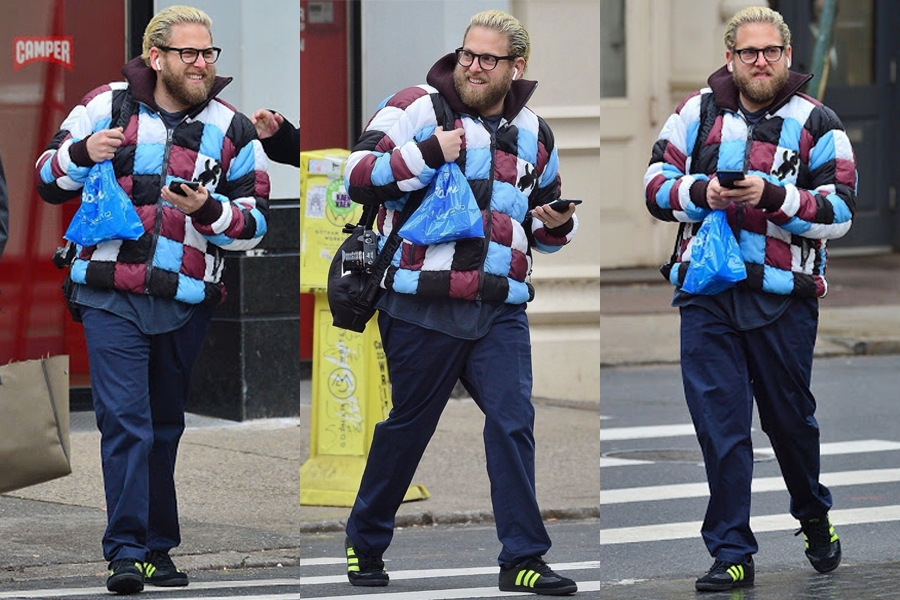 3. The Pope of Puffers
It must've been chilly in New York when they caught Jonah. He pairs the checked puffer with his favourite navy trousers and his classic Neighbourhood Sambas. Changing it up from the normal brunette, here he rocks the bleach blonde head-top.
Jacket: Checked Jacket
Pants: Unknown ID
Shoes: Adidas Samba Neighborhood Winning Collection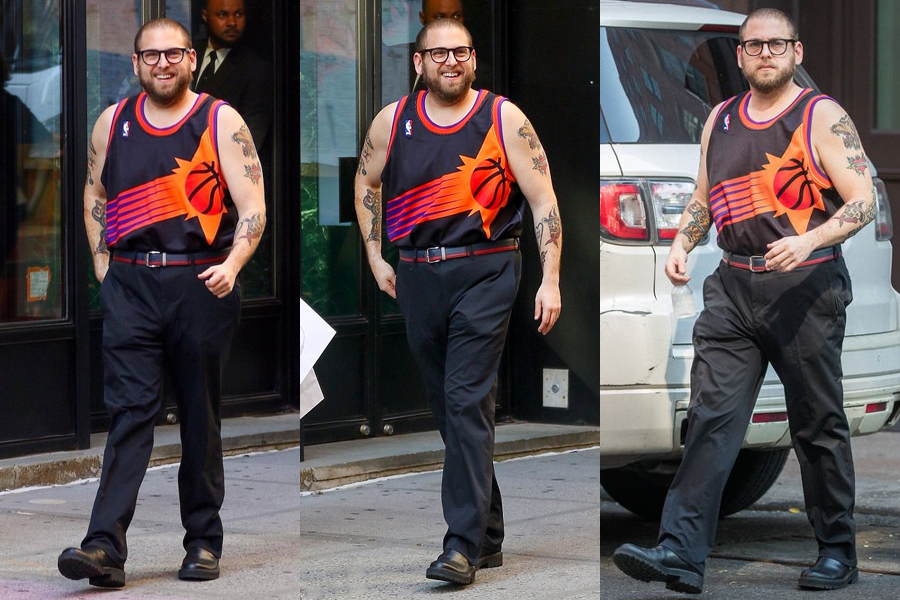 4. The Superintendent of Suns Sartorial
Just call him Kevin Jawnson. Jonah is caught shopping at Balenciaga moments before this all-time celebrity fit pic was taken. Experimental to say the least, here he is photographed in a $400 Mitchell and Ness Suns jersey. The bottom half appears less than impressive to the untrained eye but the Prada Boots and pants will set you back a whole stack of money (Maybe two). We think he looks rather strapping in this all-time outfit, hang it in the rafters.
Jersey: Mitchell and Ness Phoenix Suns 
Pants: Unknown ID, most likely Prada to match the boots
Boots: Prada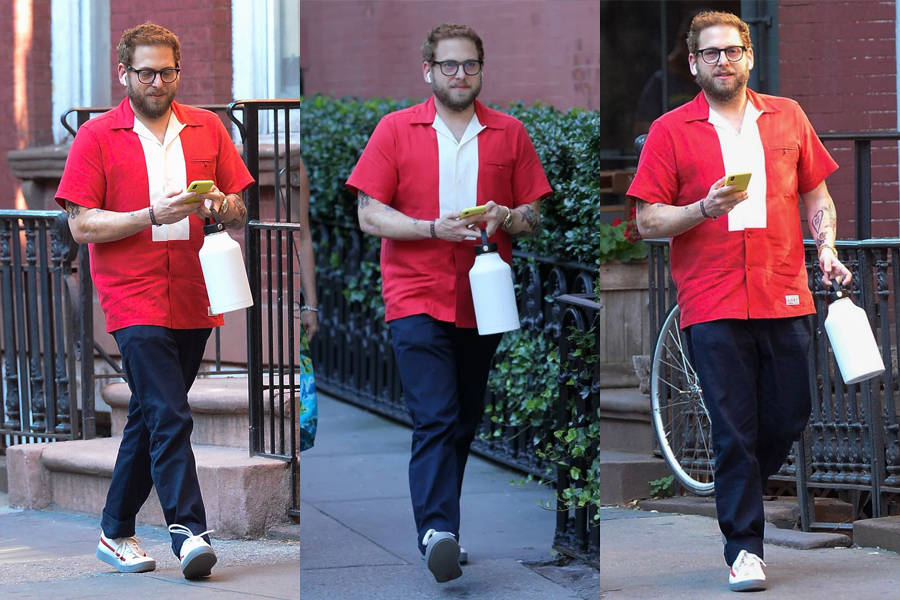 5. The Brossface Brippler of Bowling Shirts
Jonah was caught here looking dapper in a red bowling shirt, a must-have this summer. He matched the shirt to the shoes, vans, which have a red stripe and white upper. The pants are of unknown origin, however, we have seen these from Hill before. You can find similar pants from the likes of Carharrt and even Uniqlo.
Shirt: Unknown ID
Pants: Unknown ID
Shoes: Vans 'Marshmellow'
General FAQ
What is Jonah Hills water bottle?
Jonah sports a stickered out 64-ounce, 1.8L, half-gallon Hydro Flask. Made of aluminum.
What is Jonah Hills favourite brand?
Jonah is currently working with Adidas on his own sneaker and apparel line. Before he signed with Adidas he rocked brands such as Dries Van Noten, Prada, Our Legacy, and Gucci.
Who is Jonah Hill married to?
Gianna Santos, they got engaged in September 2019
You'll also like:
Style Guide: How to Dress Like John Mayer
Style Guide: How to Dress Like Michael B Jordan
A Complete Guide to Selvedge Denim