Stranger Things Style Guide: How To Dress Like Steve Harrington
Steve Harrington isn't just a one-trick pony. The hot-headed jock with the perfected feathered Farah Fawcett hair is a pretty damn good babysitter and a style icon to match. From the moment season one of the smash hit Netflix series Stranger Things debuted in 2016, actor Joe Keery's popular high-school alter-ego became a fan favourite. While many characters have come and gone, Harrington's impressive on-screen story arc has allowed the once two-dimensional jock to evolve into a fully-fledged human being, complete with one hell of a wardrobe. The Stranger Things style icon is best known for his rotating catalogue of perfectly curated clothing and it's high time we celebrated the Duffer brothers' most interesting character. In this Steve Harrington style guide, we're handing out tips on how to capture his looks from the show while also breaking down the man behind the much-loved character.
Style Evolution of Steve Harrington
Over the seasons, we've seen Steve Harrington move away from his preppy jock persona over to a more contemporary, adult aesthetic. Depending on where in the Stranger Things story arc you drop in, there are bound to be some tell-tale signs that the former king of Hawkins High is growing up.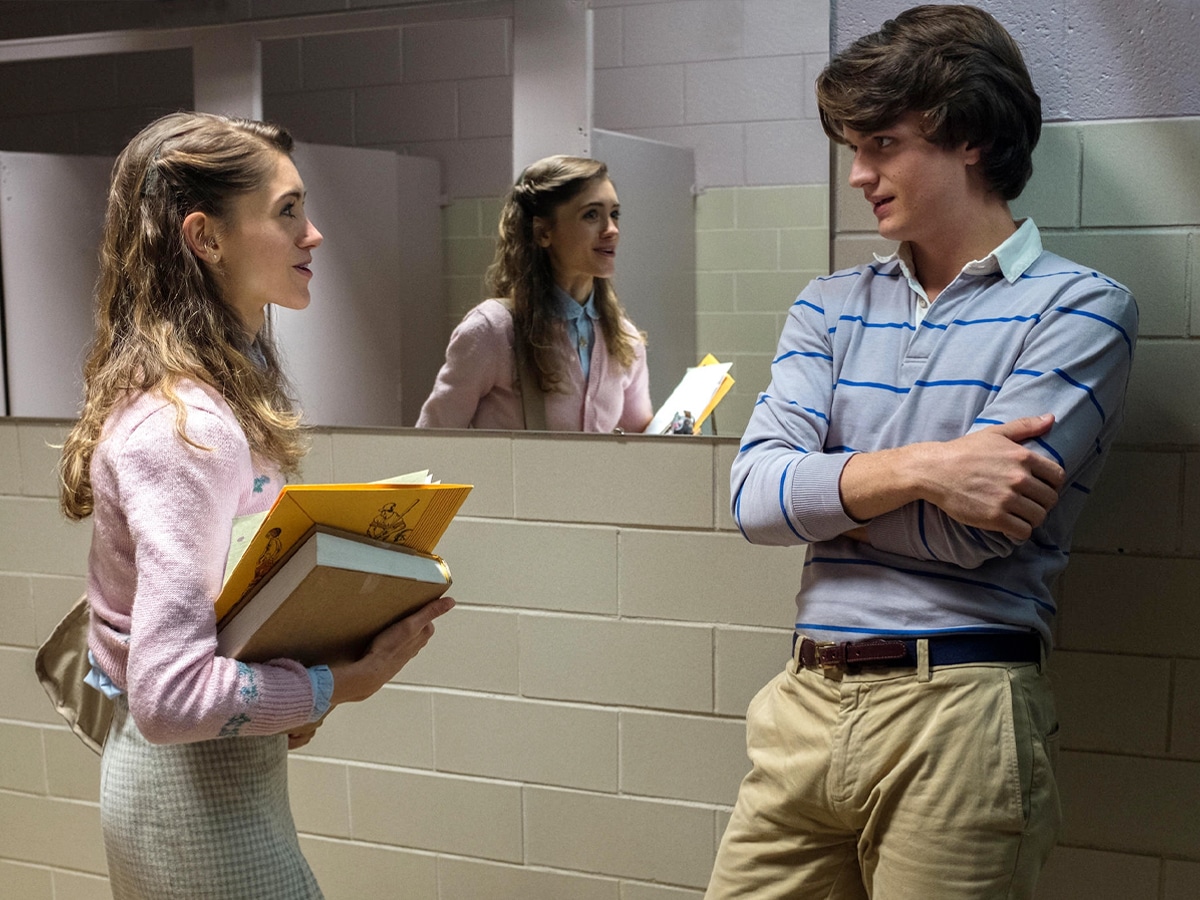 Season 1
When we were first introduced to Steve Harrington in the hallway of Hawkins High, you could already tell that his character was inspired by '80s jocks and heartthrobs. Much like the Fast Times at Ridgemont High brigade, this look was all about perfect hair and an abundance of manicured accessories, albeit with a few change-ups. Stranger Things costume designer Kimberly Adams described Steve's style as "preppy and cool … Polo shirts, Levi's, khakis, and Brooks Brothers basics worn with attitude!"
If you're looking to capture Steve Harrington's season one style, it's fairly easy to recreate. The preppy and cool aesthetic always seems to make a comeback, whether in vintage pieces or modern reinventions. As you can see Harrington is wearing a long sleeve polo shirt tucked into a pair of brown khakis, with brown boat shoes and a brown and gold belt.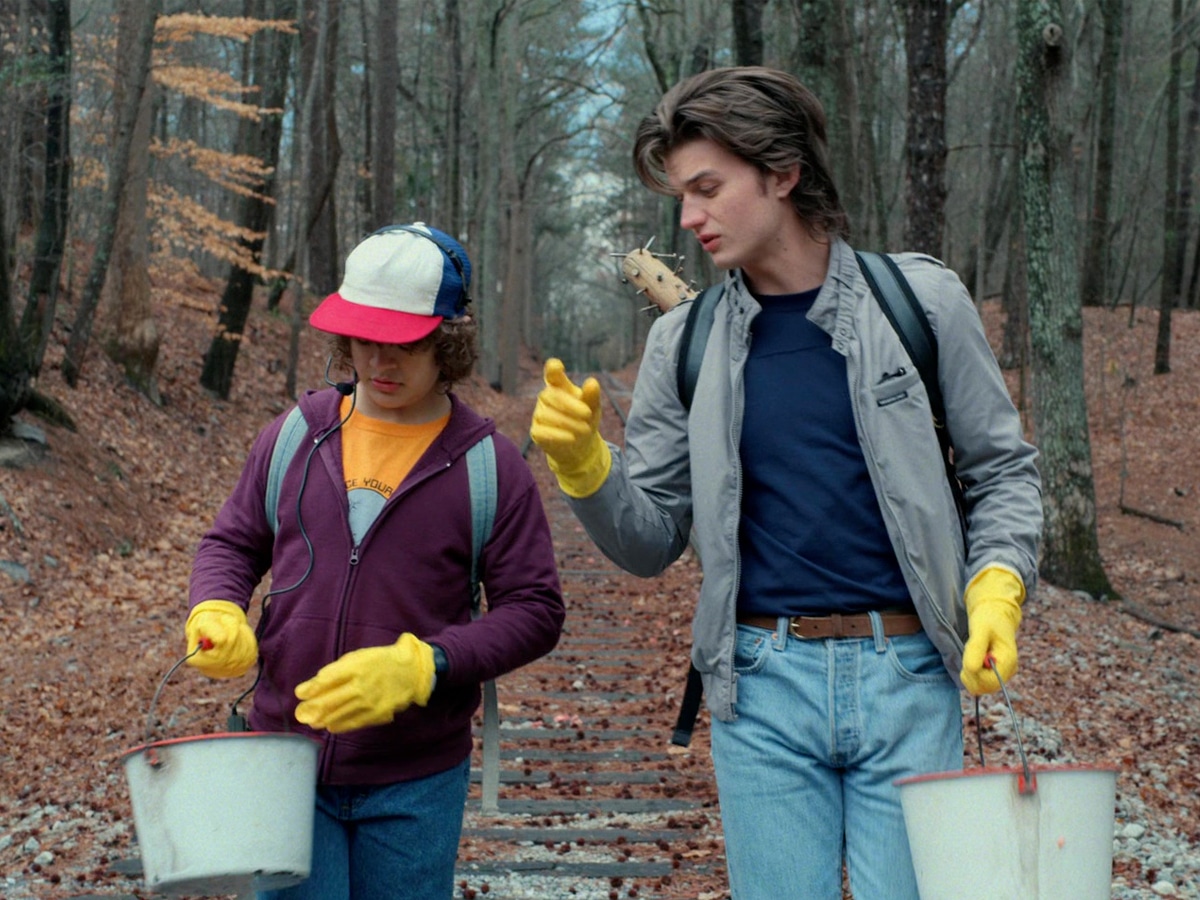 Season 2
When it came to Season 2 of Stranger Things, we started to see a change in Steve, both visually and metaphorically. Speaking with Vulture, actor Joe Keery revealed that the second season iteration shows some growth for the former jock. "Steve lets his guard down … He's growing up and becoming a little less absorbed. He's learning that in order to do what's best for the ones you really love, you have to put yourself in the backseat. And that's an important lesson for any age."
As a result, we begin to see Steve in a new light along with some new clothes. Yes, he still has his iconic Farrah Fawcett-style hair, but it's noticeably longer and messier this season. In the same interview, Joe continued and spoke about his costume for season two, saying "For the most part, the costume that I wore this year I was super into, especially for all of the action stuff … It actually wasn't as tight as they looked. And I wear pretty tight jeans in real life".
When you're hunting a Demodog named Dart, you wouldn't be too concerned about style. Unless you're Steve, of course. His look may be basic but it's also fairly stylish, and in a fitting nod, the key piece from this look is the aptly named Harrington jacket. Named after Ryan O'Neal's character on the 1960s drama Peyton Place, the jacket is a front zip casual top with contrast lining and while you can find a bunch of options similar, we've gone for a great polyester option. Steve also wears light blue denim jeans, paired with the iconic Ray-Ban Wayfarer sunglasses and Nike Cortez sneakers. Also, don't forget Harrington's best accessory – a good old Baseball bat with nails.
Season 3
In the third season of Stranger Things, we were introduced to Scoops Ahoy Steve. Scoops Ahoy employees wore uniforms designed to resemble cartoonish sailor suits. While what Steve wore this season might be great as a Halloween costume it might not be the best for day-to-day unless you're a sailor. But it doesn't mean you can't take some inspiration. Dressing in a nautical or sailor style has once again become popular, with many brands embracing the style.
---
Featured Video from Man of Many
---
It's quite simple to archive a nautical sailor look similar to Steve's. The Scoops Ahoy uniform uses the traditional nautical colours blue, white and red, but don't be afraid to experiment with other shades. To get the nautical sailor look, you'll only need a striped shirt or polo matched with some cotton shorts. Finish off the look with any shoes and you're ready to set sail. A sailor's hat is optional.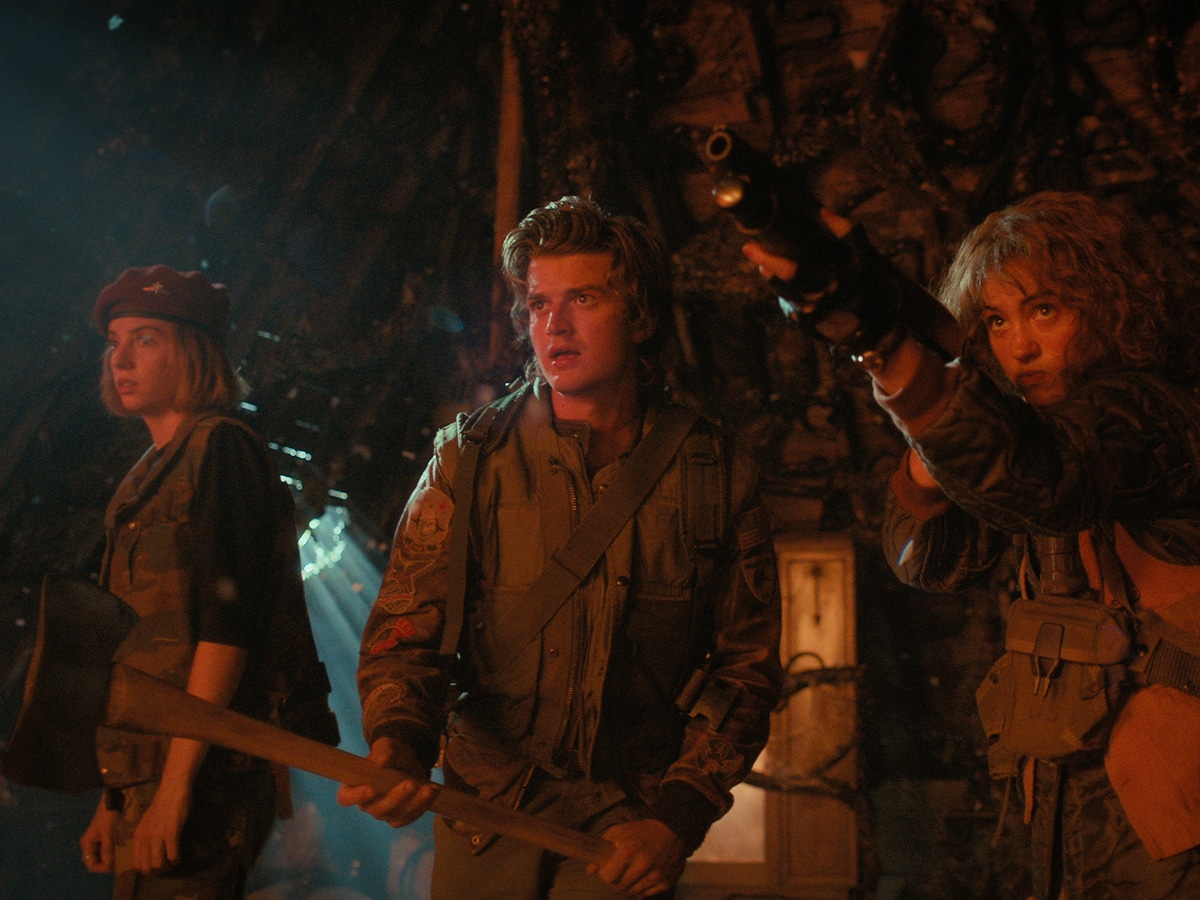 Season 4
In season 4 we were introduced to Family Video Steve. The uniform here is less strict than Scoops Ahoy, allowing Steve to show some more of his own personal style. Throughout this season Steve donned many outfits, due to the crazy happenings in Hawkins and in the Upside Down. Some of which – like Military Steve – were more notable than others, but it was still good to see him mix it up a bit. Steve did ultimately go back to his preppy roots, but with an unrefined twist. His hair this season was also notably longer, yet still well maintained.
We've been over preppy, and how to capture his look you just need a blue, striped, long-sleeve polo shirt, light blue denim jeans and white sneakers. Military Steve offers something slightly more interesting. Military-inspired looks have been in and out of fashion for a while, but the look does work for Steve. To capture his look you'll need:
Joe Keery's Best Outfits of All Time
When he's not in character, Joe Keery is still a style icon in his own right. The American actor is renowned for his casual aesthetic and mix of traditional workwear and, ironically, '80s accessories. Here are some of Joe Keery's best outfits.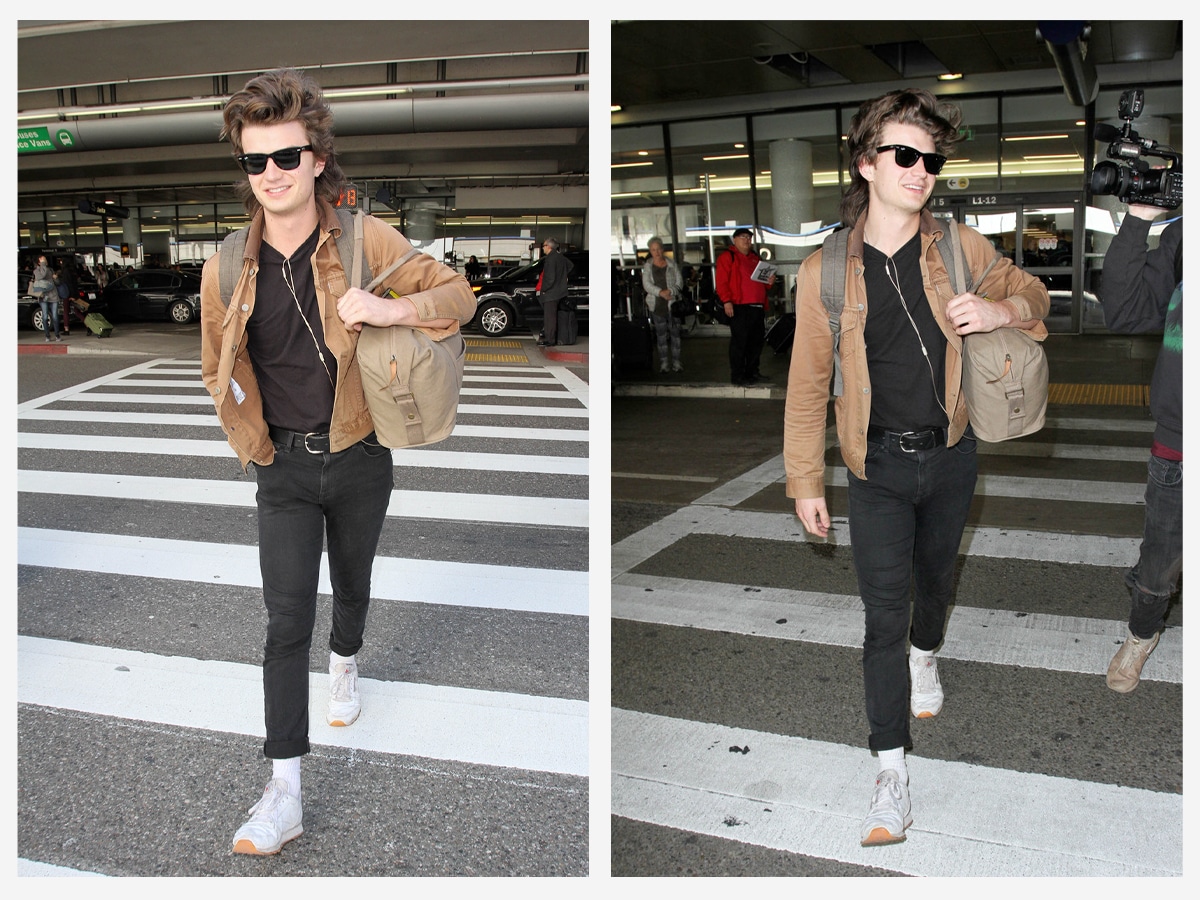 Airport Style Masterclass
Airport fashion at its core is a balance between comfort and style. Joe Keery has become a master and the only evidence you need is this outfit. Taking inspiration from his on-screen character, Keery wore Steves's trademark jeans and bomber jacket combo. He paired these with classic Ray-Bans, a backpack and a mutated toned duffle. The best thing about this outfit is not only its simplicity but the fact that it can be replicated with almost any colour combo.
Out and About
Another classic example of how basic wardrobe essentials can be effective when used properly. Again Keery's outfit is easy to recreate and reimagine. Using denim again as a base, Keery builds his outfit around it, pairing it with a simple graphic tee, sunglasses and the iconic low-top Docs.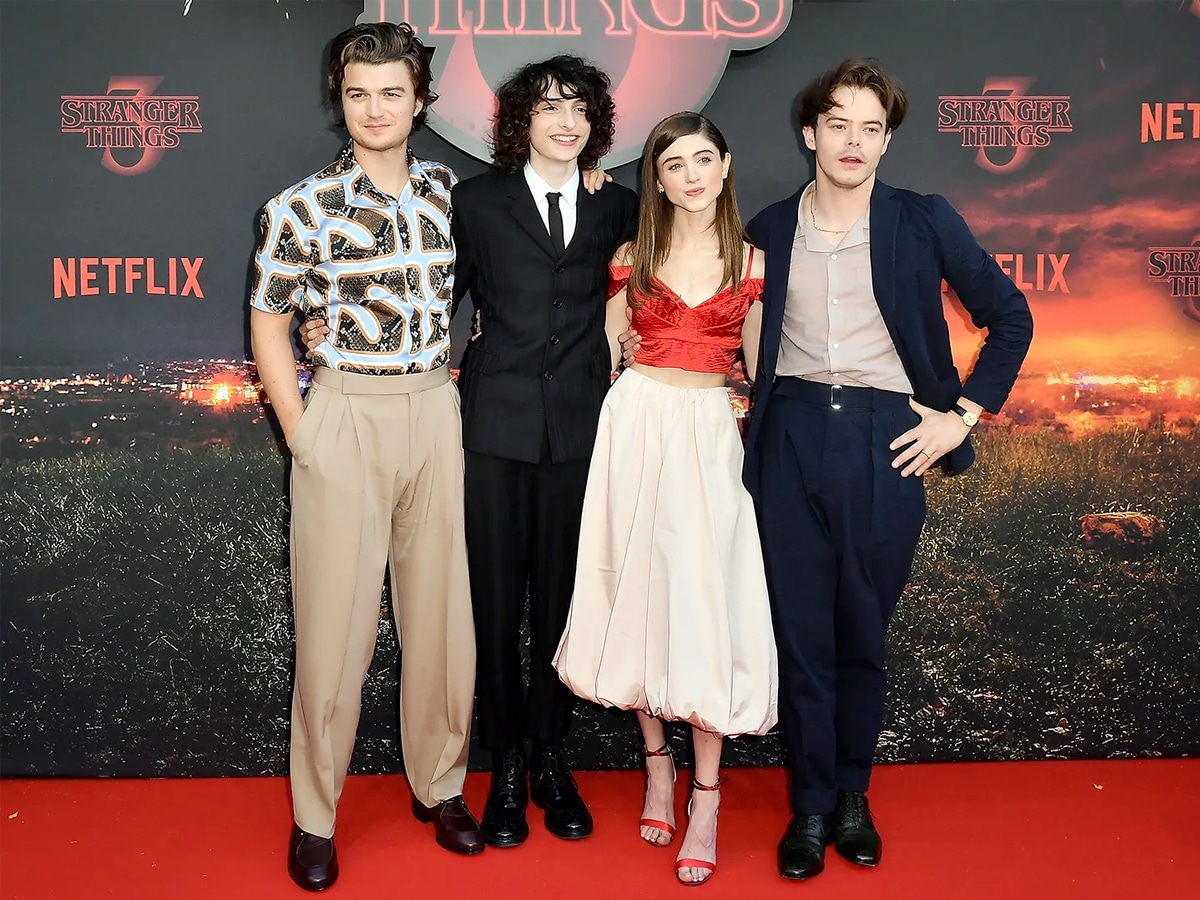 Wide Leg Red Carpet
Whether he's in a modern style or adopts vintage classic pieces, we've already established that Joe Keery knows how to dress. So it's no surprise that he decided to dust off the high-waisted wide-leg pants for the red carpet. His vintage look consisted of a pair of camel slacks paired with a tucked-in short-sleeved, patterned shirt and dress shoes. This is another great combination to reinterpret, as you could dress it up with a suit jacket or dress it down with a crisp, fitted t-shirt or sneakers.
General FAQs
What kind of pants does Steve Harrington wear?
Throughout Stranger Things, actor Joe Keery's character of Steve Harrington wears a combination of Levi's 516 Straight Jeans and brown Brooks Brothers khakis.
What kind of jacket does Steve Harrington wear?
In Stranger Things, Steve Harrington's jacket is a take on the classic Harrington jacket. Named after Ryan O'Neal's character on the 1960s drama Peyton Place, the jacket is a front zip casual top with contrast lining.
---
Featured Video from Man of Many