Style Guide: How to Dress Like Harry Styles
If you'd told us in 2010 that Harry Styles, the floppy-haired, baby-faced member of British X-factor boyband One Direction would be one of the most influential style icons of the decade, we wouldn't have believed you. However, fast forward nine years, and the former 1D singer is a musician in his own right, and a haute couture sartorial frontrunner, regularly donning the likes of Gucci, Saint Laurent, Givenchy, Alexander McQueen, and Calvin Klein.
The evolution of the Harry Styles style can be charted through several phases, from the initial Jack Wills tracksuits/polo shirts/chinos stage of early One Direction to the highly recognisable skinny jeans/Chelsea boots/unbuttoned printed shirts/skinny scarf/long hair/Saint Laurent stage beginning around 2013, the introduction of florals in 2015, the old-school glam rock Gucci-heavy stacked heels/vibrant suiting/satin pants phase beginning in 2017, to now; which retains the bold tailoring of 2017-18, but introduces looser, more comfortable silhouettes.
Here's how to nail the Harry Styles style.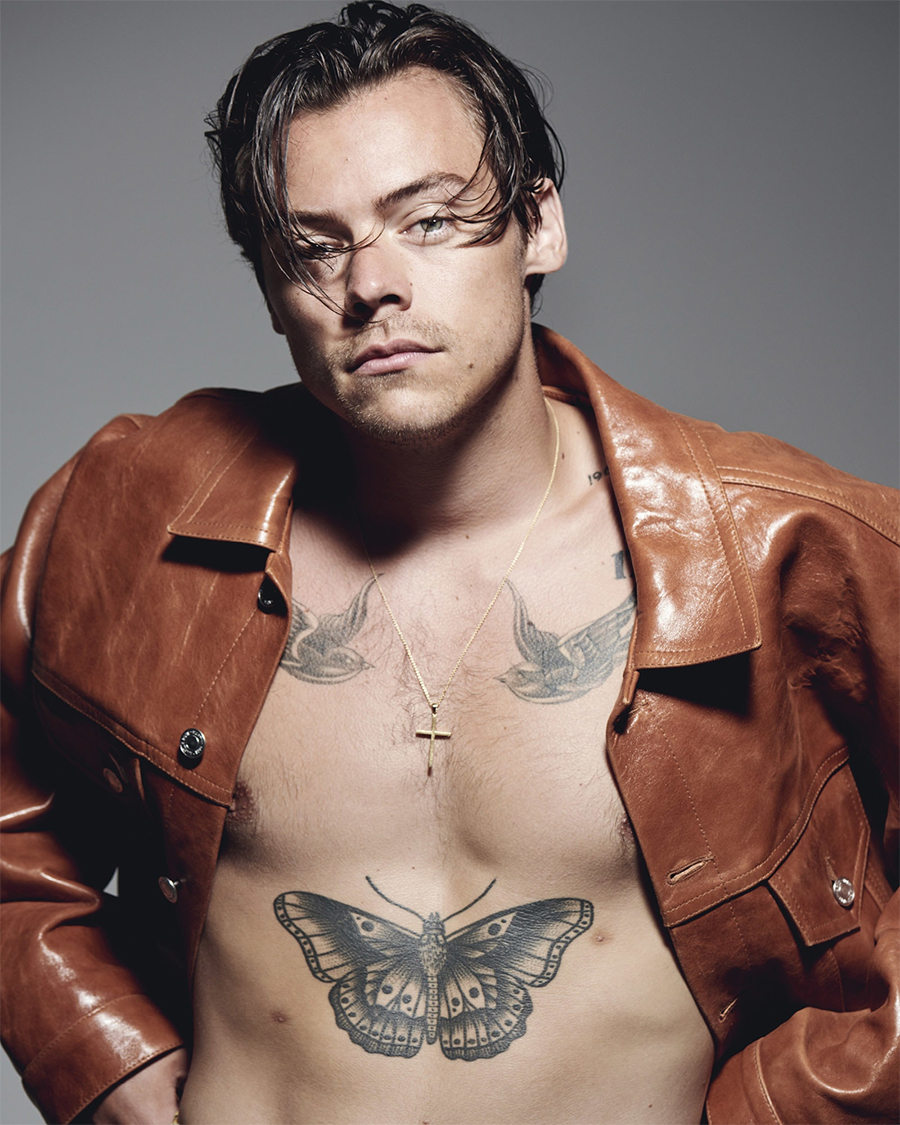 Harry Styles' Tattoos
The former 1D band member has a few dozen tattoos, mostly across his left arm, chest, and torso. Among the most notable ink Styles sports is a butterfly on his stomach, which was inspired by a French prison tattoo in the film Papillon, according to Styles' tattoo artist Liam Sparkles in an interview with Another Man magazine. The prison theme is a commonality with several of his tattoos, with Sparkles telling the magazine that "we did more French criminal inspired pieces, like shaking hands, and the laurel wreaths on either side of his stomach that usually go on the chest and indicate the owner is a pimp. We've also done a heart, some nails, a mermaid, and a bottle. All classics."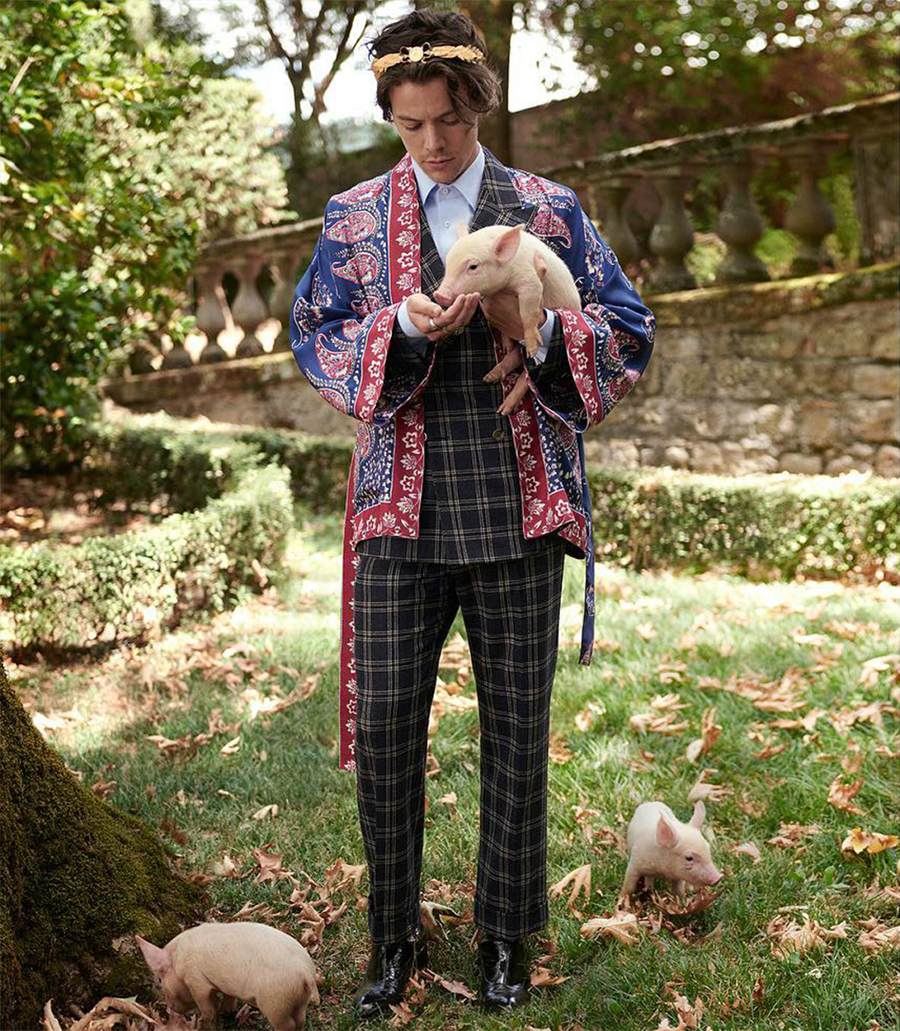 Gucci Muse
Like fellow Brit Tom Hiddleston, Harry Styles has an affinity for Gucci, forming a close partnership with the Italian luxury house's creative director Alessandro Michele, and appearing in three Gucci tailoring campaigns and an ad for Gucci's first gender-neutral fragrance; Mémoire d'une Odeur. Styles' Gucci tailoring campaigns tend to feature animals as costars, whether they be chickens, goats, piglets, or most recently; swans.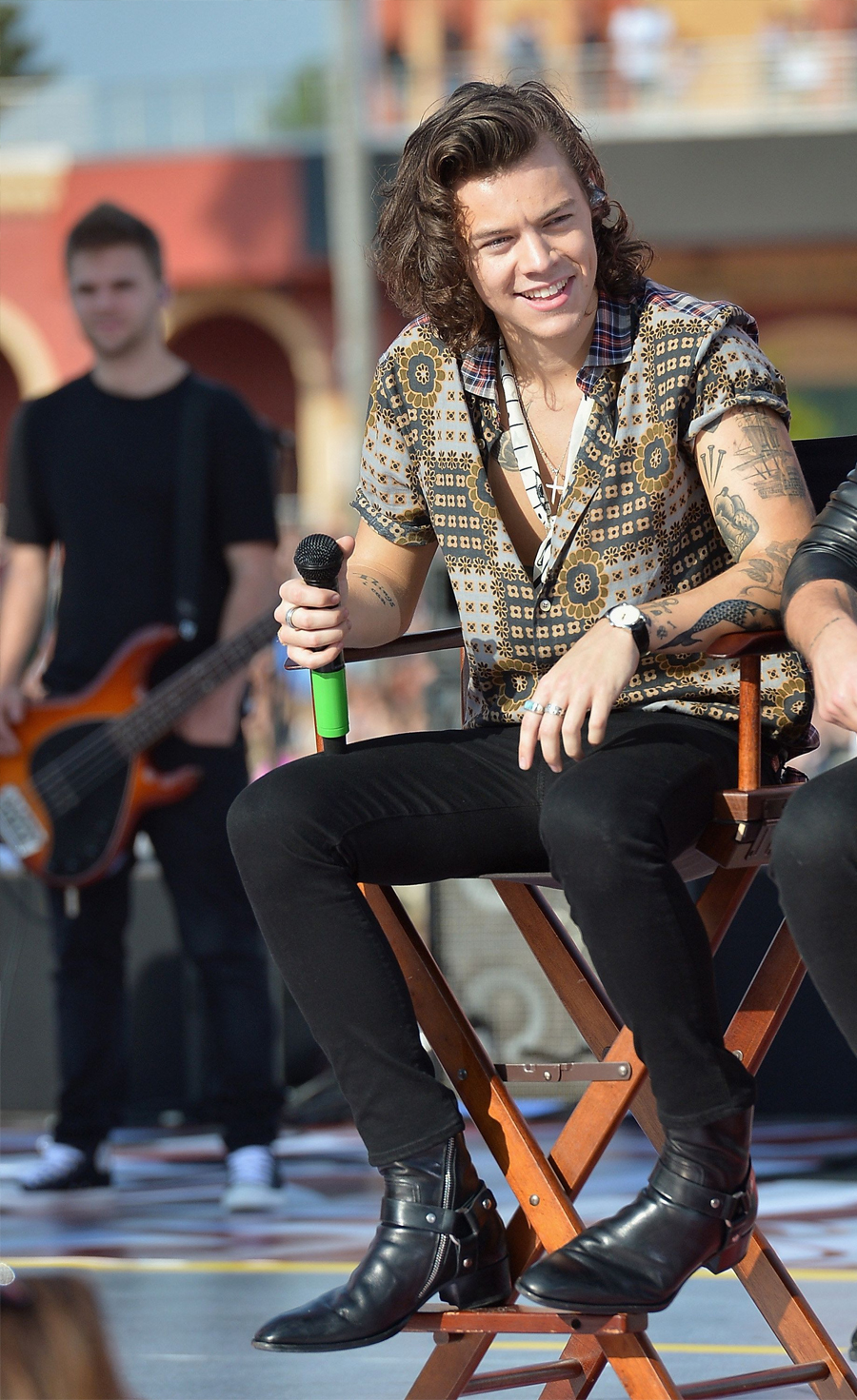 Chelsea Boots and Cuban Collars
From 2013 to 2015, Harry Styles' dress style could be characterised by long hair, skinny jeans, Chelsea boots (often Saint Laurent), and plain or printed (sometimes Cuban collared) shirts worn unbuttoned (also often Saint Laurent). Styles' rocker style was edgy, but still sat within the sartorial realm of the boyband he was in.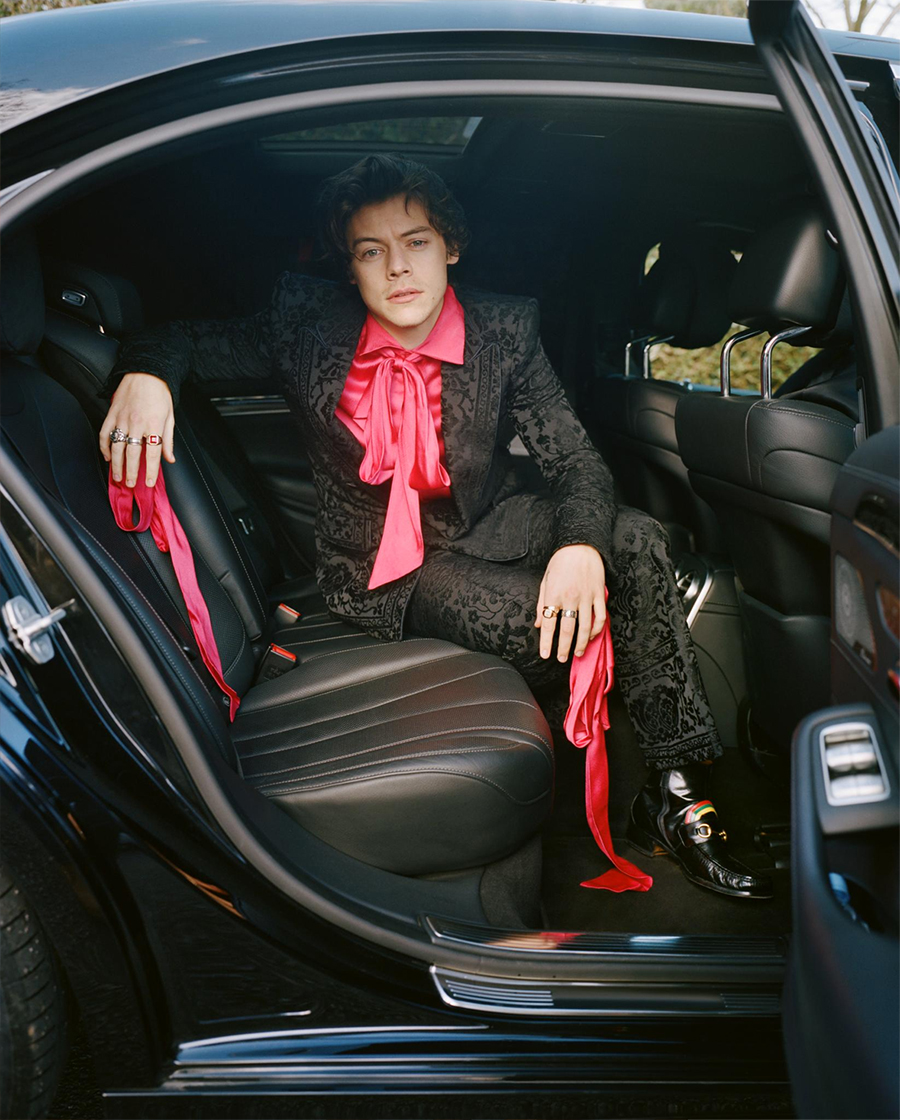 Pussy (Bow) Power
Popularized by Coco Chanel and Yves Saint Laurent, pussy-bow blouses became a staple for working women in the 1960s and '70s. In 2016, pussy bows were embroiled in controversy, as Melania Trump made several public appearances sporting the garment, following the leak of her husband – US President – Donald Trump's "grab 'em by the pussy" audio recording. While many internet users denounced the first lady's choice of attire, Harry Styles evidently spotted a stylistic opportunity, with at least a quarter of his tour outfits featuring a pussy-bow blouse. Despite being co-opted by the first lady, the pussy bow's ability to toe the line between masculine and feminine makes it a fitting wardrobe addition for Styles, who continues to challenge sartorial gender norms.
Think Pink
Harry Styles often channels Elle Woods with various iterations of pink tailoring. From a hot pink Gucci suit with large peak lapels worn with a slightly sheer white pussy-bow blouse to a salmon pink Alexander McQueen suit with floral embroidery, the Sign of the Times singer isn't afraid to embrace the rosy hue.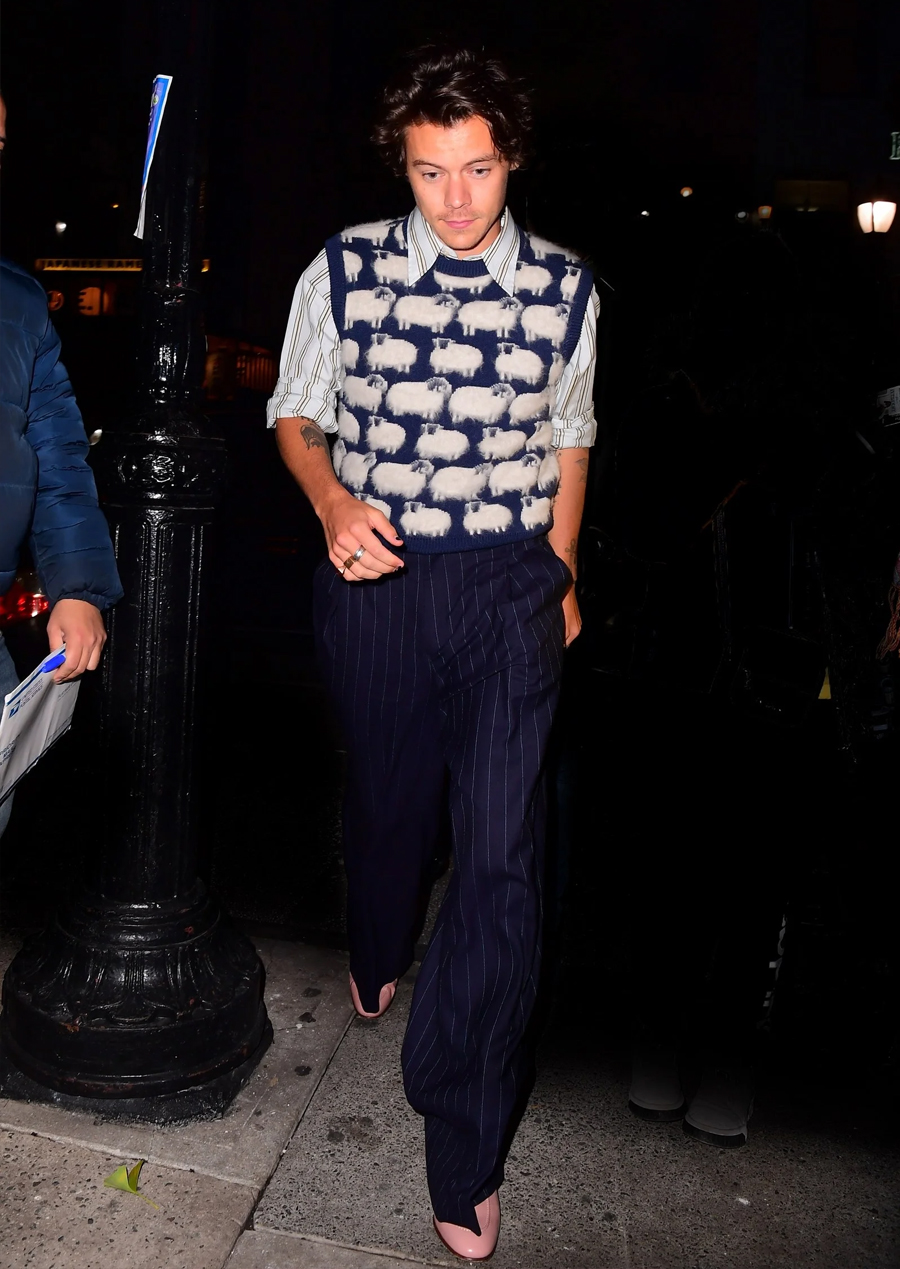 The New Casual
The Kiwi singer has officially retired the circulation constricting skinny jeans in favour of more blood vessel friendly pants. Whether he's going bold with mustard bell bottoms or channeling Princess Diana with a sheep sweater vest and loose pinstripe flares, comfort is the new name of the game.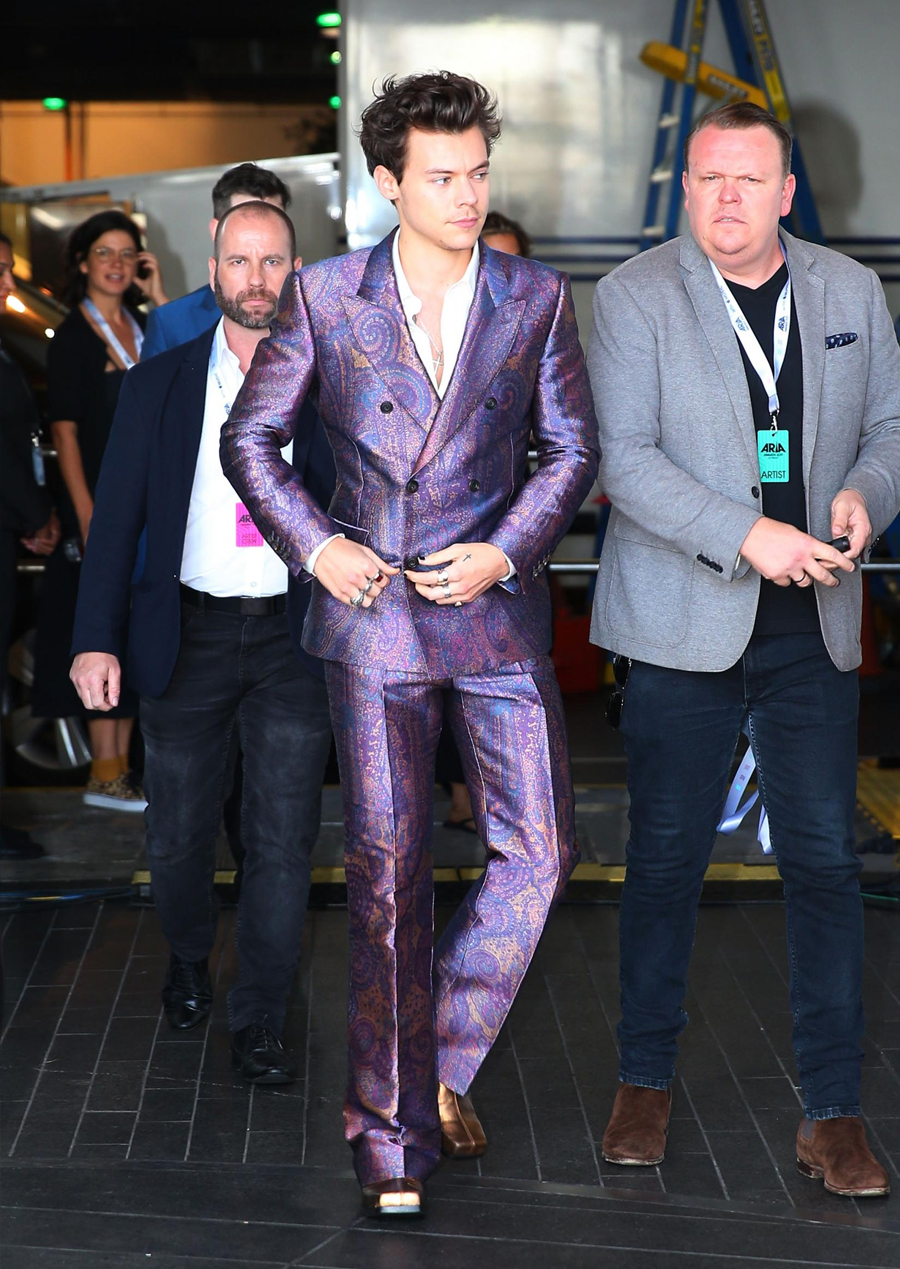 Paisley Prowess
Styles had an exclusive tour partnership with Gucci for the 2017 leg of his self-titled tour, with the Italian fashion house responsible for all of his colourful suits. However, as of 2018, he's begun to branch out more, working with other couture labels. One of the most exciting is Alexander McQueen, as the British fashion house's eccentric material and subversive tailoring are a fitting match for Styles' glam rock image. Case in point; this double-breasted purple paisley suit the Watermelon Sugar singer wore to the 2017 Arias.
You'll Also Like
Style Guide: How to Dress Like Justin Bieber
Style Guide: How to Dress Like Chris Hemsworth
Style Guide: How to Dress Like Justin Bieber

General FAQ
What is Harry Styles clothing style?
Harry Style is known to veer from the traditional, wearing bold prints, high-waisted trousers, and anything else that may stand out.
Does Harry Styles wear dresses?
Harry Styles is seen wearing various dresses and accessories in his new Vogue photoshoot.