Make Your Own Custom Nike Dunks on Nike By You
The Nike Dunk train is continuing full steam ahead. With the resurgence of the Nike Dunk in 2020 through collaboration-heavy models such as the Ben and Jerry's Dunk and the college-inspired two-tone colourways, you might've thought your Dunk fix was satisfied. Wrong. Nike is continuing to drop release after release, and now they're offering custom Nike Dunks through the 'By You' system.
Hypebeasts rejoice, you can finally create a one-off pair of your own.
Related: The Nike Dunk Low 'Panda' is one of the most popular shoes of the year, here's where to buy it.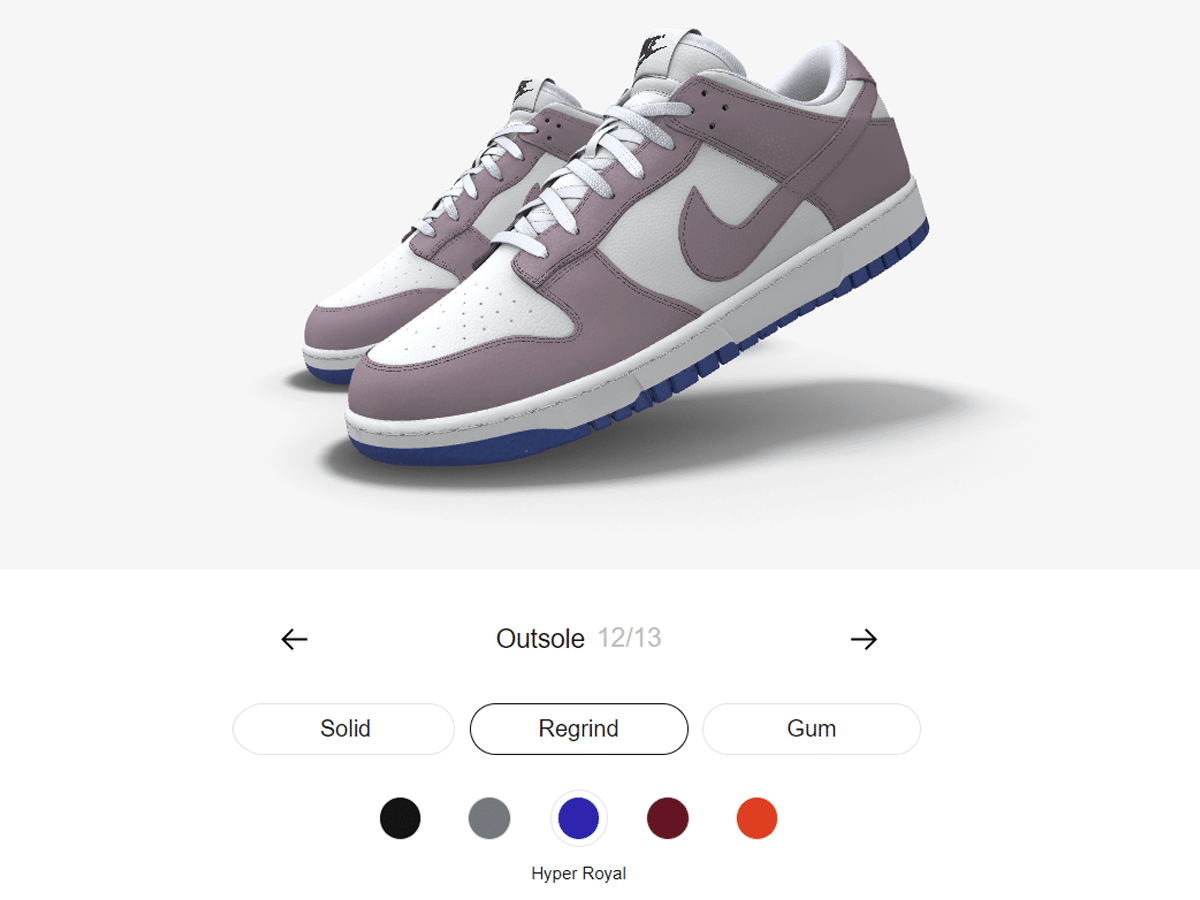 What is Nike By You?
The Nike Dunk shows no sign of slowing down in popularity. Even as we move into the third year since the sneaker was re-introduced, the silhouette's boundaries only continue to be pushed further and further with the introduction of Nike By You.
What is Nike By You? Sneakerheads of yesteryear will remember the NikeID days where you could take some of Nike's most popular lifestyle and athletic sneakers and customise them to match your team to perfection. Nike By You will appear very familiar, with the option to customise the basketball-turned-lifestyle model into a shoe that satisfies your every desire. Currently, you have the choice between leather and recycled twill or satin for the overlays, with rubber, regrind, or gum for the outsole.
Updates to the Nike Dunk Low 'By You' Configurator
04/05/2022: Nike has updated the By You configurator, opening the door to white toe boxes and tongues in true 'college colourway' orientations. As it stands at the time of writing, users can choose from a range of colours for the overlays on the upper, however, colours are limited on the outsole. If you're looking to create a traditional colour with a matching upper and outsole, you'll be limited to Black, Cool Grey, Hyper Royal, Team Red, and Team Orange.
22/11/2022: Nike has added recycled twill to the customisation options. This includes a 'mint green' colour that is reminiscent of the famous Nike SB Dunk Low 'Tiffany'.
Related: Why Are Sneakerheads Adding These UGG Boot Guards to Sneakers?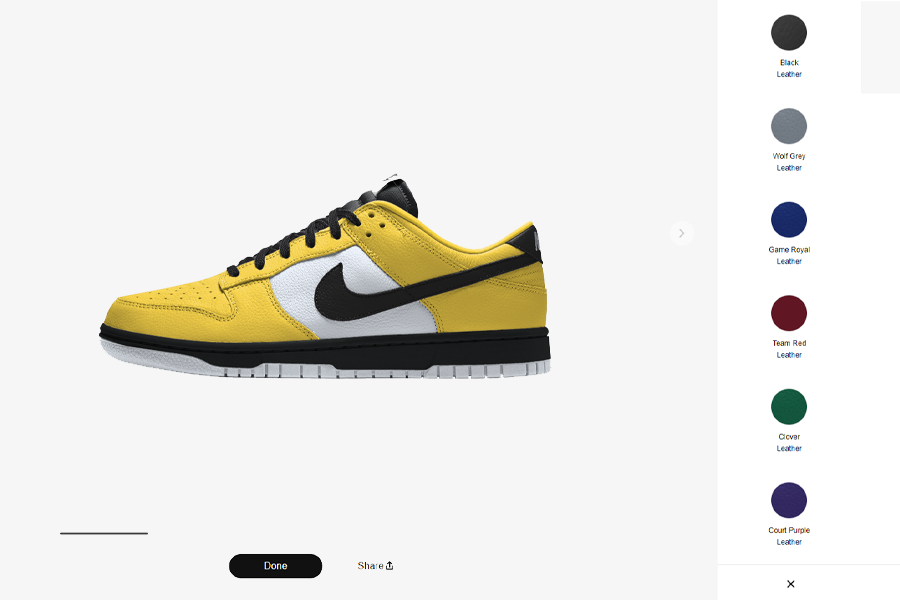 7 Custom 'Nike By You' Dunk Lows
Since Nike opened the door to white-toe boxes, the options are truly endless when it comes to the current custom Nike Dunks. If you're looking to stick to the basics, choose from Black, Cool Grey, Hyper Royal, Team Red, and Team Orange to match the outsole. Otherwise, choose from one of the designs below for something a little outside the box and maybe even swap in that white toebox.
Ultimately, you'll want to let those creative juices flow and make something truly you.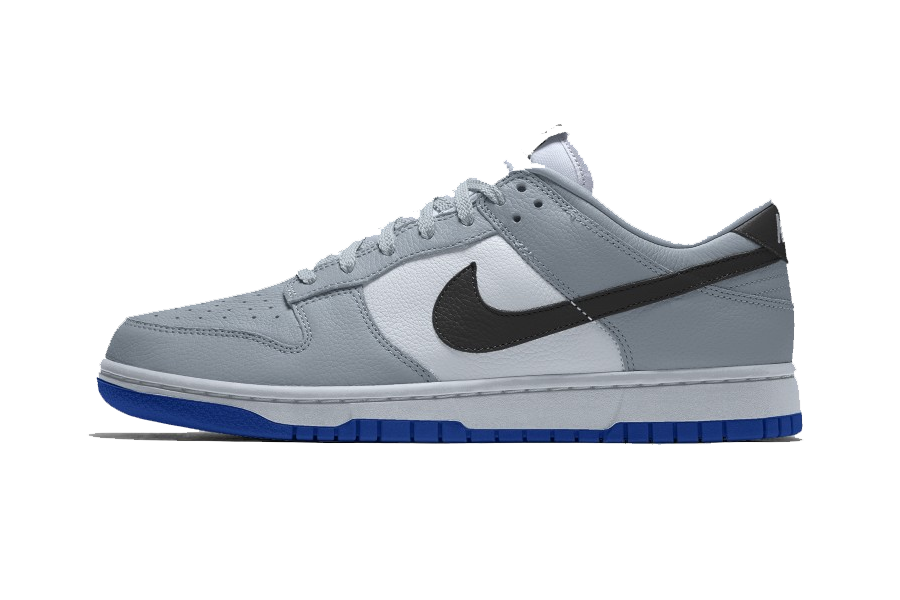 1. 'Dior' Dunk Low
Inspired by one of the most talked-about sneakers of 2020, the Dior x Air Jordan 1. This colourway is sure to be the most popular Nike By You Dunk Low.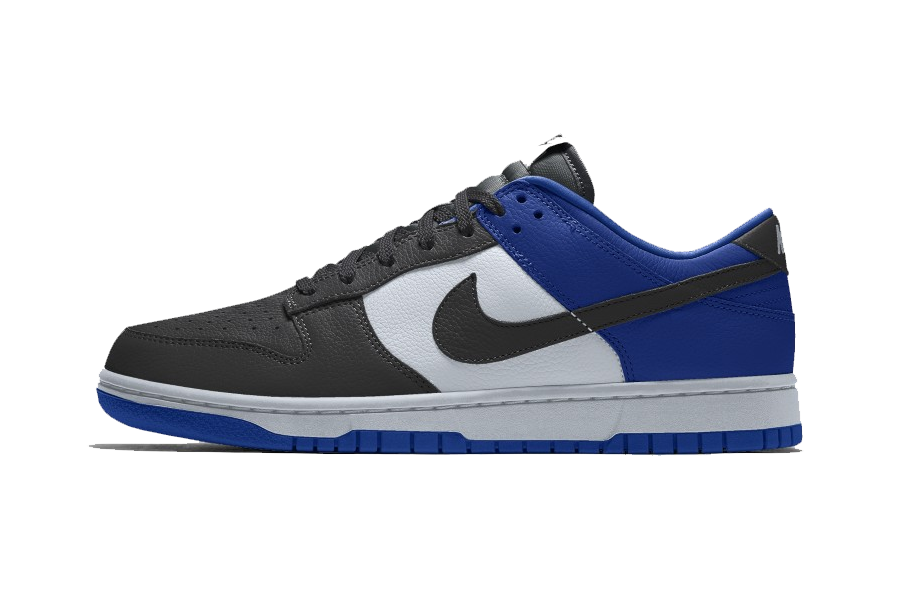 2. 'Fragment' Dunk Low
This Dunk is inspired by the Fragment x Jordan 1. When it comes to Jordan 1's the Fragment is up there with the best of them, so why not transform the colourway into a dunk.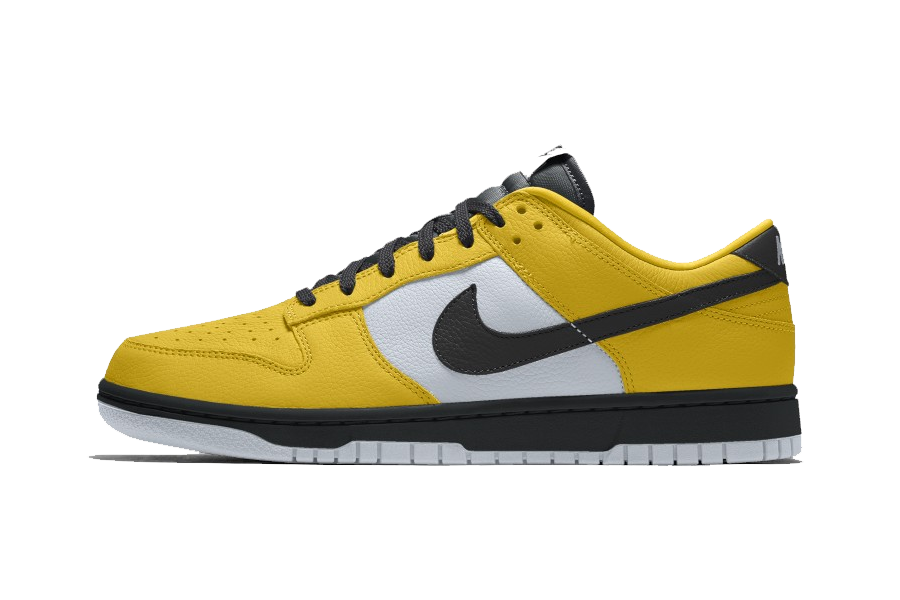 3. 'Kill Bill' Dunk Low
Affectionately named for its yellow and black colourway the 'Kill Bill' or 'Pittsburgh' dunk low is a standout sneaker.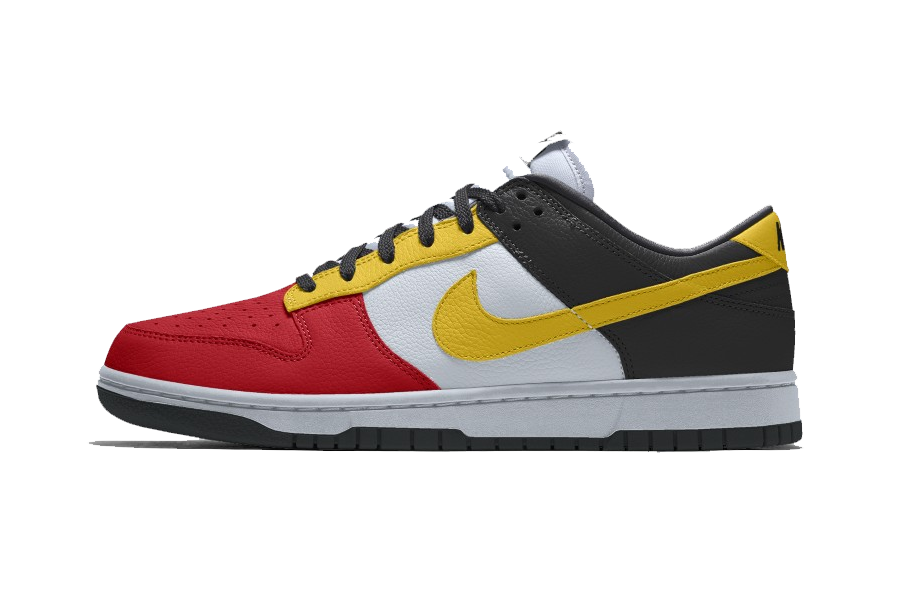 4. 'Indigenous Australia' Dunk Low
Showcasing the colours of the aboriginal flag, this Nike Dunk low showcases Australia's indigenous heritage.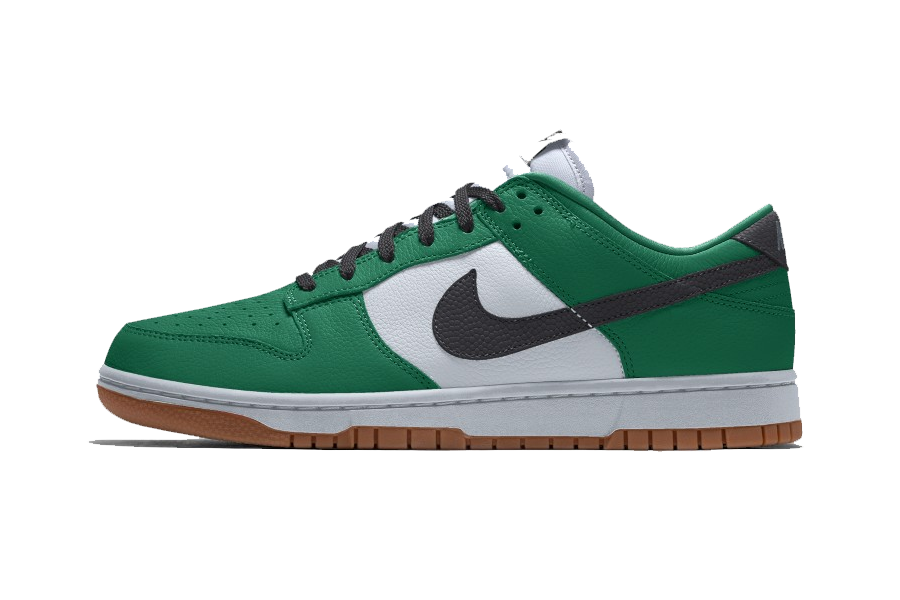 5. 'Milo' Dunk Low
This colourway puts an Aussie twist on famous sneaker collector Mayor's 'Strawberry Quik' coloured bespoke Airforce One.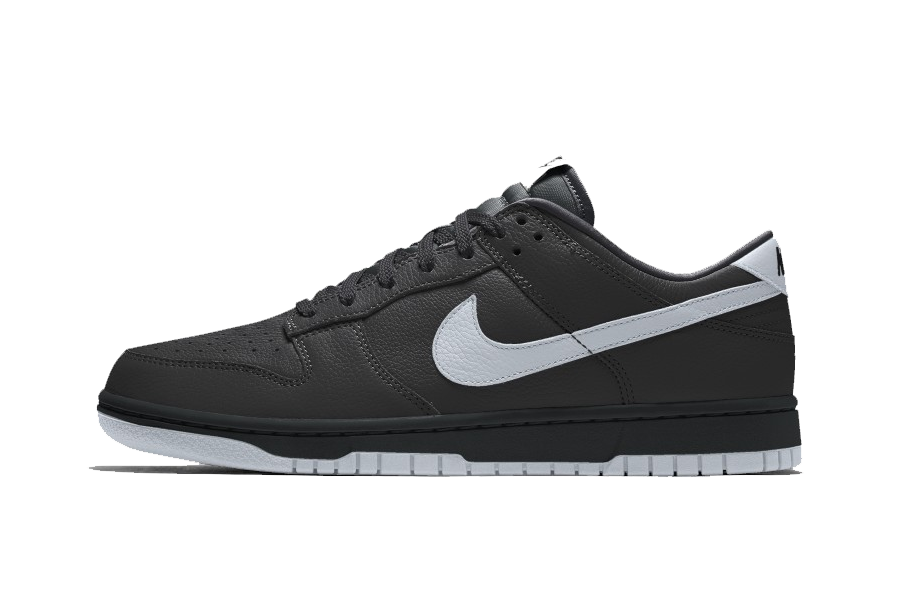 6. 'The Black Album' Dunk Low
Taking inspiration from one of the most sought after Nike Airforce 1 models, the Black Album Dunk low is as good as the rhymes from Jay-Z himself.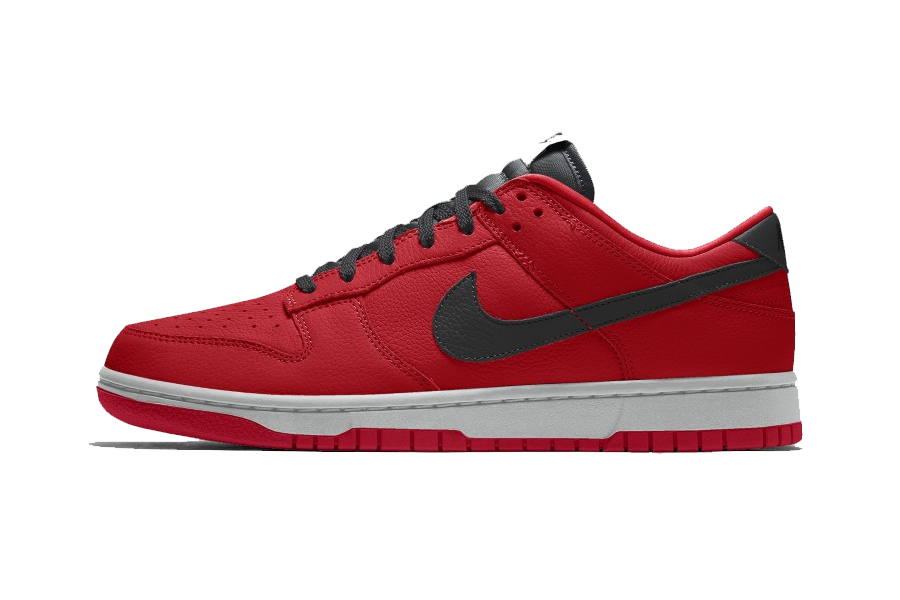 7. 'Clot' Dunk Low
Take the most expensive Nike Airforce 1 on StockX and you have the Clot Nike Dunk Low. At least these won't set you back over $30k.
General FAQ
What happened to Nike Dunk by you?
Nike added Dunks to its 'By You' program on January 4th allowing customers to customize their dunks, three days later the site crashed.
Where can I buy Nike Dunk Low?
Nike Dunk Lows can be purchased on the official Nike website.
You'll also like:
Nike x Martine Rose Celebrate Women in Football
Balenciaga x adidas Stan Smith Takes 'Dirty Sneaker' Trend Too Far
The adidas Samba is Having a BIG Sneaker Moment, Here's Why