13 Best Solar Watches: Divers to Dress
Long-lasting and eco-friendly, the solar watch is finally having its day in the sun (pun intended). That said, this particular sector is still arguably in its early stages compared to others in the men's watch space, even if its history goes back longer than you might think. As more brands embrace the power of solar watches, however, one can expect them to proliferate accordingly. You still have plenty to choose from in the meantime, including an impressive number of Seiko solar watches. There's also TAG Heuer's new solar-powered Aquaracer to consider, plus brands like Casio, Citizen, and Seiko. Here's the best of the best modern solar watches.
Best Solar Watches for 2022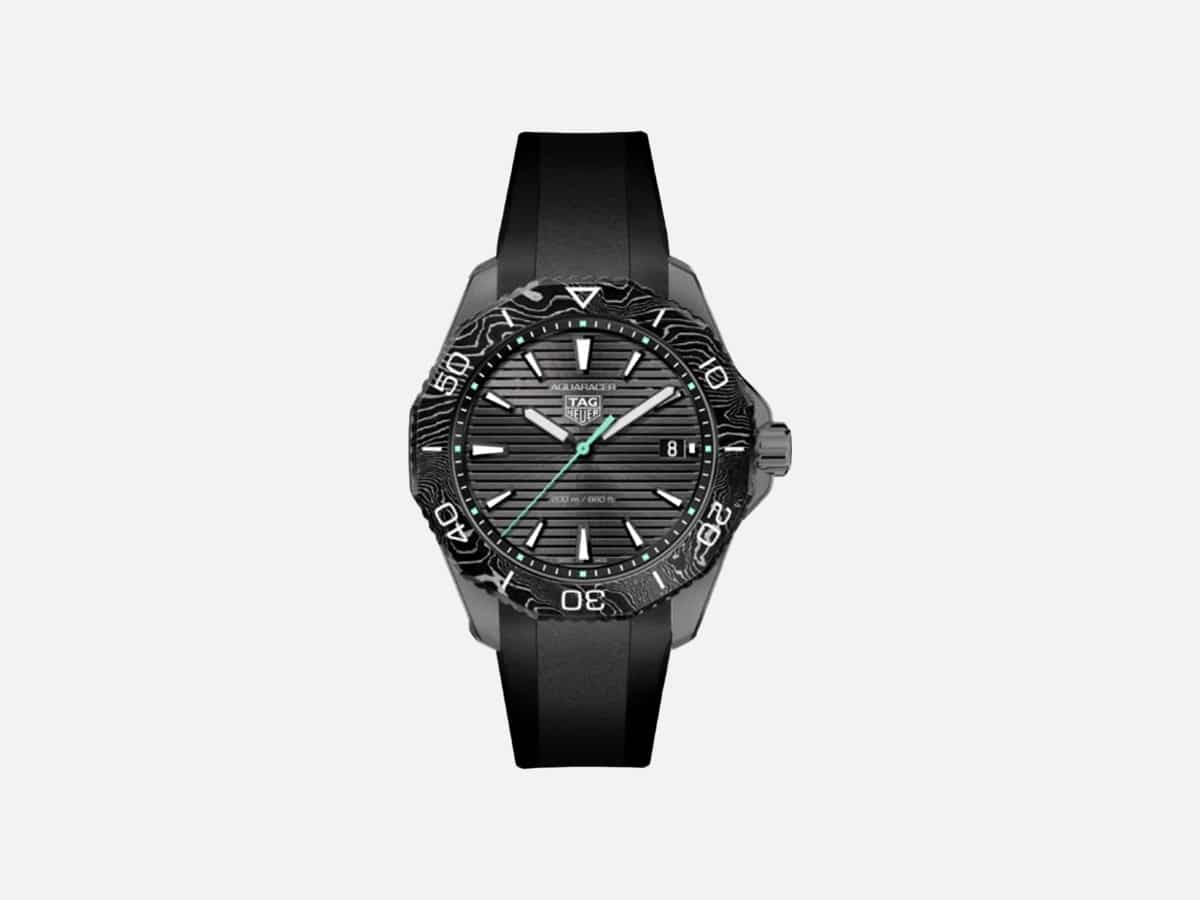 1. TAG Heuer Aquaracer Solargraph – Best Luxury
Despite debuting during LVMH Watch Week earlier this year, we got our first real look at TAG Heuer's inaugural solar-powered Aquaracer at the famed Watches & Wonders event in April, and it didn't disappoint. It features a built-in solar module—aka Solargraph— and needs only two minutes under full sunlight to generate a full day's performance from the TH50-00 movement. This one is made for the outdoors with the rugged design, DLC-coated steel case, and luminous markers to show for it. It will hit the market in October of this year (should everything go according to plan).
Case size: 40mm
Movement: Caliber TH50-00
Price: USD$2,950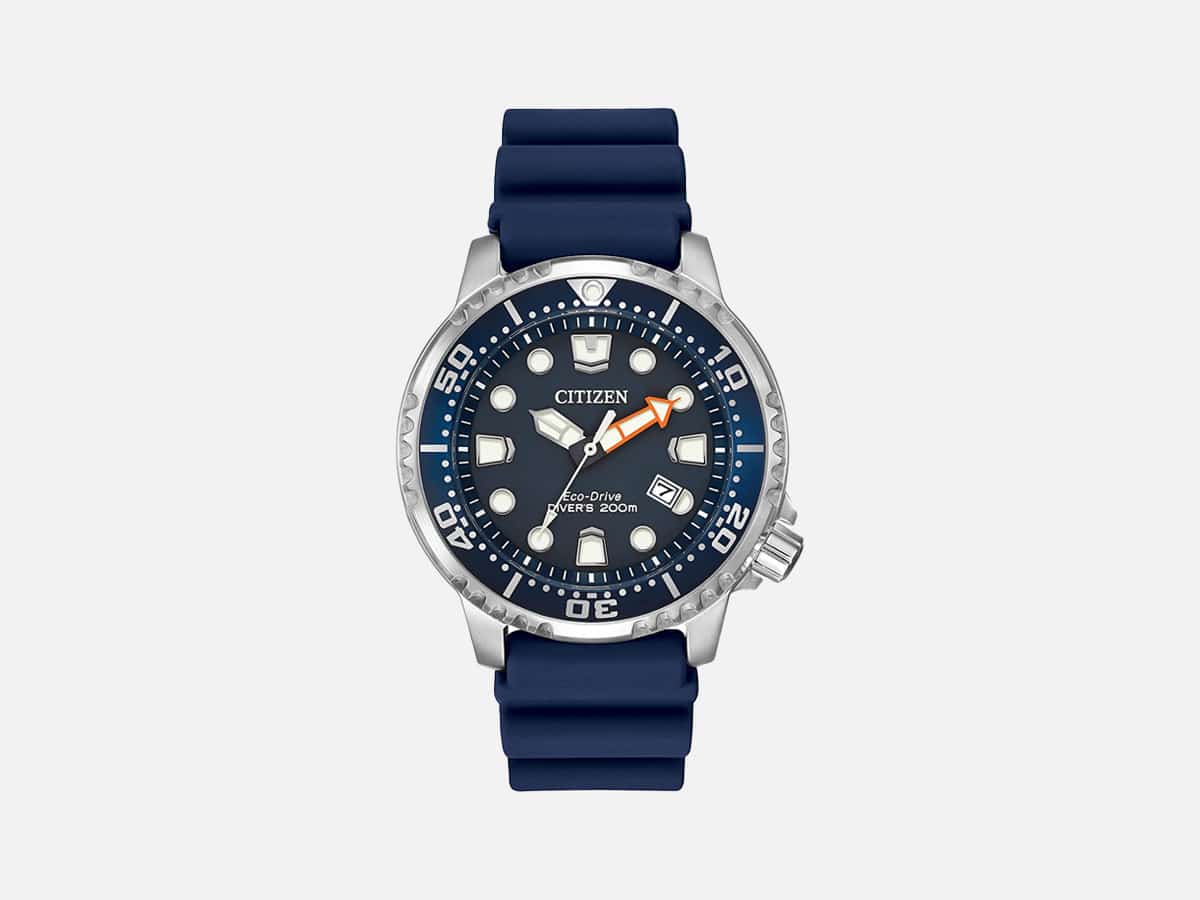 2. Citizen Eco-Drive Promaster Diver – Best Solar Dive Watch
Japan's Citizen was an early pioneer of the men's solar watch, debuting its light-powered Eco-Drive range all the way back in 1996. The line continues to this day and features a number of robust models, including the mighty Promaster Diver. With its large case of stainless steel, polyurethane strap, and legible analog-style dial, this lightweight piece is ready for all the action you can throw its way.
Case size: 48mm
Movement: Japanese quartz
Price: USD$210
You might also like:
100 Best Watches Under $1,000
---
Featured Video from Man of Many
---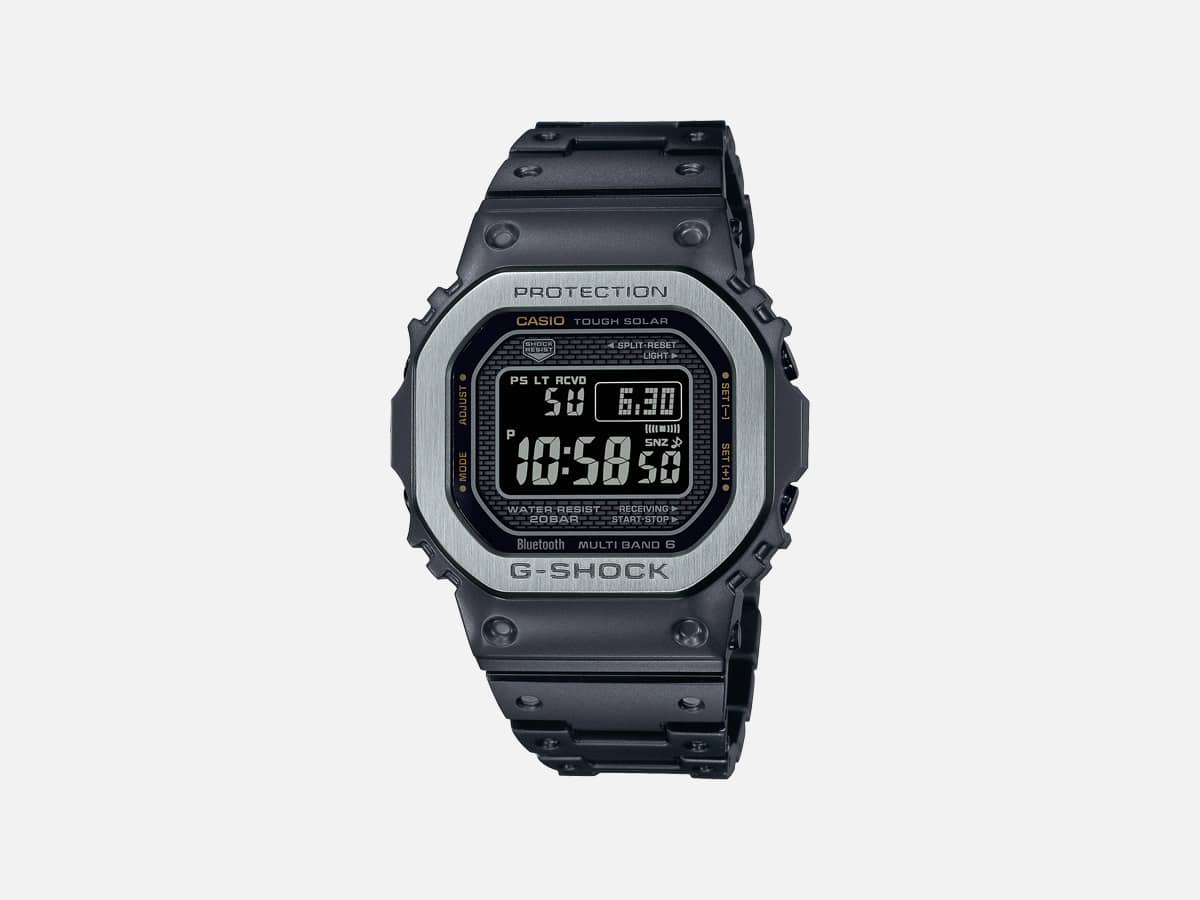 3. G-SHOCK GMW-B5000MB-1 – Best All-Rounder
The retro design of this solar-powered watch harkens back to the first-ever G-SHOCK. Water-resistant to 20 bar, the piece employs a variety of fine finishes across the black bezel, band, sides, and surfaces. Everything is coated in black-ion plating and the bezel surface is polished yet again in a hairline finish, so as to properly expose the piece's stainless steel foundations. Superluminous, ultra-sturdy, shock-resistant, and smartphone-compatible, this Casio solar watch is a full-metal classic.
Case size: 43.2mm
Movement: Japanese quartz
Price: USD$607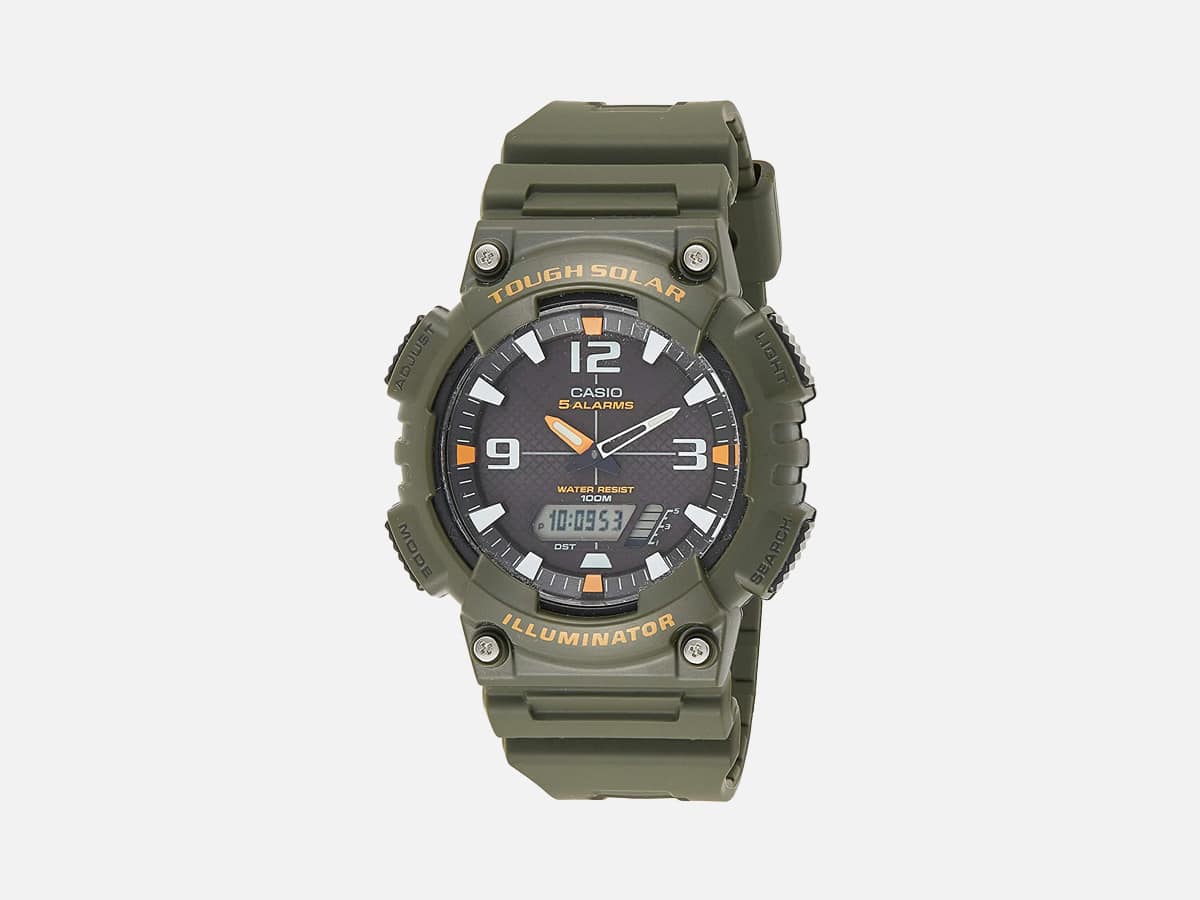 4. Casio AQS810W Classic Watch – Best Under $50
This Casio solar watch is priced to move and every bit as tough as its resin case would suggest. The piece costs a little more than $50 here in Australia, but often goes as low as USD$30 in America. Features include date functionality, five alarms, simultaneous time zone readings, a stopwatch, a brilliant LED light, and water resistance to 100 meters.
Case size: 47mm
Movement: Japanese quartz
Price: USD$30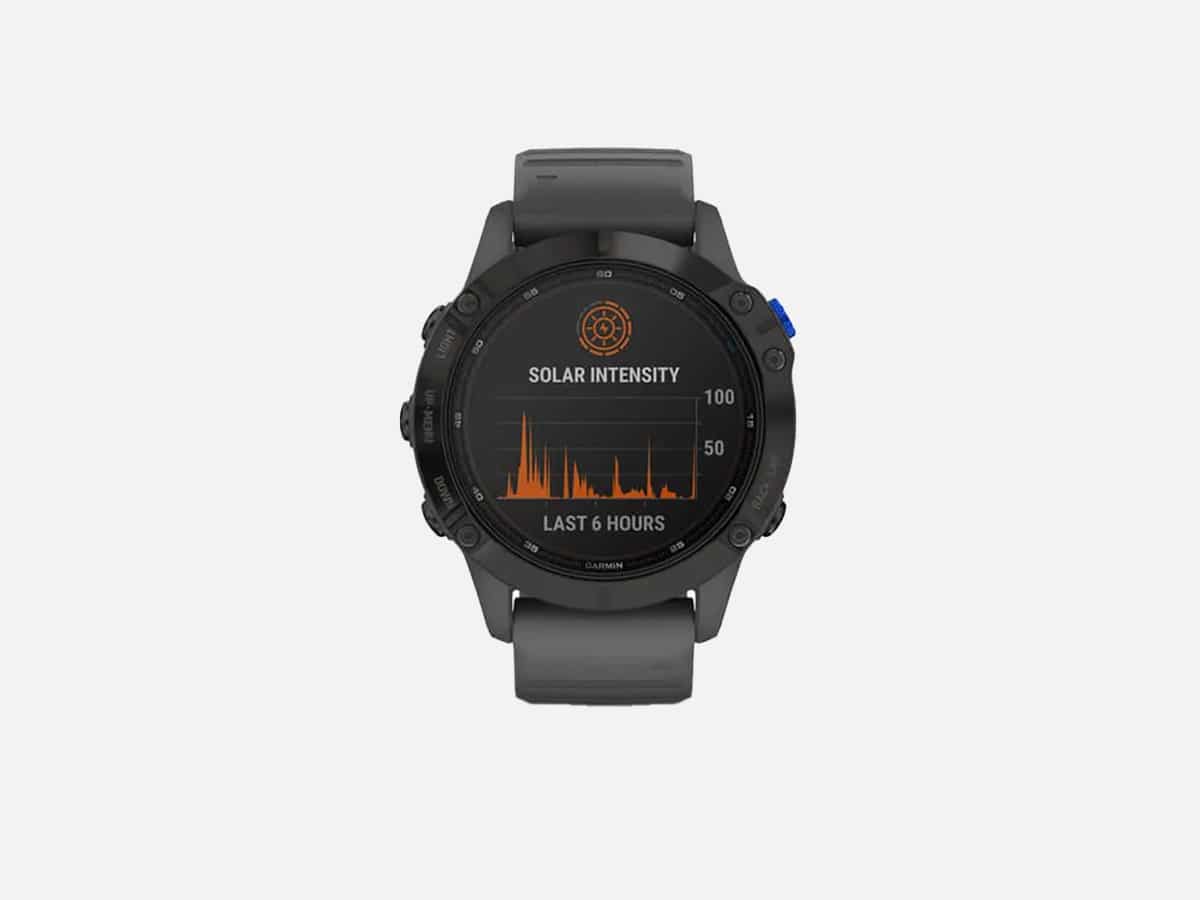 5. Garmin fēnix 6 – Pro Solar Edition – Best Smart Solar Watch
No stranger to outdoor adventure, Garmin draws from their background in GPS technology when crafting some of the world's best smartwatches and fitness trackers. The feature-packed fēnix 6 is living proof of the brand's signature talents, and it comes available in a solar-powered variant. It puts an endless supply of functions at your disposal, including fitness tracking, all kinds of maps, and access to satellite tracking networks, amongst other things. Choose between three different case sizes and don't head into the wilderness without one.
Case size: 42mm, 47mm, 51mm
Price: AUD$1,499
6. Junghans max bill MEGA Solar – Best Dress
The minimalist masters over German-based Junghans offer its popular max bill watch in a variety of iterations, including hand-wound, automatic, quartz-powered, and now, solar-powered. Thanks to its titanium construction, the elegant timepiece is equal parts lightweight and durable, which isn't to mention its conspicuous comfort. Slim and dressy by design, this solar watch is also quite advanced, with a perpetual calendar, seamless time zone adjustment, and app compatibility.
Case size: 38mm
Movement: J101.85 quartz
Price: US$1,050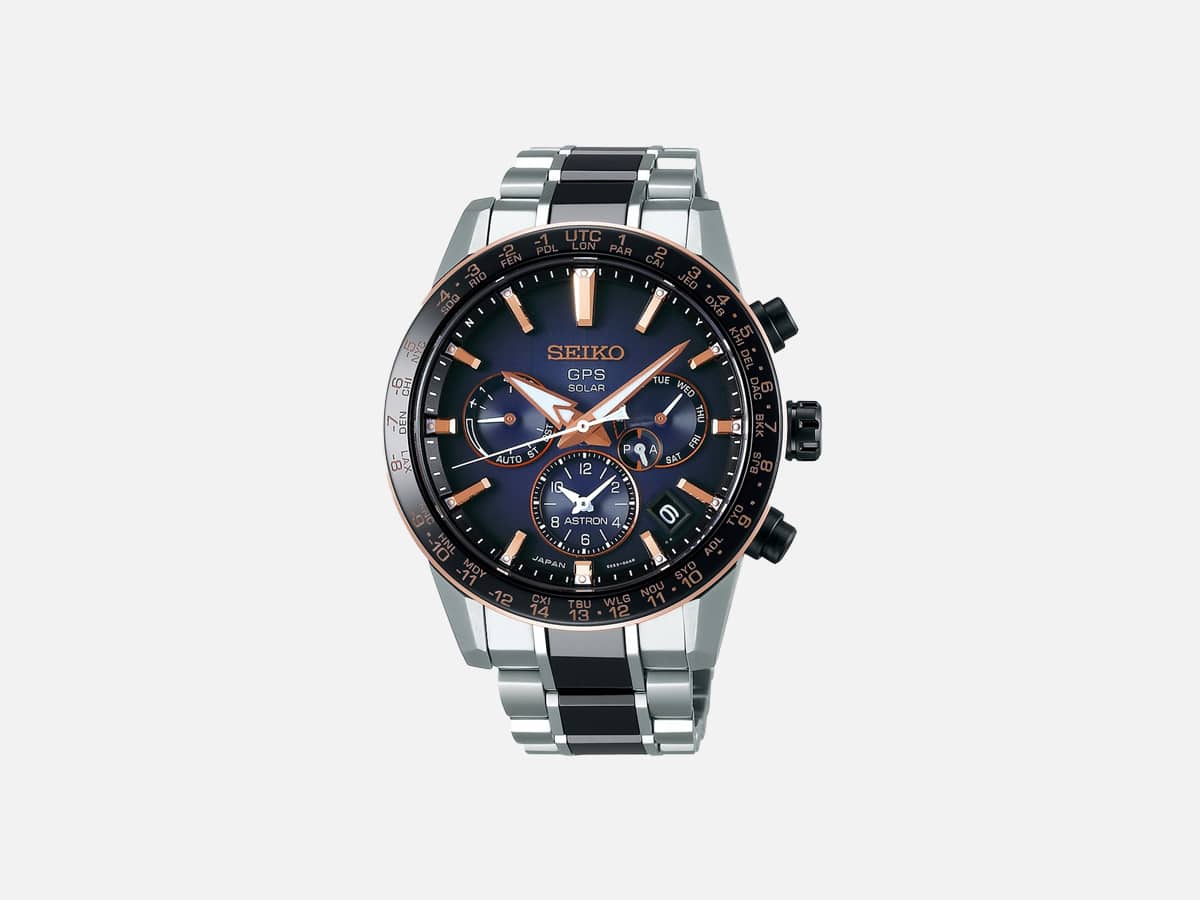 7. Seiko 5X Astron Series
The world's first GPS solar watch, Seiko's Astron launched in 2012 and continues with the new 5X Series. GPS connectivity remains fundamental to the watch's overall allure and it's more advanced here than ever before. Equipped with three independent motors, the piece changes from one time zone to another in as little as three seconds. Seaking of milestones, when the 2018 model was unveiled, it was the world's slimmest GPS solar watch. Choose between a variety of models.
Case size: 42.9mm
Movement: Caliber 5X
Price: AUD$2,950 and up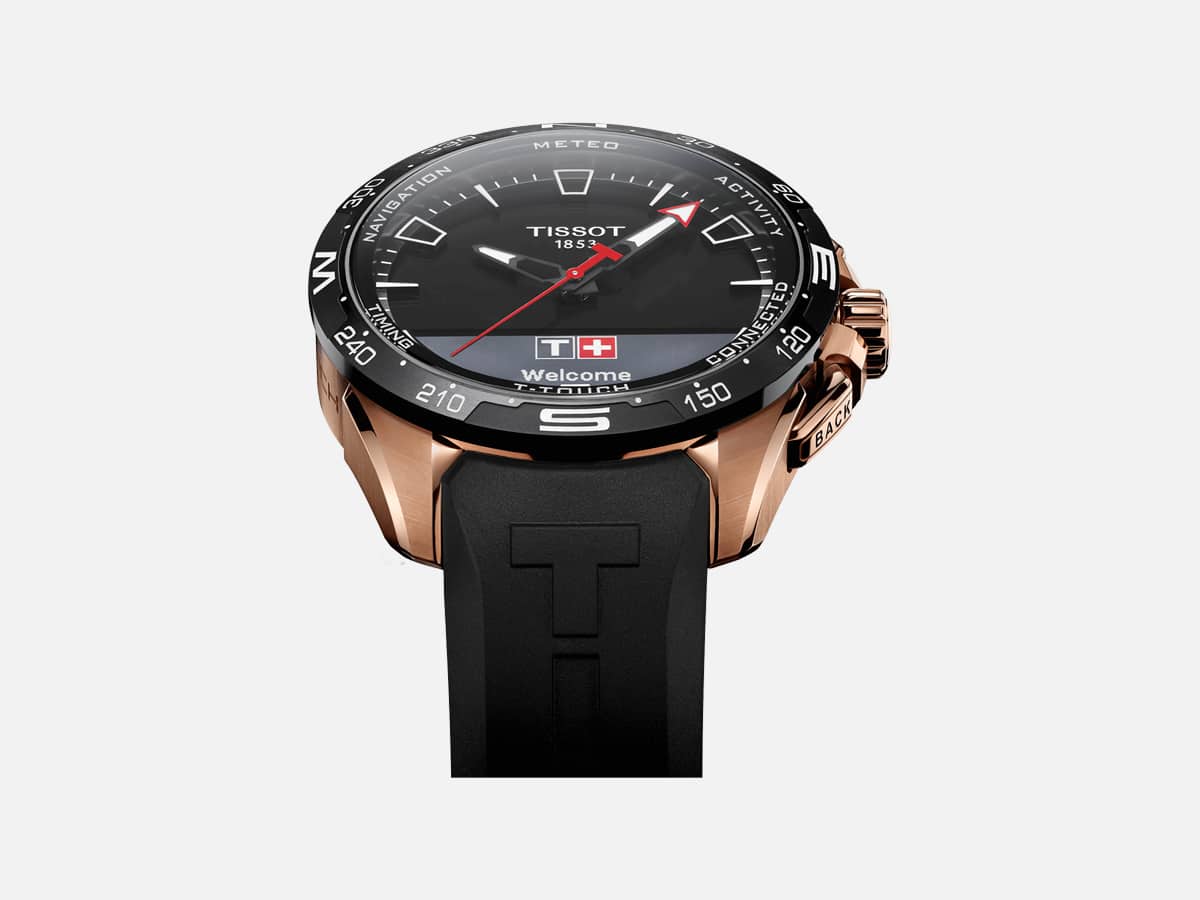 8. T-Touch Connect Solar
This Swiss-made solar watch integrates digital functionality through an analog-like dial and bears the hallmarks of an adventure-ready classic. Available in a variety of styles and finishes, Tissot delivers traditional features along with advanced ones such as smartphone notifications and fitness tracking. Under its titanium skin are the latest generation of photovoltaic solar cells, which keep maintenance low and performance high.
Case size: 47mm
Movement: Sw-ALPS low-energy operating system
Price: USD$1,050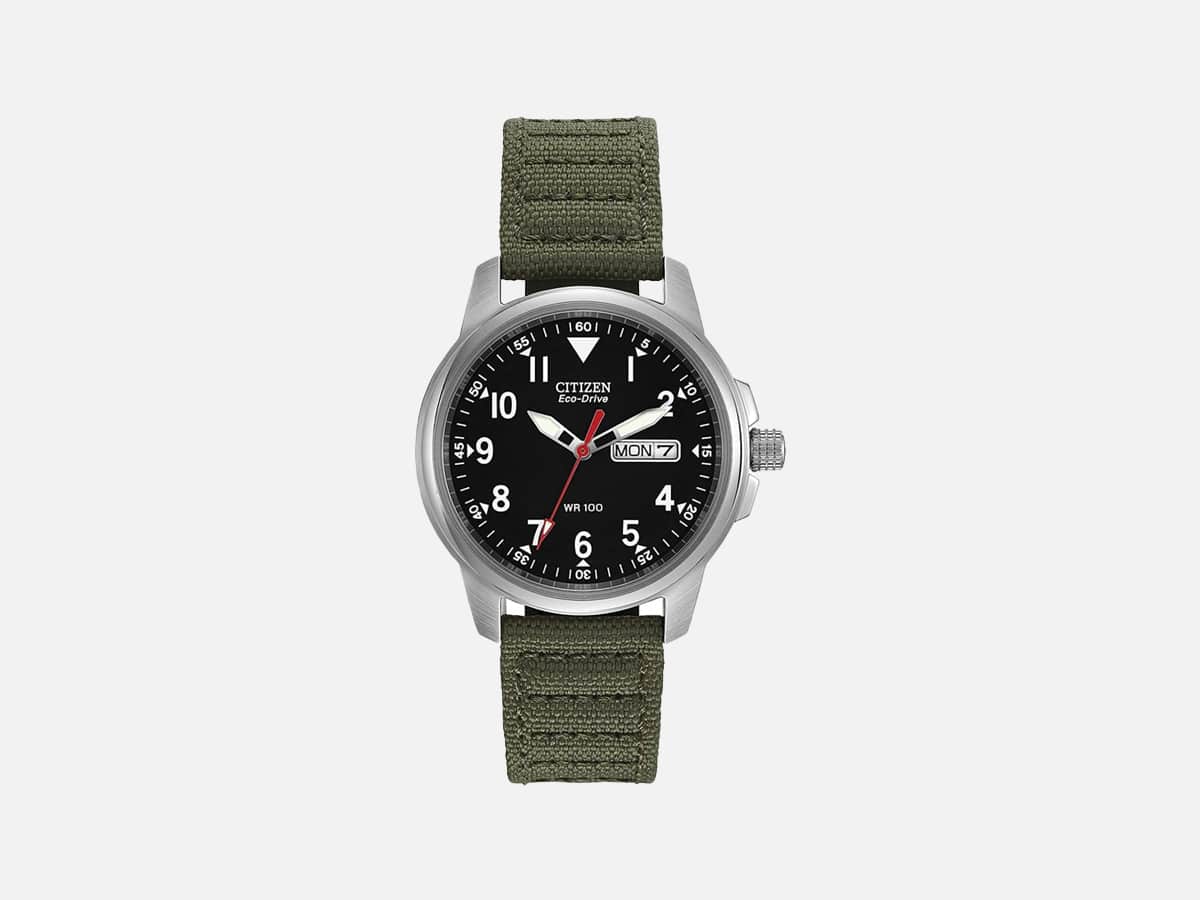 9. Citizen Chandler
Long-running legends of the men's solar watch, Citizen presents this compact and impressively affordable classic. Forged from stainless steel and inspired by military field watches, it features a day-date complication, lume markers, a screw-down crown, and water resistance to 100 metres.
Case size: 37mm
Movement: Japanese quartz
Price: USD$104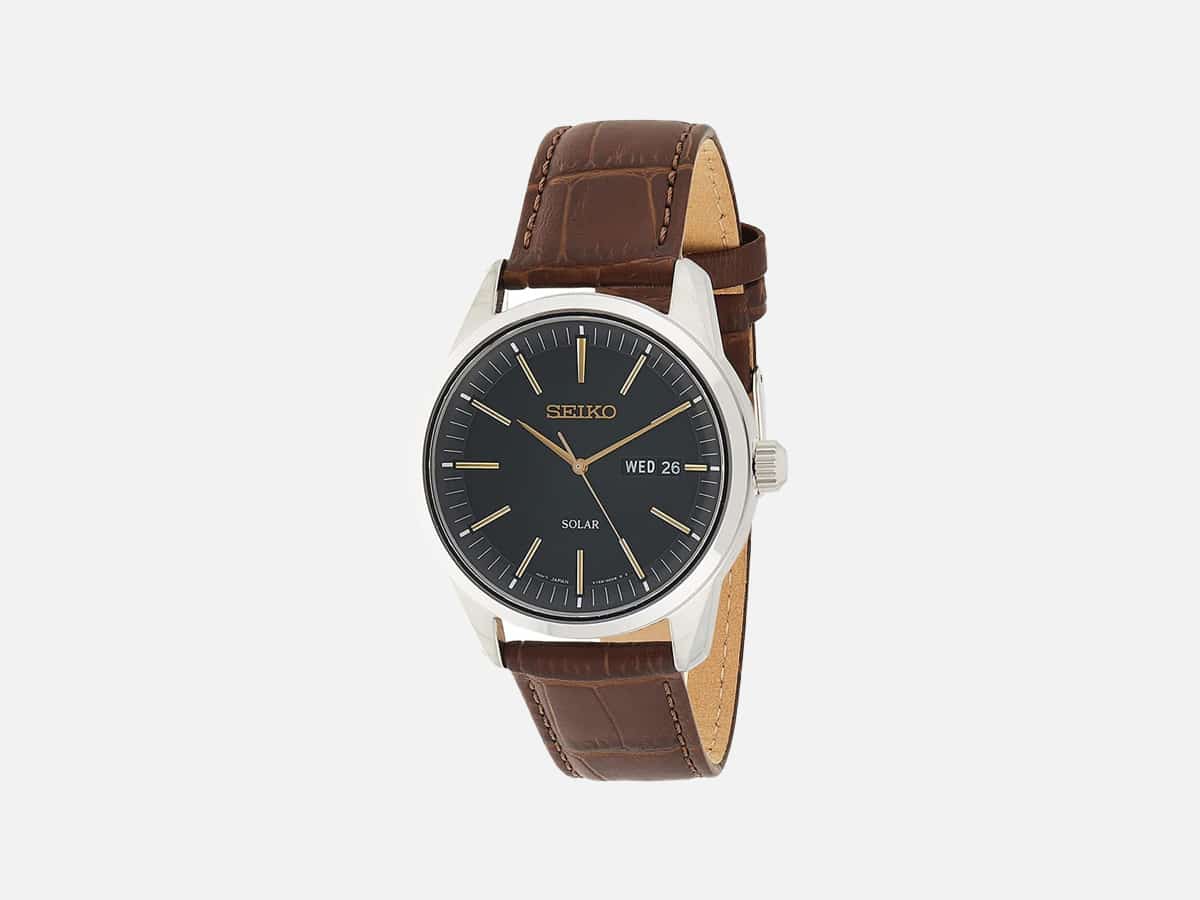 10. Seiko SNE529
This Seiko solar watch eschews outdoor aesthetics in favour of outright sophistication, whilst still incorporating water resistance to 100m and scratch-resistant crystal sapphire. With its effortless harmony between various colours and materials, the piece punches well above its affordable price tag.
Case size: 40mm
Movement: Japanese quartz
Price: AUD$323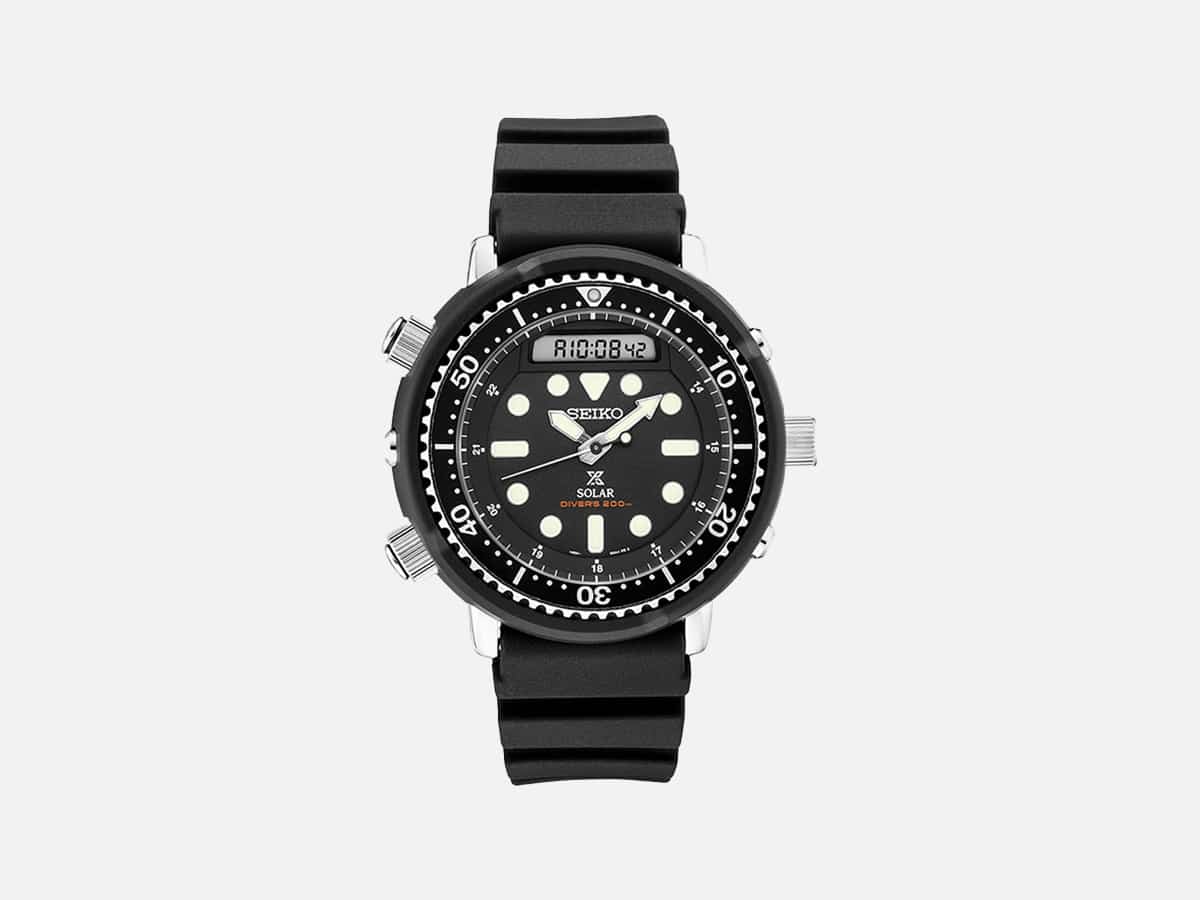 11. Seiko Prospex SNJ025
Arnold Schwarzenegger wore the 1980s version of this Seiko classic in the movie "Predator" and it's been nicknamed "Arnie" ever since. Like the action star himself, the watch is highly functional, larger than life, and blatantly built to last. This modern reissue runs on solar power and delivers water resistance to 200m along with a signature hybrid dial, amongst other things.
Case size: 47.8mm
Movement: Caliber H851
Price: USD$525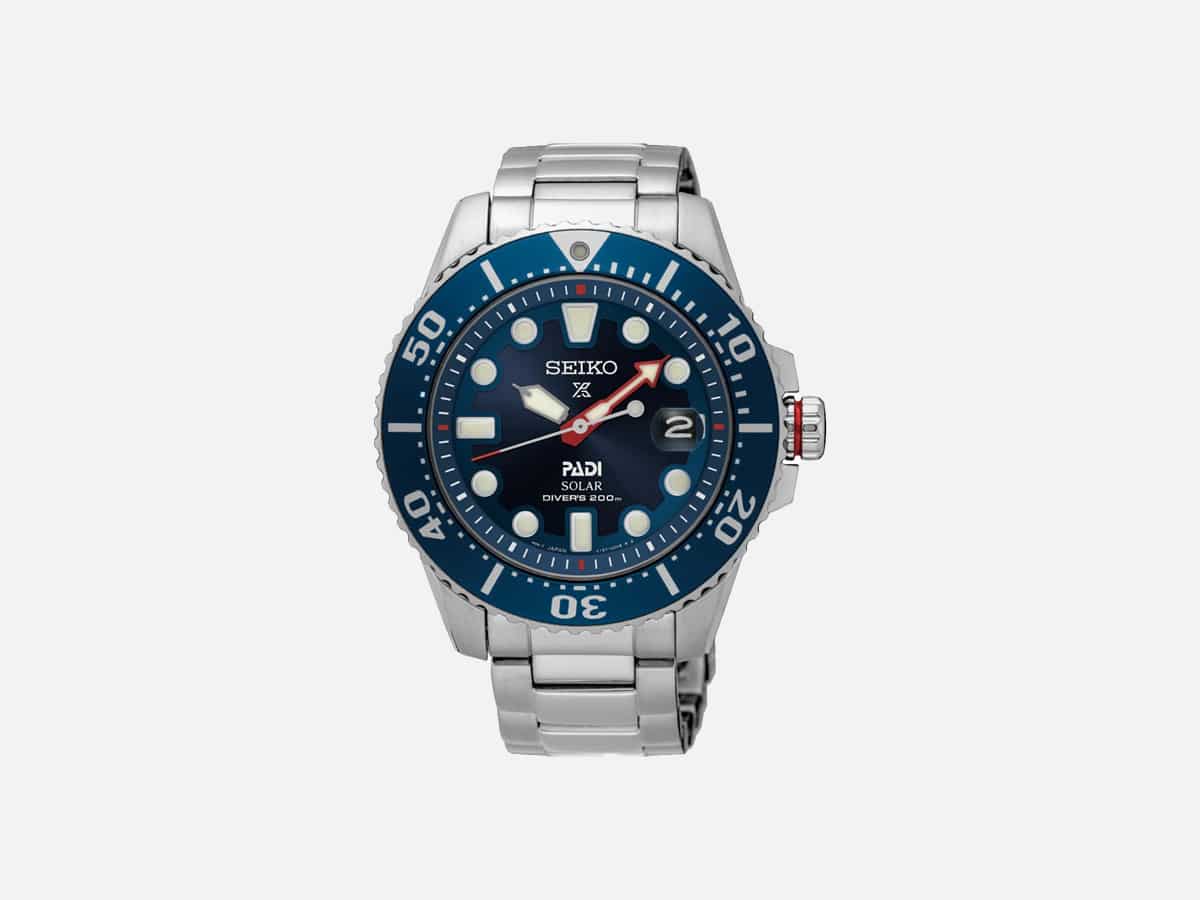 12. Seiko Prospex Padi Solar Watch
Those looking for a trusty and affordable solar dive watch need look no further than this one, which hails from Seiko's Prospex line. Putting silver-toned and red hands against a blue dial, it features scratch-resistant Hardlex crystal, a unidirectional rotating bezel, luminous hands and markers, and a screw-down case of stainless steel. Japanese quartz movement stays the course down to 200m below water and offers a 10-month power reserve.
Case size: 43mm
Movement: Japanese quartz
Price: US$365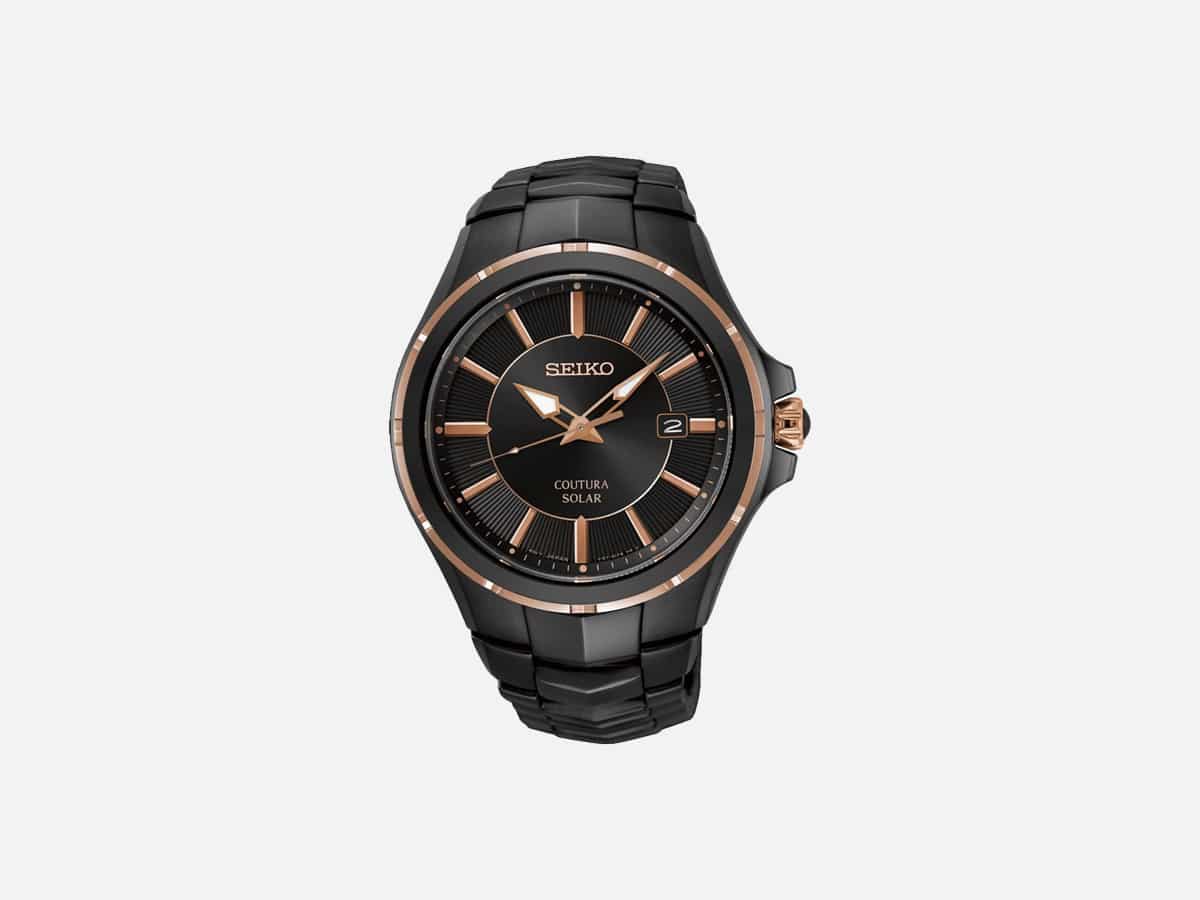 13. Seiko SNE516P1
A visual stunner, this Seiko men's solar watch employs classic features within an avant-garde framework. Wearers can expect 10 months of performance at full charge, along with water resistance to 100m. A date display, sapphire crystal protection, LumiBrite treatment, and a quick-start function are also part of the package.
Case size: 42.5mm
Movement: Calibre V157
Price: AUD$599
Solar-Power Watch Buying Guide
Looking at the concept from an outside perspective, solar-powered watches are an interesting addition to the horological segment. Generally, they use light energy to work, with a solar cell placed under the dial to convert light into electrical energy. According to watch experts, Watches2U, when these timepieces take in light, the solar cell changes into energy that is then stored in a rechargeable battery which works to power the watch.
How Solar-Powered Watches Work
Barring modern smartwatches (we can save those for another day), most traditional timepieces are either powered by mechanical movements or quartz movements. Mechanical watches generally take two forms—manual and automatic—both of which require a certain level of upkeep. Quartz watches employ a battery and basically run until that battery dies, at which point you can replace it or get a new watch. Both methods have their benefits, but one is fairly inconvenient whilst the other comes with an expiration date of sorts and is also somewhat wasteful.
With solar power watches, a new type of underlying technology enters the fold and brings some key benefits along with it. Inside each model is a small solar panel, which absorbs either sunlight or artificial light and then converts that light into energy. Compared to a traditional battery, a solar-powered battery can last about 10 years on average. And unlike mechanical pieces, there's no need for winding the crown or getting the watch serviced once every few years. Long-lasting and eco-friendly, the solar watch is finally having its day in the sun.
What to Consider Before Buying a Solar-Powered Watch
As with all things in the world of modern products, your mileage may vary. Solar watches are certainly no exception and they run the full gamut of style, specs, and price points alike. Before taking the proverbial plunge, consider the following factors:
Movement – Solar watches are compatible with digital movements but the aesthetics touch down across the board. Whereas a mechanical-looking solar watch will dispense with a classical design language, a digital solar watch will tout robust construction and a host of functional features. Hybrid watches, meanwhile, tend to draw from both worlds by injecting subtle digital elements on an otherwise analog display.
Light Type – Importantly, with solar watches, the type of light used to power will differ greatly between sources. For instance, sunlight will charge your watch faster than artificial light, so always keep an eye on how much sunlight it is getting.
Light Intensity – Like the type of light, intensity will also impact your watch. A sunny day will improve charging compared to dull and cloudy weather.
Case Size – Solar-powered watches are no different from their traditional counterparts in that they come in various case sizes. If you want something slim and compact, stick with 40mm or less. Those who think bigger is better should go 42mm and up. Bear in mind that extra functions tend to yield larger case sizes, in general.
Price – Solar watches cover a wide spectrum of price points without veering into the upper stratospheres. You can score a Casio solar watch for as little as USD$30 whilst the new TAG Heuer Aquaracer Solargraph is expected to retail for just under 3k.
How Long Do Solar Watches Last?
One of the major concerns around solar watches is durability, however, it is important to recognise just how far the technology has come in recent years. Like the innovations seen in luminous watches, solar watches have developed extensively, most notably in the way they charge. According to UK business First Class Watches, solar-powered watches are almost always charging, meaning that the power reserve is only used when there is no light source.
"Some Eco-Drive watches have a power reserve of more than eight years, unless you're planning on joining some civilisation who live in darkness underground – your watch isn't likely to run out of charge," they wrote. "This may not sound too great when you're considering the reliability of a solar-powered watch, but it's important to remember that the watches can last beyond 10 years depending on how you use them."
You might also like:
40 Best Minimalist Watches for Men
21 Best Watch Blogs
15 Best Smartwatches for a Connected Life
General FAQ
How do solar powered watches work?
By incorporating solar cell technology, solar watches work by absorbing sunlight or artificial light and then converting that light into energy.
How long do solar watches last for?
A Seiko solar watch can reportedly last about 10 years, on average.
---
Featured Video from Man of Many