All too often, luxury watch brands operate in such a way that tradition trumps progress and playing it safe is viewed as the responsible way forward. As a result, product evolution only occurs at the margins of a brand's offering and even then it tends to do so at a barely perceptible rate. This is not the case with Hublot, an avant-garde Swiss firm whose philosophy since its founding in 1980 has been to "Be first, different and unique."
While we are in no way suggesting that Hublot doesn't have respect for tradition, it's simply that Hublot's greatest tradition lies in innovation and pushing the envelope with every single release. That couldn't be more applicable to the newest shape the brand has added to its iconic Big Bang collection: the Square Bang. First unveiled at Watches & Wonders 2022, this landmark release continues the tradition of cutting-edge expertise the brand has made its name on, using only the most inventive movements and materials to create timepieces that challenge the status quo at every turn.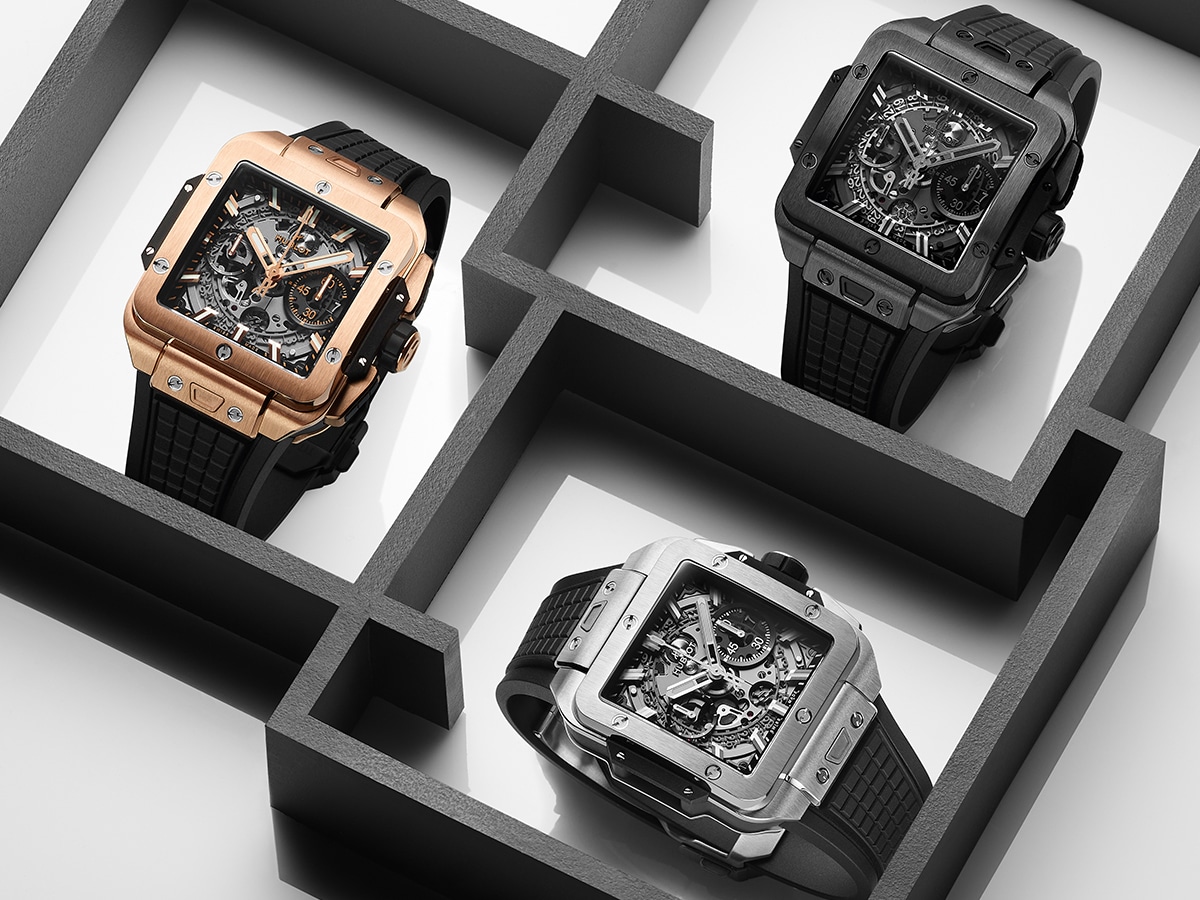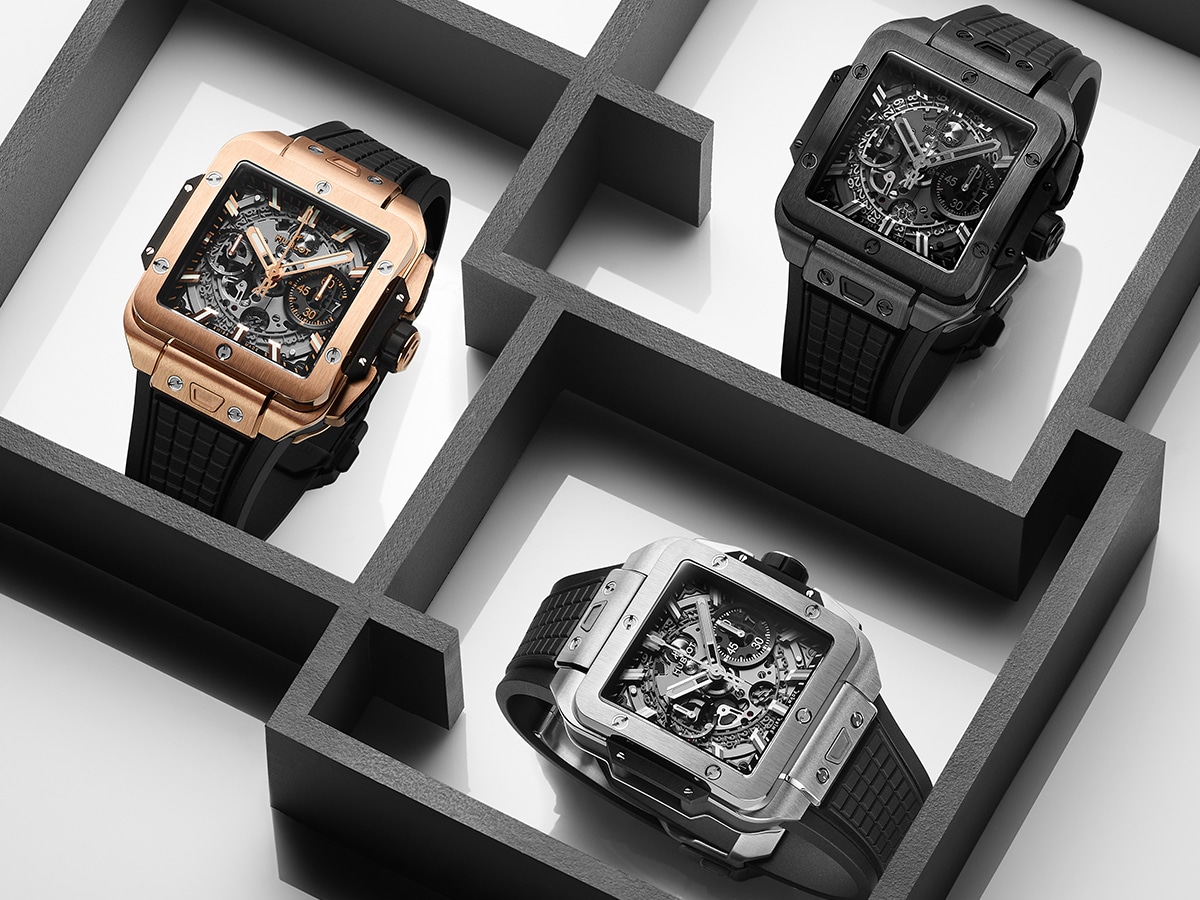 The new Square Bang range features five timepieces, each harnessing one (or more) of Hublot's innovative materials to craft something truly special. Whether you're drawn to the Titanium or King Gold models or one of a trio of Ceramic options, the range's disruptive and unconventional shape will turn heads wherever you go.
First, Different, Unique
So let's take a closer look at the range and what makes them so special, starting with their movement. Each Square Bang model features the Unico 2, which was designed for smaller chronographs, while retaining the double coupling system and 72-hour power reserve that made its predecessor – the Unico – so unique. Plus, the truly remarkable thing about the Unico 2 is that thanks to a range of technical optimisations – including the introduction of a new, flatter automatic winding system – Hublot achieved a 1.3mm reduction in thickness, making it possible to achieve the compact design seen throughout the Square Bang range outlined below.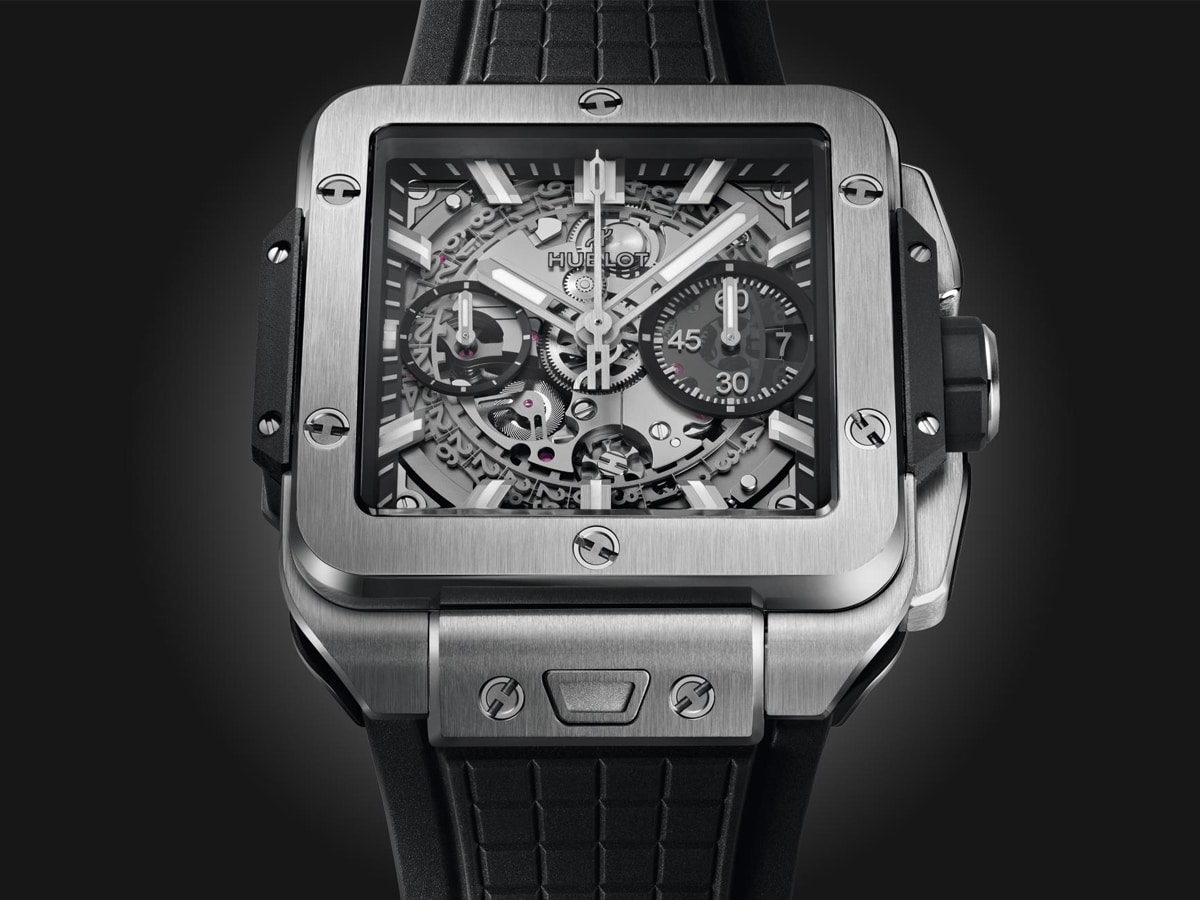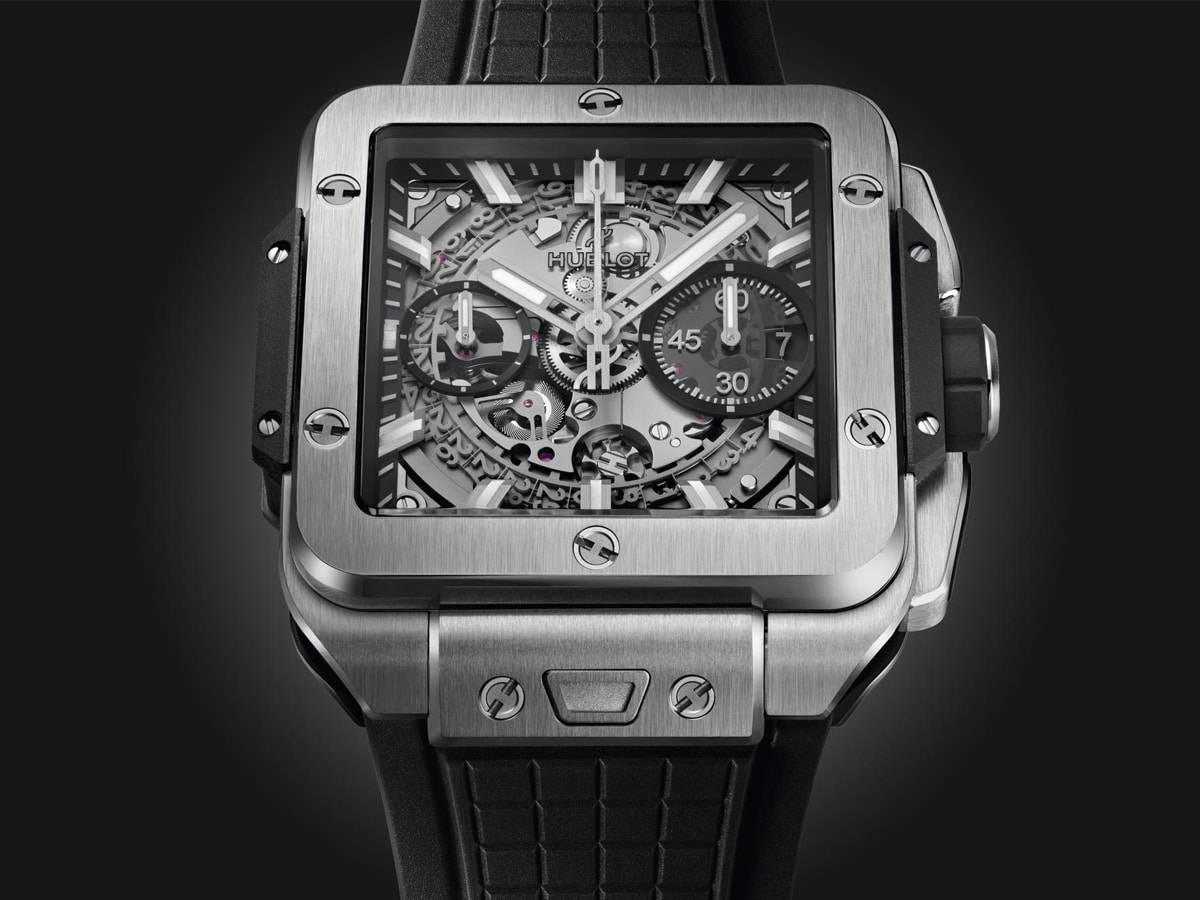 Square Bang – Unico Titanium
Hublot's Unico Titanium Square Bang places titanium centre stage due to its incredible lightness and the fact that it offers the best relationship between resistance and weight of any material. This property makes it an extremely popular material, particularly within aeronautics. Titanium also offers remarkable resistance to corrosion and inertia when in contact with skin. As always, Hublot has only used the highest quality, Grade 5 titanium in crafting the Unico Titanium Square Bang. Not only is this the strongest example of the material there is, it also retains a wonderfully subtle bluish metallic sheen once polished, a feature on full display with this striking example of the Square Bang.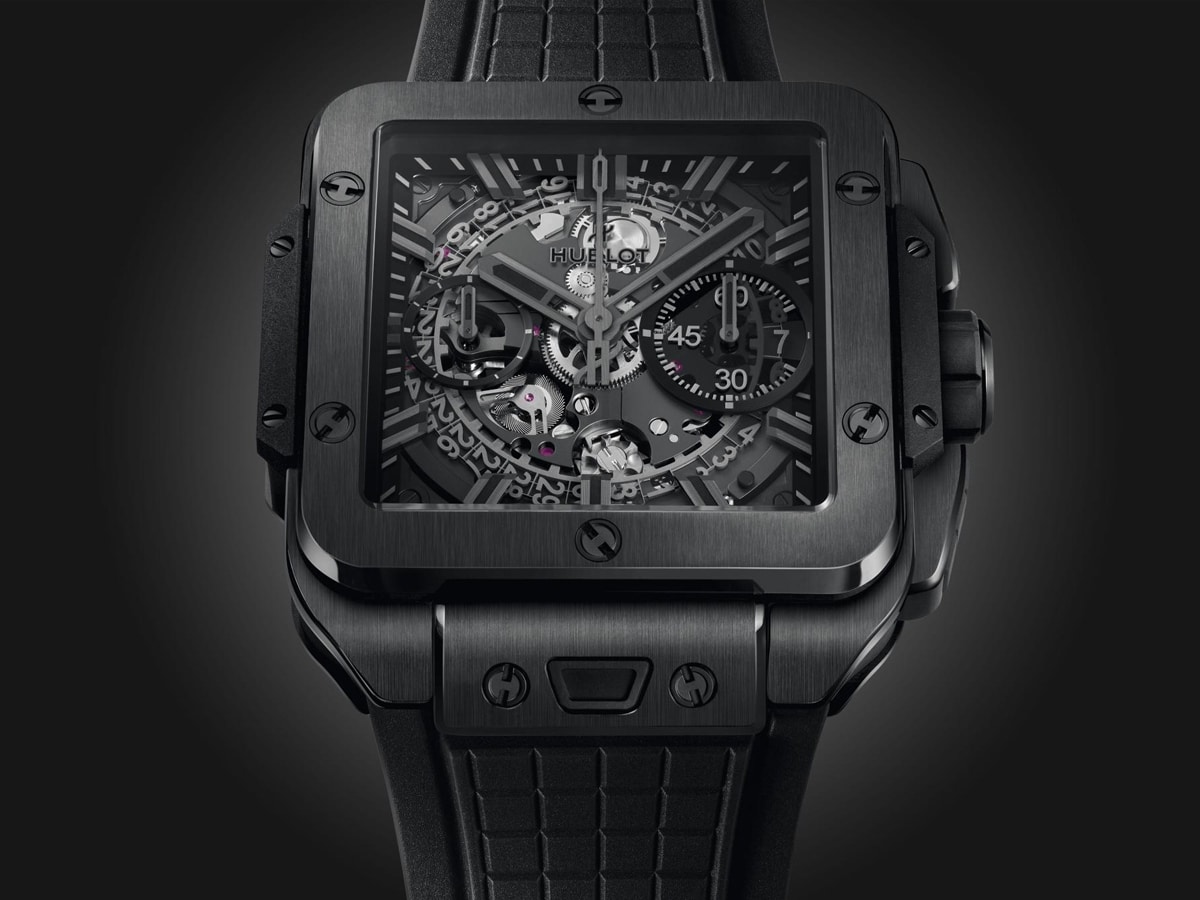 Square Bang – Unico All Black
As a master of materials, Hublot carefully considers how to integrate them into each watch. Not only must they complement the overall design, but protect the mechanism in a way that will hold up over time – after all, these watches are an investment you'd expect to pass down from one generation to the next. As a result, Hublot has deployed high-tech ceramic for the Unico All Black Square Bang. This ultra-tough and almost entirely scratch-proof material is crafted with a base of zirconium that's sintered at extremely high temperatures, making possible the stunning all-over black design you see here.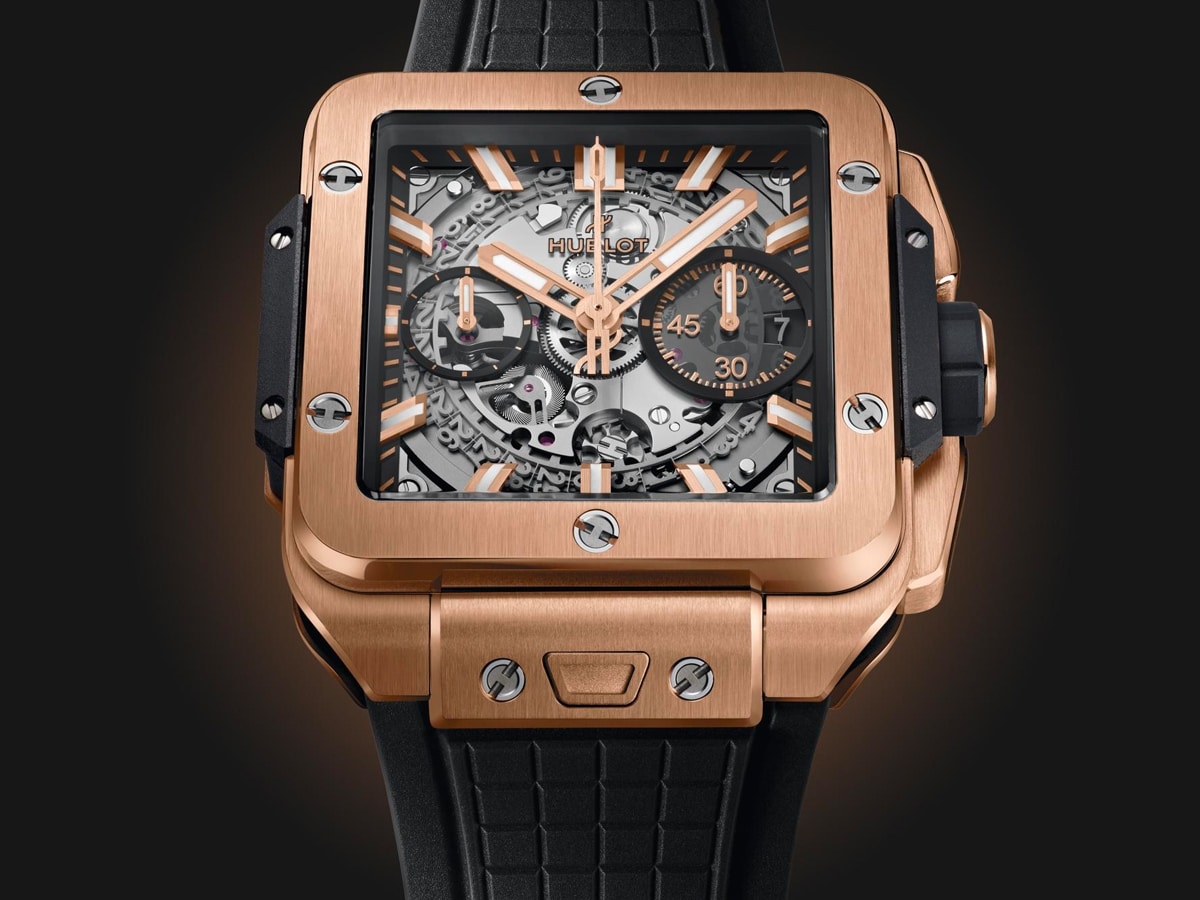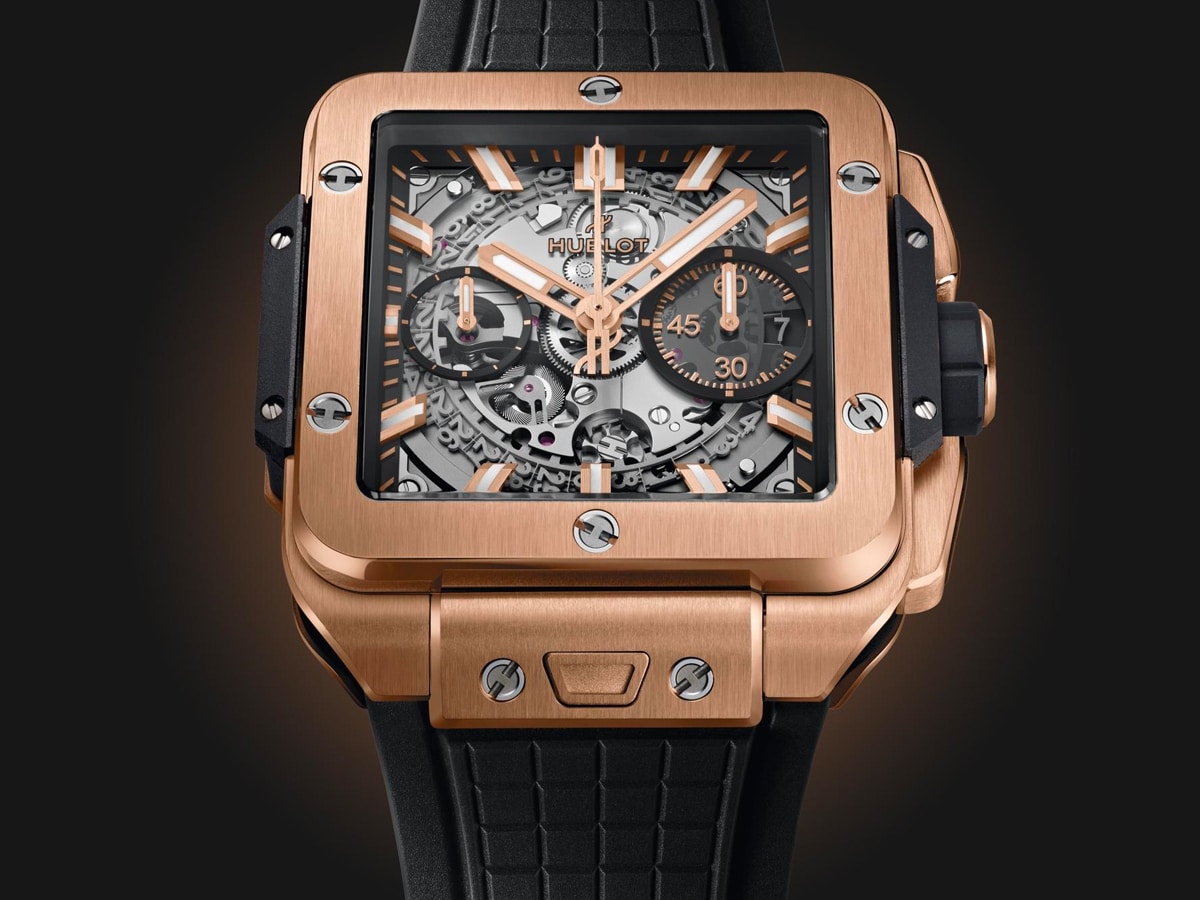 Square Bang – Unico King Gold
People have been using gold for thousands of years, so you'd think just about everything that could be done with it already had been. But Hublot's alchemists aren't willing to accept any such limitations, instead developing a new gold colour that boasts a warmer shade than traditional 5N 18K gold. This exclusive alloy, consisting largely of platinum, has been used to craft the King Gold Square Bang, a timepiece that perfectly exhibits all the elements of polishing and satin finishing to which the groundbreaking material lends itself.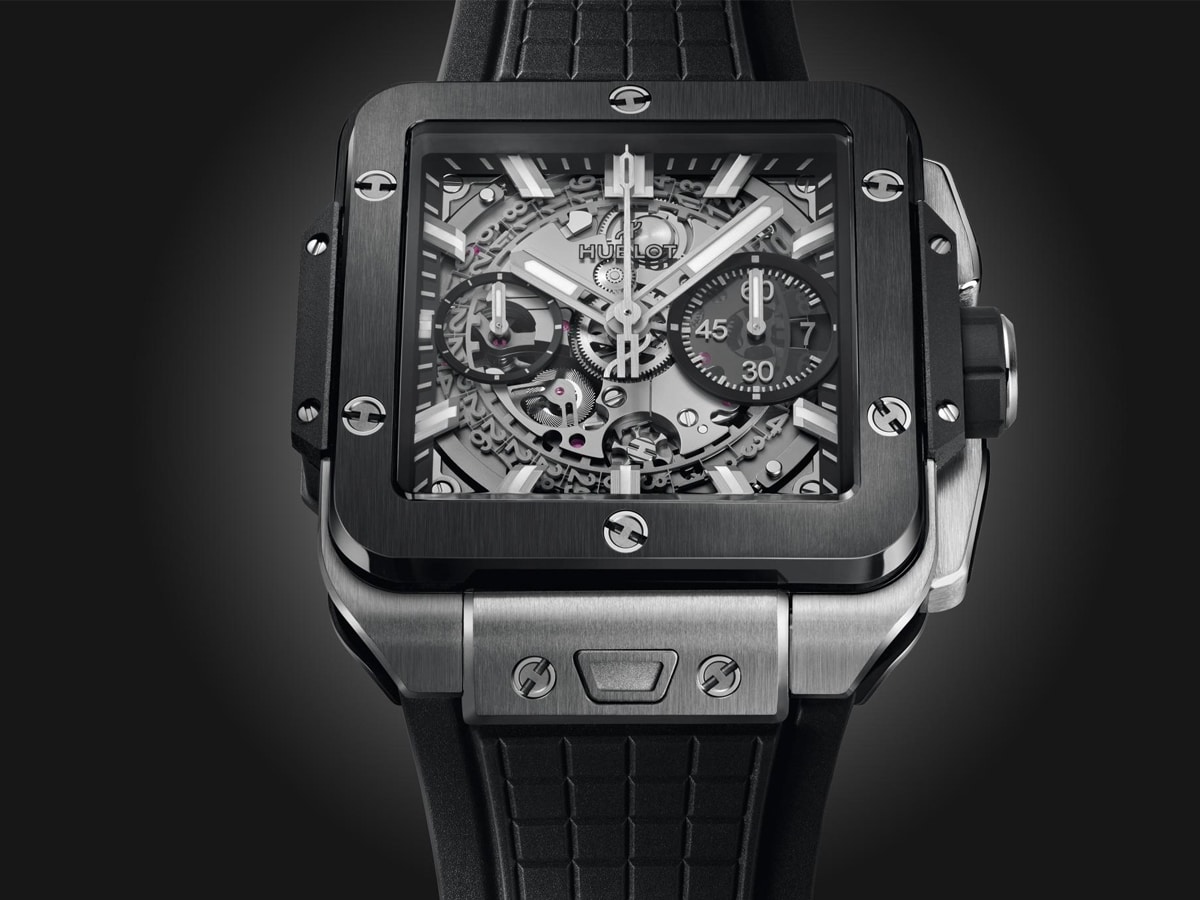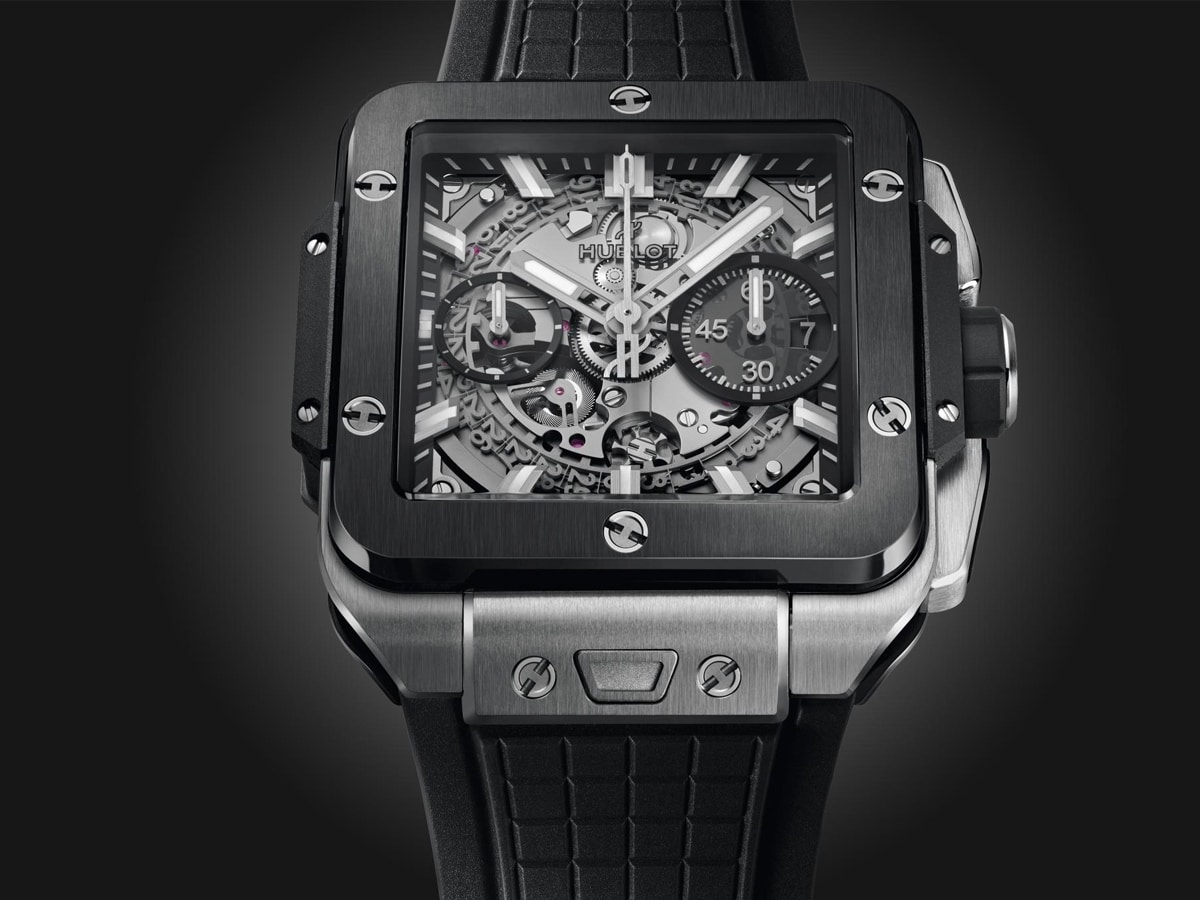 Square Bang – Unico Titanium Ceramic
For those who believe one innovative material isn't enough, the Unico Titanium Ceramic Square Bang harnesses Hublot's remarkably light-yet-resilient Grade 5 titanium for its satin-finished and polished case. This is perfectly complemented by the similarly finished bezel, constructed from black ceramic and punctuated with six H-shaped titanium screws. The result is a hardy avant-garde timepiece designed to be cherished for years to come.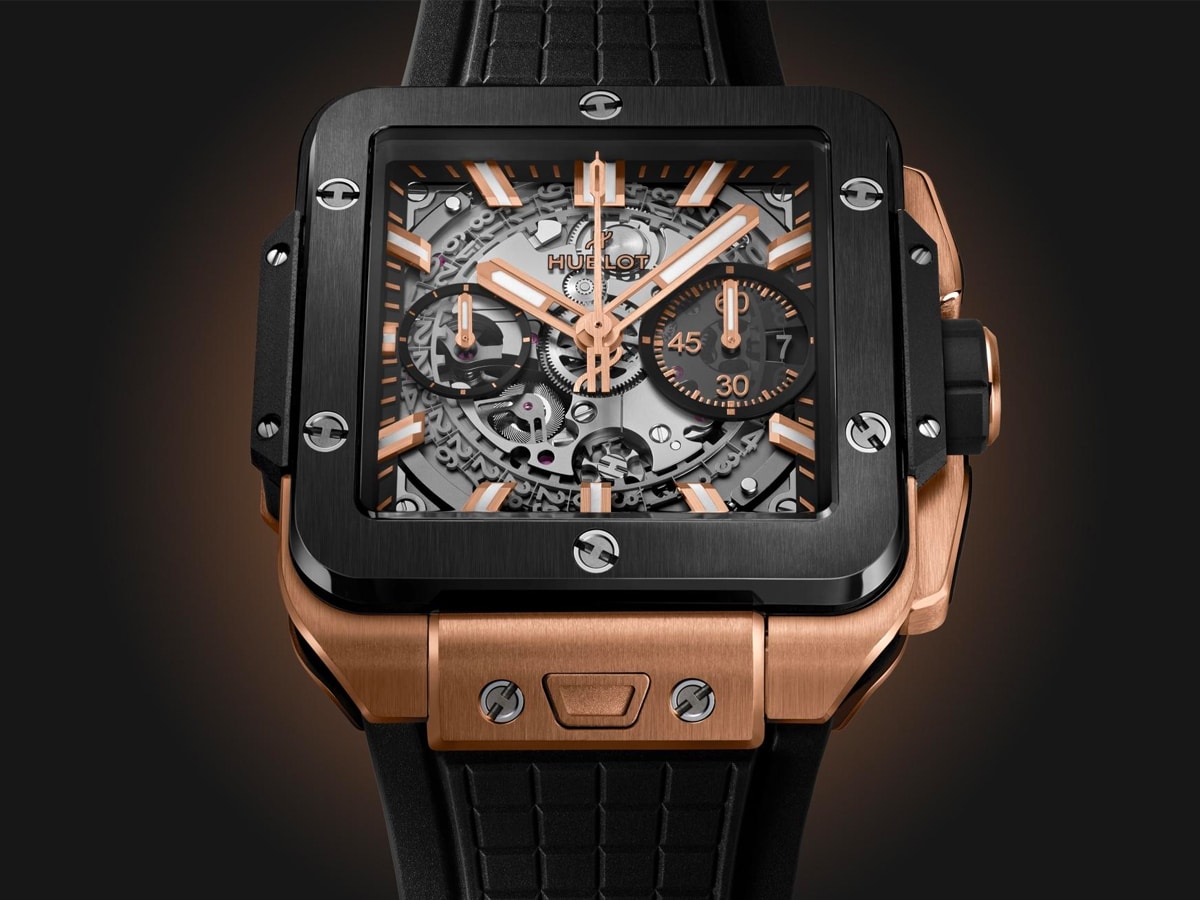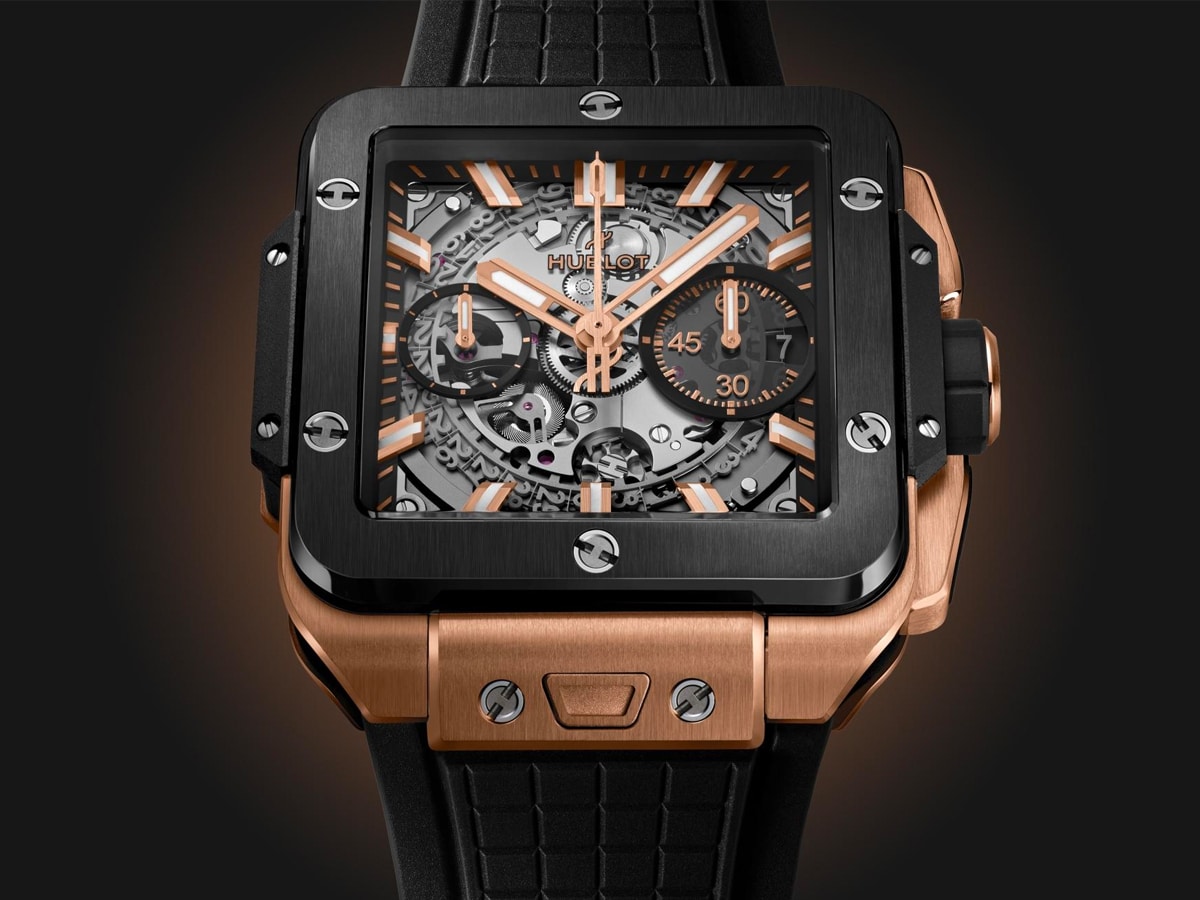 Square Bang – Unico King Gold Ceramic
Black and gold has long been an iconic pairing and the Unico King Gold Ceramic Square Bang continues this tradition, while taking things to the next level thanks to Hublot's unique ceramic and gold materials. Here, the satin-finished and polished 18K King Gold case creates a perfectly contrasting platform to highlight the black ceramic bezel, which is also satin-finished and polished and as always contains the range's statement six H-shaped titanium screws. The final result is one of Hublot's most eye-catching chronograph designs yet.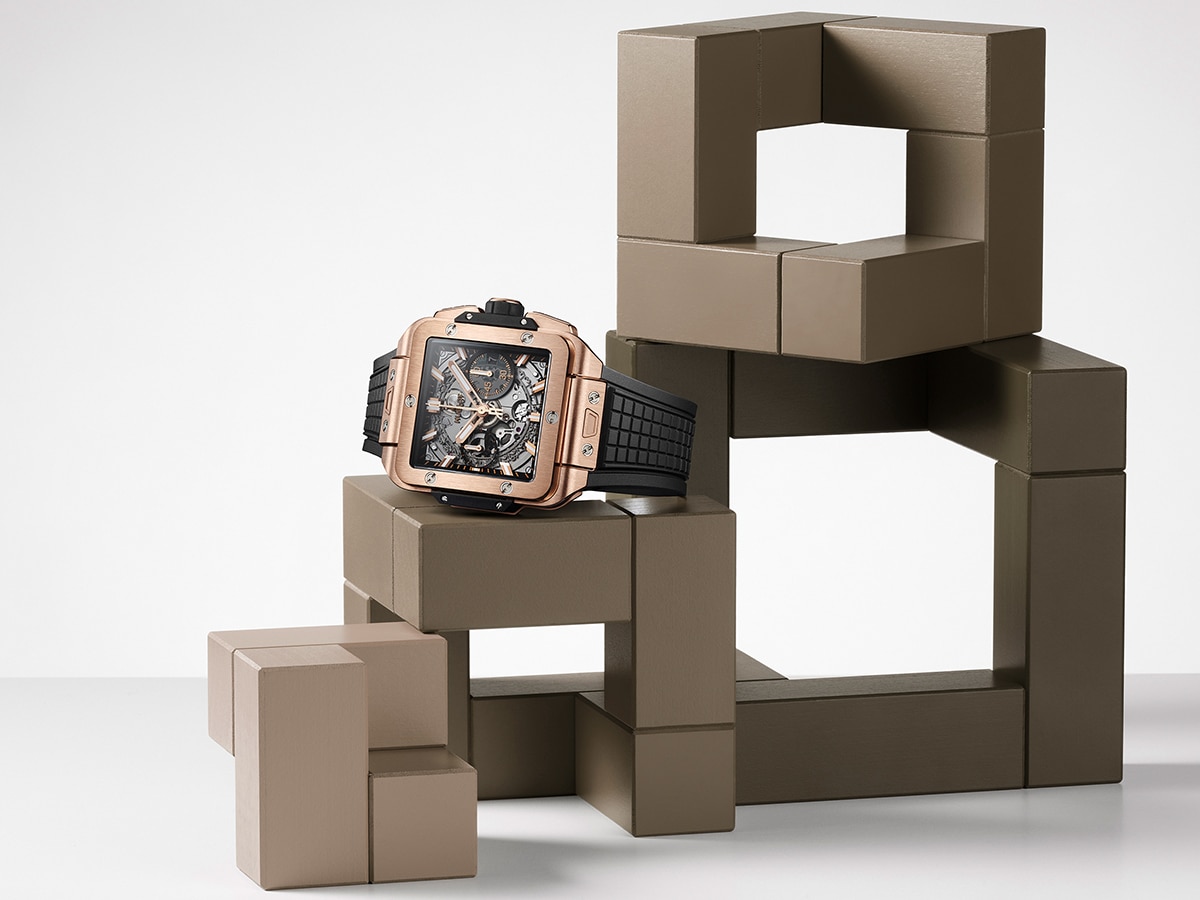 Dedicated to pushing the envelope in terms of both materials and construction, Hublot is forever challenging the norms and expectations of the luxury watch world. With the Square Bang range, Hublot has again created a landmark series of timepieces that break new ground and show that progress simply requires a surplus of imagination and a dedication to the creation of the new, both of which Hublot has in spades.