The world of watches is a strange and wonderful place, populated with inventive creations that are designed to catch the eye and spark the imagination. But because of this, it has become increasingly difficult to release something that turns heads. So consistent is the flow of new products into the market that brands have to offer up something really special if they're hoping to make any kind of splash. Fortunately, it's clear that MIDO is well aware of this, as the Swiss brand has crafted one of the most highly anticipated (and visually striking) watches of 2023 in the form of the new Special Edition Ocean Star Decompression Worldtimer.
Through a combination of neo-vintage style, incredible colour use and cutting-edge technology, the Ocean Star Decompression Worldtimer dares you to be bold. No matter which of the two dial treatments you're drawn to, this remarkable timepiece features an original-style decompression table and GMT function with a world time-displaying bezel, all but guaranteeing that it'll be a conversation-starter wherever you wear it.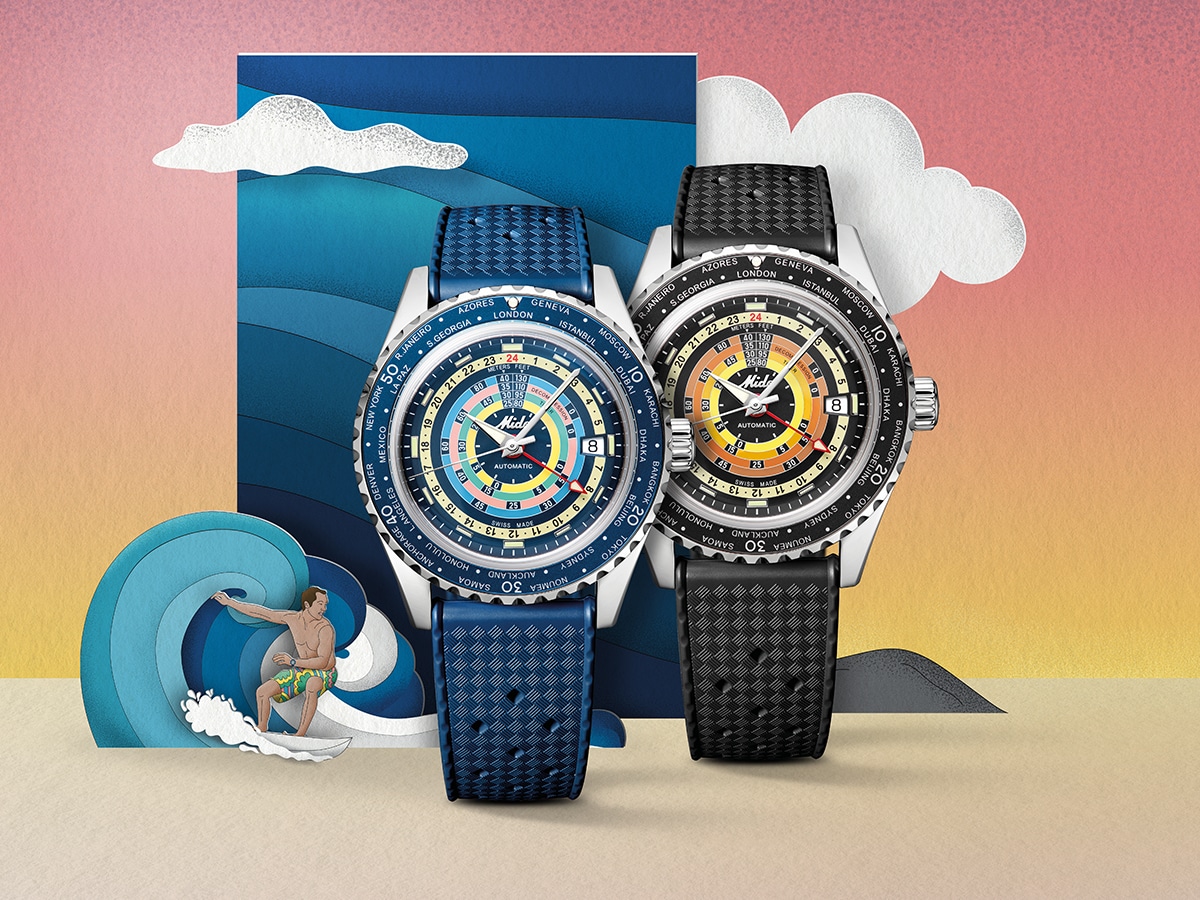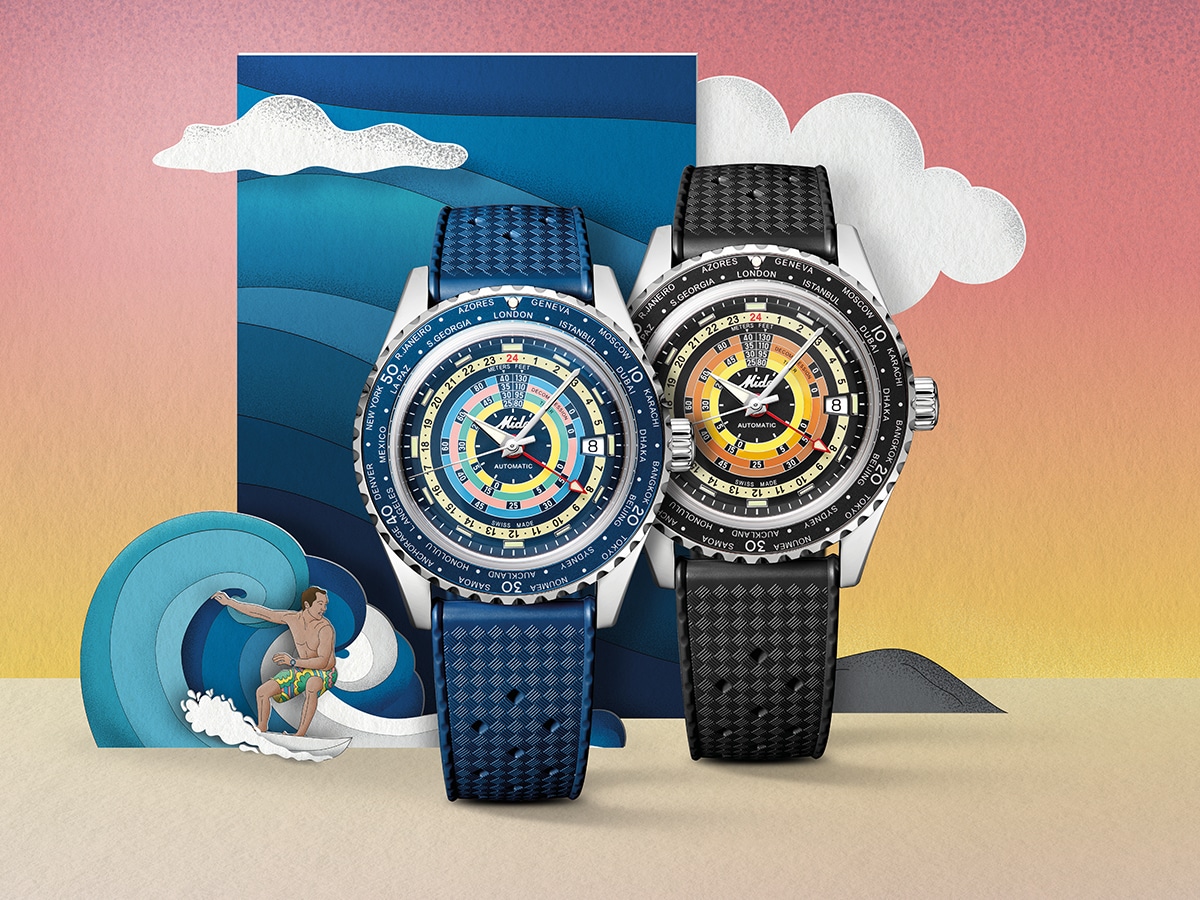 See It to Believe It
As you may have already gathered, the Ocean Star Decompression Worldtimer's dial is absolutely undeniable from the moment you first lay eyes upon it. But like everything MIDO does, its bright circles of colour – yellow, green, pink, and blue on one treatment and a range of oranges and yellows on the other representing Mido's signature colours – are more than just an attempt to stand out from the crowd. As this is a dive watch with a long and storied heritage, those bright circles are designed to display crucial decompression times to a depth of six metres, showing the wearer whether a decompression period has to be observed when reascending and specifying the duration of each stage. So the function entirely justifies the stunning form.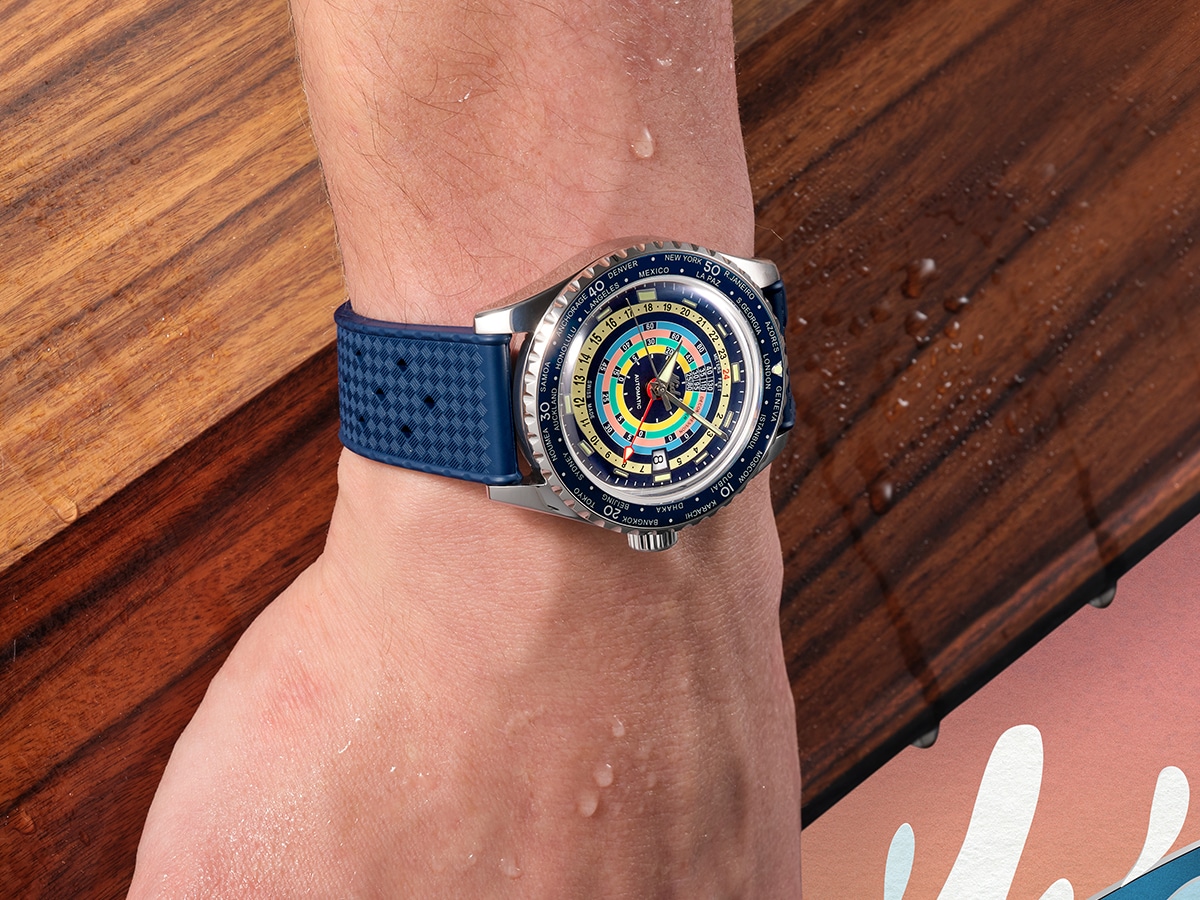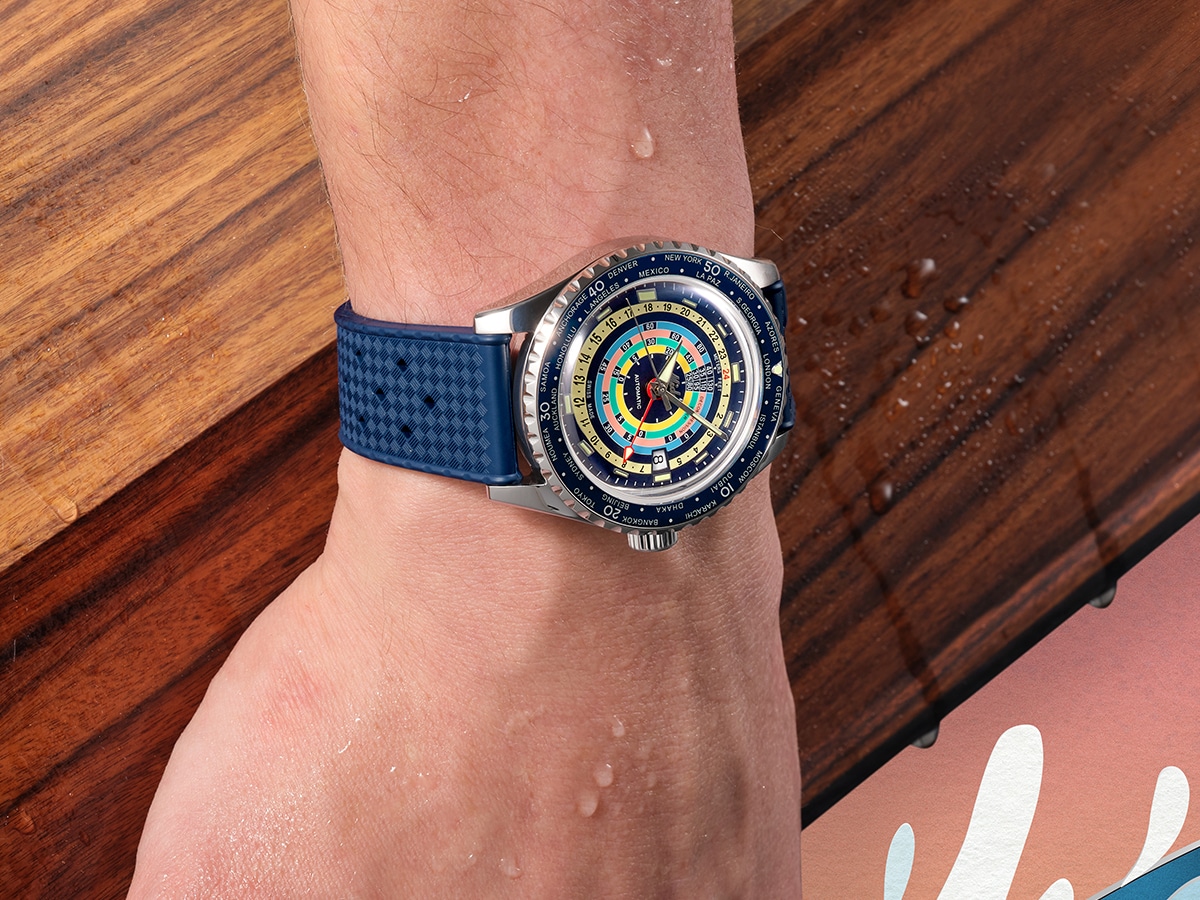 The Ocean Star Decompression Worldtimer also features a rotating bezel, which is fitted with a blue or black aluminium ring and has the largest cities in the world marked around it in silver. An unmissable red arrow hand tracks the time zone of wherever the wearer might travel, while the flat and diamond-cut hour, minute and second hands display the time back home. These hands are further enhanced through the use of non-tinted Super-LumiNova, as are the indices, time zones, and dots around the bezel. In addition, the watch's 3 o'clock position features a date window display, while the entire dial is protected by a sapphire crystal in a "glassbox" shape that is reminiscent of the plexiglas MIDO used in the '60s.
While impressive, all of this form and function would count for little if the watch's interior wasn't similarly formidable. Fortunately, MIDO has deployed its Caliber 80, which is a next-generation automatic movement offering up to 80 hours of power reserve – twice as much as a regular calibre. Plus, the Nivachron balance-spring guarantees precision thanks to the use of a titanium-based metal alloy that reduces the effect of magnetic fields, while offering outstanding resistance to shocks.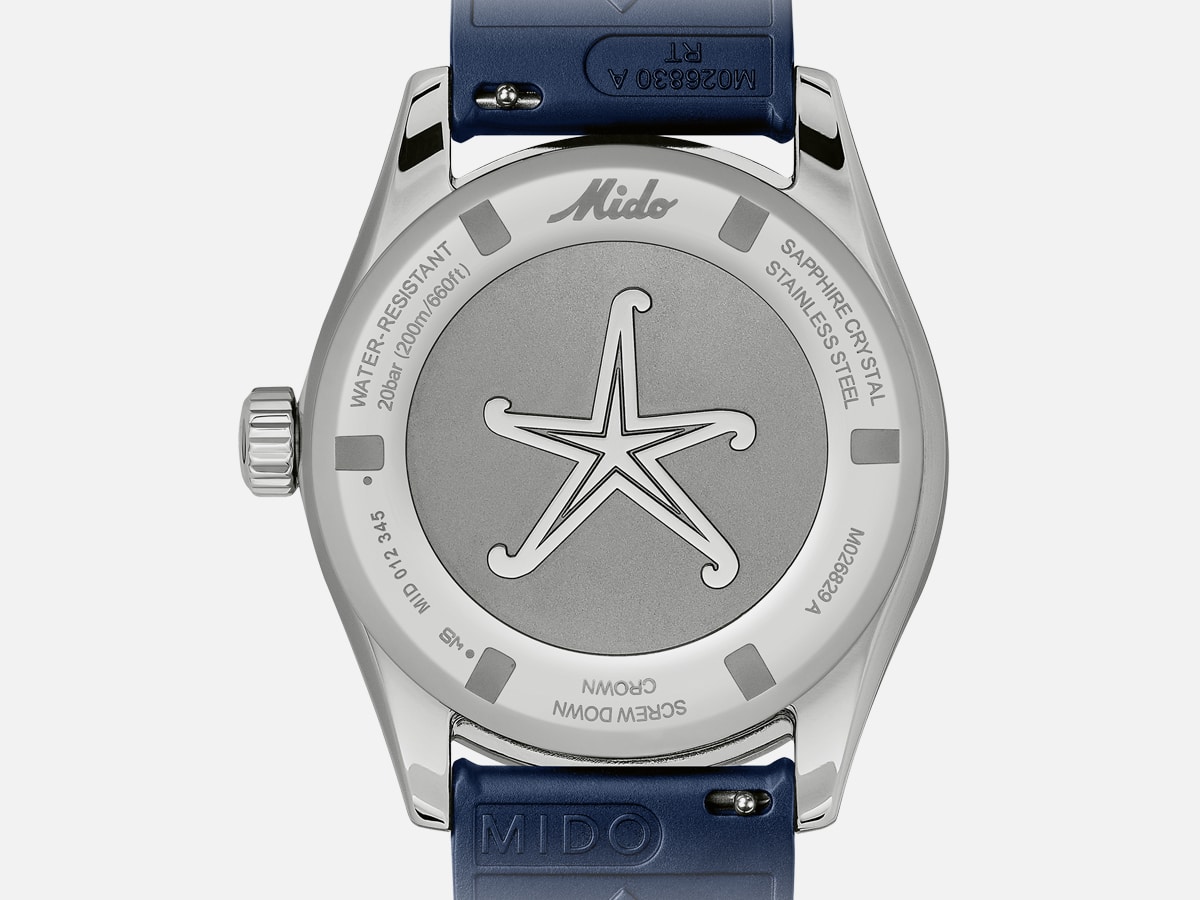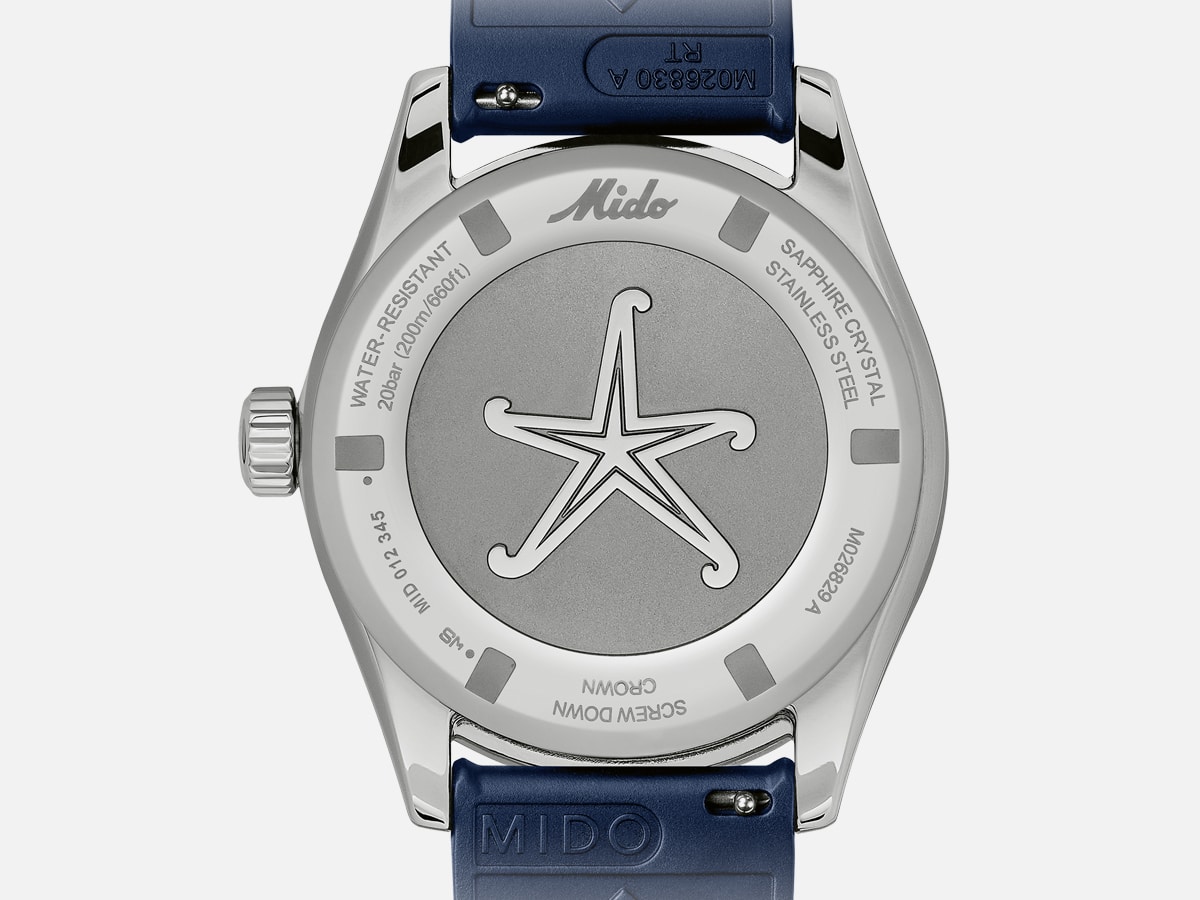 Looking Forward, Looking Back
Despite these thoroughly modern insides, the element that stands out most about the Ocean Star Decompression Worldtimer is the way it calls back to the aforementioned '60s and one watch in particular. No, those stunning looks didn't come out of nowhere! Rather, they're inspired by the MIDO Ocean Star Decompression Timer – commonly and justifiably known as the Rainbow Diver – which was launched in 1961 and remains one of the most instantly recognisable and innovative designs in history.
At the time, MIDO bucked the trend for making cases in three pieces and instead crafted a "monocoque" case, or one that was crafted as a single piece, which helped greatly when it came to water resistance. This was a remarkable feat at the time and it enabled MIDO to guarantee 100 per cent water-resistance to a depth of 300 metres.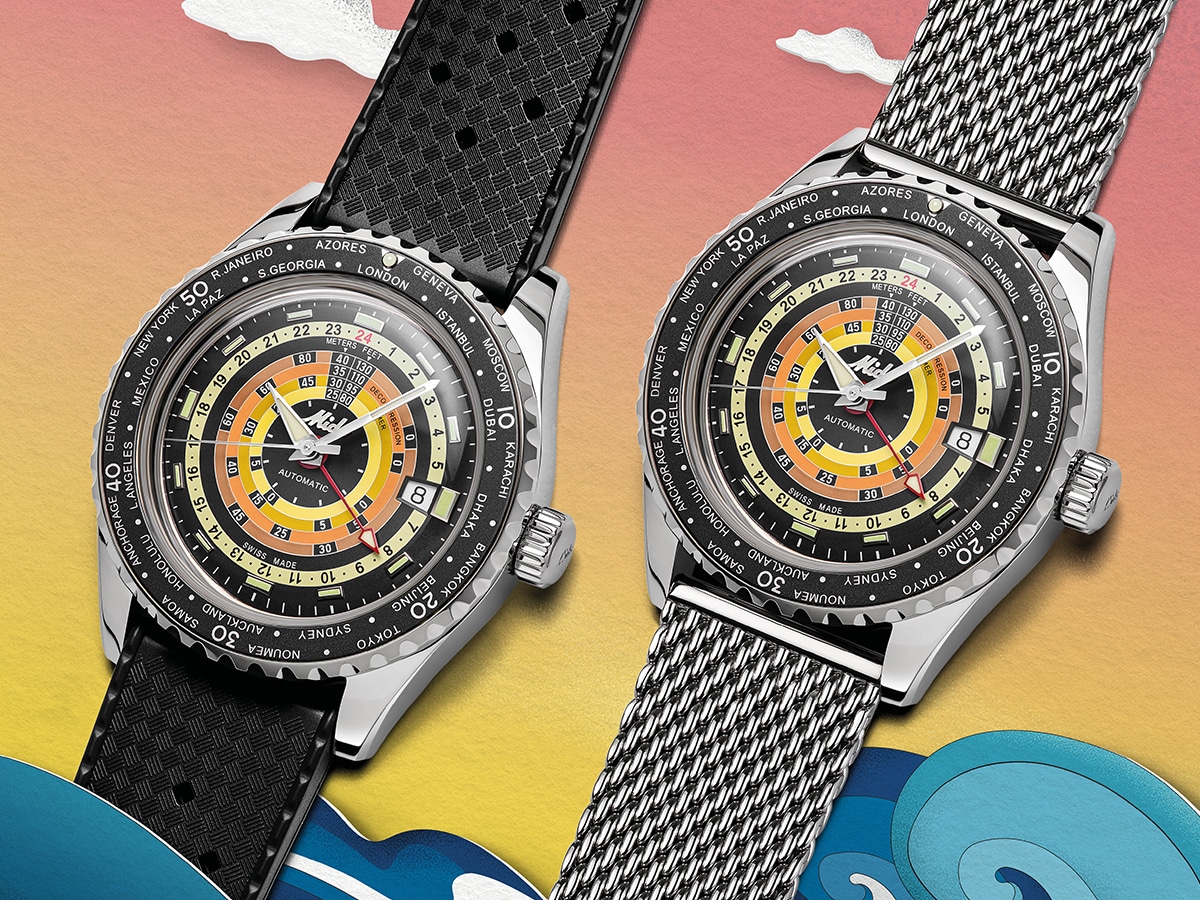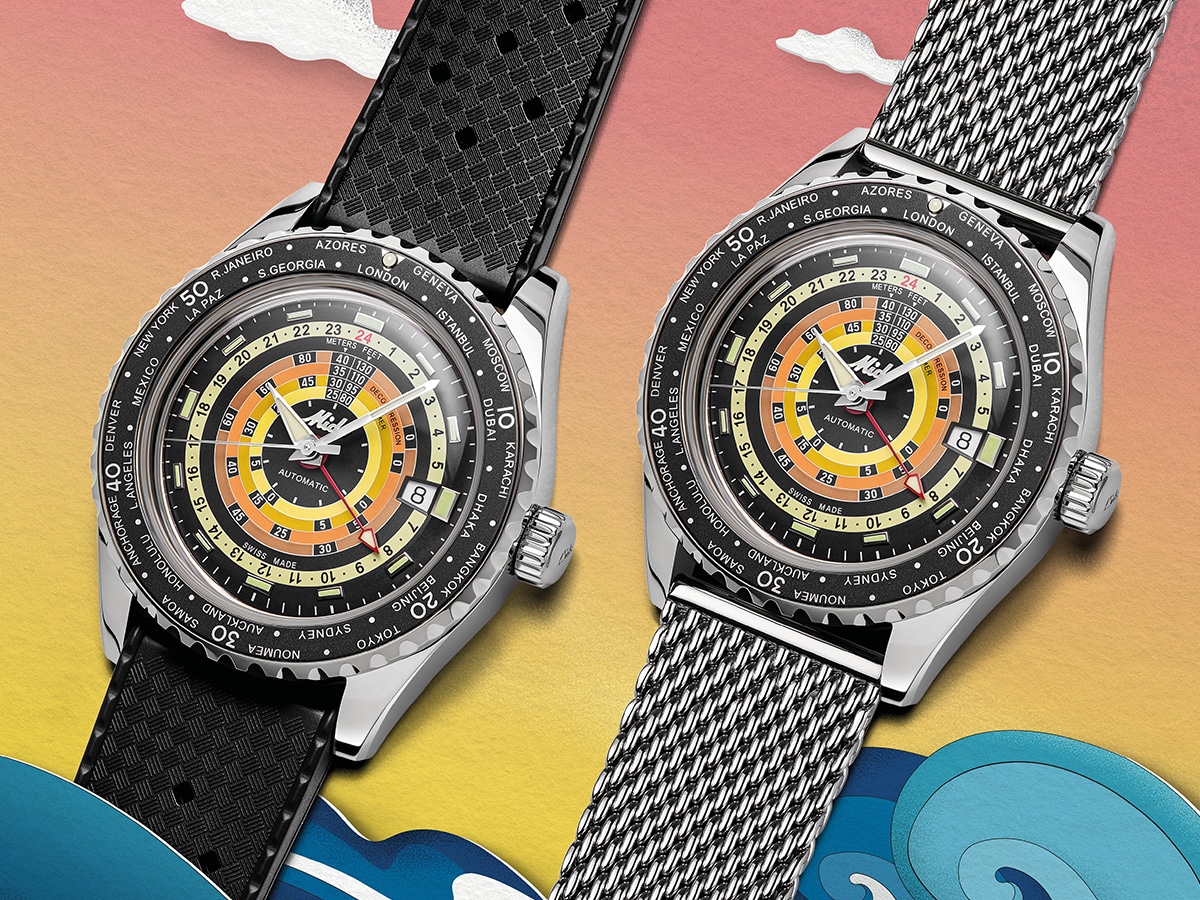 MIDO then revived the design in 2020 with the Mido Ocean Star Decompression Timer 1961 to much acclaim (and even greater demand). So it only makes sense for MIDO to revisit the design again and elevate it even further.
The Special Edition Ocean Star Decompression Worldtimer has certainly done this, adding even greater value via the introduction of its high-end internal components and multi-time-zone functionality, while maintaining the absolutely head-turning aesthetic for which its predecessors are so revered. The whole package is then completed with a hard-wearing rubber strap featuring an innovative easy-change system so it can effortlessly be swapped out for the included bracelet strap.
To discover more about the Special Edition Ocean Star Decompression Worldtimer, click the link below or visit your nearest MIDO retailer.