TAG Heuer Connected Golf Edition Sets You Up for 18 Rounds
TAG Heuer isn't new to the smartwatch game. It was just seven months after apple debuted the Apple watch that LVMH's watch division released the TAG Heuer Wear OS-driven Connected Watch under the guidance of Jean-Claude Biver, then president of the division. We're now into the third generation of the watch, and this time the TAG Heuer Connected Watch is ready for the golf course.
The TAG Heuer Connected Golf Watch has the trappings of a high-end watch, with the DLC blackened titanium case adorned with a matte black ceramic bezel. Quick change rubber straps, a black one and a white golf pattern strap with green stitching, keep the watch on your wrist—and you'll need some hefty straps for this watch as it measures 45mm in diameter. Interestingly, however, it doesn't seem large on your wrist, but rather has a sleek appearance that makes you look like you know what you're doing on the course. And with the Golfing app, you will look like you're the master of the green. Loaded with GPS functionality, the watch keeps things simple, using 2D interactive maps from 39,000 golf courses worldwide, and new maps are being loaded all the time. Using those maps, the watch keeps track of your location via GPS and records the distance of your last shot as well as calculates the distance to the pin. Your progress around the links is displayed for easy reference, and your score is kept on a bezel marked 1 to 18. Use the app on your phone, and you'll gain access to 3D renderings of the courses.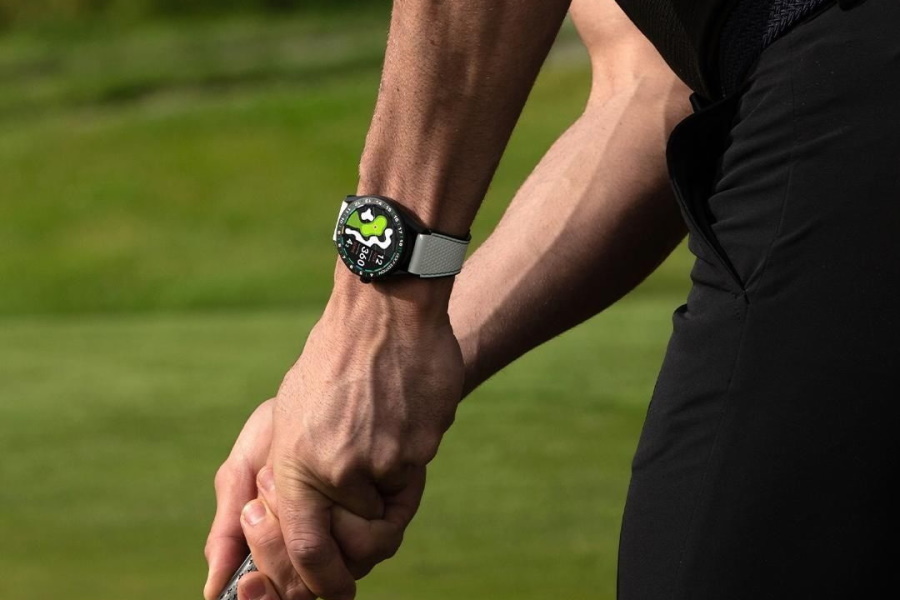 The watch has a 2.5mm sapphire crystal case, which comes in handy in full sunlight to keep the AMOLED display legible. There's a single button on the right side that is used to open the app, but the rest of the features are accessed via touch operation. When you're not on the course, the watch is still stylish enough to be worn out and about. It supports Google Assistant as well as having an NFC chip for Google Pay. You'll pay AU$2,600 (US$1,850) for this watch, but you'll also dominate the course.