The Wind Up – Watch News #70
Last week we featured some very cool watches from the likes of MB&F, De Bethune and Roger Dubuis. In this week's instalment of our horologically-inclined series, The Wind Up, we have some amazing timepieces from the likes of Vacheron Constantin, Grönefeld (one of my favourite watchmakers, ever!) and Ulysse Nardin. So as always gents, sit back, relax and enjoy!
You'll also like:
The Wind Up – Watch News #69

Ulysse Nardin Diver Chronometer
Available in four different variations, two being limited editions and two being full blown production pieces, the brand-new Diver Chronometer from Ulysse Nardin combines damn good looks with superb mechanics. The 44mm wide titanium case, again available in different colours and finishes depending on your variant choice, is big and bold, but at the same time super versatile. You can easily wear this down to the beach and then to dinner in your favourite suit. All the while you can rest assured that the keeping of time will be accurate and precise with thanks to the chronometer certified in-house movement. Ulysse Nardin have a unique ethos, and their style is definitely an acquired taste. But, and I'm talking from experience, once you get what Ulysse Nardin are about, you begin to appreciate their obscurity more and more. Love it!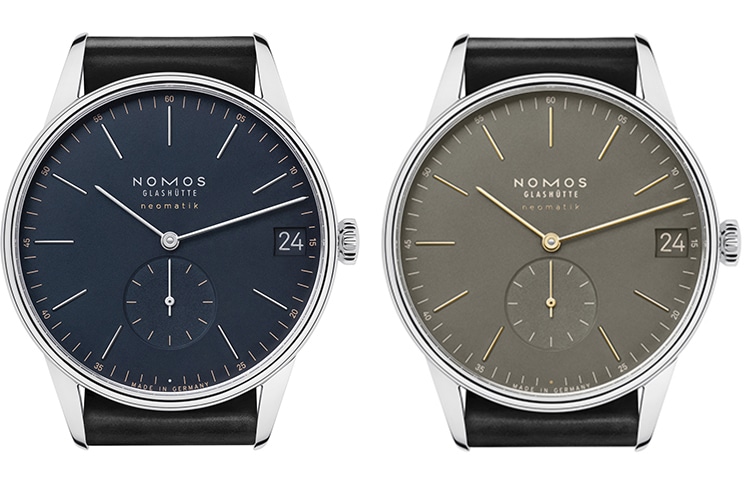 NOMOS Glashütte Orion neomatik 41
Definitely my favourite line from the masters of German minimalism, the Orion neomatik 41 is now available in two fresh new colour palettes: olive gold and midnight blue. Both variations are appealing, but purely from an aesthetic perspective, my heart lies with the olive gold version. I love the combination of that textured olive dial which serves as the perfect backdrop to the gold hour markers and hands. It's a subtle watch that's clean, crisp and very appealing. Both pieces are powered by NOMOS' super-thin in-house automatic calibre, and this in itself is an incredible achievement, considering how young and how small Nomos are as a watchmaking brand. Can't wait to see what they come up with next!
---
Featured Video from Man of Many
---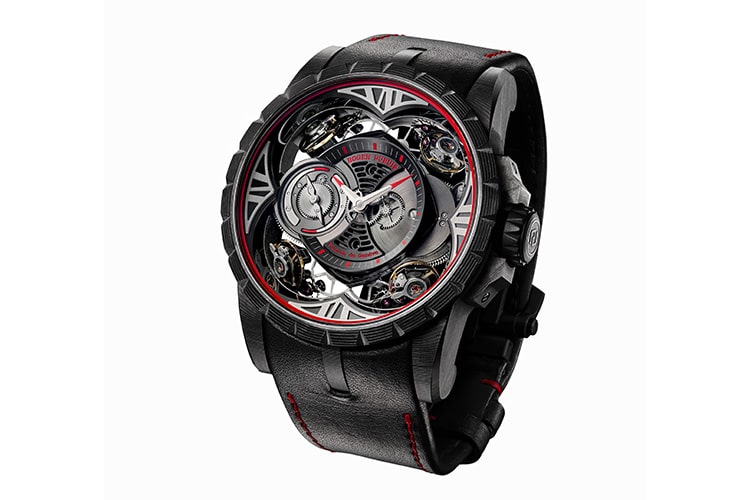 Roger Dubuis Excalibur Quatuor Carbon
The Excalibur Quatuor was released a few years ago, and to critical acclaim. It combined the efficiency and accuracy of four separate balance wheels which negated the adverse effects of gravity. Similar to that of the tourbillon, yes. But in a way, much more competently. A tourbillon takes a certain period of time to dissipate gravity's negative effect on timekeeping, while the Excalibur Quatuor's ingenious system dissolves that issue constantly. So how the hell do you make a watch of this stature even better? Clad it in carbon, add some pops of red, and call it a day. And boy oh boy, did that work. Roger Dubuis remain to be a manufacture, for me at least, that combines insanely complex mechanics with a very contemporary approach to design and aesthetics. Second to none.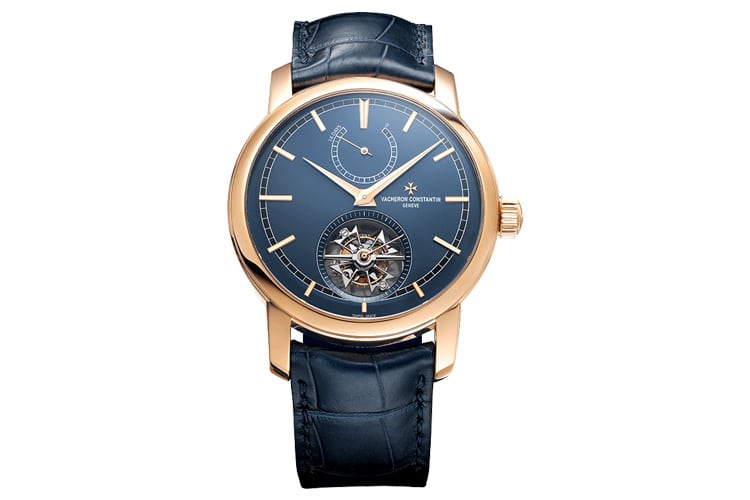 Vacheron Constantin Traditionnelle Tourbillon Bucherer Blue Editions
Bucherer's trademark blue features throughout the latest collaboration piece, the Vacheron Constantin Traditionnelle Tourbillon Bucherer Blue Editions. The manually wound Calibre 2260 is, hands down, one my favourite tourbillon movements, ever. Blue also happens to be my favourite colour. Pair the two, and you have what could very well be my new fantasy watch. Proportionally, dimensionally and aesthetically flawless, the Vacheron Constantin Traditionnelle Tourbillon Bucherer Blue Edition is just about as close to perfect as a much can be. Now you may be wondering why I called this my fantasy watch. The reason for that is the price. At 275,000CHF (or about $400,000AUD), the Vacheron Constantin Traditionnelle Tourbillon Bucherer Blue Edition is going to be a bit of a fantasy for many of us. But that doesn't mean we can appreciate from afar, right?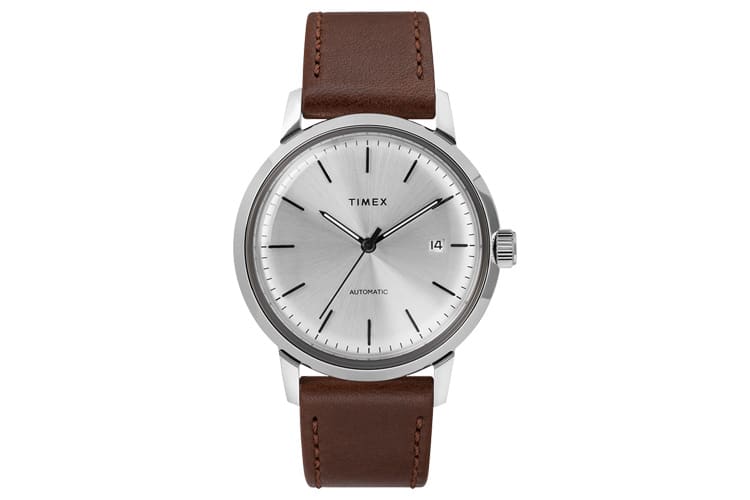 Timex Marlin Automatic
Now this is a bit more on our level of things. The Marlin Automatic is Timex's answer to a changing market dynamic. It features a clean look very reminiscent of those dress watches from decades ago. It comes in a bunch of dial colour variations in either a stainless-steel or a gold-tone finished case, and to be completely honest with you, it's actually really cool. I like the simplicity of this watch. Hours, minutes and seconds, and a non-discreet date window sitting nice and flush at 3 o'clock. This is a watch you can dress up or down easily, and while its simplistic nature may be a bit of a bore, you can rest assured that at $249USD (or about $350AUD), you haven't really burnt too big a hole in your pocket. Either way though, I think this is a great direction Timex are taking, and if they continue in this vain and mechanise more of their Quartz-based watches, I know that their market share will increase. And I'll be waiting, cash in hand!
Grönefeld 1941 Remontoire Limited Edition for Hodinkee
For many of you, the name Grönefeld may be somewhat obscure to you. To those of us who pledge their lives to horology (just kidding), Grönefeld is one of the most incredible contemporary watchmakers. In fact, they are my favourite watchmaker, period. And the 1941 Remontoire is my favourite watch, again, period. A few days ago, in collaboration with Hodinkee, they released a limited-edition timepiece designed with the guys (and girls) over at your third favourite watch blog (Man of Many being the first, and Haulogerie being the second, of course!). This is a beautiful timepiece that captures the essence of what haute horlogerie is all about. If you've yet to see what the 1941 Remontoire is, I implore you to check it out. It seriously is a thing of beauty. Hand crafted, every little detail meticulously attended to by the Grönefeld brothers, the 1941 Remontoire is an ode to traditional watchmaking in the 21st century. The cost of one of the 12 limited-edition Grönefeld 1941 Remontoire Limited Edition for Hodinkee pieces is $58,000USD. Oh, and all have been spoken for. So cool though!
If you enjoyed The Wind Up and would like to continue reading about watches, you can head on over to my blog, Haulogerie, where I delve a bit deeper into the wonderful world of watches.
Have you subscribed to The Wind Up – Watch News #201? You can also follow us on Facebook, Twitter, Instagram, and YouTube.
You'll also like:
The Wind Up – Watch News #69
The Wind Up – Watch News #68
The Wind Up – Watch News #67
---
Featured Video from Man of Many