17 Best Australian Beer Blogs
As the best Australian beer blogs know all too well, our frothy friend is truly the gift that keeps on giving. After all, beer can be delicious, refreshing and intoxicating, often at the same time. It can bring people together and inspire tons of social activity (beer pong, anyone?). Heck, some reports suggest drinking one or two pints a day can actually be good for you. That's not to mention the endless variety and copious amounts of personality, meaning if you don't like the beer you're sipping on then you can just order a different one and fall in love.
Now more than ever, beer needs coverage, especially in Australia. Between the craft microbrews, the limited edition releases, the rotating taps and the slew of drinking events on any given day, there's simply too much action to keep track of on your own. That's where beer blogs come in. These are the sites that have made it their goal to keep you informed on the latest and greatest in all things beer. Read on for a list of the best Australian beer blogs and start sipping like you mean it.
You may also like:
The Ultimate Guide to Beer Types & Styles
The Ultimate Guide to Types of Beer Glasses
The 20 Best Australian Craft Breweries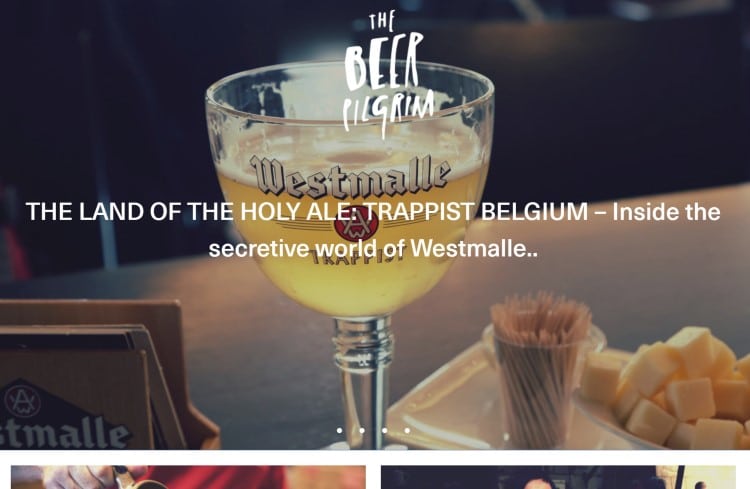 1. The Beer Pilgrim
His name is Tim Charody but he's better known as the Beer Pilgrim. This guy seriously lives and breathes for the carbonated boozy beverage. When not meeting with local industry experts, Tim's travelling halfway across the world just to try something new or rare. The best part is that he brings each tasting adventure to vivid life by way of videos, photographs and the written word. The Beer Pilgrim was recently awarded as "Australia's Favourite Craft Beer Blog" by the aforementioned Beer Cartel, undoubtedly cementing its status as one of the best Australian beer blogs you can find.
Founder: Tim Charody
Year started: 2013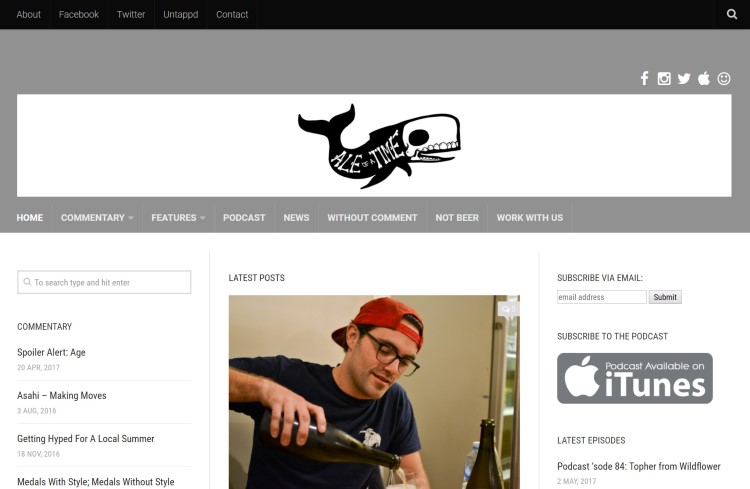 2. Ale of a Time
The guys over at Ale of a Time know there's more to beer than just flavour and style. Through podcasts, interviews and articles they cover the basics and then everything else. That entails bringing readers up to date on the latest industry news, providing behind the scenes glimpses of emerging craft breweries, and then having detailed discussions about the little things. This is one of Australia's best beer blogs because it casts a wide and varied net and never gets tiresome as a result.
Founder: Luke Robertson
Year started: 2014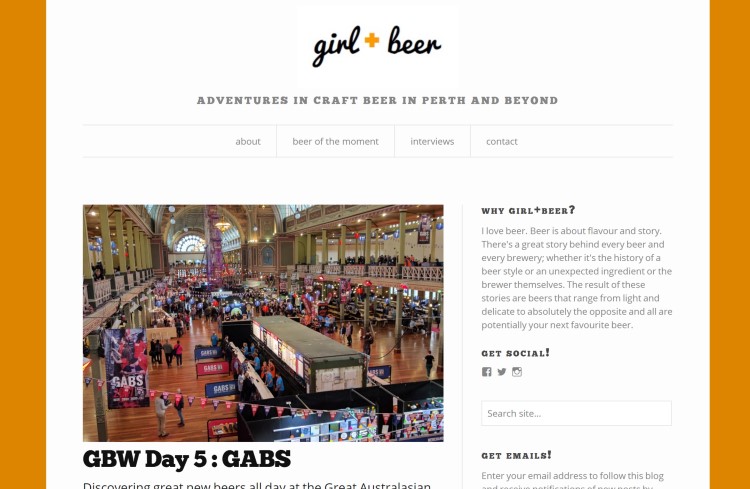 3. Girl + Beer
Far more than proof that gulping down pints isn't just for the fellas, Girl + Beer is an engaging passion project from a beer lover with experience in every arm of the industry. She's written guest columns for other noted beer blogs and magazines, bartended at various watering holes, and does marketing for the reputable Nail Brewing. Such a seasoned resume equates to not just a unique and prime perspective, but also the ability to cover a lot of ground. Hence, Girl + Beer is a great place to browse around for hours while knowing you're in good hands.
Founder: Pia Poynton
Year started: 2012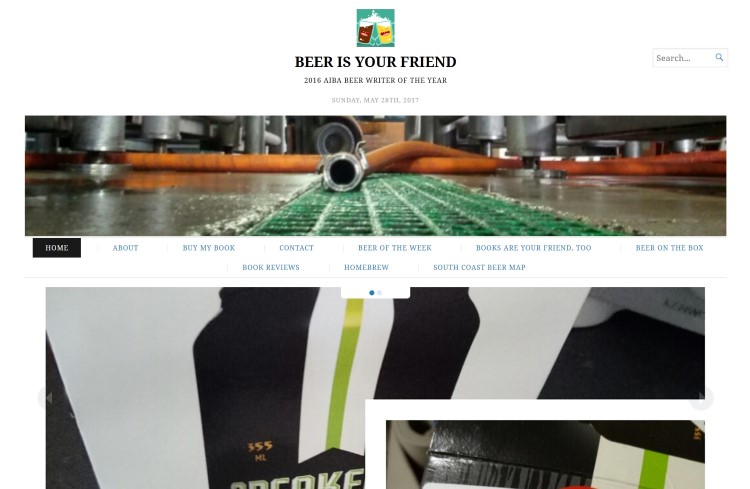 4. Beer Is Your Friend
Beer is your friend, and so is Beer Is Your Friend. Get it? Silly puns aside, this is definitely one the best Australian beer blogs with the awards and rave reviews to prove it. Coming to us from published writer Glen Humphries–whose curious about every single aspect of beer–Beer Is Your Friend is kind of like stepping directly into the brain of an avid enthusiast. Naturally, that makes for truly entertaining, informative and approachable reading.
Founder: Glen Humphries
Year started: 2012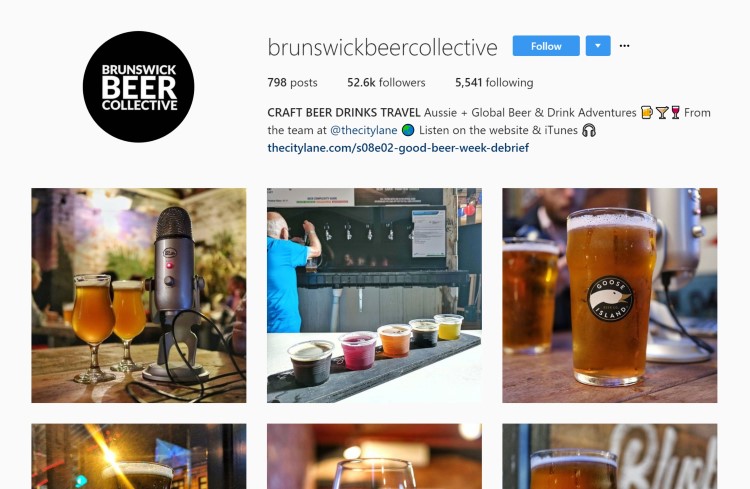 5. The Brunswick Beer Collective
The Brunswick Beer Collective is an exceptional podcast coming to us from three hilarious dudes in Melbourne. Whenever "recovering cider drinker" Jeff Chee, The City Lane founder Paul Kristoff and lover of red ales Chris Shorten get together, it's a guaranteed fun and interesting time for all. Expect some truly in-depth discussions on craft beer and all its peripherals. Or, as they put it: "It's like that show about cars that's not really about cars, but for beer."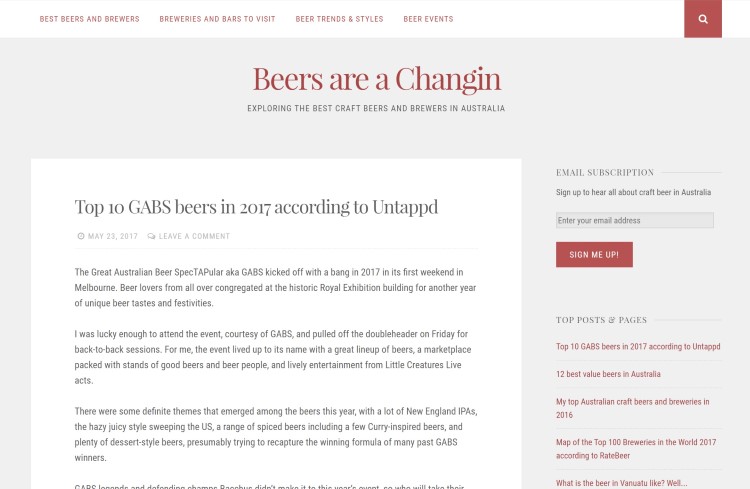 6. Beers Are A Changin'
Being that the craft beer scene is in a constant state of flux, it's only natural someone might co-opt the famous Bob Dylan song in order to point such a thing out. However, a catchy name merely scrapes the surface as to why Beers Are A Changin' is one of the best Australian beer blogs. What really drives home the appeal is refreshingly candid writing that's honest, opinionated and always happy to guide you to your next tasty pint.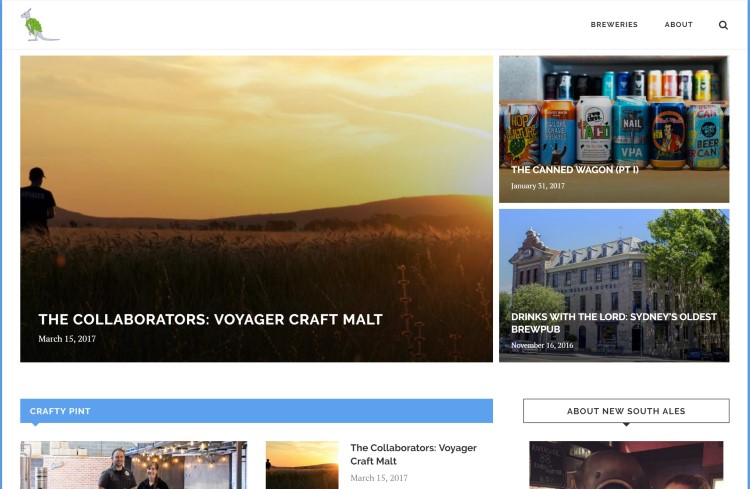 7. New South Ales
Follow the adventures of M.C.J., an award-winning writer with a sharp wit and sharper palate. Armed with talent, charm, and a willingness to try everything at least once, M.C.J. explores the many faces, places and products of the NSW craft beer scene and beyond. It's all brought to life with pictures and seamless writing. This is one of Australia's best beer blogs because it feels like a close friend at first read.
Founder: Marie Claire "MC" Jarratt
Year started: 2015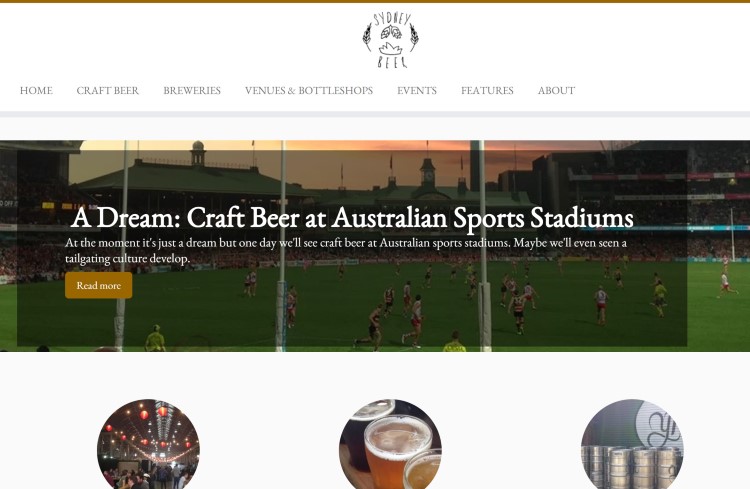 8. Sydney Beer
Sydney's craft beer scene is so rewarding and diverse in and of itself that here it gets its own blog. Sydney Beer is maintained by devoted beer lover Tim Hodges, who ones day wants to brew from home. Until that day comes, he's out tasting the best that Sydney has to offer and reporting on it for your reading pleasure. Sydney Beer is thereby an ongoing celebration of the city's thriving craft beer community in general, and a tremendous blog to boot.
Founder: Tim Hodges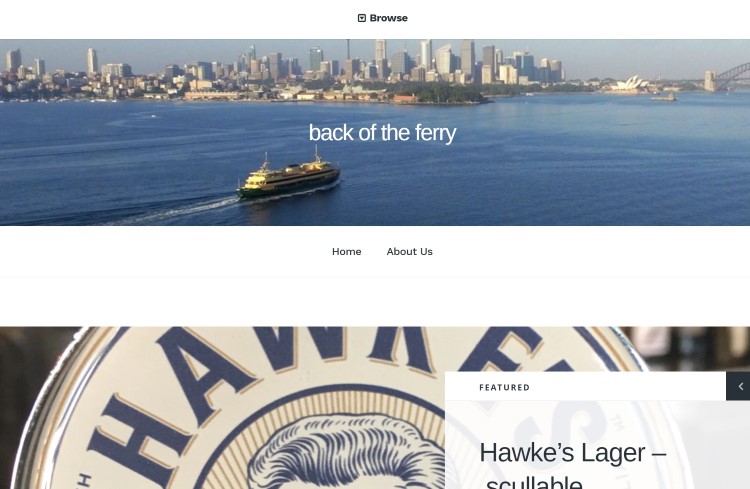 9. Back of the Ferry
You know that friend of yours whose always drinking and always down for a good time? Then one day he starts talking passionately about beer and you realise he's actually quite intelligent, articulate and even profound? Well, as it turns out that friend was maintaining one of Australia's best beer blogs–or at least someone just like him was. Read it.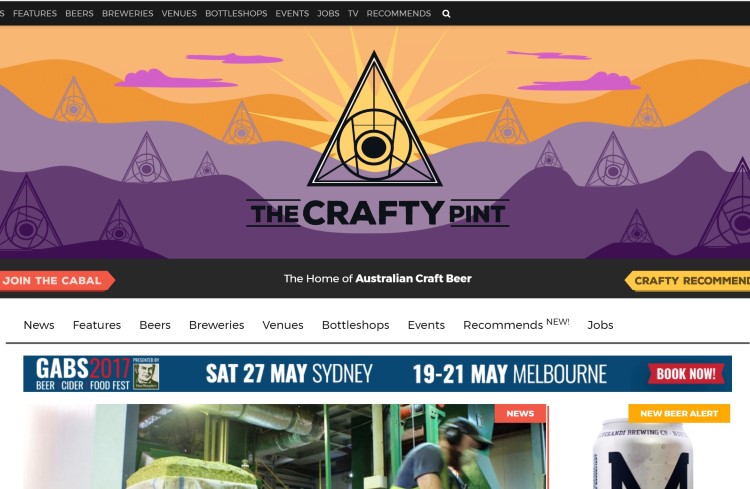 10. The Crafty Pint
The Crafty Pint is such a respected Australian beer blog that the writers from other blogs will contribute to it and then use that as a resume builder. In other words, this is the shrine before which all others kneel. Since 2010 The Crafty Pint has been the ultimate resource for Aussie craft beer lovers and a huge driving factor for the movement at large. Indeed, between the brilliant coverage, the non-stop flow of visitors, an incredible membership plan and a slew of peripheral events, The Crafty Pint is arguably not just among Australia's best beer blogs, but in fact the perennial keeper of the number one spot.
Founder: James Smith
Year started: 2009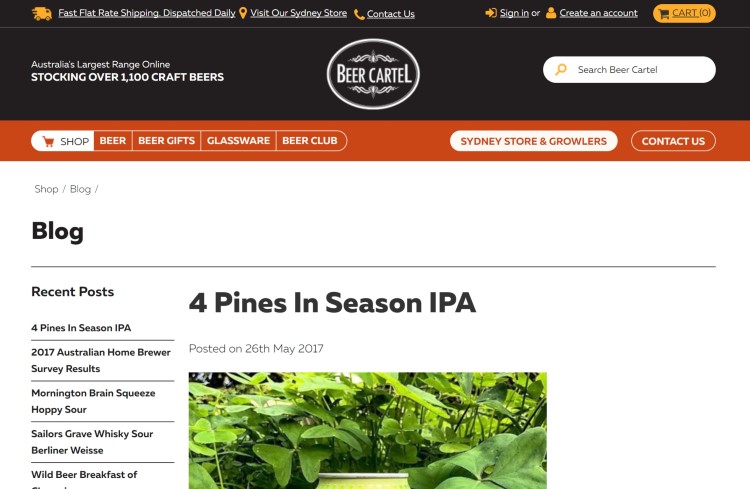 11. Beer Cartel
One trip to Beer Cartel and you might start asking yourself, "Is it a store? A blog? A curatorial experiment?" The answer, of course, is "all of the above". Beer Cartel is a prime resource for Aussie drinkers and one of the best Australian beer sites without question. Think of it as the best friend you never knew you had, one who makes it his quest to seek out only the best brewskies for your drinking pleasure. The site allows you to shop among thousands of craft bottles from across the world, each one handpicked by a team of experts. So committed to quality is Beer Cartel that every purchase comes with a money back guarantee. If you're really digging their selections, join Beer Cartel Club to receive packs of craft brew on a monthly basis. And if you're craving a little face to face interaction, be sure to visit their brick and mortar in Atarmon.
Founder: Richard Kelsey, Geoff Huens
Year started: 2009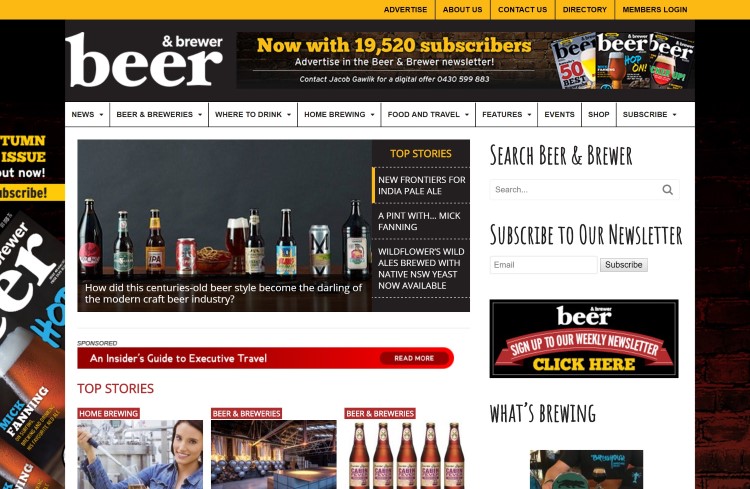 12. Beer & Brewer
As the digital arm of a physical magazine with tons of subscribers, Beer & Brewer transcends blog status to become an essential hub for beer enthusiasts. If it's newsworthy, they're on top of it. Likewise, if you're a brewer and they feature you, then odds are you're doing something very right. This is a true authority on craft beer.
Year started: 2011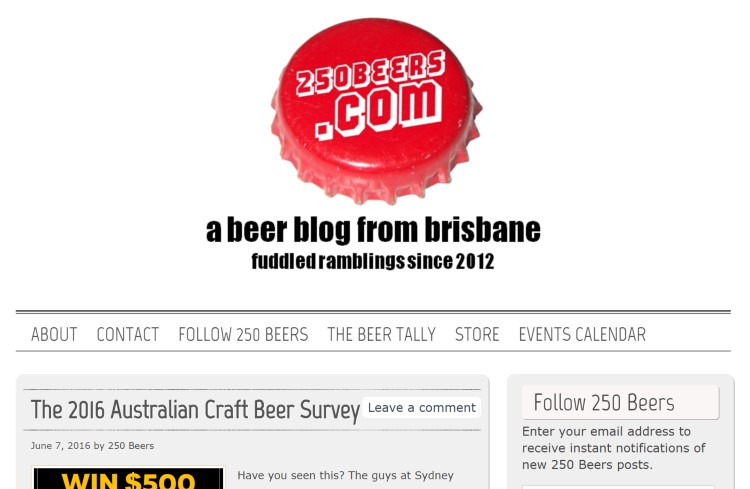 13. 250 Beers
This Brisbane-based blog might call itself 250 Beers, but the tally is actually closer to 2500. For a fun, casual place where you can read about the very craft brew you're sipping on, look no further.
Founder: Darren Magin
Year started: 2013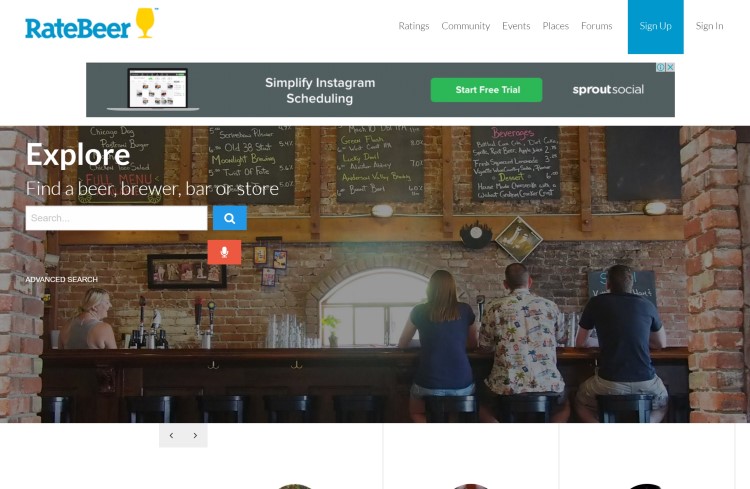 14. Rate Beer
The name pretty much says it all: Rate Beer. To say the site is like Yelp or Zagat for beer is kind of redundant but we just said it so there you go. Users can sign up, start drinking and start rating. As a reader, you can check it see what the masses think about that craft brew you've got your eye on.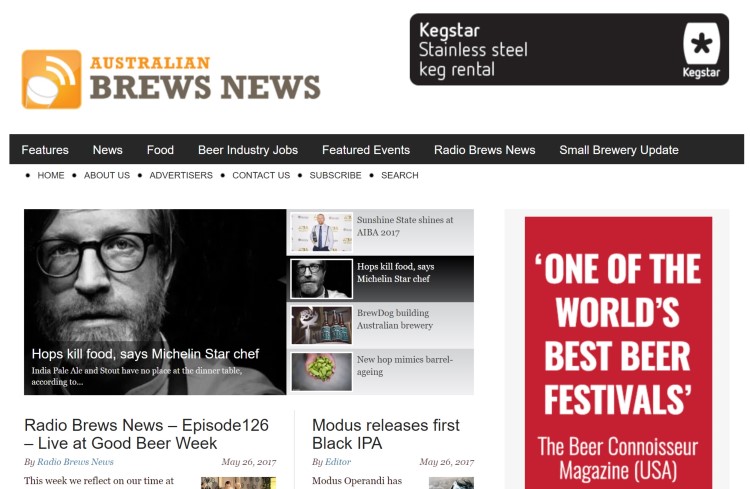 15. Australian Brews News
Here we have another blog that's pretty self-explanatory. Go here to get the latest news from the world of craft beer. And if you're reading this list in general and thinking there can't possibly be that much going on in craft beer to justify so much intense coverage…well, then you don't know Australia.
Year started: 2008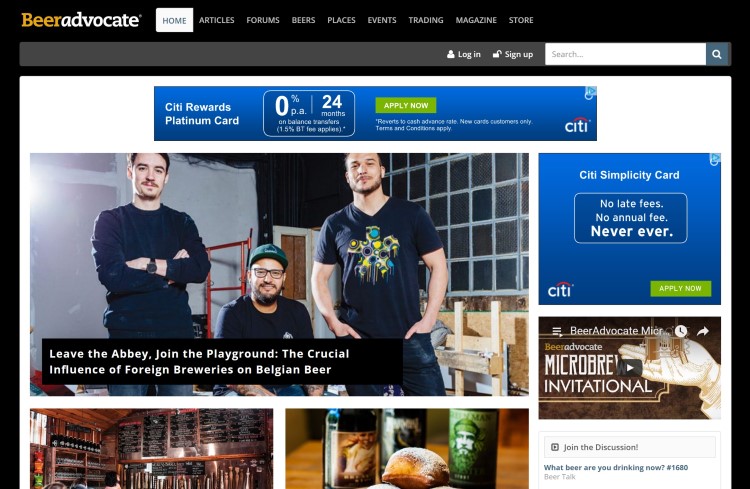 16. Beer Advocate
With roots going back to 1996, Beer Advocate is a long running champion when it comes to covering suds. The publication has eyes and taste buds everywhere, meaning if you're an Aussie brewer who's earned a feature then welcome to the world stage my friend. The timeless art of beer enthusiasm and expertise lives here. Heck, it thrives here.
Year started: 1996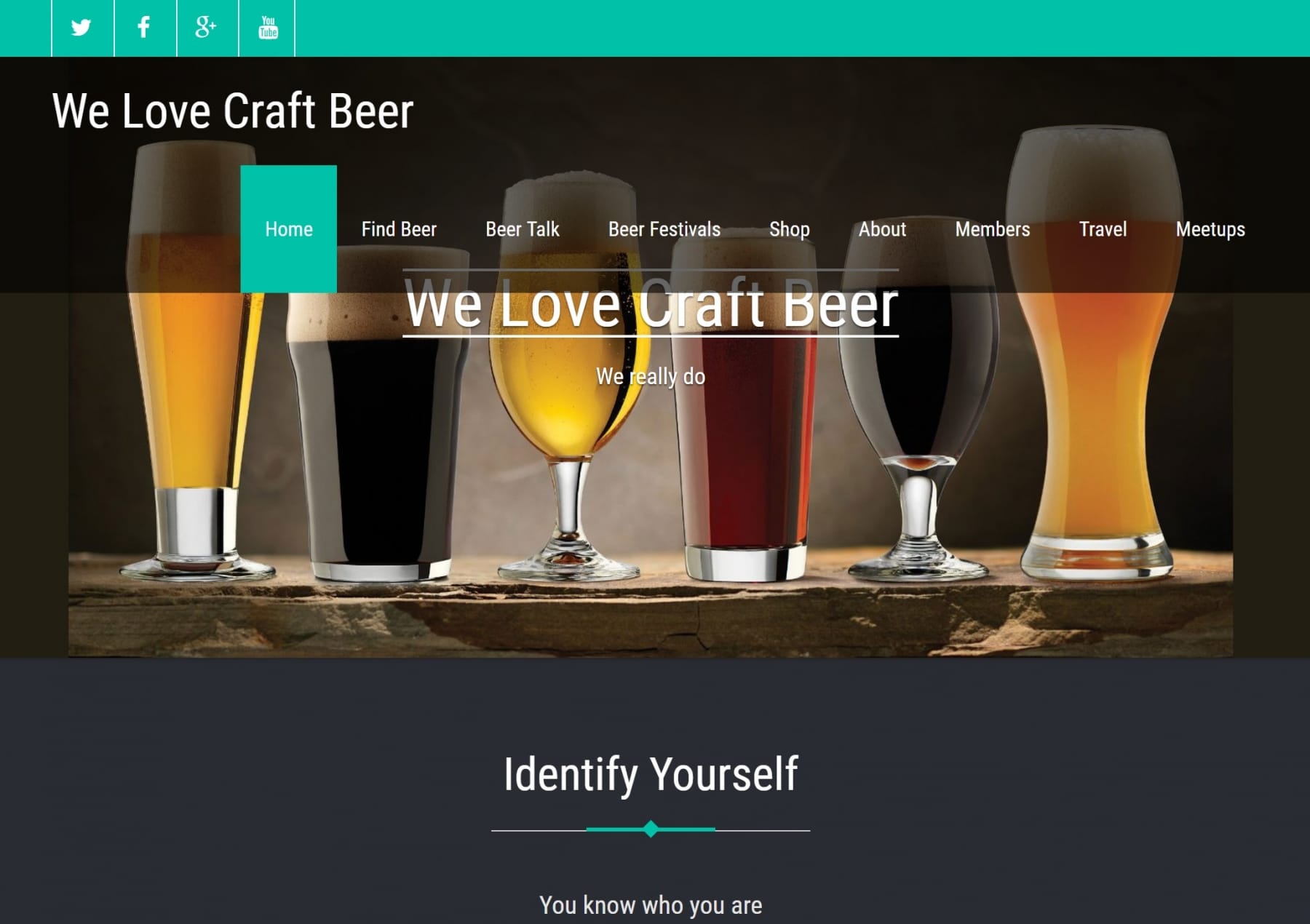 17. We Love Craft Beer
While not a beer blog per say,  We Love Craft Beer Australia is a Facebook Community with nearly 3,000 members discussing everything from the latest beer reviews, posting photos of #beerwithaview, what they're drinking right now, educating others, and some bloody great beer banter. They also have regular postings on their website series Beer Talk.
Founder: Nigel Ayling
Facebook Group
We Love Craft Beer
You may also like:
The Ultimate Guide to Beer Types & Styles
The Ultimate Guide to Types Beer Glasses
The 20 Best Australian Craft Breweries
General FAQ
What is the best beer blog?
A few of the best beer blogs in Australia are The Beer Pilgrim, Ale of a Time, Girl + Beer, and Beer is Your Friend.
What is craft beer?
Beer that is produced on a small-scale by an independent brewery is reffered to as craft beer.
What is Australia's #1 Beer?
Victoria Bitter is Australia's best-selling beer.