8 Best Non-Alcoholic Whiskies
It comes as no surprise, but we're experts in the whisky game. If you're a fan of a dram but not of a hangover, there are some delicious non-alcoholic whiskies out there to try – as long as you know what to look for. Whether you're in the market for a unique-flavoured whisky or something that tastes like the real deal, there's something for everyone when it comes to one of the fastest-growing trends in drinks. We've done the hard yards and put together a list of the best non-alcoholic whiskies, according to us.
Best Non-Alcoholic Whisky
Ready to wrap your lips around a dram of the not-so-hard stuff? We've got a long list of beverages sans the spirit for you to enjoy. Here is a list of the best non-alcoholic whiskies you can buy.
Related: Looking for more non-alcoholic drinks? Check out our guide to the best drinks here.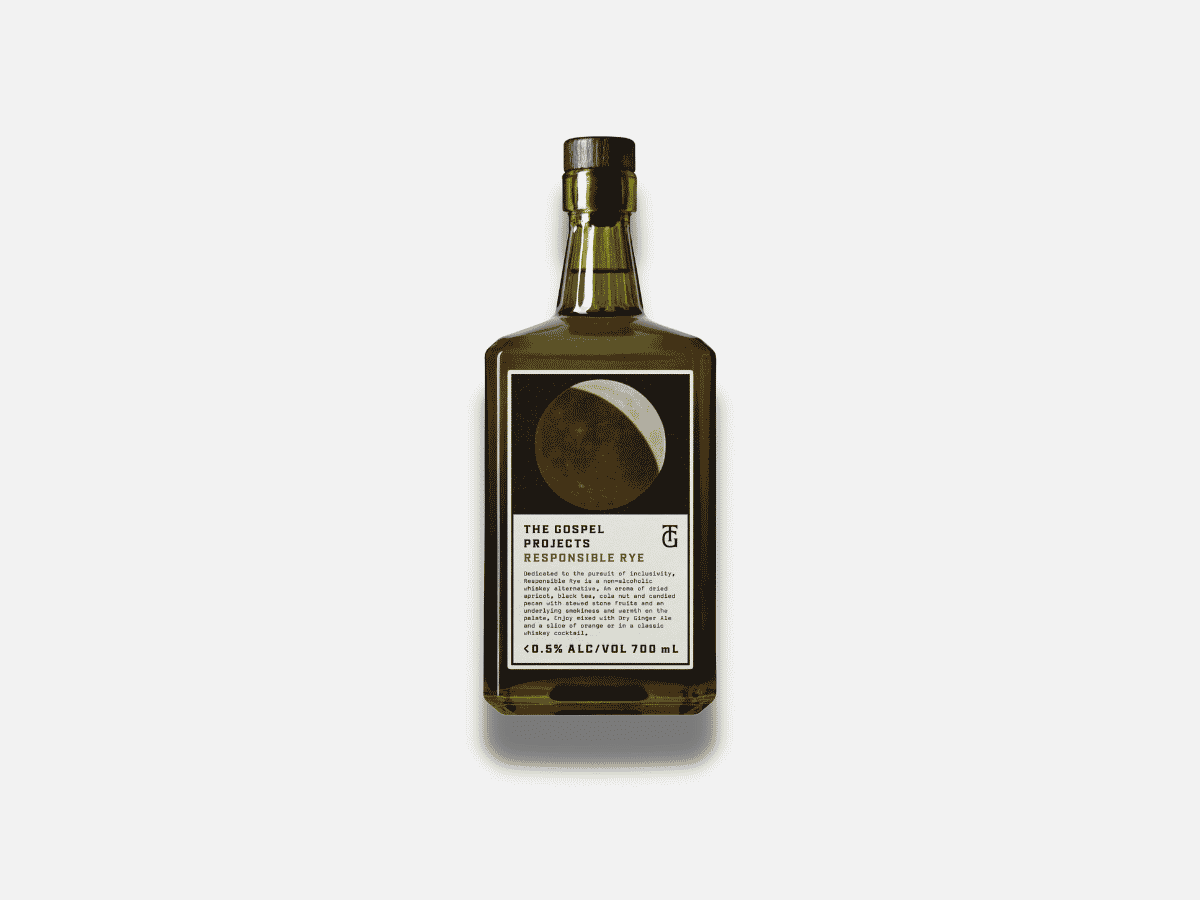 1. The Gospel Responsible Rye
We've been big fans of The Gospel since we first wrapped our gob around their original Gospel Rye, and being Australia's only dedicated rye whiskey distillery, it was only a matter of time before they hopped into the fast-growing non-alcoholic category with the release of Australia's first rye whiskey alternative – Responsible Rye.
"There's been a ton of innovation in the non-alcoholic spirits space, but little in the Australian rye category… As fanatics of all things rye, and with the help of our R&D Distiller Ellie, we set out to craft a drink that is inclusive for everyone to enjoy and without compromise. It took numerous trials and tests over the course of a year to perfect, and we are proud to say this drink stacks up in a cocktail or on its own," said The Gospel Co-Founder Andrew Fitzgerald.
The non-alcoholic whiskey is made under the watchful eye of Sommelier and The Gospel R&D Distiller, Ellie Ash, Responsible Rye spent over 12 months in development, resulting in a true-to-form rye whiskey that we've come to love from this Aussie distiller. Unlike many non-alcoholic drinks, the price is sharper than the full-strength alcoholic option too.
What we like: We love this whiskey's aroma of dried apricot and candied pecan. Also, the bottle design is absolutely stunning.
What we don't like: It's not always the easiest to find in the bottle shop. You might have to look to more boutique spots to score this one.
Type: Rye
Size: 700mL
Country: Australia
Flavour palate: dried apricot, black tea, cola nut and candied pecan.
Price: from $46 AUD
Buy it here (The Gospel) Buy it here (Dan Murphy's)
---
Featured Video from Man of Many
---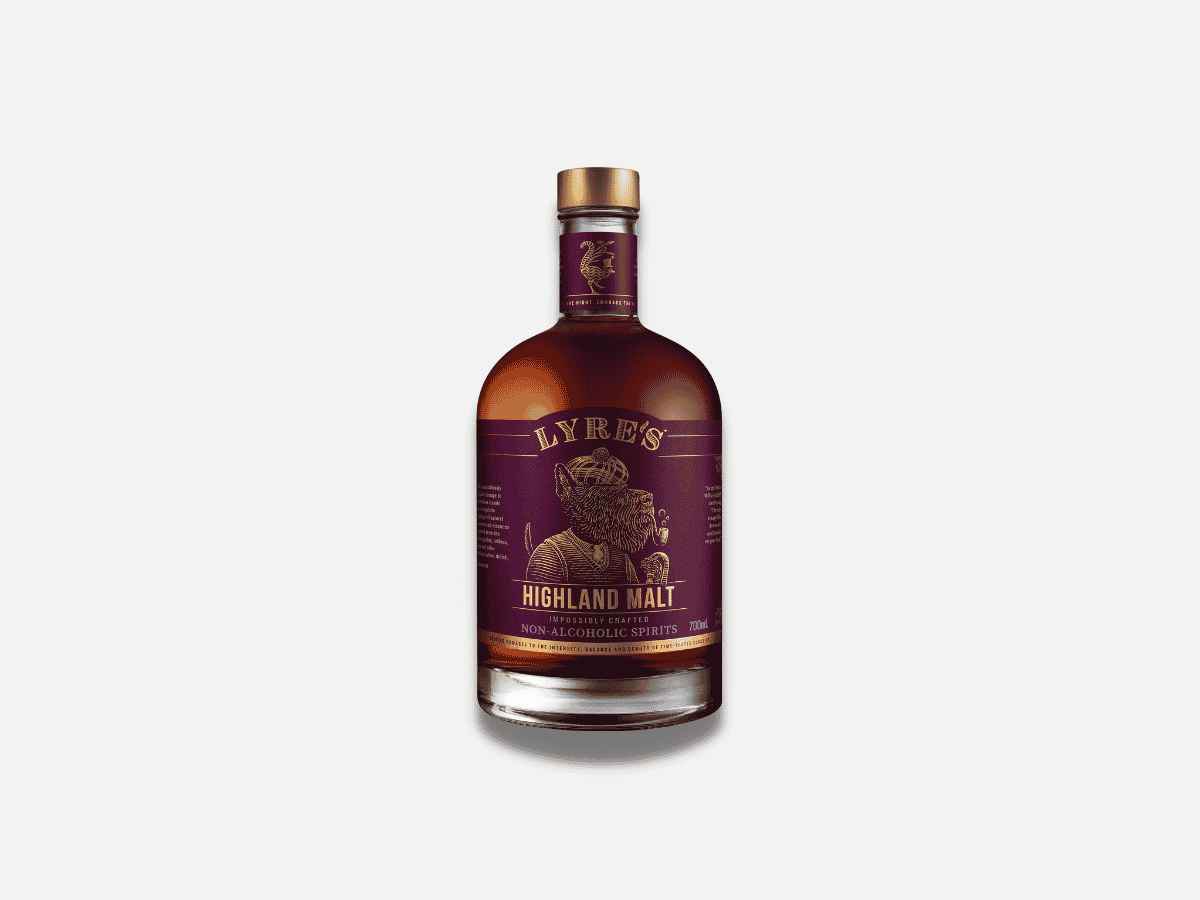 2. Lyre's Highland Malt
Expertly capturing the essence of a blended malt whisky with an unusual twist, Lyre's Highland Malt is one of the best non-alcoholic whiskiess out there. It offers a unique and contemporary take on a traditional malt whisky, with flavours like oak tannin and nutty grain characters with a subtle smoke finish that contributes to a lift in the palate and balances the length which is firm and full. The end result is something completely new that we believe you just have to try.
What we like: It's an award-winning release that tastes as close to classic Scotch as possible.
What we don't like: It does miss a little bit of burn, which is definitely part of the Scotch-drinking experience.
Type: Highland Malt
Size: 700mL
Country: Australia
Price: from $47.99 AUD
Buy it here (Lyre's) Buy it here (Dan Murphy's) Buy it here (Hairy Dog)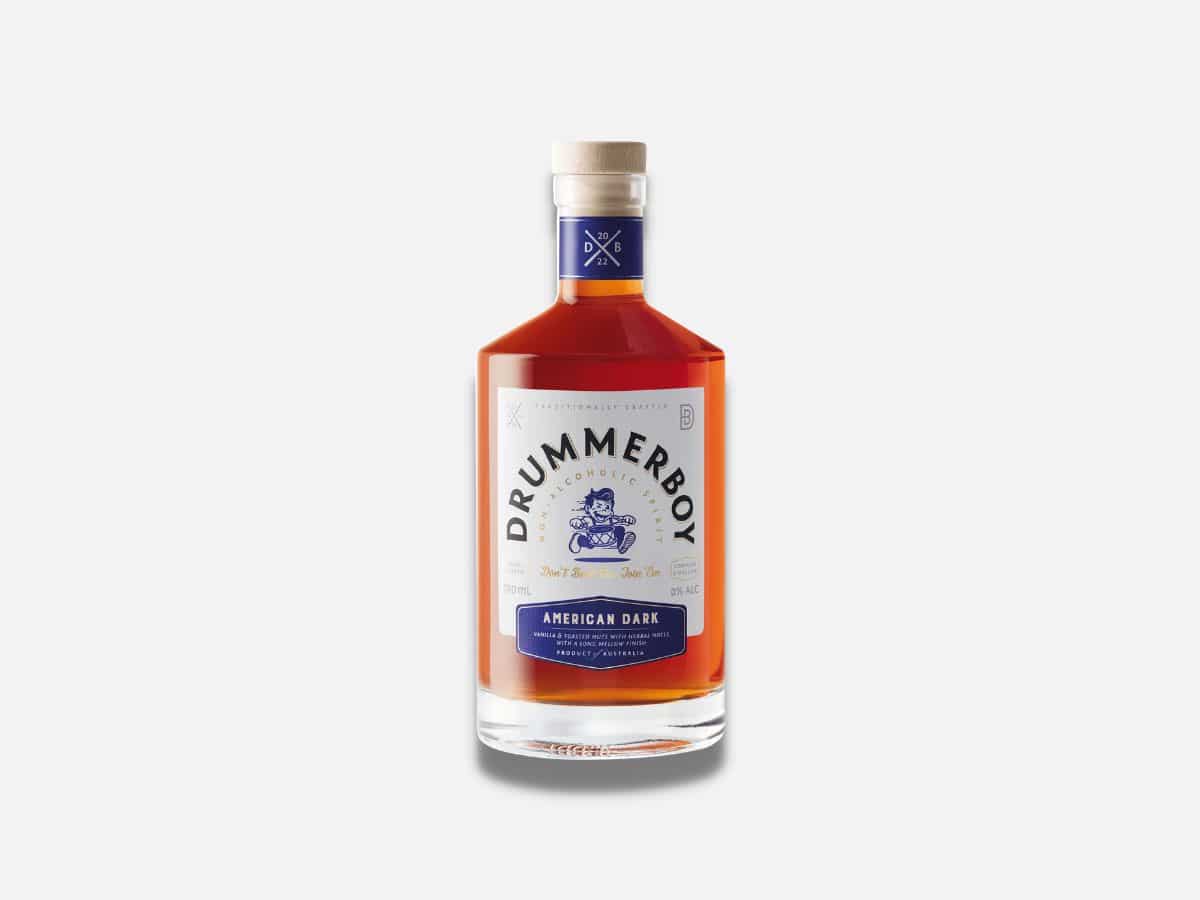 3. Drummerboy American Dark
Marching to the beat of their own drum, Drummerboy is made in Australia and is home to some of the best non-alcoholic spirit alternatives on the market. The brands 'American Dark' is a great alternative to Bourbon and we love its rich nose full of caramel, vanilla, toffee and caramelised fig. One of our favourites for mixing with coke or blending in a cocktail this whiskey alternative is a must-try for those who want the flavour without the headache. In making 'American Dark' Drummerboy uses a combo of essence and extracts and distils it all down into the flavoured liquid.
What we like: One of the best non-alcoholic whiskies for mixing with coke due to its caramel, molasses, spiced vanilla palate.
Type: Bourbon whiskey alternative.
Size: 700mL
Flavour palate: Notes of caramel, molasses, spiced vanilla and toasted nuts.
Price: from $45.00 AUD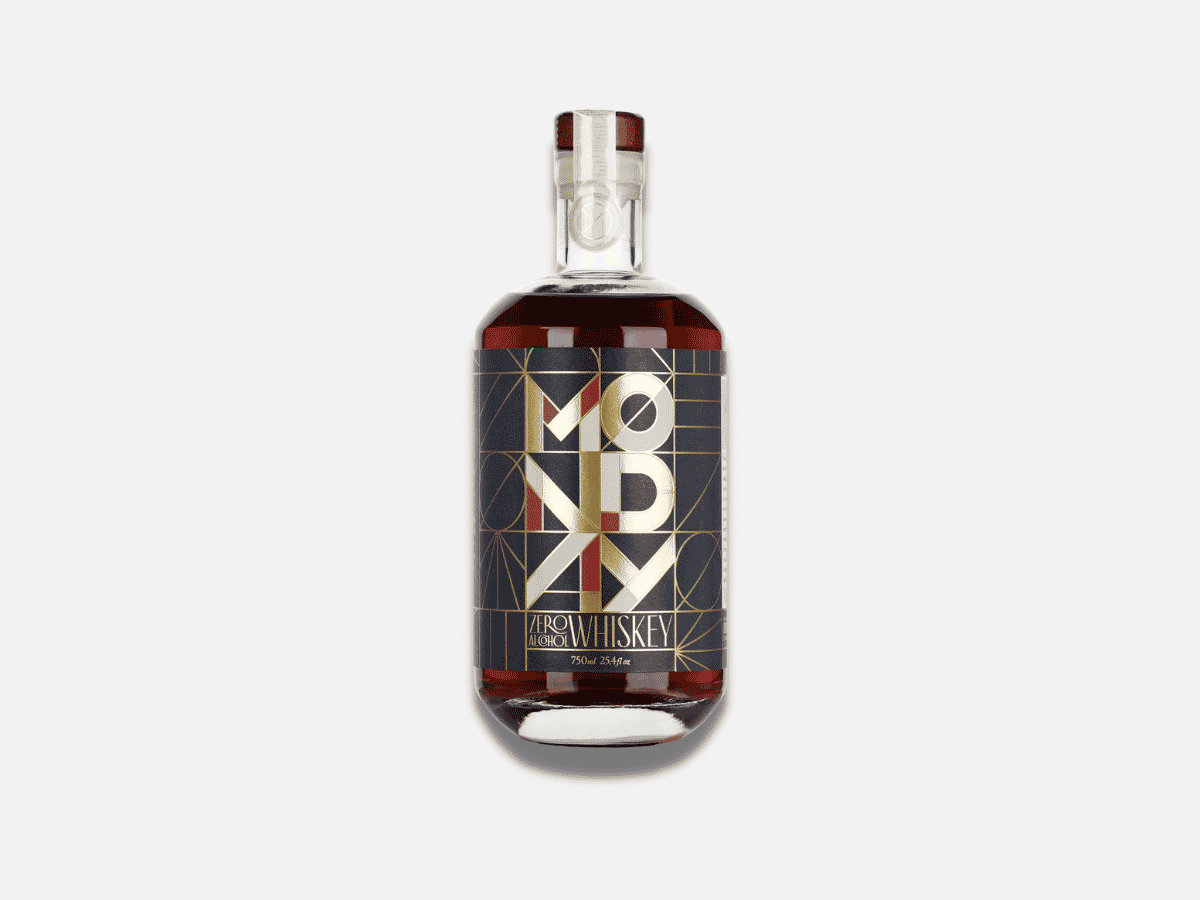 4. Monday Whiskey
Monday Whiskey's zero alcohol whiskey is something we just can't get enough of when jumping into the realm of zero drinks. If you're on the lookout for a premixed cocktail, they also have their dram and dry which is a beautiful blend of smokey malt flavours with a mellow dry ginger zing. If you prefer something with more of a fruity touch, their dram sour is also a favourite, blending a smokey malt taste with native Kakadu plum for a refined twist. These guys sure know how to make a quality-tasting beverage, and not to mention, they're also sugar-free. Ultimately, the straight whisky is our favourite for its butterscotch, raisin, and toasted brown sugar nose alone.
What we like: It's a fairly classic American-style drop that is rich in sweetness.
What we don't like: The flavour tastes a little artificial and it's certainly not one for sipping.
Type: Inspired by American classic whiskey.
Size: 750mL
Country: America
Flavour palate: Roasted coffee, rich caramel, and warm molasses.
Price: from $52 USD
Buy it here (Monday Whiskey) Buy it here (Sans Drinks)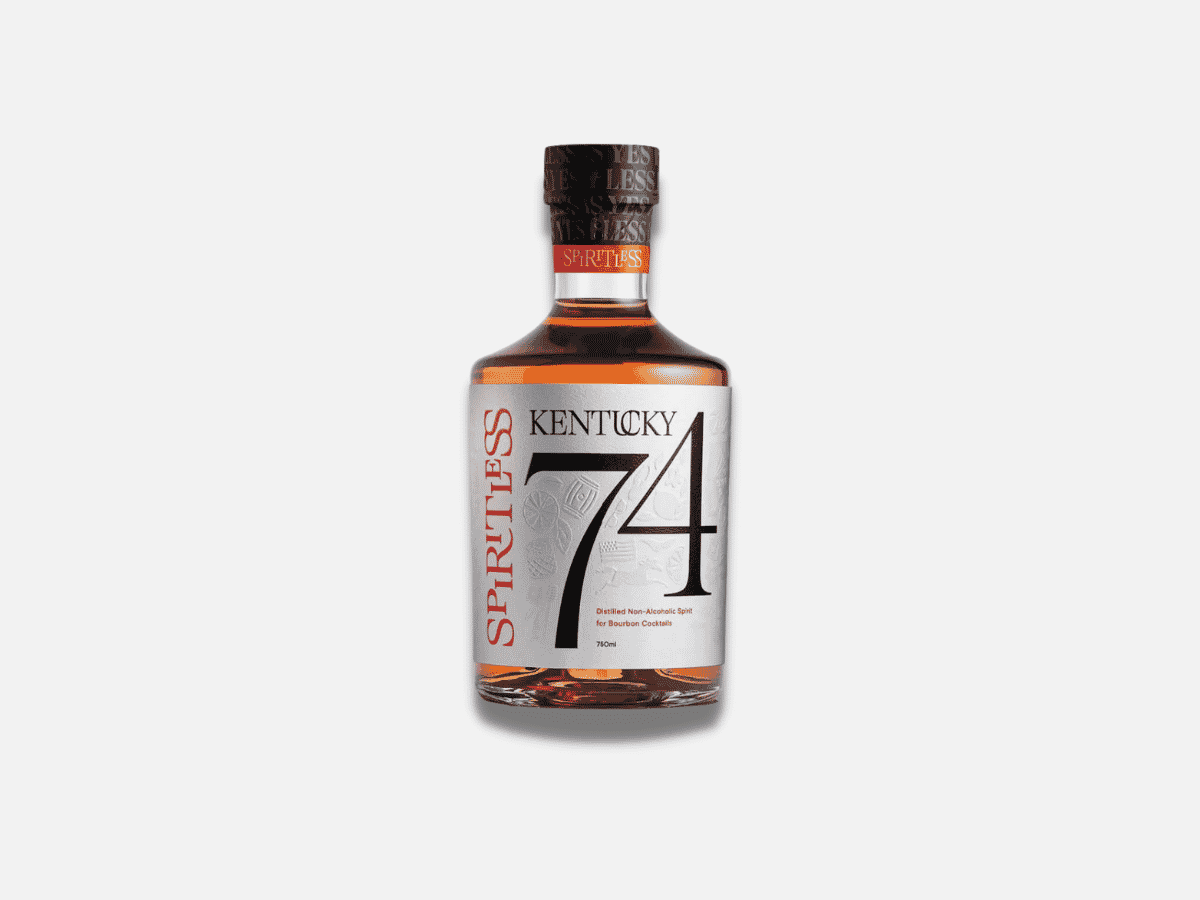 5. Spiritless Kentucky 74
For a beautifully distilled non-alcoholic spirit, we can't go past Kentucky 74. They use a proprietary reverse distillation process, resulting in a smooth finish with notes of caramel, vanilla and oak. We reckon these flavours are so good that this one is good enough to be enjoyed solo. They've been raking up the awards too, with Kentucky 74 being named Best Non-Alcoholic Spirit and won a gold medal in the second annual L.A. Spirits Awards.
What we like: Award-winning smooth style Kentucky bourbon-style drop.
What we don't like: Very challenging to source, however, definitely worth buying.
Type: Non-alcoholic spirit designed for bourbon cocktails.
Size: 750mL
Country: America
Flavour profile: Caramel, vanilla, and oak.
Price: from $35.99 USD
Buy it here (Spiritless) Buy it here (Craft Zero)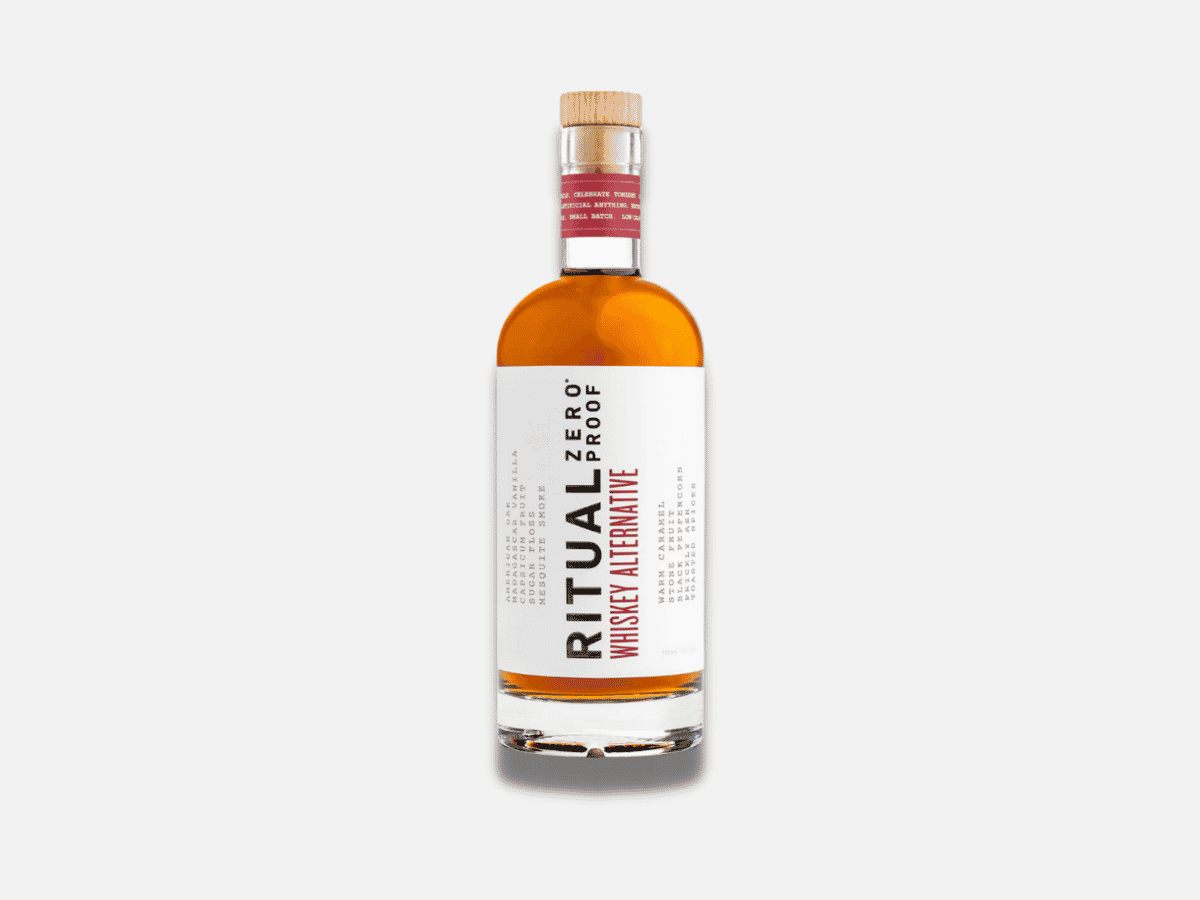 6. Ritual Zero Proof Whiskey
The legends at Ritual Zero sure know what they're doing when it comes to crafting a tasty non-alcoholic blend, with tequila, gin and rums also on their repertoire. It's no surprise then that their whiskey is one of the best non-alcoholic whiskeys out there, with notes of oak, smoke, and caramel giving all those comforting warm feels you get from whiskey, without the alcohol or calories. We love mixing this one 1:1 in all the traditional whiskey cocktails, especially an Old Fashioned.
What we like: Very basic whisky alternative that is good value for money.
What we don't like: There's nothing overly special about this drop and you'll generally have had enough after one.
Type: Whiskey alternative.
Size: 750mL
Country: America
Flavour palate: Overtones of vanilla and oak, with notes of stone fruit and caramel, finishing with a pleasant heat.
Price: from $29.99 USD
Buy it here (Ritual) Buy it here (Amazon)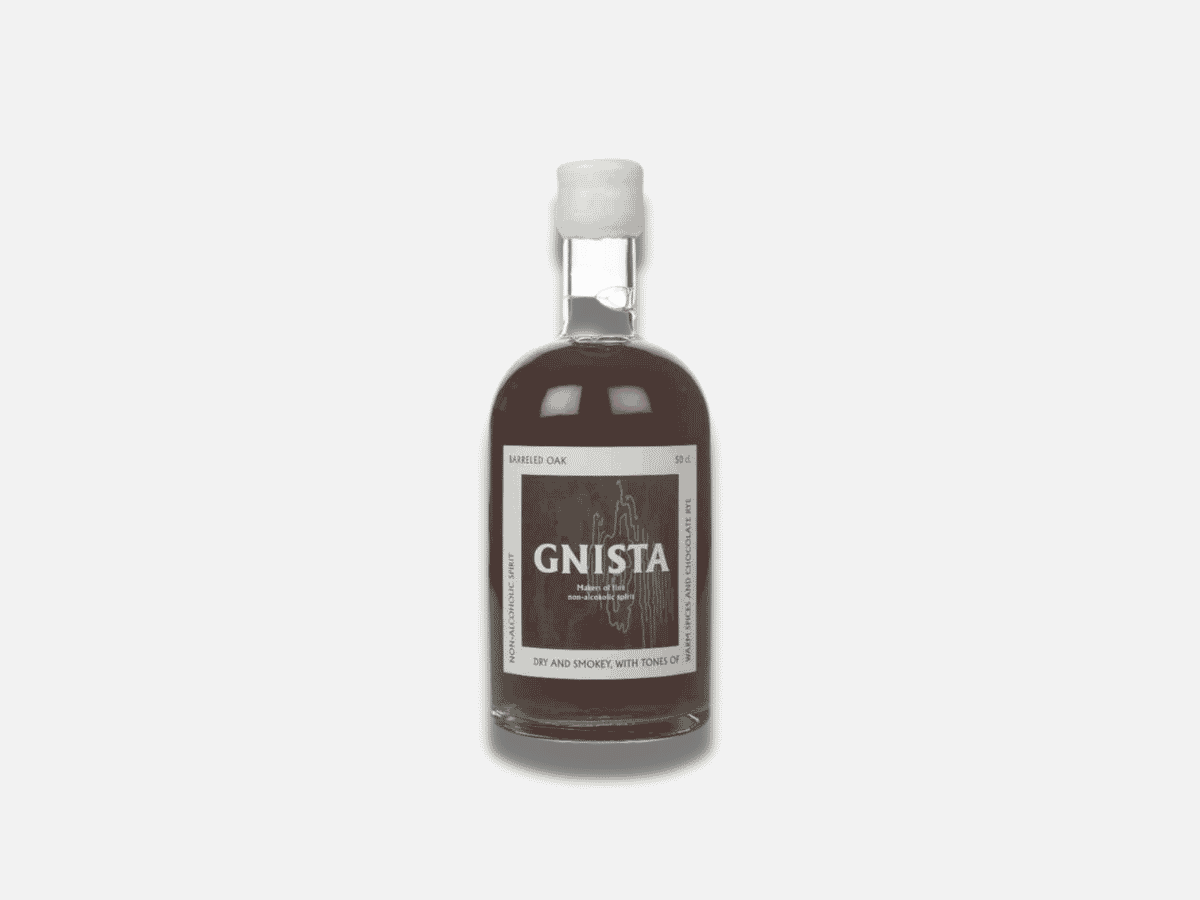 7. Gnista Barreled Oak
Gnista is a Swedish powerhouse in the world of non-alcoholic spirits, wines and cocktails. They like to keep things simple, and the same goes for their Barreled Oak non-alcoholic whiskey alternative. We love the flavour that offers a dry and smokey palate, with hints of warm spices, and chocolate rye on the nose. Like most spirits on this list, the character of the oak barrel is there, and the bottle also looks so good it could double as an ornament, once you've emptied the bottle.
What we like: Very unusual finish that is hard to pinpoint but delicious.
What we don't like: The smokiness certainly isn't for everyone and is a little different than the traditional peat-based smoky flavour.
Type: Non-alcoholic spirit.
Size: 500mL
Country: Sweden
Flavour palate: Dry and smokey, with tones of warm spices, chocolate rye and a distinct character of oak barrel.
Price: from €23
Buy it here (Gnista) Buy it here (Master of Malt)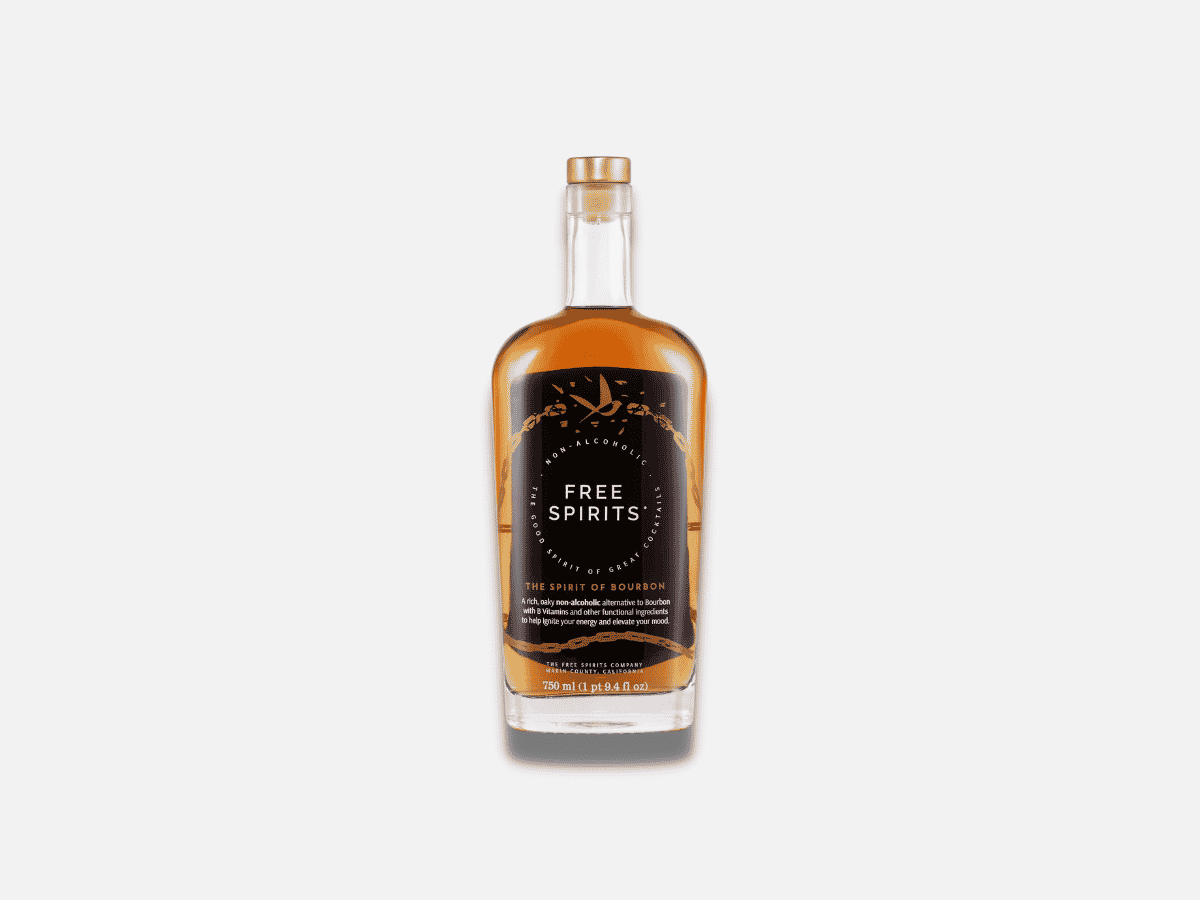 8. Free Spirits The Spirit of Bourbon
This one is a little more on the pricer end of things, but it's worth it after tasting its deliciousness. The Spirit of Bourbon is a rich, oaky, caramel-kissed non-alcoholic alternative to a great Kentucky Bourbon, with a velvety-smooth, toasted almond and brown sugar palate. If this isn't enough to get you drooling, we love the fact it's made with all-natural flavours, so you'll never have to worry about drinking too much.
What we like: Very premium for a non-alcoholic spirit.
What we don't like: On the pricier end and quite hard to source.
Type: Kentucky Bourbon alternative.
Size: 750mL
Country: America
Flavour palate: An oaky-toffee nose, followed by a velvety-smooth, toasted almond and brown sugar palate.
Price: from $37 USD
Buy it here (Free Spirits) Buy it here (Total Wine) Buy it here (Better Rhodes)
What is Non-Alcoholic Whiskey?
Not quite whisky, far from cordial, the non-alcoholic dram is an interesting premise. If you want to know a little more about how the alcohol-free option is made and what sets it apart, we've got you covered.
How is it Made?
Most non-alcoholic whiskeys are made from three core components; water, citric acid and other flavouring components. Some may then be distilled so that the oils and compounds in the aromatic components can be expressed and captured. The liquid is then pumped into oak barrels to age for an often undisclosed period of time, just like many conventional whiskeys. Once it has matured, the liquid is ready to be consumed!
Wait, How Can You Call it Whiskey Legally?
In actual fact, you can't. When you consider most of the whiskies on this list are made in the United States, they're bound by American Whiskey law and can't be called 'whiskey' by name. Instead, most brands choose to use the term 'whisky alternative' or 'spirit'. While the laws for whiskey production can change from country to country, the rules below apply to America, where most of the spirits above are produced.
United States federal regulations on whiskey production include (source);
Is Non-Alcoholic Whisky Good for You?
Due to the zero alcohol, it may come as no surprise that non-alcoholic whisky is much better for you than alcoholic whisky. You get to enjoy the same tastes without the depressant properties that mess with your sleep, among others, as well as the social implications alcohol may induce on your mental wellbeing, not to mention the added calories (source: National Library of Medicine). However, some non-alcoholic whiskies still contain flavouring and sugars that are always best consumed in moderation.
How Does it Taste?
The taste of non-alcoholic whisky really depends on the brand and the type of whisky. Some may taste early similar to the whisky you're used to, while others may not taste like alcohol (this is probably the majority.) Whilst it's hard to mimic the ethanol flavour of booze, non-alcoholic whisky gains its similarities in taste from the spirit's quintessential colour, flavour notes, and aroma instead.
Alternatives to Alcohol-Free Whisky
Ready to ditch the booze, but not sure if whisky is your best bet? The good news is that there are a host of great alternatives to non-alcoholic whisky, so you can still get out and be social without delving into the strong stuff.
How Man of Many Chose this List of Non-Alcoholic Whisky
When it comes to Man of Many's list of the best non-alcoholic whisky worth buying, it goes without saying, that expertise is key. While we've tasted every whisky on this list, we've also turned to the wider public for their overall ratings. Our list takes into account three major factors to determine the overall rating. In addition to our own opinions, we take into account reviews via alcohol retailer Dan Murphys and the Australian non-alcoholic drinks retailers Sans Drinks and Craft Zero. We then collate the information together and measure the whiskies via overall flavour profile, reader ratings and commercial availability, meaning one-off special editions aren't likely to make the list.
Interested in more Whisky related stories? Here are a few more to get you started:
Alternatives to the Best List of Non-Alcoholic Whiskies
Learn About Whisky
Record Breaking Whisky Sales
Make Your Own Whisky Cocktails
Best Whisky Gifts
You'll also like:
General FAQs
Is Lyre's Whiskey good?
Lyre's Whiskey is a delicious take on a traditional malt whiskey.
What are the benefits of non-alcoholic whiskey?
The benefits of non-alcoholic whiskey are aplenty as it is not a depressant, which means better sleep, fewer negative effects on mental health and not to mention, and it also contains lower calories.
Is non alcoholic whiskey aged?
Yes, most non-alcoholic whiskeys age in oak barrels.
---
Featured Video from Man of Many