Peated Whisky vs Non-Peated Whisky
In Partnership with BenRiach
Love it or loath it, you can't deny that peat is the most divisive of all whisky elements. The smoky flavour can turn even the mildest of drams into a sophisticated and tailored experience, at the same time, prompting eyes to water and necks to recoil. But there's more to peated whisky that meets the eye. In fact, your experiences with the flavoursome spirit might not be indicative of the true pleasure of peat.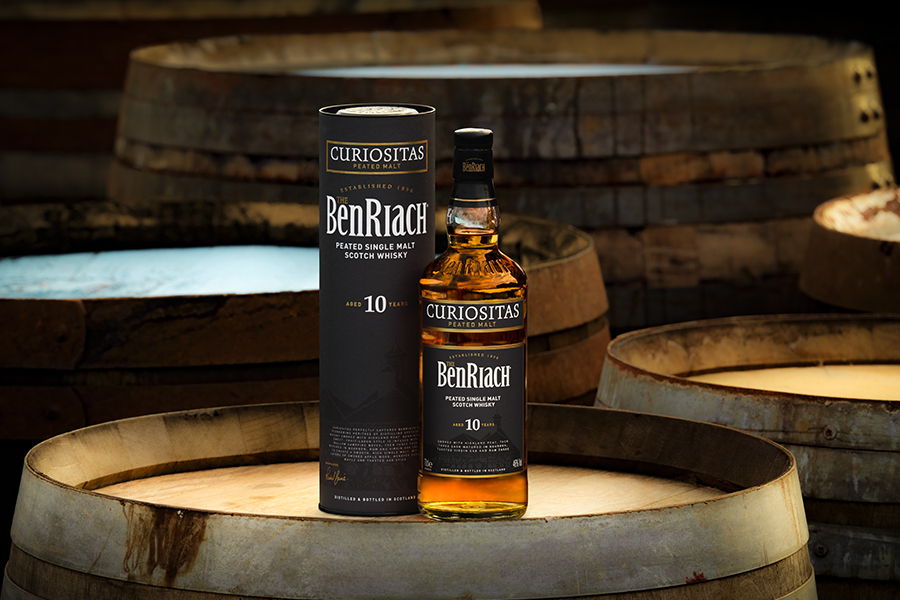 What is Peat?
Rudimentary, we know, but it pays to understand what you're looking for. In the early days of whisky production, peat was one of the most readily accessible fuels in many areas of Scotland. The accumulation of water in boggy areas wasn't exactly ideal for drainage, instead, it slowed the decomposition of moss, grass and tree roots, culminating in the creation of peat. The spongey material collects in bogs that are often thousands of years old, meaning peat is broadly classified as a fossil fuel. But while this history is important, it's what the famed Scottish distillers do with it that makes peat iconic.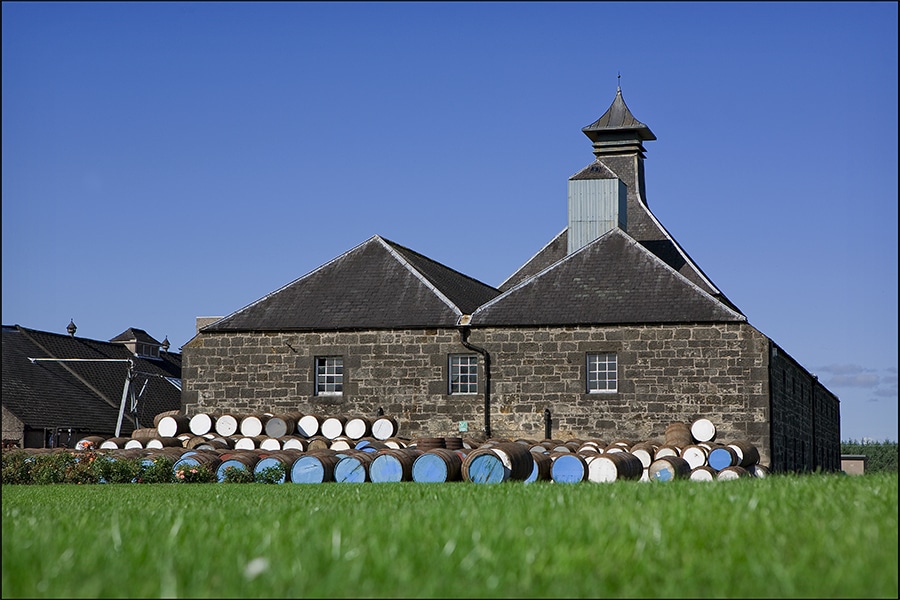 What is Peat Used for in Whisky?
As anyone who has spent their fair share of time sipping whisky would know, distilleries largely rely on commercially malted barley nowadays. Some distilleries, like Speyside icon BenRiach still distil using maltings from their own on-site floor maltings, however, the process has become extremely rare. Malting allows the starches in barleycorns to become soluble so that the sugars can then be turned into alcohol. These barleycorns are then steeped in water and allowed to germinate before the process is halted in the kiln. It's here where we see peat introduced for the first time.
Added to the kiln, peat produces a distinctly aromatic smoke that adds a new complexity to the whisky itself. The longer and more intense the exposure to peat smoke, the stronger the smoky mouthfeel will linger for the drinker. For the most part, damp malt is usually dried for approximately 30 hours. Some whisky distillers like Laphroaig dry their malt over peat fire for about 18 of these 30 hours, while others such as Glengoyne use only unpeated fire. The end result leaves you with a broad variety ranging from extremely smoky whisky to almost completely smokeless whisky. It's a devilishly delicious and divisive characteristic that whisky aficionados rarely agree on. What they can concede, however, is that not all peated whiskies are the same.
Highlands Peat
Much like wine connoisseurs love to split the difference between grape varieties, so too do peated whisky fans. Along with the type of oak used to age, other factors that influence that flavour of the whisky include water source, soil, how the grain was processed and even the region in which the whisky was produced. In the highlands of Scotland, peat is used sparingly, and not just out of choice. As peat is found farther inland, the use often results in a rich, sweet smoke, more reminiscent of pipe tobacco and even barbecued meat. If that tickles your fancy, the BenRiach 10-Year-Old Curiositas is the ideal introduction.
The Speyside distillery has a unique cask formula that focuses on ex-bourbon and ex-sherry casks, resulting in a warming fruity single malt, heavily elevated with peated malted barley. Traditionalists believe that peated malts achieve the optimum balance of peat-bittersweet and oak infusion after 10 years of maturation, which is precisely why BenRiach has gone with this process for its rare peated release, but this isn't always the case.
Islay Peat
The Scottish region of Islay is renowned for its unusually fierce style of peated whisky, which has since become infamous on the world stage. Distilleries such as Laphroaig and Ardbeg tend to differ in their peat use. The result is a decidedly more maritime finish, with pronounced elements of seaweed, iodine and brine, but with an unmistakable smoky finish. Even blended Scotches like Johnnie Walker use peated single malts to enhance the flavour, or in some cases, completely alter it.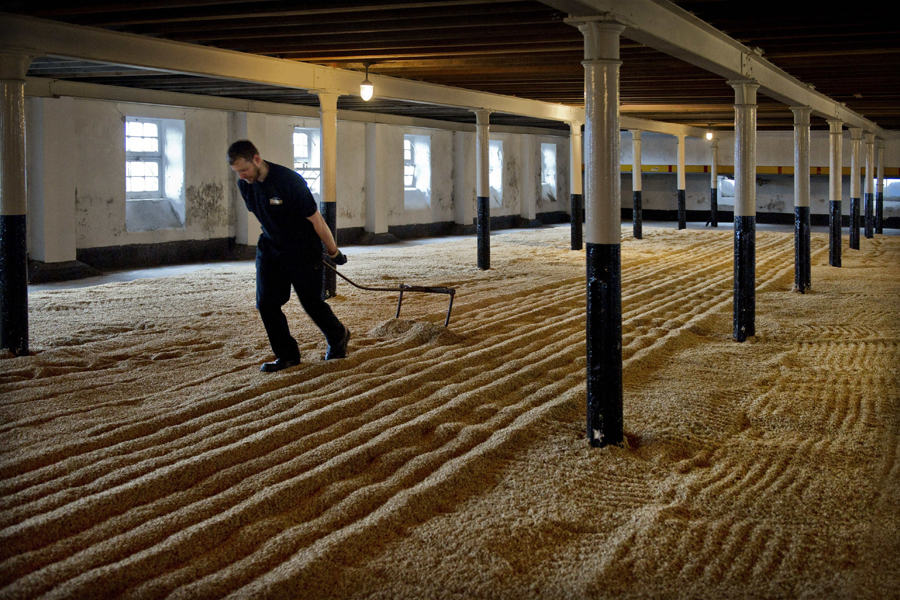 Peat vs Smoke
Here is where things get tricky. While we commonly associate peat with smoke, and rightly so, that doesn't necessarily make the two terms interchangeable. In fact, if you truly want to dispel the myths around peat, you must consider how the phenomenon is observed as a whole.
Nose
Smokiness is an obvious element on the nose. We've all stood by a fire and smelt burning wood, but there is a distinct difference when it comes to peat. Peatiness can come across as a dank earthiness, indicative of moist, damp topsoil, and depending on if it is Islay peated whisky, notes of seaweed. On the nose, smokiness is more carbon-based, but peatiness is more organic.
Palate
We know from the food we eat that smoky flavours have a typically ashy or charcoal flavour. This is not characteristic of peated whisky. Instead, there is more of an earthy soil note, similar to root liquorice on the palate. You might equate this black jelly beans or dark flavours.
Finish
Here is where we see the biggest difference between smokiness and peatiness. Where smoky textures leave a dry aftertaste, peat can evoke a moist after-note, often followed by a green bitterness. If a peated whisky is worth its weight, this bitterness will be offset by the sweetness of the malt, similar to how the BenRiach 10-Year-Old Curiositas leaves behind a note of baked fruit to balance the earthy tones.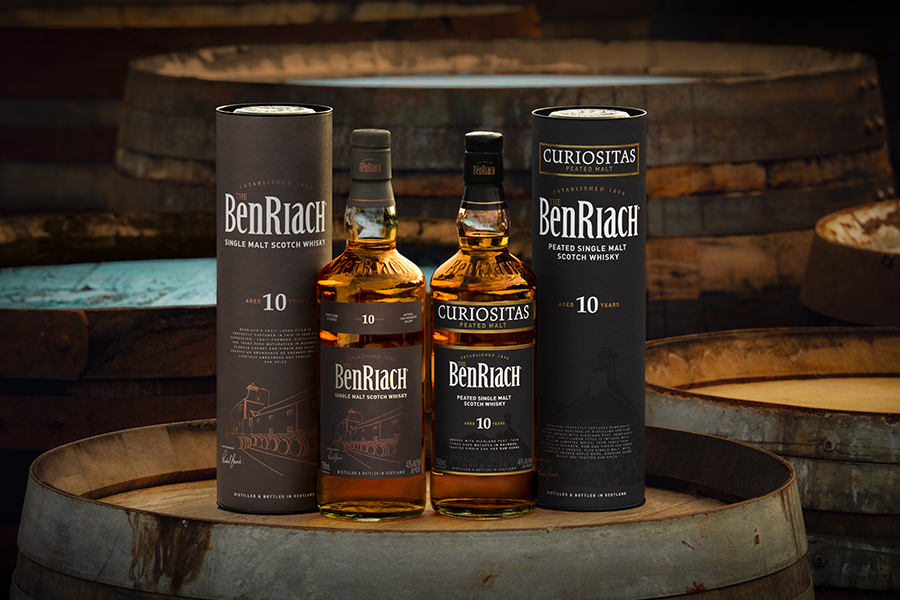 Peated vs Non-Peated Whisky
Whether you've dabbled in the world of peated whisky or not, you bound to stumble across a staunch advocate for the spirit style, but conversely, you're also likely to encounter some who firmly oppose it. It's the great smoky divide. But what if we told you the two sides of the spectrum could live in harmony?
While the BenRiach 10-Year-Old Curiositas is a jewel in the Speyside whisky distiller's crown, the label's most iconic single malt is an example of what can happen when peat is absent. Using that same ex-bourbon and ex-sherry cask formula, the BenRiach 10-Year-Old has a vibrant and fruit-filled flavour with a noticeable lack of smoke. The richness of the single malt shines through in a smooth, crisp barley finish.
There's unquestionably a difference between the two. From the smoky sophistication of the peated release to the smooth fruit-filled finish of the latter, every whisky lover has a preference. Choosing if you are a peated whisky drink or not is an exercise in individuality and one that could take you years to decide on. But just know, if your experience with peated whisky has yet to hit the spot, don't give up on it for good. There are regions to explore and distilleries to uncover, each offering their own unique take on the classic peat process.
To peat or not to peat? Now, that is a question.