18 Best Whiskey Glasses to Sip from Right Now
If you're looking for the best whiskey glasses, it's hard to go past a Waterford Crystal Lismore tumbler, Riedel Neat Glass, and Luigi Bormioli Mixology Spirits Glass. However, our experts have tried and tested the best Scotch glasses on the market over the last 10 years to bring you a list of their favourites.
These glasses will help with your understanding of whisky, and how it can range in terms of quality, flavour, colour, aroma, and texture every time you pour yourself a dram. Like all good spirits, quality whisky should have room to breathe and remain accessible to the nose and palate. Our list below contains the best whiskey glasses by type, choose from any of the links above to browse.
Best Whiskey Glasses at a Glance
Our list of the best whiskey glasses to sip from goes like this:
Now we've had a look at our favourites, let's check out the complete list.
RELATED: Want to learn more about whisky? Check out our comprehensive guide to whisky here.
Tumbler Glasses
A Tumbler glass has an instantly recognisable silhouette. Commonly referred to as the rocks glass, the old-fashioned glass, or the lowball, you'll find this whisky glass at every good bar.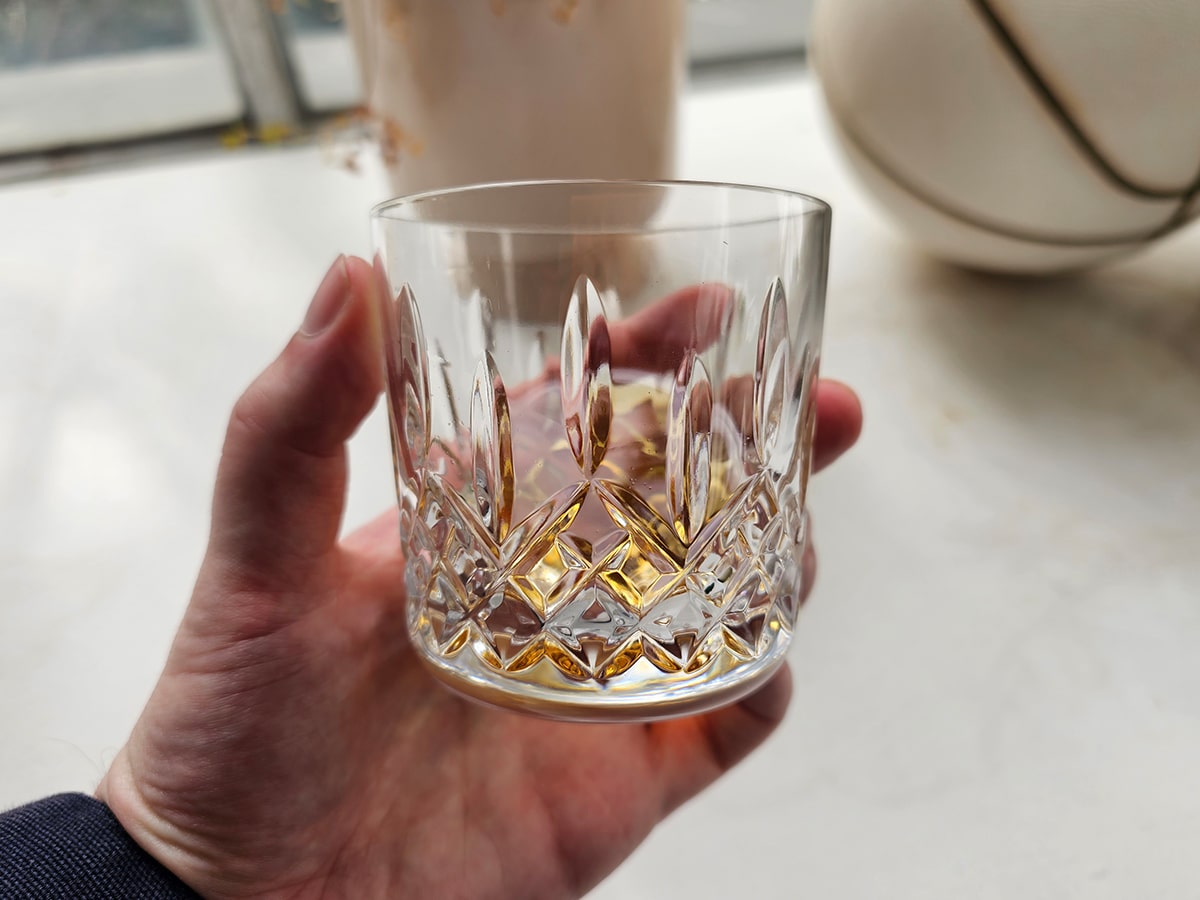 1. Waterford Crystal Lismore Connoisseur 5oz Straight-Sided Tumbler
If you're looking for hand-crafted crystal glasses to drink your whisky, we can't go past these from the Waterford Lismore Connoisseur Whiskey Series. Not only do they scream decadence, but each glass has been individually sculpted and designed with a universal shape that's wide enough for the liquor to breathe. Functional and aesthetic, what more could you want?
Price: from USD$160
Material: Crystal
Volume: 148 ml
Box quantity: 2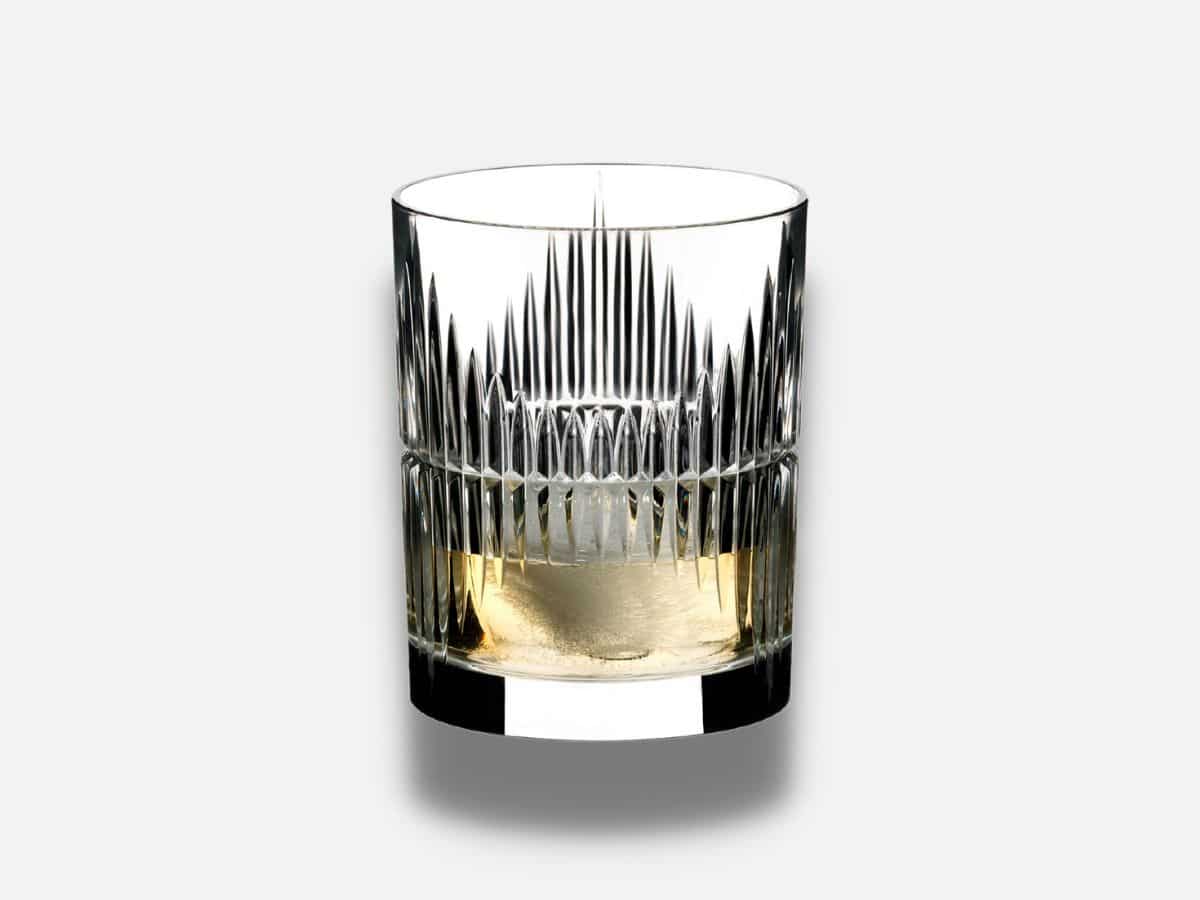 2. Riedel Tumbler Collection Shadows
This collection of two glasses is bound to up your whisky game. Made from a high-quality crystal, these versatile tumblers definitely look the part. Designed by Maximilian J. Riedel, we love the elegance of this tumbler, designed to mimic a reflective shadow with its linear pattern. Riedel has a big range of tumblers, so you can grab some others while you're at it and start working on your collection.
Price: from AUD$55
Material: Crystal
Volume: 323ml
Box quantity: 2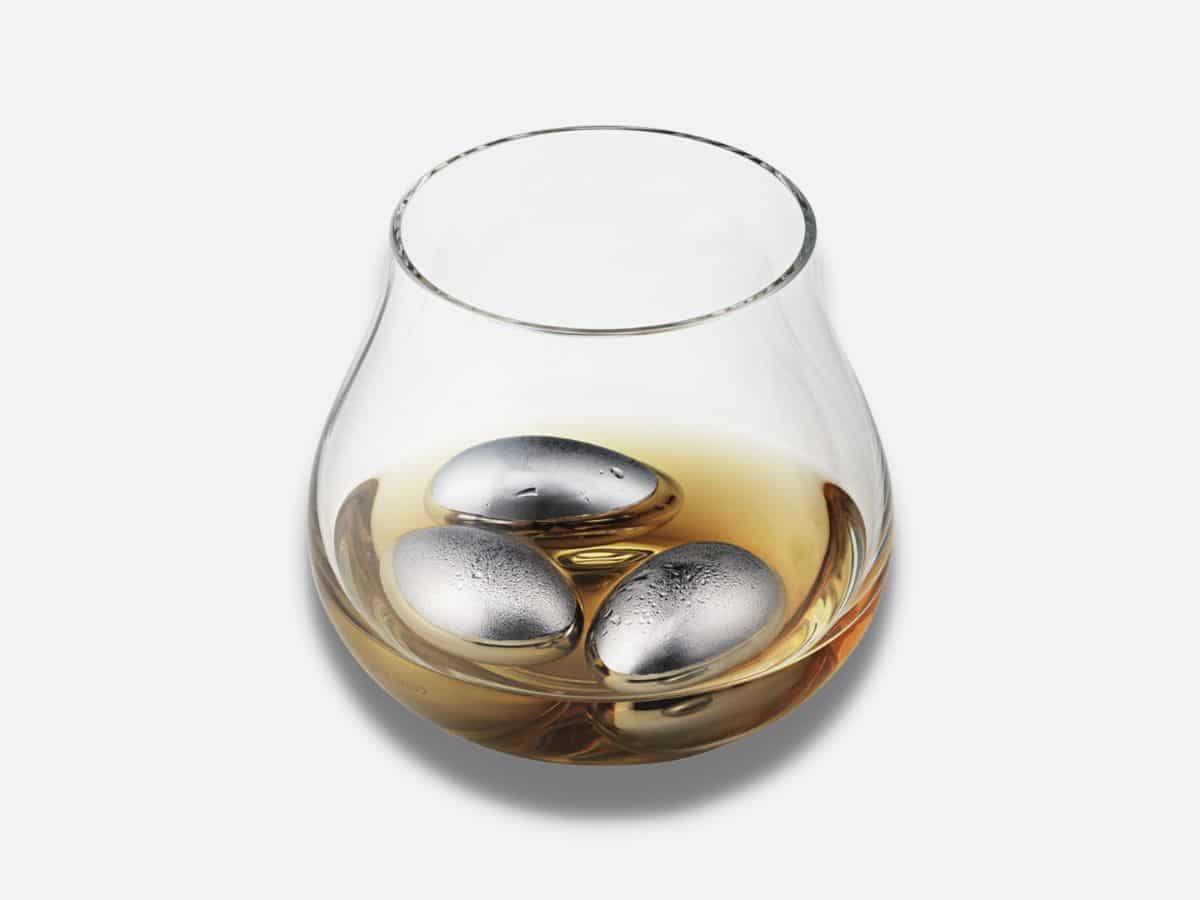 3. Georg Jensen SKY Low Tumbler
The king of Scandinavian design, Georg Jensen has done it again with this set of six low tumbler glasses made from a sparkling lead-free crystal. A simple and minimalistic design, typical of contemporary Scandinavian design, these glasses promise a sophisticated whisky-drinking experience. They've also been designed with comfort in mind – the organic shape feels comfortable in the hand whilst the heavy base makes the glass stable. The best bit? This can double as a glass for your morning juice, without looking out of place, and we're all for versatility.
Price: from AUD$110
Material: Crystal
Volume: 380ml
Box quantity: 6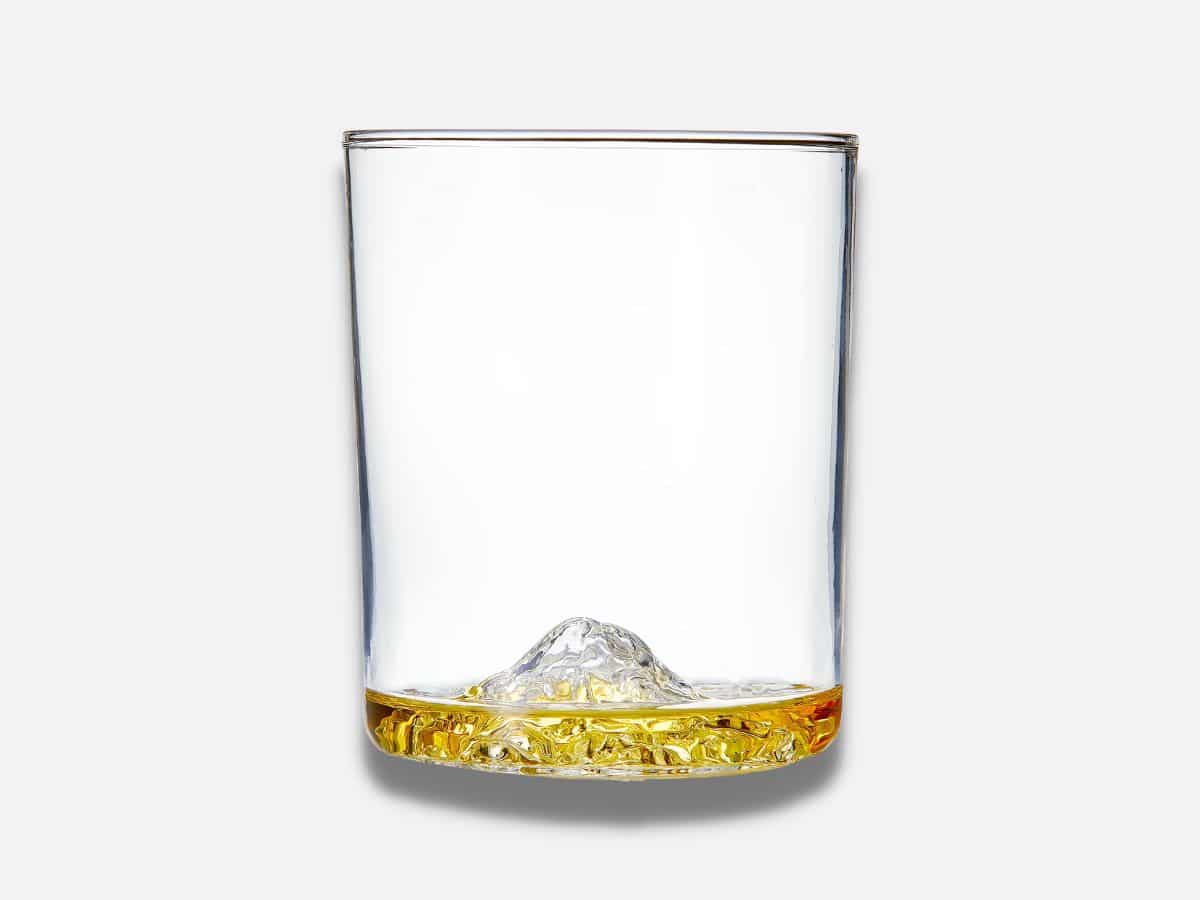 4. Whiskey Peaks
Whiskey Peaks are a good-looking set of hand-blown whiskey glasses made of lightweight yet durable lead-free glass. They're our top pick if you're looking for a more affordable option, yet this doesn't mean they make compromises when it comes to features. Not only is the glass lightweight and durable, but the range has different sets featuring impressions of the world's greatest mountains, so you can choose whichever range speaks to you the most. We love thinking about the world's natural beauty while we sip on our whisky, so it's safe to say that the added touch of a nod to nature is genius.
Price: from USD$30
Material: 100 per cent lead-free handblown glass
Volume: 340ml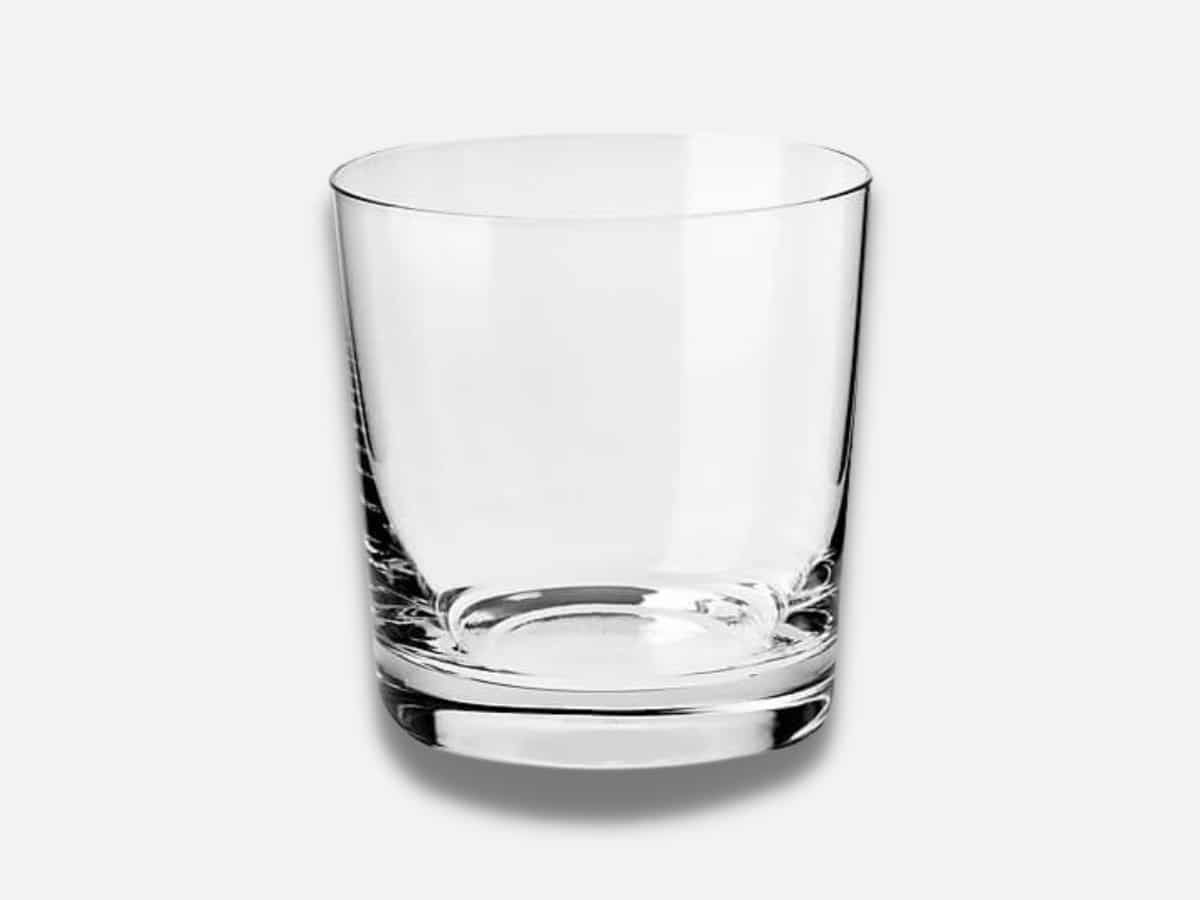 5. Krosno Duet Whisky Glass
Coming all the way from Poland, this set of whisky glasses is classic and effortlessly suave. Drawing on traditional Polish glass-making, they are stylish and striking, with a luxe and contemporary feel that's bound to add a touch of decadence to any dining area or coffee table. We love how they fit seamlessly into any home decor, making them some of the best whisky glasses you can get your hands on.
Price: from AUD$40
Material: Crystal
Volume: 390ml
Box quantity: 2
Neat Glasses
The Neat glass is a fairly recent piece of whisking drinking technology. Designed to direct harsh vapours away from the nose, it allows for ethanol molecules to escape naturally through the opening, leaving behind those tasty flavours we've come to love.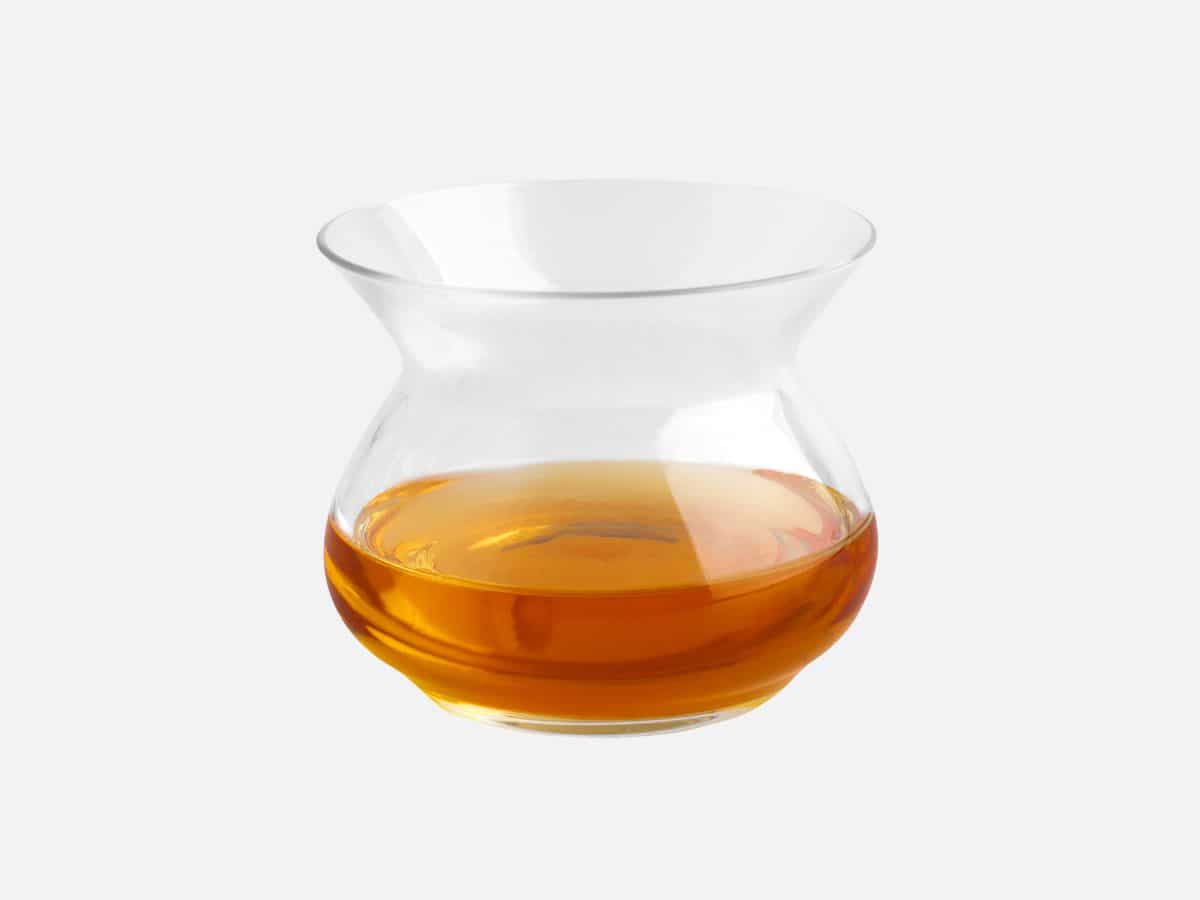 6. The Artisan NEAT Glass
For the more serious whisky drinkers among us, this is the glass for you. Ensuring the flavours and aromas of the whisky are the stars of the show was at the forefront of the design process, designed to avoid the nose-numbing common with tulip-style glasses. Hence, this glass is one of the most popular among professional tasters and is also used at competition events as their official judging and tasting glass all over the world.
Price: from USD$12
Material: Glass
Box quantity: 1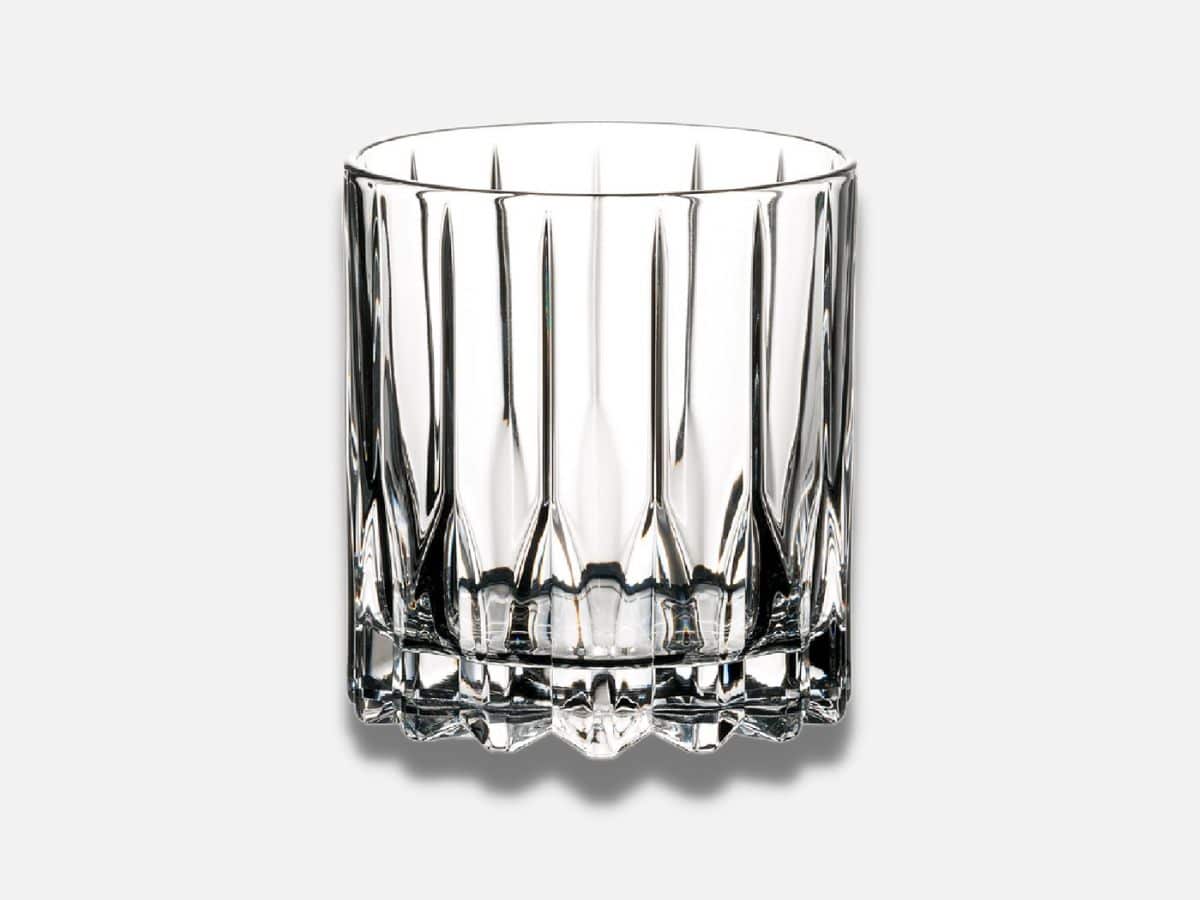 7. Riedel Neat Glass
Another entry from Riedel, the brand's Neat Glass also ranks as one of the best whisky glasses if you prefer your whisky neat. We love the way this glass has been thoughtfully designed to offer smaller proportions, making it perfect for neat drinks or spirit-focused cocktails – it even shows an exact measure of 60ml for neat and efficient pours. Perfectly crafted to be cradled in one hand, it's also comfortable and stylish, with a luxe crystal design.
Price: from AUD$55
Material: Crystal
Volume: 174ml
Box quantity: 2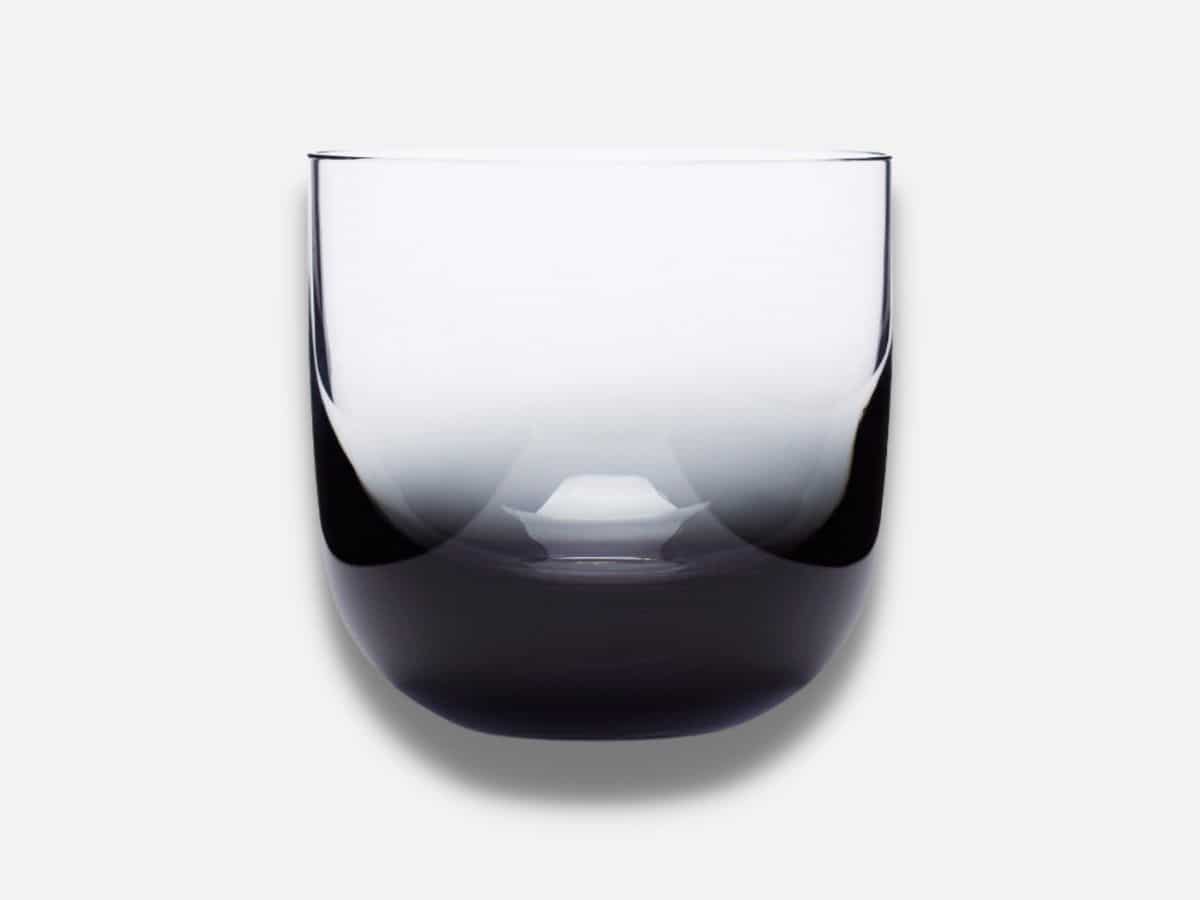 8. Tom Dixon Tank Whiskey Glass
The Tom Dixon Tank Whiskey Glass offers a unique spin on traditional neat whiskey glasses, and we can't get enough. Handmade in Poland, the set has a modern faded black finish, featuring a hot-cut edge and an etched Tom Dixon logo. Because each glass is handmade, it means that there are slight variations between them, which we think only adds to their unique style and luxurious aesthetic.
Price: from USD$72
Material: Hand-made glass
Volume: 200mL
Box quantity: 2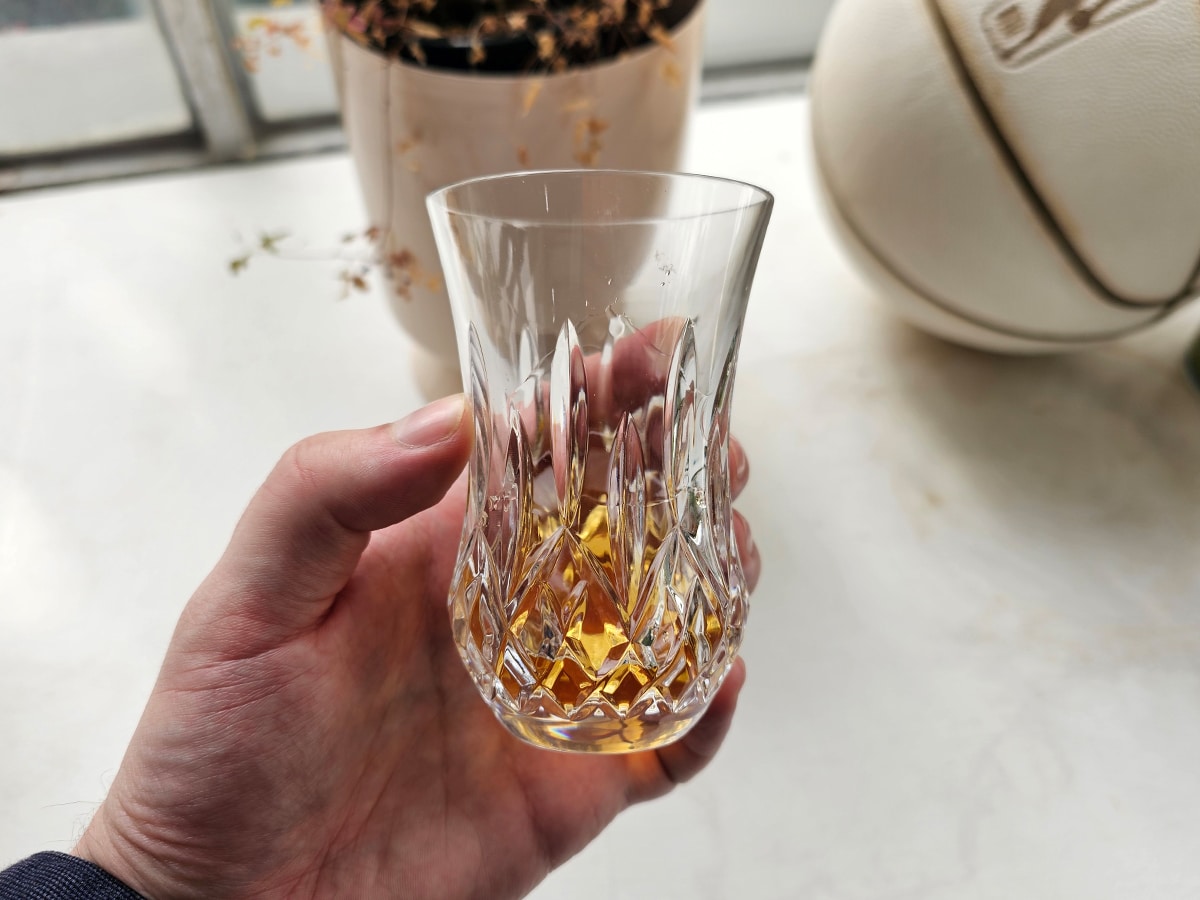 9. Waterford Crystal Lismore Connoisseur 6oz Flared Sipping Tumbler
Undoubtedly taking a different approach to your typical neat whisky glass design, The Waterford Crystal Lismore Connoisseur 6oz Flared Sipping Tumbler is innovative and refreshing. Designed with function in mind, the glass has a rounded bowl to comfortably warm and swirl the whiskey, a pinched middle to concentrate the bouquet, and a flared opening that releases the fragrance. The decadent crystal finish creates a sense of luxury, perfect for those looking to experience the full experience of taste and aroma of whisky, and feel classy at the same time.
Price: from USD$150
Material: Crystal
Volume: 177mL
Box quantity: 2
Glencairn Glasses
A Glencairn glass is the most common whisky glass for whisky tastings. Designed for sociable drinking, the thicker vessel allows you to swirl your dram with consummate ease.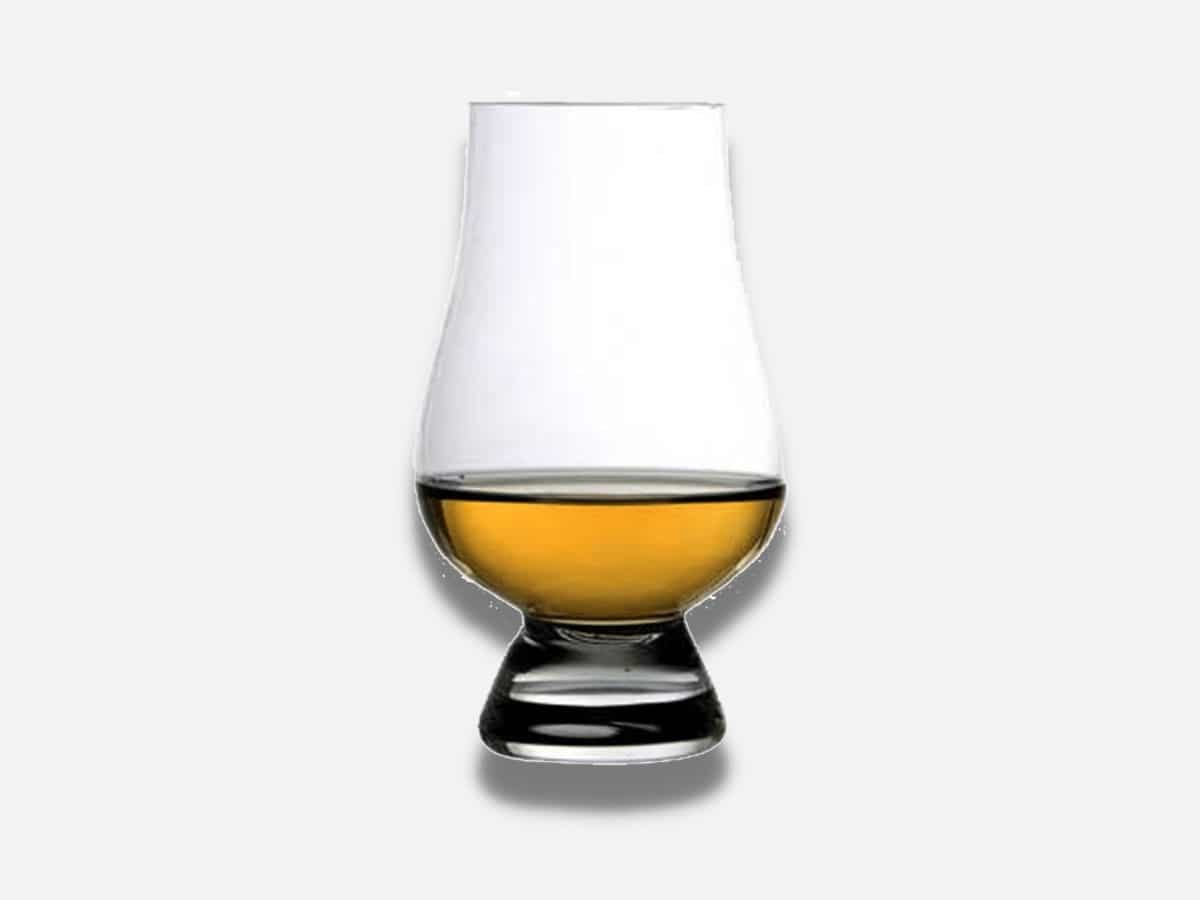 10. Glencairn Whisky Glass
Whilst these types of whisky glasses have an old-world charm and medieval feel about them, this glass manages to maintain the traditional style with a few innovative touches. Designed specifically for the whisky drinker, the glass offers a unique inward-curved shape that encourages you to appreciate the nose of the whisky as well as the palate, in the way it heightens the whisky aromas. We like the sound of this, and so do plenty of others it seems – this glass is used by every Whisky company in Scotland and Ireland.
Price: from AUD$13.49
Material: Glass
Box quantity: 1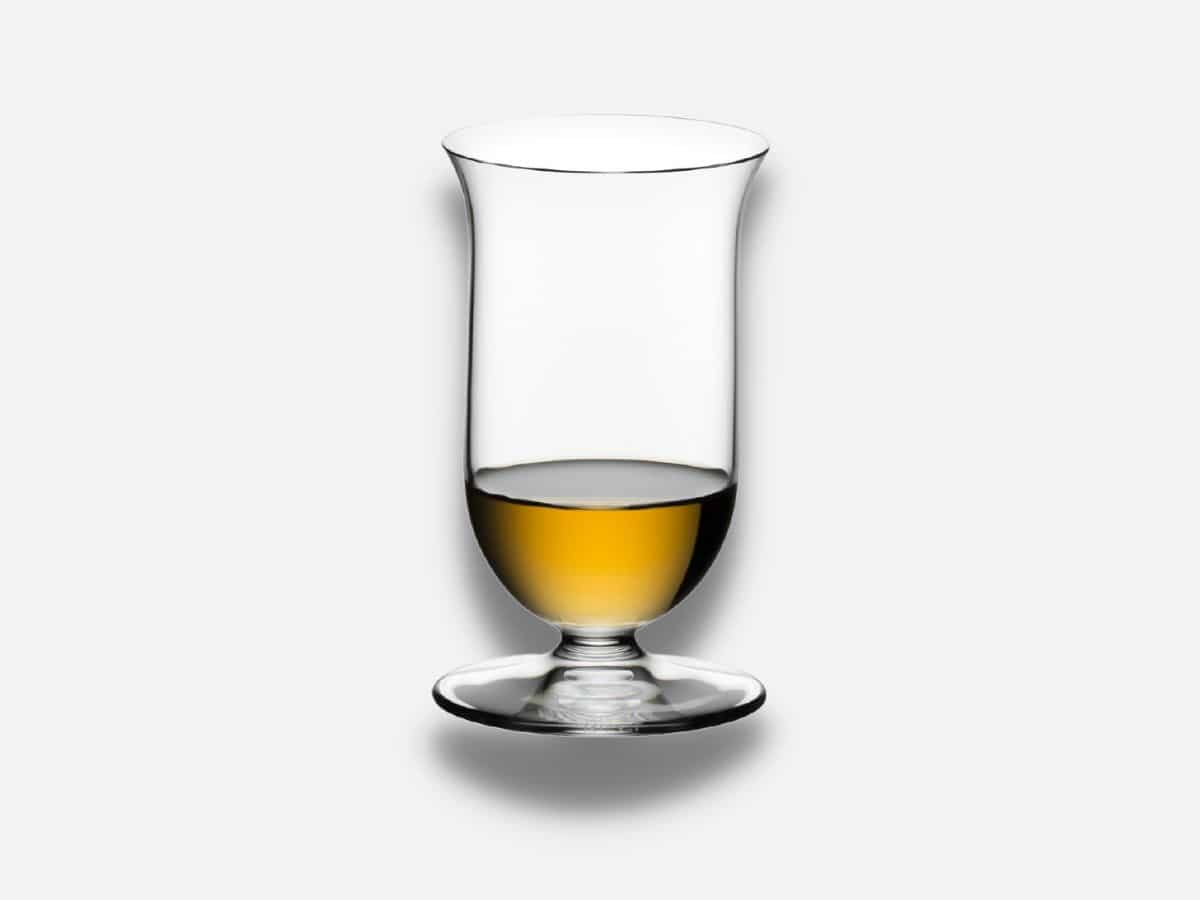 11. Riedel Vinum Single Malt Whisky Glass
Are you a lover of single-malt whisky? If the answer is yes, then this is the glass you need to have in your cabinet. Why? The design of the Riedel Vinum Single Malt Whisky Glass, with an elongated thistle shape on a truncated stem and a slightly out-turned lip, is utter perfection when it comes to enhancing the delicious creaminess of top-quality single malt whisky. A lot of effort went into its design too, finally completed after a series of workshops in the '90s.
Price: from AUD$110
Material: Crystal
Volume: 200ml
Box quantity: 2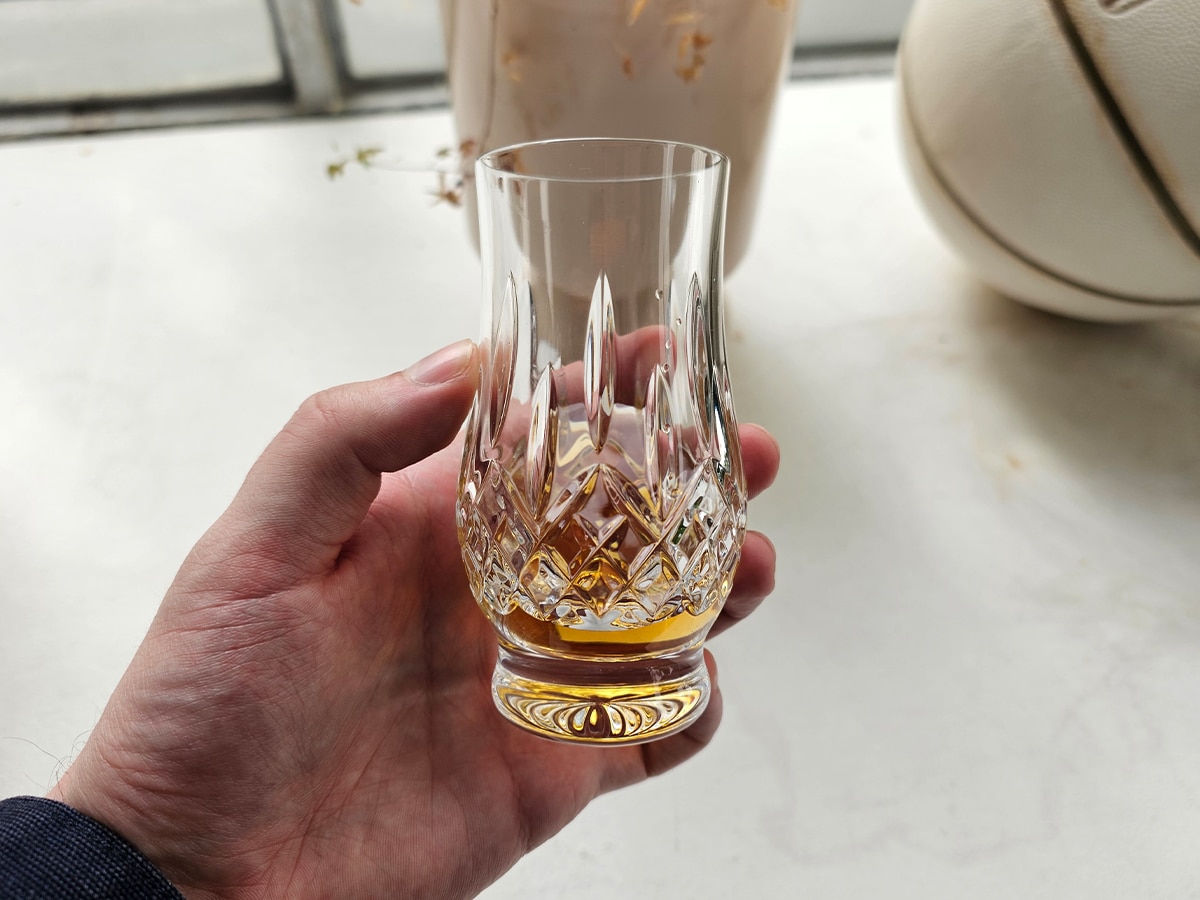 12. Waterford Crystal Lismore Connoisseur Footed Tasting Tumbler
The epitome of old-fashioned charm, this glass by Waterford is designed solely for the whisky-drinking experience. We love its unique tulip shape not just for the way it looks, but for the way it allows the glass to gently warm the whisky. Combined with the narrow opening that concentrates the bouquet, just thinking about the flavour experience this glass promises is enough to get us excited.
Price: from AUD$269
Material: Crystal
Volume: 163ml
Box quantity: 2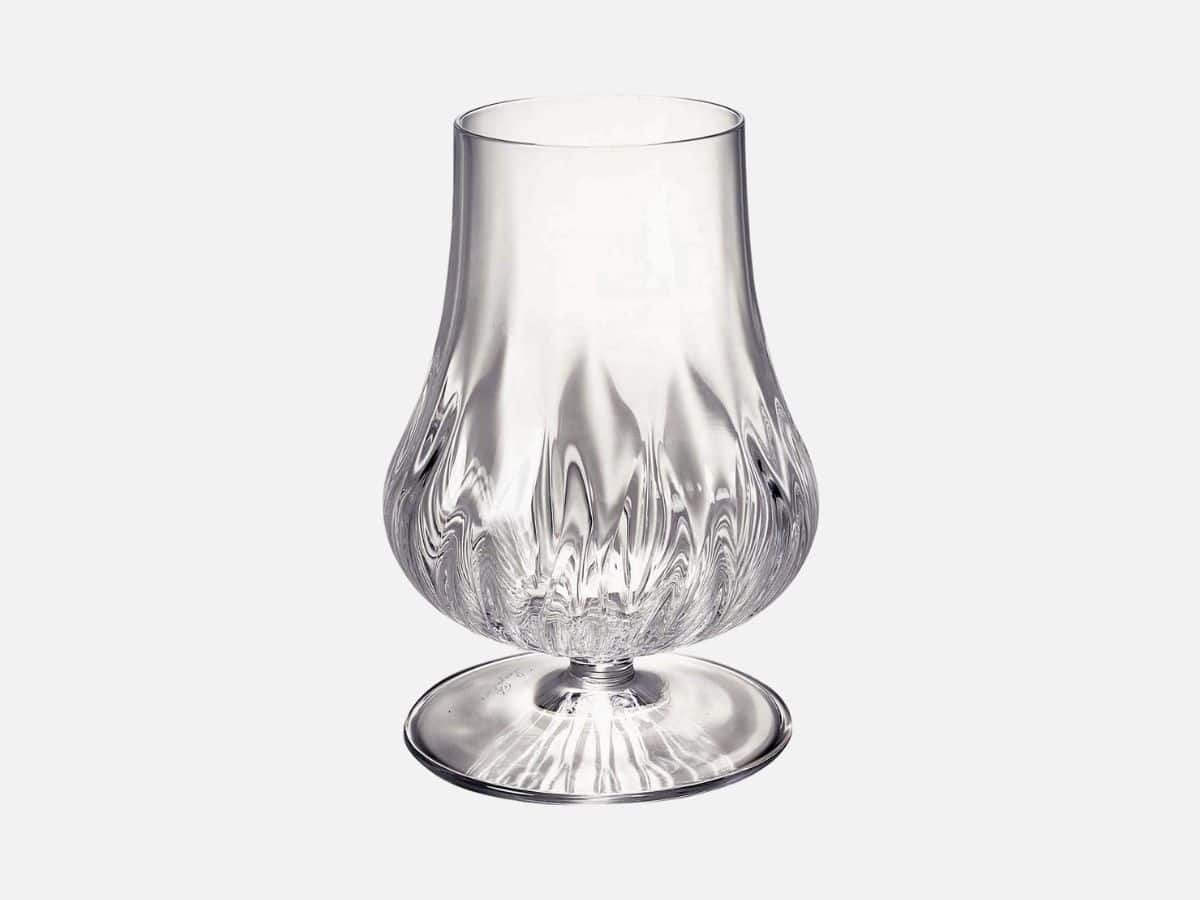 13. Luigi Bormioli Mixology Spirits Glass
Luigi Bormioli Mixology Spirits Glass is one of the best whisky glasses on the market, with a unique, versatile design that we can't fault. You can also trust without a doubt that this glass is top-tier, having been designed in collaboration with renowned Milanese barman and mixologist, Yuri Gelmini. As a result, the well-rounded small bowl makes for the ultimate tasting experience, which is only enhanced by the traditional Italian craftmanship and vintage-inspired design, exuding elegance.
Price: from AUD$69
Material: Glass
Volume: 230ml
Box quantity: 6
Snifter Glasses
A Snifter is a short-stemmed glass that features a narrow top and wide-bottomed vessel.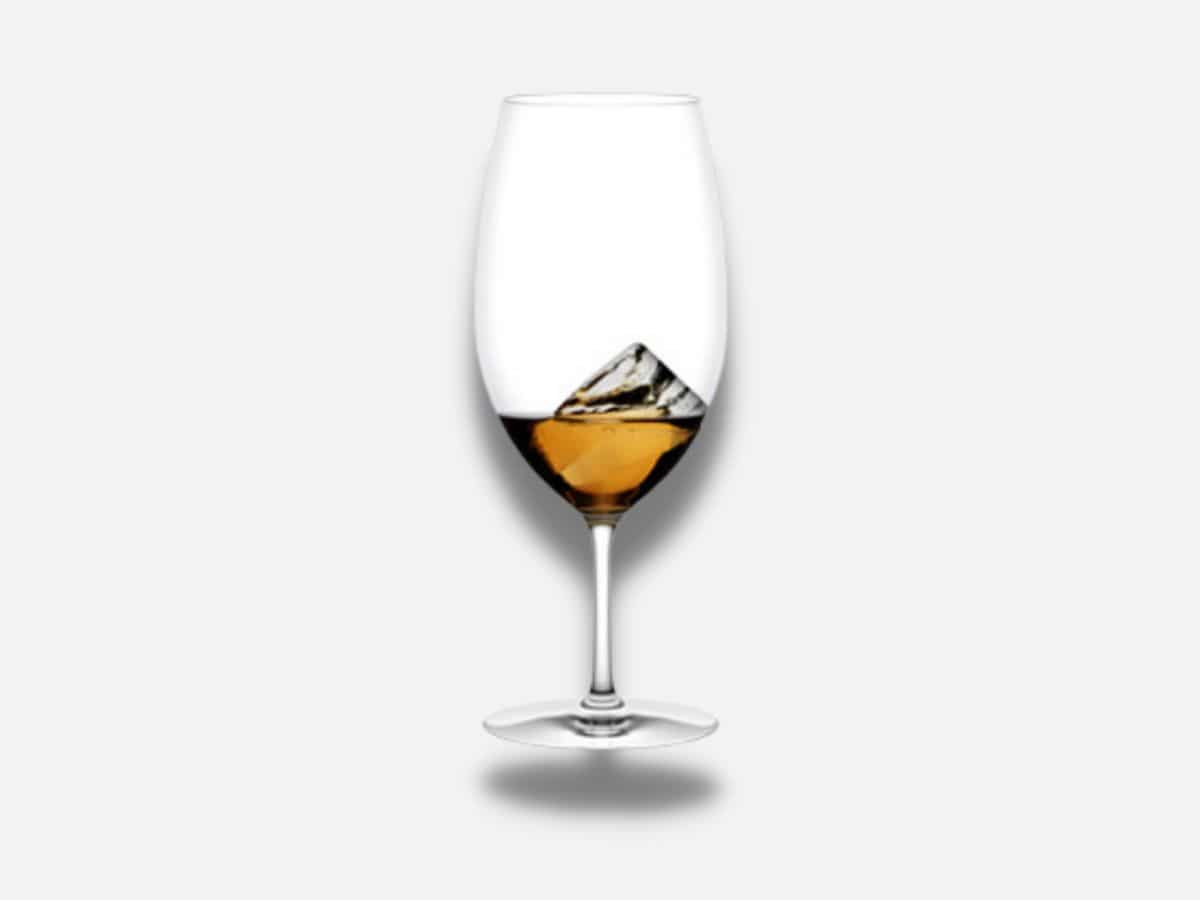 14. Plumm Everyday The Whisky Glass
While looks may be deceiving, this is no wine glass. The Plumm Everyday Whisky Glass is designed just for whisky – with a wide rim opening and tall height both perfectly balanced to enhance the distinctive aromas, flavours and texture found in whisky. It has been crafted from lead-free European crystal using the pulled stem method, which means not only does it scream elegance, but it's also durable enough to withstand any hard yards you may put it through.
Price: from AUD$100
Material: Machine blown from 100 per cent lead-free European crystal.
Box quantity: 4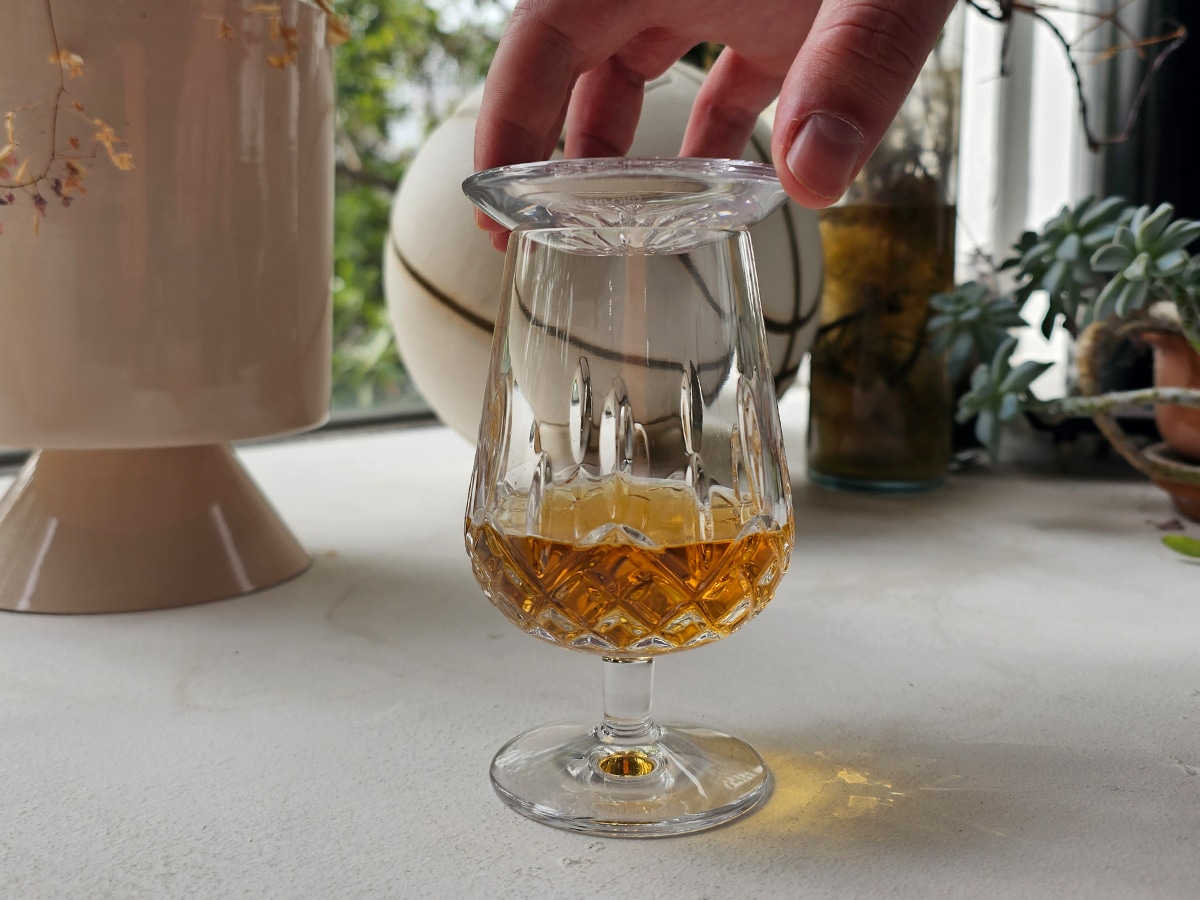 15. Waterford Crystal Connoisseur Lismore Snifter Glass
By far one of the best whisky glasses for all the whisky connoisseurs out there, Waterford has the taste experience as the main focus when it comes to designing this glass. Shaped for easy sipping, the tasting cap complements the glass, trapping aroma within and allowing it to intensify and develop between sips. The thick, intricate crystal design is also just as decadent as the whisky set to be poured into the glass (we hope).
Price: from AUD$269
Material: Crystal
Volume: 250ml
Box quantity: 2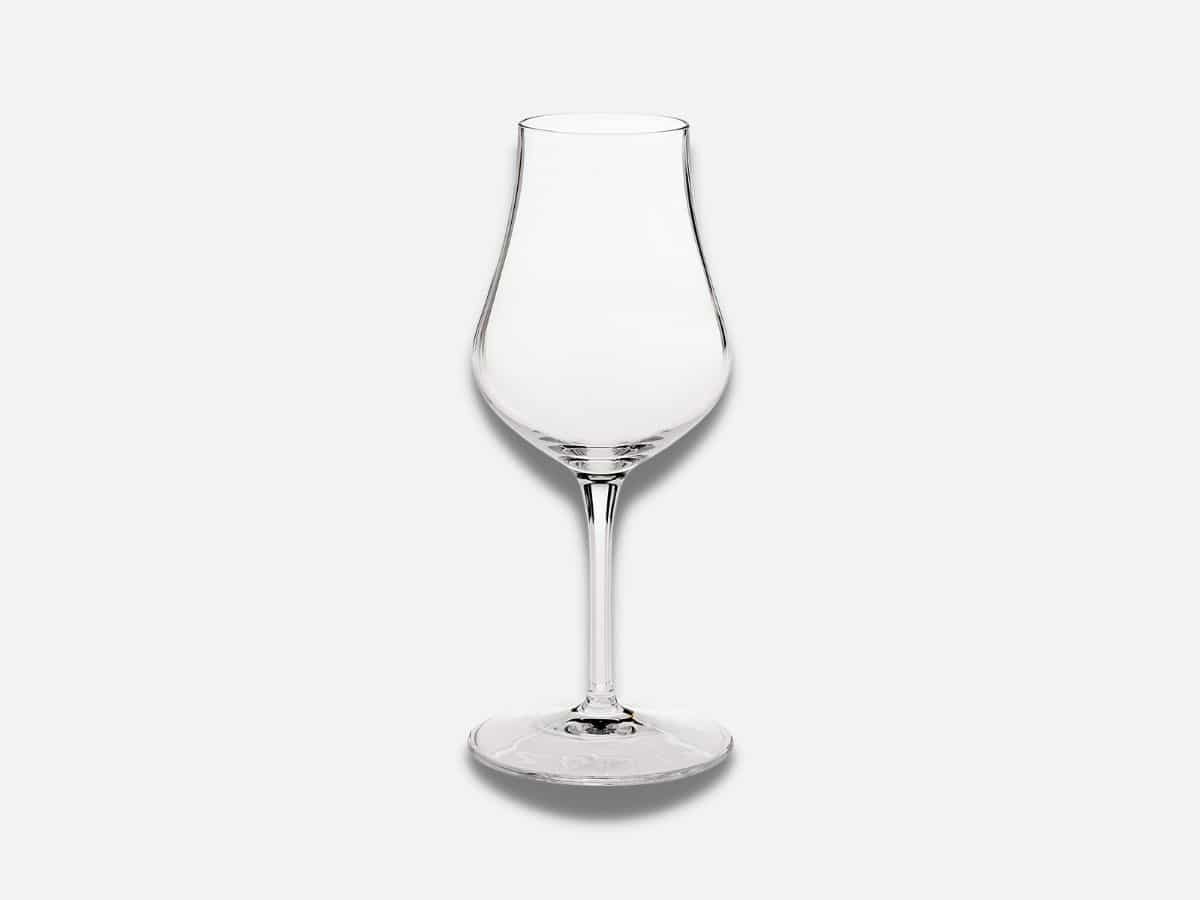 16. Luigi Bormioli Vinoteque Spirits Snifter Glass
The Italians sure know how to do things right when it comes to putting on feasts and celebrations, and an essential part of that is securing some quality beverages and equally outstanding vessels to drink them from? This is just one reason why Luigi Bormioli creates some of the best glassware in the world, designed so anyone who drinks from their glasses can enjoy and celebrate the aromas of the beverage. This glass does just that, with a deep bowl shape that prevents any dispersion of aromatic components so that all aromas can be fully perceived. It's also extremely tough, thanks to Titanium Reinforced Technology which hardens the glass surface and its resistance to abrasions.
Price: from AUD$110
Material: Blown lead-free crystal glass
Volume: 170ml
Box quantity: 6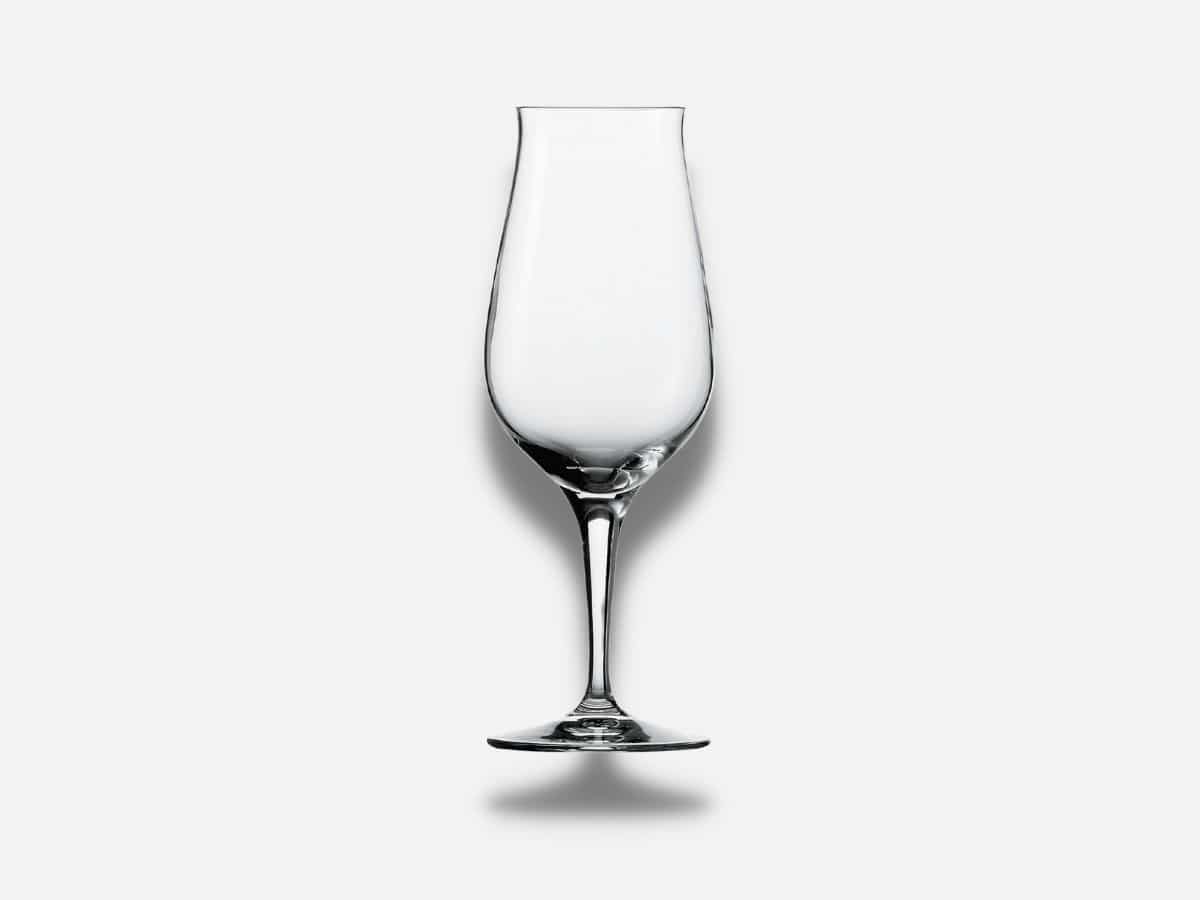 17. Spiegelau Specialty Whiskey Snifter
Fuss-free and designed to showcase whisky, without any extra thrills attached, the Spiegelau Specialty Whiskey Snifter is one of the best whisky snifter glasses around. With its soft, simple aesthetic, the glass is the perfect accessory for complimenting any table setting, whether it be elegant or something more casual. The elongated design also makes for a primo whisky-tasting experience.
Price: from AUD$24
Material: Crystal
Volume: 280ml
Box quantity: 2
Shop at Riedel Shop at Victoria's Basement
Tulip Glasses
The Tulip glass is characterised by its long stem. This is an important addition as it prevents the oils from the hand from coming into contact with the rim of the glass, thus giving a more pure experience.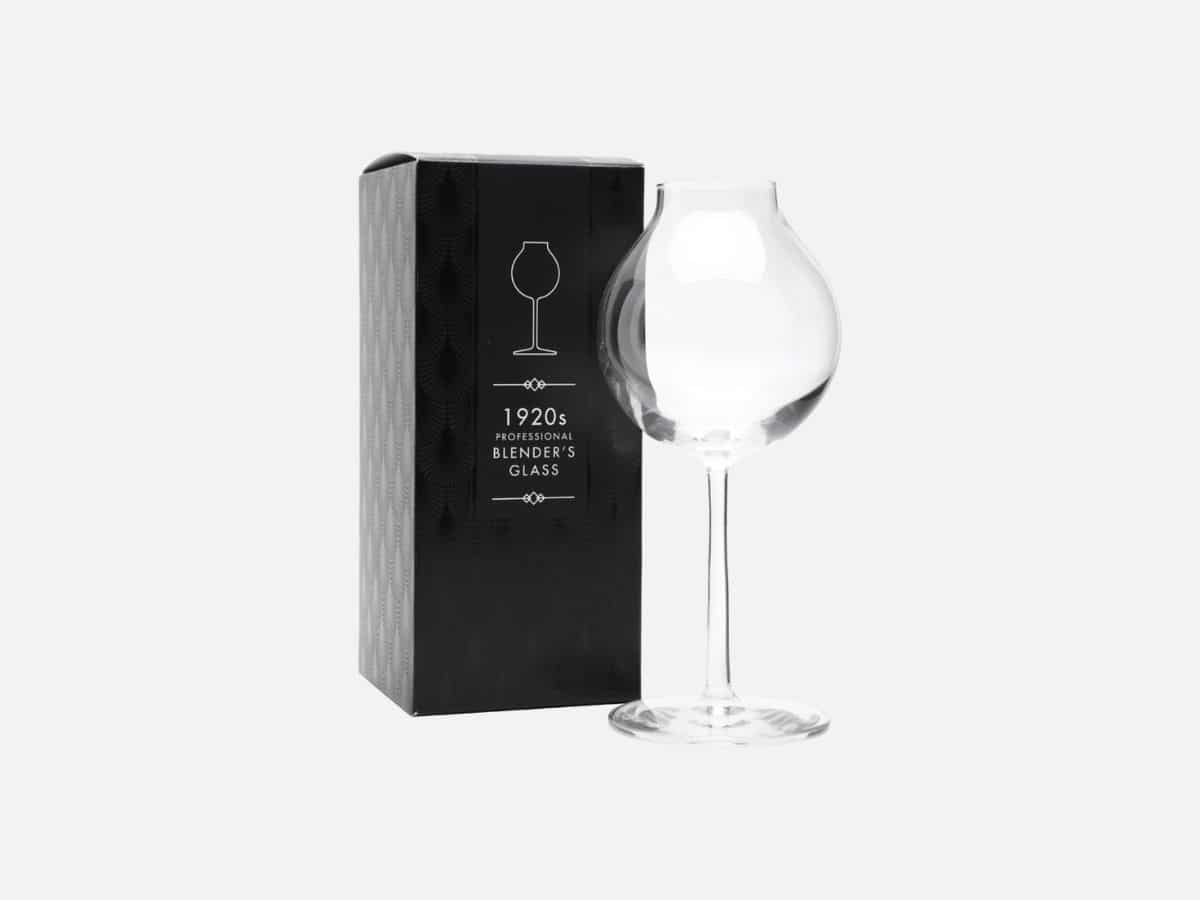 19. Elixir Distillers 1920S Blenders Glass
We love the large, ball-shaped design of this whisky glass, not only for the sleek finish but also for how much whisky it can hold, 225ml to be exact. Seen as a modern recreation of a glass used by whisky blenders in the 1920s, the glass was developed by whisky writer Angus MacRaild. The round shape is aesthetic and helps to concentrate the aromas and flavours, leading to a greater sensory experience.
Price: from AUD$34.99
Material: Crystal glass
Volume: 225mL
Box quantity: 2
How Man of Many Chose This List
When it comes to Man of Many's list of the best scotch glasses, it goes without saying, that expertise is key. While they've had their hands on every glass on this list over the years thanks to their friends in the industry, they've also turned to the wider public for their overall ratings. Man of Many has decided on their list by taking into account major factors to determine the overall rating. In addition to their own experience, they've taken into account personal recommendations from readers, Facebook groups, and Reddit communities before collating that information together and measuring the glasses in overall nosing ability, quality, size, price, and value for money.
What to Look For in Good Whiskey Glasses
When looking to purchase any of the glasses, take into account the shape and texture of the glass as they're often fundamental to the sensory experience. The thin and curvaceous body of a Glencairn glass or snifter optimises nosing capability, while tumblers and tulip glasses deliver seamless drinkability by way of a round or slightly curled mouth. It might sound superficial to say, but the best whiskey glasses should look as great as they feel. In other words, aesthetics count.
Ultimately, how to choose the best whisky glass or scotch glass is a matter of personal preference, but there are still some important parameters by which to abide. The most popular types are the snifter, tumbler, Glencairn, tulip, and neat whisky glass. Find one or two glasses of whiskey that work best for you using our list above and start sipping like a pro.
Interested in more whisky stories? Here are a few stories to get you started:
Alternatives to the Best Whiskey Glasses
Recipes
Regions
Prices
Gifts
Your Whiskey Glasses Questions Answered
Is there a difference between whiskey and Scotch glasses?
Your short answer: no. As 'Scotch' is just a fancy name for whisky made in Scotland, there is really no difference between the two types of glasses. Some people like to worry about which glass is for which whisky, but most people just drink their tipple out of a rocks glass.
What is the difference between whiskey and Scotch?
In short, whisky and whiskey are both the same overarching category but with different spellings based on the location of production. Scotch is a type of whisky that's made exclusively in Scotland using malted barley and, on occasion, other ingredients. Bourbon is a type of whiskey that's made exclusively in the USA from a mash bill that consists of at least 51 per cent corn.
What glass is best for whiskey?
Most experts agree that the Glencairn glass—which features a thick, round base and gets both thinner and narrower toward the top—is the best for drinking whiskey.