Feel-Good Friday: February 3 – Rainbow Road
It's time to break out the rainbow flags and brace ourselves for a month filled with love, unity, and pride. WorldPride is heading down under for the very first time in February, and you know what that means – a whole month dedicated to celebrating the LGBTQ+ community and our progress towards equality. From parades and parties to educational events and more, there's no shortage of ways to show your support and get in on the fun. So, put on your dancing shoes (or stilettos), grab your glitter, and prepare for a month of fabulous fun in this week's Feel-Good Friday.
You'll also love:
Feel-Good Friday: January 27 – Never Ending
Feel-Good Friday: January 20 – Serve Socially
Feel-Good Friday: January 13 – Frighteningly Good Vibes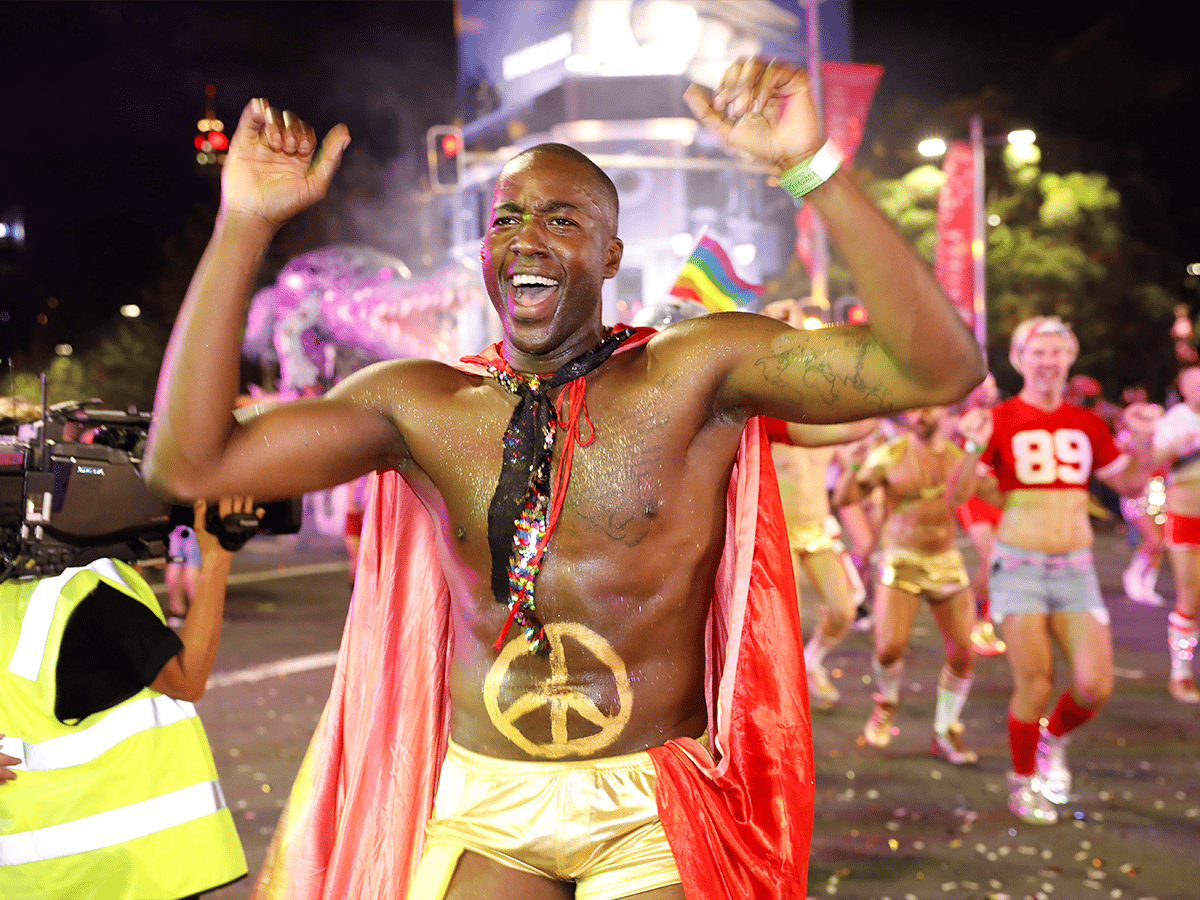 Tickets to Final Mardis Gras Parade Viewing Area are on Sale
On Saturday 25 February 2023, the world-renowned Sydney Gay and Lesbian Mardi Gras Parade return home to Oxford Street in celebration of the 45th anniversary of the first Mardi Gras march. This iconic event unites individuals across the LGBTQIA+ communities to showcase their pride, advocate for equal rights and express their passion.
As the centrepiece of the epic Sydney WorldPride Festival, all eyes will be focused on 12,500 marchers as over 200 floats grace Oxford Street for the first time since 2020. Expect to see all of your Parade favourites, with First Nations, 78ers and the legendary rumble of the Dykes on Bikes leading the Parade as well as the quintessentially Australian Lifesavers With Pride and the many colourful, political, satirical and outlandish floats that have made the Parade famous over the last four decades.
This year's Festival theme, "Gather, Dream, Amplify," comes to life as bigger floats adorn the entirely revamped route. With lighting and firework shows elevating the spectacle of the Parade, from Hyde Park to Moore Park, including a new Parade route milestone Drivers Triangle located by the recently-announced Viewing Area Ruby Road.
For those looking to elevate their 2023 Parade viewing experience, tickets are still available to the brand-new Parade Viewing Area, Ruby Road. Located at the Moore Park end of the iconic route, the general admission all-ages area pairs uninterrupted views of the Parade with access to food trucks, bars, entertainment and live screen relays throughout the park. With all other Parade Viewing Areas sold out, this is the last chance to witness the Parade's return to Oxford Street from a premium viewing space.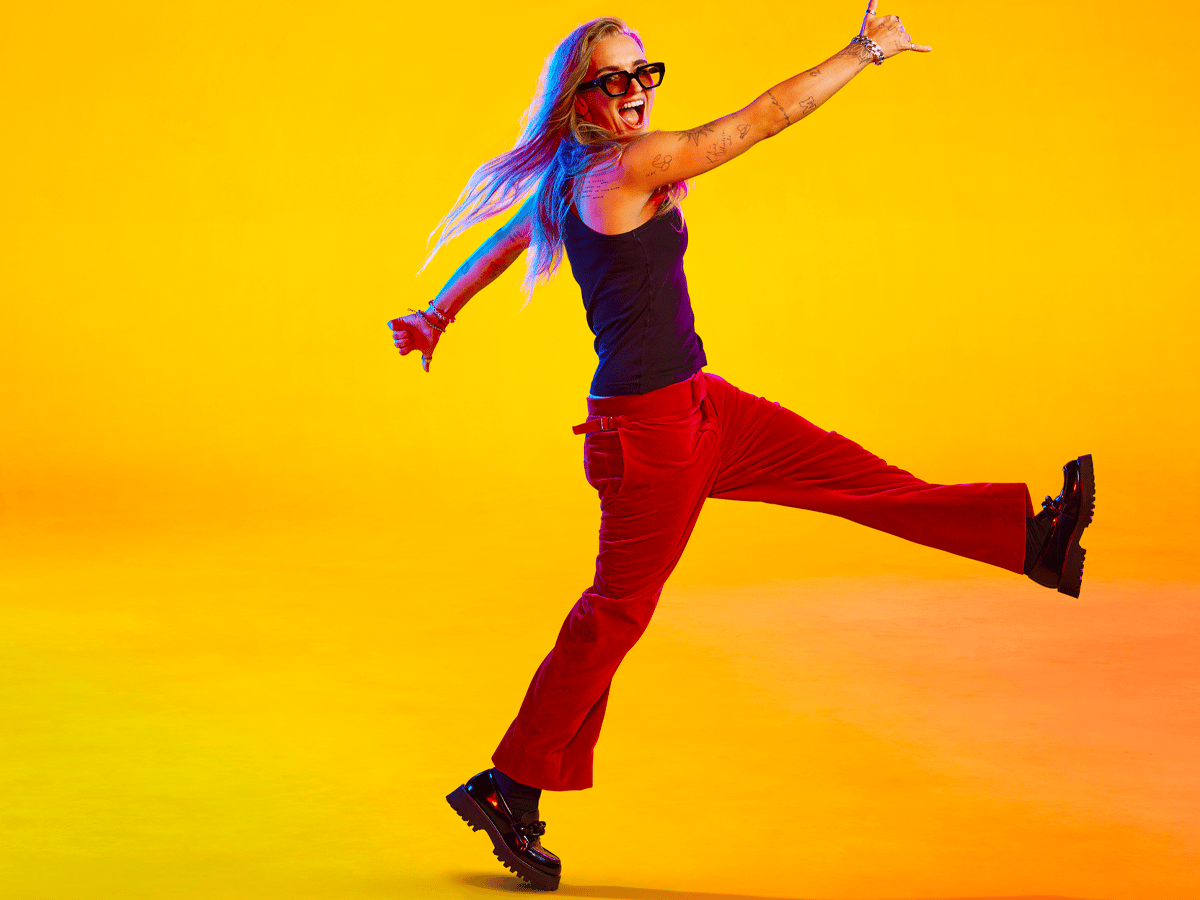 Walk Proud with Johnnie Walker
Iconic Scotch whisky brand Johnnie Walker recently announced that it will open the doors to Walk Proud @ Kinselas on February 17. Taking residence at the heart of the LGBTQIA+ entertainment precinct in Darlinghurst, Walk Proud @ Kinselas will be an inclusive space open to all featuring over 40 events including music, art, talks and performances throughout its 3-week residence.
---
Featured Video from Man of Many
---
The stellar line-up will be headlined by some of the world's biggest talent across all queer identities, including critically acclaimed non-binary musician G Flip, Queer Folk-Pop artist Alex The Astronaut, Australian Pop Band Cub Sport and AFL legend Sabrina Frederick.
The iconic Kinselas will also be sporting a new facade, with a specially designed mural by inclusive Australian Fashion Label Double Rainbouu Founder, Mikey Nolan. The mural, to be unveiled on 17th February, is one of the largest in Sydney's Rainbow City, designed to represent the many identities that form part of the LGBTQIA+ community. Grab your tickets now via HumanTix.
Largest First Nation LGBTQIA+SB Program to Take Place in Australia
Today a host of free events have been revealed to complement the existing ticketed events announced for Marri Madung Butbut (Many Brave Hearts): Sydney WorldPride's First Nations Gathering Space. From 23-28 February 2023, on Gadigal Country, renowned multi-arts space Carriageworks will come alive with a celebration of LGBTQIA+SB First Nations brilliance, artistry and culture, as part Sydney WorldPride 2023. The program will be the largest Aboriginal, Torres Strait Islander and global First Nation LGBTQIA+SB celebration ever to take place in Australia.
Marri Madung Butbut will kick off with a free-to-attend opening night party, Djarraba Disco (23 Feb), curated by The Huxleys, plus another 11 free events. Trading Blak Mini Market will be offering a curated selection of First Nations wares from First Nations owned and operated businesses across the six days of the Gathering Space. Food and beverage will also be available, with Aboriginal-owned catering business Indigiearth operating out of the Carriagework's café, Cornerstone, and serving up delicious food and native ingredients.
tickets for all shows at Marri Madung Butbut: the First Nations Gathering Space are available for First Nations people of any nation via the MobTix program. General admission tickets are also available via the Sydney WorldPride website.The events at Carriageworks complement the Blak & Deadly: The First Nations Gala Concert (2 March) with tickets available via MobTix.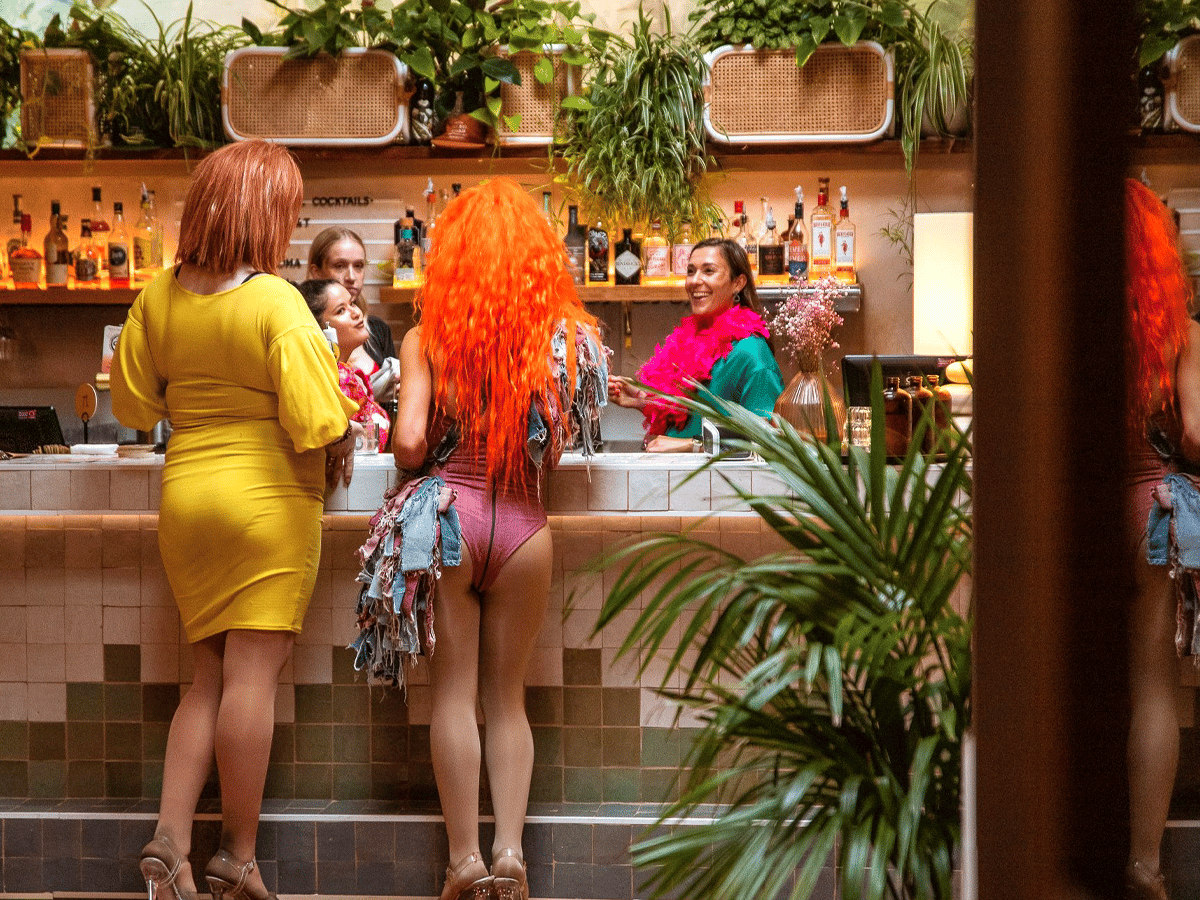 Celebrate Sydney WorldPride with Applejack
Applejack is proudly supporting Sydney Gay and Lesbian Mardi Gras and Sydney WorldPride 2023 with a series of show-stopping events across their Sydney restaurants & bars. This includes 'dinner with the girls' – a one-off drag and dine event at The Butler. Plus, a host of LGBTQIA+ happenings at Forrester's from live music celebrating queer talent, to long lunches with bottomless bubbles and beers, and LIVE streamed viewing parties on 24th and 25th February.
Visit all Applejack venues for a chance to taste-test a series of six signature ABSOLUT cocktail specials (with $1 from every cocktail sold being donated to The Bobby Goldsmith Foundation). Check out Applekack's pride guide for all the various event information.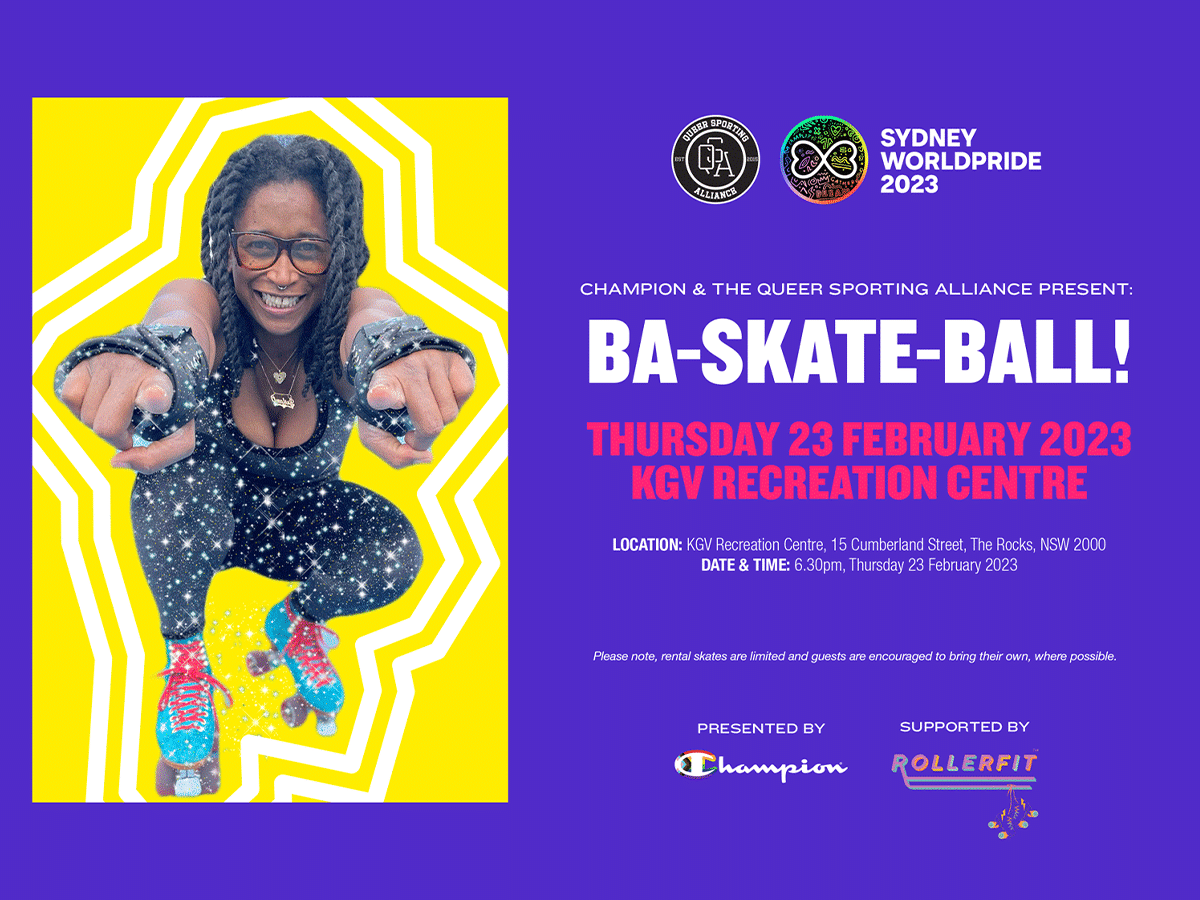 Champion and Queer Sporting Alliance Present: BA-SKATE-Ball
Champion and QSA are taking their partnership to the court, to host a big ol' queer basketball game. Ba-skate-ball Jam will transform KGV Recreation Centre in Sydney into a queer sporting extravaganza as QSA members, and an exciting line-up of special guests go head-to-head in an exhibition match.
The nation's first non-binary TV host, Brihony Dawson (they/them), will MC the evening with an exhilarating halftime performance by one of Sydney's best roller dance groups, RollerFit, featuring artistic and rhythmic skaters who have performed around the country.
After the game, the wheels will keep turning as the court transforms into the ultimate roller disco complete with funky tunes, colourful lights, and prizes for the best moves. From beginners to seasoned pros, RollerFit coaches will be on hand to help visitors find their feet with free rental roller-skates and safety gear.
Additionally, Champion has launched a new purpose-led Pride collection – 'The Game Is Not Over' – celebrating unity and shining a light on Australia and New Zealand's premier LGBTIQA+ sporting club.
Going down on February 23, tickets to QSA's Ba-kate-ball Jam are now on sale with 100% of funds going to support QSA's mission and programs to welcome more LGBTIQA+ folk to Come Out & Play.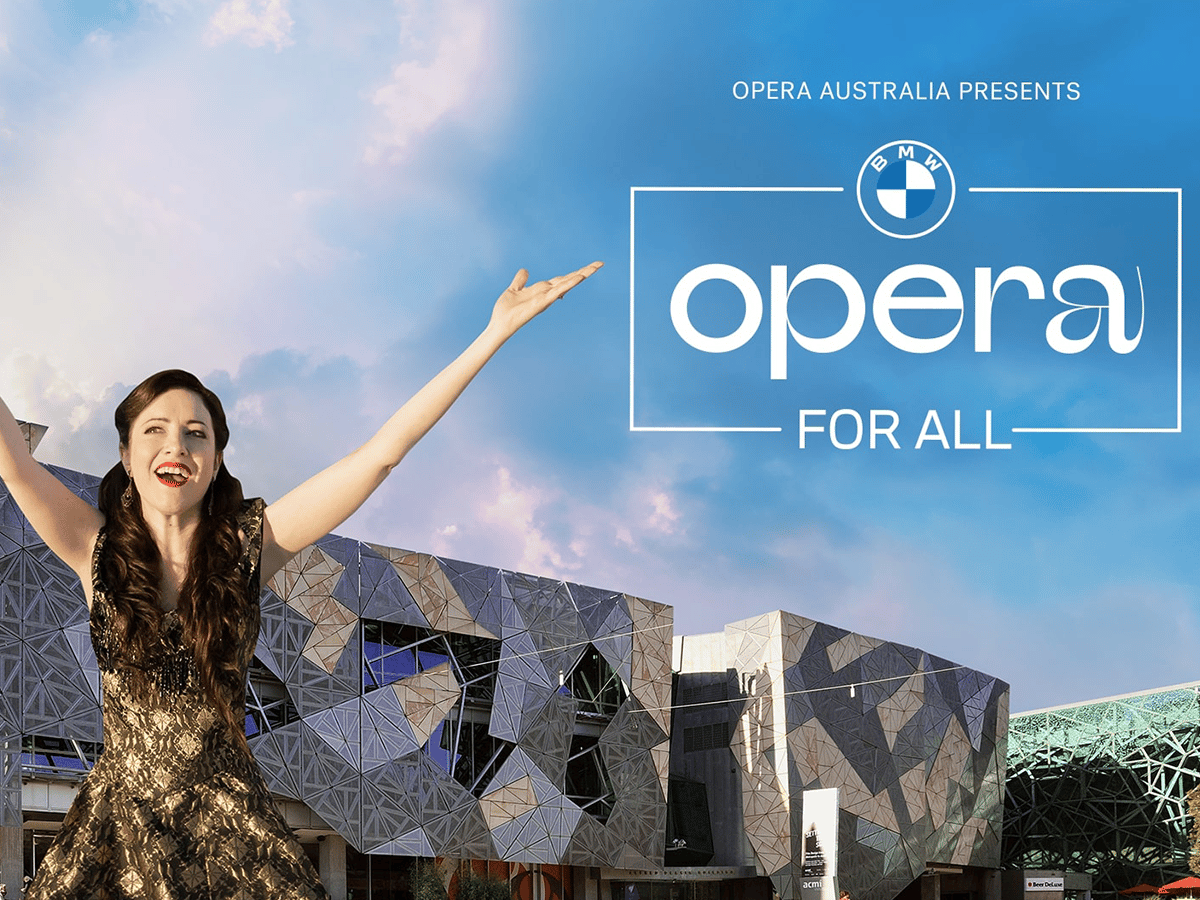 BMW Brings 'Opera for All' to Australia
BMW has further expanded its global footprint in the world of opera with today's announcement of its multi-year partnership with Opera Australia, the country's largest performing arts organisation, to bring "BMW Opera for All" to Australia for the first time.
The Australian premiere of this global initiative will include a one-hour open-air concert that will take place on the 4 February 2023 at the Federation Square in Melbourne and include the most popular arias in opera. The performance will feature four of Australia's finest opera singers accompanied by 16 musicians from Orchestra Victoria.
CEO of BMW Group Australia Wolfgang Buechel said Melbourne was selected as the first Australian city because it has a rich art, theatre, and music scene and that the arts and culture scene usually enjoyed by so many was significantly impacted by the COVID-19 pandemic.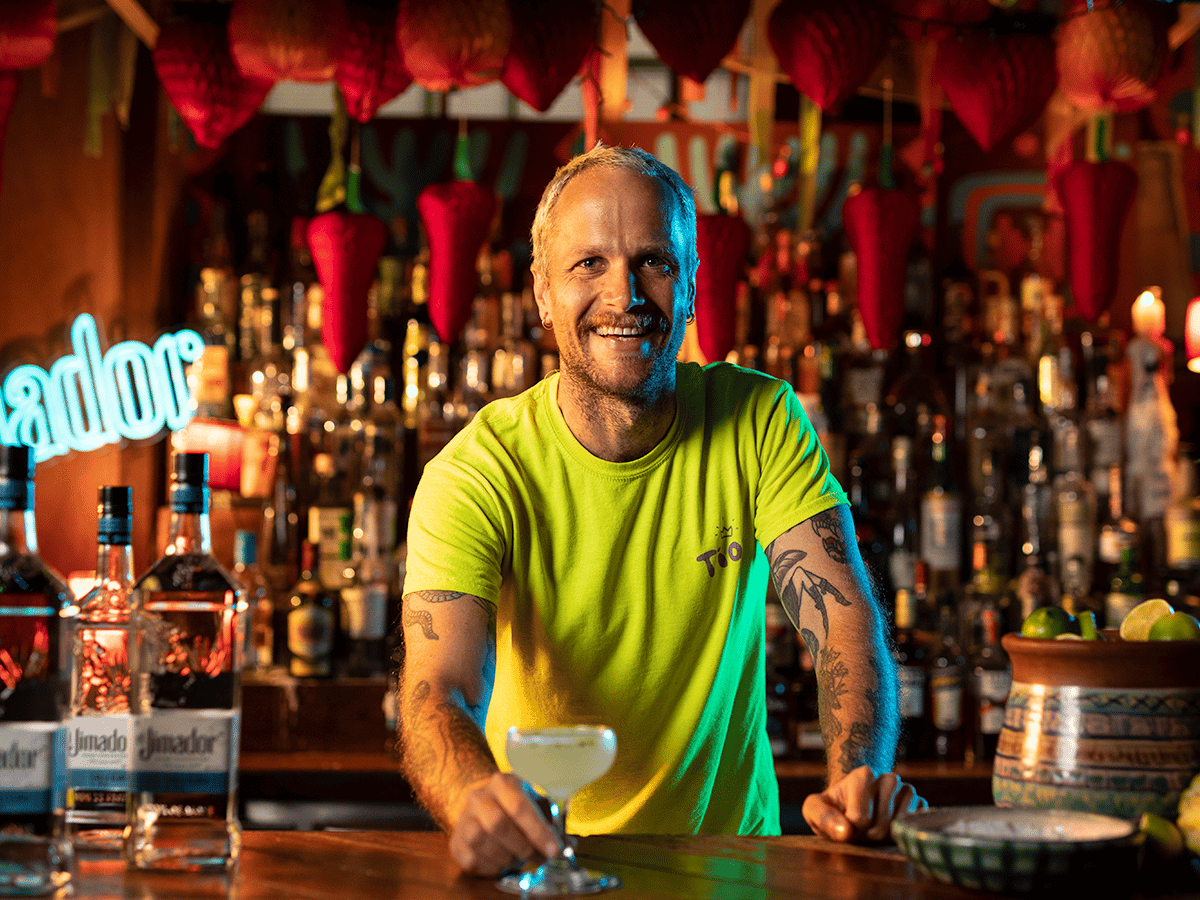 Margy Month Has Officially Kicked Off
In case you didn't know, February is officially Margarita Month, so what better way to usher in the summer heat than with an ice-cold cocktail? Margy legend Jeremy Blackmore, the man behind Tio's Cerveceria and Cantina OK!, has teamed up with el Jimador tequila for a brand new expression.
The aptly-named Jimmy's Margarita is made with el Jimador's blue weber agave blanco tequila, zesty lime flavours and unlike the Tommy's Margarita, fresh Australian pineapple! You can test out Jimmy's Margarita at venues across the country over the entirety of February. Happy sipping!
You'll also love:
Feel-Good Friday: January 27 – Never Ending
Feel-Good Friday: January 20 – Serve Socially
Feel-Good Friday: January 13 – Frighteningly Good Vibes
---
Featured Video from Man of Many