Jon Bernthal's 'Punisher' Workout & Diet Plan
Have your eyes on the physique of Marvel's most badass anti-hero? While he might not be Thor or The Rock, Jon Bernthal's workout from The Punisher brings traditional strength training and old-school bodybuilding fundamentals together in the perfect synergy. In the series, he hits big, fights back and isn't afraid to break the rules, but in the gym and the kitchen, Jon Bernthal's diet and fitness regime are among the most strict and all-encompassing of all the heroes in the new MCU.
Since the actor from The Wolf of Wall Street, The Walking Dead, and The Many Saints of Newark popularity ballooned, The Punisher aesthetic has increasingly been sought out. And the training regiment he followed isn't for gym slugs glued to their phone while half-heartedly curling an underweight dumbbell; they're for visionaries seeking to switch things up in their physicality.
Bernthal had to incorporate some serious MMA training for the combat scenes. But not to worry, because we're gonna let you in on all the details on how to get The Punisher's body.
Jon Bernthal's Diet Plan
For The Punisher, Bernthal followed a very simple diet and avoided junk, fast and processed foods—except on cheat days. But, interestingly, there's no official "Jon Bernthal's The Punisher diet plan" on the web. Trust us, we've scoured every site and forum in existence—even the dark web. But according to an interview with Men's Journal, Bernthal doesn't adopt a draconian diet plan; he just ensures he focuses on eating healthy foods and training regularly in the gym.
Bernthal told Entertainment Weekly he leisurely walks the Brooklyn Bridge every day to keep his fitness up while following a simple diet. In fact, you can get an aesthetically sculpted body by increasing your physical activity and spending more time in the gym. Typically speaking, A-listers who are beefing up for a movie adhere to a 6 meal-a-day regiment; 3 large meals with 3 in-between-meal snacks. These types of diets come to over 3,000 calories; comprising a high amount of carbs, protein, fibre and a healthy amount of fat and replenish the body after the workout session. Some even adopt a pescatarian, Mediterranean or paleo diet. But in most cases, it's a pedestrian regime.
Here are the dos and don'ts of The Punisher diet according to Men's Journal.
Foods to eat: Chicken, beef, steak, fish, jerky, salad, eggs whites, whole eggs, pancakes, oatmeal, wholewheat pasta, brown rice, nuts, peanut butter, fruits & vegetables
Supplements to take: Whey protein, protein bars & fish oil capsules
Foods to avoid: Fast food, gourmet burgers, fried foods, sugar, dairy & processed foods
---
Featured Video from Man of Many
---
You can follow this extrapolated diet plan that A-listers preparing for a role like the one in The Punisher, Creed or Guardians of the Galaxy would follow.
Meal 1
3 scrambled eggs
2 cups of oatmeal or 4 pancakes
1 fruit
Meal 2

Protein shake
Small protein bar
Meal 3
225 g (8 oz) of chick breast or salmon
100-150 g of brown rice
1 cup of steamed vegetables
Meal 4
Small protein bar
1 banana
Museli bar
Meal 5
225 g (8 oz) of steak or another lean meat
1 large sweet potato
Garden salad
Or
200 g of ground beef
150 g of pasta
Side salad with dressing
Meal 6
Protein shake
50-100 g of walnuts
2 fish oil capsules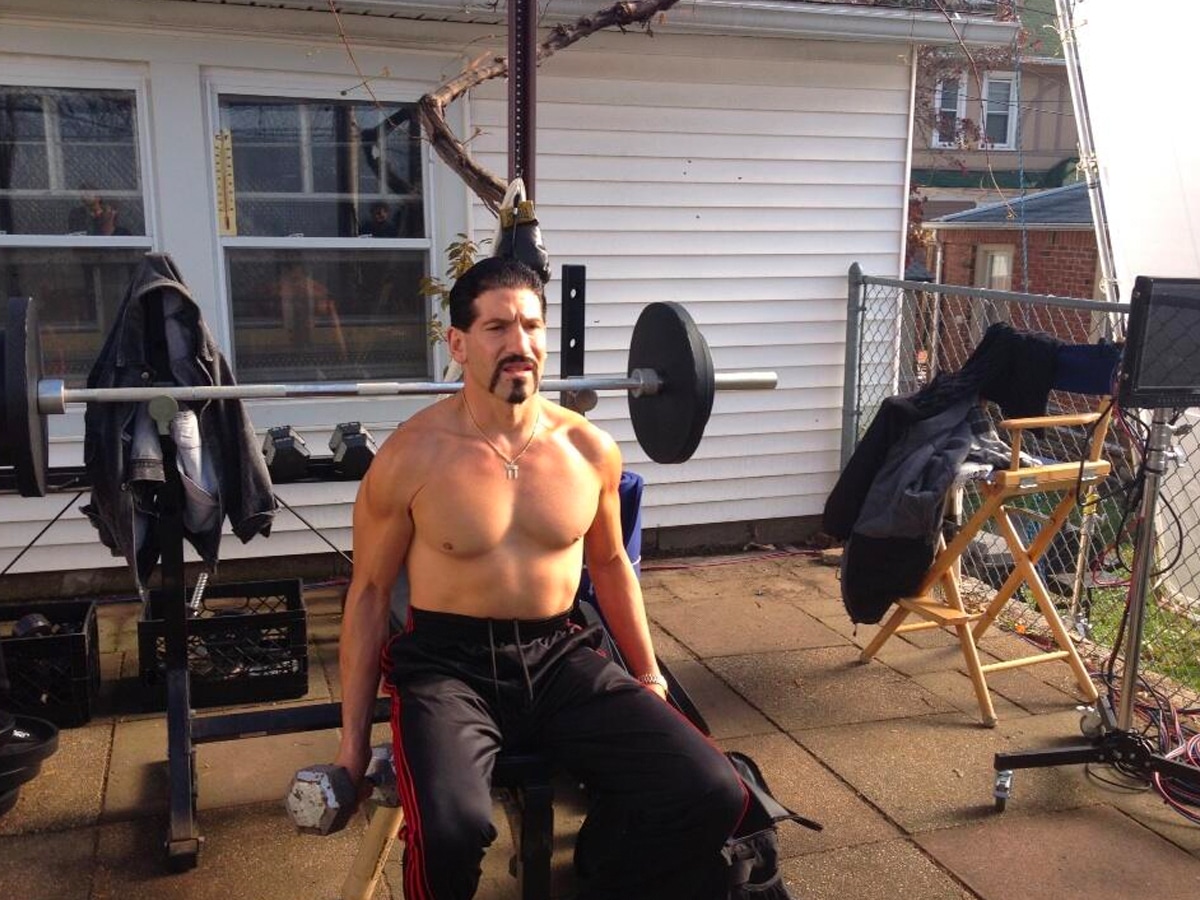 Jon Bernthal's Workout Routine
Bernthal got into shape for the role via weight training, circuit-based workouts, plyometrics (that's to improve your speed), Mixed Martial Arts and cardio. He also told Entertainment Weekly (EW) he knew some people in the military and was able to train with them to work on his physicality, which involved some obstacle courses and weighted drills and boxing classes.
The Punisher's training regime features isolation and compound exercise, with 8-10 repetitions for each set and 1-minute intervals. This maximises hypertrophy (muscle building) and ensures that all muscles are effectively worked. And for circuit training, the intervals and the workout length are one-third of a regular training session. They're 15-20 minutes, with a 20-30 seconds break between sets and increase one's stamina and amplify caloric expenditure.
Now, the MMA/boxing component of his workout is performed for 1-hour a week and encompasses sparring, grappling, battling ropes, rope skipping, tire slams as well as strength & conditioning training. Some professionally instructed stunt work also would've probably taken place, but that's not to concern yourself with, because all your gonna need to follow is this weekly workout plan:
Monday – Chest
Tuesday – Legs & Circuit
Wednesday – Mixed Martial Arts & Cardio
Thursday – Shoulders & Circuit
Friday – Full Body & Circuit
Trust us when we say that it'll feel like a punishment (no pun intended).
Monday: Chest
The strength work here is for your shoulders, chest, and arms.
Bench Press – 3 sets of 8-10 reps
Incline Bench press – 3 sets of 8-10 reps
Wide-grip Pull-ups – 3 sets of 8-10 reps
Overhead Tricep Extension – 3 sets of 8-10 reps
Seated Rows – 3 sets of 8-10 reps
Circuit
Push-Ups – 3 sets of 25 reps
Jump Ropes – 3 sets of 25 reps
1 Minute Heavy Bag
Tuesday: Legs & Circuit
Calf Raises – 3 sets of 8-10 reps
Squats – 3 sets of 8,6,4 reps (descending repetitions with increased weight)
Leg Press – 3 sets of 8-10 reps
Hamstring Curls – 3 sets of 8-10 reps
Circuit
Front Squats – 30 reps
Burpees – 20 reps
Box Jumps – 50 reps
Sit-Ups – 40 reps
Pull-Ups – 10 reps
1 Minute Heavy Bag
Wednesday: Mixed Martial Arts & Cardio
Gym work
Pull-Ups – 3 sets of 10 reps
Dips – 3 sets of 10-15 reps
Push-Ups – 3 sets of 25 reps
Bernthal's workout plan includes boxing or mixed martial arts to prepare him for combat scenes when filming.
1-hour boxing/ MMA workout
Or
Cardio
5 km/3 Mile Run
16 km/10 Mile Bike
Thursday: Shoulders & Circuit
Military Press – 3 sets of 8-10 reps
Dumbbell Shrugs – 3×10 reps
Close-grip Pull-Ups – 3 sets of 8 -10 reps
Lat Pulldowns – 3 sets of 8-10 reps
Arnold Press – 3 sets of 8-10 reps
Front Raises – 3 sets of 8-10 reps
Side Raises – 3 sets of 8-10 reps
Circuit

15 Clean & Presses – 3 sets of 10-15 reps
10 Wall Balls – 3 sets of 10-15 reps
Treadmill Sprint – 1 set of 400 Metres
Friday: Full Body & Circuit
Preacher Curls – 3 sets of 8-10 reps
Deadlift – 3 sets of 8 reps
Dumbbell Rows – 3 sets of 10 reps
Lateral Pull-Downs – 3 sets of 8-10 reps
Curls – 3 sets of 8-10 reps
Circuit
Box Jump – 3 sets of 15-20 reps
Pike Push Ups – 3 sets of 10-15 reps
Superman Push Ups – 3 sets of 10-15 reps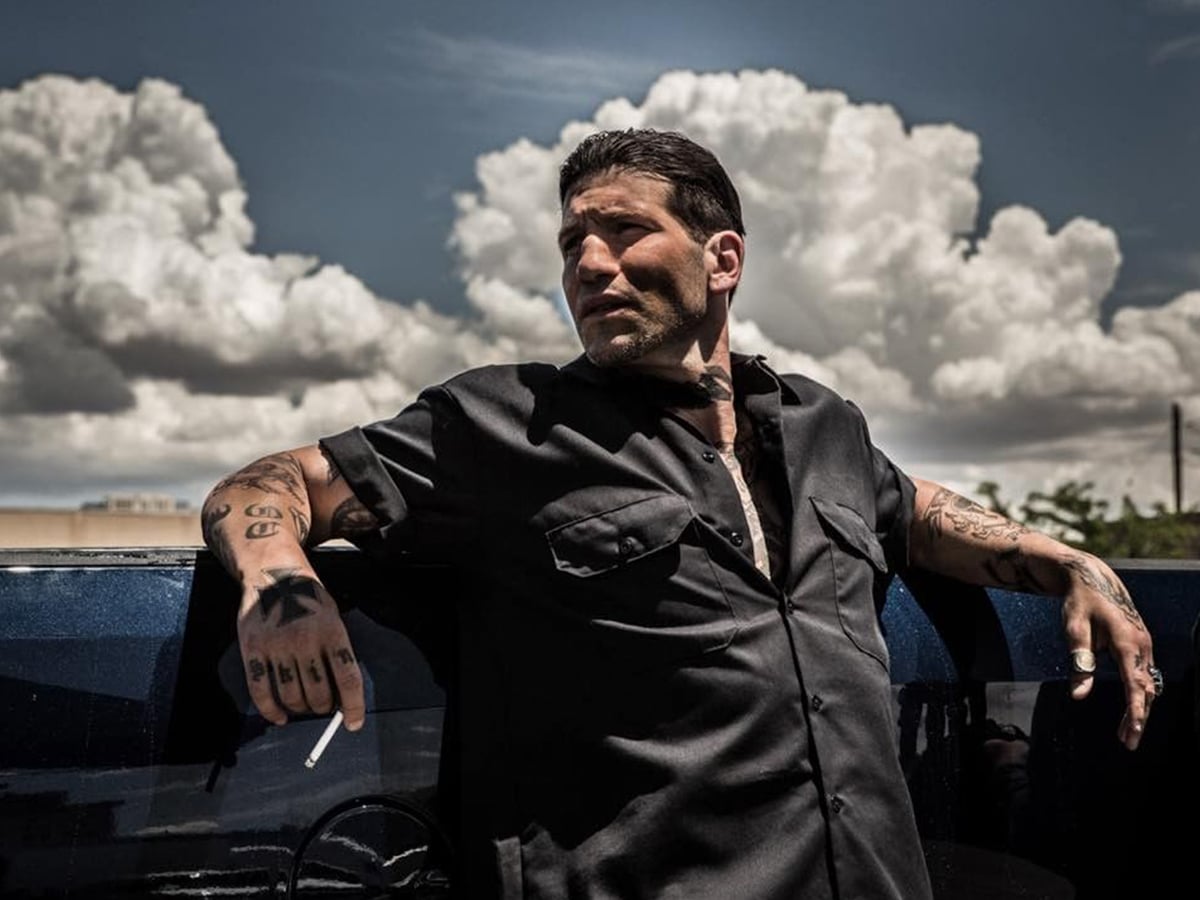 Who is Jon Bernthal?
Born in Washington, D.C, Jon Bernthal grew up in Cabin John, Maryland. He attended the Sidwell Friends School and graduated in 1995. He embarked on his tertiary studies at Skidmore College in New York but later discontinued. Uncertain of his future, Berthal took up theatre school in Moscow, Russia.
While studying acting abroad, the budding thespian was noticed by the executive director of Harvard's Advanced Theater Training and encouraged Bernthal to take up a graduate-level certificate study—which he completed in 2002 before moving to New York City to carve out a career as an actor. Since then, Bernthal has been cast in over 30 plays. He's also had small roles in leading television series; How I Met Your Mother, CSI: Miami & the short-lived sensation Eastwick.
In 2006, he put his roots down in L.A., but his big-screen breakout didn't come until 2011 when he was cast in The Walking Dead. Prior to that, he made his firsts role on a television series with the CBS sitcom The Class. After this, he had roles in films such as Day Zero and Oliver Stone's World Trade Center. Bernthal's career slowly burgeoned until he appeared in films such as The Wolf of Wall Street, Fury & Baby Driver. The hotshot then took the lead in The Punisher and, most recently, has been cast in the much-anticipated The Many Saints of Newark.
In an interview with Jimmy Kimmel, Bernthal stated that he's a method actor—he lives like his character—which makes sense because he was relentlessly embroiled in street fights in his adolescence and, at one point in his life, almost wound up behind bars. He's the youngest of his two male siblings: who are also accomplished in their careers. Nicholas Bernthal is an orthopaedic surgeon and professor at UCLA, and Thomas is a former NBC News producer and is currently the CEO of an organisation. Bernthal shares three kids with his wife Erin Angle, who happens to be WWE wrestler Kurt Angle's niece, and resides in California.
Age: 44
Height: 1.8m/ 5 ft 11 in
Weight: 77kg/ 170Ibs
Acting career: 2002-present
General FAQs
How tall is Jon Bernthal?
The Hollywood actor stands at 1.8m/ 5 ft 11 in.
What is Jon Bernthal's workout routine for The Punisher?
The hotshot's workout routine includes strength, plyometric, MMA training & plenty of circuit workouts. Mondays are chest, Tuesdays are legs & circuit, Wednesdays include MMA training & cardio, Thursdays are shoulders & circuit, and Fridays are a full-body weight session with more circuit training.
What does Jon Bernthal eat in a day?
While the official diet plan of Jon Bernthal in The Punisher isn't published, he has revealed in a Men's Journal interview that he doesn't adopt an over-the-top regime. So like most Hollywood actors, beefing up for a film requires 6 meals a day: consisting of lean meats, whole grains, veggies, fruits, protein shakes & bars.
You'll also like:
---
Featured Video from Man of Many