14 Strongest Celebrities in Hollywood
Hollywood has no shortage of superhuman physiques. From superheroes to world-saving action stars, barbarians to gladiators, just about every leading man puts in some serious gym time before appearing on screen.
And it makes sense, right? You wouldn't believe a character's superhuman strength or intimidating prowess if they didn't have the shirt-ripping muscles to sell it. But while countless stars portray strong characters on-screen, which celebrities actually walk the walk with real-life, barbell blasting strength? Well, to answer that question, we're breaking down the 11 strongest celebrities in Hollywood (with some seriously impressive numbers to back it up).
You'll also like:
LeBron James' Insane Diet & Workout Plan
Chris Evans' Captain America Workout & Diet Plan
Arnold Schwarzenegger's Diet and Workout Plan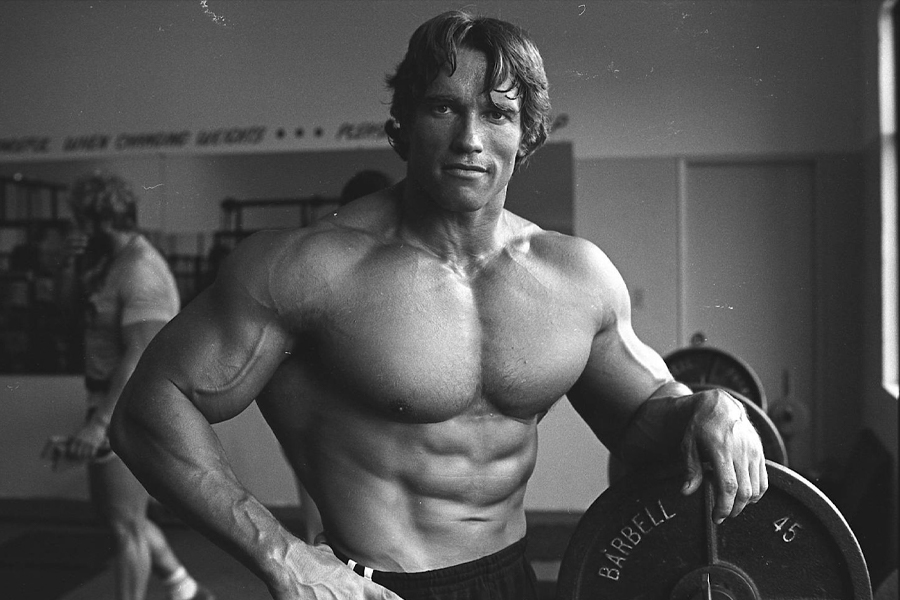 1. Arnold Schwarzenegger
It would almost be insulting to not start the list with eight-time Mr Olympia, Arnold Schwarzenegger. The original Hollywood strongman and former Governor of California, Arnold has appeared in an incredible 56 movies during his 40 year Hollywood career. And even at the ripe old age of 73, I guarantee Arnold is still benching more than most of us would dream of.
His legendary strength even culminated in a strongman event being named after him. The Arnold Classic was established in 1989 and honours the cultural icon with a variety of strongman, bodybuilding, and fitness contests. During his peak, the original 'Conan The Barbarian' could benchpress 200kg and Deadlift over 310kg… Crazy.
Squat Max: 474 lbs (215kg)
Bench Press Max: 441 lbs (200kg)
Deadlift Max: 683 lbs (310kg)
Born: 30 July 1947 (age 73 years), Styria, Austria
Height: 1.88 m
Famous for: Film, Politics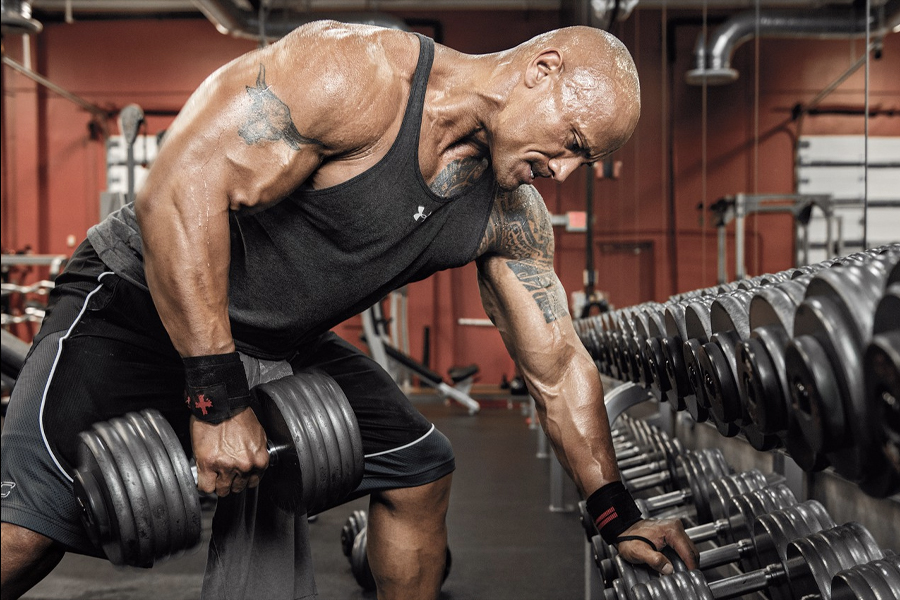 2. Dwayne "The Rock" Johnson
Another Hollywood A-lister with a penchant for lifting is none other than Dwayne "The Rock" Johnson. If you're one of his 205 million Instagram follows, you know the reason he tops the list – his workouts are the thing of legend. Employing his 'hardest worker in the room' mentality to every area of his ridiculously successful life, Johnson trains twice a day six days a week to maintain his monstrous physique.
The Rock is so dedicated to his physique that he travels with a portable gym named 'The Iron Paradise'. Now, we aren't just talking a few dumbbells and a chin-up bar here, 'The Iron Paradise' is 20 tonnes of toe crushing metal that travels with The Rock all over the globe. Yikes.
Bench Press Max: 425 lbs (192kg)
Born: 2 May 1972 (age 48 years), Hayward, California, United States
Height: 1.96 m
Famous for: Film, Wrestling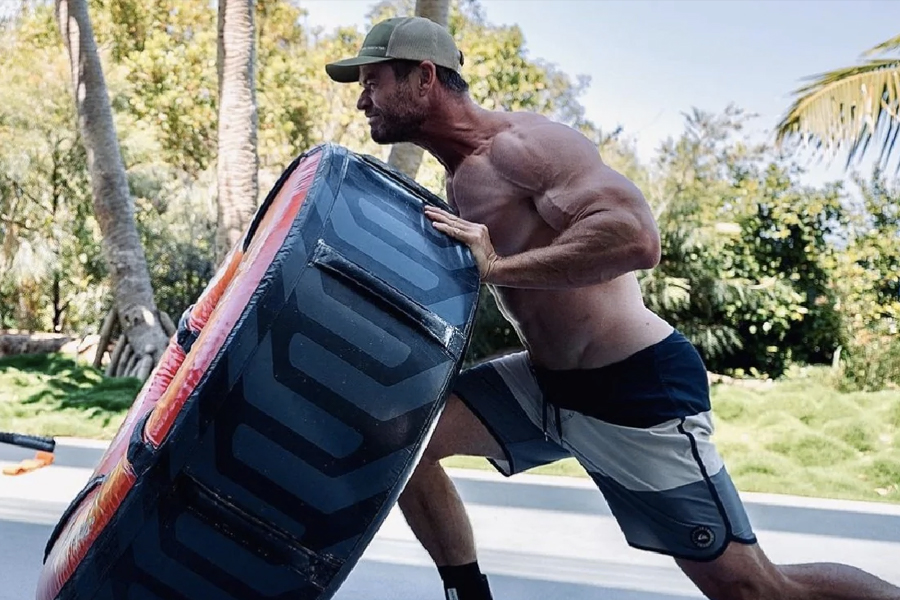 3. Chris Hemsworth
It's not all CGI and trick lighting with "The God of Thunder", Thor is as strong in real life as he is on screen. Chris Hemsworth makes the list with ease thanks to his notoriously intense work ethic and training methods when preparing for roles. After all, you can't play a larger than life superhero without the biceps to sell it.
Chris works hard with personal trainer Luke Zocchi to smash out a superhero-sculpting training regime that includes bodyweight and traditional powerlifting exercises. If you want to know more about Chris' workouts, meal plans, and other health advice, you can check out his fitness app 'Centr'.
Born: 11 August 1983 (age 37 years), Melbourne
Height: 1.9 m
Famous for: Film
4. Zac Efron
Pound for pound, Zac Efron may just be the strongest person on this list. At 5'9″ and 75kg, it took Efron just 12 weeks to get under 5% body fat for his ridiculously chiselled Baywatch physique.
Don't be fooled by the teen star turned Hollywood heart-throb though, he puts in the work. When he isn't out climbing mountains and surfing waves across the globe, you'll find him smashing out brutal calisthenic workouts in the gym. You can check out some of his workouts on his YouTube series 'Gym Time'.
Born: 18 October 1987 (age 33 years), San Luis Obispo, California, United States
Height: 1.73 m
Famous for: Film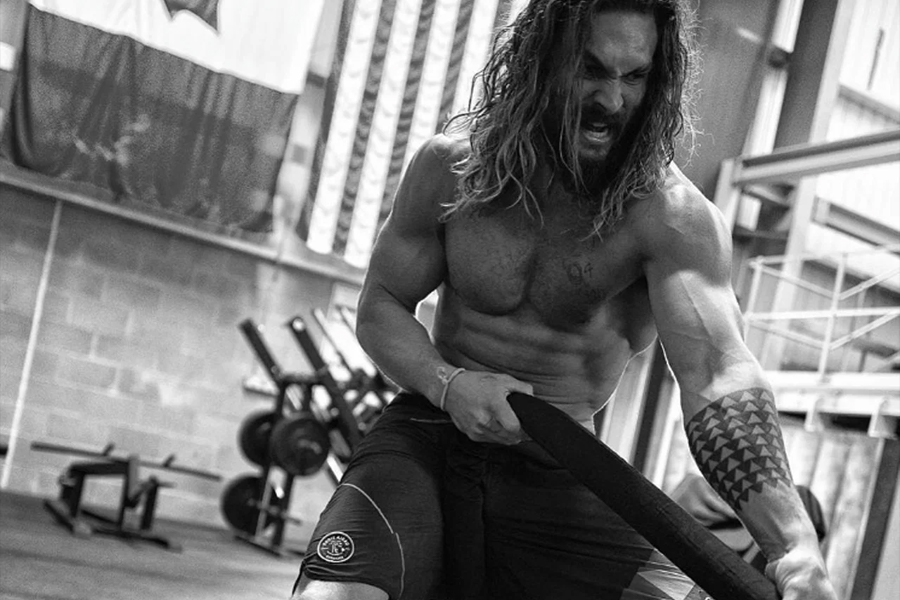 5. Jason Momoa
Next on our list of Hollywood's strongest is the 'King of Atlantis', Jason Momoa. Not one for 'boring' gym workouts, Momoa prefers to workout outdoors and includes as much surfing, hill sprints, and boxing as possible. To add to this outdoor workout list, Momoa is also an impressive rock climber, which is no small feat when you're carrying 110kg of muscle.
To build and maintain his imposing physique, Momoa employs a high rep workout program with short rest breaks that include rock climbing, weights, and bodyweight exercises. In fact, there's even a clip of Momoa doing reps of 88-pound weighted pull-ups, which for a 105kg beast is quite the feat of strength.
Born: 1 August 1979 (age 41 years), Nanakuli, Hawaii, United States
Height: 1.93 m
Famous for: Film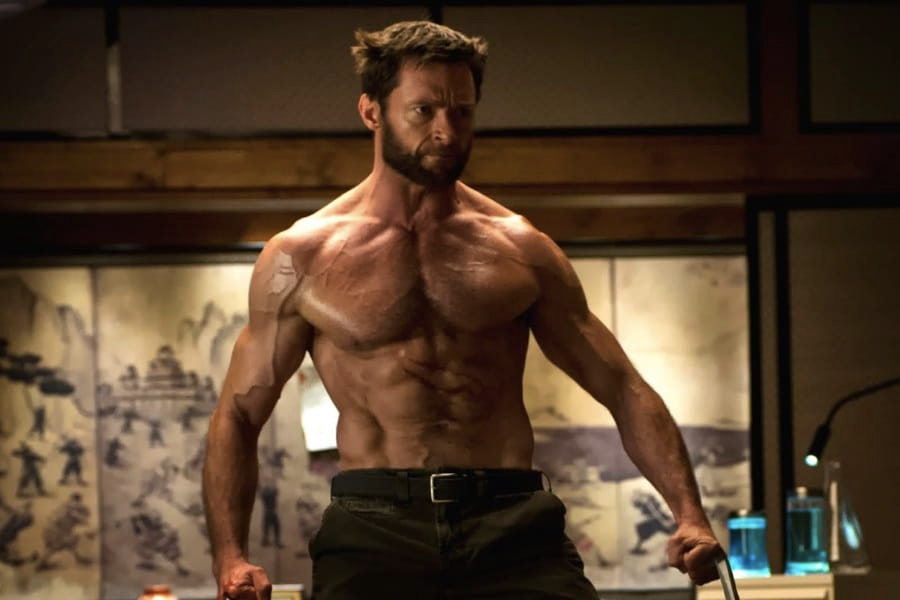 6. Hugh Jackman
Behind his 'nice-guy' exterior, Hugh Jackman is a serious beast in the gym. At 52 years of age, Hugh entered the illustrious 1,000-pound club. To earn your membership to the club, you must bench press, squat, and deadlift a combined 1000 pounds (453kg). To hit the four-digit number, Hugh benched 235lb (106kg), squatted 355lb (161kg), and deadlifted 410lb (186kg). Imagine what he could have hit in his prime.
Jackman took his training for Wolverine very seriously, transforming his body nine times over 18 years to play the role of the invincible X-Man. According to his trainer, Hugh's training involves predominantly low rep compound movements and high rep exercises to stimulate muscle growth at the end of workouts.
Bench Press Max: 235 lbs (106kg)
Squat Max: 355 lbs (161kg)
Deadlift Max: 465 lbs (210kg)
Born: 12 October 1968 (age 52 years), Sydney
Height: 1.9 m
Famous for: Film, Stage
7. Mark Wahlberg
News flash, Marky Mark is ripped. And to be honest, he'd wanna be with the insane daily schedule he puts himself through. Waking up at 2:30am, his first workout is done before most of us are out of bed. Couple that with a further 2 workouts and 7 meals across the day, it's no wonder the 49-year-old maintains his ripped physique year-round.
But his muscles aren't just there for looks, Wahlberg earns his spot on this list with his brutal workouts, crazy regime, and sheer determination. Honestly, what kind of mad man wakes up at 2:30am for a workout?
Bench Press Max: 335lbs (151kg)
Born: 5 June 1971 (age 49 years), Dorchester, Boston, Massachusetts, United States
Height: 1.73 m
Famous for: Film, Stage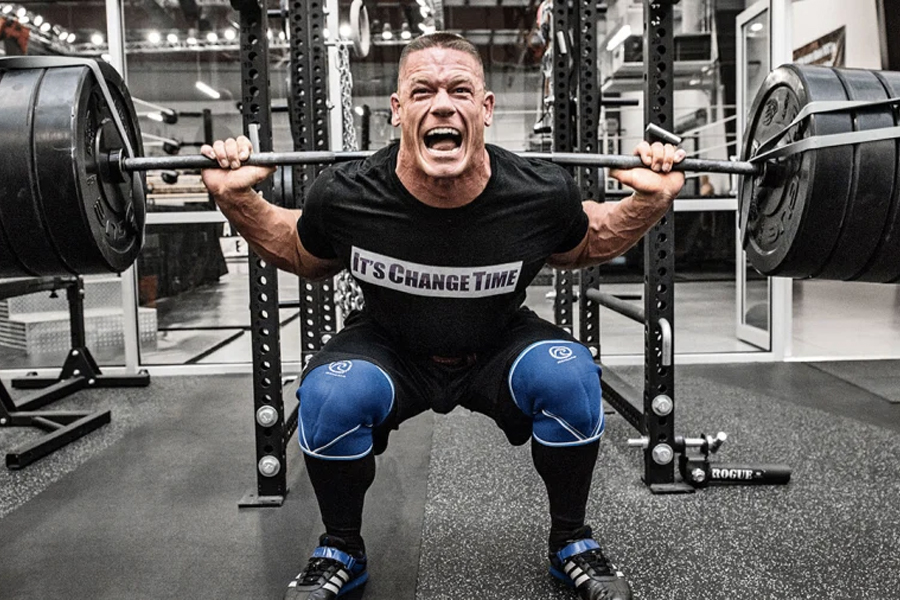 8. John Cena
Long before he was the WWE's invisible man and biggest drawcard, John Cena was a college football player and aspiring bodybuilder. Soon trading those aspirations for a wrestling career, his in-ring character became synonymous with sheer strength and power. At one point, Cena even lifted 500-pound (227kg) co-star Big Show and threw him over his shoulder.
Outside of the ring, Cena takes his strength training really, really seriously. The Rock may have his Iron Paradise, but Cena has his 'Hard Nock's South' gym. Located in Tampa Bay, Cena allows up and coming wrestlers to come and train with him and it is the location of some of Cena's most incredible feats of strength.
These feats include a 210kg benchpress, 287kg squat, and 295kg deadlift. Yep, that's nearly 800kg of insane strength and power meaning John Cena isn't one of Hollywood's strongest celebrities, he's one of the world's strongest men.
Bench Press Max: 462lbs (210kg)
Squat Max: 632 lbs (287kg)
Deadlift Max: 650 lbs (295kg)
Born: 23 April 1977 (age 43 years), West Newbury, Massachusetts, United States
Billed weight: 251 lb (114 kg)
Billed height: 6 ft 1 in (185 cm)
Famous for: Film, Wrestling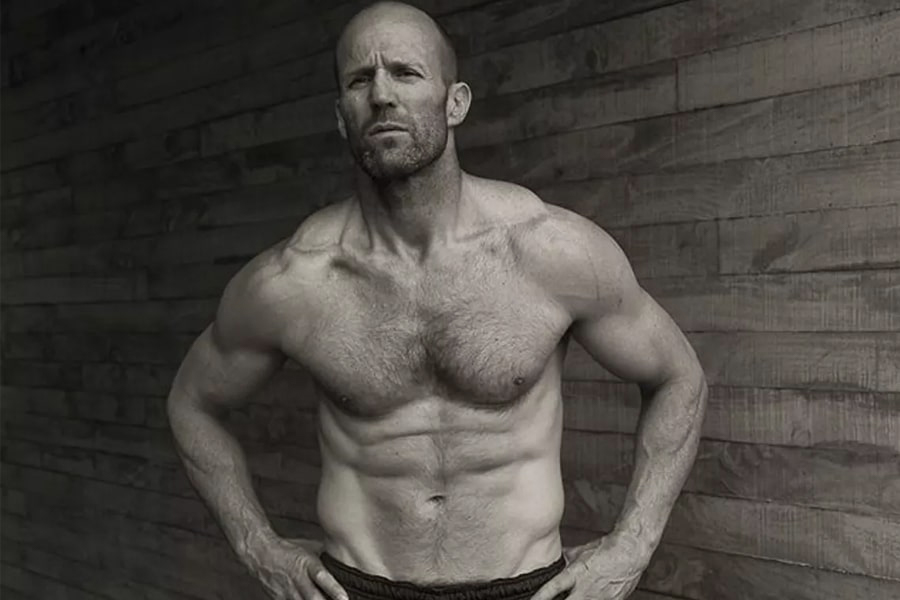 9. Jason Statham
Jason Statham doesn't just play tough guys on-screen, the English actor embodies the trait with his extreme callisthenics and martial arts training.
Having trained with ex-navy seals and combat experts, the action movie star adopts a no-nonsense, high-intensity training method that has sculpted his famously rugged and muscular physique. Disinterested in muscle mass, Statham prefers to work on movements that will build functional and explosive strength. Perhaps that's why he's perfectly capable of performing the 'Human Flag'.
Born: 26 July 1967 (age 53 years), Shirebrook, United Kingdom
Height: 1.78 m
Famous for: Film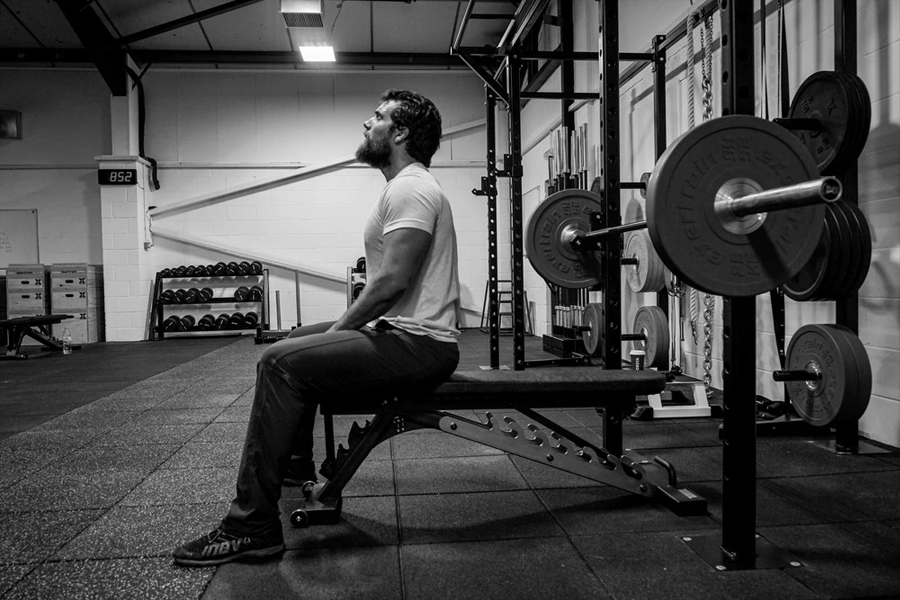 10. Henry Cavill
A self-professed gaming nerd, Henry Cavill is no slouch when it comes to working out. Making his Hollywood debut in Superman movie 'Man of Steel', Cavill underwent a jaw-dropping transformation for the role adding 8kg of muscle and dropping his body-fat percentage to sub-10 in order to play the Kryptonian hero.
Boasting a 200kg deadlift, his impressive strength would see him comfortably qualify for the 1,000 pound club with fellow star Hugh Jackman. Encouragingly for the rest of us, The 'Witcher' actor has admitted that building muscle has never come easy for him, and it is something that requires constant work and dedication.
Squat Max: 365 lbs (165kg)
Deadlift Max: 435 lbs (197kg)
Born: 5 May 1983 (age 37 years), Saint Helier, Jersey
Height: 1.85 m
Famous for: Film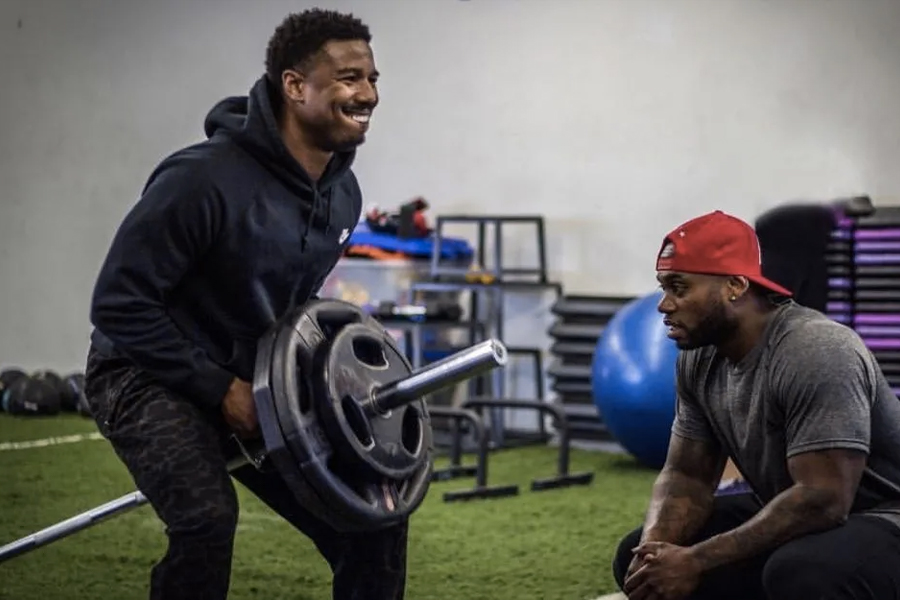 11. Michael B. Jordan
Michael B. Jordan has always been muscular, but when tasked with playing Marvel villain Killmonger, he knew he had to take things to another level. Coming off his impressive physique for Creed, where he was already jacked, the actor added another 10kg of straight muscle for the role with months of intense training and diet.
To achieve such a crazy result, Jordan was training six to seven days a week, eating seven protein-filled meals a day, and was pumping incline chest presses with 50kg dumbbells for reps.
Bench Press Max: 315 lbs (142 kg)
Born: 9 February 1987 (age 33 years), Santa Ana, California, United States
Height: 1.83 m
Famous for: Film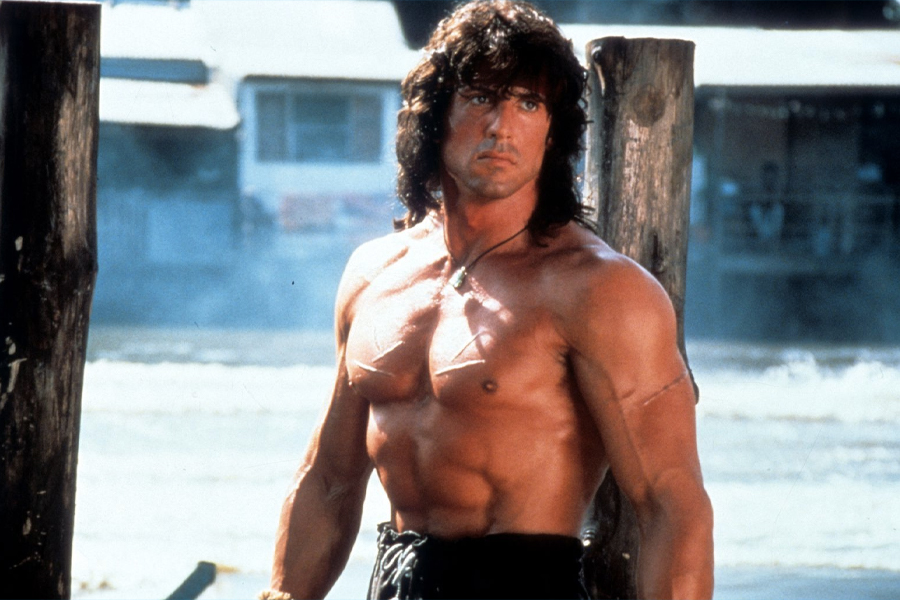 12. Sylvester Stallone
It doesn't take a genius to figure out Sly is insanely strong. The world's most ripped 74-year-old has made a career out of being a physical specimen and by Stallone's own admission, it takes a lot of work. In the early days, Stallone was a massive fan of traditional bodybuilding and Olympic lifting techniques, which he was understandably talented at. Reports suggest Stallone was able to bench press 385-400 lbs (174.6-181.4 kg) and squat 500 lbs (226.8 kg) in his prime, however, a bench press contest with former Mr Olympia-turned-trainer for Rocky II, Franco Columbu ended in tragedy. According to Muscle and Fitness magazine, Stallone severely tore his pectoral muscle in the contest with Columbu and needed over 160 stitches. The result is his signature chest aesthetic, which shows one half more vascular than the other.
Squat Max: 500 lbs (226kg)
Bench Press Max: 400 lbs (181kg)
Born: 6 July 1946 (age 74 years), Hell's Kitchen, New York, United States
Height: 1.77 m
Famous for: Film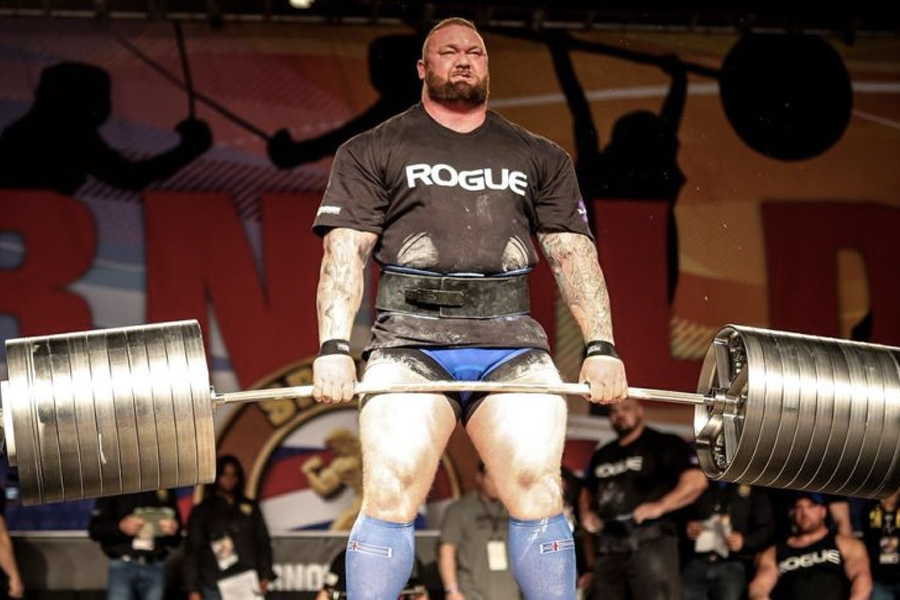 13. Hafthor 'The Mountain' Bjornsson
Yeah, this is probably cheating, but let's face it, this dude is strong. Game of Thrones actor Hafthor Bjornsson is an Icelandic weapon that has truly embraced his god-given gift. The current deadlift world-record holder and Strongman champion winner, Bjornsson isn't just a celebrity with a bit of muscle, he's the strongest man on the planet. Needless to say, he makes our list.
Bench Press Max: 551lbs (250kg)
Squat Max: 925 lbs (420kg)
Deadlift Max: 1,104 lbs (500kg)
Born: 26 November 1988 (age 32 years), Reykjavík, Iceland
Height: 2.06 m
Weight: 205 kg
Famous for: Film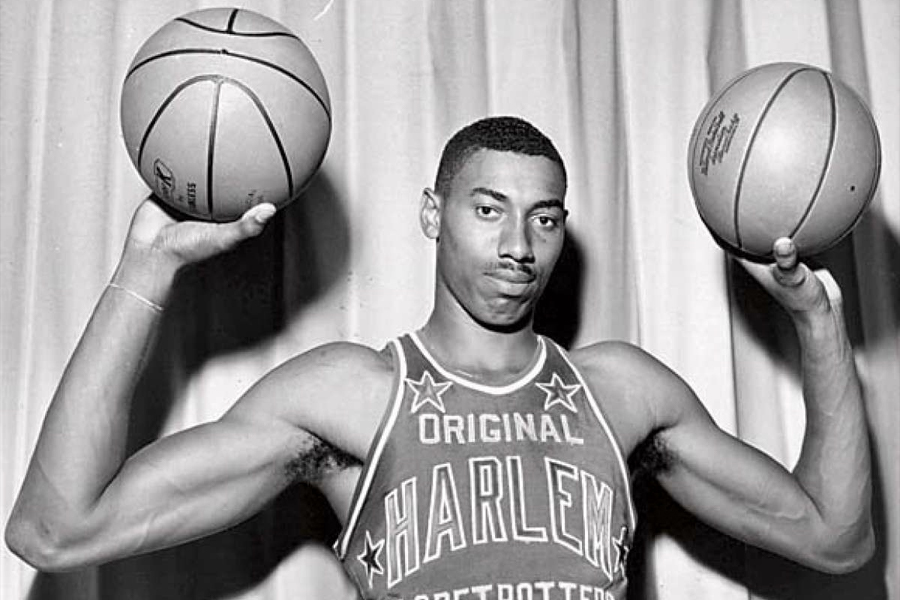 14. Wilt Chamberlain
Often referred to as the 'Human Cheat Code', NBA champion Wilt Chamberlain is like a myth in the sporting world. While there is little footage of the 7'1″ machine at his peak, tales of his strength, size and speed on the court have become the thing of legend. Reports suggest that at his prime, Wilt could bench over 500 lbs (226kg) and do tricep extensions at 180 lbs (81kg). Put that together with a 48-inch vertical (an NBA record), the ability to run the 100-yard dash in just 10.9 seconds, shot-put 56-feet, triple jumped more than 50 feet, and three consecutive Big Eight track and field high jump championships and you have a man who is essentially capable of anything. Sure, we've fudged in the 'In Hollywood' aspect here, with Chamberlain passing in 1999, but nevertheless, you've got to admire the numbers.
Bench Press Max: 500 lbs (226kg)
Vertical: 48-inch
Born: 21 August 1936, Philadelphia, Pennsylvania, United States
Died: 12 October 1999, Bel Air, Los Angeles, California, United States
Height: 2.16 m
Famous for: Basketball, Film
You'll also like:
LeBron James' Insane Diet & Workout Plan
Chris Evans' Captain America Workout & Diet Plan
Arnold Schwarzenegger's Diet and Workout Plan
General FAQs
Who is the strongest Celebrity in Hollywood?
The strongest celebrity in Hollywood is former WWE superstar John Cena, who can benchpress 210kg, squat 287kg, and deadlift nearly 300kg.
How strong is Dwayne 'The Rock' Johnson?
Dwayne 'The Rock' Johnson trains six days a week in his personal travelling gym, 'The Iron Paradise'. Due to his rigorous filming schedule throughout the year, The Rock's training steers away from super heavy weight, but his insane work ethic and training regime make him one of the strongest men in Hollywood.