10 Best Steak Restaurants in Melbourne
While the main attractions at the best steak restaurants in Melbourne are undoubtedly the sizzling cuts of juicy, cooked meats, that's usually just the tip of the iceberg. After all, the extensive wine lists, tasty seafood, craft cocktails, freshly baked breads, classy servers, refined decors and killer side plates are commonly just as much a part of the package. Hence, even if you don't fancy yourself a carnivore you can still walk in and out of the best steak restaurants in Melbourne with a full stomach and a huge smile splashed across your lips. Meanwhile, the smell of prime, seasoned meat is weakening you at the knees. You wonder if maybe next time you'll make an exception and try that rib eye–no one has to know if you can keep it off social media. Should you cave, just make sure you're visiting one of the 10 Best Steak Restaurants in Melbourne. It'll be our little secret.
This article is part of our Good Eating Series.
You'll also like:
10 Best Whisky Bars in Melbourne
Top 50 Cafes in Melbourne
17 Best Barber Shops in Melbourne
1. Dutchess
Between the sleek New York lounge vibe, plush leather booths, unforgettable views, heavenly cocktails and mouth-watering cuisine, Dutchess pretty much has it all. Come in for the locally sourced produce and pasture-fed steak, stay for the ambiance, and don't forget to order dessert.
Address: The Duke Of Wellington, 146 Flinders St, Melbourne VIC 3000
Phone: 03 9810 0055
Trading Hours: Wed-Thu & Sat-Sun 4pm-1am, Fri 12pm-1am

2. Rockpool Bar & Grill
With sister restaurants in Sydney and Perth, Neil Perry's Rockpool Bar & Grill has carved a niche for itself as a premier Aussie destination for painstaking consistency and epic taste. Located in the Crown Entertainment Complex, the Melbourne outpost puts the steak front and centre on a menu with no less than 80 dishes. Expect Wagyu that basically melts in your mouth along with a slew of other orgastic fare. That and so much more makes this not just one of the best steak restaurants in Melbourne, but in all of Australia.
Address: Crown Entertainment Complex, 8 Whiteman St, Southbank VIC 3006
Phone: 03 8648 1900
Trading Hours: Sun-Fri 12pm-3pm & 6pm-11pm, Sat 6pm-11pm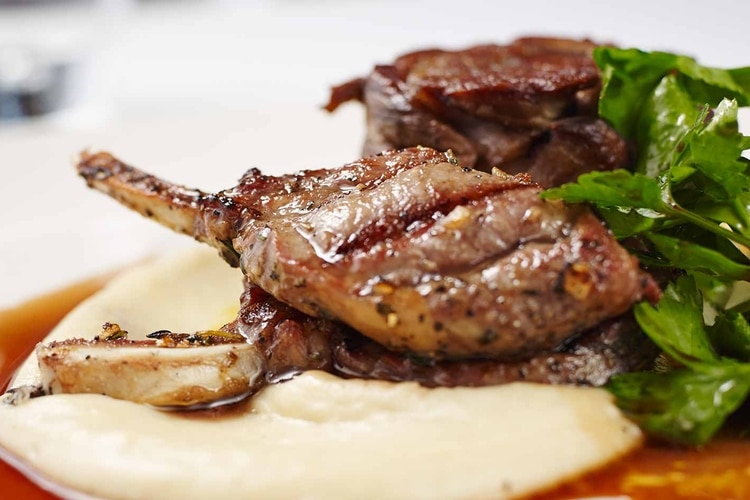 3. The Railway Club Hotel
Touted as Melbourne's original steak pub, The Railway Club Hotel has been packing seats and seducing palates for over twenty years. In addition to its nearly unparalleled range of steak cuts and sizes, the acclaimed restaurant offers delectable seafood, daily specials and a massive wine list. Come here to immerse yourself in the timeless art of fine dining and terrific food.
Address: 107 Raglan St, Port Melbourne VIC 3207
Phone: 03 9645 1661
Trading Hours: Mon-Sat 11am-12am, Sun 11am-11pm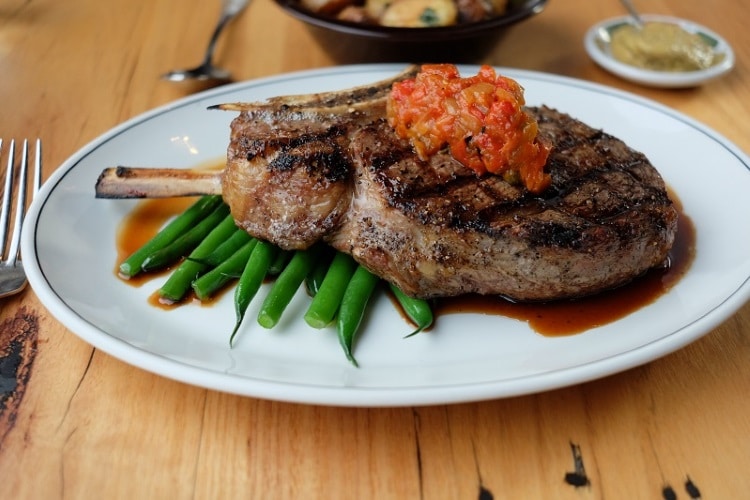 4. La Luna Bistro
Chef Adrian Richardson's cosy, neighborhood restaurant pairs a relaxed, convivial atmosphere with superb meat-based cuisine to stunning effect. If you're not feeling La Luna's house-aged beef, try the wrapped pork or lamb shoulder instead, and expect to savour ever bite. And don't be surprised if the table next to you hands off the bottle of red wine they couldn't finish–it's just that kind of place.
Address: 320 Rathdowne St, Carlton North VIC 3054
Phone: 03 9349 4888
Trading Hours: Tue-Sun 12pm-3pm & 6pm-11pm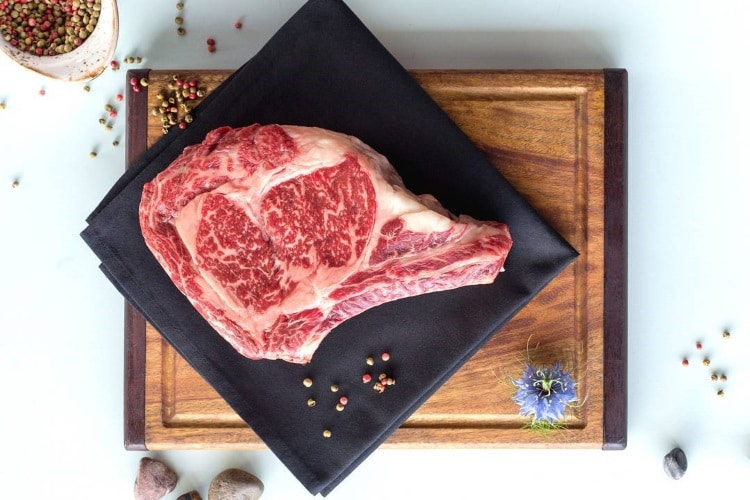 5. Steak Ministry Bar & Grill
Duck out of the city and escape to Glen Waverly for one of the best steak restaurants Melbourne can muster. At Steak Ministry, you'll find classic atmosphere and the kind of food that makes your toes curl. Chef Chris Wade has gone to great effort to ensure only the highest level of quality for each and every ingredient. That includes sourcing his meat from a small, select group of Aussie farmers. Indeed, the 'Master Kobe' Full Blood Wagyu is the kind of dish you'll be telling your friends about for weeks.
Address: 39-51 Kingsway, Glen Waverley VIC 3150
Phone: 03 9560 1818
Trading Hours: Mon-Tue 5:30pm-9pm, Wed-Sat 12pm-2:30pm & 5:30pm-9:30pm, Sun 12pm-2:30pm & 5:30pm-9pm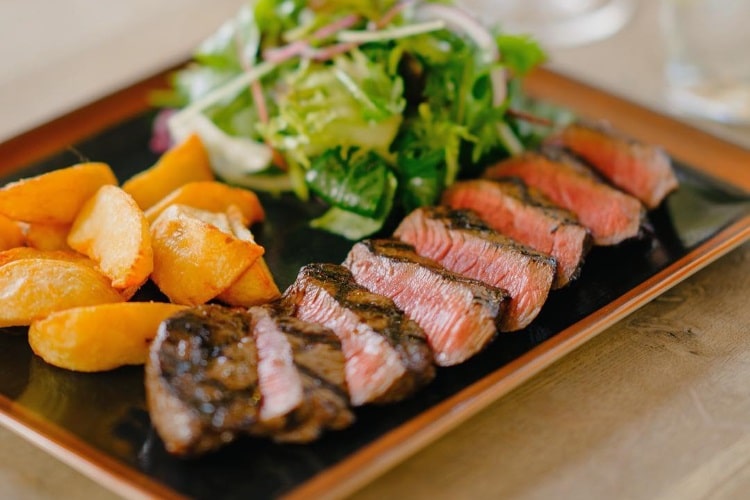 6. The Station Hotel
Footscray's Station Hotel approaches their meat and menu with the customer in mind. That is, they provide a little bit of everything in order to accommodate all kinds of diets and budgets. If you like to know exactly what kind of steak you're eating, refer to the menu to find background information like origin, size and whether the cow was grain or grass fed. It all goes down in a laid back atmosphere with friendly service to match. If the pretentiousness of the fancier places puts you off, come here instead. You'll be happy you did.
Address: 59 Napier St, Footscray VIC 3011
Phone: 03 9810 0085
Trading Hours: Mon-Sun 12pm-11pm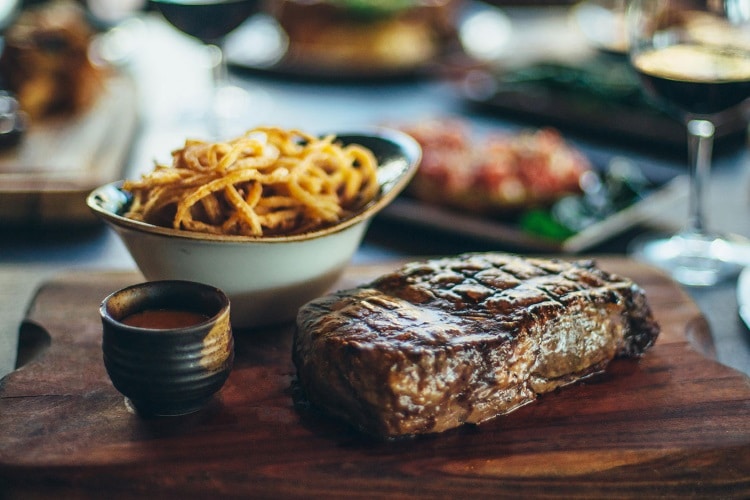 7. The Meat & Wine Co
With no less than three locations in Melbourne alone, one might begin to think Meat & Wine Co. sacrifices quality for profit. To that we would say, "you've never actually tried this place, have you?" That's because Meat & Wine Co.–which joins African flavours with Australian cuisine–keeps the operation tight and tasty on all fronts. Meanwhile, no two locations feel exactly the same, though each one duly exudes pure modern elegance in its own way. Order one of their succulent steaks and don't forget to pair it with their addictive side sauces.
Address: Freshwater Place, 3 Queensbridge St, Southbank VIC 3006
Phone: 03 9696 5333
Trading Hours: Sun-Thu 12pm-10pm, Fri-Sat 12pm-10:30pm
Address: 482 Riversdale Rd, Hawthorn East VIC 3123
Phone: 03 9882 8728
Trading Hours: Sun-Thu 12pm-10pm, Fri-Sat 12pm-10:30pm
Address: The Como Centre Shop 4, South Yarra VIC 3141
Phone: 03 9190 1588
Trading Hours: Sun-Thu 12pm-10pm, Fri-Sat 12pm-10:30pm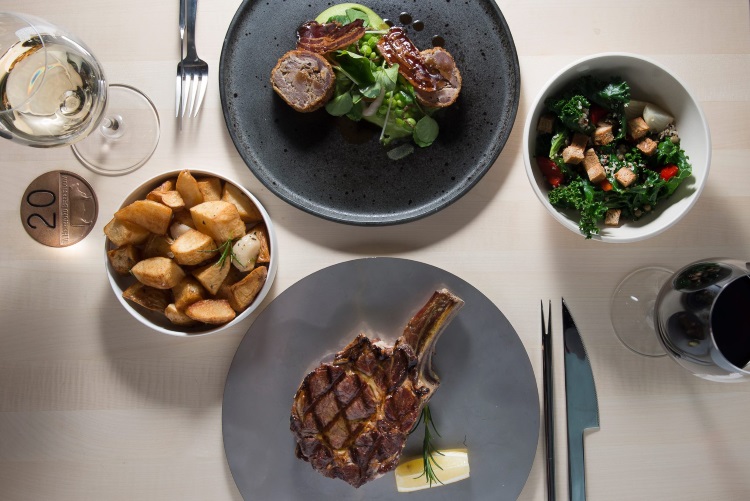 8. A Hereford Beefstouw
One of the best steak restaurants in Melbourne, A Hereford Beefstouw couples Nordic cooking methods with high quality meats like dry-aged beef. The result is unmistakable flavour, brilliant texture and savoury distinction in every bite.
Address: 22 Duckboard Pl, Melbourne VIC 3000
Phone: 03 9654 8297
Trading Hours: Tue-Thu 11:30am-2pm & 5:30pm-10:30pm, Fri 11:30am-10:30pm, Sat 5:30pm-10:30pm, Sun 5pm-10:30pm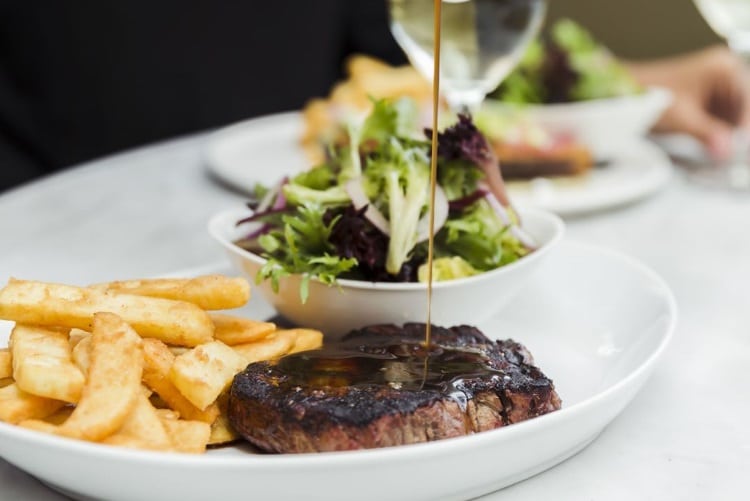 9. The Grosvenor Hotel
A seemingly permanent fixture in St. Kilda, The Grosvenor Hotel has never looked better. It's never tasted better either–the food that is, not the building. Their welcoming bistro offers surprisingly delicious takes on pub classics and snacks alike. That's joined by an impressive wine list along with higher end fare like whole roasted suckling pig or porterhouse steak. Pop in for a tasty lunch or take advantage of their ongoing dinner specials. And bring a group of friends because this place always sets the stage for a great time.
Address: 10 Brighton Rd, St Kilda East VIC 3183
Phone: 03 9531 1542
Trading Hours: Sun-Thu 12pm-11pm, Fri-Sat 12pm-1am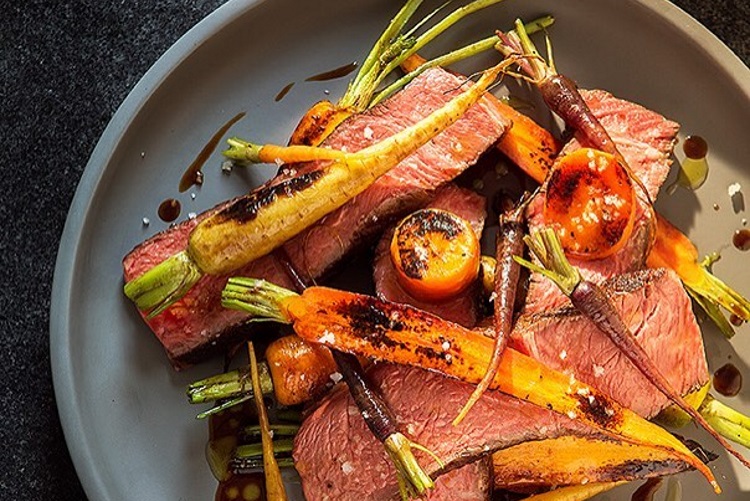 10. Estelle Bistro
What started as a mere six table operation has become a premier destination for spectacular rustic fare and warm hospitality. To call Estelle Bistro one of Melbourne's best steak restaurants is to do it an injustice because everything on the menu here is worth trying. Whether ordering a la carte or going for one of the chef's tasting dinners, you're in for a bounty of creative plates and delightful flavours at this legendary hotspot.
Address: 243 High St, Northcote VIC 3070
Phone: 03 9489 4609
Trading Hours: Tue-Thu 5:30pm-10pm, Fri-Sat 5:30pm-12am, Sun 12pm-11pm

This article is part of our Good Eating Series.
Have you subscribed to Man of Many? You can also follow us on Facebook, Twitter, Instagram, and YouTube.
You'll also like:
10 Best Whisky Bars in Melbourne
Top 50 Cafes in Melbourne
17 Best Barber Shops in Melbourne