18 Best Fried Chicken & Wings in Melbourne
The best things in life are the little pleasures, like biting into a golden crispy piece of fried chicken or sucking the meat of a tender chicken wing. Floured, battered, seasoned, pan-fried, deep-fried, pressure fried – however, it's made there's no denying fried chicken is one of the most popular dishes in the world and Melbourne is no exception. Melbourne even has its own festival 'The Big Chicken Festival', a three-day munch-a-thon from Melbourne's favourite chicken fryers. So whether you're after a quick nibble or an all-night fried chicken marathon, here's the ultimate list of the best wings and fried chicken Melbourne's got to offer.
You'll also like:
18 Best Beer Gardens in Melbourne
13 Best Ribs in Melbourne
20 Best Hidden Bars in Melbourne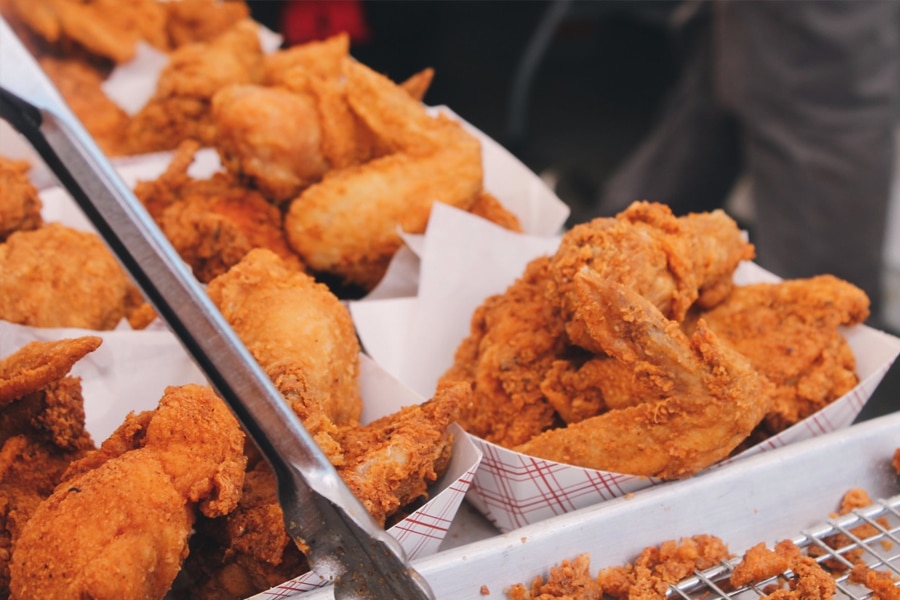 1. Crazy Wings
If it is Crazy Wings mission to show us just how delicious chicken wings can be, we'd say mission accomplished. You can get all the chicken wings you want in just about every flavour you can think of. From Honey Spicy to Delicious Curry and Orleans to Lobster flavour, you'll be sure to find something new and exciting and undoubtedly delicious at one of Melbourne's top chicken restaurants.
Address: 177 Russell Street, Mebourne VIC 3000
Phone: +61 3 9663 6555
Trading hours: Mon-Sun 11pm-10:30am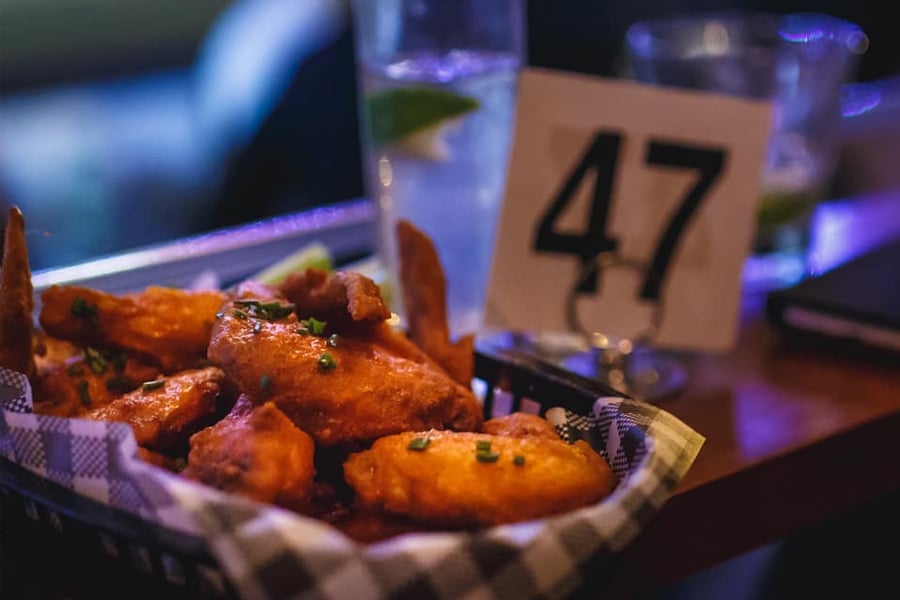 2. The Kodiak Club
The only Bourbon Bar in Melbourne, The Kodiak Club offers up not just the biggest ranges of Bourbon but some deliciously prepared American bar food. Crispy fried chicken wings tossed in BBQ sauce with a blue cheese dressing make up Kodiak Clubs delicious Smokey BBQ wings. Or if you're more of a traditionalist, try the Kodiak Buffalo Wings, crispy fried with American hot sauce.
Address: 272 Brunswick St, Fitzroy VIC 3065
Phone: +61 3 9417 3733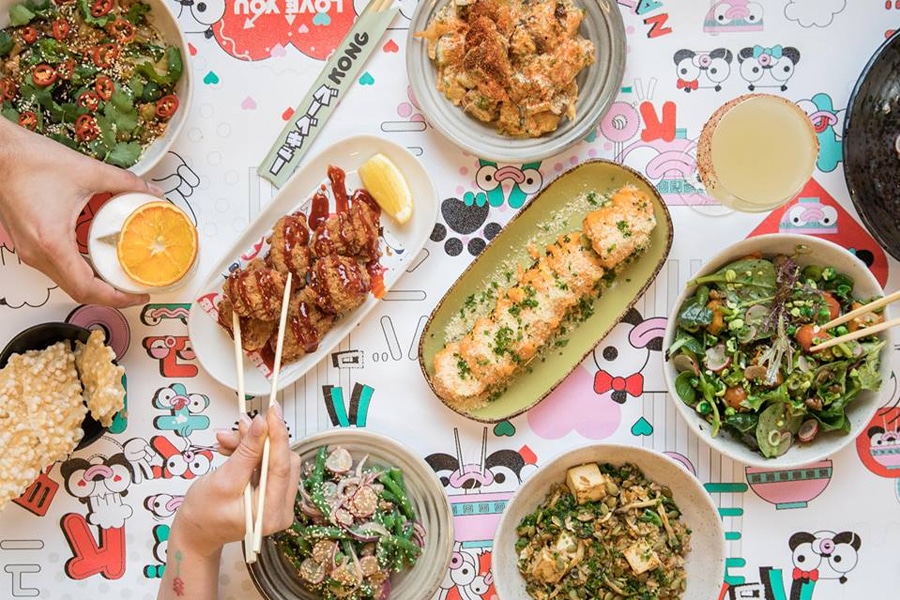 3. Kong
Relatively new Melbourne restaurant and baby cousin to restaurant Chin Chin, Kong serves up some Korean/Japanese fusion cuisine. Try the Korean Style Fried Chicken, known for its extra crispiness with Yang Yang sauce and crushed nuts or if it's wings you're after, Korean fried wings with honey, Hot wings and BBQ Soy are on the menu and to die for.
Address: 599 Church St, Richmond VIC 3121
Phone: +61 3 9427 1307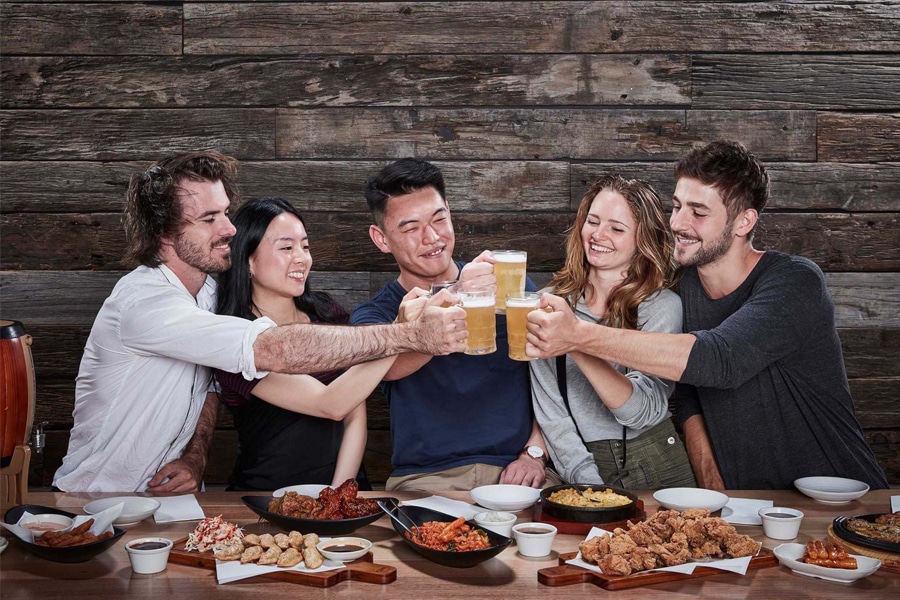 4. Gami
Another Korean Style BBQ restaurant, Gami prides itself on its chicken and beer. Gami, meaning 'beautiful taste' in Korean, offers some of the best fried chicken Melbourne has available. More of a wingman? Try the Gami Wings, served with a dipping sauce of your choice including, honey mustard, sweet chilli, soy garlic and spicy.
Address: 100 Lt. Lonsdale St, Melbourne VIC 3000
Phone: +61 3 9671 3232
Trading hours: Mon-Thu 12pm-2pm & 5pm-9:30pm, Fri-Sat 12pm-2pm & 4:30pm-9:30pm, Sun 5pm-9:30pm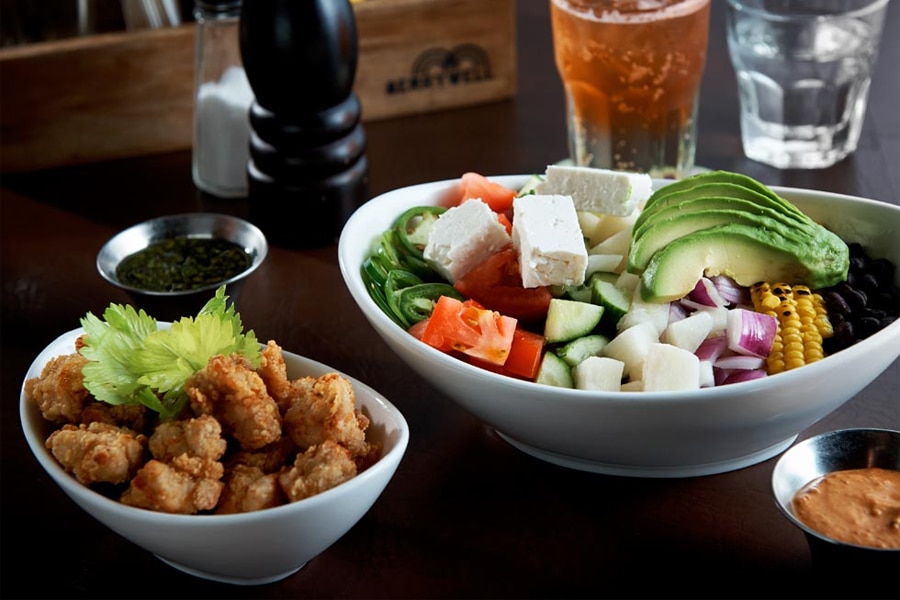 5. The Merrywell
The Merrywell is a casual drink and dining space, located at Crown Melbourne and puts mouth-watering meals that are made for sharing. Try the Japanese Fried Chicken with sesame and Yuzu Kosho mayo or the Panko Chicken Schnitzel. Need something more substantial? The Bird In Hand buttermilk battered chicken burger is sure to hit the spot.
Address: 8 Whiteman St, Southbank VIC 3006
Phone: +61 3 9292 5777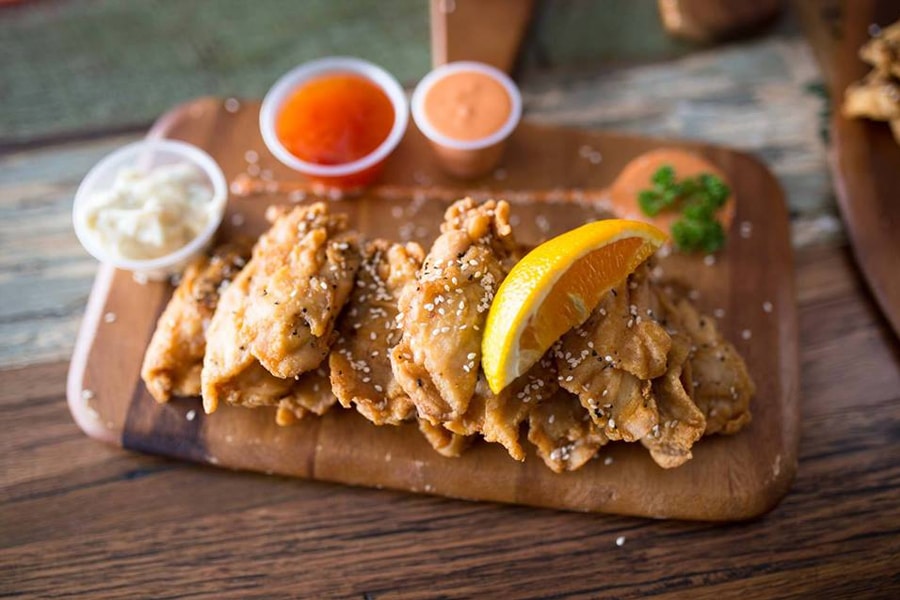 6. Chicken 'N' Beer
The title says it all if you want Chicken 'N' Beer you can't get much more to the point that this place. Deep-Fried Chicken and Waffles, CnB Wings, Popcorn Chicken, Wingettes with buffalo or Korean style sauce are just some of what you can expect from this fried chicken extravaganza. Want a whole deep-fried chicken, you can have that too!
Address: 297 Bridge Rd, Richmond VIC 3121
Phone: 03 9427 9421
Trading hours: Sun-Thu 5pm-10pm, Fri-Sat 5pm-11pm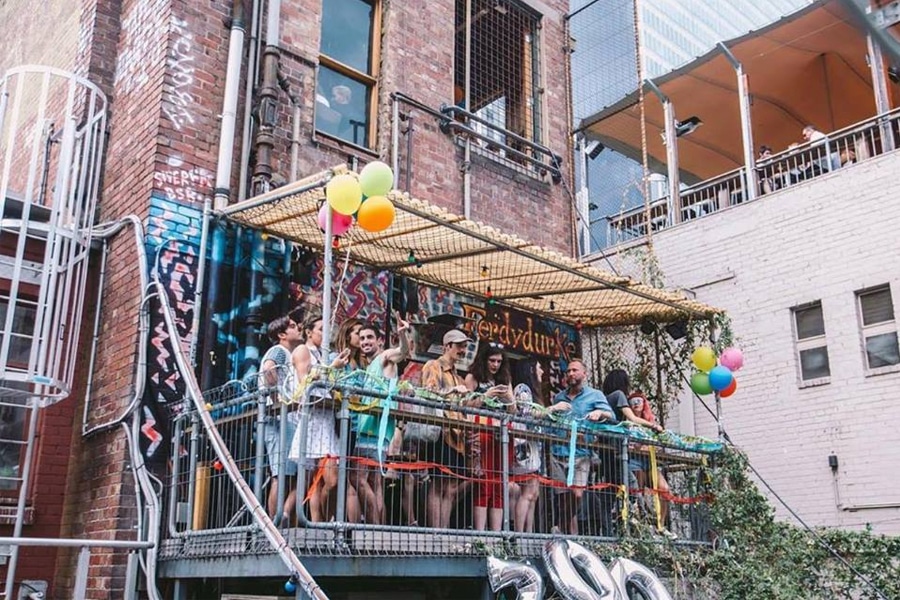 7. Ferdydurke
When on the hunt for a tasty chicken wing, you can't go past Ferdydurke. Set in a lofty New York-style space and with a nice glowing fireplace, you can find a comfy spot to stop and try the Smokey Chipotle BBQ Wings with Blue Cheese Ranch. Not only that the bar offers a comprehensive list of classic cocktails and import beers.
Address: Level 1 & 2, 31 Tattersalls Lane, Melbourne VIC 3000
Phone: (03) 9639 3750
Trading hours: Sun-Thu 4pm-1am, Fri-Sat 4pm-3am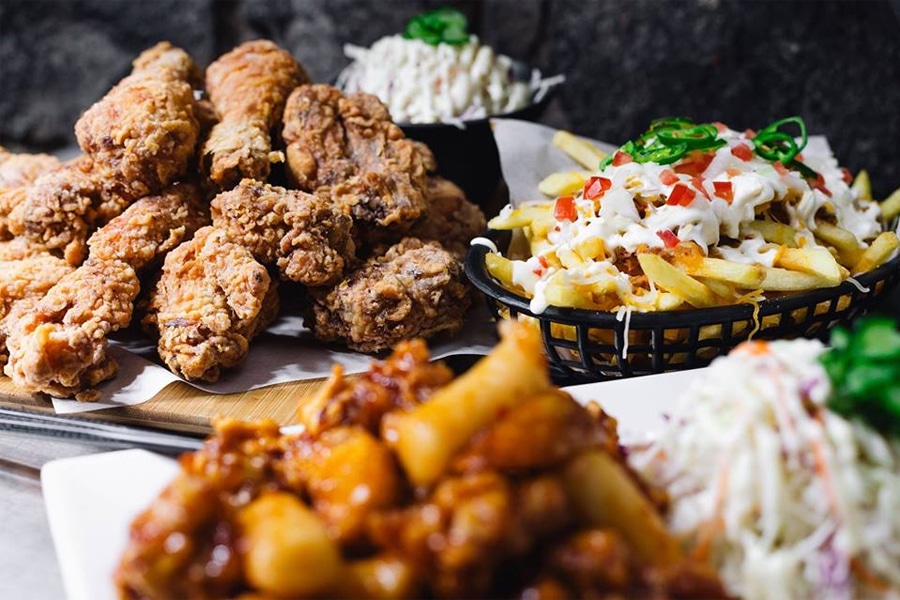 8. Chick-In
Delicious Korean fried chicken is on the menu at the aptly named Chick-In. You can expect to have your poultry every which way including, battered juicy wings in a soy sauce glaze and Korean fried chicken, but what you really ought to try is what they are most famous for, the Gang Jung; a plate of spicy potato wedges, Korean fried chicken breast and thigh and silky rice noodles.
Address: 260 Collins St, Melbourne VIC 3000
Phone: +61 3 9973 6244
Trading hours: Mon-Sat 12pm-10pm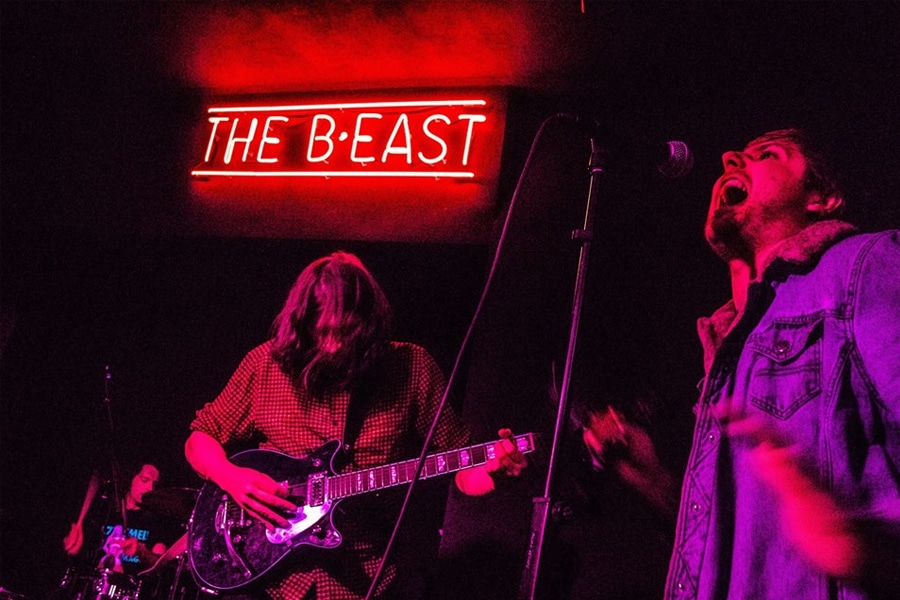 9. The B.East
7 days a week, Brunswick East bar The B.East is open for business and serves up some of the best fried chicken in Melbourne. From baby buffalo chicken to fried chicken with a dark beer hot sauce, you can get all the crispy goodness you can fit in your belly. Get your hands on the 'Clint Eastwood', a southern fried chicken fillet burger with pickles, thousand island sauce and buttermilk slaw or the Southern fried chicken ribs, buttermilk brined and fried to perfection.
Address: 80 Lygon St, Brunswick East VIC
Phone: +61 3 9036 1456
Trading hours: Sun-Thu 12pm-10pm, Fri-Sat 12pm-11pm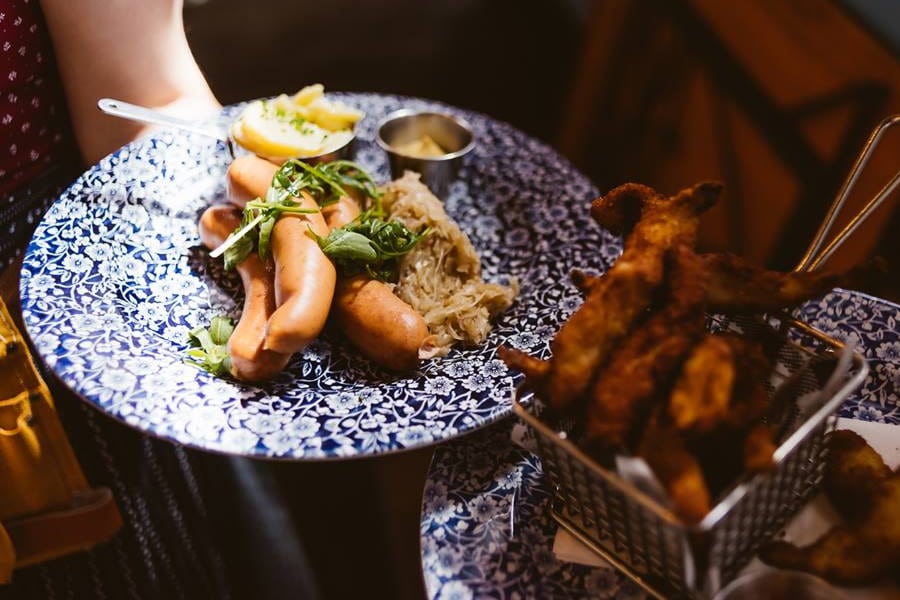 10. Munich Brauhaus
Just opposite the Melbourne Convention & Exhibition Centre, Munich Brauhaus is not just for the steins and sauerkraut, it also offers a range of tempting chicken wings. Get half a kilo of some of Melbourne's finest chicken wings in either BBQ, Buffalo or the spicy Diablo served with a side of rich blue cheese dipping sauce, and wash it all down with a few steins of cold beer.
Address: 45 South Wharf Promenade, Melbourne VIC 3006
Phone: +61 1300 686 424
Trading hours: Mon-Sun 11:30am-12am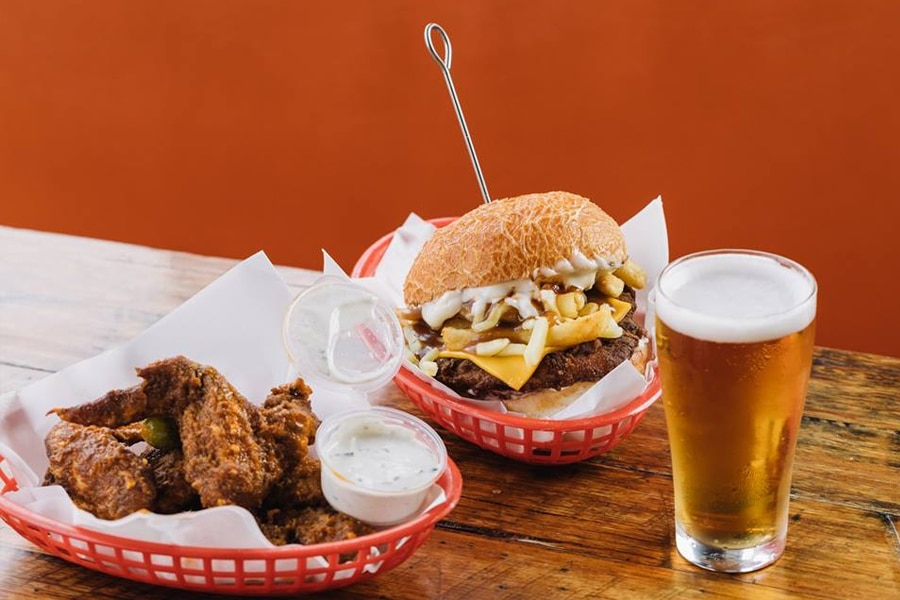 11. F.A.T Fried & Tasty
If you're looking for fried and tasty American style chicken with and Australian twist, you've come to the right place. Just a few years old this Brunswick East restaurant has garnered a reputation for its superb family recipe for fried chicken. Peach and cayenne chicken, Fried tenders, hot wings and Buffalo wings are just some of the things you can expect at F.A.T.
Locations:
41-47 Smith St, Fitzroy VIC 3065
360 Lygon St, Brunswick East VIC 3057
Phone: +61 1300 328 462
Trading hours: Sun-Thu 11am-10pm, Fri-Sat 11am-11pm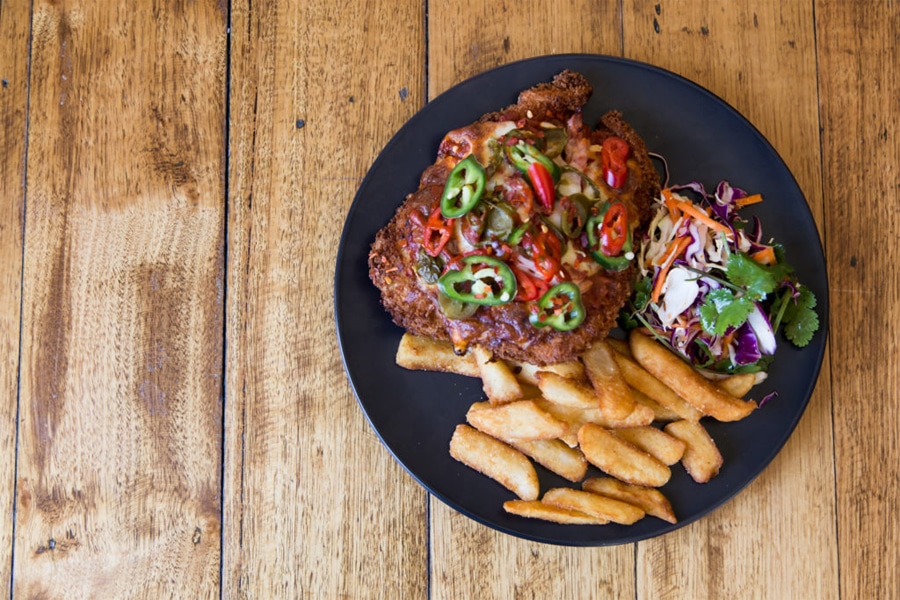 12. The St Kilda Branch
Melbourne bar and restaurant The St Kilda Branch offers up some of the best chicken wings in Melbourne. Try the fried chicken wings with your choice of smoky BBQ, Franks hot sauce and sweet chilli or the Dirty Bird, a BBQ fried chicken burger served with double American cheddar, bacon and relish.
Address: 204 Barkly St, St Kilda VIC 3054
Phone: (03) 9525 3054
Trading hours: Wed-Thu 3pm-12am, Fri 3pm-1am, Sat 12pm-1am, Sun 12pm-11pm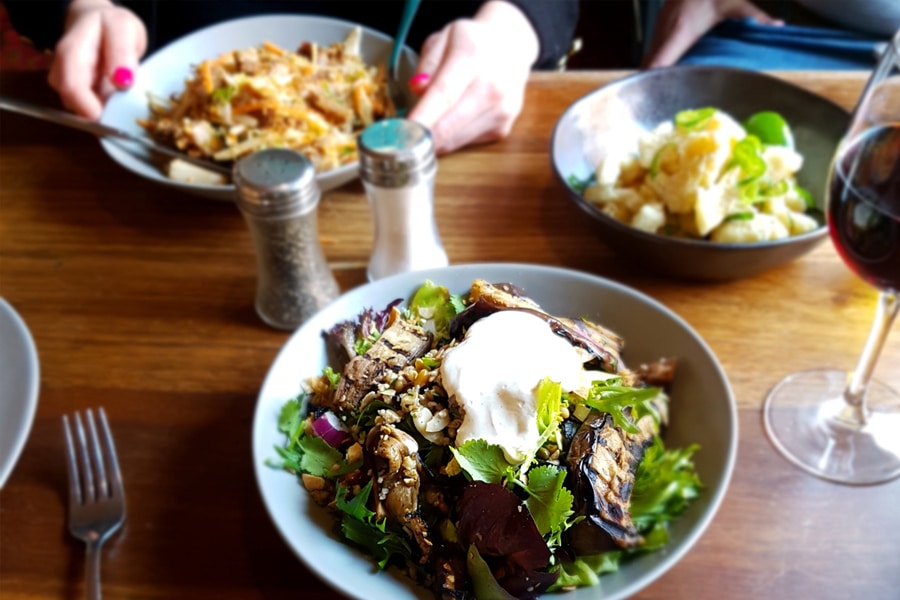 13. Northcote Social Club
Northcote Social Club offers live music, booze and fried food, the holy trinity of a good local. Korean fried chicken wings with pickled Daikon, Ssamjang mayo and sesame wakame salt or a fried chicken burger with fennel slaw and Jameson's BBQ sauce are just some of the fried treats you can expect at this trendy pub.
Address: 301 High Street, Northcote VIC 3070
Phone: (03) 9489 3917
Trading hours: Mon 4pm-1am, Tue-Thu & Sun12pm-1am, Fri-Sat 12pm-2:30am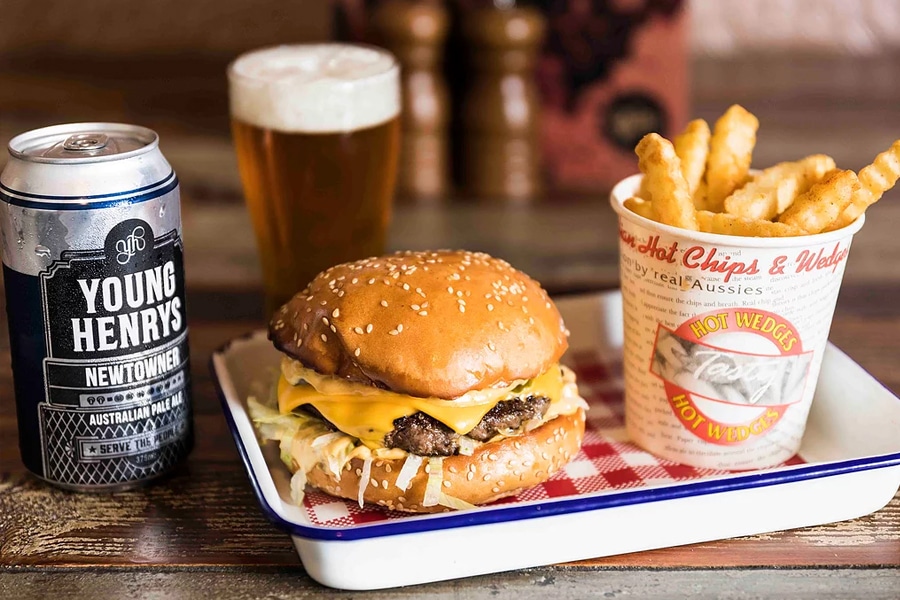 14. Gem Bar
With quirky décor and a rockabilly feel to the place, Gem Bar offers a slice of America encapsulated by their southern style menu. For some of the best fried chicken Melbourne has to offer, try the Colonel Williams' Fried Chicken with soured ranch.
Address: 289 Wellington St, Collingwood VIC 3066
Phone: (03) 9419 5170
Trading hours: Tue-Thu 3pm-9:30pm, Fri-Sun 12pm-late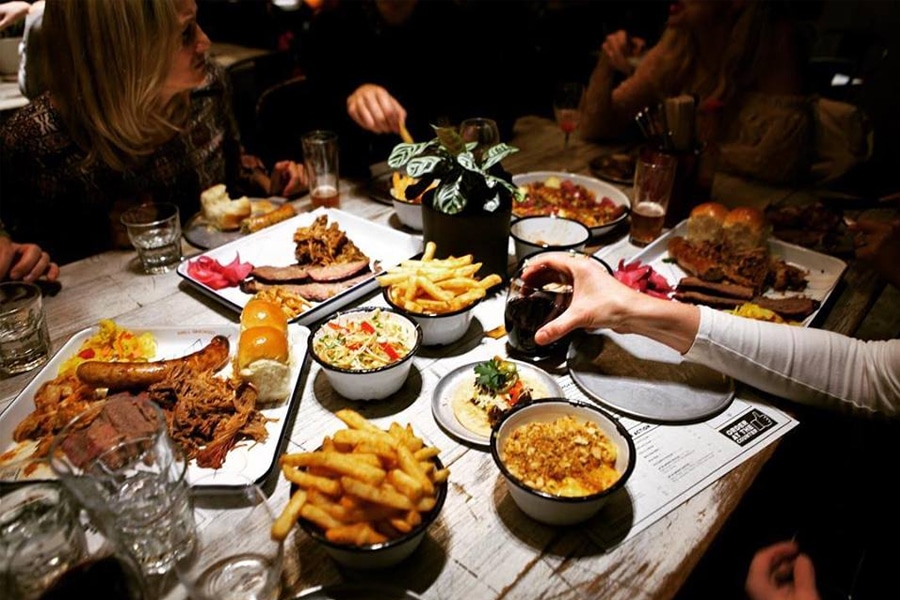 15. Up in Smoke
Featuring a $20,000 smoker, Up in Smoke truly is giving the smokehouses a run for their money. With a 60 seater dining area and outside beer garden, you'll find a comfy spot to pull up a chair and order some smoky goodness. Be sure to try the smoked hot wings and wash it down with one of their stellar craft beers.
Address: 28 Hopkins St, Footscray VIC 3011
Phone: 0421 139 838
Trading hours: Tue-Thu 5pm-8:30pm, Fri-Sat 12pm-8:30pm, Sun 5pm-8pm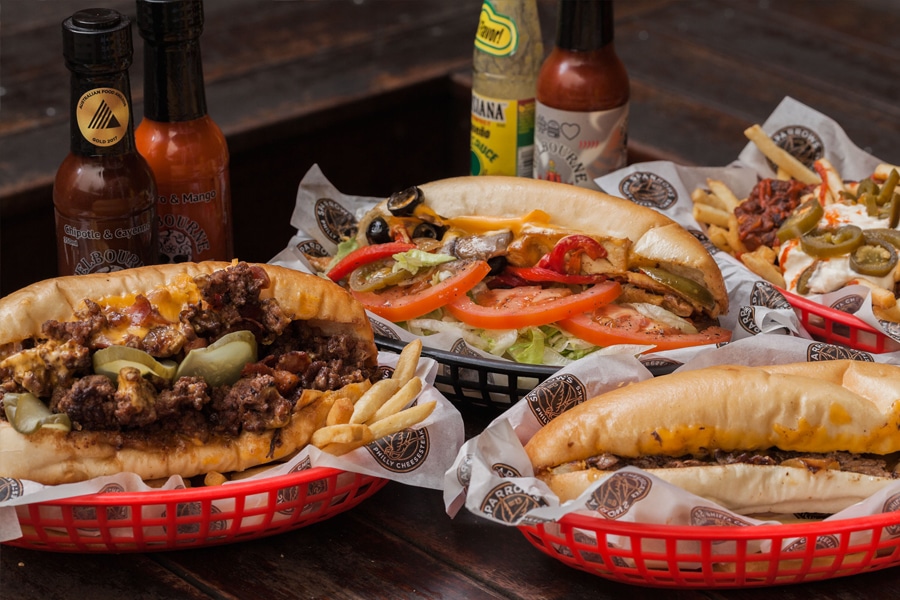 16. Sparrow's Philly Cheesesteaks
At Sparrow's Philly Cheesesteaks, take your pick from the fried chicken menu with golden fried chicken wings, Buffalo wings or the sweet BBQ wings, all brined, poached and coated or the 24 hour brined pieces of thigh, fried to perfection with herbs and spices. Plus, it's not just cheese-steak on the sandwich menu, try the Fried chicken sandwich with Kale slaw and BBQ sauce.
Address: 30 Gertrude St, Fitzroy VIC 3065
Phone: 0401 078 470
Trading hours: Mon-Sat 12pm-12:30am, Sun 12pm-10:30pm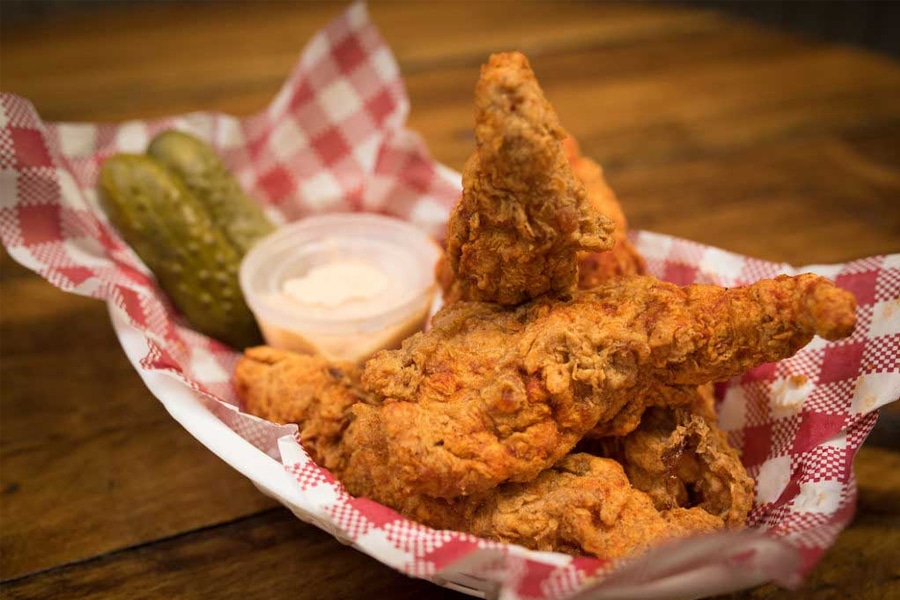 17. Leonard's House of Love
There's a lot to love at Leonard's House of Love. It's a 70s throwback and looks like a ski cabin bar made complete by pool tables, psychedelic wallpaper, pinball and a vintage TV. But the main star of this 70's revival is the food, specifically the fried chicken. Grab some fried goodness with the fried hot glazed tenders served with chipotle mayo or the xxx hot wings.
Address: 3 Wilson St, South Yarra VIC 3141
Phone: +61 428 066 778
Trading hours: Wed-Thu 5pm-9pm, Fri-Sun 12pm-9pm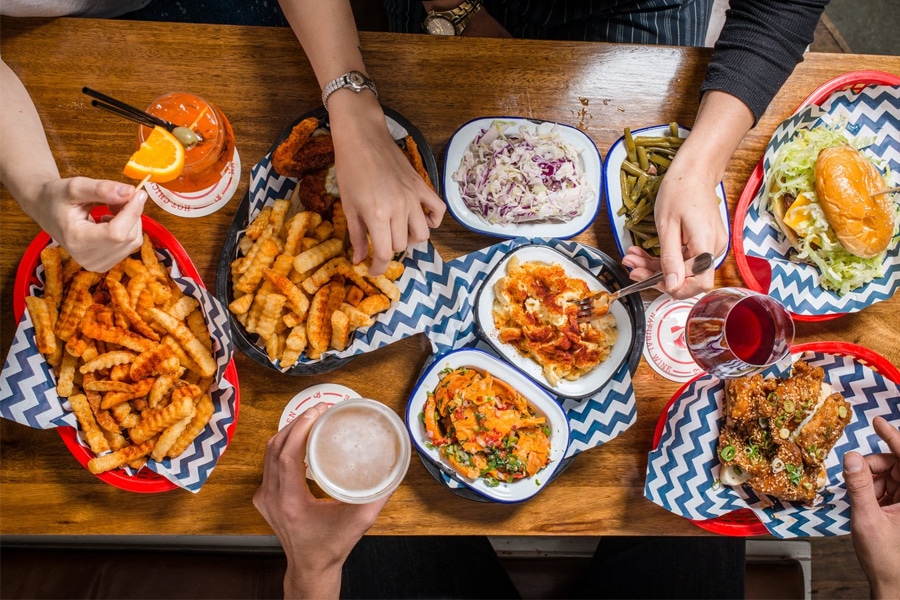 18. Belles Hot Chicken
Belle's Hot Chicken serves spicy fried chicken with traditional southern inspired sides. Founder, Morgan McGlone, has perfected fried chicken cuisine after years of experience in Nashville, Tennessee and brought it all the way home to restaurants in Sydney and Melbourne. Salivate over a menu of juicy chicken tenders, wings or drumsticks and choose whether you want it a little spicy or in their own words "Really F*cking Hot".
Address: 147 Elizabeth St, Melbourne VIC 3000
Phone: (03) 9670 7478
Address: 150 Gertrude St, Fitzroy VIC 3065
Phone: (03) 9077 0788
Address: 727 Collins St, Melbourne, Vic 3000
You'll also like:
33 Best Burger Shops in Melbourne
49 Best Bars in Melbourne For a Good Night Out
17 Cool Restaurants in Melbourne
General FAQ
Who has the best fried chicken in Melbourne?
Some of the best places for fried chicken in Melbourne are Chick-In, Gami, Kong, and The Kodiak Club.
What are the best type of wings?
Some of the most popular types of wings are BBQ, buffalo, Caribbean jerk, and salt and pepper.