22 Best Vegan Restaurants in Sydney
The best vegan restaurants in Sydney include Vandal, Flave if you're looking for burgers, and Bootleg Italian for, well, Italian vegan food. Gone are the days of veganism equating solely to a stuffed capsicum and some sad-looking steamed veg, vegan restaurants are now almost as plentiful as their non-vegan counterparts, especially in Sydney. Vegans and those that just loved plant-based food alike now have a myriad of options to choose from in the harbourside city, whether it be fine dining, burger joints or Asian eateries. If you're in the NSW capital looking for a tasty vegan feed and don't know where to begin, here are the best vegan restaurants in Sydney to get you started.
Best Vegan Restaurants in Sydney at a Glance
Our list of the best vegan restaurants in Sydney goes like this.
Now we've had a look at our favourites, let's check out the complete list.
Related: Looking for vegan treats? Our list of the best gelato in Sydney has a few vegan surprises.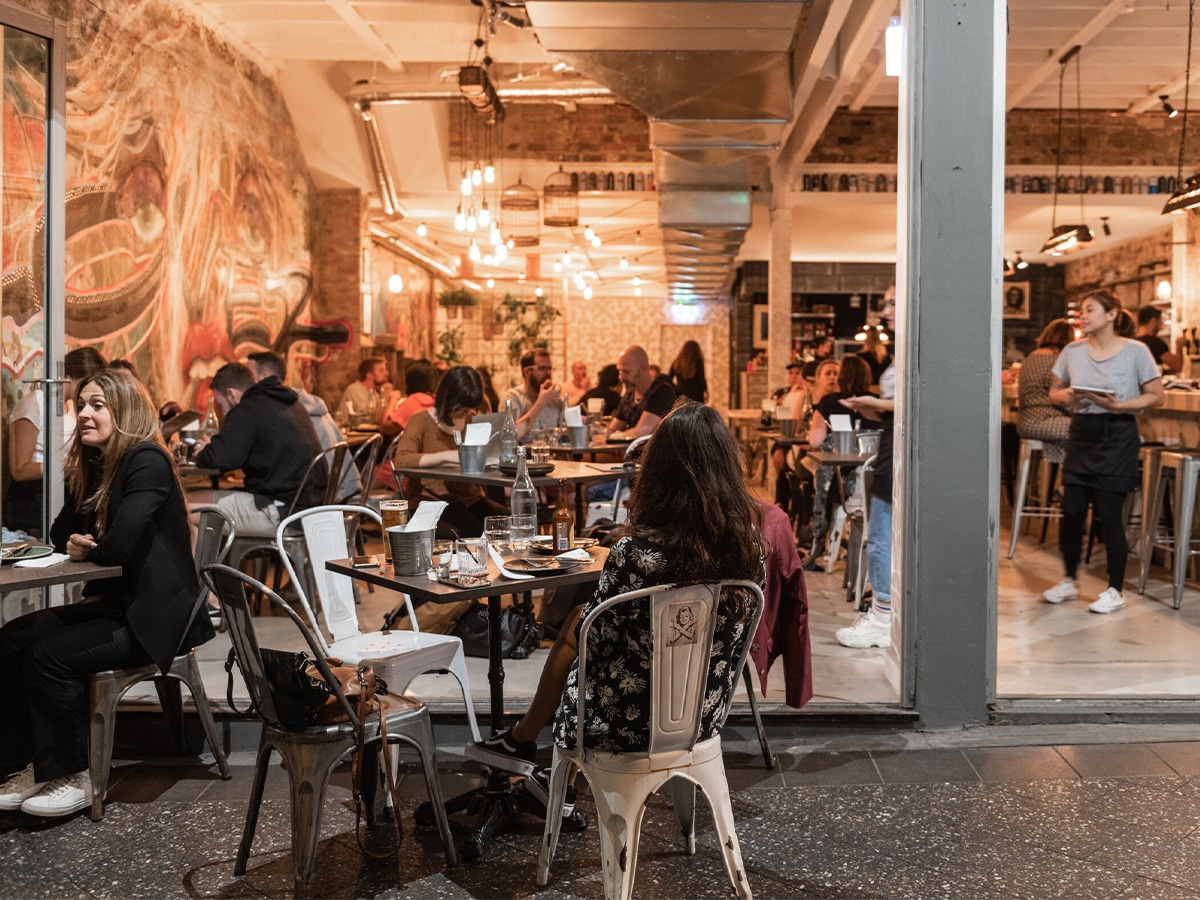 1. Vandal
One of the ultimate vegan-friendly cuisines is none other than everyone's favourite — Mexican! And Vandal takes this up a notch, with a menu that pays homage to the Latino food trucks of Los Angeles, with a focus on freshness, spice and rich flavours. Menu standouts include the crisp zucchini flowers from the street food menu and from the taco menu, we can't go past the Korean eggplant 'halloumi' tacos with cashew créma, miso fermented chilli bbq sauce, carrot and coriander slaw. The cocktails are also insane, the sunset blvd sour is our drop of choice.
Address: 403 King St, Newtown NSW 2042
Hours: Tue-Fri 5-10pm, Sat-Sun 12-10pm
Phone: (02) 9565 1273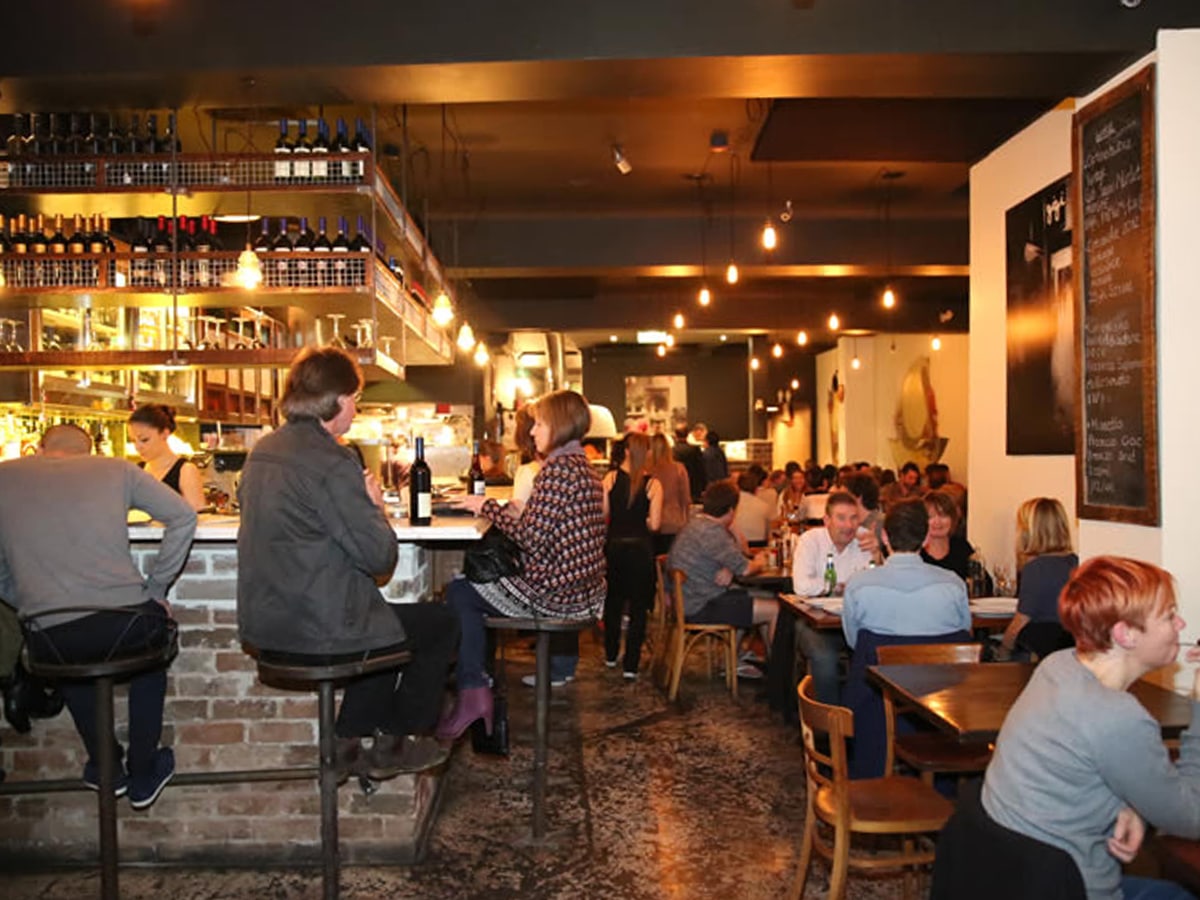 2. Gigi Pizzeria
Gigi Pizzeria has gathered a cult following since it turned vegan in 2015, and it's no secret why. For authentic Italian pizza, without the cheese, Gigi's knows what's up. If you're heading to the Newtown store for an evening slice, be prepared as the line usually swings right around the corner. We recommend the 'Pizza e Fichi' with figs, plant-based blue cheese topped with rocket, toasted almonds and shaved gondino cheese.
---
Featured Video from Man of Many
---
Address: 379 King St, Newtown NSW 2042
Hours: Mon-Fri 5-9:30pm, Sat-Sun 12-9:30pm
Phone: (02) 9557 2224
Check out Gigi Pizzeria Gigi Pizzeria Menu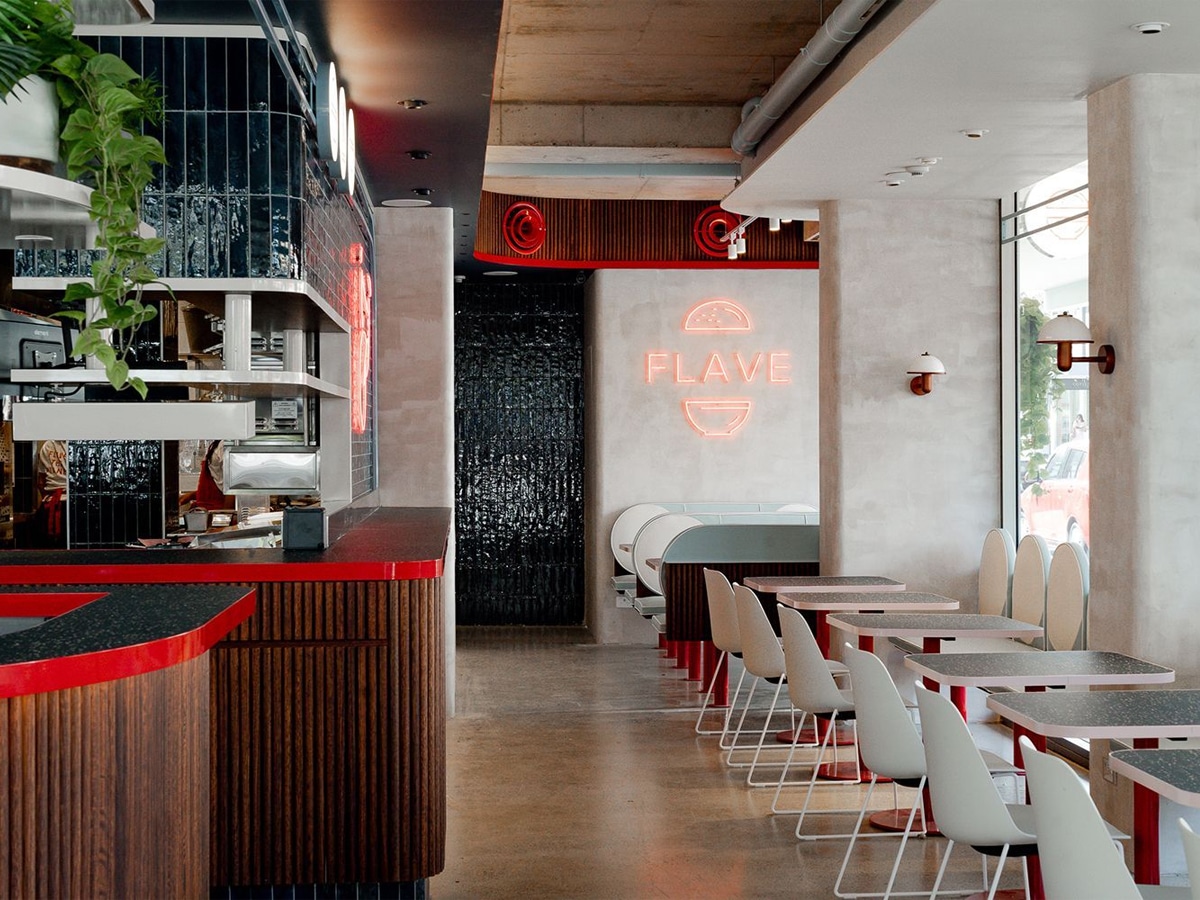 3. Flave
Not your regular burger joint, Flave likes to push the boundaries when it comes to the traditional burger. Their menu is pretty out-there, as far as burgers go, with each option packed so full to the brim with fillings you wouldn't;t be a fool for wondering if you'll manage to finish. They also have bowls, shakes and desserts, if you have any room left, that is. we can't go past the 'Epic Flave' with grilled BUDS smashed patty, melty cheese, BBQ smoked brisket, streaky bacon, pickles, raw diced onion & a roasted field mushroom, loaded with crunchy southern fried onion rings, chipotle aioli & smokey BBQ sauce. Who said vegans are missing out?
Address: 89 Hall St, Bondi NSW 2026
Hours: Mon-Thur 12-10pm, Fri 12-11pm, Sat 11am-11pm, Sun 11am-10pm
Phone: (02) 9130 4279
Address: 70 Stanley St, Darlinghurst NSW 2010
Hours: Mon-Fri 11am-1pm, Sat-Sun 11am-11pm
Phone: (02) 9331 8784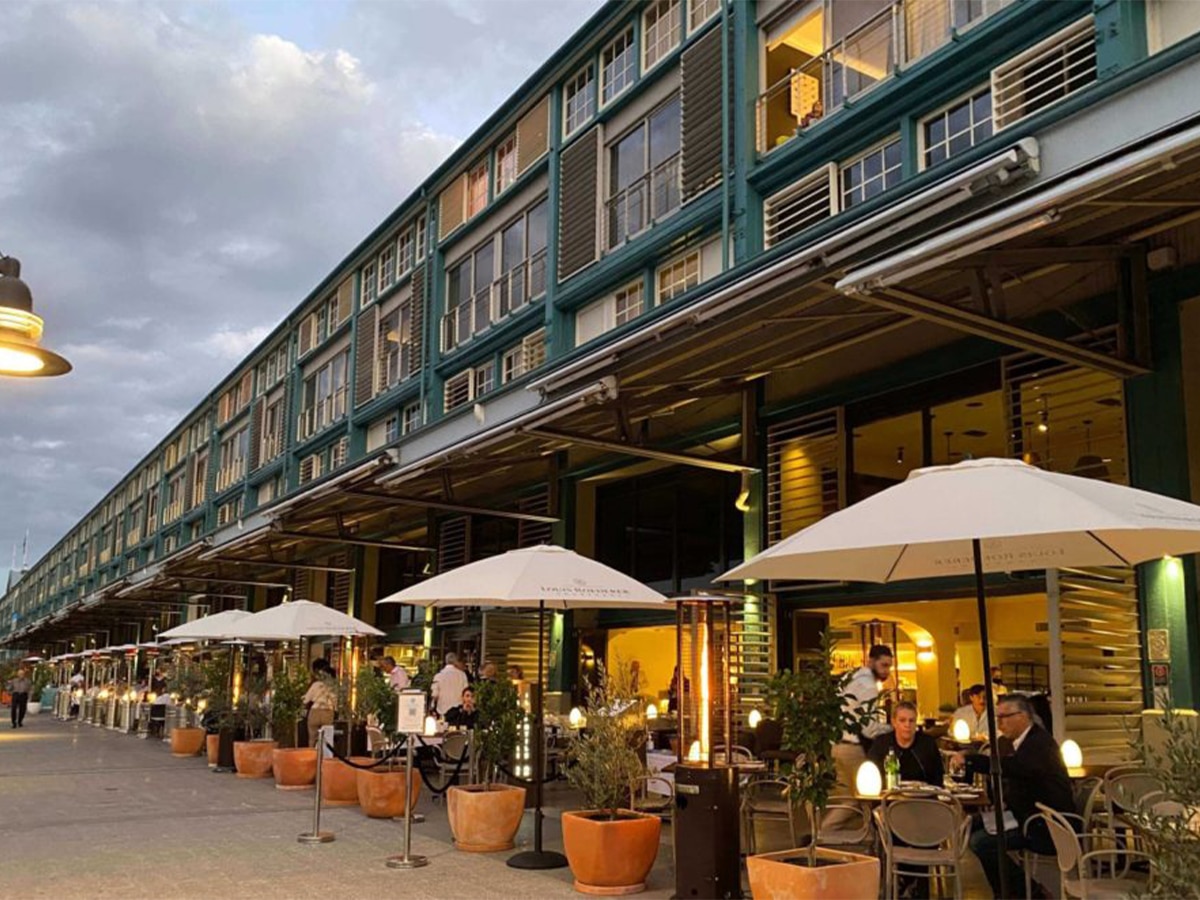 4. Alibi
With a boutique touch, Alibi makes our list of the best vegan restaurants in Sydney. The restaurant is perched gracefully along Sydney's stunning Woolloomooloo wharf and is ideal for when you're feeling a little bit fancy. A seasonal feast for $120 per person.. They have it all, from bottomless sparkling for $75, an indulgent high tea menu and an eight-course tasting menu for dinner. You'll leave feeling short a few pennies, but it's worth it!
Address: 6 Cowper Wharf Roadway, Woolloomooloo NSW 2011
Hours: Sun-Thur 4-10pm, Fri-Sat 4-11pm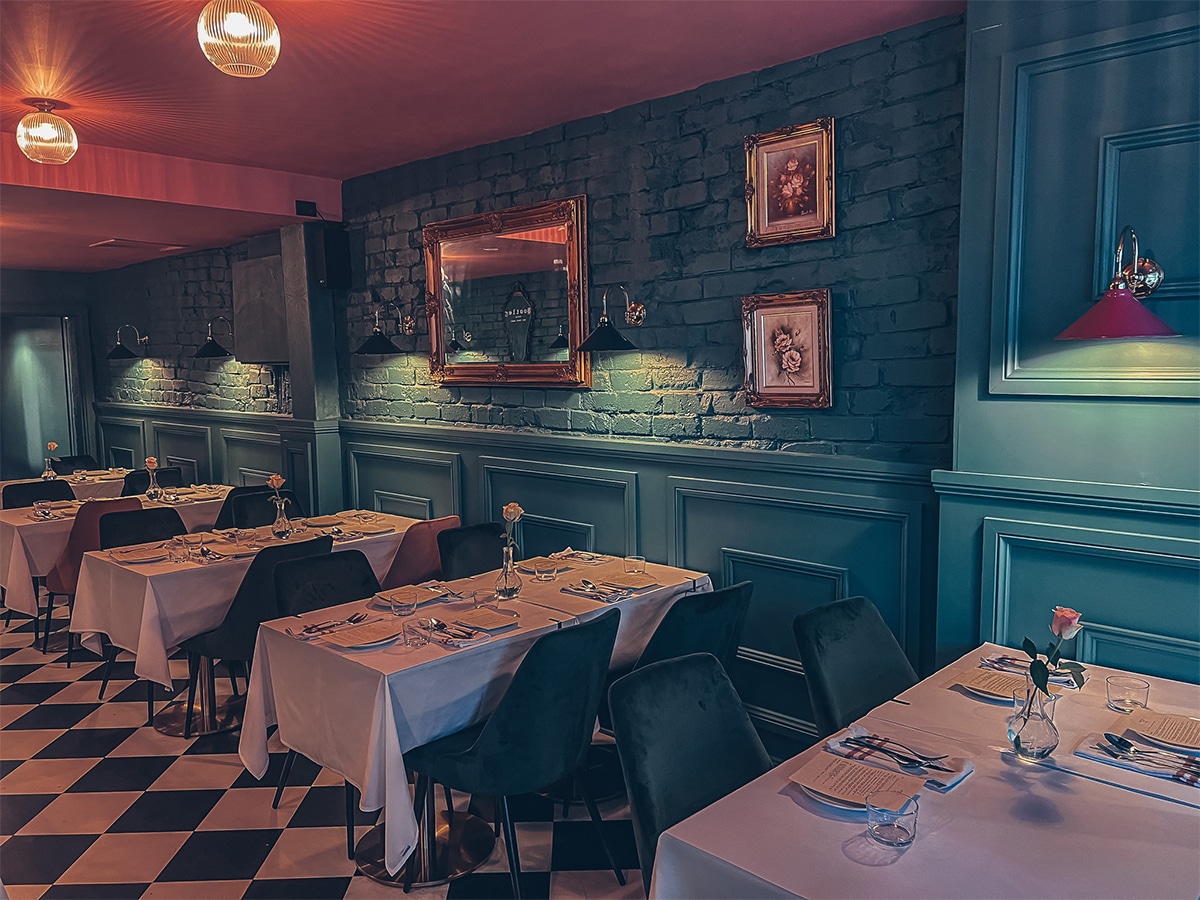 5. Bootleg Italian
Another Italian restaurant serving up the hungry hordes of vegans in Sydney, Bootleg Italian is all about authentic, homemade Italian eats, without the dairy, of course. Indulge in house-made pasta, freshly baked bread and their sweet and salty dough balls (yes, that's a thing.) The velvet chairs and dimly lit interiors make for the ideal boujee night out, complemented perfectly by their classic cocktails, spritzes, and natural wines. When it comes to the menu, we love the truffle arancini balls and the vodka rigatoni.
Address: 312 Oxford St, Paddington NSW 2021
Hours: Tue-Thur 5:30-10:30pm, Fri 5:30pm-12am, Sat 11:30am-3:30pm & 5:30pm-12am
Phone: 0435 101 105
Check out Bootleg Italian Bootleg Italian Menu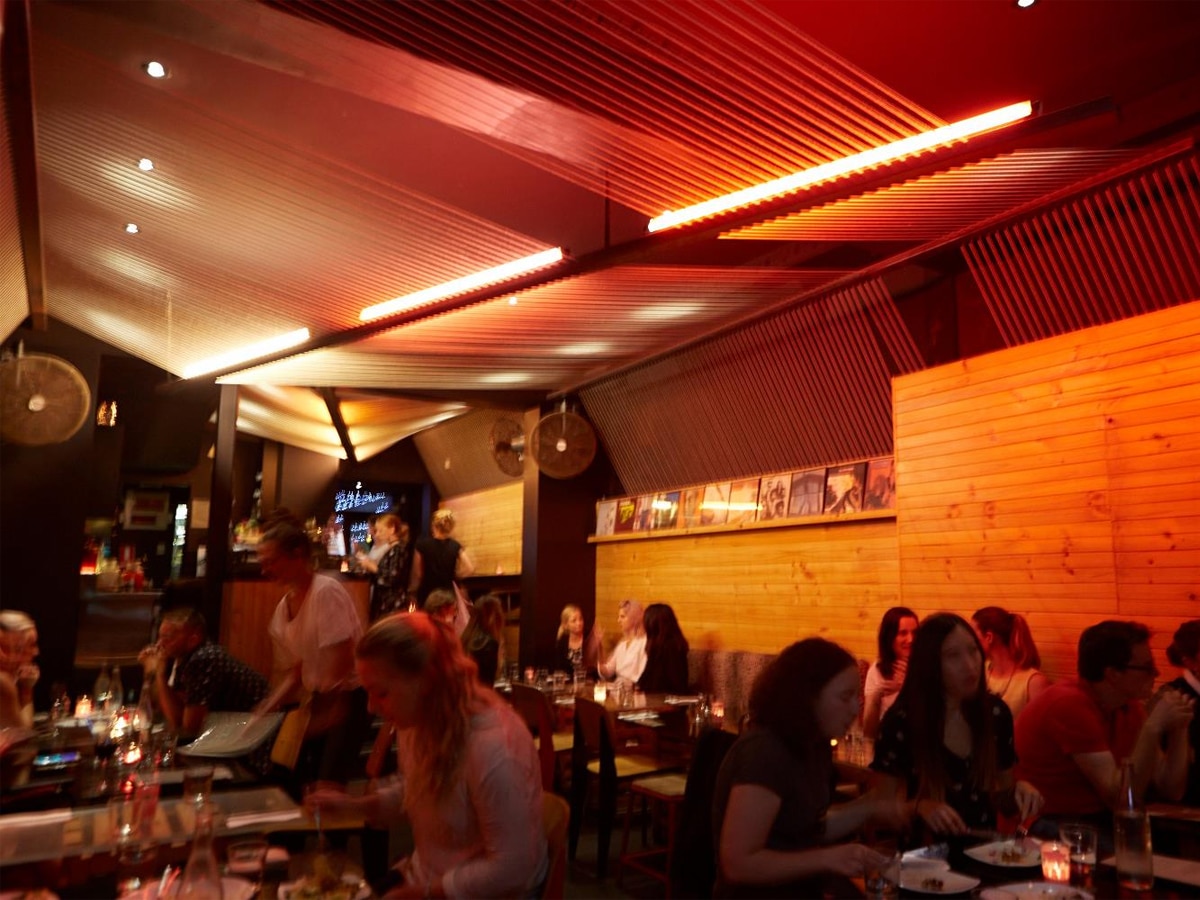 6. Yulli's
A quirky spot serving vegan, vegetarian and gluten-free meal options and craft beers. Alongside great vegan feeds, Yulli's loves to showcase all sorts of local and international talent including live art, spoken word, amateur film nights and live music. The san choy bow with tofu, fresh herbs, bamboo, peanuts fried shallots and bean sprouts is a must-have!
Address: 417 Crown St, Surry Hills NSW 2010
Hours: Mon 5-11pm, Tues-Sat 12-11pm, Sun 12-10pm
Phone: (02) 9319 6609
Check out Yulli's Yulli's Menu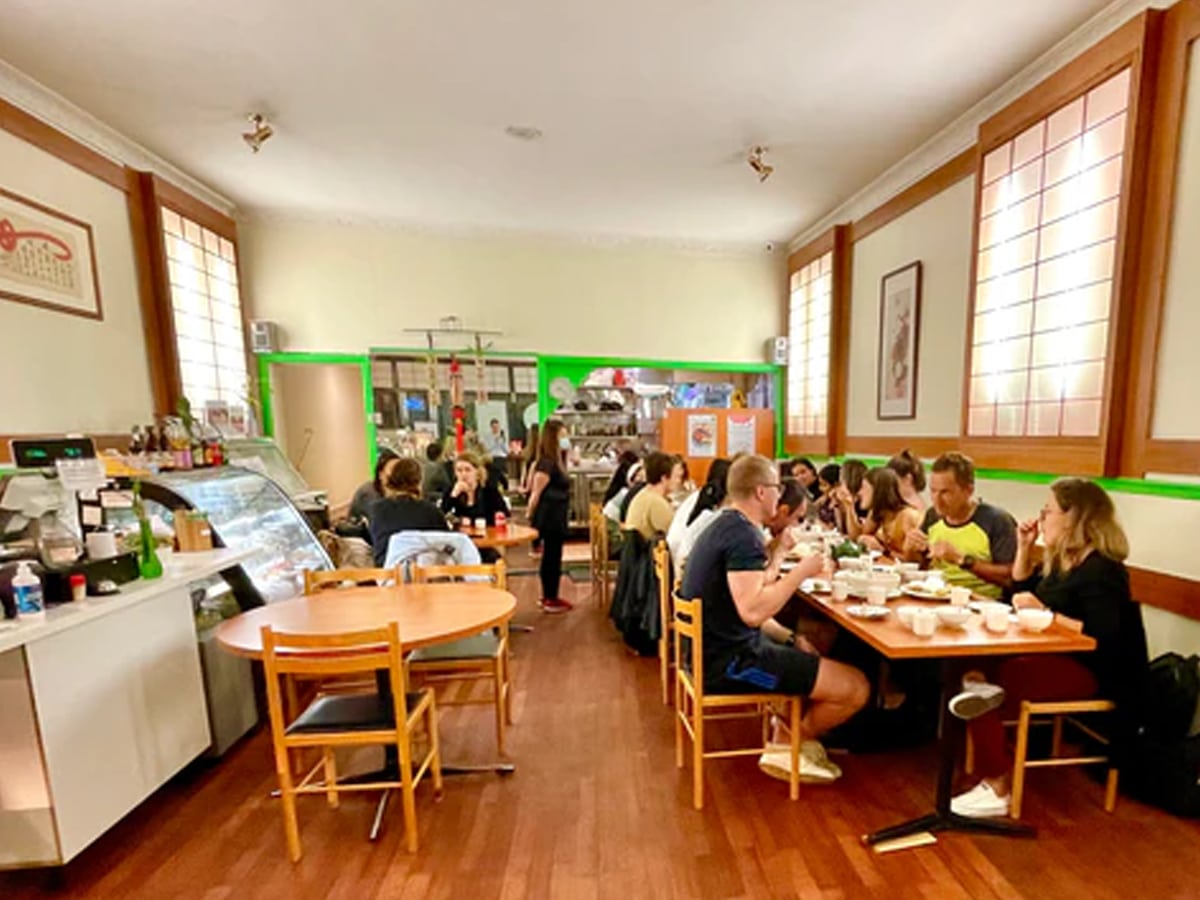 7. Green Gourmet
This no-thrills, unpretentious vegan institution is all about the food and nothing else, which is why we love it. You can expect plenty of mock meat on the menu here, with everything from duck to chicken and pork mice (try the san choy bow!) Oh, and the vegan ice-cream they serve here is simply life-changing.
Address: 538 Pacific Hwy, St Leonards NSW 2065
Hours: Mon-Sat 5-9pm
Phone: (02) 9439 6533
Check out Green Gourmet Green Gourmet Menu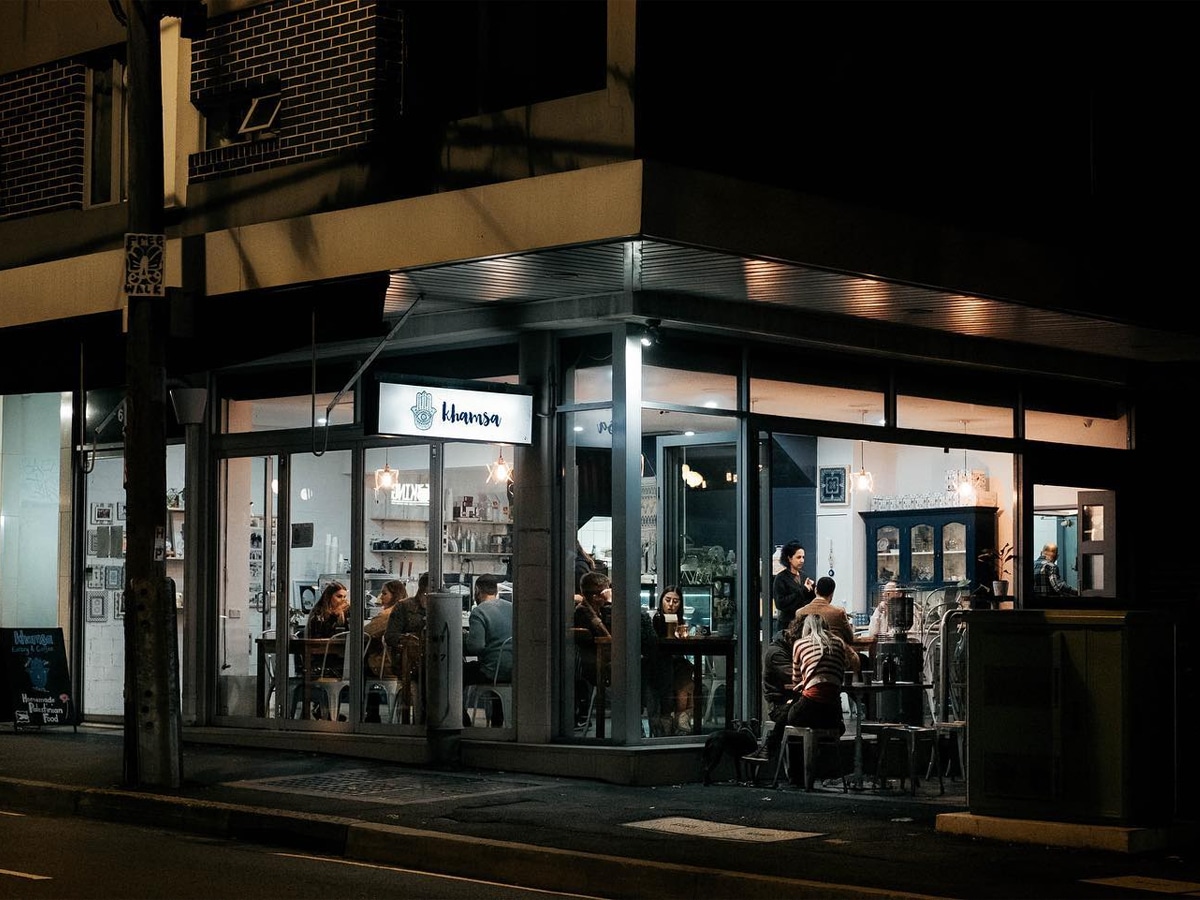 8. Khamsa Cafe
This plant-based Palestinian eatery and cafe expertly fuses Middle Eastern culture and plant-based food, right in the heart of Sydney's inner-west. The menu is inspired by chef Sarah's Palestinian heritage. Standouts include the Zan Zamman Bowl with tzatziki, muhammara, mujadara, kibbeh balls and falahi salad, and if you've got a sweet tooth then the vegan knafeh (pastry with cheese soaked in orange blossom syrup) is the way to go.
Address: Shop 3/612-622 King St, Erskineville NSW 2043
Hours: Mon-Sun 8am-2pm
Check out Khamsa Cafe Khamsa Cafe Menu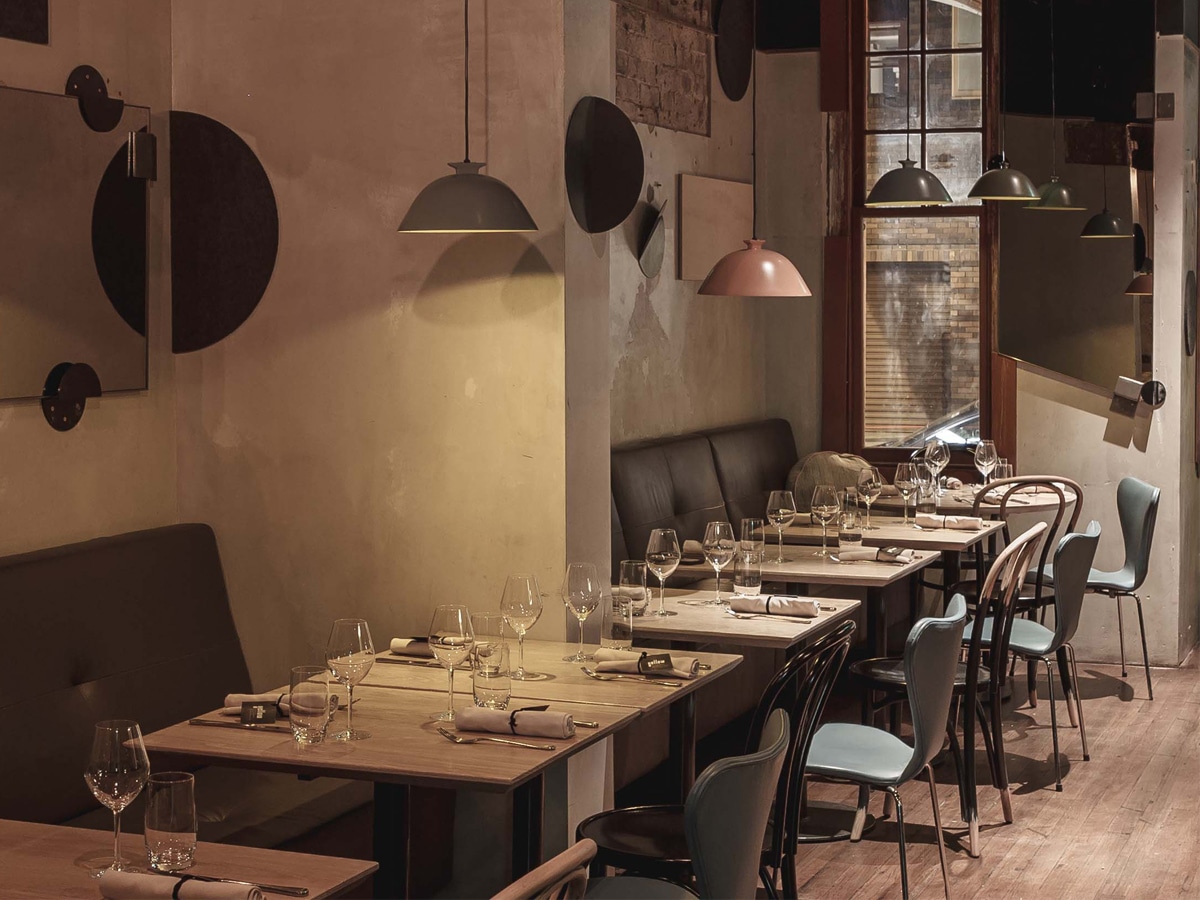 9. Yellow
Yellow in Potts Point is Sydney's first plant-based fine-dining restaurant, and it has the ambience to match. The restaurant offers up a six-course vegan tasting menu, with our favourite additions being the salad with watermelon, capsicum and pine nuts, the sweet potato croquettes with miso and the plum, shiso and pear dessert.
Address: 57 Macleay St, Potts Point NSW 2011
Hours: Wed-Fri 6-11pm, Sat-Sun 12-2:30pm & 6-11pm
Phone: (02) 9332 2344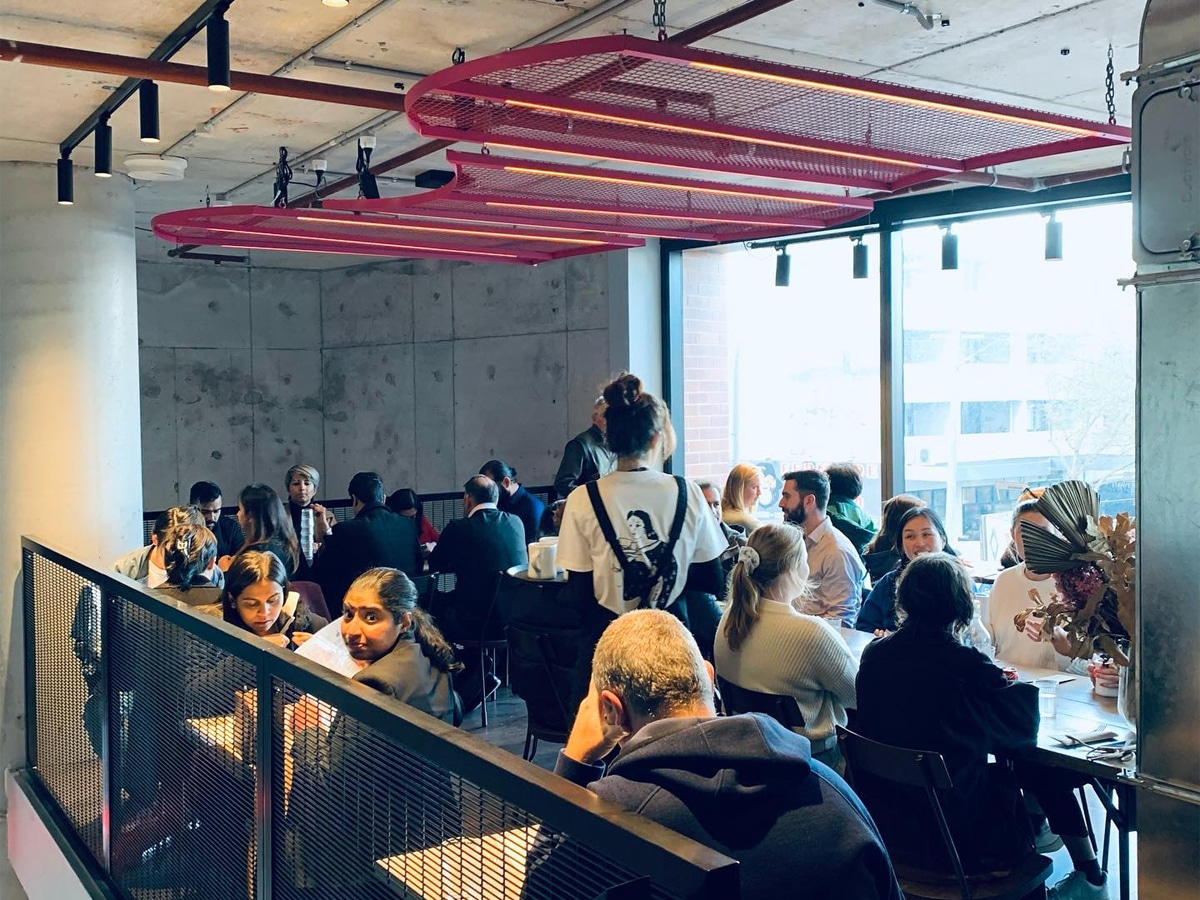 10. Flyover Fritterie
For the perfect takeaway mid-commute or on your lunch break, Flyover is the answer when you're looking for some healthy takeaway. Everything is vegan and gluten-free friendly. Make sure to try their famous fritters, which are made with seasonal produce meaning there is a new concoction of vegetable fritters on offer every week! Pair with a salad and an authentic Indian chai.
Address: 88 Regent St, Redfern NSW 2016
Hours: Tue-Thur 12-3pm & 5-9pm, Fri-Sat 12-9:30pm, Sun 12-9pm
Phone: 0405 647 695
Check out Flyover Fritterie Flyover Fritterie Menu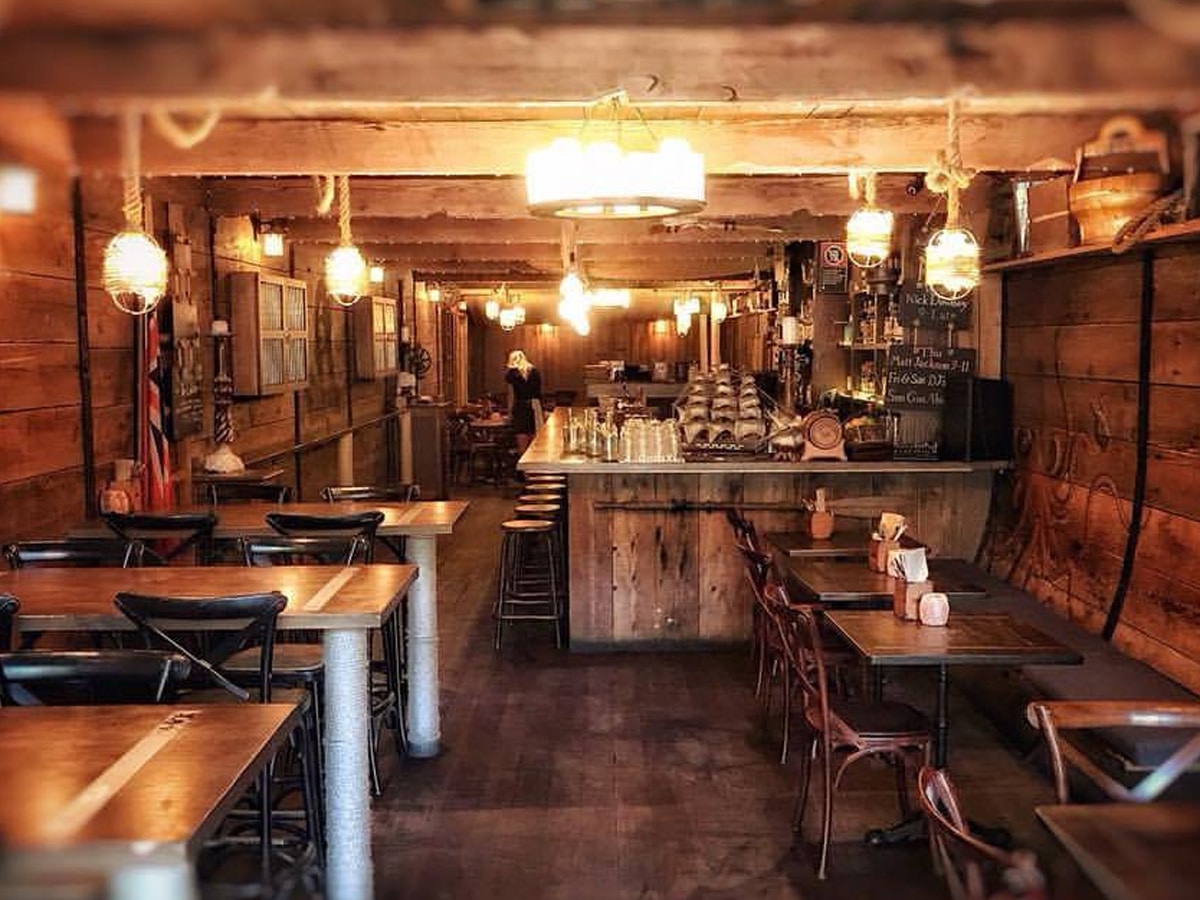 11. The Hold
One of the best vegan restaurants in Sydney if you're up towards the Northern Beaches, The Hold is a trendy bar with an additional vegan menu. Our menu favourites include the Mississippi Steamer burger with pork rib, pickle, fennel, mint, rocket and slaw which can be made vegan. The mood lighting and a cosy interior make this place the perfect date spot.
Address: 24 Sydney Rd, Manly NSW 2095
Hours: Tues-Thur 5pm-12am, Fri-Sun 12pm-12am
Phone: (02) 9977 2009
Check out The Hold The Hold Menu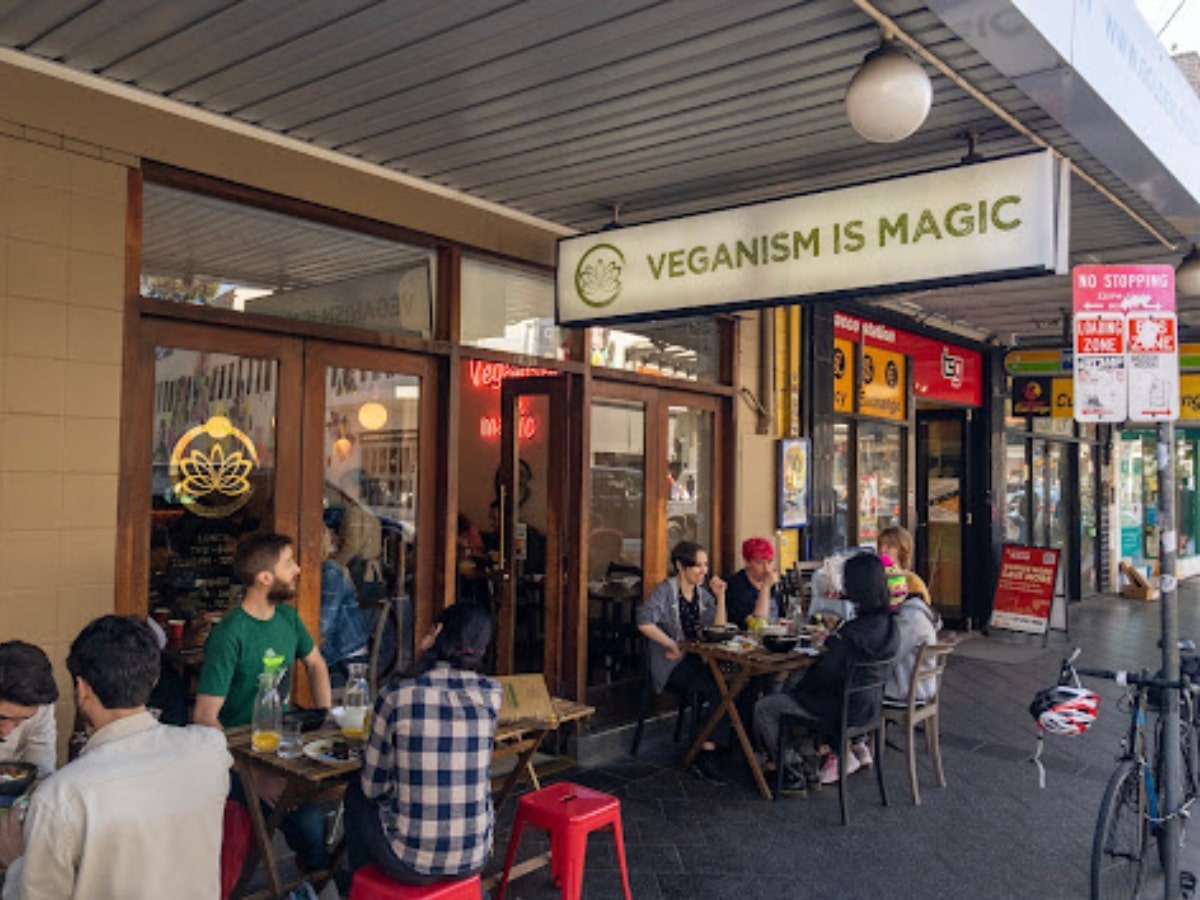 12. Golden Lotus
A staple in the Sydney vegan community, Golden Lotus has every Asian-inspired plant-based dish you could dream of. Located in vegan-friendly Newtown, this spot is cheap and always packed to the brim. With plenty to choose from, you can play it safe with a veggie curry or tofu pad thai or there are plenty of options for those who prefer meat alternatives.
Address: 341 King St, Newtown NSW 2042
Hours: Mon-Wed 5:30-10pm, Thur-Sun 12-3pm & 5:30-10pm
Phone: 0459 576 888
Check out Golden Lotus Golden Lotus Menu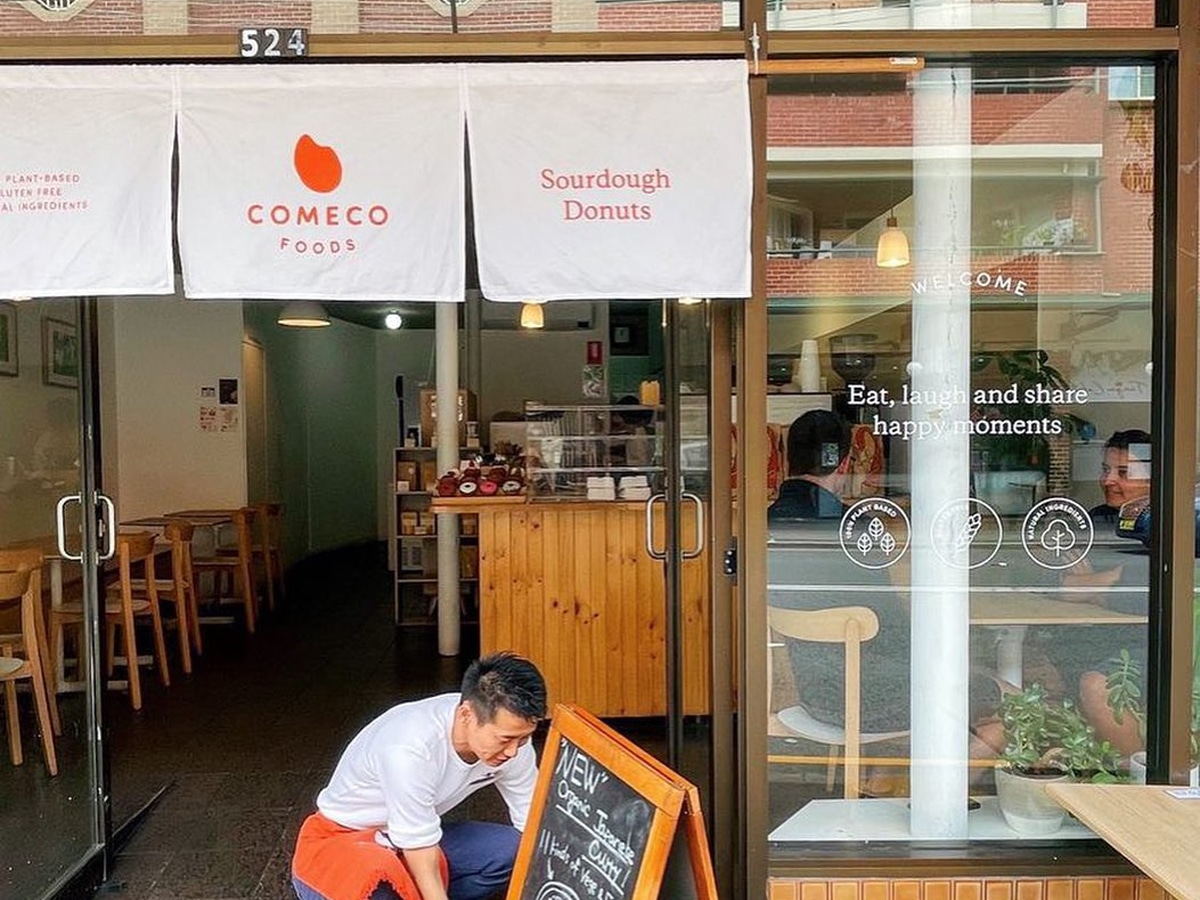 13. Comeco Foods
This combined bakery and sushi spot nestled along Newtown's vibrant King Street is fully vegan, gluten-free and dairy-free. We struggle to go past the specialities including fluffy rice bread, 'sourdoughnuts' born from organic brown rice and tasty vegan sushi. The team at Comeco Foods make an extra effort to ensure their ingredients are allergy and additive-free.
Address: 524A King St, Newtown NSW 2042
Hours: Tue-Thur & Sun 11:30am-3pm, Fri 11:30am-3pm & 7-10pm, Sat 11am-3pm & 7-10pm, Sun 11am-3pm
Check out Comeco Foods Comeco Foods Menu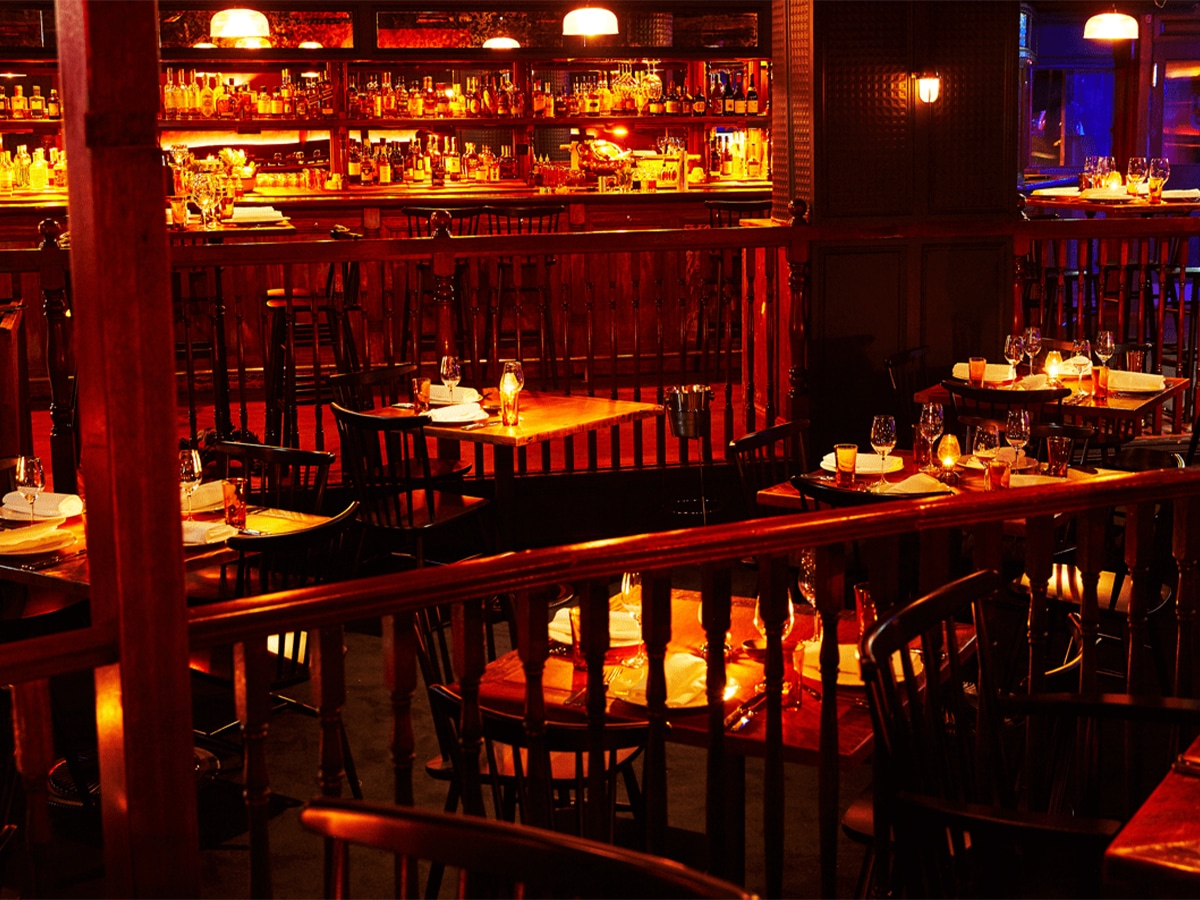 14. Mary's Circular Quay
A vegan hot spot that has it all – delicious burgers, an incredible location and live music. The best thing about Mary's is that every meat-based burger has a vegan twin – so carnivores and herbivores can gather and eat harmoniously! One of the best greasy burger joints in all of Sydney, come for a late-night feed or a post-work pick me up.
Address: 7 Macquarie Pl, Sydney NSW 2000
Hours: Mon-Wed 12-3pm & 5-10pm, Thur 12pm-12am, Fri 12pm-1am, Sat 5pm-1am
Check out Mary's Circular Quay Mary's Circular Quay Menu
15. Bad Hombres
A little bit different to your regular Mexican fare, Bad Hombres is a Mexican and Chinese mash-up, serving up equally surprising and delicious dishes. We love the Fable Mushroom Birria Tacos with coriander, onion, salsa verde, crispy enoki mushroom
and dipping consomé. Bad Hombres also promises good tunes and plenty of Mezcal, so you know it will be a good time.
Address: 40 Reservoir St, Surry Hills NSW 2010
Hours: Mon-Sat 5:30-9pm
Phone: 0405 274 515
Check out Bad Hombres Bad Hombres Menu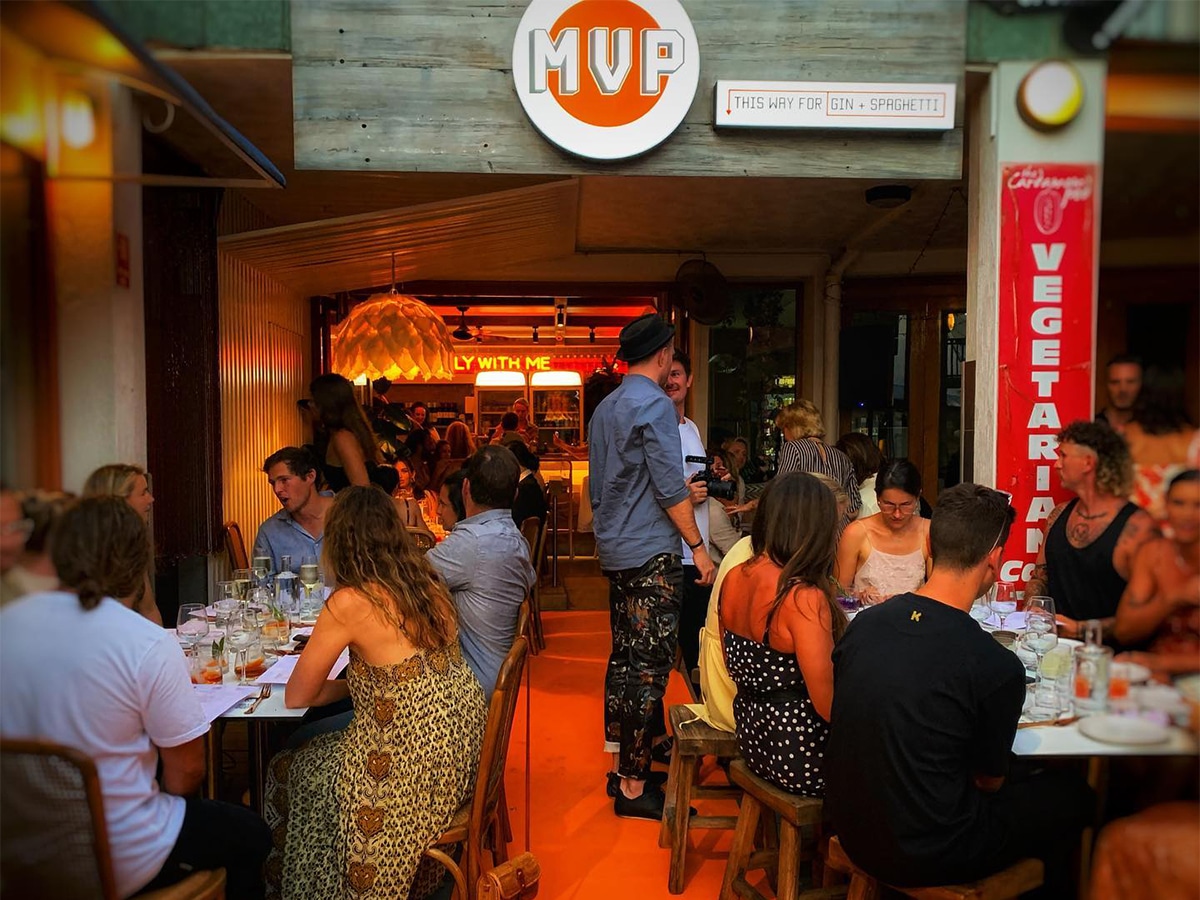 16. Mark And Vinny's
Mark And Vinny's will have your vegan spaghetti cravings covered, with a spritz on the side. Everything here is bright and gimmicky, serving up a bright-blue pasta and a dark black charcoal cocktail, which is just one of the 50-plus cocktails on the menu. Half the menu is meat-based while the other half is vegan, perfect for everyone. Ask for the gnocchi special, it's usually just 'Bellissimo'!
Address: g07/38-52 Waterloo St, Surry Hills NSW 2010
Hours: Mon 5:30-10pm, Tues-Sat 11:30am-3pm & 5:30-10pm, Sun 11:30am-3pm
Phone: (02) 9007 7789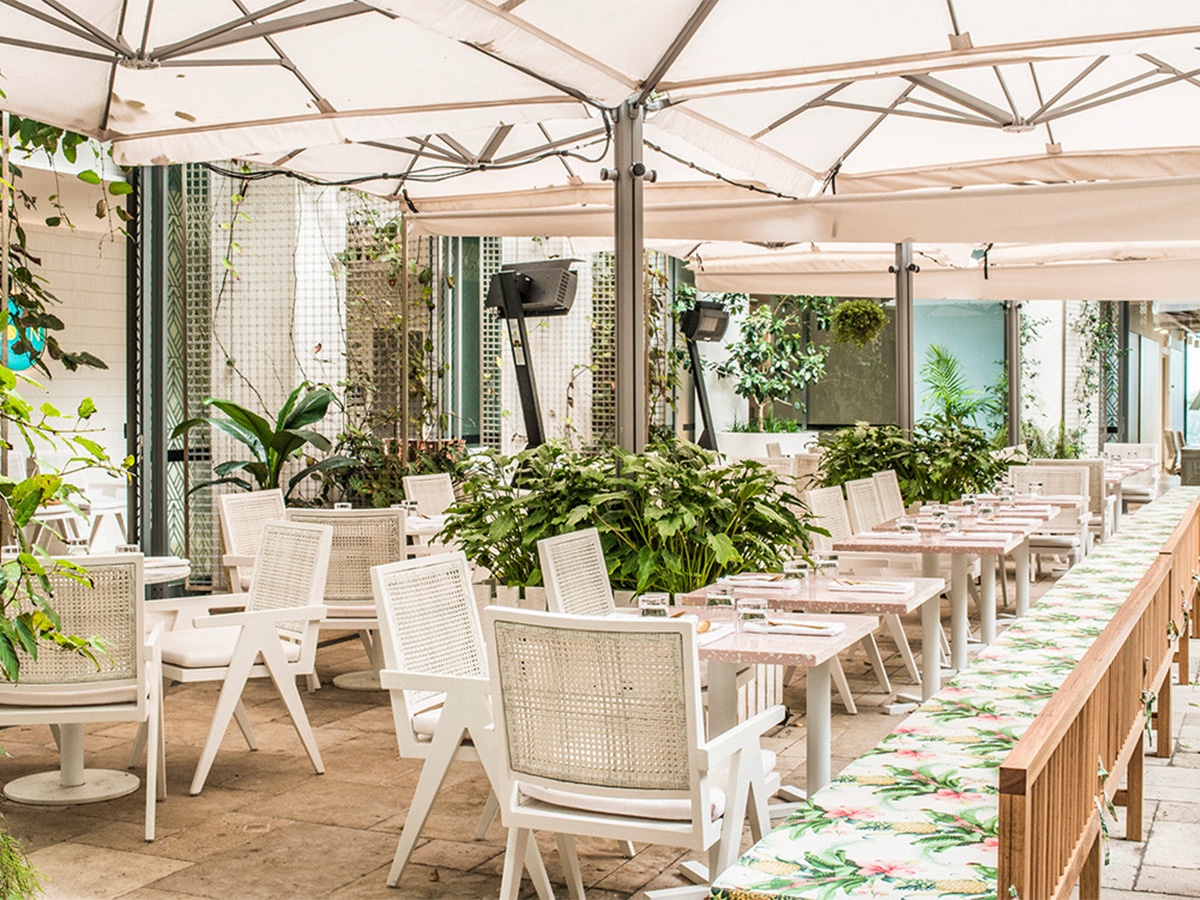 17. Eden Bondi
Eden is a plant-based oasis in the heart of Bondi boasting some of our favourite vegan pizzas in Sydney. They're made in-house with a fluffy base and 'cheesy' toppings, with favourites of ours including the Magic Shroom and Green Goddess. The restaurant is sprawling and covered in greenery, with a fairy-lit garden courtyard for you to enjoy. If you're looking to try a range of new flavours and textures in a stellar setting, Eden in Bondi is our pick.
Address: L106/180 Campbell Parade, Bondi Beach NSW 2026
Hours: Tue-Fri 5:30-9:30pm, Sat 12:30-2:30pm & 5:30-10pm
Phone: 0406 630 660
Check out Eden Bondi
Eden Bondi Menu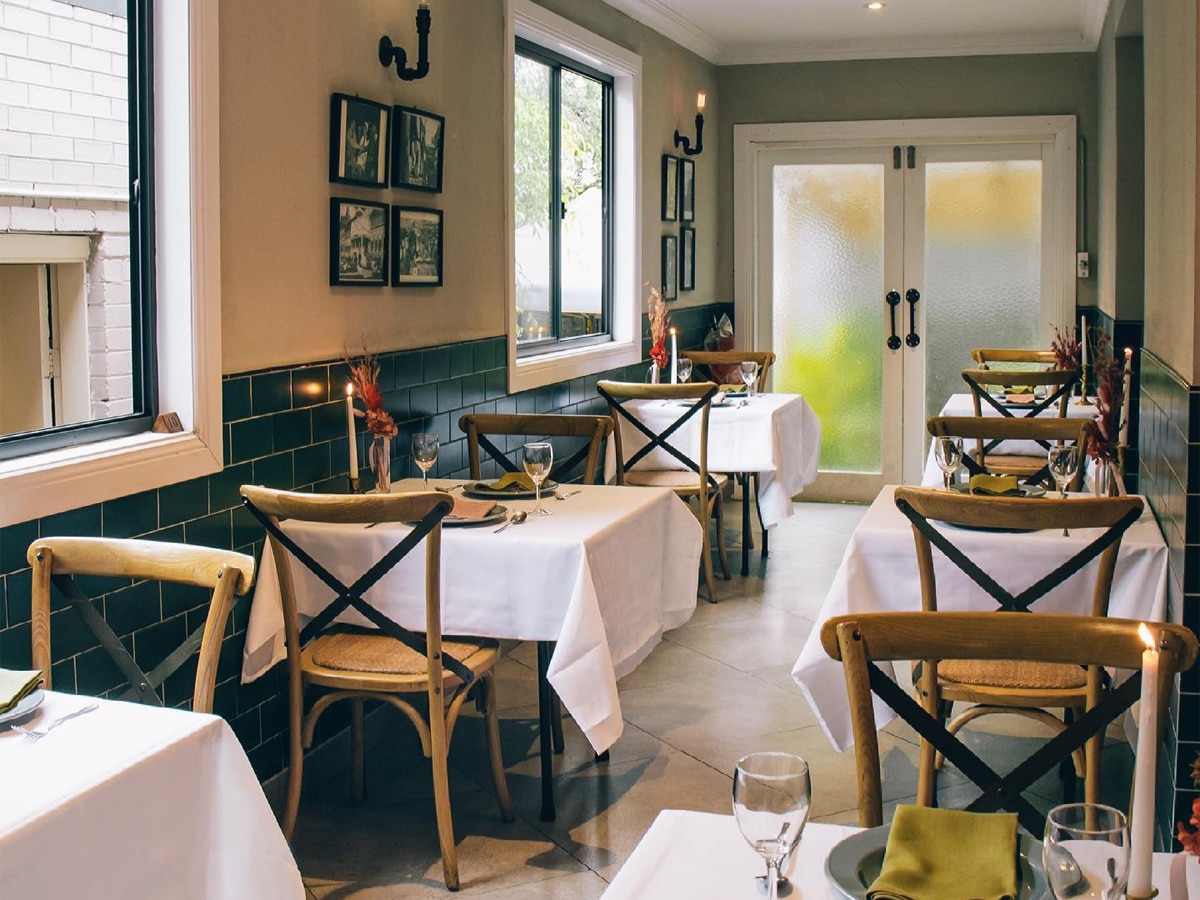 18. Little Turtle
Did someone say vegan Thai? Well, say no more. Little Turtule is the vegan Thai joint of your dreams, with an extensive menu and a laid-back, playful approach. We recommend coming with a few mates and sharing, so you can enjoy as much as possible — the grilled eggplant in Penang curry, the baos and the drunken hokkien are just some of the dishes you simply have to order.
Address: 10 Stanmore Rd, Enmore NSW 2042
Hours: Sun-Thur 11am-9:30pm, Fri-Sat 11am-10pm
Phone: (02) 8068 7554
Check out Little Turtle Little Turtle Menu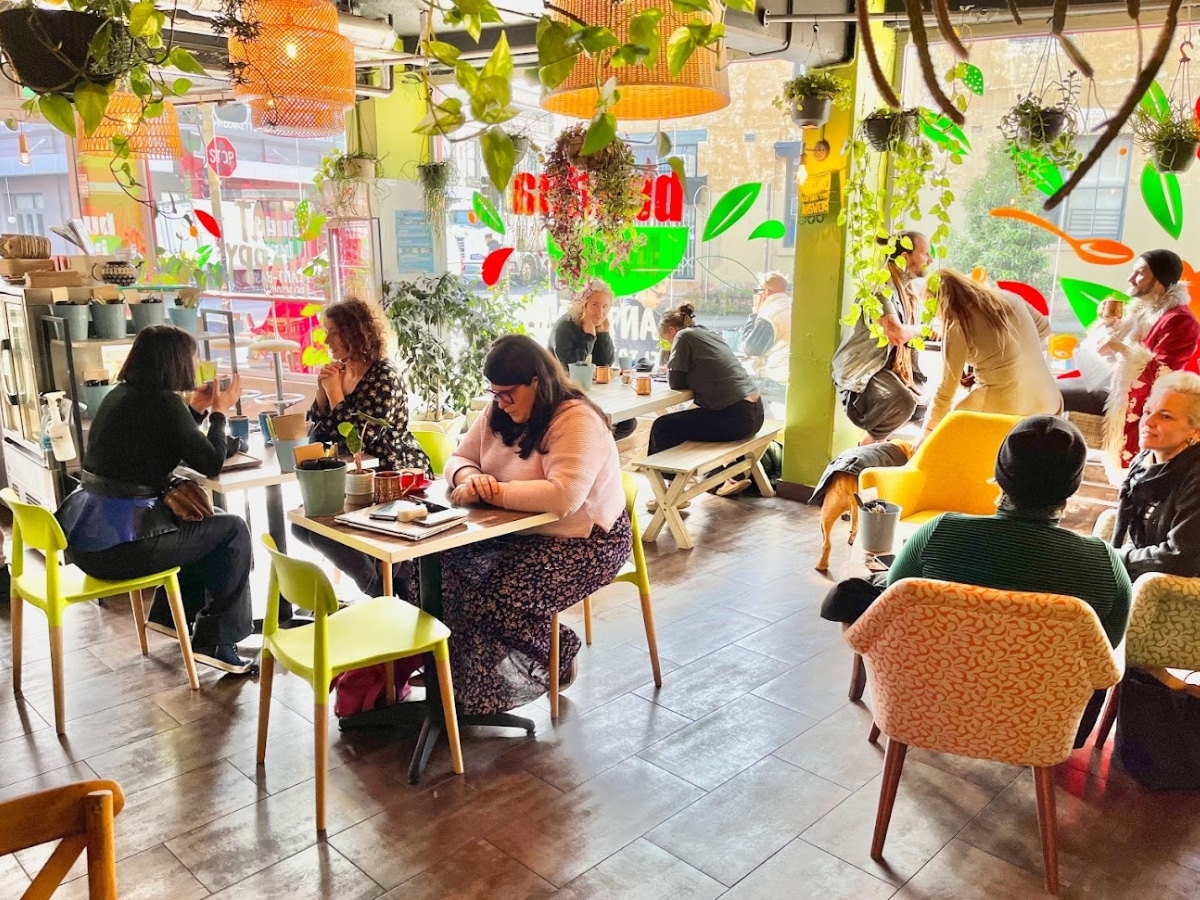 19. Buddha Bowl Cafe
Nothing beats a classic Buddha bowl, and when it comes to creating the perfect bowl that's full of flavour, these guys know how to do it. There are bowls for every craving, mood and taste, with smoothie bowls and burrito bowls for brekky, as well as curry, noodle and nacho bowls for lunch. The perfect healthy lunch option next time you find yourself in Newtown.
Address: Shop 1/52-60 Enmore Rd, Newtown NSW 2042
Hours: Fri-Thur 9am-3pm
Phone: (02) 9517 9070
Check out Buddha Bowl Cafe Buddha Bowl Cafe Menu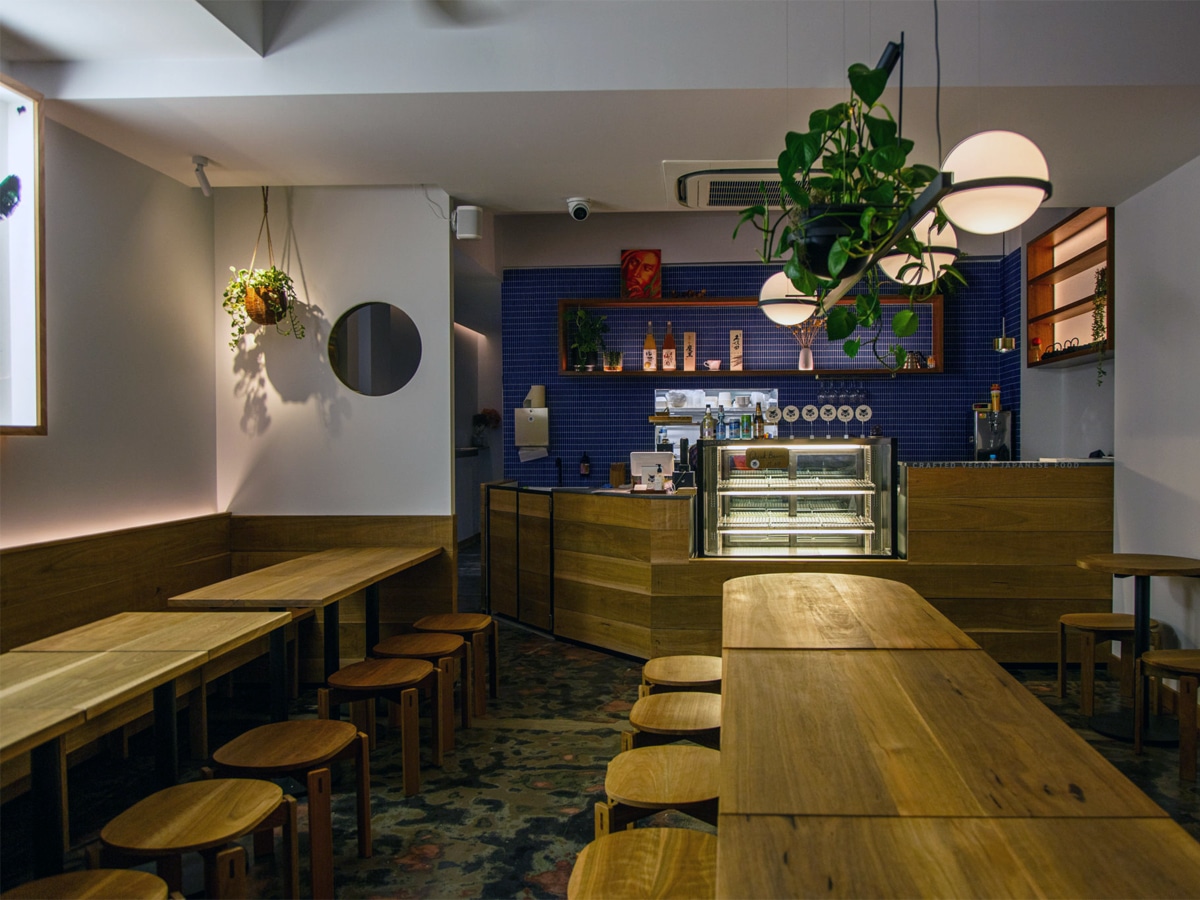 20. Neko Neko Newtown
Japanese is not known as being the most vegan-friendly cuisine out there, but luckily, Neko Neko in Newtown is stepping in. The Vegan and Pescatarian Japanese Restaurant is creating all your Japanese favourites with a vegan spin, and we can't get enough. The minimalist interior and beautiful ceramic bowls and plates also make the experience that extra bit special.
Address: 381 King St, Newtown NSW 2042
Hours: Mon-Tues 5:30-8:30pm, Wed-Sat 12-2:30pm & 5:30-9pm
Phone: (02) 8056 7705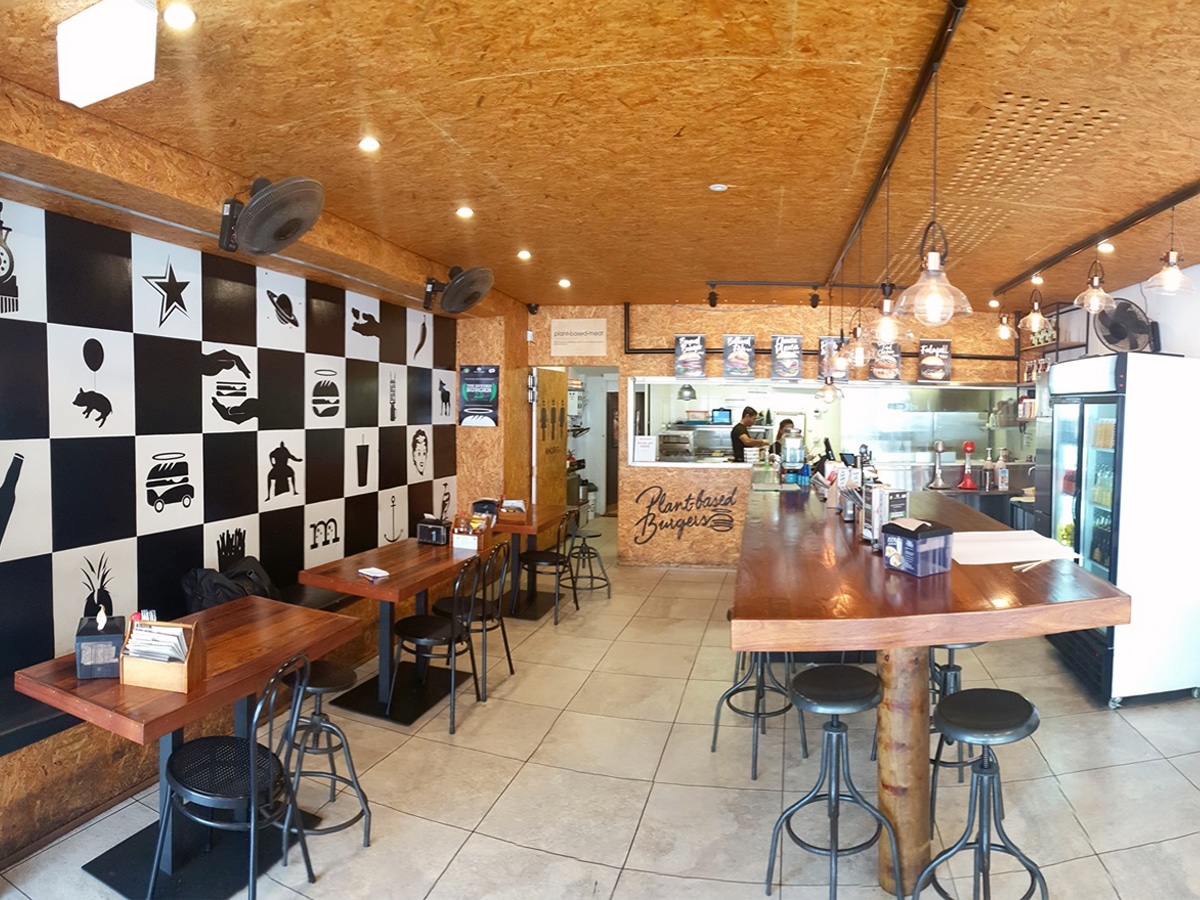 21. Soul Burger Glebe
These guys have been around since the very beginning, one of the first vegan restaurants to grace the Sydney shores and the fact that they're still kicking just goes to show how damn good their burgers are. They have got every option under the sun, from plant-based duck, brisket, fish, pork, fried chicken and beef — there's a reason why Soul Burger is one of the best vegan restaurants in Sydney.
Address: 111 Glebe Point Rd, Glebe NSW 2037
Hours: Sun-Thur 11am-9pm, Fri-Sat 11am-10pm
Phone: (02) 7226 5180
Check out Soul Burger Soul Burger Menu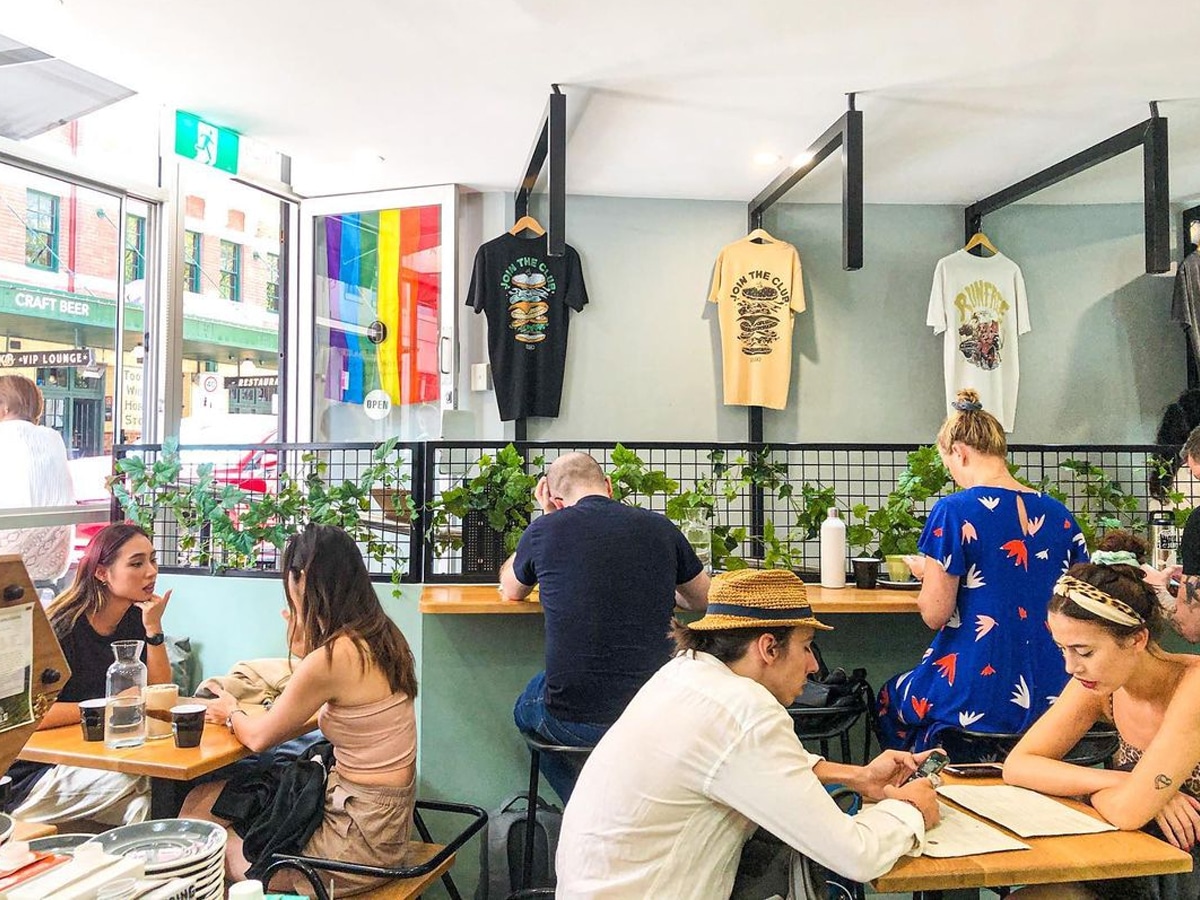 22. Shift Eatery
Shift Eatery is Sydney's first vegan deli, serving up 'tasty-af cruelty-free food'. The team at Shift have a strong philosophy that the future is vegan and prides itself in providing every vegan alternative under the sun in its Surry Hills store and online shop. There is a café on-site, so catch up for a healthy brunch and get your groceries done at the same time!
Address: Shop 4/241 Commonwealth St, Surry Hills NSW 2010
Hours: Mon-Sun 8am-3pm
Phone: (02) 9281 5053
Check out Shift Eatery Shift Eatery Menu
Interested in more places to visit in Sydney? Check out some of our favourite articles below:
Alternatives to the Best Vegan Restaurants in Sydney
Best Places For a Cuppa
Great Things to Do in Sydney
Best Music Venues
You'll also like:
Best Vegan Food in Sydney FAQs
Where can I get vegan pizza in Sydney?
While you can swindle a great vegan pizza from a number of hot spots in Syndye, Gigi Pizzeria is widely renowned as the best spot for vegan pizza in Sydney.
Where should I take a vegan on a date?
A great date involved two things - a fantastic meal and a great location. The Hold in Manly offers up both, making it the perfect vegan bar and restaurant for you and your date.
What are the best vegan restaurants in Sydney?
According to Google Reviews, the top-rated vegan restaurants in Sydney are Bodhi, Yellow and Mary's
---
Featured Video from Man of Many