10 Iconic Australian Foods You Have to Try Once
Here in 'the land down under' we have many Iconic Australian foods. We may not have the sophistication of the French, the signature cultural dishes like Italy, or the ancient traditional flavours of Asia, but we've cultivated our own little slices of home over our short time as a country. Food that has a cultural significance to us that incorporates our combined and shared identity as Australians.
Here is a list of the 10 most iconic Australian foods that you've got to try at least once.
You'll also like:
Top 20 Australian Ice Creams of All Time Ranked
How to Make Whipped Coffee: The Viral TikTok Recipe
14 Best Fish and Chip Shops in Sydney to Dine in or Takeaway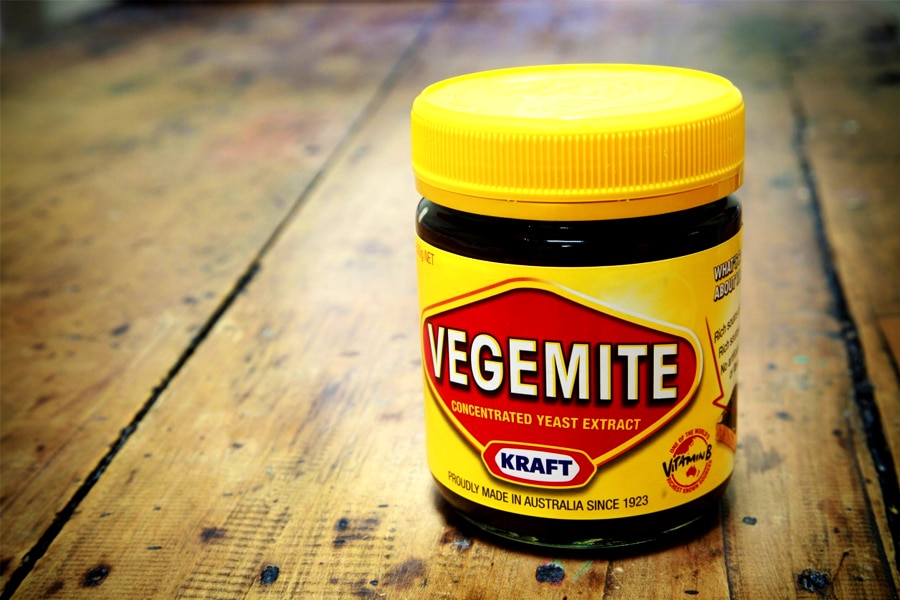 1. Vegemite
This list wouldn't be complete without bringing in our most iconic Australian food, Vegemite, at number one. Vegemite is an acquired taste and one that only Aussies seem to have. People all over the world try Vegemite just because they've heard how gross it is, but here in Australia it's a beloved breakfast ingredient. We can tell you now that you're doing it wrong! Thinly applied (don't smother it on like a lunatic) on toast with lots of butter is the only way a true blue Aussie would eat it.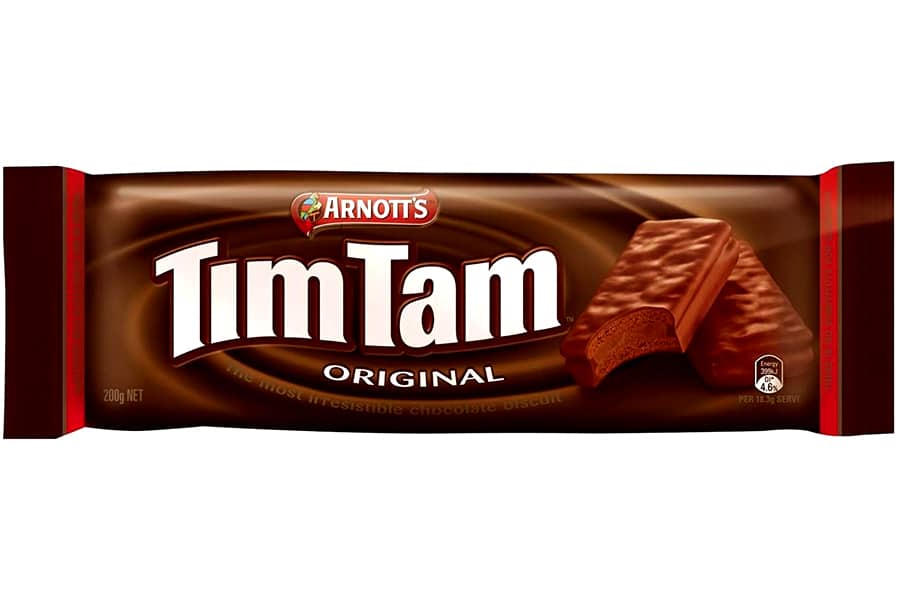 2. Tim Tams
Tim Tams are another famous Australian food export that has become synonymous with Australia. The chocolate-covered and cream-filled biscuits are one of our most iconic Australian foods and are the perfect accompaniment to the humble cuppa. With over 400 million Tim Tams produced every year, it's easy to tell this is an Aussie favourite. Bite both ends then dunk it in your tea to use it as a straw. The biscuit becomes the mushiest gooiest goodness you've ever tasted.
3. Lamington
The tasty squares of sponge cake dipped in chocolate and sprinkled liberally with desiccated coconut is a truly iconic Australian food. It is believed that it was invented by a French-born chef that served Lord Lamington, the eighth Governor of Queensland. They are a staple at school fundraisers, baking competitions and regional fairs and it even has its own special day with National Lamington Day on the 21st of July. You can't get much more iconic than that.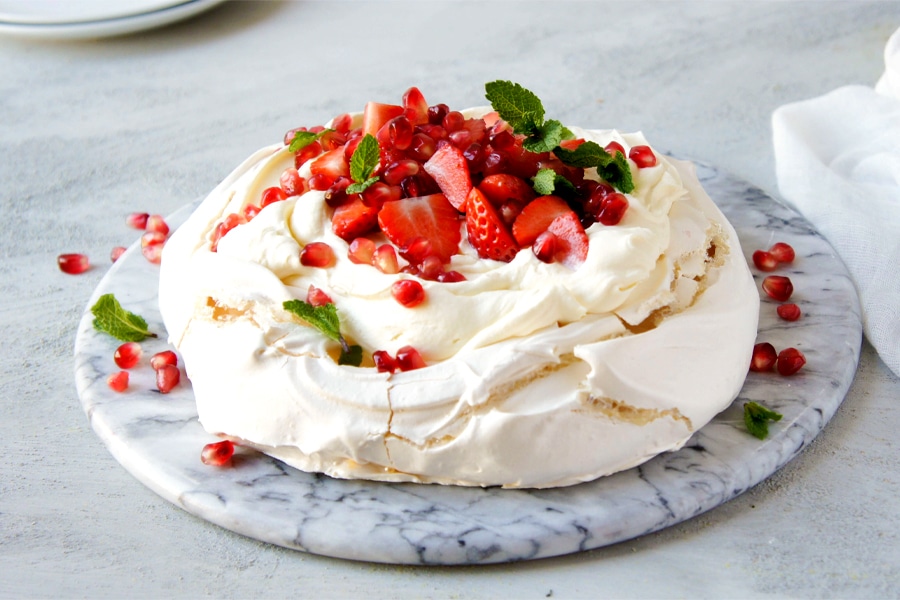 4. Pavlova
A Heated debate has been ongoing since the invention of Pavlova between the Kiwis and the Aussies over who can lay claim to the creation of the famous dessert. Regardless of its origin, here in Australia we simply call it a 'pav' and almost every family has their own version and special recipe. It's got a crisp crunchy meringue like outer shell and a soft marshmellow-y centre and is topped with cream and fruit. You will not find an Aussie table at Christmas that doesn't have a pav on it, which makes it one of our most iconic Australian foods.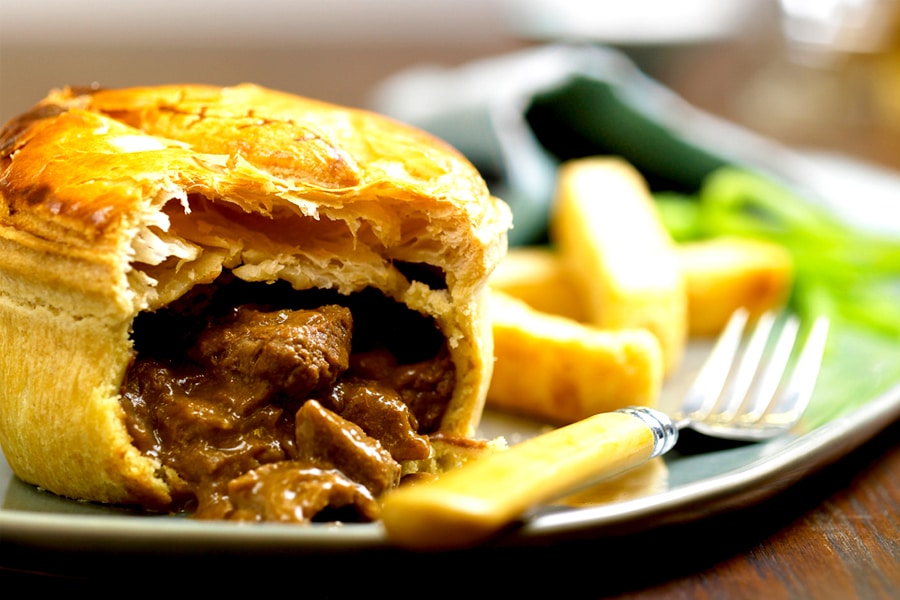 5. Meat Pies
There's nothing quite as iconic as a good old meat pie especially of the four and twenty variety. Plenty of tomato sauce is required of course, then down the hatch. Most popular with our tradies as snack on the go but it's not just some minced meat in pastry. You can get them in loads of different flavours like steak and kidney, mushroom, cheese and onion, almost any savoury filling can be put in these small hand held delights.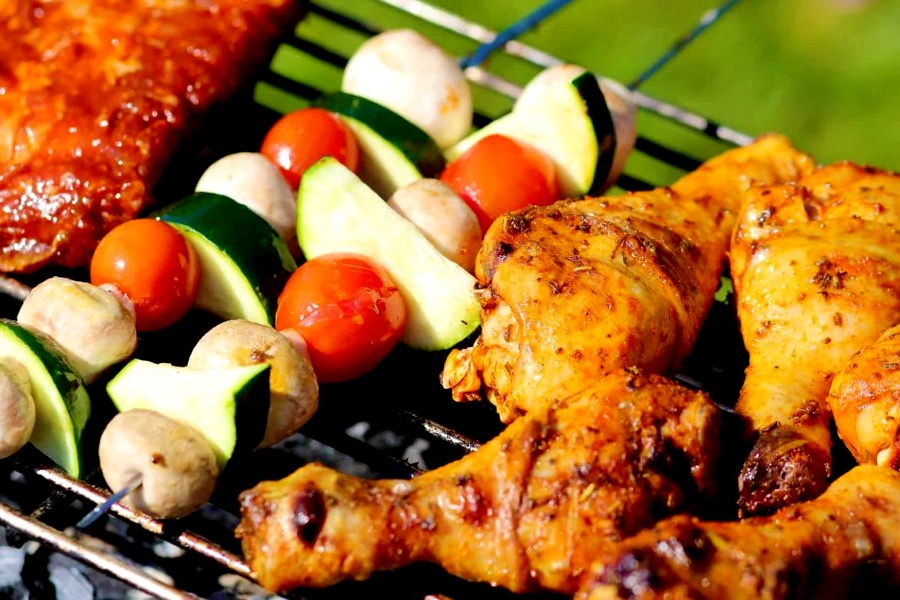 6. BBQ
The infamous Aussie barbeque is something of a tradition in Australia. We could grill and barbeque almost every day of the week, and some people probably do. Chicken, burgers, snags, onions, prawns, seafood, you name it. If it can be grilled, it's going on the Barbie. Congregating around the Barbie with a beer is all part of the process and even though it's most popular in summer time it can be enjoyed all year round with our mostly mild climate. You'll often find public barbeques by the beach, in parklands and national parks.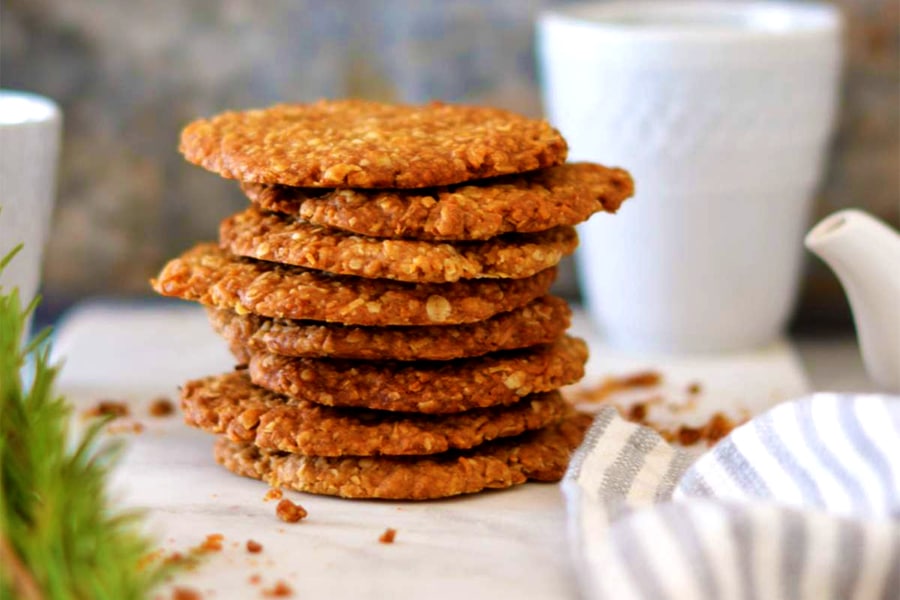 7. ANZAC Biscuits
Never a cookie, always a biscuit, the beloved ANZAC Biscuit is one of our most iconic Australian foods. The sweet biscuit consists of rolled oats, golden syrup, coconut, flour, sugar and butter and is claimed to have been sent to soldiers during World War I as they did not spoil over long journeys. They are almost always present at fundraisers and are especially eaten around our national holiday for the ANZACS, a celebration and remembrance for our armies and soldiers.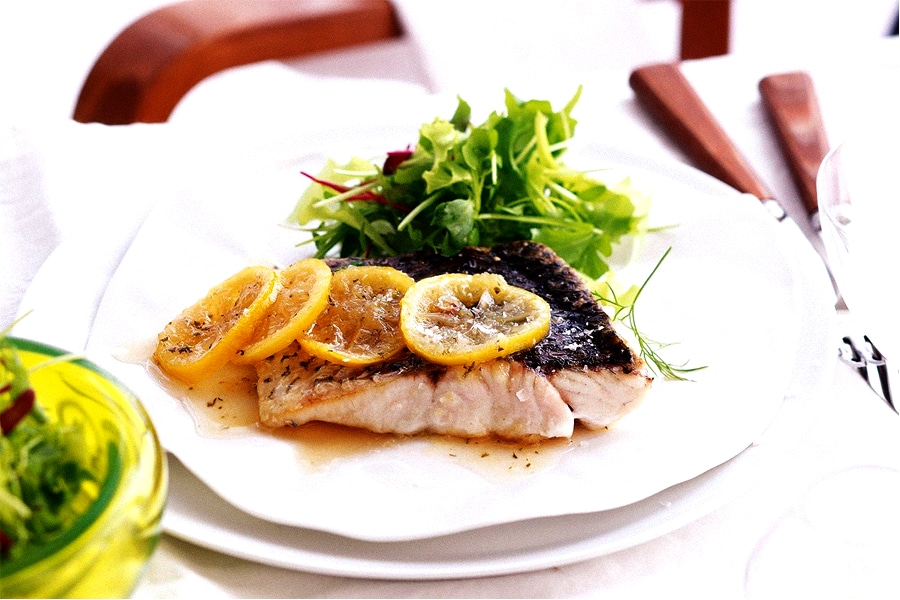 8. Barramundi
You haven't had fish and chips until you've had Barramundi fish and chips and the best place to get it is in Queensland. It's our fish of choice and is succulent, flaky and delicious any which way you have it. Deep fried, grilled, sautéed or baked it's always a winner. Plus it has half the calories of Salmon and is packed with heart healthy omega-3 fatty acids. It's easy to cook at home too, because of its moderate fat content it's almost impossible to overcook.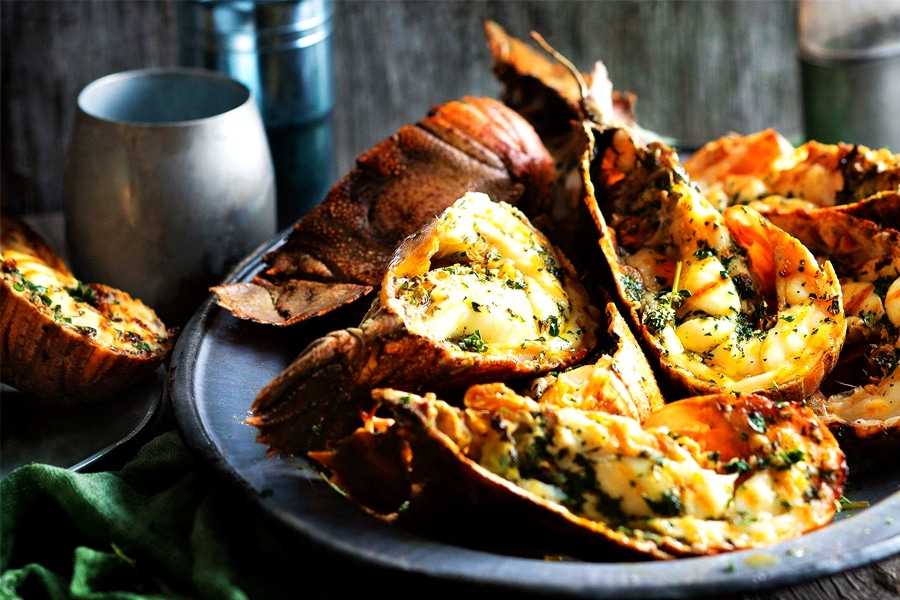 9. Moreton Bay Bugs
No, it's not actually a bug, it's a kind of lobster that is native to the Indian and Pacific oceans and named after Moreton Bay near Brisbane, Queensland. They're a slightly flat, clawless crustacean that can grow up to 11 inches long and yield one to two ounces of cooked tail meat. This iconic Australian food can be bought fresh or even frozen in your local supermarket and can be grilled, steamed, poached, pan-fried or barbecued. Drizzle them with butter or oil and season with salt and pepper to get that natural taste.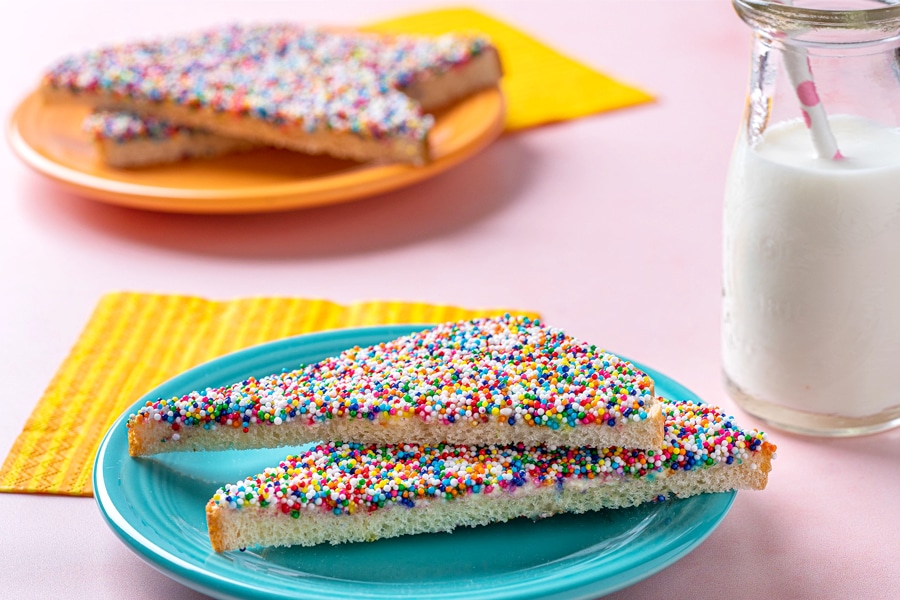 10. Fairy Bread
Almost every Australian kid can remember when they were young that Fairy Bread at a party is almost mandatory. Plain white bread slathered in butter then sprinkled with hundreds and thousands (rainbow sprinkles) was pure simple happiness from our childhoods. You might be surprised to learn that Fairy Bread has been around since the 1920s where the recipe was first mentioned in The Hobart Mercury newspaper and has henceforth been a staple at every children's birthday party. You can have a list of iconic Australian foods without Fairy Bread.
You'll also like:
7 Best Food Delivery and Ordering Apps for Australia
The 10 Best Australian Pub Feeds, Ranked
You Can Now Create Your Own KitKat in Sydney
General FAQs
What is the most popular food in Australia?
As a staple of pubs across the country, the iconic Chicken Parmigiana is one of the country's favourite meals. Here, you'll find a crumbed and fried chicken breast, smothered in ham, cheese and parmigiana sauce.
What is Australia's national fruit?
Australia's national fruit is Riberry. The pear-shaped fruit is native to sub-tropical areas of Queensland and New South Wales.
What is Vegemite made out of?
The classic yeast spread Vegemite is made from leftover brewers' yeast extract, combined with various vegetable and spice additives.