10 Best Luxury Airbnbs in Melbourne
Whether it's for a weekend or an extended stay, bask in a little opulence with these 10 best Airbnbs in Melbourne. Kitted out with full amenities plus all the extra comforts you want in a holiday, these luxury Airbnbs in Melbourne will have you booking flights in no time. By now most of you have likely enjoyed the wonders of staying in an Airbnb, the perfect blend between home and hotel. But you may not yet have experienced the splendour of these luxurious Melbourne Airbnbs.
Melbourne Luxury Airbnbs
Take a look through the best Airbnb's in Melbourne and marvel at the first-class skyline views, modern decor and appliances and top-notch locations. And then insert yourself and your partner or a mate into the picture immediately. Complement your stay by checking out these luxurious spas or superb golf courses.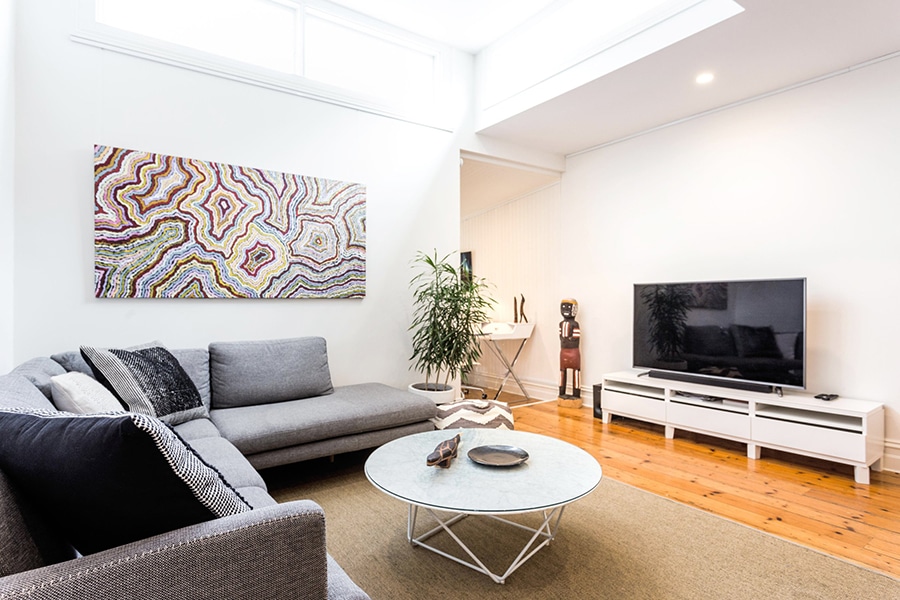 1. Albert Park Victorian House with Style and Art Gallery
Feel like you're bunking in an art gallery with this charming Victorian cottage. The three bedroom, three bathroom Melbourne Airbnb sleeps eight guests and features an open plan kitchen, dining and living area as well as a lavishly landscaped courtyard. It is close to shops and plenty of amenities, as well as Melbourne's famed Albert Park.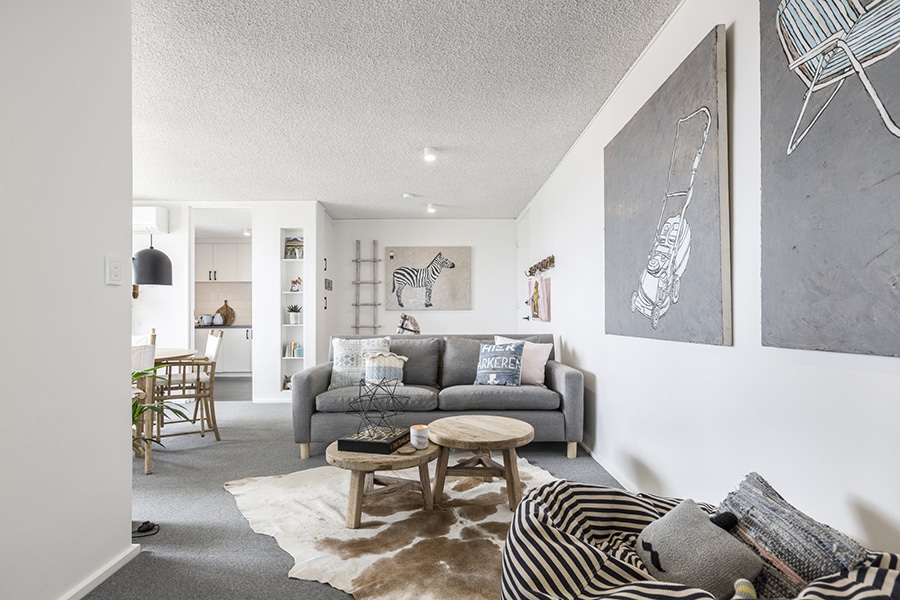 2. Stylish Beach Apartment with Breathtaking Views, Saint Kilda
No finer detail has gone unnoticed in this modern beach apartment. Both bedrooms feature a queen bed and stunning beach views, as does the expansive balcony. The luxury Melbourne Airbnb has free parking on site, a full kitchen and plenty more to tantalise your holiday ego.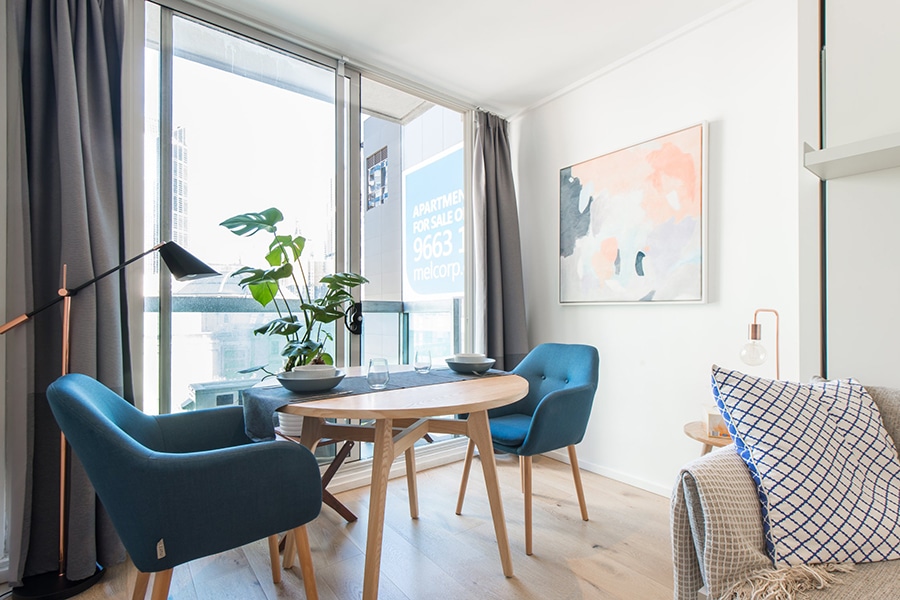 3. Cosy, Central Apartment Close to Chinatown, Melbourne CBD
Even if you have a terrible reach, this centrally-located luxury Airbnb in Melbourne is still within a stone's throw of all of the city's famous restaurants, bars and shops as well as public transport and supermarkets. The sunny studio apartment has a balcony with mesmerising views of Melbourne's skyline plus a fully equipped bathroom and kitchen.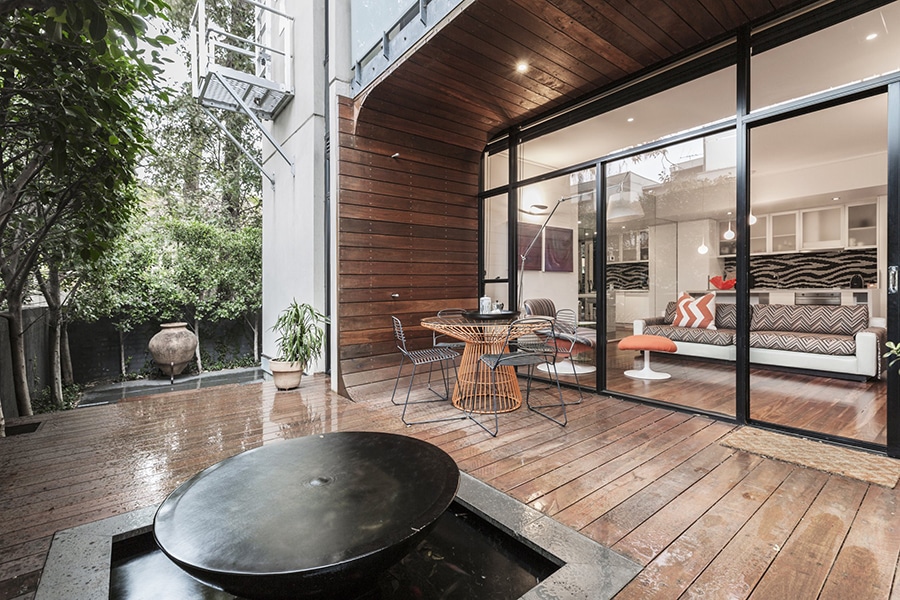 4. Award-Winning Apartment with Space, Design and Location, St Kilda
This fabulous apartment is sparkling clean, stylish, in an ideal location and has the friendliest of hosts and utmost value for money. With modern decor and artwork and homey features – including a sumptuous bath and trendy courtyard – you won't want to leave this Airbnb in the suburbs of Melbourne. But when you muster up the energy, you'll be immediately met with St Kilda's renowned beach esplanade, markets, restaurants and nightlife hotspots.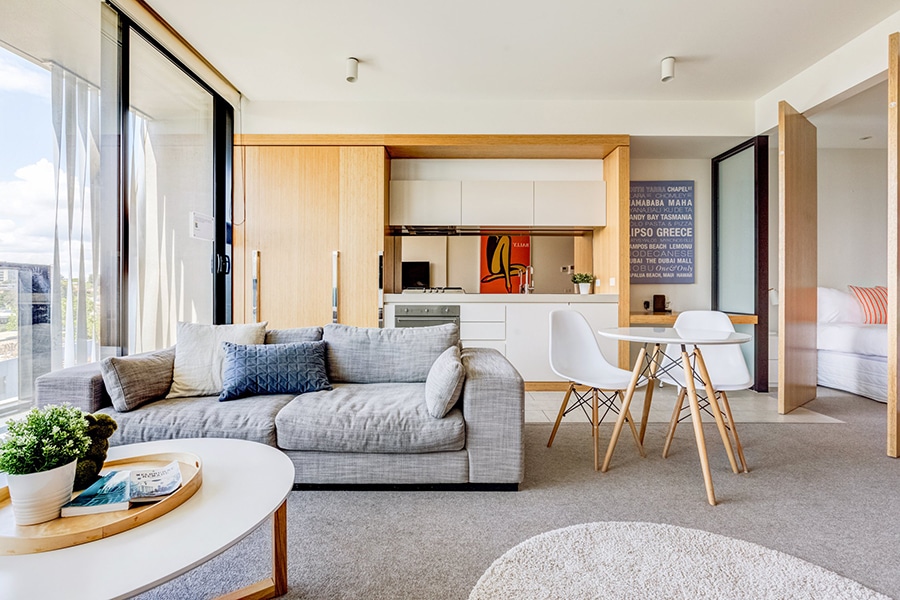 5. Contemporary South Yarra Space with Balcony Views
Think of all the things you could desire in the best Airbnb's in Melbourne and this contemporary apartment will likely tick all of the boxes. Modern timber furnishings, open plan living, fully equipped kitchen, unparalleled Melbourne skyline views and unbeatable location are probably just some of the features you were after. But go beyond that with free parking, access to a gym, spa and sauna plus friendly hosts, who provide all the local tips for less familiar travellers.
6. Penthouse Apartment with Panoramic Views, Melbourne CBD
Whether you're on a couple's retreat, require a bit more space for the family or want to high roll it with a mate in this plush city pad, you won't be able to go past this penthouse for the ultimate weekend getaway. The two bedrooms, three bathrooms, lavish open plan kitchen and living space and rooftop terrace at this Melbourne Airbnb will cater to your every need.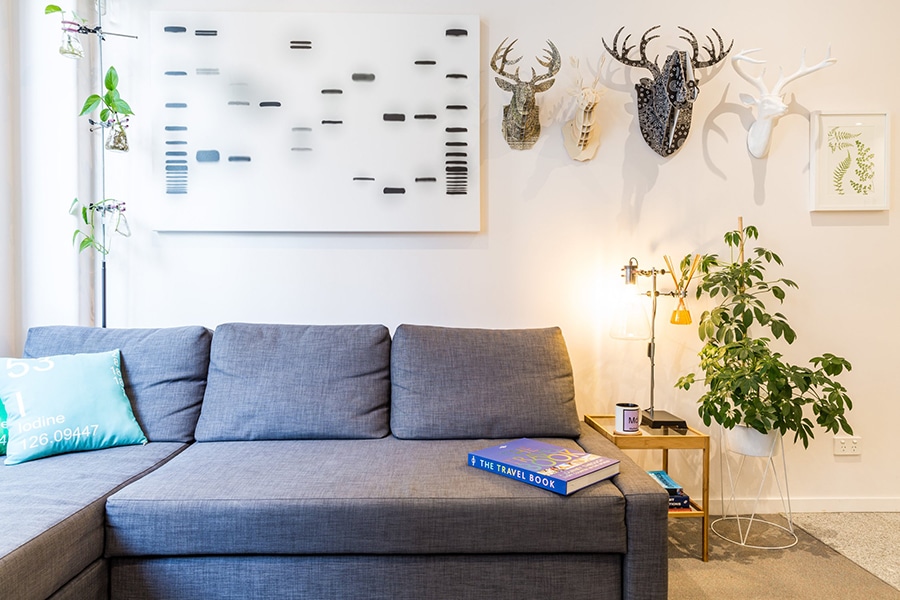 7. The Scientist's Apartment, Melbourne CBD
Let science justify your weekend trip to this quirky Airbnb in the suburb of Melbourne. The place features greenery in the living room, spices in test tubes, incense-filled conical flasks and decorative dinosaurs. Host Vincent even leaves snacks in the fridge, Melbourne public transport cards and an instruction manual. It is located at the quiet end of Flinders Lane in the CBD, providing the perfect formula for an unforgettable stay.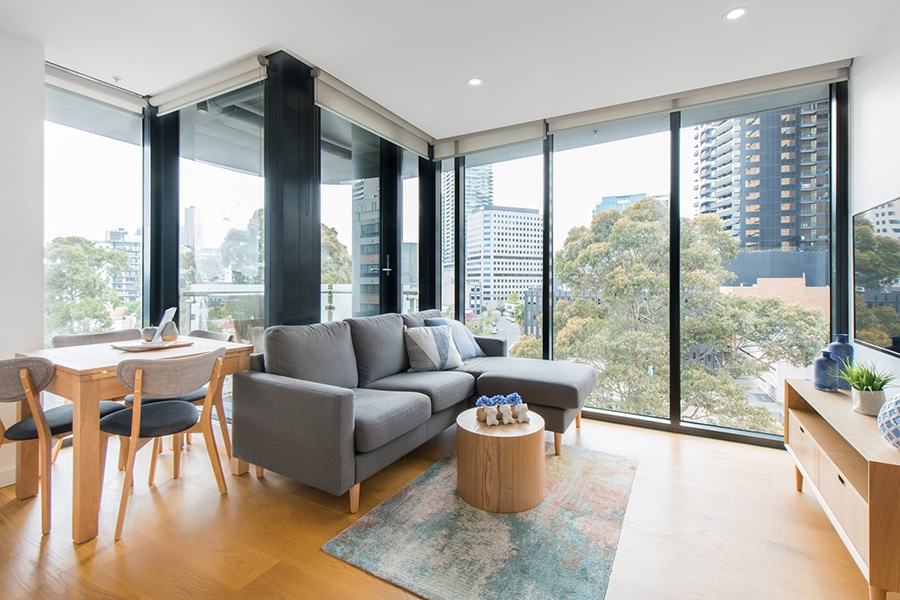 8. Luxury Apartment in South Melbourne
This sumptuous, modern apartment in South Melbourne provides the perfect resting place from which to recharge from all of your Melbourne sightseeing and activities. The two bedroom, two bathroom luxury Melbourne Airbnb features stunning city views, modern furniture and kitchen appliances. You'll feel instantly at home, meaning the hardest part about your stay will be leaving.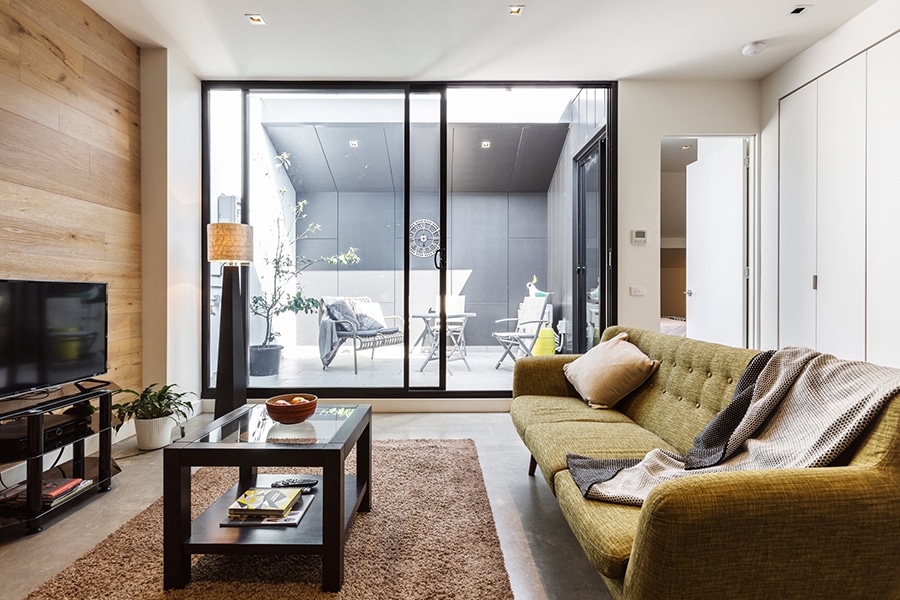 9. Modern Apartment Close to Cricket Ground and Epworth Hospital, Richmond
Renowned for its proximity to bars and restaurants, tram lines and sporting grounds, Richmond is an ideal area to call home while staying in Melbourne. And within Richmond, you can't look past one of the best Airbnb's in Melbourne CBD, a modern apartment and secret lair. The two bedroom, two bathroom home features tasteful art pieces throughout, appreciated homely touches such as flowers and organic soap, plus your own private sun-filled patio.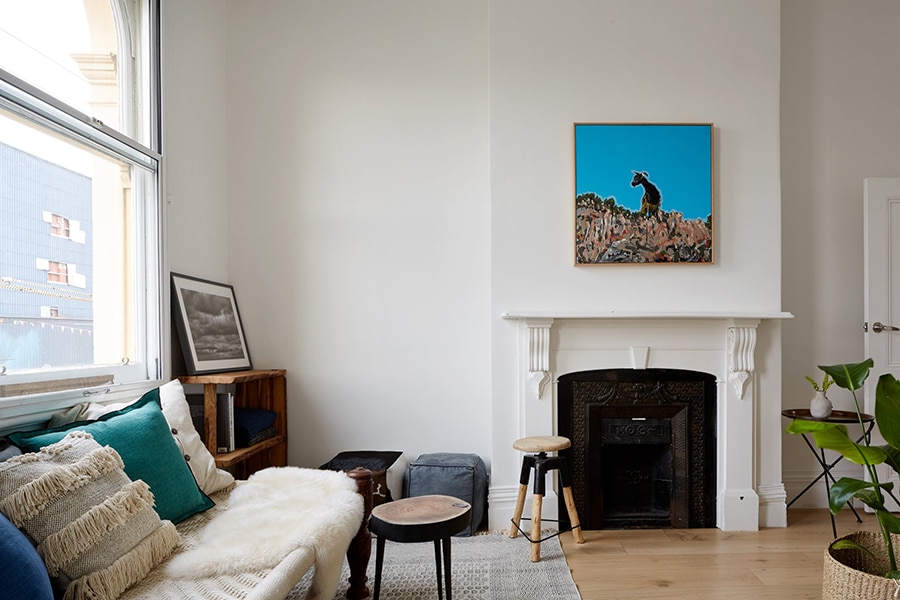 10. Stunning, Curated Concept Apartment in Fitzroy
This concept apartment oozes artistic style, characteristic of Fitzroy, in which every piece has its place and purpose within the larger design. And with good reason. The abode has been curated by MAA, an architecture studio that specialises in residential and mixed use projects. The luxury Airbnb in the suburbs of Melbourne is a cohesive experienced fitted with favourite designs from the current collection, meaning you could even take away a little piece of your stay by buying one of their products. If you've ever wanted to spend the night in a curated showroom and discover all the added personal touches designers are paid to think about – this opulent apartment cannot be missed.
Alternative to Melbourne Luxury AirBnBs
If you're looking for other cuisines or dinner ideas in Melbourne, we've got you covered with some options listed below. You can also check out our list of fun things to do in Melbourne. If you're looking for a more specific cuisine, check out our list of Japanese restaurants in Melbourne or our list of the best Italian restaurants in Melbourne. If you've hit a food coma and want to get active, we can also show you the best beaches in Melbourne for surfing and swimming.
How Man of Many Chose This List of Melbourne Luxury AirBnBs
With an editorial team full of travel writers, Man Of Many has had the unique opportunity to visit Melbourne on several occasions. As expert journalists who guide people between competing products and services, we have provided our independent opinion in formulating these selections. You can review our editorial policy here surrounding how we maintain our independence in our editorial reviews.
Luxury Airbnbs in Melbourne FAQs
Is Airbnb legal in Melbourne?
Not only is Airbnb legal in Melbourne, the regulations are relatively lenient compared to other cities in Australia. Unlike other cities, there is no limit on the number of nights you can rent out your property.
Do you need council approval for Airbnb Australia?
In the majority of circumstances, you will need to get Council approval to lawfully start using your property as an Airbnb rental.
You'll also like: