9 Best Private Island Retreats in Australia
When the going gets tough, why not head out to the middle of nowhere and experience the very best of secluded island living? You don't have to be Richard Branson to afford the necessities that come with island living these days. Pocket that $20 million, there are private islands for rent up and down the coast of Australia, many of which fully catered and big enough for the extended family (or a few extra mates).
Australian Private Island Retreats
We don't blame you either, Aussies are in need of an epic holiday and what is more epic than relaxing on your own secluded island?! Let's paint a picture for you, out in the open ocean, just off the coast, in the middle of nowhere with only a private chef! The world will literally be your oyster with these nine Private Island retreats that are perfect for an exclusive escape.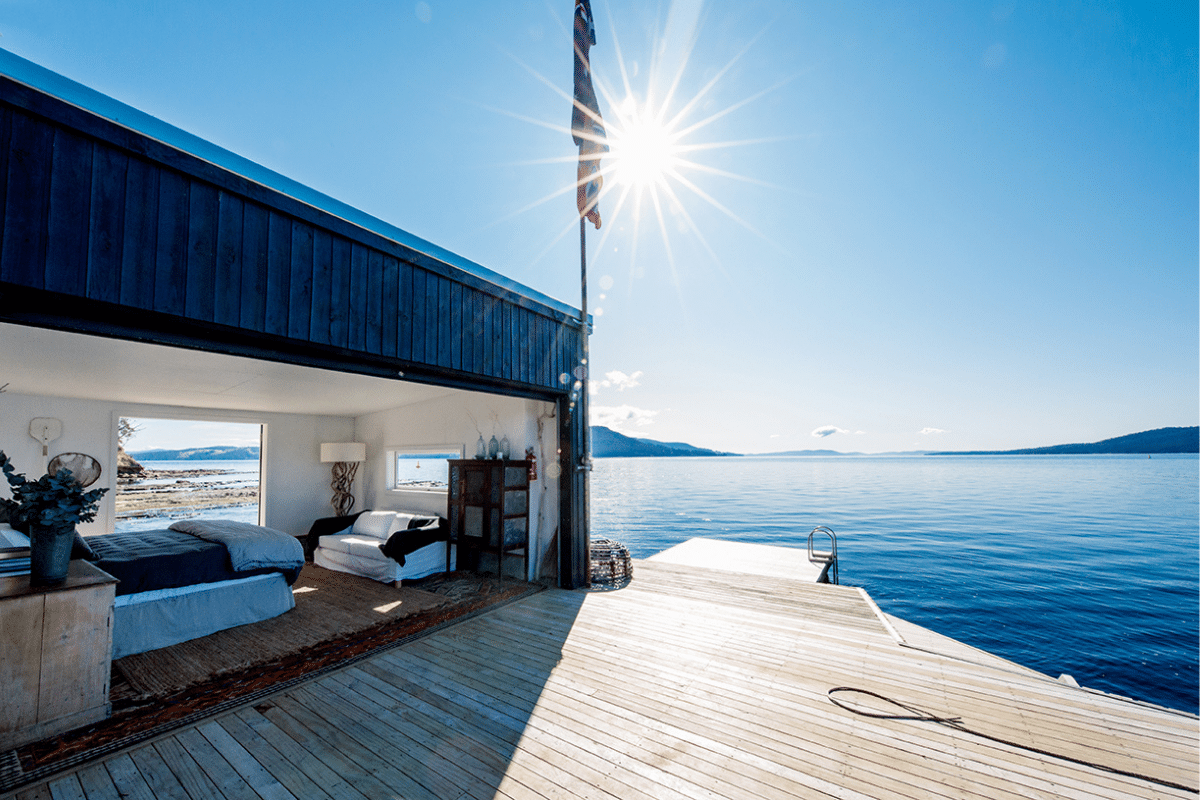 1. Satellite Island
If you're seeking something a little more rugged and far away from the big smoke, you need to check out this island situated just off the south coast of Tasmania near Bruny Island. Satellite island offers exclusive access to 34 hectares of native bush, sea cliffs, pebble beaches and sunny coves. The best part of all? You'll only share your stay with the island's resident deer and rare white-breasted sea eagles.
Location: near Bruny Island, Tasmania
Access: Drive, magical 20-minute helicopter journey.
Food: Breakfast provisions, a stocked pantry with gourmet essentials, an endless supply of wild oysters.
Price: from $2,420 per night for two guests. Extra guests $440pp per night (exclusive hire only).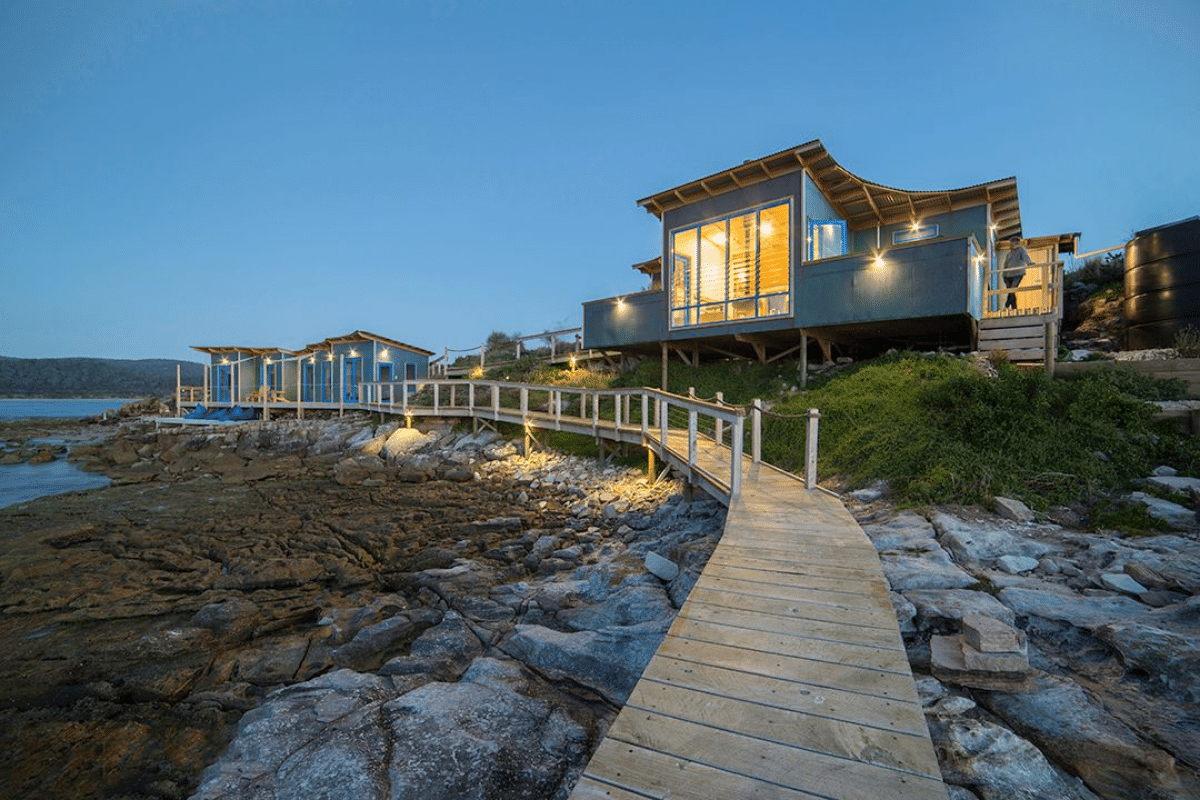 2. Picnic Island
Just around the corner from Wineglass Bay in Tasmania's Freycinet National Park, is the small private Picnic Island. Wild in nature (literally) this experience offers the adventure retreat of a lifetime with its stunning copper-clad lodging making it perfect for hosted adventure retreats, or a group escape. With both day trip and overnight experiences available, the adventure doesn't have to stop.
Location: Freycinet Peninsula, Tasmania
Access: Drive, Seaplane
Food: BYO groceries over with you, catch your own fresh seafood or book a ferry to the local pub.
Price: from $2,200 per night, including water taxi return, for up to 10 guests.
---
Featured Video from Man of Many
---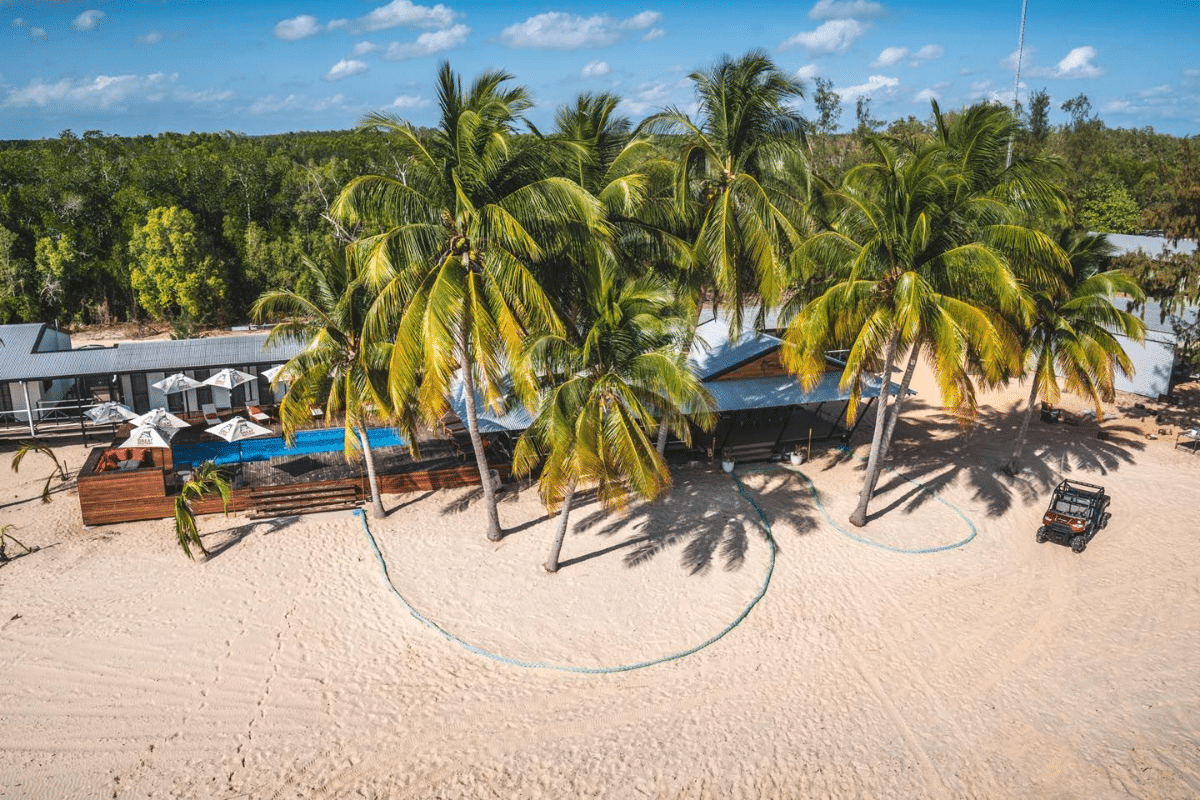 3. Tiwi Island Retreat
Often referred to as the 'Island of smiles', Tiwi Island is the perfect off-the-beaten-track destination with a rich Indigenous culture. If you're up for a flick, stay on the remote South West coast of Bathurst Island where Tiwi Island Resort offers some of the Northern Territory's best fishing, adventure and Indigenous arts and cultural experiences.
Location: Bathurst Island, Northern Territory
Access: 20-minute scenic flight from Darwin International Airport.
Food: Wander down to the Great Northern Bar for an afternoon drink of Australian beer and wine.
Price: Double rooms start from $500 per night (with a minimum two-night stay).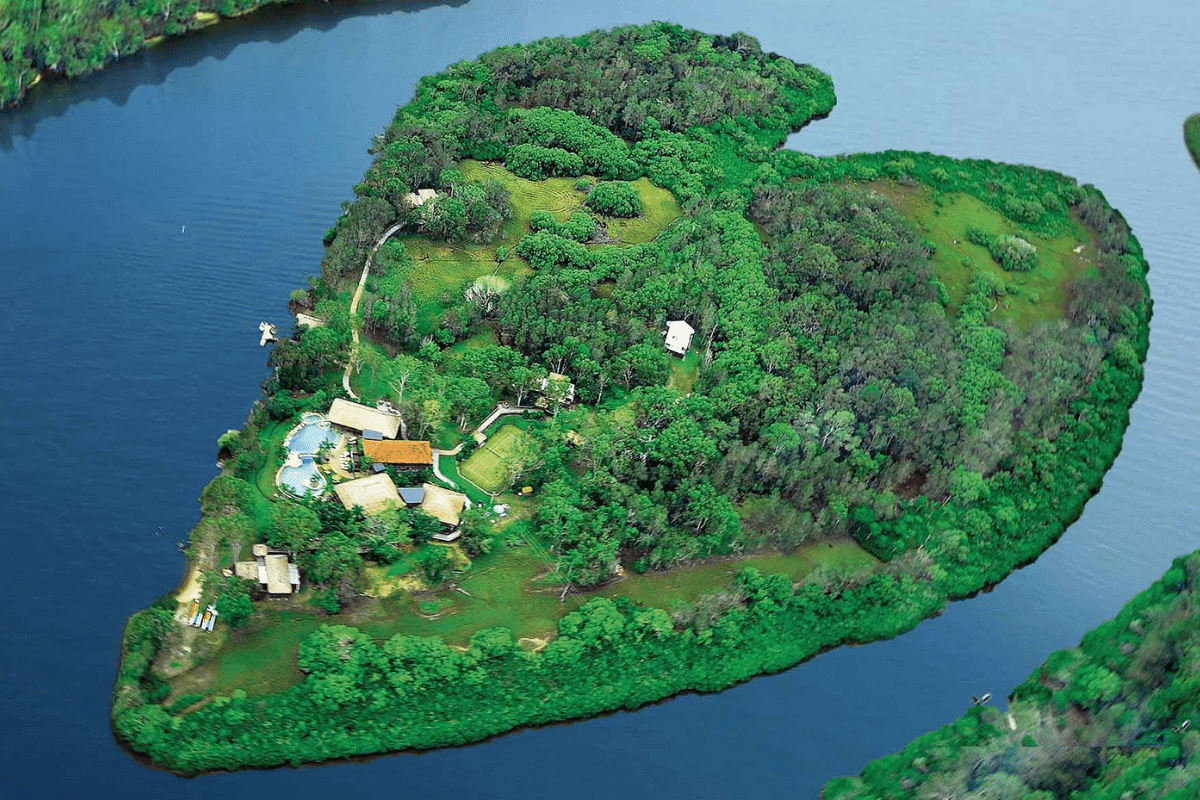 4. Makepeace Island
Looking for something a little more relaxing for your private island holiday? Look no further than heart-shaped Makepeace Island located on the Noosa River on Queensland's Sunshine Coast. Described as a 'sanctuary of seclusion,' Sir Richard Branson's private hideaway hosts up to 20 guests and focuses on relaxation and rejuvenation. When lounging around becomes too much hard work, you're encouraged to utilise the onsite facilities including tennis courts, swimming pools, water sports and yoga.
Location: Sunshine Coast, Queensland
Access: Enjoy a private boat transfer from Noosa Heads to the island, which is just minutes away.
Food: Executive Chef culinary adventure in collaboration with you and local organic producers.
Price: from $18,000 per night, for up to 20 guests (Entire Island).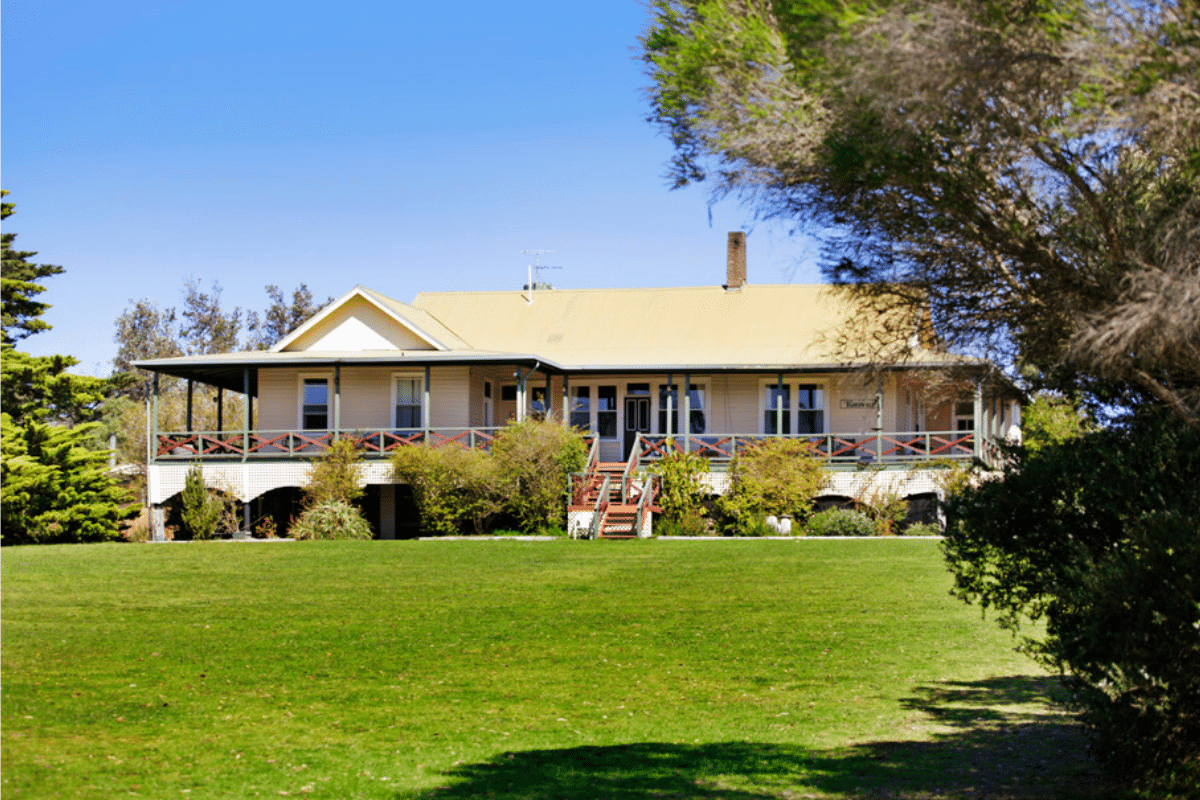 5. Fraser Island Retreat
One of Victoria's best kept secrets, Fraser Island Retreat is hidden away in the beautiful Gippsland Lakes near Lakes Entrance, approximately four hours' drive from Melbourne. The retreat offers 11 rooms to house up to 38 people in the 100-year-old homestead "Kawar", and the option of additional accommodation for 10 in private cabins with an exclusive booking, making it one of the most premium, secluded group accommodation options in the state.
Location: Lake Entrance, Victoria
Access: Drive then Ferry, light aircraft
Food: Fully catered large kitchen in the homestead, local restaurants via ferry.
Price: from $2,500 per night. 11 bedrooms, with accommodation for up to 38 people.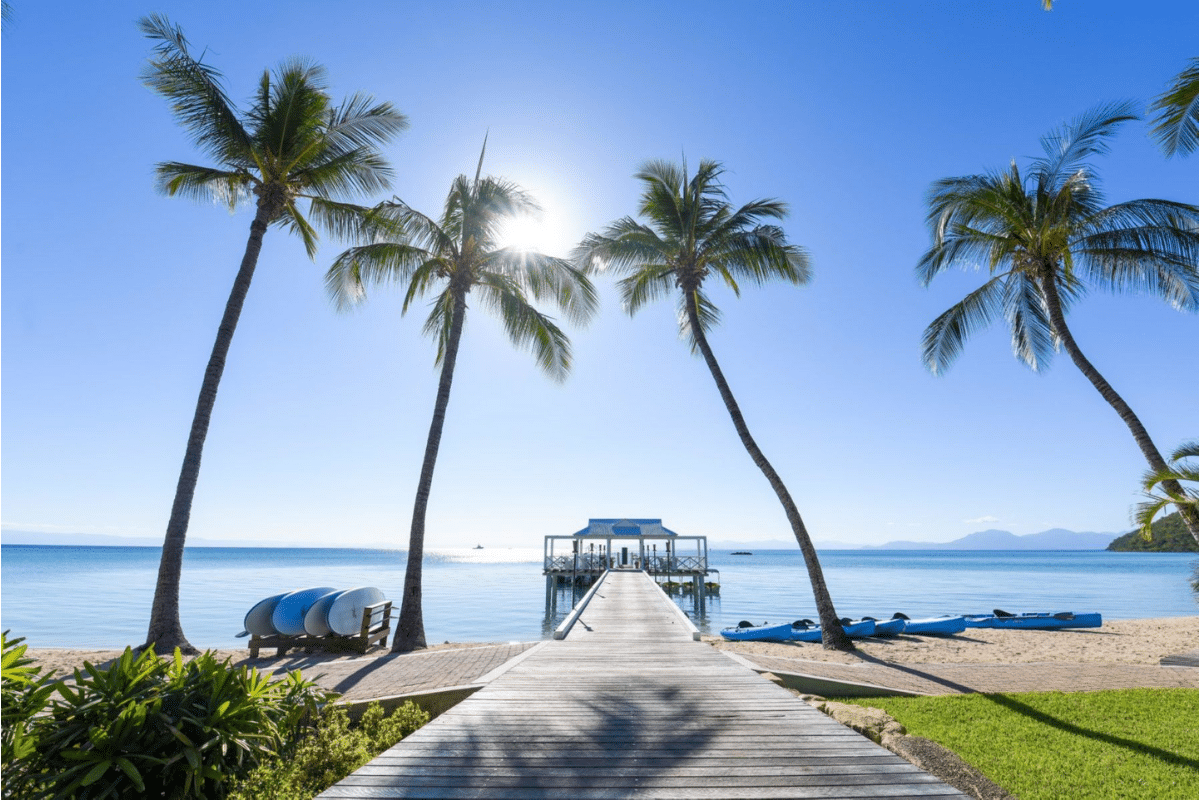 6. Orpheus Island Lodge
With only 28 guest places on offer, there's only enough space for the extended family at the Orpheus Island Lodge. The all-inclusive private island accommodation located in the Great Barrier Reef, is one of the only truly private experiences on the reef. With only 14 rooms, suites and villas, it is the ultimate secluded tropical paradise, surrounded by pristine fringe reef accessible on your doorstep.
Location: Great Barrier Reef, Queensland
Access: 30-minute helicopter journey from Townsville
Food: Gourmet meals prepared daily by chef Winston Fong of Orpheus Restaurant.
Price: from $1,600 per night, and exclusive use of the resort is priced from $25,350 for up to 28 guests.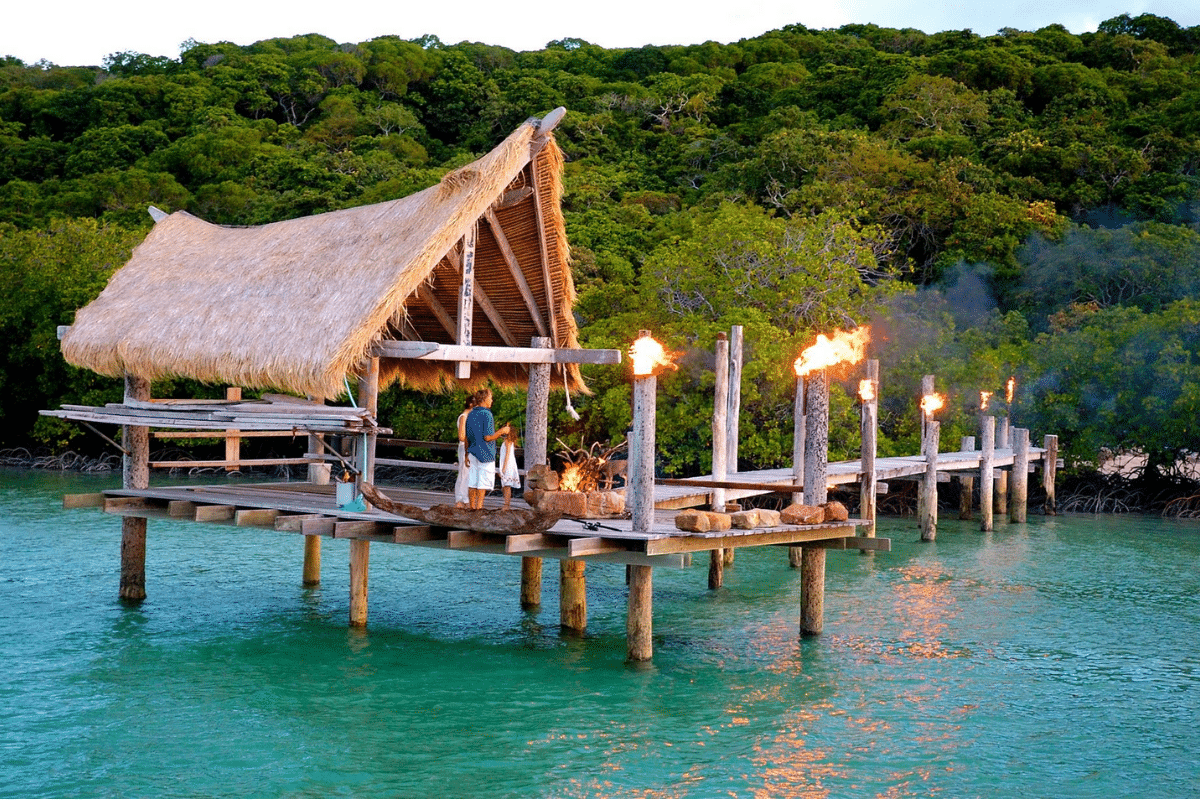 7. Haggerstone Island Resort
Welcome to one of Australia's most private islands, Haggerstone offers an unparalleled adventure experience tailored to each individual guest. Located over 800km north of Cairns close to the northernmost tip of Queensland, this uniquely designed lodge accommodation blends seamlessly along the island foreshore, with each private villa offering its own pristine beachfront and sea view. The island accommodates just twelve guests, meaning you can easily book the whole place out for you and a group.
Location: Great Barrier Reef, Queensland
Access: Fly to Cairns then catch a two-hour private charter flight or flight to Weipa with Qantas.
Food: All meals included, focusing heavily on first-class seafood fresh from the ocean.
Price: from $6,800 per night, including all meals and non-alcoholic beverages and island excursions.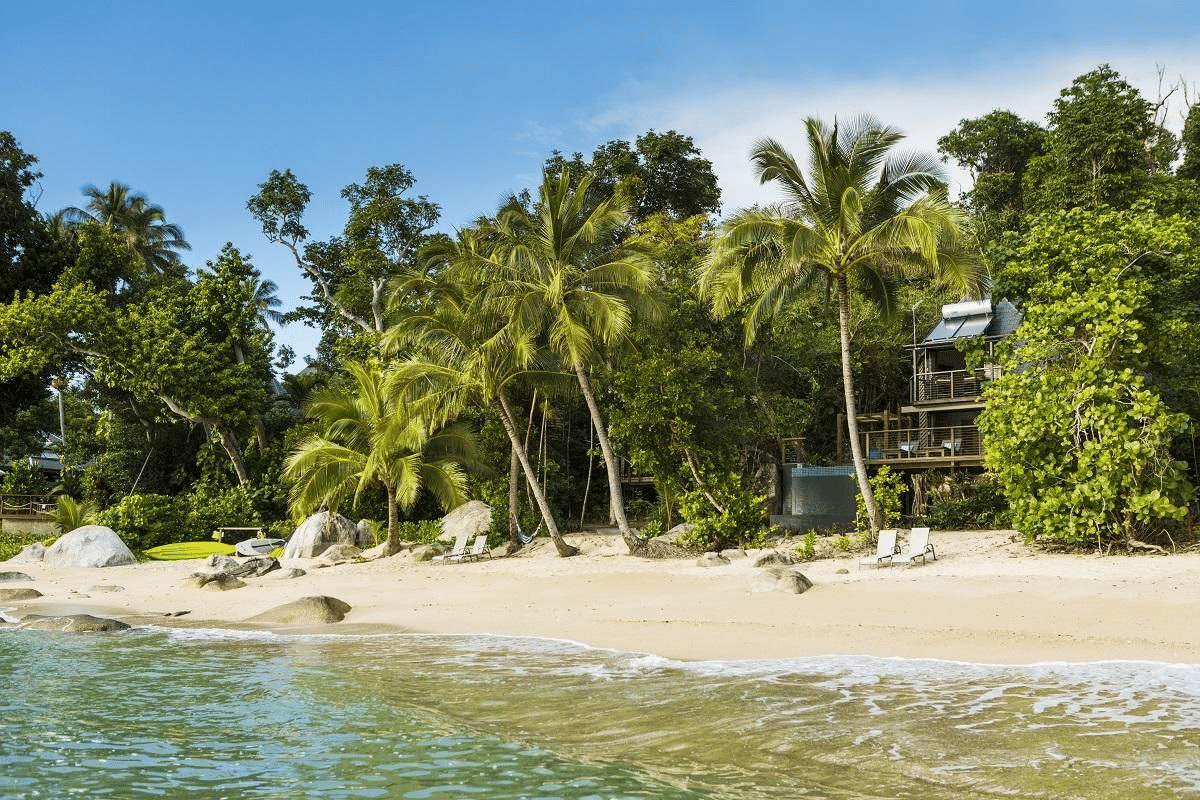 8. Bedarra
Introducing the Bedarra, another gem smack bang on the Great Barrier Reef between Cairns and Townsville. This all-inclusive, private resort offers the ultimate in barefoot luxury, with just ten private villas hidden amongst 45 hectares of tropical rainforest. More than just a nice place to visit, the island offers solitude, privacy and sublime views over the reef for a maximum of 20 guests.
Location: Great Barrier Reef, Queensland
Access: Arrive or depart Bedarra from boat launch or helicopter.
Food: Open terrace restaurant, bar and lounge in Bedarra.
Price: from $1,390 per night, exclusive use starts from $13,530 with unlimited Jacquart Champagne.
9. Lizard Island
We're finishing off with another sublime island residence at the northernmost tip of the Great Barrier Reef. Lizard Island is awesome in its seclusion with little to no evidence of city life it truly feels like another part of the world. Located on a 1,013-hectare National Park surrounded by World-Heritage listed coral reefs, the island offers natural privacy, as well as easy access to one of the greatest natural wonders of the world.
Location: Great Barrier Reef, Queensland
Access: Depart from Cairns Airport on a charter flight.
Food: Two private beach pavilions sit on Anchor Bay, private degustation dining experience, picnic.
Price: from $2,029 per night. Exclusive use prices available on request.
Private Island Retreats in Australia FAQ
Can you rent a Private Island in Australia?
Yes, there are many private islands for rent in Australia. Some of the islands are even located on the world-famous Great Barrier Reef!
What is the best private island to stay at in Australia?
Orpheus Island Lodge on the Great Barrier Reef is one of the best private islands stays in Australia. It can be rented for AU$25,350 for up to 28 guests and features a pristine fringe reef accessible on your doorstep.
What is the most secluded private island accomodation in Australia?
Haggerstone Island Resort, it's located over 800km north of Cairns close to the northernmost tip of Queensland.
---
Featured Video from Man of Many