Guy Turns 1920s Typewriter Into an EDM Drum Machine
This may just be the ultimate case of upcycling that you'll ever see. William Sun Petrus, a music producer and developer, took a vintage 1920s Remington typewriter and transformed it into an EDM drum machine.
You'll also like:
Watch Butterscotch Explain the 13 Levels of Beatboxing
Watch US Navy Warship Destroy a Drone with its New Laser Weapon
Watch the 'King of Sting' Get Stung by a Murder Hornet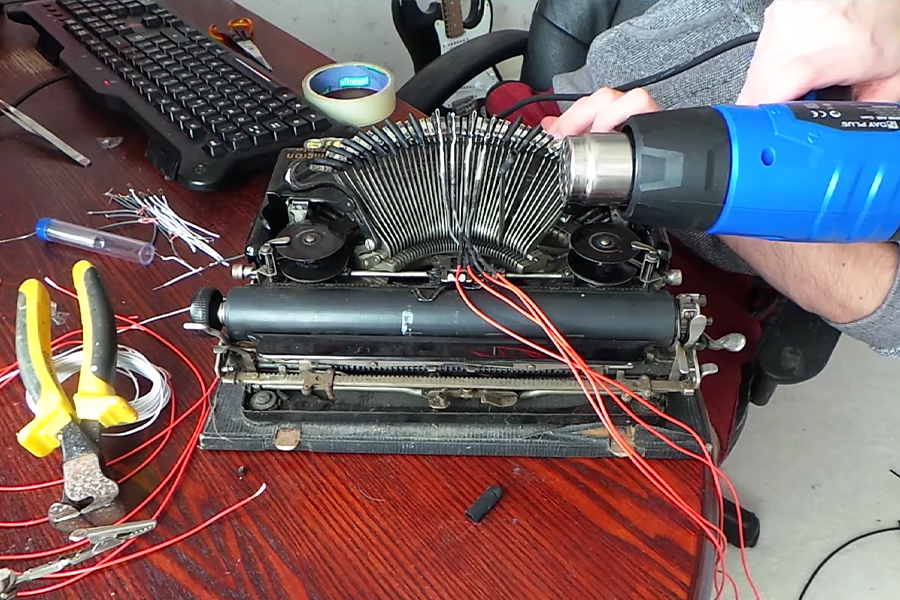 "This is a Remington portable typewriter, made in the 1920s," writes Petrus. "I've attached a lot of wires, an Arduino, and plugged it in. It now makes cool noises." That's a bit of a simplistic explanation, but pretty accurate as well. The keys are all assigned different sounds, from drums to brass to pads and bass. Petrus combines the sounds into a pretty sweet beat. Petrus mixes in some FX sounds as well. When all the keys are firing, he's able to put together a fun tune. The whole contraption works using the original keys and type bars. You hit the key and the type bar, in turn, hits the drum plate, transmitting a message to the Arduino, which then communicates with a computer and finally into an Ableton.
"For real though, whenever a hammer contacts the 'live plate', it will send a signal to the Arduino. The Arduino recognizes which hammer has been pressed and fires a signal into my PC via the cable, and into the Ableton. Ableton sees some MIDI information and understands that it needs to trigger that specific sound," explains Petrus. "The song is composed of 17 different sounds, played live for you, right here, right now."
Petrus's work on the typewriter is well done, and the proof is in the song. With a fun beat and a cool mix of sounds, the song is more than just interesting. And from Petrus has said, this is just the beginning. "This typewriter is actually just a small part of a much bigger project, so there's still a lot more to come!"
You'll also like:
Watch Butterscotch Explain the 13 Levels of Beatboxing
Watch US Navy Warship Destroy a Drone with its New Laser Weapon
Watch the 'King of Sting' Get Stung by a Murder Hornet