Work Weightlessly With the Zero Gravity Balans Chair
In our modern world, we spend a lot of time sitting—at work in our offices or cubicles staring at a computer screen and at home binge-watching our favourite shows or sporting events. Chairs are nice, but they aren't always designed to be sat in for extended times. After all, sitting has been called the new smoking when it comes to health and wellbeing. The Zero Gravity Balans chair by renowned furniture designer Peter Opsvik for Varier Furniture is turning that around, offering you an ergonomic chair that blends relaxation and productivity.
You'll also like:
PewDiePie's Gaming Setup & Gear Behind all that Money
12 Best Standing Desks for Your Home Office
8 Great Furniture Pieces to Instantly Spruce Up Your Pad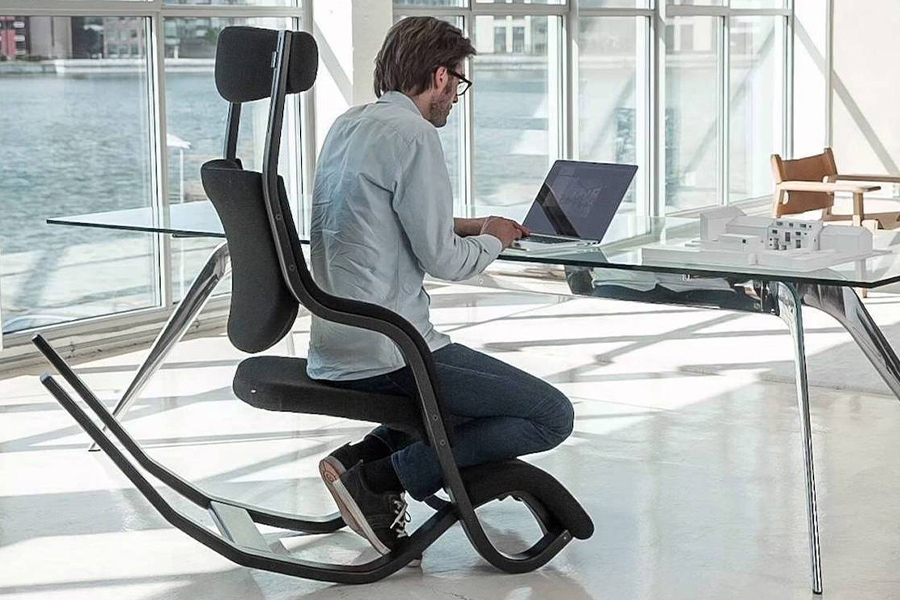 To make a chair ergonomic and functional, that often means adding in dials and levers, which can make the chair seem cluttered and unappealing to the eye. Opsvik's design, however, makes the chair more aesthetically pleasing, yet it keeps all the functionality you want in your chair. The Zero Gravity Balans chair offers four different sitting angles, allowing you the flexibility you need to be able to adjust and change your position. The curved legs let you rock back to a fully reclined position, while the leg rests double as kneeling pads so that you can sit more forward. This unique design means that your body is always at a balancing point, so changing position is quickly and easily achieved by simply shifting your weight slightly.
When in the reclined position, the Zero Gravity Balans chair provides increased lumbar support so that you're not hurting your back while reclining. The same goes for your neck—the headrest is fully adjustable as well. No matter how you sit—upright, kneeling, reclined, even on your side—the Zero Gravity Balans chair is perfectly designed to give you the ergonomic comfort you need. So whether you're stuck in a cubicle or binging your favourite show, this chair will be your new favourite.
You'll also like:
The Shelter Desk Definitely Comes from Tomorrow
12 Best Standing Desks for Your Home Office
8 Great Furniture Pieces to Instantly Spruce Up Your Pad