7 Best Snow Destinations Near Melbourne
Can you really find good snow near Melbourne? The short answer is yes, Melbourne offers cross-country skiing for intermediate skiers, snow activities for the whole family and ski school for first-timers. If you're looking for a winter wonderland Mt Hotham's village will provide reliable snow cover, while Falls Creek offers some of the best ski resorts in the country backed by steep slopes for advanced skiers.
Whether it's your first time chasing eye-catching mountain views or long weekend winter activities for the whole family, our team of expert adventurers and editors have directly sampled and experienced some of the best snow destinations in Melbourne for you.
Best Snow Destinations Near Melbourne at a Glance
Our list of best snow places near Melbourne goes like this:
Now we've had a look at our favourites, let's check out the complete list.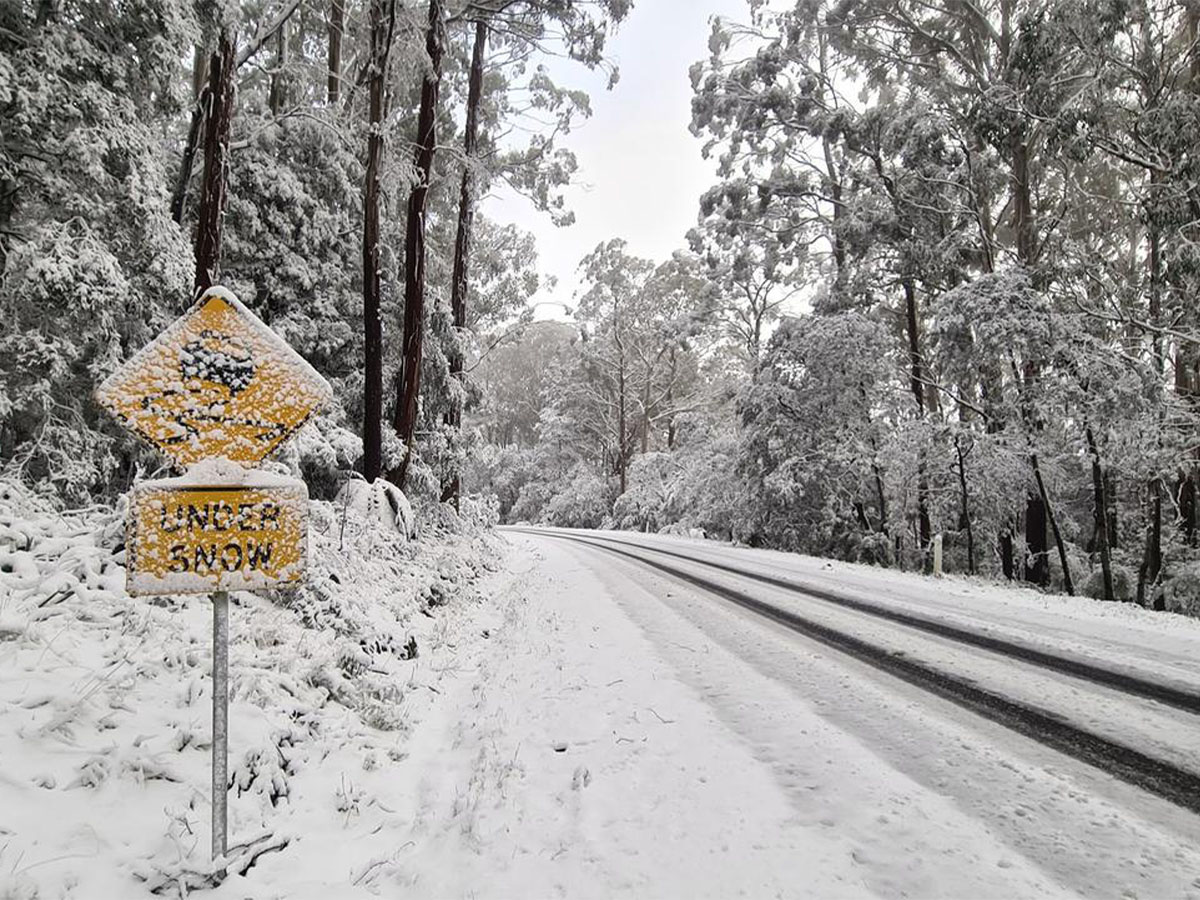 1. Mt Donna Buang
Mt. Donna Buang is the closest mountain to Melbourne making it perfect for a day trip. If you find yourself in the Victorian capital Googling 'snow near me', this little spot in Warburton in the Yarra Valley is just two hours away from the city. Check out the toboggan rental with three unique toboggan-specific runs. To seal the deal, it's a completely free spot to enjoy toboggan runs and snow play. If you're planning on heading up with children, you won't find amenities or snow runs for skiing. This is really suited for those who don't want to make the trip to Melbourne's larger mountains, and for those who want to see snow and be back in the city before dinner.
Address: Mt Donna Buang Summit Rd, Warburton
Phone: (03) 5966 9600
Ski Area: Elevation of 1,250m, however this is not skiable, and is open for tobogganing and snow-shoeing
Ski Season: August
Number Of Lifts: There are no chairlifts
Snowfall: 3.1 inches during the second week of August
Ski Pass Prices: No ski pass needed on the mountain
Snow Chains: There is no need for snow chains
What We Like: It's a close snow destination offering families a quick and easy snow-filled holiday.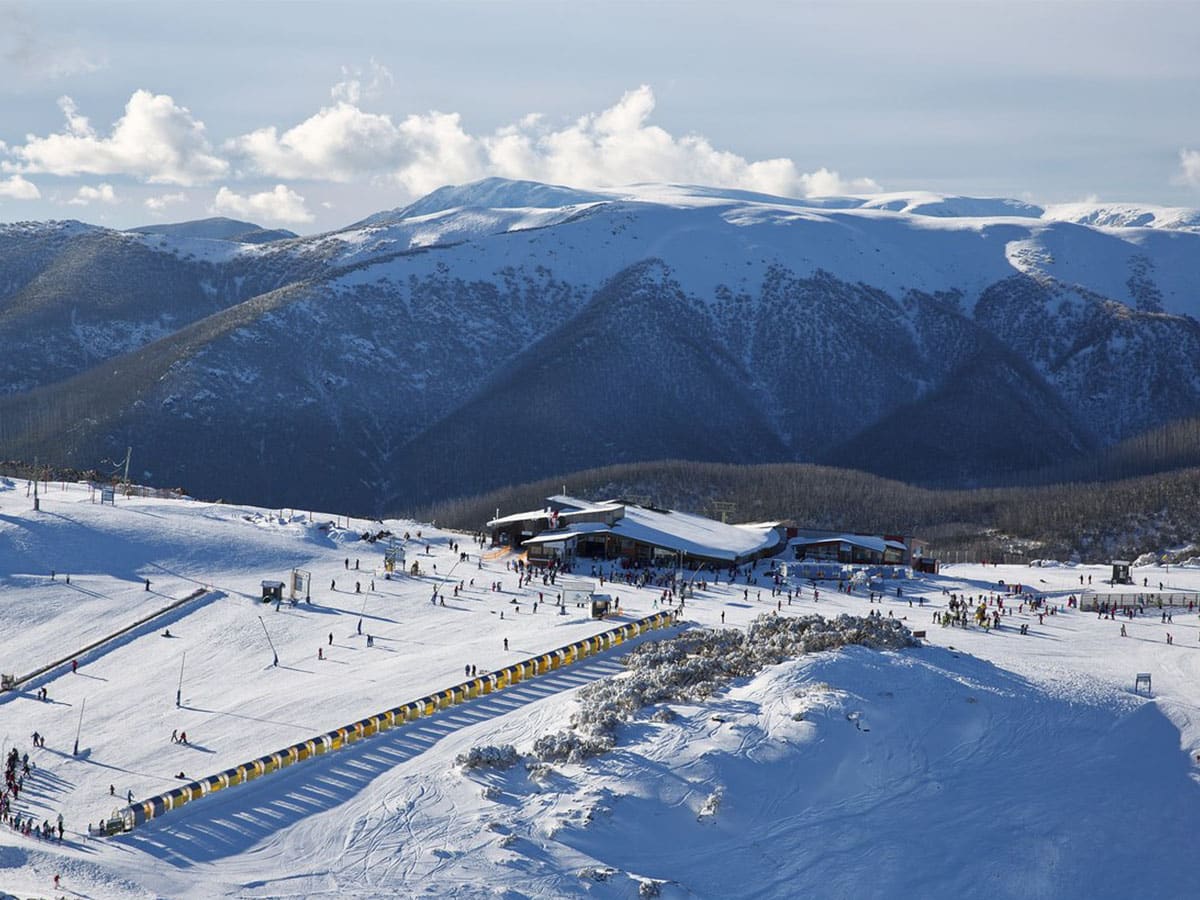 2. Falls Creek
Falls Creek is Victoria's biggest plot of ski land, making it perfect for cross-country trails and intermediate and advanced skiers. Falls Creek also caters for children and people visiting who aren't avid skiers. If you're looking for epic luxury hotels, Falls Creek's QT hotel is the perfect destination to enjoy the high country in style. If you are heading up with children, drop them off at ski school while you and your adult friends take on steep slopes or enjoy the ski resorts. Be sure to take a break from the powdery slopes and visit the award-winning Astra Day Spa for a day of pampering and spa treatments.
Address: 3 Village Bowl Ct, Falls Creek
Phone: (03) 5758 1200
Ski Area: 450 hectares and over 90 runs
Ski Season: August – October
Number Of Lifts: 15
Snowfall: 4 metres
Cost: Entry is $45, prices vary by length of stay. Browse duration packages and prices.
Snow Chains: All vehicles must carry diamond pattern wheel chains
What We Like: Ample accommodation options, a wide range of ski runs for all levels of experience, and a scenic five-hour drive will leave you feeling like you're well and truly in an alpine wonderland nestled high above sea level.
---
Featured Video from Man of Many
---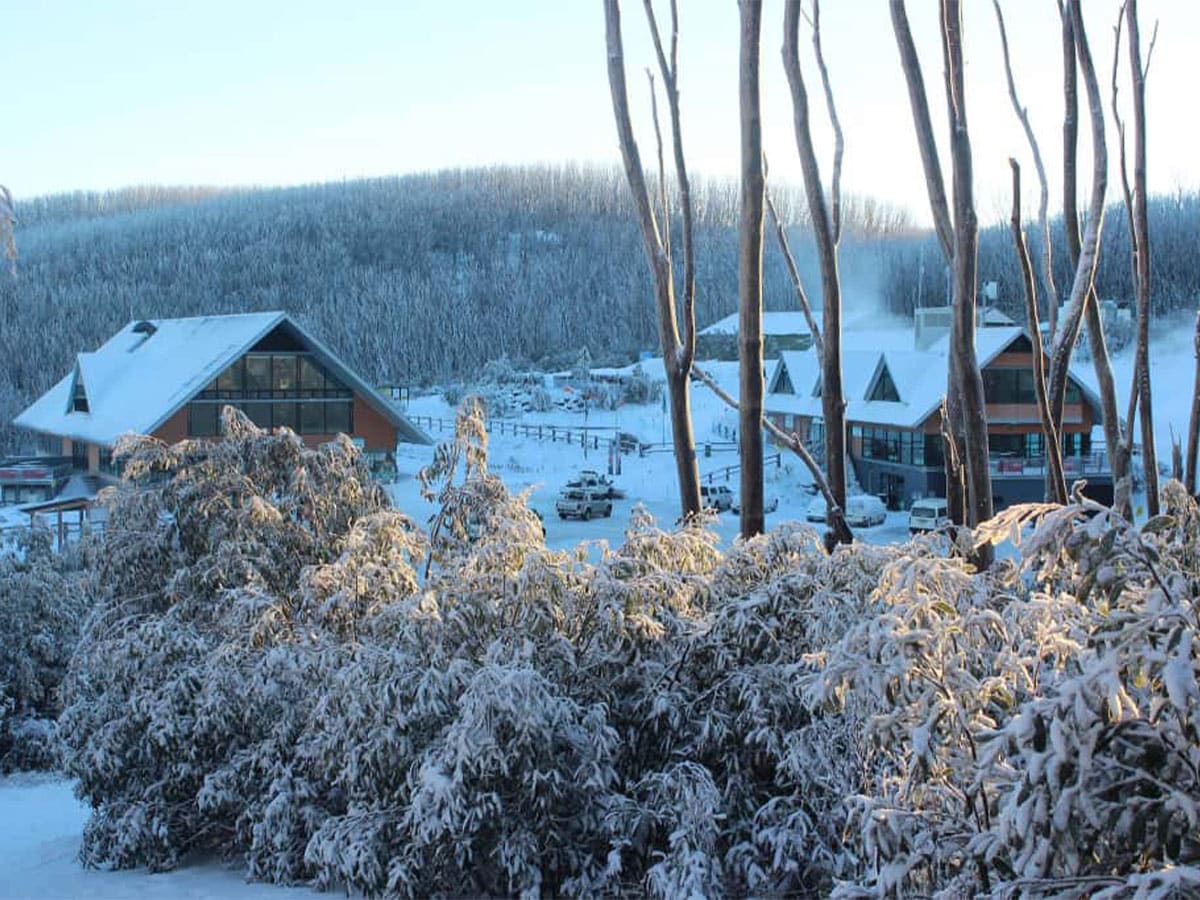 3. Lake Mountain Alpine Resort
The Lake Mountain Alpine Resort is a stunning little mountain during the Victorian snow season. It's just a few hours from the city, making it super easy and still offers a scenic drive. It's important to note is that there are no actual lakes on the mountain. It's named after George Lake, but icy activities it'll provide by the boatload. You'll find tobogganing slopes and a long tube run, so be prepared for a full day of action. If you're not after sliding on the snow, you can grab some snowshoes and head off on any of the five snowshoe trails.
Address: 1071 Lake Mountain Rd, Marysville
Phone: (03) 5957 7201
Ski Area: 35 kilometres / Cross-country skiing 
Ski Season: July-August 
Number Of Lifts: There are no chairlifts
Snowfall: 17 cm of snowfall
Ski Pass Prices: Car entry is $56 pre-booked online or $62 upon arrival
Snow Chains: There's generally no need for snow chains, however, if you do wheel chains they are available for hire in Marysville, Narbethong and the Black Spur. 
What We Like: A little over an hour's drive from Melbourne makes this an easy and efficient destination to enjoy snow play and terrain parks.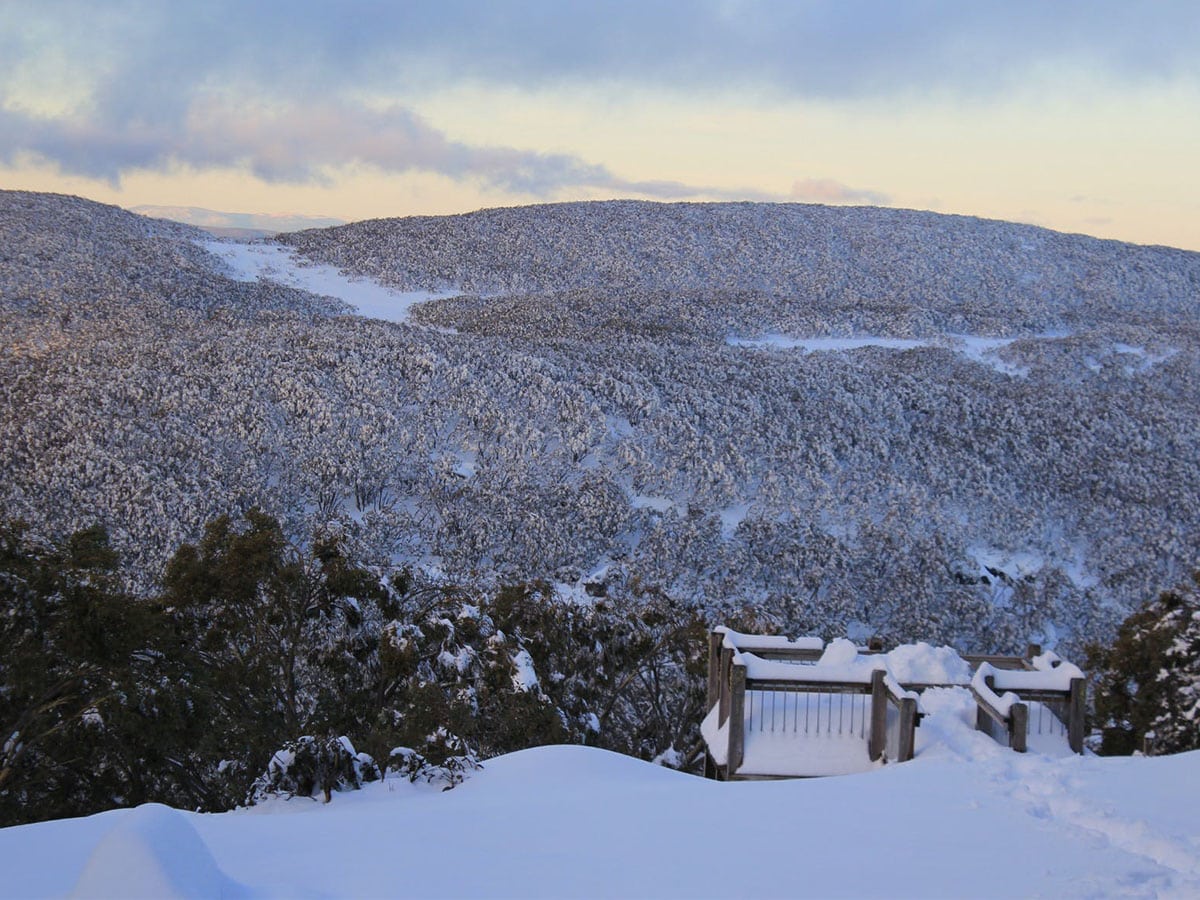 4. Mt Baw Baw Alpine Resort
If you're looking for a less intense snow experience, Mt Baw Baw Alpine Resort gives you a cosier downhill snow time. It's perfect for seeing snow for the first time if you aren't quite ready to make the snowboarding or skiing leap. It's a great place to explore the highlands via a Howling Husky Sled Dog Tour and also brings a cross-country ski trail to the table for those still keen for some snow action.
Address: 32 Currawong Rd, Mount Baw Baw
Phone: (03) 5165 1136
Ski Area: 35 hectares / 110m of vertical range
Ski Season: August-July
Number Of Lifts: 7
Snowfall: 14cm of snowfall
Ski Pass Prices: Weekdays $55 per day, weekends $85 per day, Child Lift Pass 7-15 years inclusive weekdays $40 per day, weekend $52 per day
Snow Chains: Chains must be carried from South Face Road and Tanjil Bren
What We Like: Just two hours from Melbourne, there's plenty to experience and skiable terrain.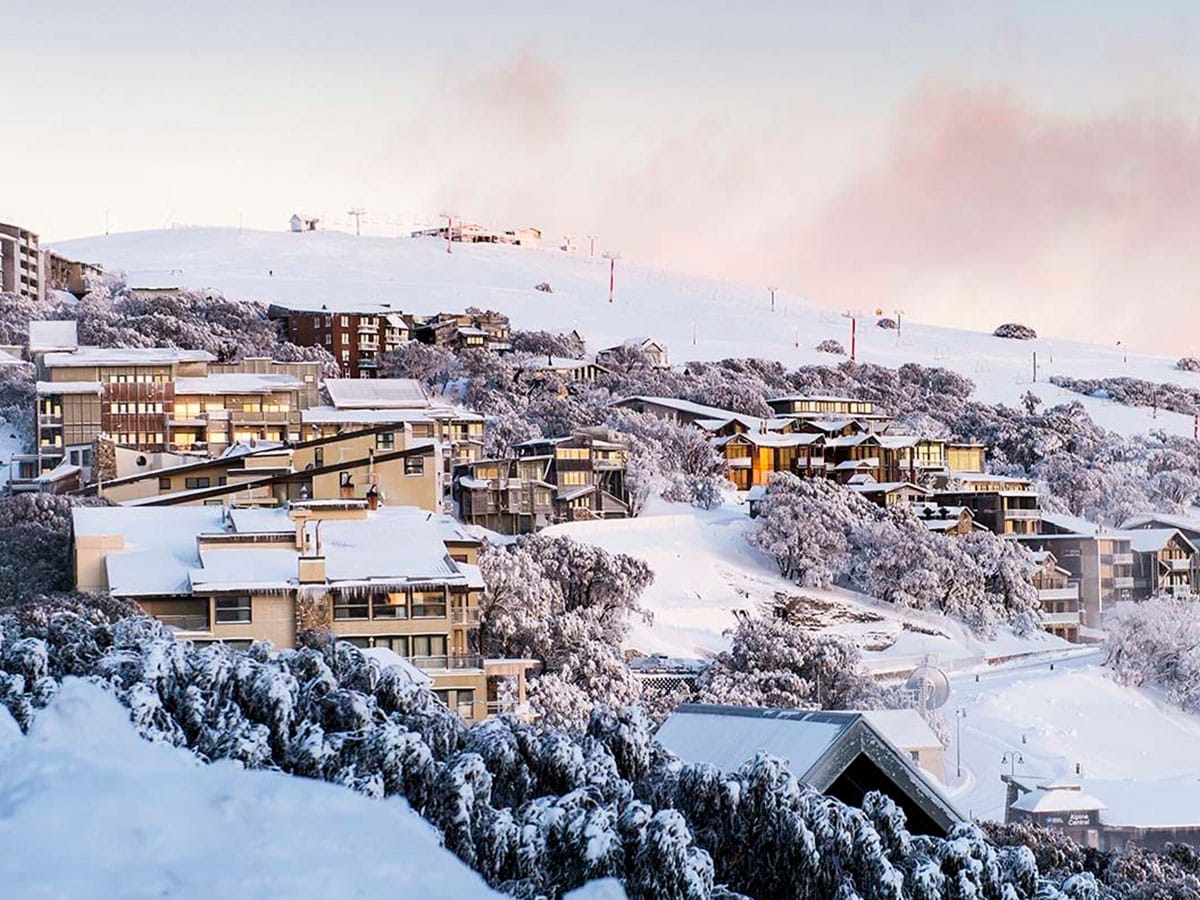 5. Mt Buller
Mt Buller is easily the most famous mountain in the Victorian highlands. You'll find everything at Mount Buller, from nightclubs to pubs, fine-dining and cosy ski lodges. This is the perfect place to settle down with a hot cup of mulled wine by the fire while your friends or family enjoy the ski slopes. From the city, it's about a three-hour drive. Mount Buller has a structured transportation process will take you to your lodgings or hotel. The Mount Buller car park is one to four kilometres away from Mount Buller Village (you can't access Mount Buller Village). People tend to panic if they haven't organised transportation from the car park however, transfers can be bought on the mountain if you haven't collected them. Mount Buller is a family-friendly mountain, there are plenty of activities for children, and the Mount Buller ski school is perfect for parents who'd like to lay down fundamental skiing foundations for their children. Access to all runs stems from the infamous Bourke Street in the heart of Mount Buller Village.
Address: 8 Goal Post Rd, Mount Buller
Phone: (03) 5777 6077
Ski Area: 300 hectares / 1,375 base elevation / 85 runs
Ski Season: June-September
Number Of Lifts: 20
Snowfall: Mount Buller gets an average of 48 inches of snow per year, with additional snow-making facilities
Ski Pass Prices: Vary each day however, a one-day pass for an adult can cost $198 in peak season, and a children's pass can cost up to $119 for a day
Night Skiing: Wednesday and Saturday from 5 pm-8:30 pm
Snow Chains: All vehicles must carry diamond pattern wheel chains
What We Like: This is a popular destination with plenty of accommodation for the long weekend and is fantastic for beginner skiers to learn and more advanced skiers to hone in on their craft, and aim to reach the summit of the mountain while you're there.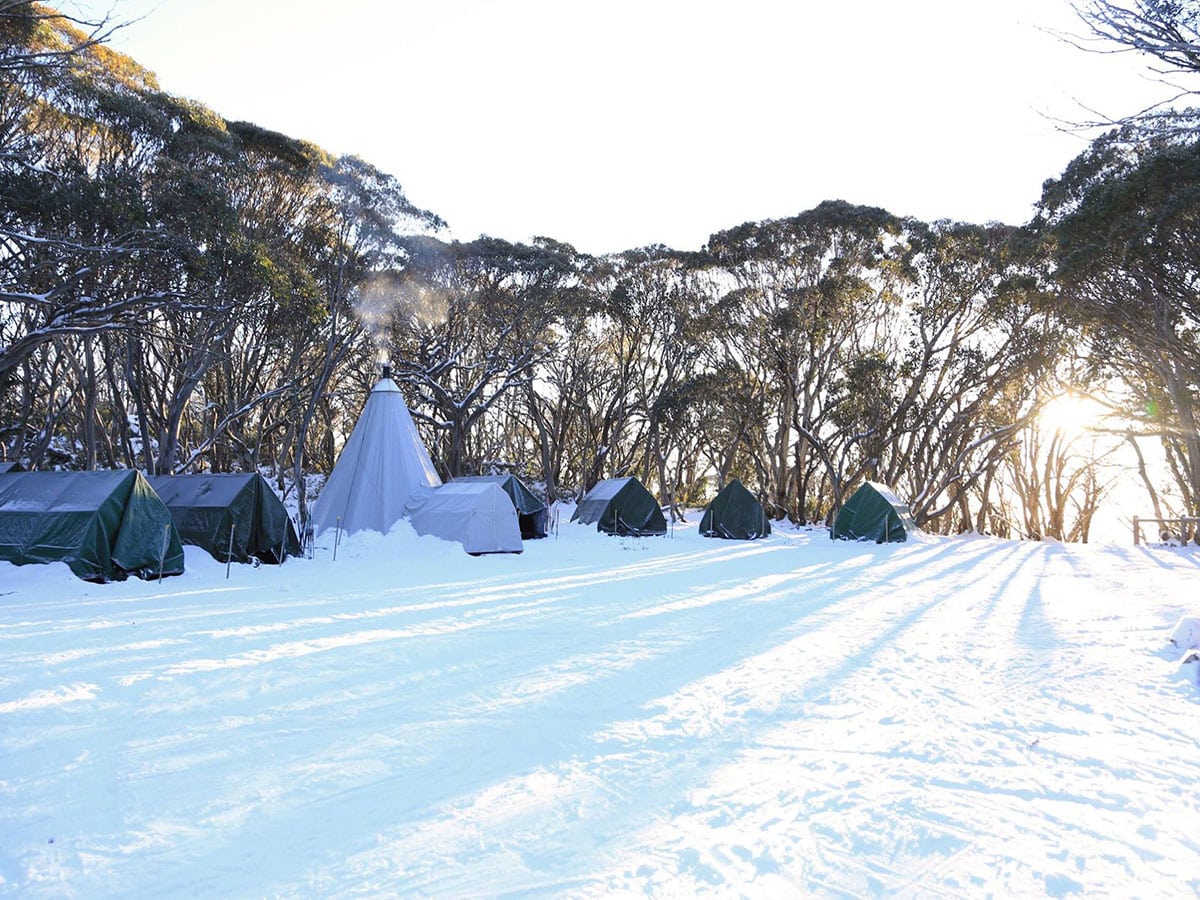 6. Mt Stirling
Mt Stirling is less of a dedicated ski spot and, with no lifts, is less friendly to newbie snow freaks. But the cross-country trail is a solid journey. Never be deterred by the exercise, for those more experienced in the winter arts Mt Stirling is well and truly up your alley. If you're keen to get your alpine tree knowledge on there's plenty of snow gums across a couple of gorgeous trails, with camping spots dotted along for the true alpine explorer to unleash their inner Shackleton. Just don't forget the snow shoes! The mountain is just under four hours away from Melbourne, so make the most of the accessible snowfields.
Address: Alpine Central, Summit Road, Mt Buller
Phone: (03) 5777 6077
Ski Area: 75 km / 509m vertical drop
Ski Season: June-October
Number Of Lifts: There are no chairlifts
Snowfall: 99 cm 
Ski Pass Prices: Day entry to the resort is $54 if purchased prior and 63 if purchased on arrival
Snow Chains: Wheel chains must be carried from Mirimbah entry onwards.
What We Like: You'll enjoy less conventional snow activities like snow camping, scenic helicopter flights, snowshoeing and cross-country ski trails.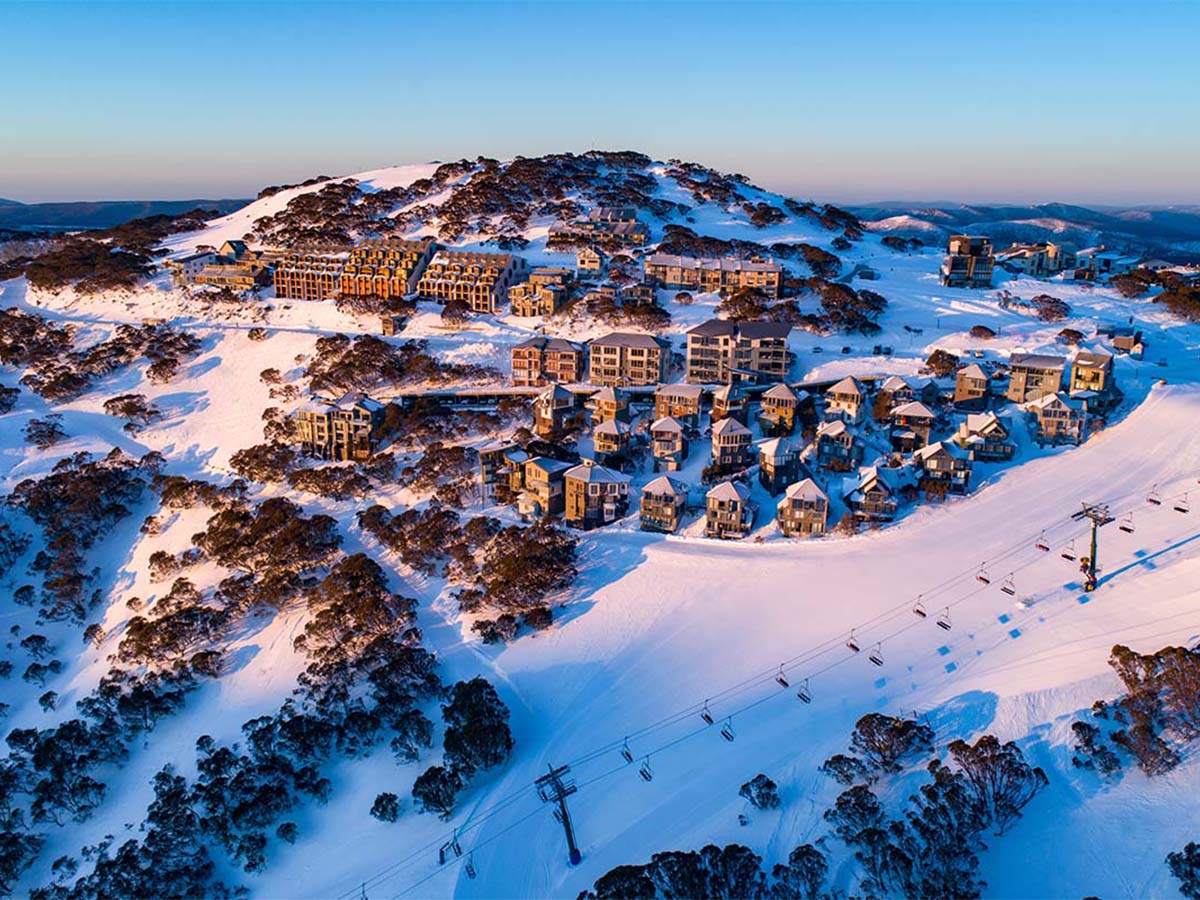 7. Mt Hotham
Mt Hotham is a Victorian skiing treasure. This relaxed alpine village is nestled amongst the best snow cover in Victoria. If you're looking to head up in peak season, you'll need to book your ski resort the year before as Hotham is full of snow resorts, but next to Falls Creek and Buller, it's the most famous mountain in Victoria. You must make a note to ensure you have transport from the car park to your lodge. You'll enjoy night skiing and ski fields full of powder. There are a solid set of three terrain parks and plenty of ski lifts to bring you to the various difficulties of runs.
Address: Alpine Central, Summit Road, Mt Buller
Phone: (03) 5777 6077
Ski Area: 33 hectares / 395 vertical drop / 72 runs
Ski Season: June-October
Number Of Lifts: 13, including Dinner Plains
Snowfall: 150 cm plus an additional 30 hectares of artificial snow
Ski Pass Prices: Adult lift passes start from $199 for a one-day lift pass in peak season and $159 for a one-day pass on weekdays
Night Skiing: Wednesdays and Thursdays
Snow Chains: All vehicles must carry diamond pattern wheel chains
What We Like: Whatever you're after, you'll find it here. Snow Play, Dog Sleds, Ski + Snowboarding lessons. They'll give you everything you're after but the abilities you need—those skills you'll have to build yourself.
Key Things to Consider for Best Snow Destinations Near Melbourne
The key factors to keep in mind when deciding where to go:
Location – How far are you willing to drive?
Value – Is it value for money?
Snow Chains – It is extremely important that you understand how to fit wheel chains prior to arriving any mountain as visitors to alpine areas in Victoria are required by law to carry diamond type snow chains during declared snow season.
Sport or relax – Are you looking for an action-packed weekend of snow sports or a relaxed weekend by the fire?
Family friendly – Is your holiday friendly for children?
Winter Gear – Have you sorted ski hire? Chain hire and the relevant winter warmers?
Parking and Passes – Check to see if you've paid and obtained the relevant passes for the mountain, parking, and lift access.
How Man of Many Chose The Best Snow Destinations near Melbourne
With an editorial team full of adventurers, Man of Many has had the unique opportunity to directly sample and experience snow destinations from the best spots near Melbourne. It is also based on our experience, in-depth research and customer reviews of snow destinations near Melbourne. As expert journalists who guide people between competing products and services, we have provided our independent opinion in formulating Man of Many's selections. Man of Many has utilised Steve Kavakos' knowledge of his home city. Our editors have taken into account travel time, snow cover and accommodation while also making a concerted effort to highlight a few spots outside of the CBD. You can review our editorial policy here surrounding how we maintain our independence in our editorial reviews.
Alternatives to skiing near Melbourne
If you're looking for other cuisines or food ideas in Melbourne, we've covered you with some options listed below. You can also check out our list of the best dating spots in Melbourne. If you're looking for a more specific cuisine, check out our list of Japanese Restaurants in Melbourne or the best brunch spots in Melbourne. If you've hit a food coma and want to get active, we can also show you the best Camping sites in Victoria.
General FAQ
Where's the closest snow to Melbourne?
Mt Donna Buang is the closest spot to Melbourne's CBD where you'll find snow.
Does it ever snow in Melbourne?
It last snowed in Melbourne in 1849. But since then you can head to any of Victoria's snow fields.
How long is the drive to Mt Buller?
Mt Buller is 3 hours and 248kms north east of Melbourne
---
Featured Video from Man of Many