5 Best Places to Go Horse Riding in Melbourne
With the weather getting nicer, there's never been a better time to get outdoors, escape the city, and explore the breathtaking views of the Victorian countryside. With an extensive list of local stables offering a variety of riding schools and trekking experiences, horse riding in Melbourne has become a popular pastime for both intrepid adults and adventurous kids. Whichever location you choose, horse riding in this region is guaranteed to be a memorable and scenic adventure. Trek across the golden sands of the Mornington Peninsula or ride alongside wildlife in the national parks and native woodlands. Some stables offer longer treks with overnight stays and, you can even go on excursions to many of our established local breweries and wineries! With many new and heritage venues so close to the city, Melbourne horse riding offers a perfect day trip escape or even a long weekend.
So saddle up, and let's explore the best places to go horse riding in Melbourne.
You'll also like:
10 Best Outdoor Gyms in Melbourne
11 Best Melbourne Golf Courses and Clubs
7 Best Cliff and Rock Jumping Spots in Australia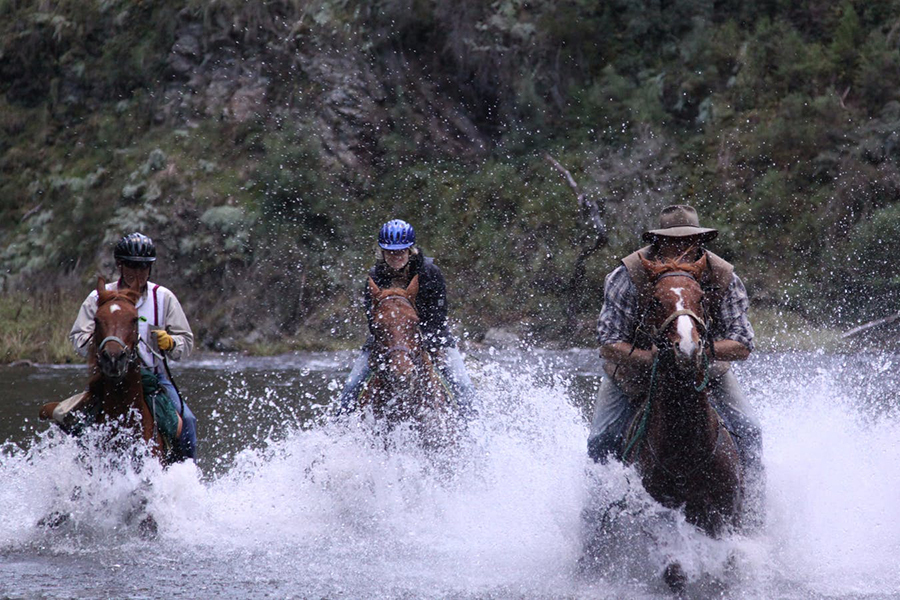 1. Watson's Mountain, High Country
For over 37 years, Watson's Mountain Country Trail Rides has been taking visitors to explore the magnificent picturesque land of the High Country, on horseback. This historic area is awash with beautiful lakes and rivers and surrounded by incredible mountains. As you journey along the tracks and trails, there will be no shortage of photo opportunities.
Watson's Trail Rides offer a variety of packages to suit all riders, from 1-3 hour short rides or 5 to 7 day wilderness tours, which include overnight stays, under the stars, in swags or private tents. The longer tours are complete with hearty cooked breakfasts and riders can relax at night huddled around a campfire cooking dinner from local produce. For fishing fans, you can opt for an overnight trek, including an afternoon of fly fishing in some local secret spots and a stay in an old private miners cottage. Rides run throughout all seasons, 7 days a week. So make sure you dress for the weather!
Address: 296 Three Chain Road, Booroolite, VIC 3724
Phone: +61 (03) 5777 3552
Email: [email protected]
Watson's Mountain Country Trail Rides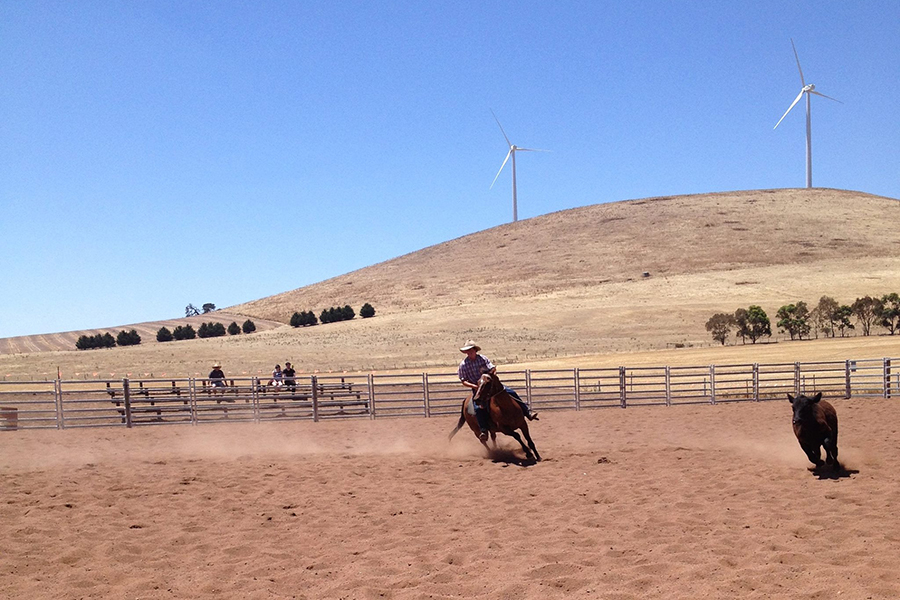 2. Hepburn Shire
Just over an hour from Melbourne, Hepburn Shire is probably best known for its mineral springs, indulgence, and relaxation. It has even been heralded as the 'Spa capital of Australia'. But it is lesser-known that Hepburn Shire is also home to a host of exciting outdoor activities such as hiking and horse riding.
For those who enjoy some good pub grub or a cheeky tipple, Hepburn Lagoon Trail Rides has the ideal rides for you. Trek through a fantastic bush trail to the historic Swiss Mountain Hotel for lunch or trot across to Captain's Creek Organic Winery for a relaxing drink amongst the grapevines. With its picturesque rolling hills as a backdrop, guests can expedition on horseback along the winding country roads or pick up a canter on the trails through Wombat state forest.
Address: 60 Telegraph Road, Newlyn North, VIC 3364
Phone: +61 (04) 0805 9125
Email: [email protected]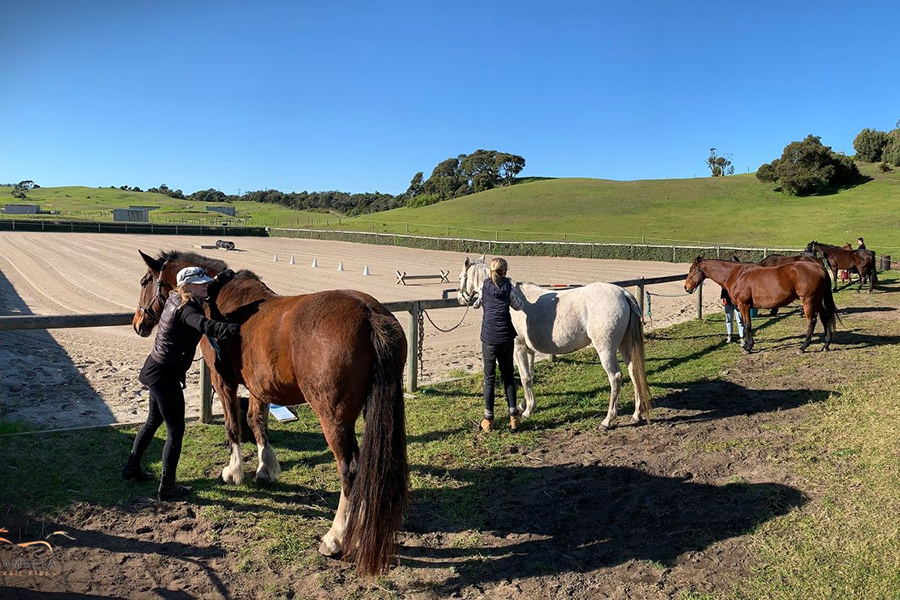 3. Gunnamatta Trail Rides, Mornington Peninsula
Some of the most popular destinations in Melbourne are the stunning beaches and varied coastal bushland of the Mornington Peninsula. Gunnamatta Trail Rides offers a variety of horseback excursions across the golden sand dunes, and along the shoreline providing spectacular views of the bay.
Experience the extraordinary feeling of riding across the sand, looking out over the vast ocean, and feeling the wind in your hair. Gunnamatta Stables offer a variety of different rides, suitable for memorable family days out, or taking your partner on an enchanting romantic date. (Many have proposed to their loved one whilst overlooking the sunset on their private twilight rides!) Gunnamatta also partners with a variety of local businesses to offer packages and mini-breaks to suit every taste. From wineries and breweries to the Peninsula Hot Springs… Gunamatta has a package for everyone, making this one of the best places to go horse riding in Melbourne.
Address: Cnr Truemans Rd & Sandy Rd, Fingal, VIC 3939
Phone: +61 (03) 5988 6755
Email: [email protected]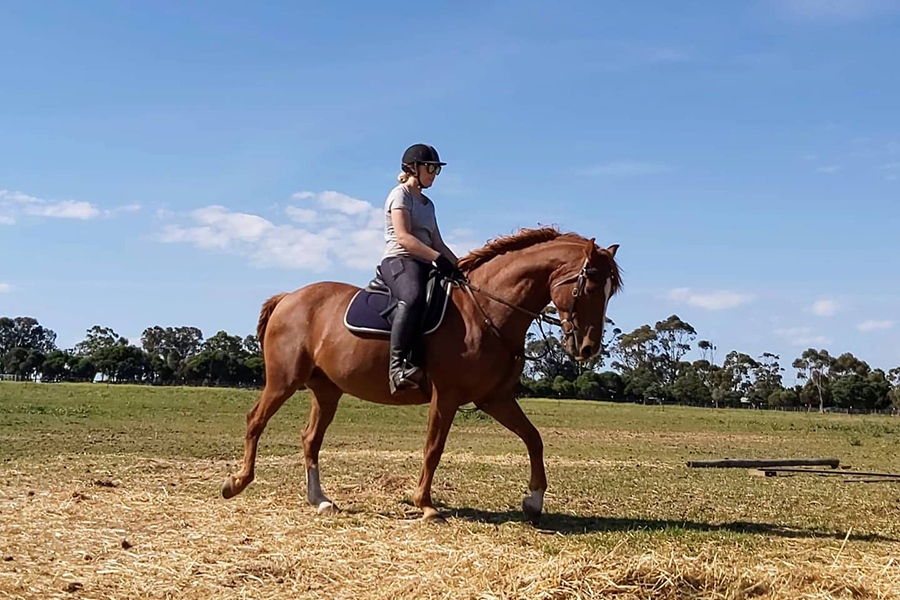 4. Woodlands Trail Riding, Greenvale
Situated, only 30 minutes from Melbourne's CBD, Woodlands Trail Riding in Greenvale is the perfect destination for an authentic horse riding experience. Ride through the sweeping pastures of Woodlands Historic Park amongst kangaroos, birds, and other indigenous wildlife for the ultimate Australian trail riding experience. You will trek across the varied landscape and native woodland of the national park to a viewpoint where you can take in the breathtaking 360-degree views of the city.
Kids are extremely well looked after here too, as Woodlands Trail Riding offers Pony rides for youngsters (2-9 years) and some of the most in-depth horse riding lessons Melbourne as to offer. Kids will enjoy the thrill and adventure of learning to ride, so close to nature, at one of Victoria's most renowned national parks.
Address: Woodlands Historic Park, Somerton Road (Park Access Road) Melbourne, Greenvale, VIC 3059
Phone: 1300 966 352
Email: [email protected]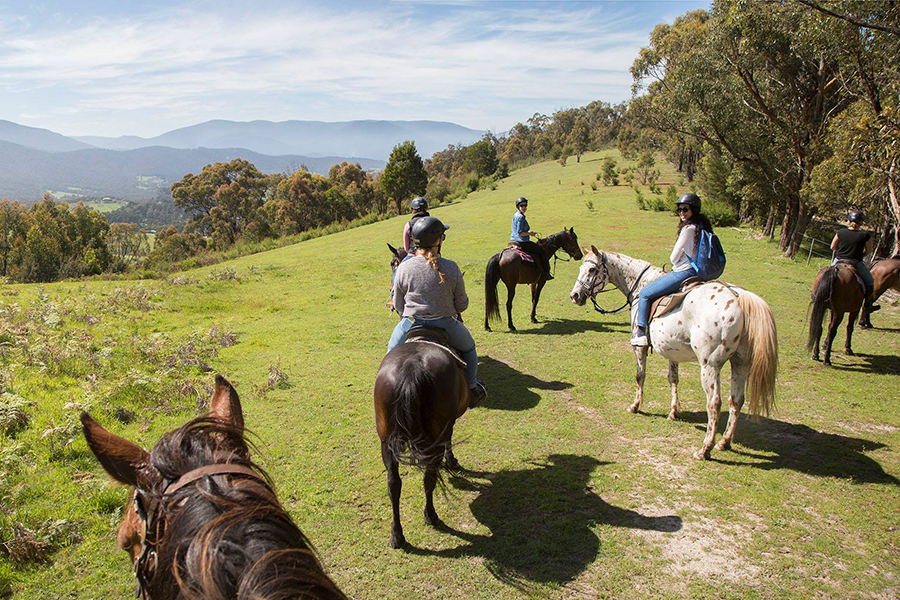 5. Chum Creek Horse Riding, Yarra Valley
Experience the magic of the Yarra Valley on horseback, overlooking the cascading mountains and taking in the picturesque landscapes of this beautiful region. With some of the best trail guides in the biz, Chum Creek is the place to be for both novice and experienced riders. With bush trails right on their doorstep, you can be at one with nature and experience the delights of the surrounding Australian bushland within minutes of leaving the yard.
For those wanting more time away from the big city, or a tranquil romantic getaway, Chum Creek Horse Riding also offers private accommodation in the form of cosy private huts. With scenic views overlooking the paddocks, you can sit back and breathe in the fresh mountain air while watching the horses, wild deer, and kangaroos from the comfort of your own little sanctuary. With big impressive fireplaces, wooden decks, and even a loft hut with a majestic Japanese bathtub with a panoramic view, these huts are in high demand and perfect for a trip all year round!
Address: 221 Heath Road, Chum Creek VIC 3777
Phone: +61 (04) 0732 6276
Email: [email protected]
You'll also like:
10 Best Outdoor Gyms in Melbourne
11 Best Melbourne Golf Courses and Clubs
7 Best Cliff and Rock Jumping Spots in Australia
General FAQ
Are there places to go trail riding near Melbourne?
Catering for various ages and abilities, Victoria offers many trail riding adventures within less than 30 minutes of the CBD. Whether you want to ride across sands or through bushlands, there are many different trails in Melbourne and its surrounds.
Where can I learn to ride a horse near Melbourne?
There are many riding schools around Melbourne that are great for adults or kids learning to ride a horse. The Mornington Peninsula, Greenvale and the Yarra Valley all offer schools where you can learn to ride a horse.
How much does it cost to ride a horse near me?
The average cost of learning to ride a horse is around $45-$75 per hour. Once you have mastered the art of horseback riding, there are many trail riding options and packages available around Melbourne to suit all budgets.