ASUS Boosts Multitasking and Productivity with ZenBook
Anyone who spends long hours behind a desk working away at a computer will understand the benefits of multiple monitors. The addition of a second (or third) screen can result in a massive boost to productivity which is beneficial when working to deadlines.
Enter the latest generation of ASUS ZenBook laptops which aim to double down on productivity and stand out from the competition through their secondary touch displays situated in various places on the chassis.
We have already covered the ASUS ZenBook Pro Duo, an incredible laptop with a second 4K display above the keyboard. It's impressive technology, but is also quite heavy and expensive – two things that are ideally left out of the laptop conversation. Now, we've checked out its slimmer, dual-screened brother the ASUS ZenBook 14-inch with ScreenPad 2.0 technology and the results are far more portable and far more intuitive than expected.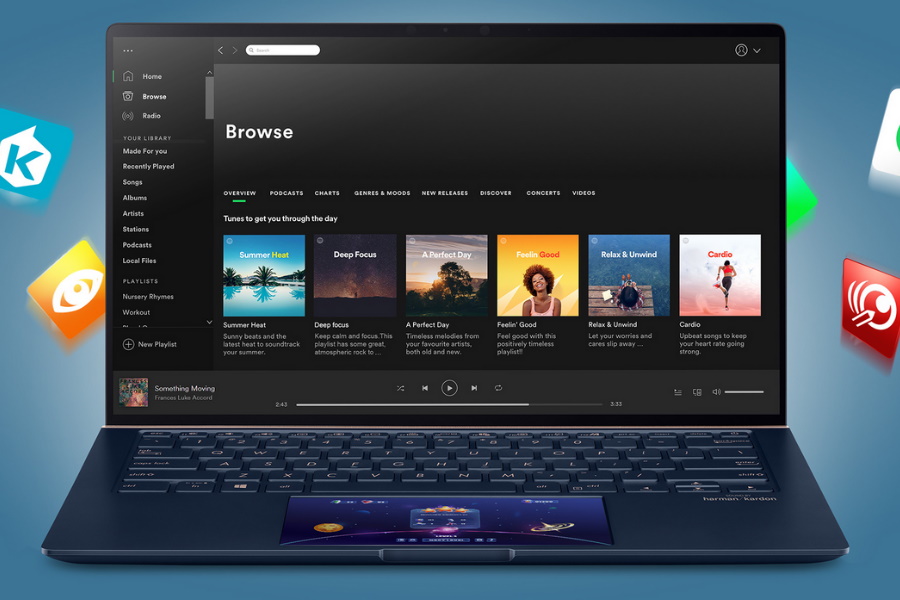 ASUS ZenBook UX434 Design
Described as the world's most compact 14-inch laptop, ASUS ZenBook 14 UX434 is a sleek all-rounder. It's 13% smaller than the previous generation 14-inch ZenBook, is 16.9mm thin and will slide into the majority of backpacks and messenger bags with ease. Weighing 1.26kg, it's easy to forget there's even a computer in your bag. The NanoEdge display keeps the bezel to a minimum and is how ASUS achieves the compact size.
There's a spun-metal finish on the lid and brushed metal-finish across the chassis. The laptop is Royal Blue and enhanced with a contrasting rose gold trim panel above the keyboard for an added touch of luxury.
An ErgoLift hinge tilts the display to a 145-degree angle for improved visibility while also raising the keyboard. This creates a more comfortable typing position and improves airflow under the chassis for better cooling. The keyboard is backlit with three levels of brightness and 1.4mm key travel.
For physical connections, the left side of the chassis handles power, HDMI, USB 3.1 and USB Type-C. The right side features an audio jack, a USB 2 port and MicroSD card reader. The speakers are situated under the rose gold trim with sound tuned by Harmon Kardon and the slim top bezel houses a webcam and microphone.
ASUS says its ZenBook passes military-grade durability, surviving drop tests and high and low-temperature tests. Feel free to test at your own risk.
All-in-all, ZenBook 14 UX434 is impressively regal, with a weight that makes it an ideal travel companion. It's hard to find faults when talking design.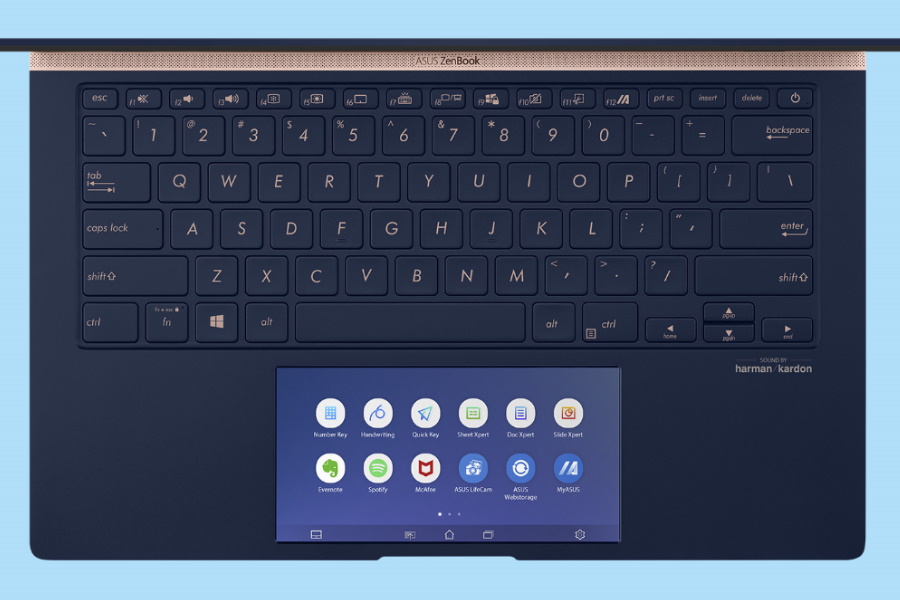 What is ScreenPad 2.0?
The star of the show is the ScreenPad 2.0 technology which sees the familiar laptop trackpad double as a 5.65-inch touch display. Tap the corner, and the touchpad lights up with a menu providing fast access to a suite of customisable Windows 10 apps.
Arguably, it's creatives and professionals who benefit the most, as ASUS included a selection of apps designed specifically for use with Microsoft Office, plus extensions for Spotify and Evernote, among other apps.
The ASUS Doc Xpert app can handle the toolbar for Microsoft Word, offering quick access to things like font size and bullet points. Same goes for Sheet Xpert for spreadsheets and Slide Xpert for creating slides. Number Key turns the trackpad into a number pad and Handwriting is ideal for signing digital docs and writing on design projects.
For the graphic designers out there, your InDesign panels can be dragged down to the ScreenPad so they won't obscure your work, although this is mainly beneficial if you're working on a ZenBook with a main touch display. Alternate uses include dragging music controls or messenger apps to the ScreenPad while watching or reading on the main display to save you from swapping back and forth between apps/windows.
Initially, the ScreenPad concept felt confusing and unintuitive. The learning curve is steep, and it's recommended that you follow the initial tutorials to get the hang of the features. Once you have a feel for the tech, ScreenPad has the potential to change/improve the way you multitask with laptops.
UX434 Technical Specs
Specs covering the review unit
CPU: Intel Core i7-8565U processor/ 1.8GHz quad-core with Turbo Boost (up to 4.6GHz) and 8MB cache
Display: 14" LED-backlit Full HD (1920 x 1080) 16:9 slim-bezel NanoEdge display, non-touch
ScreenPad: 5.65" FHD+ (2160 x 1080) Super IPS display
Memory: 8GB, 2133MHz, LPDDR3
Storage: 256GB PCIe x2 SSD
Graphics: Intel UHD 620
Connectivity: Dual-band gigabit-class Wi-Fi 5/ Bluetooth 5.0
Audio: ASUS SonicMaster stereo audio with surround-sound; smart amplifier – Harmon Kardon certified
Camera: 3D IR HD camera
Battery: 50Wh 3-cell lithium with up to 14 hours battery life
Operating system: Windows 10 Home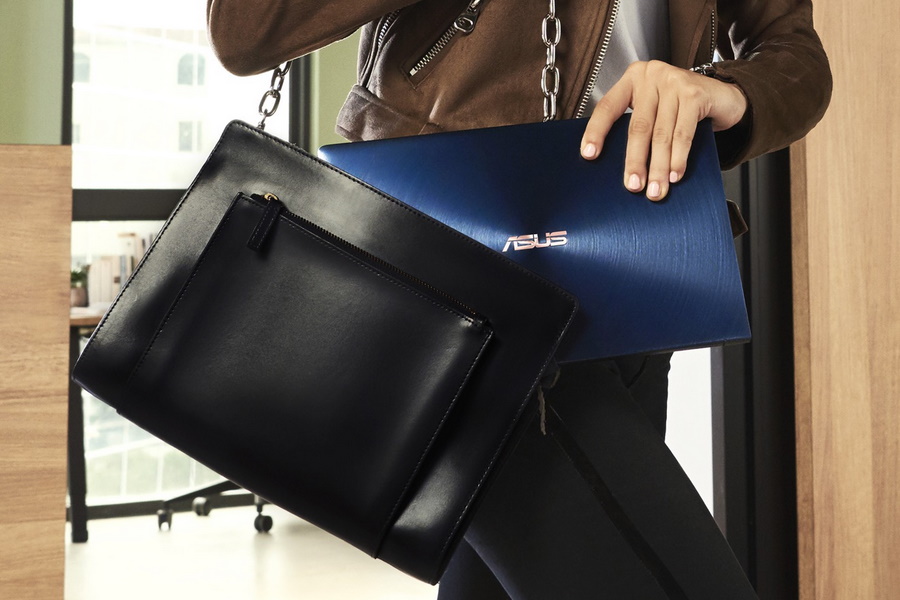 ZenBook UX434 Performance
The review unit was not equipped with the maximum hardware specifications, such as the optional Nvidia GeForce MX250 graphics card. Yet, I never encountered any significant slowdown or technical hiccups while pushing the laptop beyond a typical workload or while streaming video.
With a dozen Chrome tabs open, the ZenBook 14 was able to stream crisp 1080p video from YouTube without running into any issues or video buffering.
The Harman Kardon certified audio sounds good, not excellent. It's typical of what you would expect from laptop speakers. Music from on-board playlists and the soundtracks of games are clear and reasonably detailed.
File transfer speeds are notably quick. Downloading content from the cloud and games from Xbox Game Pass for PC were fast, although I never tested the performance of AAA games that might push hardware to the limits.
Battery life is said to last up to 14 hours. I found it to be closer to 12 hours and remove 1 or 2 hours with ScreenPad 2.0 enabled. While there's no on-board ethernet port, ASUS includes an ethernet-to-USB adaptor and protective sleeve in the box.
Buyers can opt for hardware upgrades including more memory, storage, a graphics card and a choice between two Intel processors. This ZenBook is available in 13-, 14- and 15-inch sizes with the option of the main display also being a touch display. Consequently, this increases the laptop's weight and price.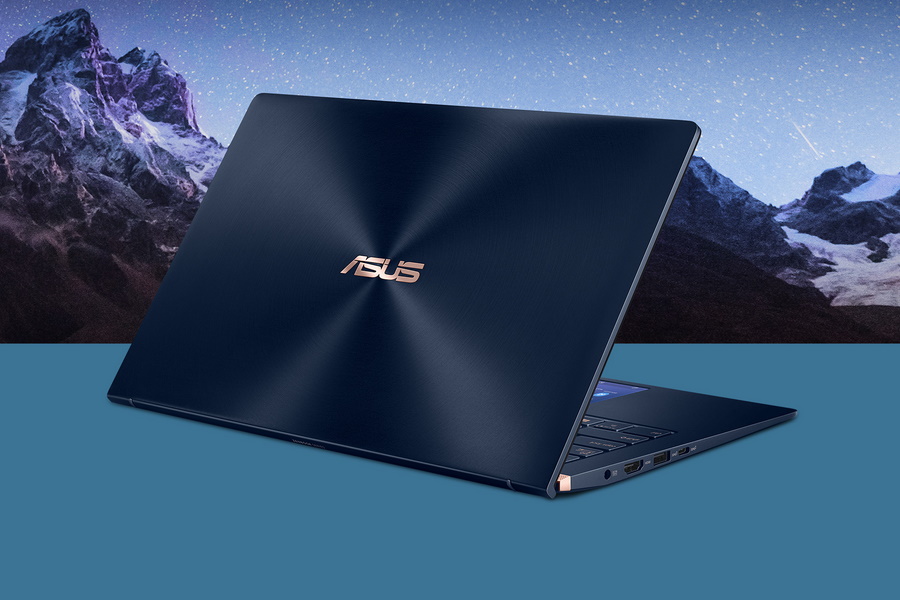 Verdict on the ASUS ZenBook UX434
There's a lot to like about the ZenBook UX434. It's gorgeous, ergonomic and weighs next to nothing. Anyone who spends a lot of time travelling will appreciate the light and compact design.
Performance-wise, this laptop is a great all-rounder. Sure, there are more powerful laptops out there, and laptops suited for gaming – see ASUS OLED ZenBook Pro Duo Makes Dual-Screens Great Again line of laptops and PCs – but this ZenBook will handle your work, socialising and entertainment with ease. The speakers could be better. It's recommended that you go with a set of quality headphones over the onboard speakers, but this could be said for every laptop on the market.
Then we get to ScreenPad 2.0. The boost in productivity and the ability to multitask without changing between windows/tabs is a welcome addition. A fair amount of time and effort is required before the touchpad features feel natural, but the added display, even at just 5.65-inches, has the potential to be a real game-changer.
ASUS loaned Man of Many a ZenBook 14 UX434 for review