INTERVIEW: How 'The King's Man' Found its Signature Style
When Kingsman: The Secret Service burst into cinemas back in 2014, no one could have predicted the success Matthew Vaughn's campy-espionage thriller would have. An over-the-top aesthetic highlighted by some of the most impressive action sequences ever filmed helped to chart a new course for modern filmmaking, one that took cues from the past and built on them in bold, new ways.
Sure, a league of gentlemen spies fighting villainous caricatures in tailored double-breasted suits was nothing new, but Kingsman had a certain self-awareness that cut through the bullshit. Casting Samuel L. Jackson as the fierce, philanthropist turned foe complete with a trademark speech impediment was a stroke of genius, while the use of Dizzee Rascal as the soundtrack to a Sabaru burnout was simply divine. In essence, the plot excelled because it didn't take itself too seriously. The fashion, on the other hand, was no laughing matter.
"A suit is the modern gentleman's armour. And, the Kingsman agents are the new knights."
As the rough around the edges Eggsy learns from his well-dressed mentor Harry Hart, a well-tailored suit is more than just sharp touch. With nods to the heyday of British tailoring capital Saville Row, the first two films in the Kingsman franchise sported a characteristically late '60s vibe, in further reference to a certain 00 agent that sprung up around the time. But with a new film in the series hitting screens next week, director Matthew Vaughn has gone in a completely different direction.
Offering a first glimpse into the history of the espionage agency, The King's Man is the prequel we didn't know we needed. Set in the years leading up to the First World War, English gentleman Orlando Oxford l, played expertly by Bond star Ralph Fiennes, teams up with his son Conrad to found the Kingsmen Agency, a network of spies dedicated to protecting Great Britain from war, and none too soon. A vicious group is set to turn country against country in a plot that involves Russian mystic Gregorio Rasputin and other famous faces who threaten to disrupt the natural order of peace.
A different era and a complex story require a decidedly more powerful wardrobe, and The King's Man called on British film royalty to deliver. For the latest instalment in the gentleman spy series, Vaughn tapped Emmy Award-winning costume designer Michele Clapton to handle the reins. Famed for her incredible work on the hit HBO series Game of Thrones, alongside her BAFTA-winning work on The Devil's Whore, Clapton was responsible for kitting out the first generation of Kingsman in their armour.
"We had to search the beginning of a journey, and as it was based on traditional costumes at the time, it had to be able to tell the story," Clapton tells us. "For me, as a costume designer, I'm such a people watcher, I love it when I notice those little moments that people, attire, a typing, a pair of trousers, whatever it is that says something about that person. I think it is really exciting, and we try and use that as a costume designer to give a visual narrative to everything we work on."
With The King's Man set to land in Australian cinemas on January 6, the next great wave of style is imminent. We sat down with the Emmy Award-winning costume designer to uncover the incredible clothing secrets behind the world's best-dressed spies, and hear first-hand, how to capture the style.
MOM: Tell us a little bit about The King's Man. What was the experience like for you to come into the franchise at this point?
MC: Initially I was a little daunted, but I think the reason I was so excited was that it was a period piece. I think if it had been contemporary, I don't know if I would have felt so at ease. But period is something I really like doing, so that excited me. And just meeting with Matthew and understanding his passion for costume was quite thrilling.
MOM: In recent years, films have paid far more attention to costume and styling. It plays such an important in any series, but in Kingsman, it is almost like clothing takes this almost spiritual concept. It must have been really fun for you to work in that environment.
MC: It was great because he allowed time for us to get to know each other a bit. I get to understand what his taste was, and to talk about fabric and colours and show him period pieces – the really high collars, the starchiness of them and then cut of the suits. So, we had a little time to explore that together before we really started getting into meeting the actors and moving forward with the designs. So, that was really useful.
MOM: That's fantastic. Obviously, The King's Man is set in a different time period than the other films in the series. So, with regards to that, did you get to play on some of the things that were in the previous movies? Or was it a completely new re-imagining of going back into a different time period.
MC: Most of it was just going back into the time period and re-imagining it. It still had the essence and the confidence of, I guess, the way the characters wear the costumes. But the thing we had to end up with obviously was him looking as they would later, so we had to relate the suits. We had to search the beginning of a journey, and as it was based on traditional costumes at the time, it had to be able to tell the story. It was only later that we realised, as we went through it, that actually we could adapt this to a modern collection. But that wasn't particularly in my mind when I was designing the film initially, it was about making the characters real and telling the film's story.
MOM: Talking about the suits in the film, what do you think are the main details? What sets The King's Man attire apart from all else?
MC: It is the weight of the cloth. The cloths then were just so much heavier and we found original pattern books of original fabrics, so it is like coating fabrics that we would use now that suits are made. And you need the fabric to be heavy to create the silhouette, to make movement.
We found some coating which we liked, we wove pieces, we found some great Scottish weavers who wove us lengths of fabric for us to make suits from and we found some original pieces. It is difficult, because obviously if you need to make two or three of something, sometimes for a stunt, you can't just use a lovely vintage piece you found, so that is when we had to weave pieces. And it was also the colours and the detail of the weaving was so exciting. So, we were very lucky that we had time to explore that and to weave our own pieces.
With the knitwear, again we knitted our own jumpers, we created ties. We even knitted socks and designed the boots and shoes. It doesn't happen that often when you actually have that much control over the image that you are putting on screen, and that is what made it so exciting.
MOM: There are a lot of war scenes in this film. How authentic did you go with those uniforms?
MC: Oh, they were truly authentic. We had a lot of original pieces that we model it on and then we created and made a lot of the stuff in Poland. Because military clothing, I had an incredible designer who worked on all the military pieces to ensure it was as correct as we could possibly make it. But I've found all the military people disagree, you can have one advisor saying this and another one saying like that. There were all these funny things that I found out.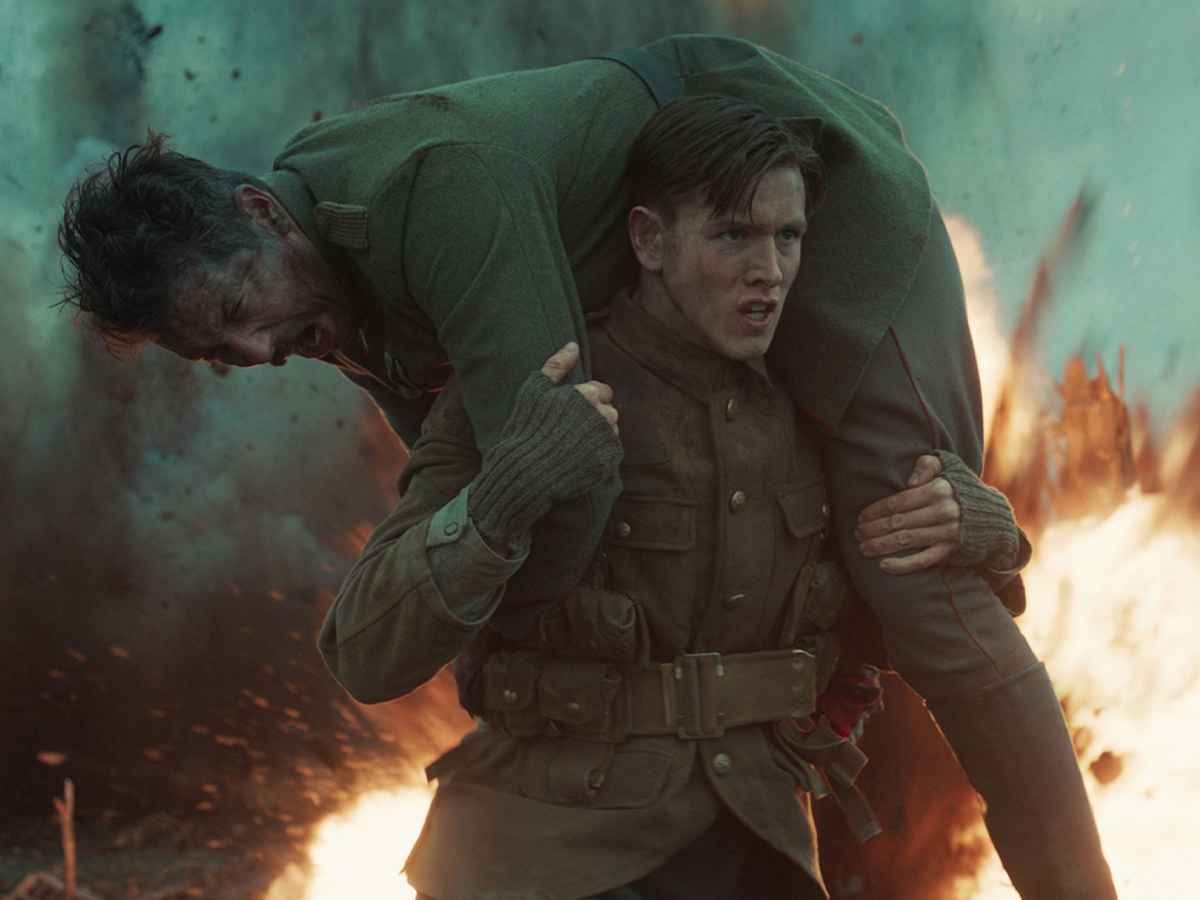 MOM: With the cloth being so heavy, it must be hard to move around in the more intense action flicks
MC: Wool is incredibly heavy and it gets wet, and I mean sodden. We built the trenches and they became very authentic with the rain and sludge and everything. I can't imagine how those men lived like that, it was extraordinary and such a hard thing to go through. Just walking through the no man's land, it really puts you in mind as to how terrible this time was.
MOM: How would you characterise The King's Man style in general?
MC: It is incredibly sharp. There is huge attention to detail, but for me, it was really necessary that the clothes looked like they belonged to the person. Telling the story on the film, it is all well and good looking absolutely epic in it, but it has to look like you want to wear it, and you're wearing it and you believe you're wearing it.
MOM: For those reading who want to dress like a Kingsman, or simply up their style a little bit, what advice do you have for them?
MC: I think it is just to make sure that clothing fits you properly. Don't try and tell yourself you are a 32 waist when you are a 36. Wear the trousers right. And make sure if a collar is meant to be snug that it is snug. Just little details like cuff links and shoes. Just getting the right balance of everything. But the biggest thing for men is to know their waistline.
Just be a bit brave and think about it. And you don't have to take all elements, you can pick and choose and create something which you do feel comfortable with, I think that is important. We are all individuals and we should all think how we want to wear it. I think that is cool. Otherwise, everyone just becomes like a clothes horse and you are just wearing other people's ideas, which some people are great at doing. But I think know yourself.
MOM: This time around, it's not just the suits of the Kingsman, but it is also the villains.
MC: We had Rasputin, which was great fun to do because I love doing period pieces and it was lovely not just to be restricted to the suits. The Russian Ball was my favourite scene in some ways because we created this fantastical environment based on photos at the time, and we made every single costume for that. We even made all the metal headdresses. I just think if you're going to spend so much time making principals look great, the extras have to look as epic as well, otherwise, they just look out of place.
MOM: Designing for a famous character from history must have been challenging, in that you do have visual references to go off. Did that make it harder?
MC: Sometimes it is easier because if you have a reference and you meet the actor, you can actually create your look within the realm of believability. But with fantastical people, you almost have to use your imagination more to find something which will look believable and coherent on them. You still have to adapt obviously to the person, the actor, but also within the realm of the script.
MOM: What looks and what styles were your favourite from the film?
MC: Gosh, I love Conrad's suits, they were great fun to do – it was just the colours and the textures that we could get involved with. There is one particular suit, which is double-breasted with a shawl collar. It's just two buttons and a half belt, and it was a really edgy piece to do because it could so easily have looked wrong on him, but he was a great clothes horse. And this is where I say that the actor has to be convinced, because initially, he was like, "Whoa, I'm not sure. Really?"
But it is hard to get an actor sometimes to just find their way into the clothes. You can't push them, you have to let them discover it, and not feel like they are being coerced into it. So, there is a lot of psychology in film-making, finding a way to achieve what you want and make people think they wanted it too.
MOM: Lastly, Ralph Fiennes, obviously he has got a history of wearing some pretty famous suits, from the SS uniform in Schindler's List to the three piece in Bond. My question, is there anything that he does not look good in?
MC: I mean he is an amazing clothes horse, I have to say. And he is passionate about the character. He is not vain in the sense that he always wants to look good, he is really happy not to look good if it is right for that moment, it is all about character growth. What we ended up doing was creating a wardrobe of clothes so that we had the suits spotted where we knew that we should have them, but within that in the mornings we would say, "Look, which tie do we think? What is his mood today?" And so, he is very involved in how he thinks his character would be at that moment. With a limited amount of clothing, but it is almost like if we open up the wardrobe door and there it all is, what do I want to wear today?
It gave him the sense of him being in control of his character, which is important. They are the people on screen, I'm not there. It is good, by and large, an actor should never feel uncomfortable in what they are wearing, or it should never interrupt the character they are trying to portray. It should help them, it should aid that character and finding that character.
The King's Man, which stars Ralph Fiennes, Gemma Arterton, Rhys Ifans, Matthew Goode, Daniel Brühl, Djimon Hounsou, and Charles Dance, is set to hit Australian cinemas on January 6, 2022. The latest instalment in Matthew Vaughn's stunning Kingsman franchise, the prequel is set to deliver the same effortlessly stylish espionage antics fans have come to know and love.
You'll also like:
Kingsman 3: 'The King's Man' Trailer and Release Date
'Kingsman 3' Will Close the Book on Harry & Eggsy's Story
The Suits of Kingsman – 'The Golden Circle'