15 Best Tailors and Bespoke Suit Shops in Brisbane
Question: when is a suit so much more than a suit? For the answer, visit the best tailors and bespoke suit shops in Brisbane. There you'll find customised fashion of the highest calibre. Indeed, these top Brisbane tailors won't rest until your suit feels like a natural extension of your physical and figurative self. Once rocking made to measure threads that organically flow in accordance to the contours of your frame, you will inevitably see opportunities arise. In other words, think of the best Brisbane tailored suits as minor investments that reap major rewards when new paths suddenly reveal themselves to you. So don't hesitate to visit one of the 15 Best Tailors and Bespoke Suit Shops in Brisbane–you'll be happy you did.
You'll also like:
14 Best Tailors and Bespoke Suit Shops in Melbourne
Made to Measure – Man of Many's Guide to Buying a Tailored Suit
20 Best Tailors and Bespoke Suit Shops in Sydney

1. Black Jacket Suiting
With over 1000 different fabrics to choose from and an ample range of prices, Black Jacket Suiting is your one-stop Brisbane shop for all your bespoke needs. Whether you're suiting up for a formal engagement, job interview, corporate event or just a night on the town, these guys will deliver you the perfect look and perfect fit. The numerous awards and solid reviews pretty much speak for themselves. Visit one of their two locations to see what all the fuss is about.
Address: 17/77 Oxford St, Bulimba QLD 4171
Phone: (07) 3399 7618
Hours: Mon-Fri 12pm-7pm, Sat 10am-4pm
2. InStitchu
InStitchu might be one relatively strange word, but say it out loud and the company's agenda presents itself quite clearly. This top Aussie tailor is all about you. That entails giving you an unparalleled amount of control over the process. For instance, should you be a seasoned suit buyer with a firm grip on every detail (design, measurements, fabrics, etc), then you can select and order it all online and have a suit sent to your home within two weeks time. If you need a little expert assistance, visit their showroom and meet with a master tailor instead. That's called win/win. No wonder these guys have popped up in every major Australian city.
Address: Level 6, Suite 608/180 Queen St, Brisbane City QLD 4000
Phone: (07) 3012 7730
Hours: Mon-Fri 8am-7pm, Sat-Sun 9am-5pm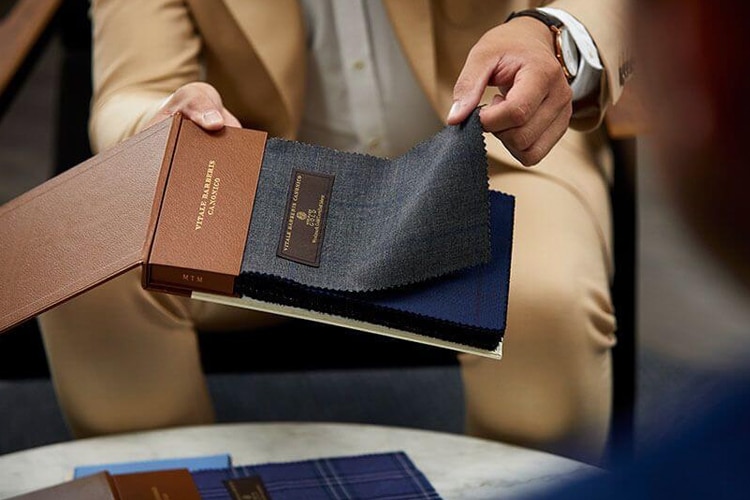 3. George & King
One of the best suit shops in Brisbane (and Sydney, Melbourne, Perth, etc) keeps the made to measure experience veritably classic and beautifully unfettered. Visit their showroom and meet with a Style Concierge, who will take more than 20 measurements. Once those numbers are in, a master tailor will craft a distinct suit just for you. The bespoke operation keeps your measurements on file so every subsequent visit is even more efficient than your initial one. Last but not least: every order comes with a personal guarantee the includes limitless alterations and a hassle-free refund if necessary. George & King is a true one of a kind operation backed by a ton of experience and customer loyalty.
Address: Suite 305, Level 3, 180 Queen St, Brisbane, 4000
Phone: +61 7 3145 1456
Hours: Mon-Wed 8am-7pm, Thu-Fri 8am-8pm, Sat 8am-6pm, Sun 10am-4pm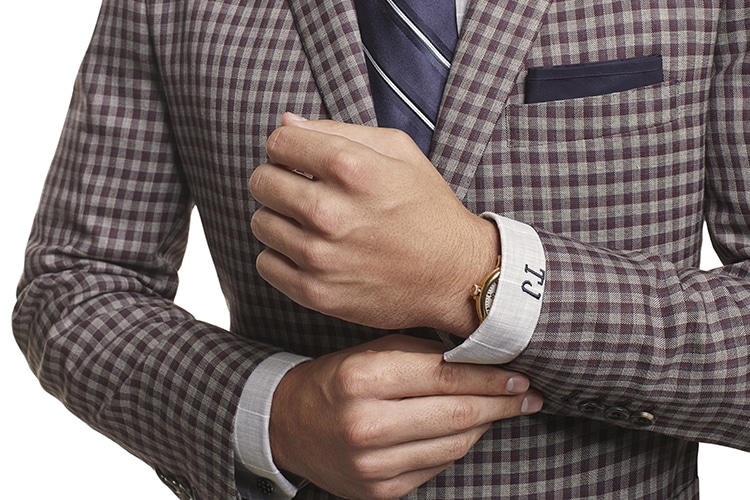 4. Tom James
Not merely one of the best bespoke suit shops in Brisbane, but on the world stage as well, Tom James has been in the game since 1966. That's allowed them to refine their methods with surgical precision. As a result they deliver the utmost tier of both convenience and expertise, putting you in touch with a Personal Clothier who works around your schedule and helps you discover your true individual style. Next it's on to a master tailor who makes a unique suit that no one else on the planet will ever own. When ready, that suit is hand-delivered by the Clothier. For those of you who think you're too busy to make time for a tailored suit, Tom James asks that you think again.
Address: The Chambers, Level 2 308 Queen St Brisbane, AU QLD 4000
Phone: 073-229-8144
Hours: Mon-Fri 7:30am-5:30pm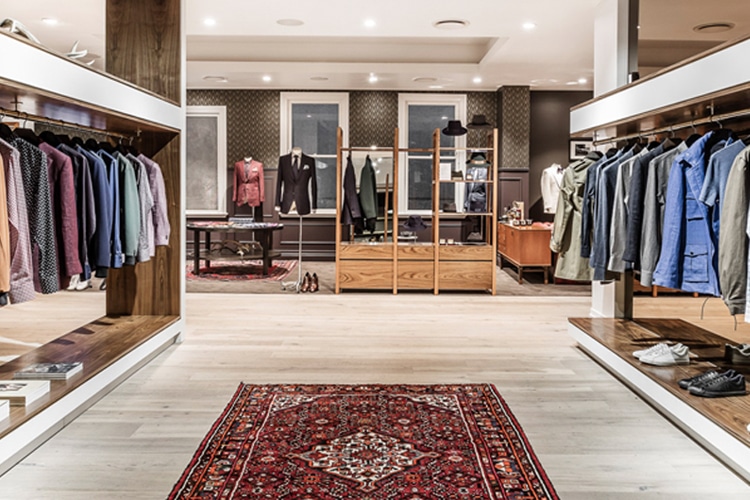 5. The Cloakroom
Take one step into The Cloakroom and you're already riding high on prestigious menswear vibes, the kind you might find in the best European showrooms. In addition to being one of Brisbane's best bespoke suit shops, The Cloakroom is also just a great place to indulge your sophisticated palate. Peruse their selection of handmade dress shoes from around the world, try out a men's fragrance or two, maybe even pick up a book. Or just stick with a handcrafted custom made suit. As always, the choice is yours.
Address: 1/215 Elizabeth St, Brisbane City QLD 4000
Phone: (07) 3210 1515
Hours: Mon & Wed-Thu 10am-5pm, Tue 10am-3pm, Fri 10am-6pm, Sat 10am-4pm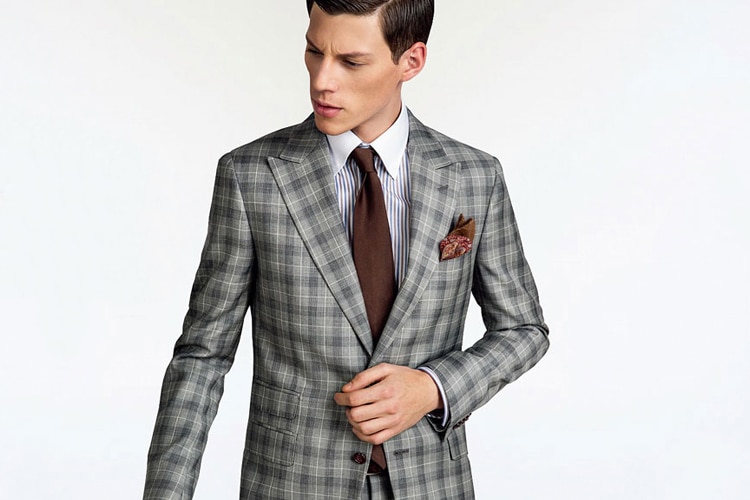 6. Germanicos Bespoke Tailors
You have to be pretty far ahead of the pack to own the domain name "tailor.com.au" and the phone number "1-300-tailor", and those are just two of the ways Germanicos outshines the competition. These brilliant bespoke suit specialists have been cutting threads for nearly two decades with the customer base to show for it. Accordingly, they have access to the best fabrics from all over the world, including premier Italian names like Marzoni. Employing steadfast Savile Row techniques, their master tailors will spin you a suit that essentially stays sharp forever. Go with the rest or go with the best.
Address: 71 Eagle St, Brisbane City QLD 4000
Phone: (01300) 824 567
Hours: Mon-Fri 9am-5:30pm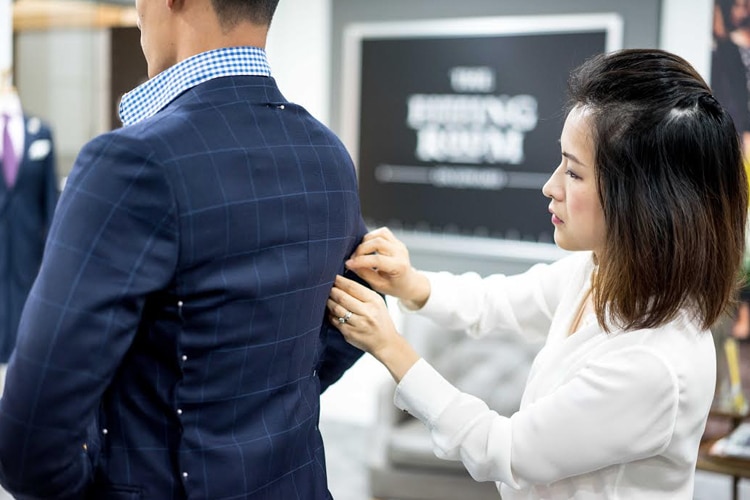 7. The Fitting Room on Edward
Sometimes you already have a crisp tailored suit and just need to give it a little tune up. For that, The Fitting Room has your back (and front). Previously named Brisbane City Clothing Alterations, this award-winning and family-owned business specialises in alterations and re-stylings. Such niche expertise has earned them a strong following among major retailers and repeat customers alike.
Address: Anzac Square Arcade, 38/267 Edward St, Brisbane City QLD 4000
Phone: (07) 3221 1265
Hours: Mon-Fri 8am-5pm, Sat 9:30am-4pm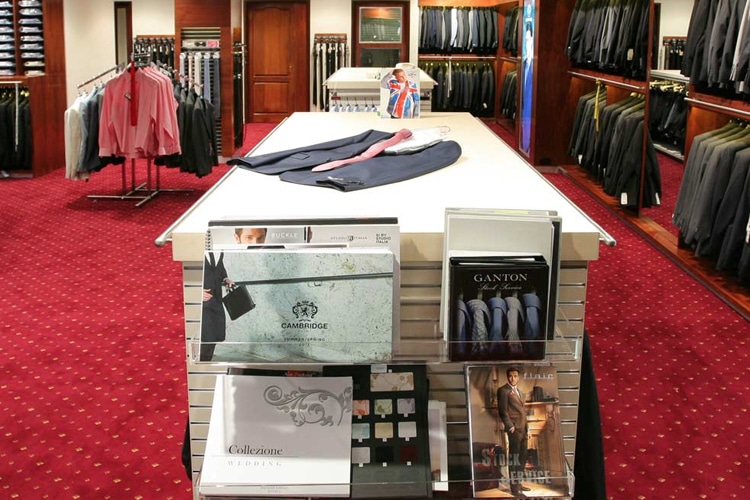 8. Stuart Suit Specialist
Buying a tailor made suit is a timeless tradition of the utmost significance, hence sometimes you want a shop with as much knowledge and wisdom as possible. For that, look no further that Stuart Suit Specialist. One of Brisbane's best bespoke suit shops has been in the game for over a whopping eighty-five years. To say that gives them an edge in virtually every regard would be putting it mildly. Make an appointment for a solo trip or book them before your wedding. No matter what, you're in the hands of a master.
Address: 231 George St, Brisbane City QLD 4000
Phone: (07) 3221 1794
Hours: Mon-Thu 8:30am-5pm, Fri 8:30am-8pm, Sat 9am-4pm, Sun 10am-4pm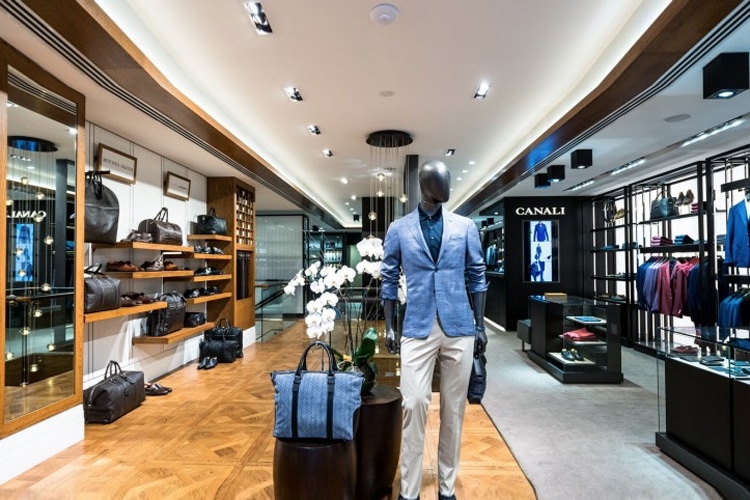 9. Mitchell Ogilvie
Come to Mitchell Ogilvie to peruse the world's most luxurious labels and get fitted in true international style. One of Brisbane's top tailors retains a prestigious reputation for offering only the finest service and highest quality threads. That said, their range is remarkably wide, meaning you still can find something stylish to rock even if you don't have thousands to drop on menswear. For the best of all worlds, accept no substitutes.
Address: 168 Edward St, Brisbane City QLD 4000
Phone: (07) 3031 3888
Hours: Mon-Thu 9am-6pm, Sat 9am-5pm, Sun 11am-4pm
10. Hugo Boss
What is there to say about Hugo Boss that you don't already know? Year after year, the global brand remains at the forefront of brilliant menswear. Naturally, their Brisbane suit shop is no less thorough and contemporary. There's no other way to put it: style lives here.
Address: 176-188 Edward Street 4000
Phone: (07) 3012 7433
Hours: Mon-Thu 9am-5:30pm, Fri 9am-8pm, Sat 9am-5pm, Sun 10am-5pm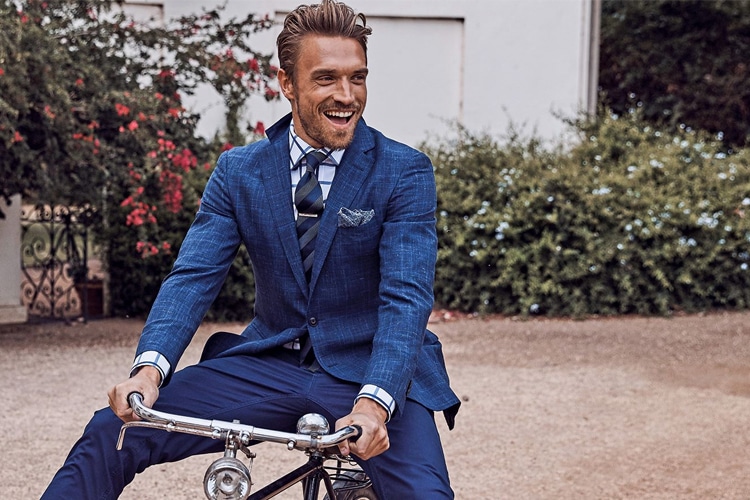 11. MJ Bale
In 2009, Matt Jensen paired a lifelong passion for fabric with valuable business insight and MJ Bale was born. Eight years and thirty stores later, the Aussie menswear brand is killing it. The emphasis here is 'soft tailoring', which strips away the burdensome pads to bring each suit a lightweight, supremely wearable vibe. That's joined by a painstaking focus on quality and welcomed affordability. The result is absolute, approachable style and a suit you can take anywhere.
Address: 171/209 Queen St, Brisbane City QLD 4000
Phone: (07) 3210 2929
Hours: Mon-Thu 9am-6pm, Fri 9am-9pm, Sat 9am-5pm, Sun 10am-4pm
12. T.M. Lewin
Some operations were around when history was being made, others were making history. London-based T.M. Lewin was doing the latter. They started in 1898 in Jermyn Street, which became a hub for the best tailors from around the world soon after. Now it's over a century later and T.M. Lewin sustains a veritable focus on quality, service, value and craft. They have an in-house team that keeps the style and innovation coming strong, and their master tailors are second to none. Needless to say, this is one of Brisbane's best tailored suit shops.
Address: 2/235 Edward St, Brisbane City QLD 4000
Phone: (07) 3106 5100
Hours: Mon-Wed 9am-6pm, Thu 9am-7pm, Fri 9am-8pm, Sat 9am-5pm, Sun 10am-5pm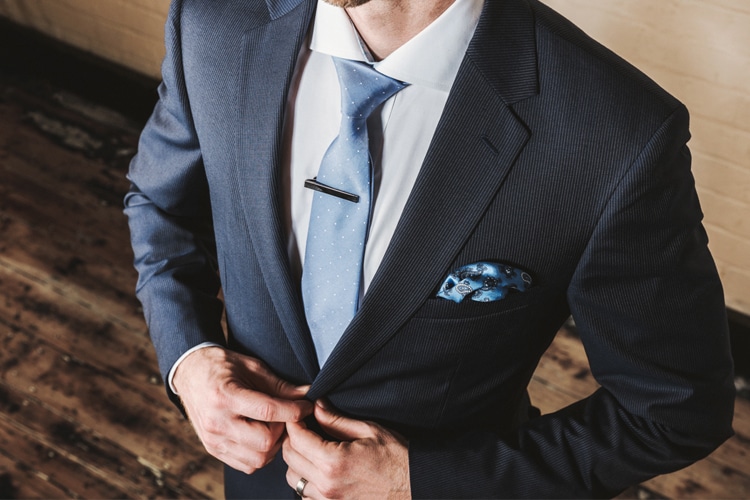 13. Tony Barlow Brisbane
This top bespoke suit shop in Brisbane sticks to the basics and sometimes that's exactly what you need. Come here a range of prices and a suit for every occasion, with formal wear being their specialty. Founder Tony Barlow has over thirty years of experience and promises not just the best tailor made suit in Brisbane, but all of Australia. The store also hosts major blowout sales for those looking to save a buck or two.
Address: 189 Elizabeth St, Brisbane City QLD 4000
Phone: (07) 3221 9111
Hours: Mon-Thu 9am-5:30pm, Fri 9am-9pm, Sat 9am-4pm, Sun 10:30am-4pm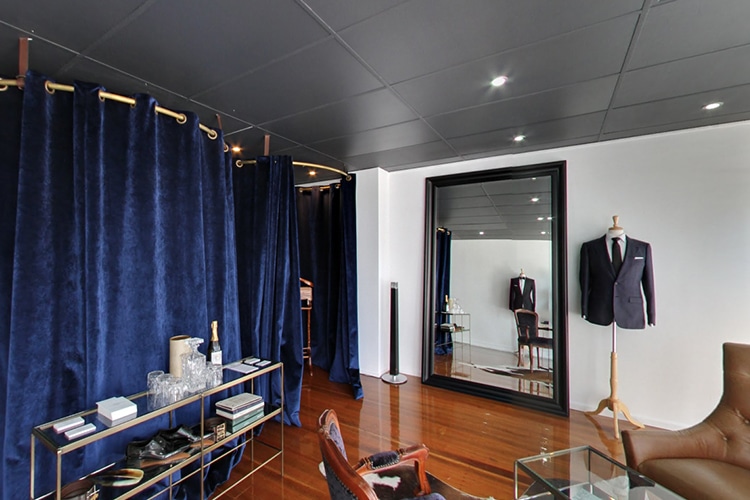 14. Wil Valor
Wil Valor is where timeless expertise and personal style intersect to brilliant effect. That means meeting with a personal, highly trained Style Advisor who helps you discover the best way to express yourself one custom thread at a time. The design possibilities are restricted purely to the parameters of your wildest fantasies. A master tailor steps in to finish the job with maximum precision. With the consistent praise to show for it, Wil Valor epitomises the made to measure experience and is naturally one of Brisbane's best bespoke suit shops.
Address: 300 George St, Brisbane City QLD 4000
Phone: 1300 309 272
Hours: Mon-Fri 9am-6pm, Sat 10am-3pm
Check it out

15. Calibre
Located inside the QueenPlaza Mall, Calibre is among Australia's leading and most reputable menswear brands. Since launching as an up-market boutique 25 years ago, this incredible operation has come to represent the best in contemporary design, sharp formal wear and tailored casual garments alike. Walk in curious and willing to explore. Walk out completely satisfied.
Address: Shop GL-40, QueensPlaza Mall, 226 Queen St, Brisbane City QLD 4000
Phone: (07) 3211 1199
Hours: Mon-Thu 9am-5:30pm, Fri 9am-9pm, Sat 9am-5pm, Sun 10:30am-4pm
After buying yourself a bespoke suit, consider getting an equally sharp Brisbane haircut and then hitting up a rooftop bar for a drink. Naturally, we've got you covered in both departments. Check out our lists of the Best Brisbane Barbers and Best Brisbane Rooftop Bars.
You'll also like:
14 Best Tailors and Bespoke Suit Shops in Melbourne
Made to Measure – Man of Many's Guide to Buying a Tailored Suit
20 Best Tailors and Bespoke Suit Shops in Sydney