10 Best Men's Chore Coats & Tips on How to Wear Them
Early 20th-century American scaffolders, construction workers, and farmers aren't typically pegged as sartorial muses, however elements of their utilitarian style have stood the test of time; white t-shirts, jeans, trucker jackets, and flannel are ubiquitous items in the modern man's wardrobe. The men's chore coat is one of those items, with the work jacket embodying the primary attractors of workwear; it's comfortable, functional, durable, and decidedly unstuffy by nature.
10 Best Chore Coats
Here are our Man of Many approved picks, and how to style them.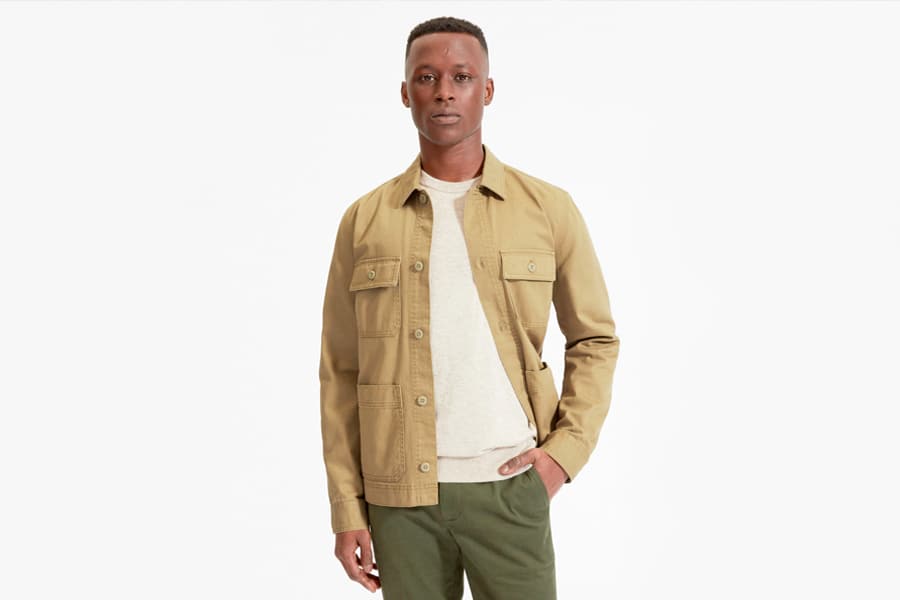 1. Everlane The Chore Jacket
Composed of a sturdy cotton twill fabric, Everlane's chore coat is slim fitting, yet stays true to traditional chore coat construction with the classic four pocket style. Pair with sage/olive green chinos and a button down for an elevated look, or dark straight-leg jeans and a crew neck white t-shirt for casual wear.
Material: 100% cotton
Colour options: Navy, Ochre, Pine
Price: A$120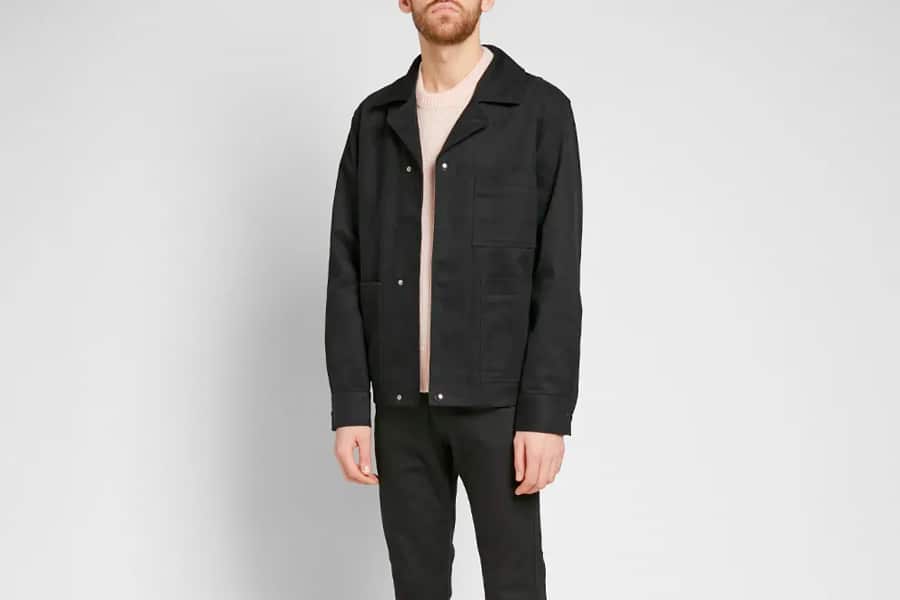 2. ACNE Studios Omar Twill Jacket
A modern take on the minimalist design, ACNE Studios' cotton twill chore coat is boxy yet slim fitting with three pockets. The black hue and partially concealed closure lend a hint of class to the workwear staple. Pair with black jeans and a white crew neck top for a casual look, or black chinos and an oxford shirt for something a bit dressier.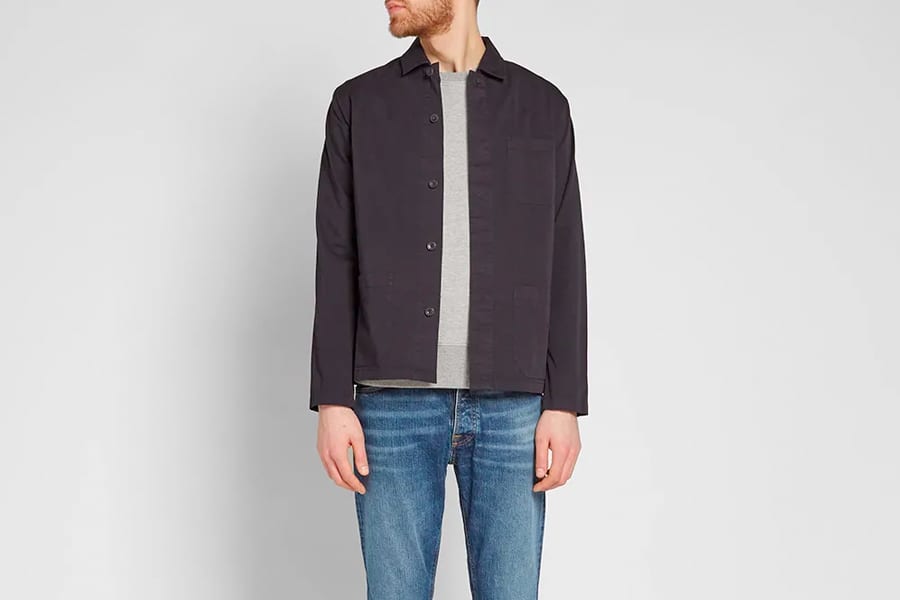 3. NN07 Dyed Oscar Chore Jacket
A shirt style iteration of the chore coat, NN07's Oscar jacket is a seamless blend of style and functionality; featuring concealed buttons and three pockets. The navy-blue piece is a tad shorter than the traditional chore coat, sitting on the hips. Wear with camel chinos, a light rinse denim shirt, and brown brogues, or opt for grey flannel trousers, a white crew neck, and black horsebit loafers.
---
Featured Video from Man of Many
---
Material: 97% Cotton, 3% Elastane
Price: £199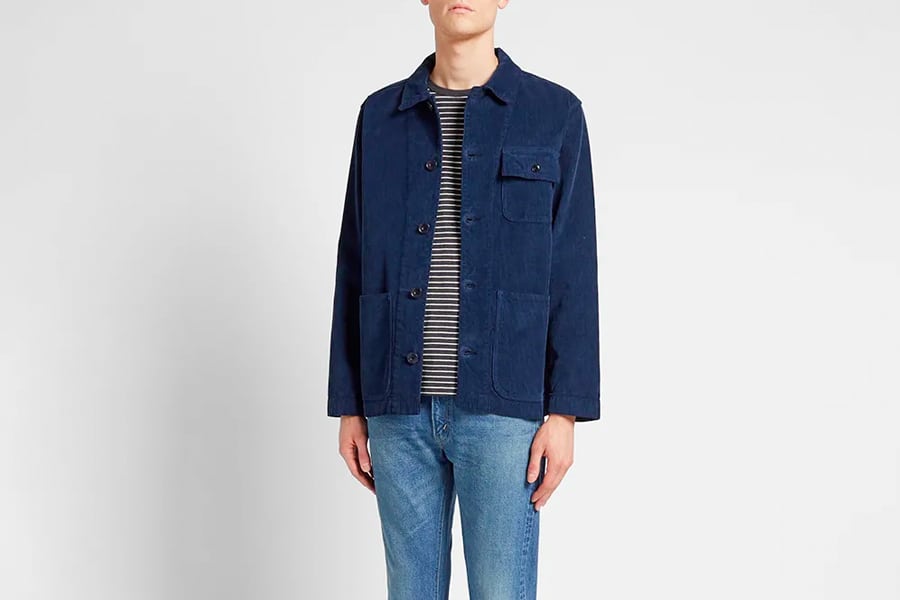 4. Albam Corduroy Railroad Chore Jacket
Albam's navy chore coat is the archetypal workwear piece, with a corduroy twist. The jacket features oversized patch waist pockets, a classic collar, exposed button closure, and sits just above the thighs. Style the corduroy chore jacket with a wool shirt, khaki chinos, and Chelsea or alpine boots.
Material: 100% Cotton (Corduroy Fabric)
Price: £189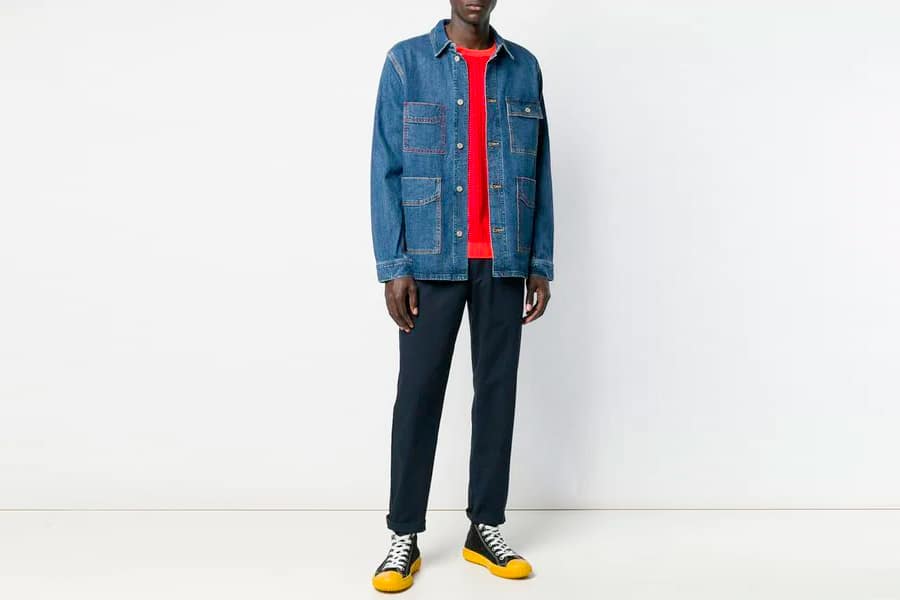 5. PS Paul Smith Denim Chore Jacket
PS by Paul Smith's take on the chore coat incorporates the classic four pockets, boxy fit, and straight hemline, switching it up for the modern worker with a blue denim composition and button cuffs. Go double denim with a light wash denim shirt and khaki chinos, or for a more classic casual look; pair with olive green chinos, a striped crew neck t-shirt, and leather sneakers.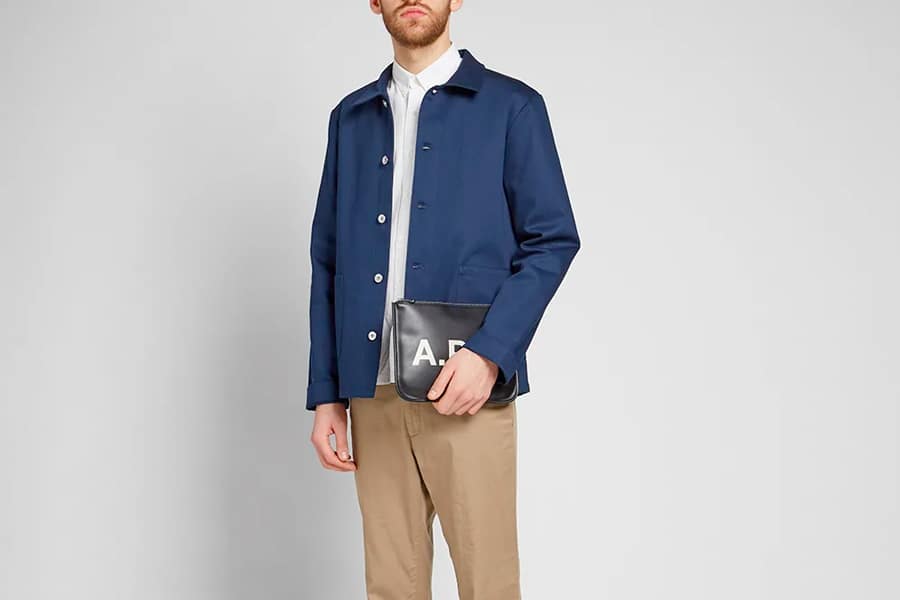 6. A.P.C. Kerlouan Bedford Bedford Canvas Work Jacket
A.P.C's canvas jacket derives its inspiration from the classic blue French work jacket. Opting to do away with the breast pockets altogether, the Kerlouan Bedford jacket features two patch pockets on the waist and exposed button closure, with its lightweight canvas material somewhat resembling a shirt jacket. Pair the slim fitting piece with a white crew neck t-shirt, tan chinos, and brown brogues or white leather sneakers.
Material: 99% Cotton, 1% Elastane
Price: £269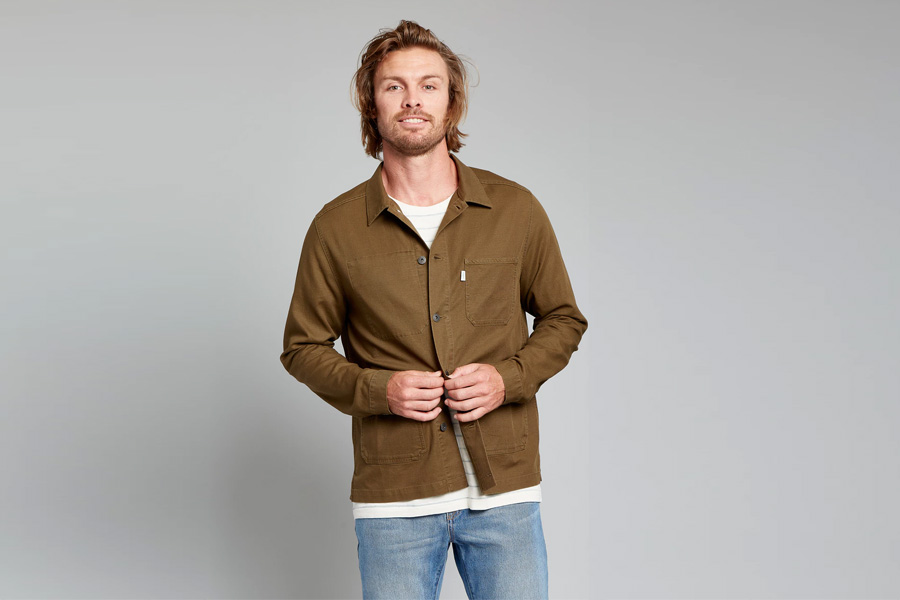 7. Wellen Stretch Chore Coat by Huckberry
Wellen's Stretch Chore Coat is an everyday essential. With an understated collar, this chore coat's slimmer profile makes it suitible for everyday wear over a t-shirt and jeans. It's far from a statement piece and instead a subtle nod to the classic chore coat design.
Material: Body: 66% organic cotton, 32% hemp, 2% spandex
Colour options: Dark Olive, Washed Olive
Price: $128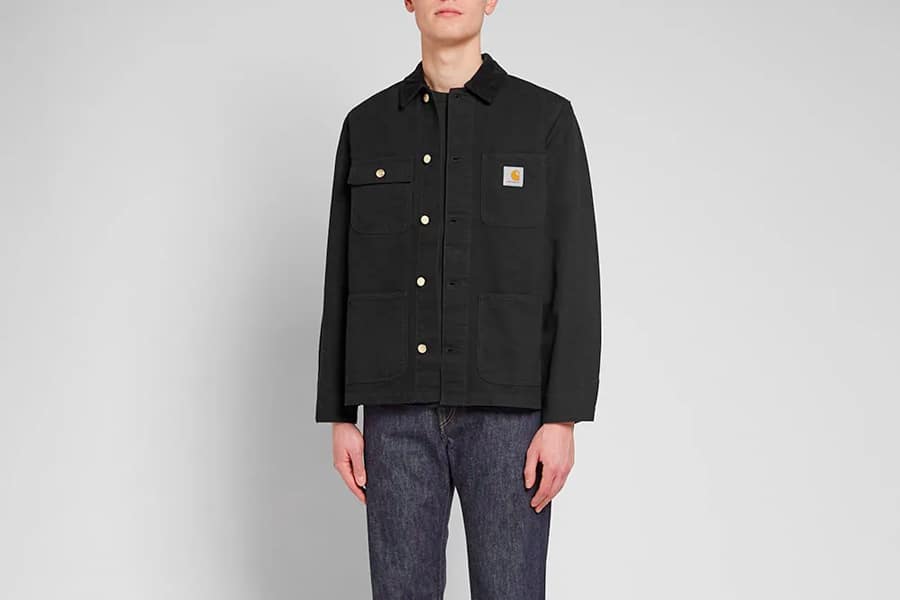 8. Carhartt Michigan Coat
Composed of durable cotton, Carhartt's Michigan chore coat is made to withstand all conditions. Featuring exposed button closure, a corduroy collar, and four pockets, the Michigan jacket stays true to its heritage, right down to the boxy silhouette. Pair with black chinos, a white oxford shirt, and black horsebit loafers for a casually elegant look.
Price: $288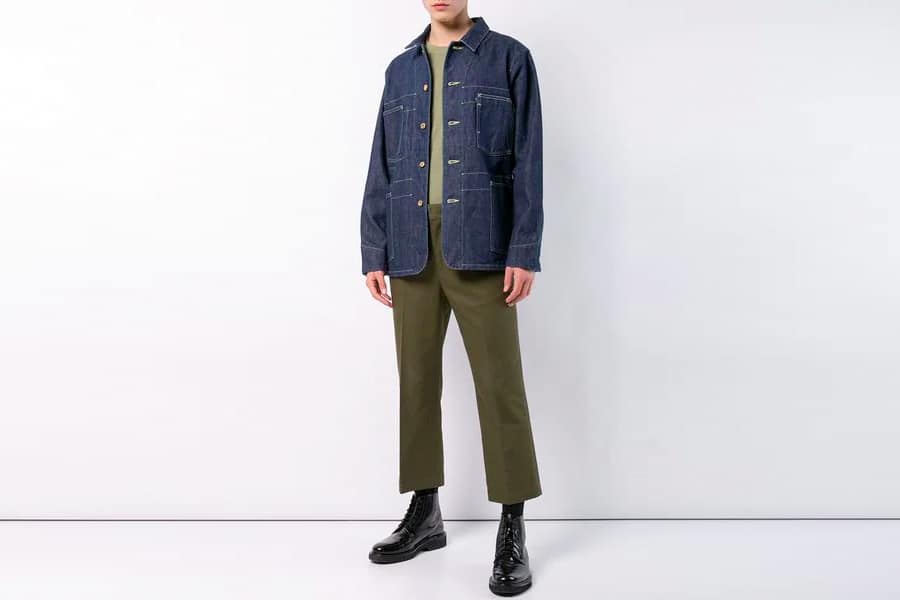 9. LEVI's: Made & Crafted x Poggy Denim Jacket
Levi's takes the chore coat in a different direction with rounded corners, exposed stitch detailing, and button cuffs, whilst retaining the classic boxy silhouette and four pockets. Wear with camel chinos, a lightweight rust orange turtleneck sweater, and brown derby shoes.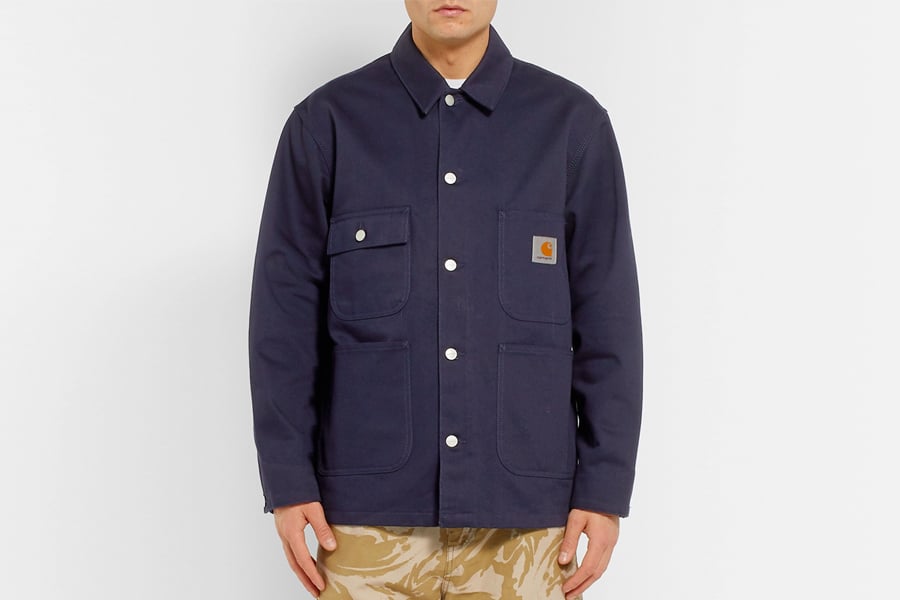 10. Carhartt WIP OG Classic Chore Cotton-Canvas Jacket
True to its name, Carthartt's OG chore coat doesn't stay from its heritage. Composed for durability and designed for functionality, the cotton-canvas jacket features four pockets, adjustable cuff, and comes in a boxy silhouette. Style with a light wool button-down shirt, dark wash denim, and dark brown combat boots (wear your sleeves rolled up to really nail that 20th century worker look).
You'll also like:
Style Guide: How to Dress Like Michael B Jordan
Style Guide: How to Dress Like John Mayer
What is Selvedge Denim and Why Should I Buy it?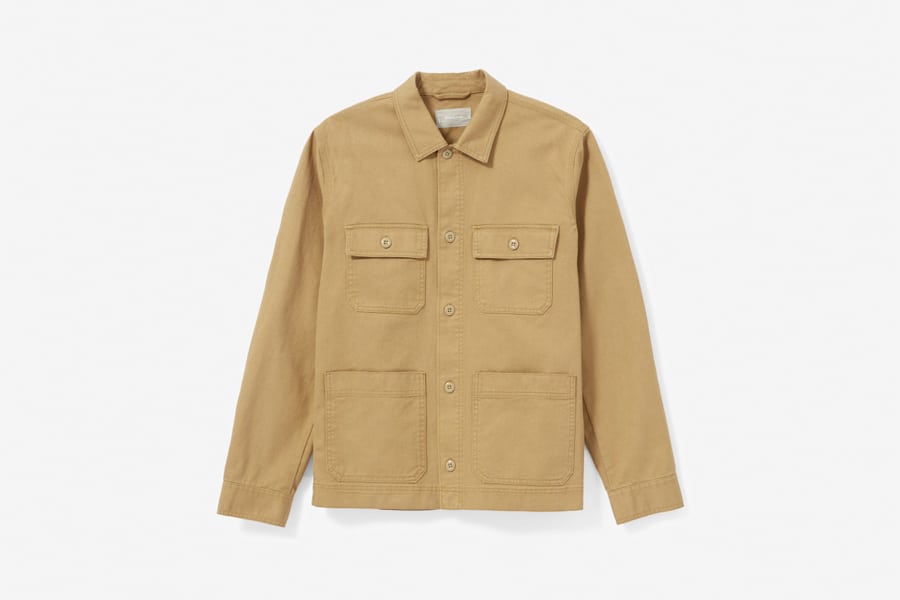 What is a Chore Coat?
One of the first coats specifically designed for work, the men's chore jacket was generally crafted from heavy twill, denim, or canvas fabric, with the chore coat's primary role being to keep workers warm and serve as protection when performing outdoor work. The quintessential twill, denim or canvas design featured two oversized breast pockets, two hip pockets, exposed button closure, and an extended collar which could be flipped up to protect the workers from sunburn during the warmer months.
The chore coat took a boxy shape and was worn loose fitting, perfect for layering in cooler weather.
Generally thought to be invented in the early 20th century for American labourers, the chore coat can also be traced back to France. The French chore coat emerged in the late 19th century as a piece of outerwear for French workers and came in a distinctive rich blue hue. The French iteration of the chore coat was known as a bleu de travail, which translates to 'work blue'. Unlike its American counterpart, the French chore coat often had one breast pocket rather than two.
One of the most well-known proponents of the French chore jacket was the late noted street style photographer Bill Cunningham, who picked up the indigo piece at a French hardware store for $20 (an absolute bargain today) was rarely seen without it in the decades that followed. Cunningham incorporated the French chore jacket into his daily uniform, favouring the garment for its large pockets which were handy for storing film whilst he made his way around town on a bicycle.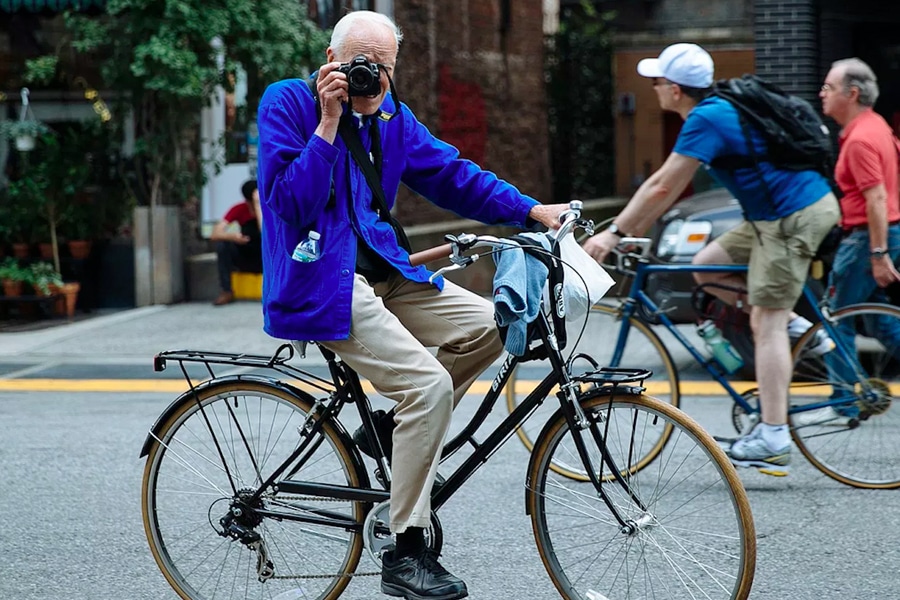 Thanks to its comfort factor, functionality, versatility, and trans-seasonal appeal, the best work jacket of the 20th century has become ingrained as a staple in the modern stylish man's wardrobe, albeit with a few changes to the original. Over time, the chore coat has been modified to suit the 21st century; four pockets became two or three, collars became smaller, and silhouettes slimmer.
How to Wear a Chore Coat
The simple silhouette of the chore coat makes it a versatile addition to any wardrobe. The utilitarian staple finds the perfect balance between comfort and style. Whilst the garment's origin as a worker's jacket prevent prevents it from being suitable for business dressing or formal categories, modern iterations of the garment are able to take you from relaxed to smart casual occasions.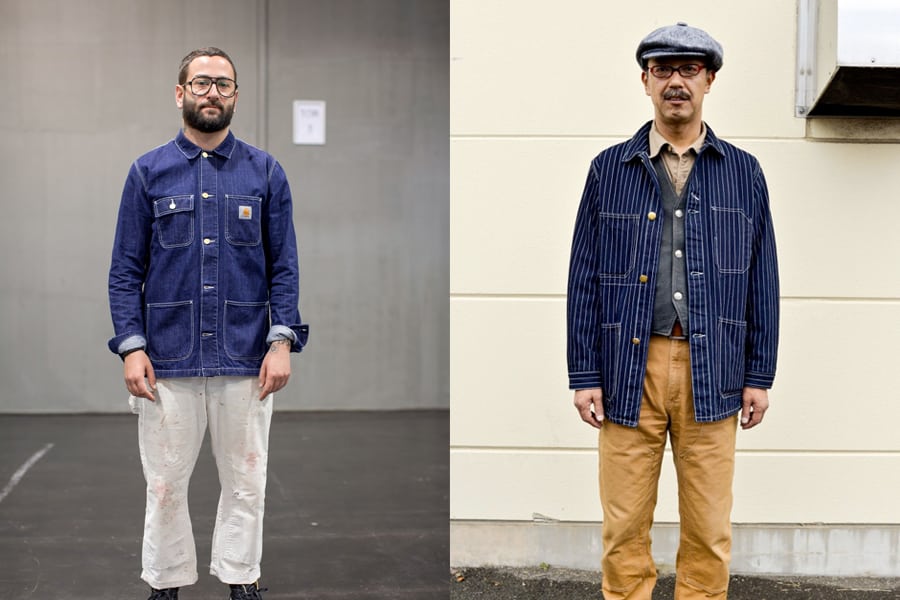 Denim chore coat with chinos
A functional, unstructured take on the classic denim jacket, the denim chore coat can be paired with olive green, tan, camel, or beige chinos, a striped t-shirt, and brown sneakers for a casual look.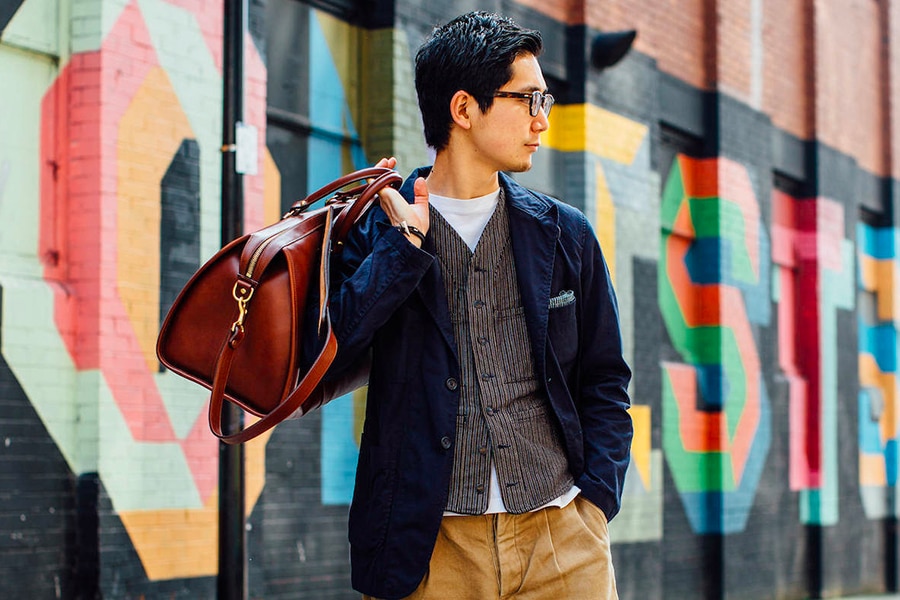 Canvas chore coat with waistcoat
Elevate the workwear staple by employing strategic layering; wear a corduroy, tweed or lightweight linen waistcoat with a simple checked or striped print over a plain white t-shirt before donning a canvas chore coat. A grey corduroy waistcoat works particularly well under a navy-blue canvas chore coat.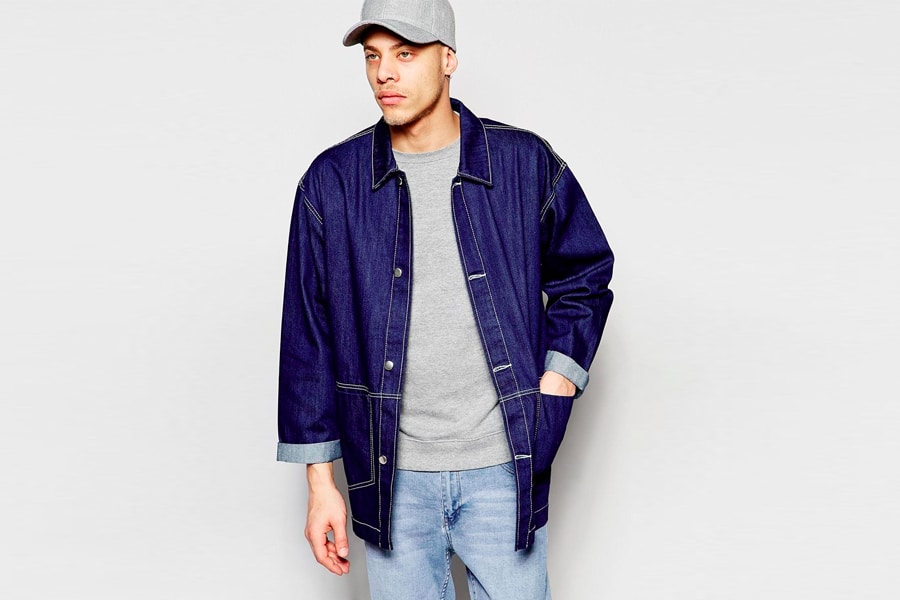 Navy chore coat with light wash denim
A light wash denim shirt under a navy twill chore coat makes for a stylish smart casual look. Team the duo with beige chinos and dark brown leather oxfords, brogues, or loafers.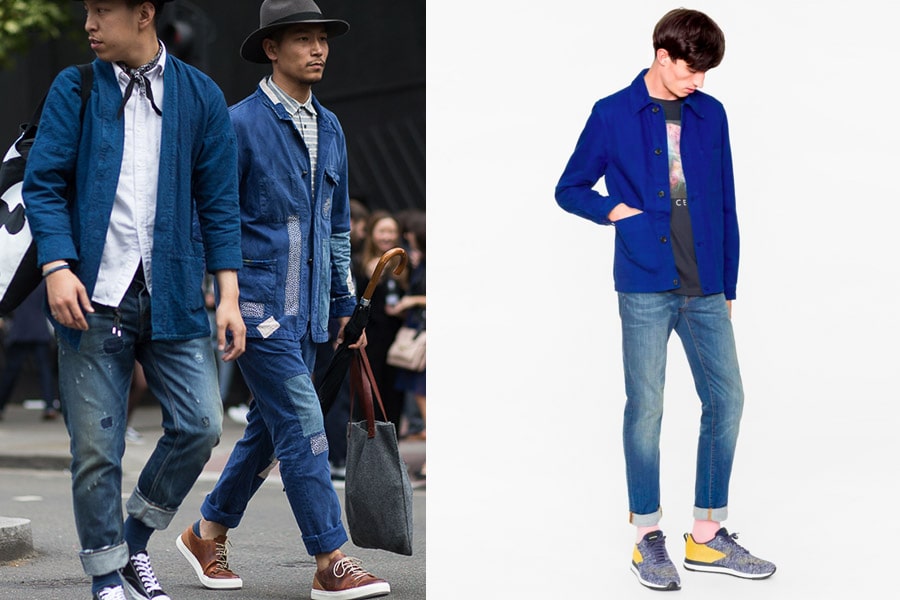 French chore coat over jeans
Nail the laid-back artist look by teaming a classic blue chore coat with dark rinse jeans, a plain white t-shirt, and some tan timberlands.
Ditch the blazer for a chore coat
For a smart casual look, switch out your blazer for a twill or canvas chore coat. Pair the workwear staple with some grey or charcoal flannel trousers, a crew neck jumper (pale blue, rust orange, or maroon are usually solid go-to colours), and loafers, brogues, or leather sneakers.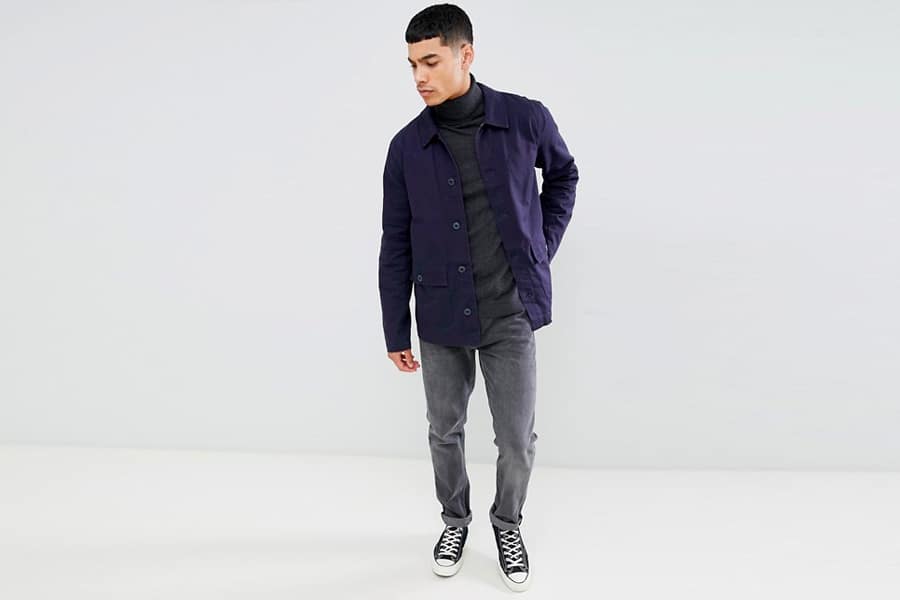 Indigo chore coat over wool shirt
For a rugged Autumn look, wear an indigo corduroy chore coat over a textured wool shirt, with straight legged khaki trousers, and dark brown leather alpine boots.
You'll also like:
Style Guide: How to Dress Like Michael B Jordan
Style Guide: How to Dress Like John Mayer
What is Selvedge Denim and Why Should I Buy it?
General FAQ
What is a chore jacket?
A chore jacket is one of the firsts coats specifically designed for work, crafted from heavy twill, denim, or canvas fabric. The coats primary role is to keep workers warm and protect them when performing outdoor work.
Who makes the best chore coat?
Some of the best chore coats are from Everlane, ACNE Studios, Carhartt, and LEVI's.
---
Featured Video from Man of Many