20 Haircuts & Tips for Men with a Receding Hairline
Bad or messed up hairline? Fret not, because you're far from alone. In fact, tons of adult men have a receding hairline—also known as a v-cut—in one form or another. Meanwhile, some gents do a better job at concealing or working with their bad hairline than others. And how do they do that, one might ask? With a proper haircut, naturally. Well, that or a hair transplant or toupée, but for the sake of this article, we'll just pretend those alternatives don't exist.
First and foremost: your receding hairline doesn't automatically mean you should veer straight toward a clean shave. Sure, it's an option, but so is a quality fade or parted comb over. The style you adopt mostly boils down to the texture, type, and volume of your thinning hair, along with factors like the shape of your face. All we're really trying to say here is that you shouldn't freak out the moment you spot that bald spot or bad hairline, with visions of George Costanza popping into your mind…not there's anything wrong with it.
To help you land in the right place, we've put together a trusty guide of receding hairline haircuts. These are the best haircuts for guys with thin or thinning hair, who know the next trip to the barber can make or break their respective livelihoods. But first: a few tips and pointers for all the men out there with receding hairlines.
Related: Our complete guide to the best haircuts for men is your reference point for hairstyles.
Tips for Men with a Receding Hairline
Congratulations! You're possibly going bald. What? Congratulations aren't in order, you say? Well, maybe you're right. We're just trying to keep things positive. Geesh—way to ruin the vibe!
Honestly, going bald or dealing with a receding hairline isn't that big a deal. For starters, men with receding hairlines are a dime a dozen, so join the club. And while you'll probably never look like a 1980s rock star, those guys spend far more time at the hairstylist or in front of a mirror than you would ever want to.
That said, don't think for a second that your thinning hair or receding hairline means the end of your grooming regimen. On the contrary, you'll have to make every detail count on a daily basis. Here are some general tips for men with a receding hairline:
Presuming you don't opt for a clean shave, you should go for a haircut that's shorter around the sides than it is on top. As a result, the hair on top will look that much thicker and longer.
If you're going to rock the clean shave, take your facial shape into consideration before you do. Total baldness works with some face shapes more than others.
Along similar lines, you should grow a beard or, at the very least, retain a certain amount of facial hair if you have thin hair or a bald head. We all love Noho Hank, but that doesn't mean we want to look like him.
Do what you can to reduce the contrast of your receding hairline or take attention away from your bald spot.
Keep your scalp clean, hydrated, and nourished because the last thing you want with short or thin hair is a head full of flakes.
Evaluate potential causes for your receding hairline in an effort to stop it from getting worse. Keep in mind that some potential causes aren't as obvious as others. Some experts suggest that stress or poor diet, for example, might lead to thinning hair. Perhaps a lifestyle change is in order.
Research treatment products designed to prevent further hair loss and try one on for size. Believe it or not, some actually work.
If you have thinning hair, avoid the comb over at all costs.
20 Haircuts for Men with a Receding Hairline
The bad news is you have a receding hairline and might even be going bald. The good news is you still have plenty of hairstyle options. We're talking haircuts for short hair, medium hair, and long hair alike. Here are 20 popular haircuts for men with a receding hairline.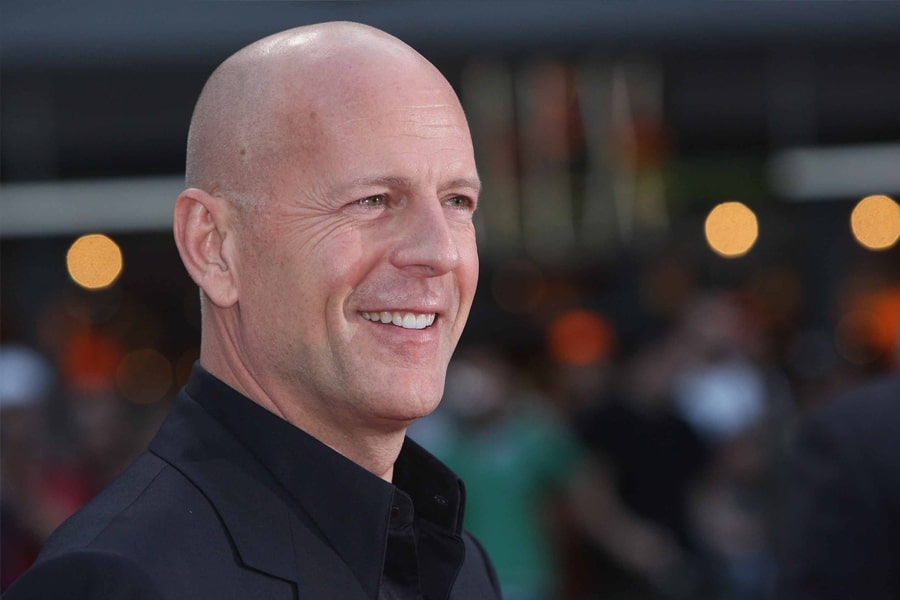 Clean Shave
Let's just get this one out of the way because it's probably the first thing that popped into your mind when you spotted that receding hairline. You've seen the clean shave on everyone from Common to Bruce Willis, and if it works for them, it can work for you, too. To maintain the "clean" in your clean shave, visit your barber on a regular basis and be sure to keep that scalp moisturised. Also, remember to incorporate stubble or facial hair so that you don't look like some sort of weird man-baby.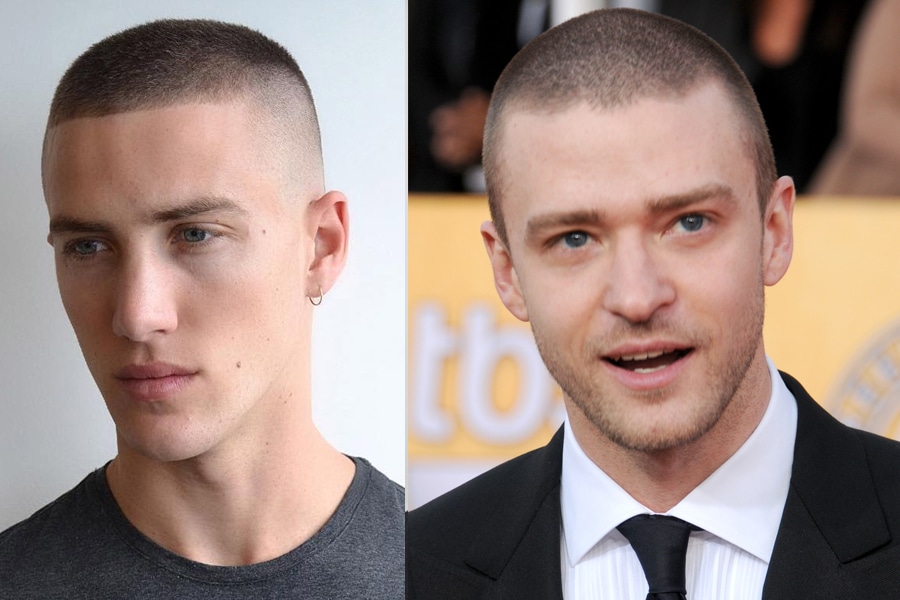 Buzz Cut
Ahhh, the trusty buzz cut. Not only does this ubiquitous haircut blend easily with receding hairlines, but it's also virtually effortless to maintain. Pair Jason Statham's short crop with Tony Stark's short beard and you're rolling like a modern-day superhero. And no one argues with the superhero aesthetic these days.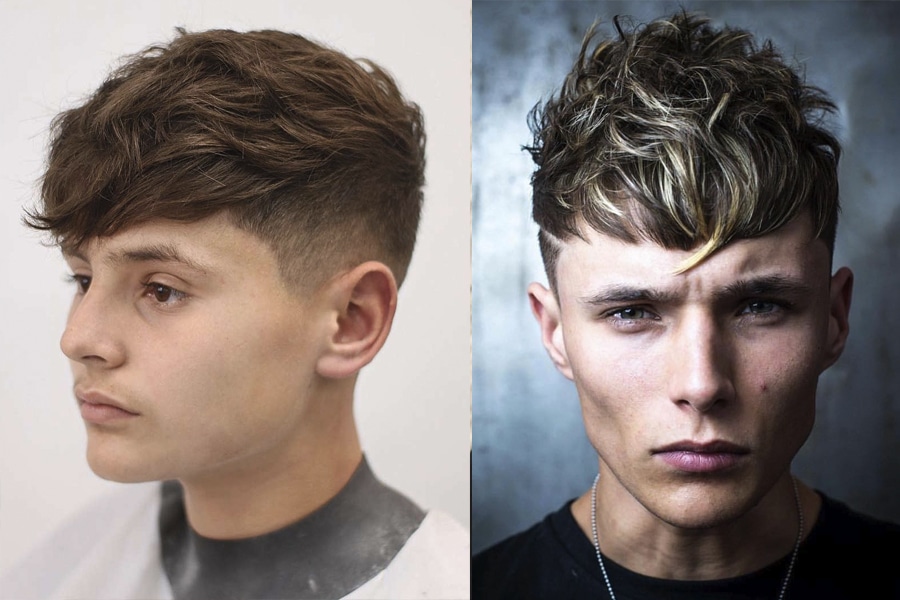 Textured Layering
No one will notice your receding hairline if it's flanked by choppy textures, brilliant layering, and maybe even some colour contrast. Be sure to track down and then employ proper hair product because you'll need it. The end result is a look that falls somewhere between frat boy and business executive. Sure, it's a subtle disguise of sorts, but isn't that the point?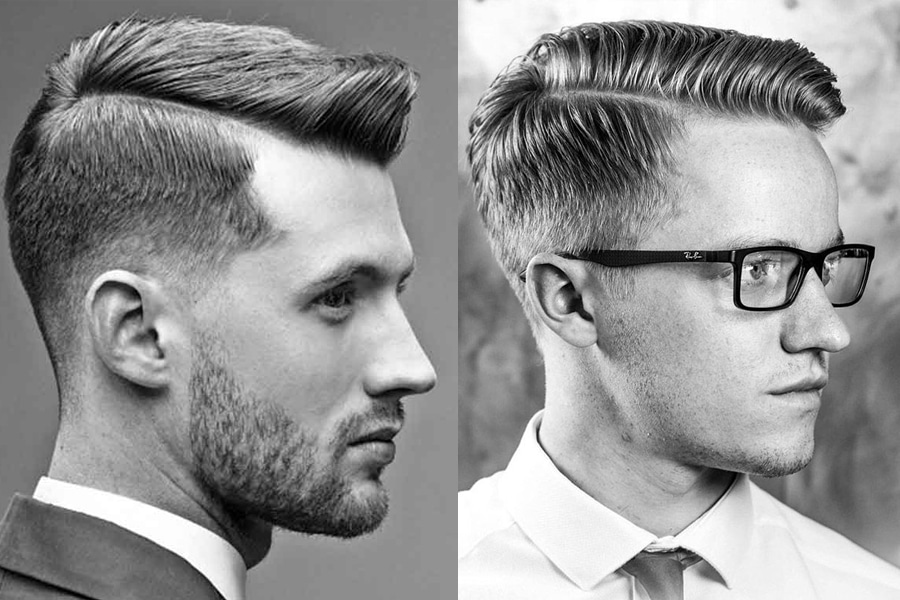 Parted Comb Over
If you have voluminous hair of decent length, this haircut can do wonders for your personal aesthetic, presuming you know your way around hair product and a fine-toothed comb. If you have thinning hair, however, don't even think about it.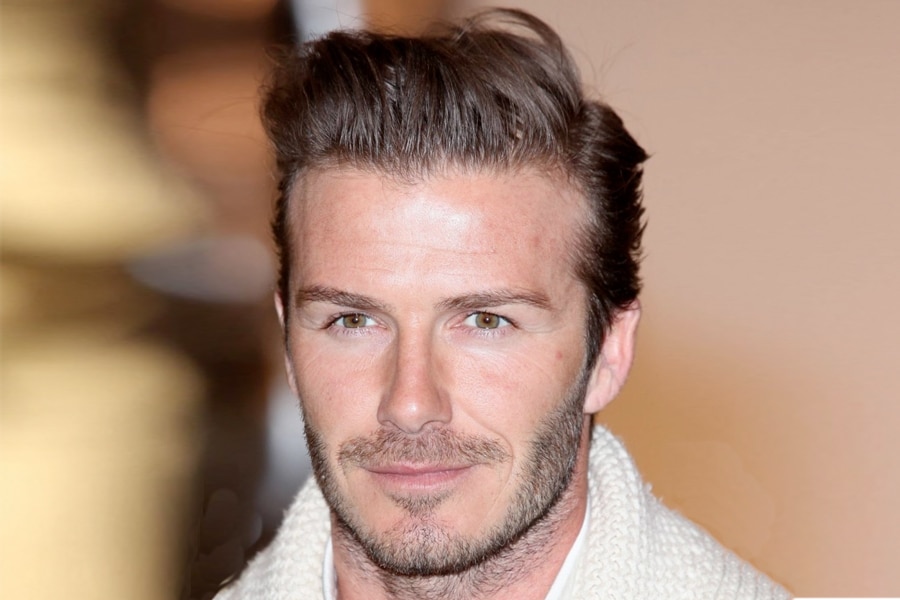 Slicked Back
Sure, you can try to conceal that receding hairline, or you can play off of it by way of a slicked back cut. Throw in a fade or undercut (i.e. shorter hair around the sides) and you're deftly keeping pace with modern trends. Hair product is required, as is a fair amount of volume.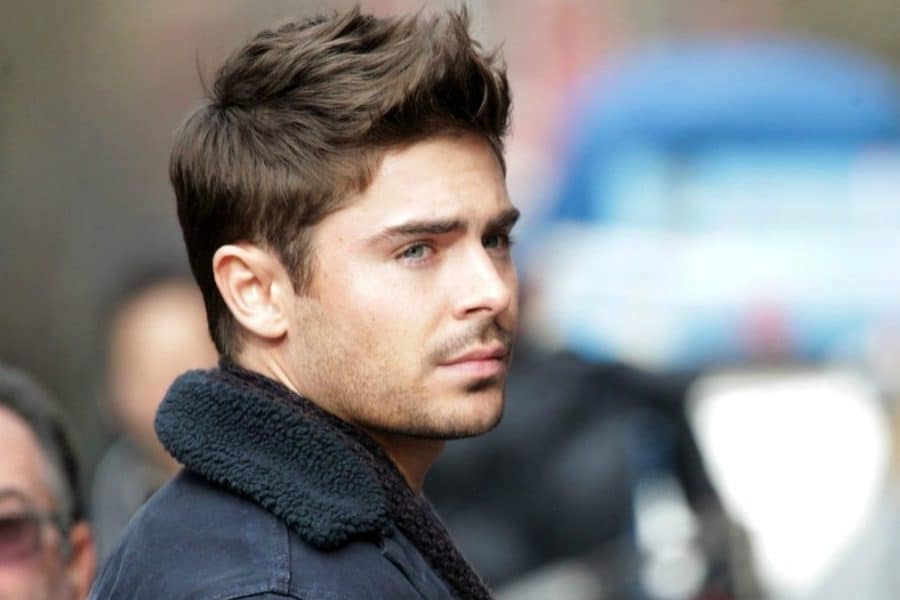 Faux Hawk
An accessible alternative to the mohawk, faux hawk's strike a balance between contemporary norm and uncompromising personal expression. They also do a pretty great job at masking a receding hairline because they push all the hair toward the centre of your crown. Don't forget to go short around the sides.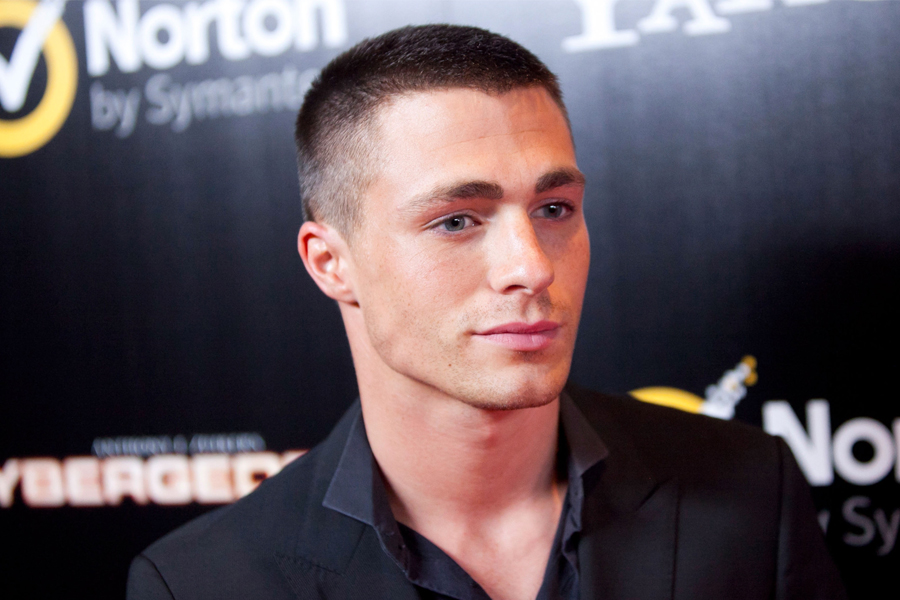 Crew Cut
When a buzz cut is a little too short or revealing, the mighty crew cut comes into play. A fixture in the business world, this relatively short haircut features a small pompadour at the front hairline and gets shorter in length as it flows toward the back. Grow it out a little longer and you're sporting an Ivy League cut.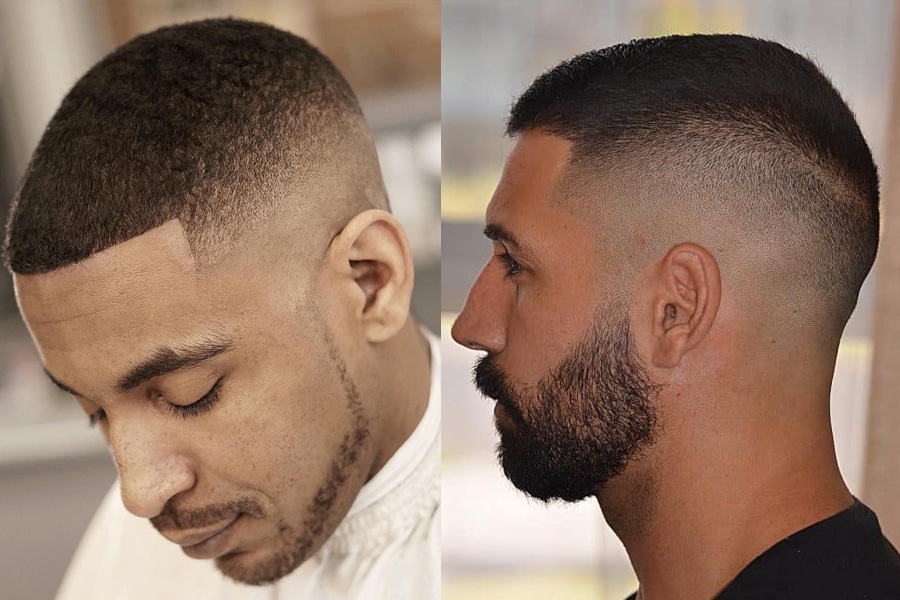 High Fade
Upward facing longer hair on top and a gradual fade around the sides makes for an expert combination, especially among men with receding hairlines. When the hairline goes low, you go high!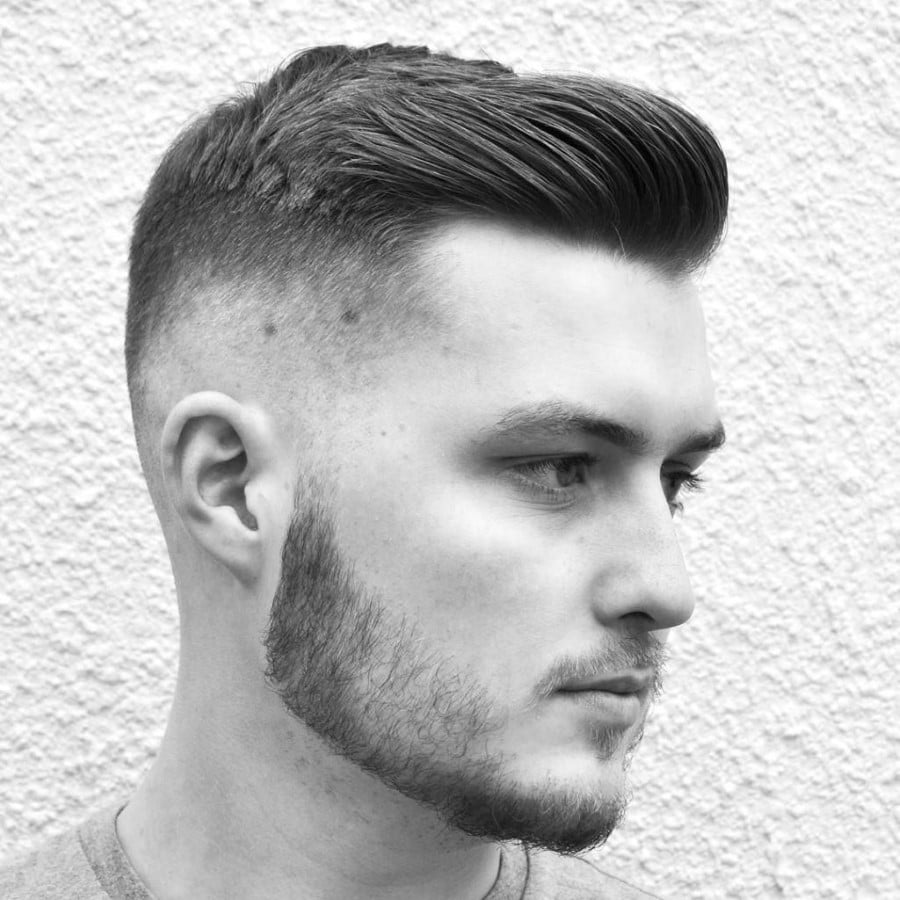 Edgy Undercut
With forward-facing spiky hair on top and an even shave around the sides, the edgy undercut is a guaranteed head-turner. It's also yet another perfect haircut for men with receding hairlines.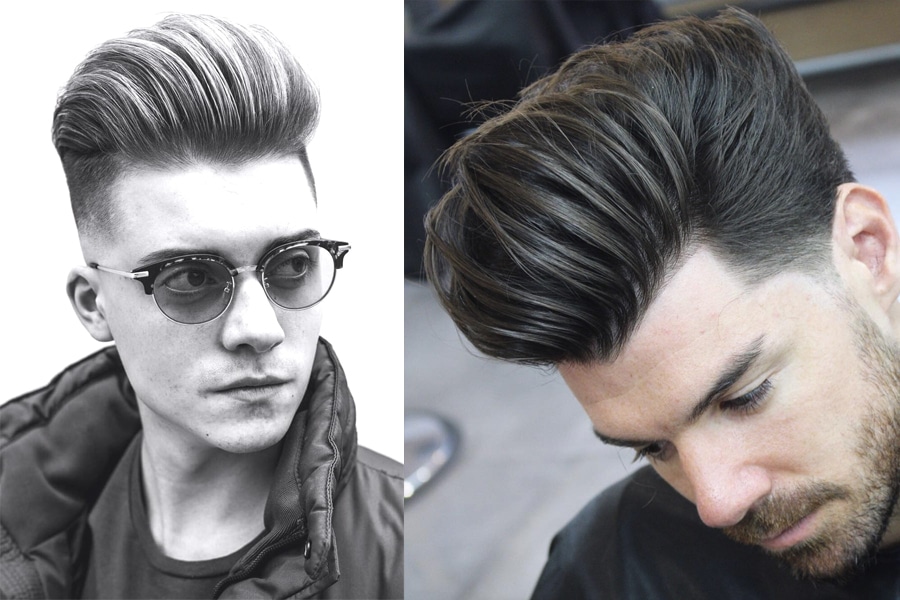 Old Fashioned Pompadour
If your hair has the proper amount of thickness, you can show that receding hairline who's boss by way of a classic pompadour. Plus, it will help conceal your bald spot. Incorporate a quality fade or undercut and you're like something out of a youth magazine.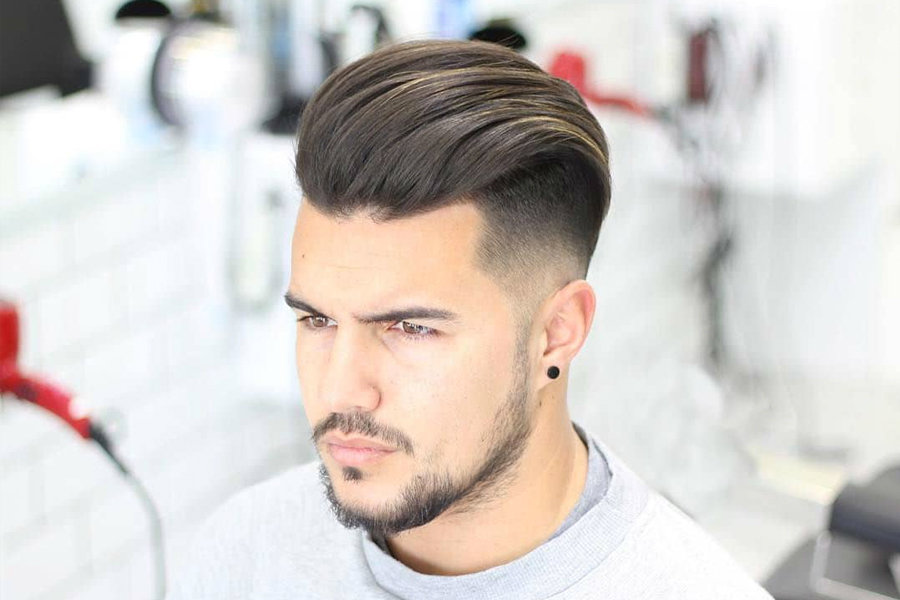 Quiff
Take your standard pompadour and throw in some flat-top action and you're looking at a stylish quiff. It makes for a somewhat understated alternative and one that works just as well with a receding hairline. Don't forget to pair it with an undercut or fade.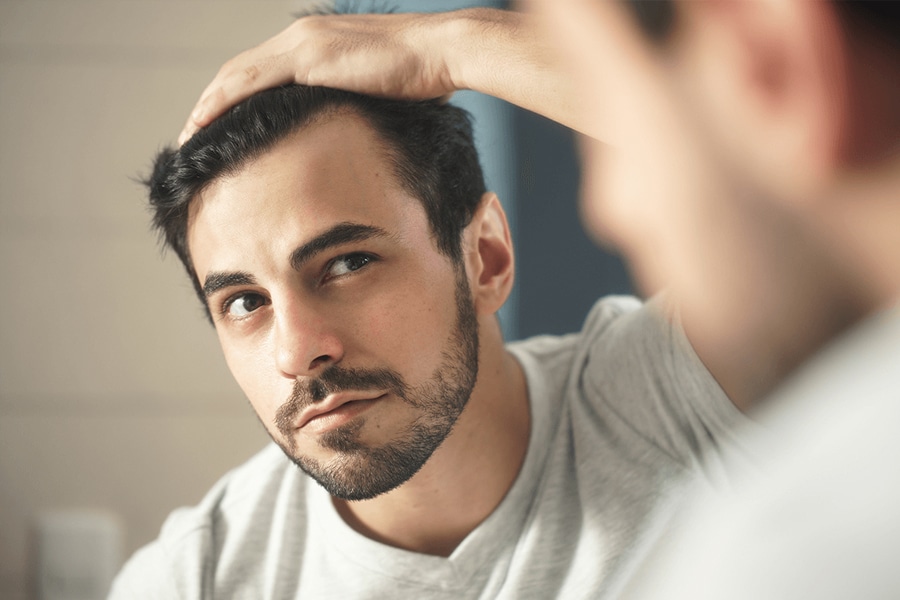 Au Naturale
Precious few people head into the barbershop and ask for the "Larry David," but we'll be damned if the man doesn't make his baldness work. The key is to keep the remaining hair trimmed and groomed on a regular basis. If you're an older gentleman, in particular, this might very well be your best option.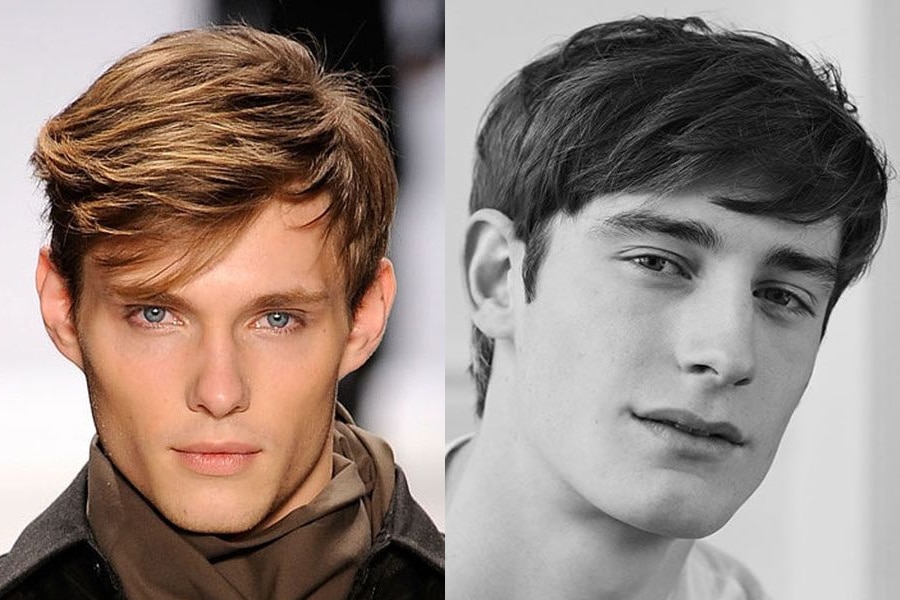 Angled Fringe
Grow that hairline while you still have it and then style your bangs into an angled fringe. This hairstyle works with thin hair and goes best with a messy or tousled overall aesthetic.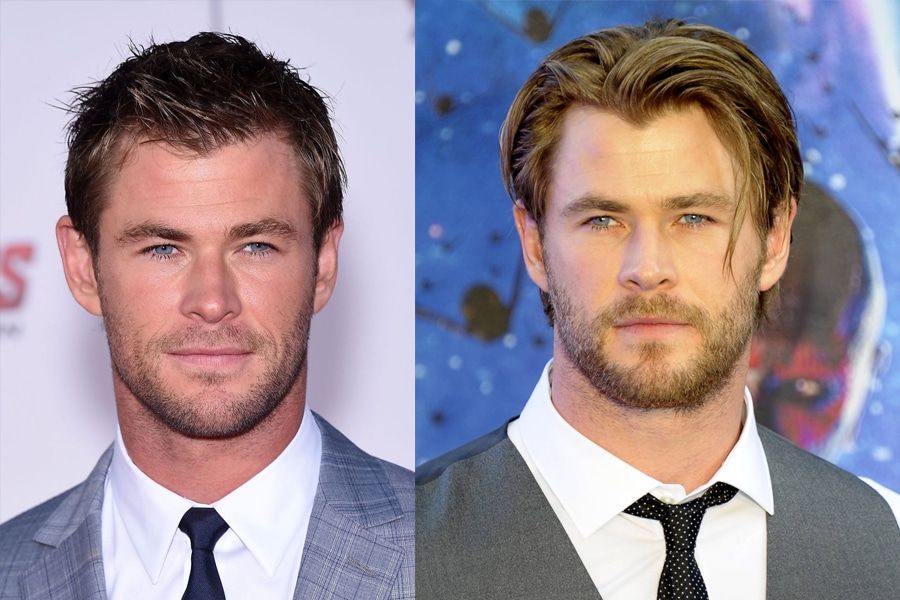 Widow's Peak
You're already sporting v-cut hair, why not run with it as Chris Hemsworth has before you? Grow out as much hair as you can and then get busy with the sculpting clay, shaping and styling your front hairline. Soon enough, your v-cut hair has become a work of art.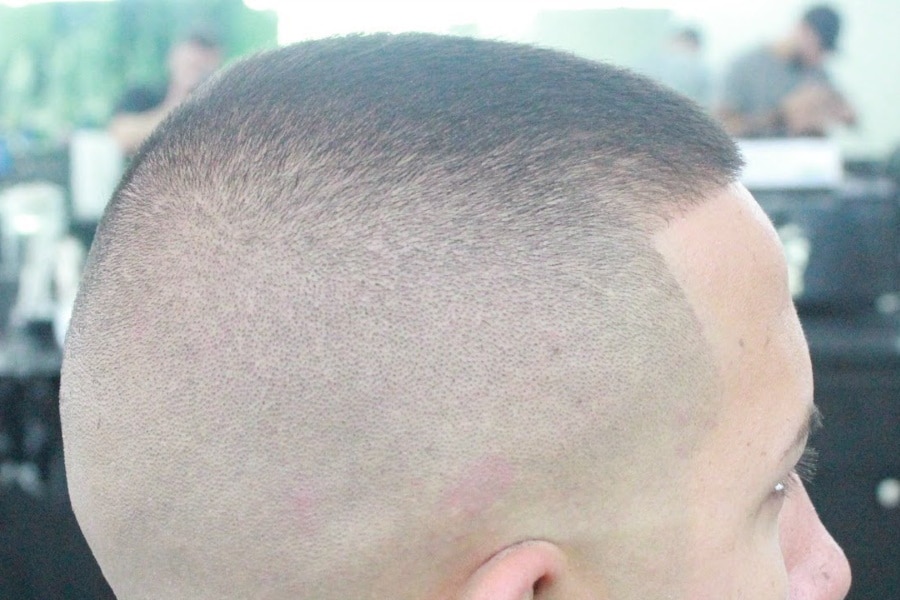 Bald Fade
It might sound like an oxymoron, but a quality bald fade is all about curves and contours. Get your remaining hair down to low maintenance size by way of the buzzer and then apply hard edges to every hairline.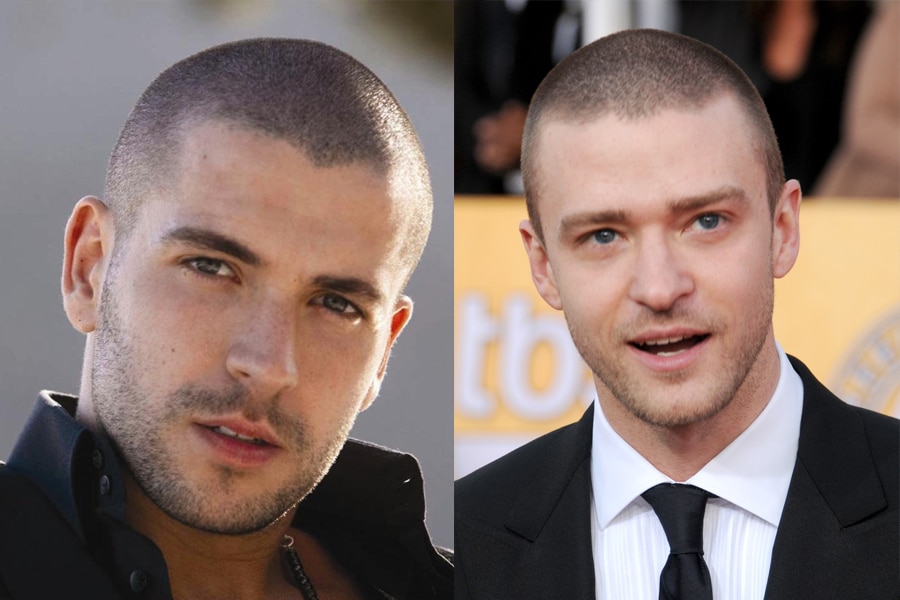 Close Cut
Soar past the crew cut or Ivy League cut and you're now in close cut territory. Best adopted in the earliest stages of a receding hairline, it goes longer on top and plays off the natural texture of your short to medium length hair. Classic.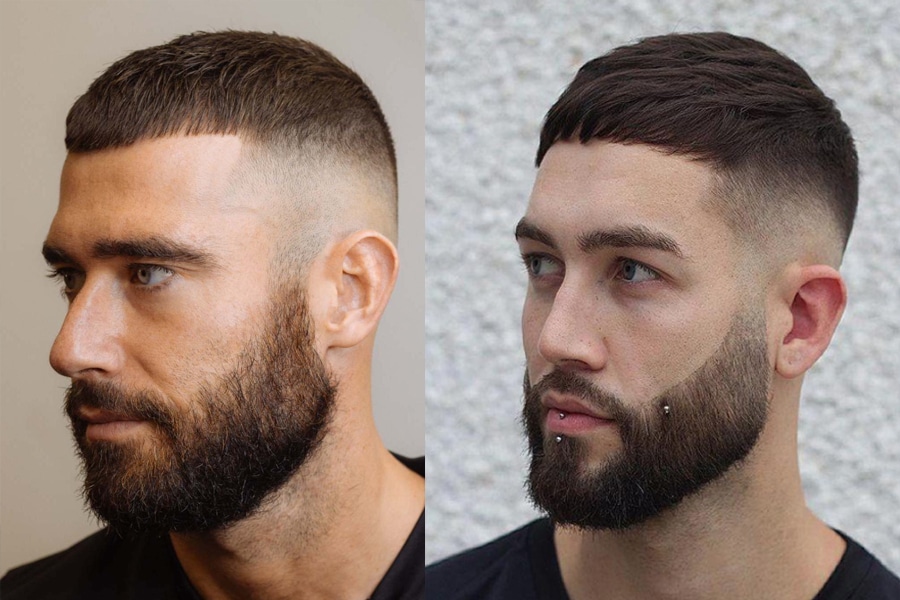 French Crop
Short hair on the top plus a taper fade or undercut plus a long fringe equals the French crop. It's as tight as it is stylish.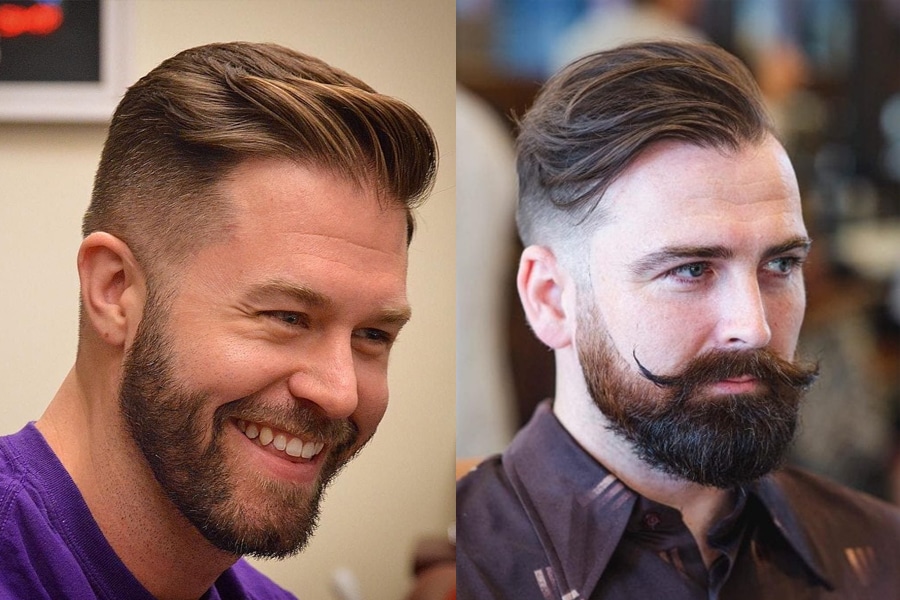 Side Brushed Stranded Hair
This haircut is another one that accentuates the receding hairline as opposed to masking it, but to positive effect.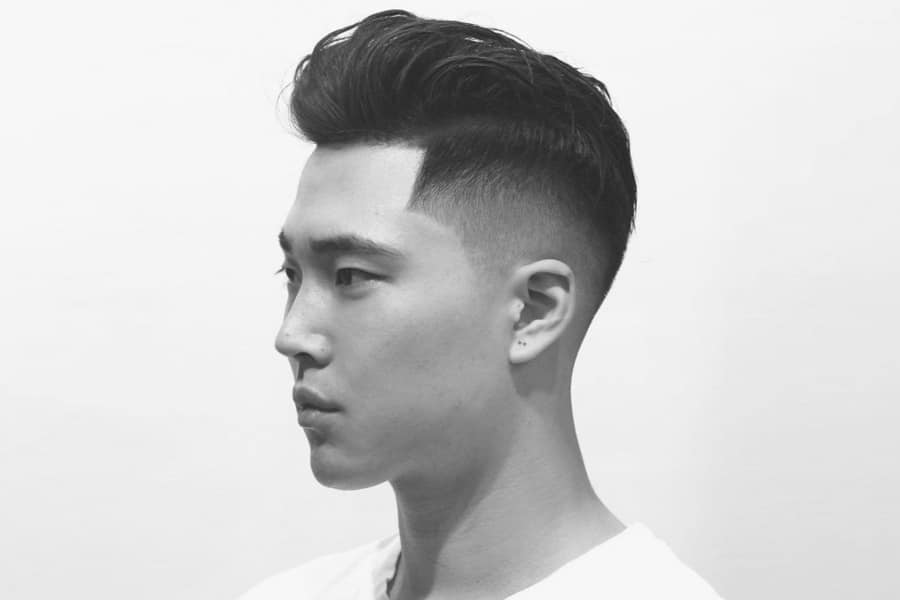 Undercut with Taper Fade
Let's round this list out with a few bold combinations. An undercut with a taper fade certainly qualifies, highlighting various contrasts and emitting pure personality.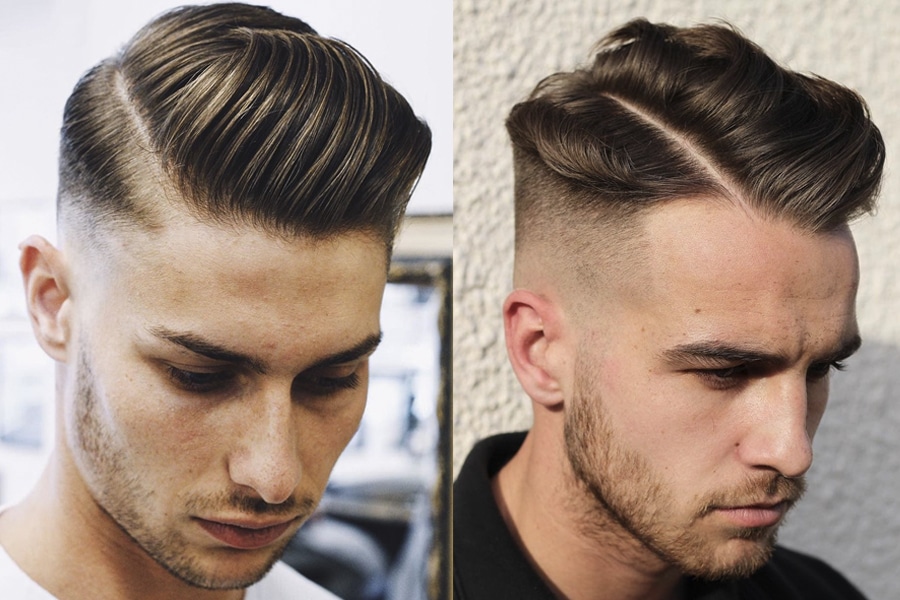 Comb Over Fade with Pompadour and Hard Part
The name pretty much says it all. If you can pull it off, we say go for it!
You'll also like:
50+ Short Haircuts & Hairstyle Tips for Men
50+ Long Haircuts & Hairstyle Tips for Men
The Best Haircuts and Hairstyles for Men