Slick Back Hair – Haircuts & Hairstyle Tips for Men
Popular among successful gents from all walks of life, the slicked back haircut is an easy way to let others know you mean business. We mean that both figuratively and literally, whereas the style is frequently employed by power brokers and Wall Street types. However, the truth is that any man graced with an instinct for sharpness and enough follicles atop his head can pull off the slick back hair look or pushed back hairstyle.
Along similar lines, don't just conjure up an image of Don Draper and think that's all there is to the men's slicked back haircut. As any barber can tell you, there are in fact a variety of ways to slick back those follicles, such as a classic fade or modern pompadour. Likewise, even men with curly hair can tame their curls to achieve a pushed back hairstyle of impeccable precision. From methods to products to specific types of men's swept back hairstyles, we're covering it all below. Check it out and you'll be looking slick in no time, with the haircut to show for it.
---
You'll also like:
10 Short Hairstyles for Men
Long Haircuts and Hairstyle Tips for Men
Curly & Wavy Haircuts & Hairstyle Tips for Men
---
How To Slick Back Hair
As long as there's an ample amount of hair on your head, you can theoretically pull off the men's slicked back hairstyle. That said, there are types of hair more suited for the task. For instance, short, straight hair is much easier to slick back than to slick back curly hair. Ideally, that straight hair should be of low or medium density, whereas thick hair can be trickier to maintain in the pushed back style. Last but not least, the hair should naturally grow toward the back. Again, these qualities are not necessities, but they are ideal for the slicked back hairstyle.
For those who have straight hair of low to medium density, slicking that hair back couldn't be much easier. When your hair is damp (or "towel dry"), simply apply some product and then run through it with a wide-tooth comb.
If your hair is longer or denser, the process is slightly more involved. To start, spread hair product evenly and thoroughly while your hair is damp. Now grab a hairdryer, put in on a low setting, and use it to trail your comb as you style your hair from front to back (or slightly toward the side). This will help maintain the slicked back look for a longer period of time.
Achieving slicked back hair with curly follicles is even more involved, but still possible to pull off. You want to run a brush through your hair while the hair a little wetter than damp. Trace the brush strokes with a blowdryer, occasionally spraying your hair with sea-salt spray to maintain texture. Once your hair is dry, apply a strong product and then slick the hair back with your fingers. And don't forget: when all else fails, visit your barber.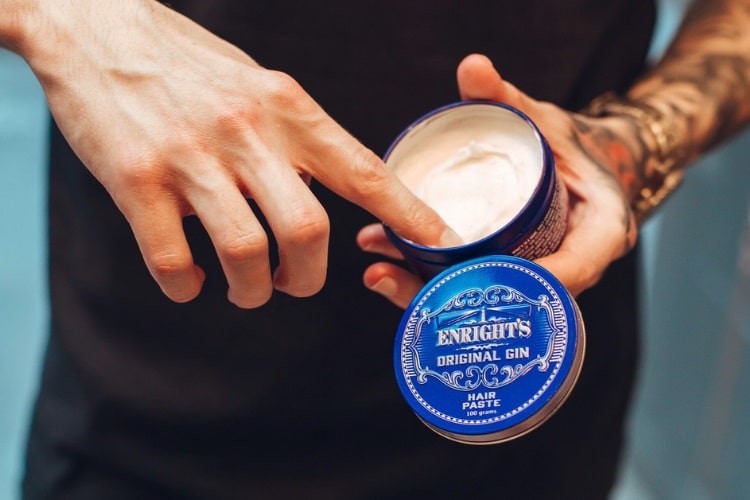 Products to Help Slick Back Hair
Just as diverse as the types of men's slicked back hairstyles are the number of products you can use to obtain the look. However, please be aware that too much product can make your hair greasy, dry or flaky. It's therefore important that you maintain a healthy hair washing regimen while sporting the men's pushed back style. Also, remember to clean your hair first and style it second. Here are the most popular products you can use:
Pomade
Used more than any other product by men with slicked back hair, pomade delivers a steady hold and no shortage of shine. Choose between oil-based pomade (which offers more shine and a stronger hold) and water-based pomade (which is easier to rinse out), and start rocking the slicked back look like so many generations of men before you. Just remember to take baby steps, or else you'll walk around bouncing sunlight off your crown. Classic is hardly the word for this product.
Clay
Surging in popularity among young men is clay, which is made using natural minerals as opposed to potentially harmful chemicals. The product comes in a range of types–from the super heavy to the supremely lightweight–and delivers less shine than pomade. Clay is also good for adding both texture and volume to men's swept back hair.
Determining which clay to use depends on factors like hair thickness, and you might need to experiment before landing on the product that works for you. As a general rule of thumb, thicker hair requires thicker clay, while thinner hair can make due with lighter clay.
Gel and Hairspray
While you might have rocked copious amounts of hair gel as a teenager, it's a product best left behind as an adult. Not only will it dry out your hair, but gel is highly flammable and usually laced with all sorts of chemicals.
As for hairspray, it too is flammable, but nevertheless okay to apply in small doses. If anything, you should use it to provide your slicked back haircut with a nice finishing touch. Anything more than that and you've gone overboard.
Slicked Back Hairstyles
Next time you stroll into the barbershop looking for a slicked back haircut, considering one of the following styles: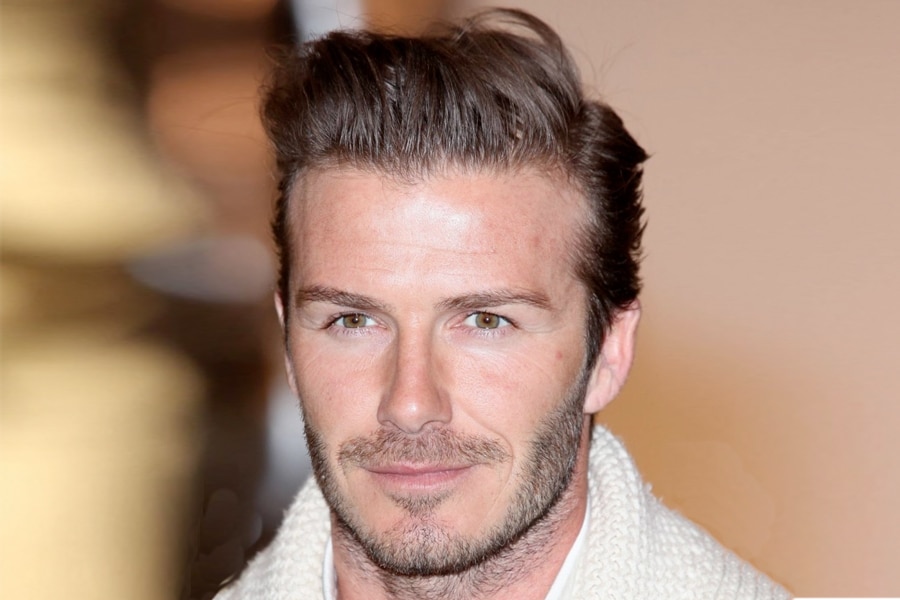 Slick Back Side Part
Recently popularised by Don Draper, this style works best with hair that's medium in density and not too long. Slick back side part signature features include the hair being slightly longer on the top than on the sides, one edge of the fringe being longer than the other, and a hard, clearly defined part on one side of the crown.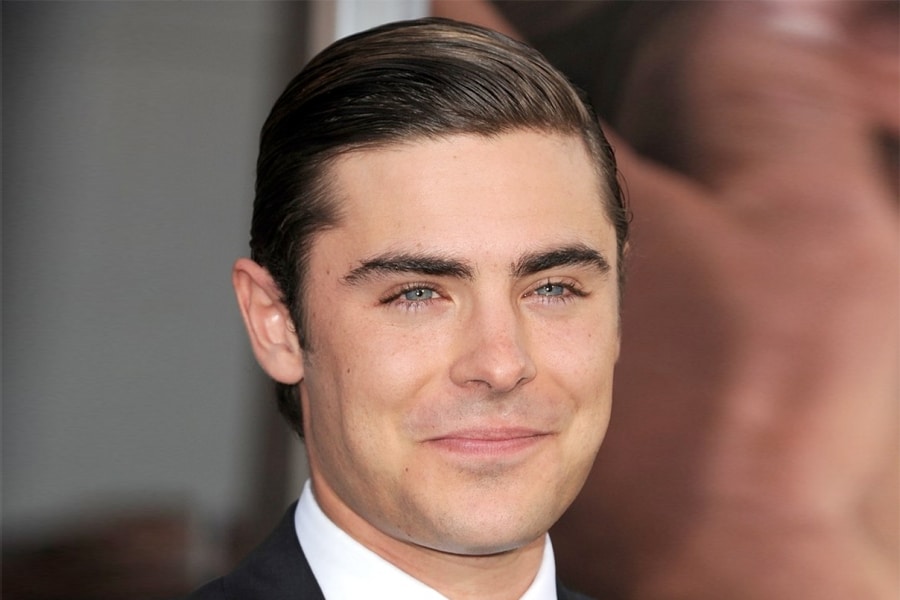 The Classic Slick Back
Canonised by Gordon Gekko in Oliver Stone's Wall Street (and recently rocked by the likes of Eric Trump), this men's slicked back style remains uniform in length and appearance, with all follicles commonly swept back in one direction.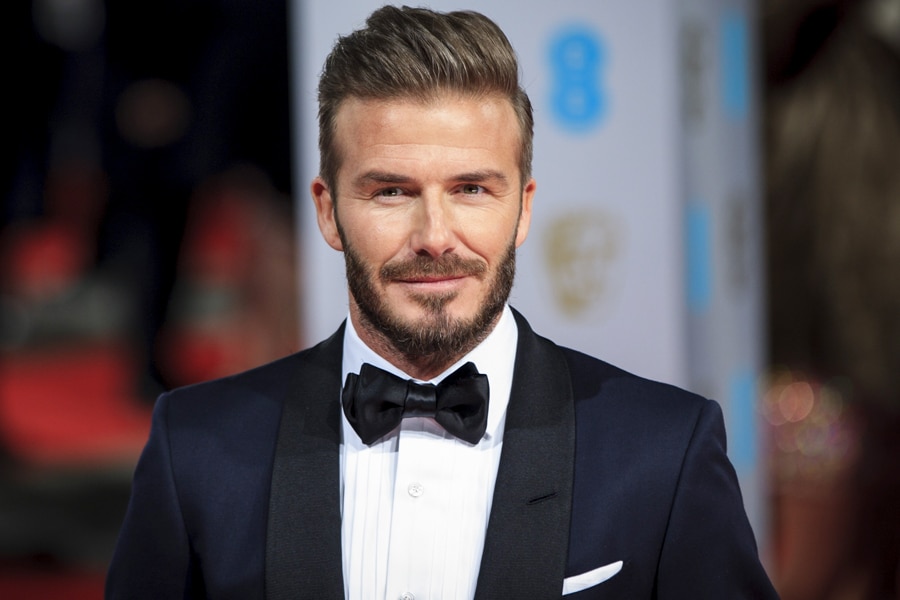 The Slicked Back Pompadour
Longer on top and tapered at the sides, the men's slicked back pompadour came roaring back into style thanks to celebrities like David Beckham. While indisputably slick, the men's hairstyle also leaves plenty of room for personal expression.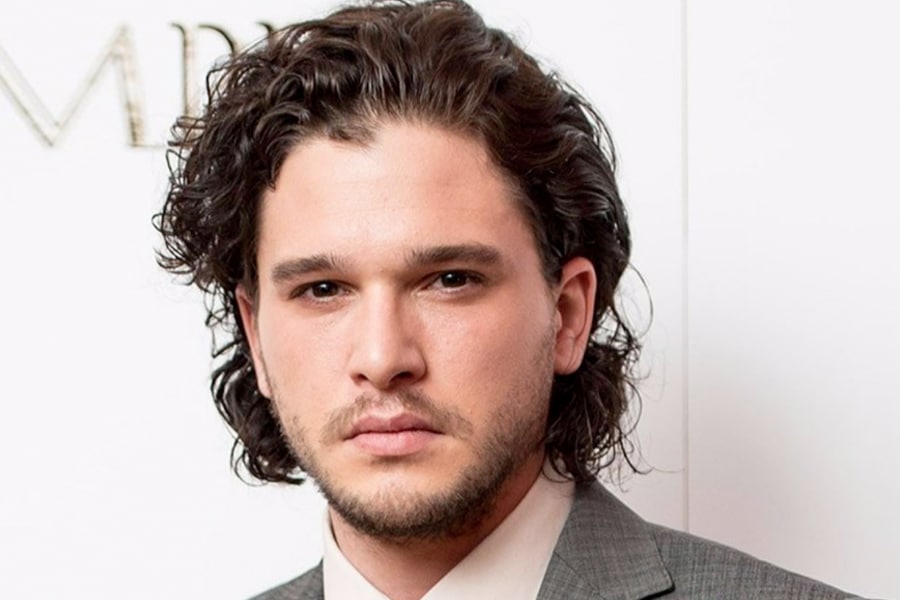 The Slicked Back Curly Quiff
With a good barber and some quality product at your disposal, all you curly-haired gents out there can easily pull off a slick back curly hairstyle. Try to keep the hair generally short in length, with the sides being shorter than the top.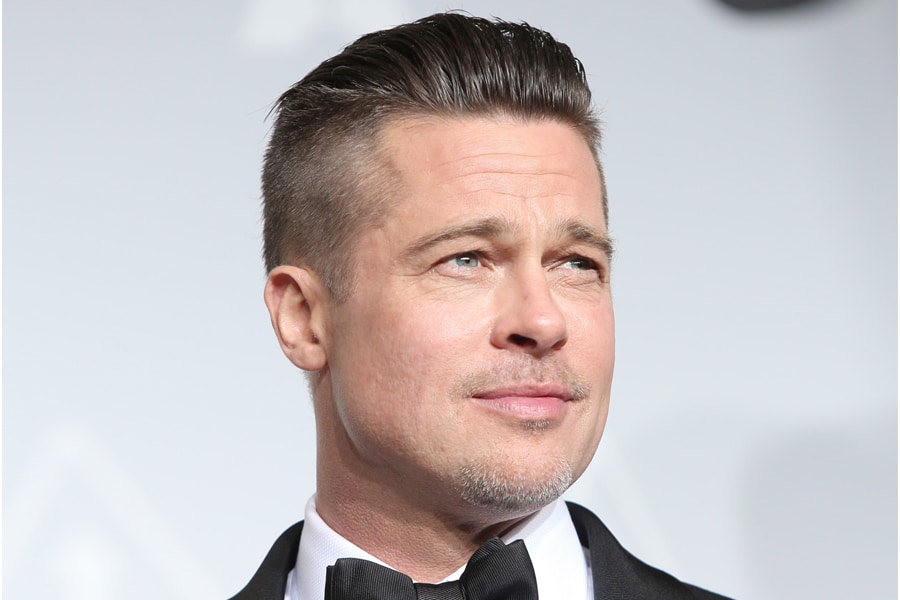 The Slicked Back Undercut
Blending the top and sides with textural precision is the men's slicked back undercut. Now more popular than ever, the style takes some time to achieve, and involves growing out the top while tapering the sides on a regular basis. Do it right and you're looking at slicked back perfection.
Have you subscribed to Man of Many? You can also follow us on Facebook, Twitter, Instagram, and YouTube.
---
You'll also like:
10 Short Hairstyles for Men
Long Haircuts and Hairstyle Tips for Men
Curly & Wavy Haircuts & Hairstyle Tips for Men
---