Pitti Uomo 91: Style Report
The 91st edition of Pitti Uomo concluded last week in Florence with 24,300 buyers from over 100 different countries represented and around 36,000 visitors in total. The 4-day fashion rendezvous has yet again cemented itself as the most important event in the world for menswear fashion, where trends are set for the next season and continues to provide a solid platform for designers, bloggers and influencers to gain traction in the fashion industry.
As always, Pitti Uomo more than lived up to expectations and despite some very chilly Florentine weather, the energy and sartorial standards amongst the Pitti men remained high, no doubt assisted by the disco backing track ('Stayin' Alive,' 'More than a Woman,' 'Born to be Alive' etc) which played on continuous loop in the main Piazza. It was a clever move from the organisers of Pitti Uomo, with the theme this year – Pitti Dance Off – providing many an opportunity for gratuitous dancing, posing and strutting.
Here are some of our key observations from the week to guide you as to what you might be donning next season:
A TALE OF TWO NECKLINES
It was really a tale of two necklines at Pitti Uomo this winter. Naturally, many men chose a traditional shirt and tie under their suiting, however it was the turtle neck sweater that was seen out in force all over the Fortezza – a key trend that continues from last Autumn/Winter. Pitti men worked in the turtle neck trend either in cable-knit or fine-gague knit, as a statement anchor piece in vivid colours or as a neutral wardrobe basic to complement more colourful combinations. With the benefit of being able to dress the turtleneck up or down, this is definitely a winter wardrobe essential, best worn beneath layers with the welcome effect of defining your jawline and drawing attention to the upper third of your body.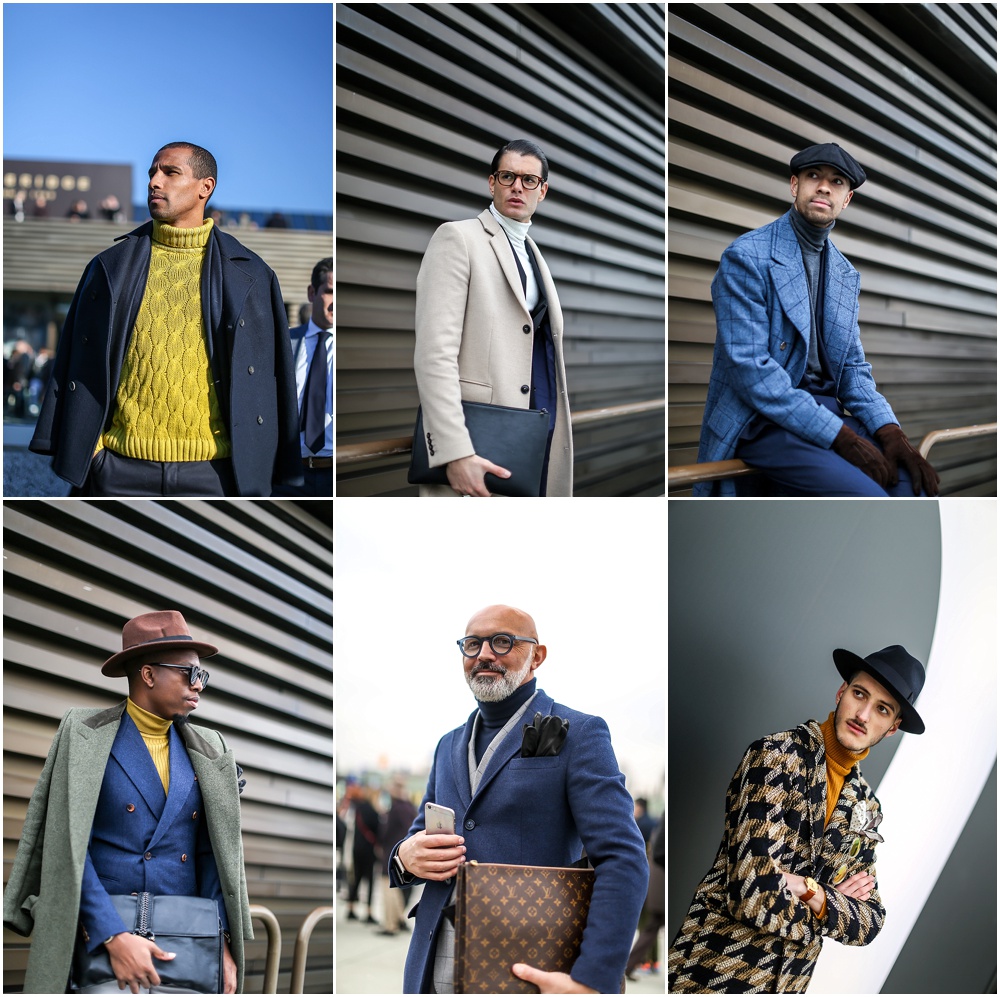 SCARVES FOR SOME SPREZZ
Yes, scarves are a mainstay of winter weather, but we're calling this out as a trend because rather than purely for function, men at Pitti Uomo wore long, draping scarves around their necks, very often foulards or jacquards in colours that accented their suiting and added visual interest to their outfits. Draping a fancy print scarf around your neck is a great way to accessorise and to soften sharp suiting.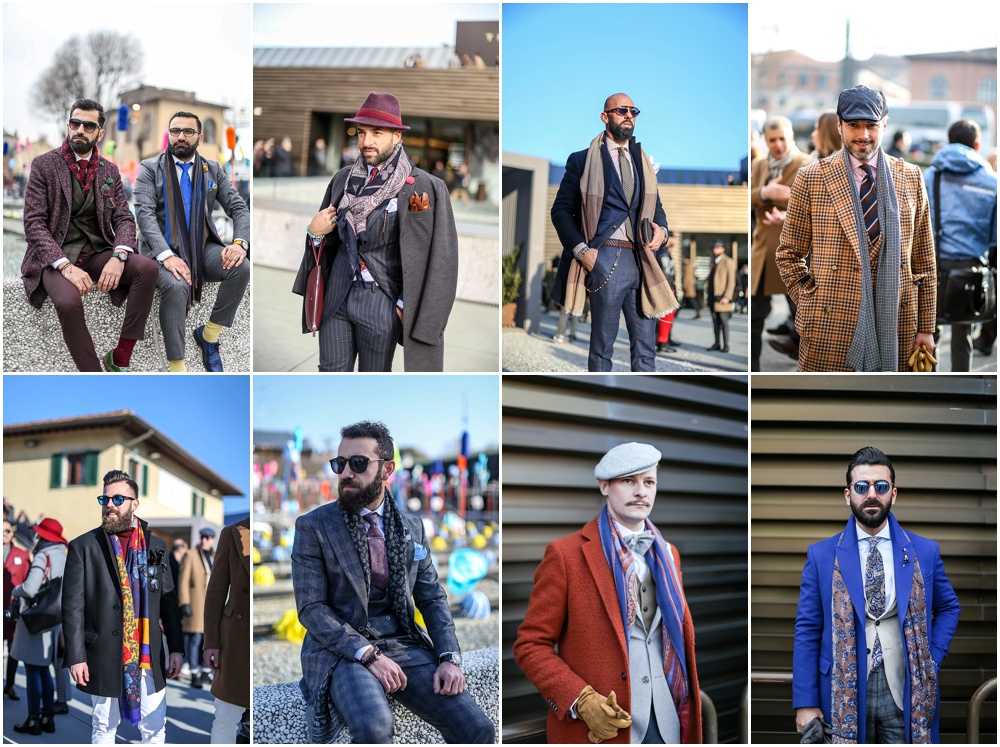 THREE PIECE LAY-UP
Whilst the temperatures may have taken a dive at Pitti Uomo, style certainly did not. It was reassuring to see so many men donning the classic and elegant three-piece suit albeit with a touch of sprezzatura, sometimes opting for either a complementary (rather than matching) vest or cardigan paired with the jacket and well accessorised. Winter is an opportune time to wear a three-piece suit, layering underneath a winter coat (draped over the shoulders if you wish) to capture that Italian nonchalant verve.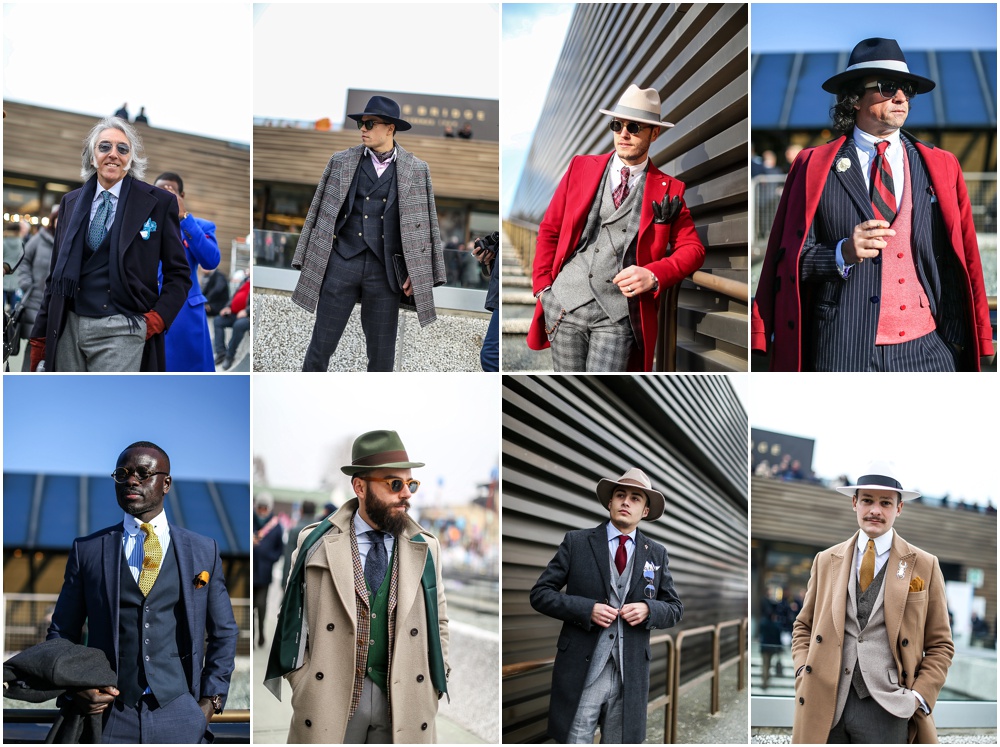 DRIVING IN SUITS WITH BOYS
They're the lothario of leather accessories and favoured by the most rakish gents at Pitti Uomo, keen to channel their inner Steve McQueen. And although the majority of attendees arrived on foot, it seemed that driving gloves were the accessory du jour at Pitti Uomo. Usually made from deer skin, the gloves were worn in a variety of colours from rich browns to bright red and white which really pushed the sartorial standards to the limit. When teamed with a tailored ensemble, driving gloves need not only be the preserve of the motoring enthusiast, but rather help to create a fashion forward look.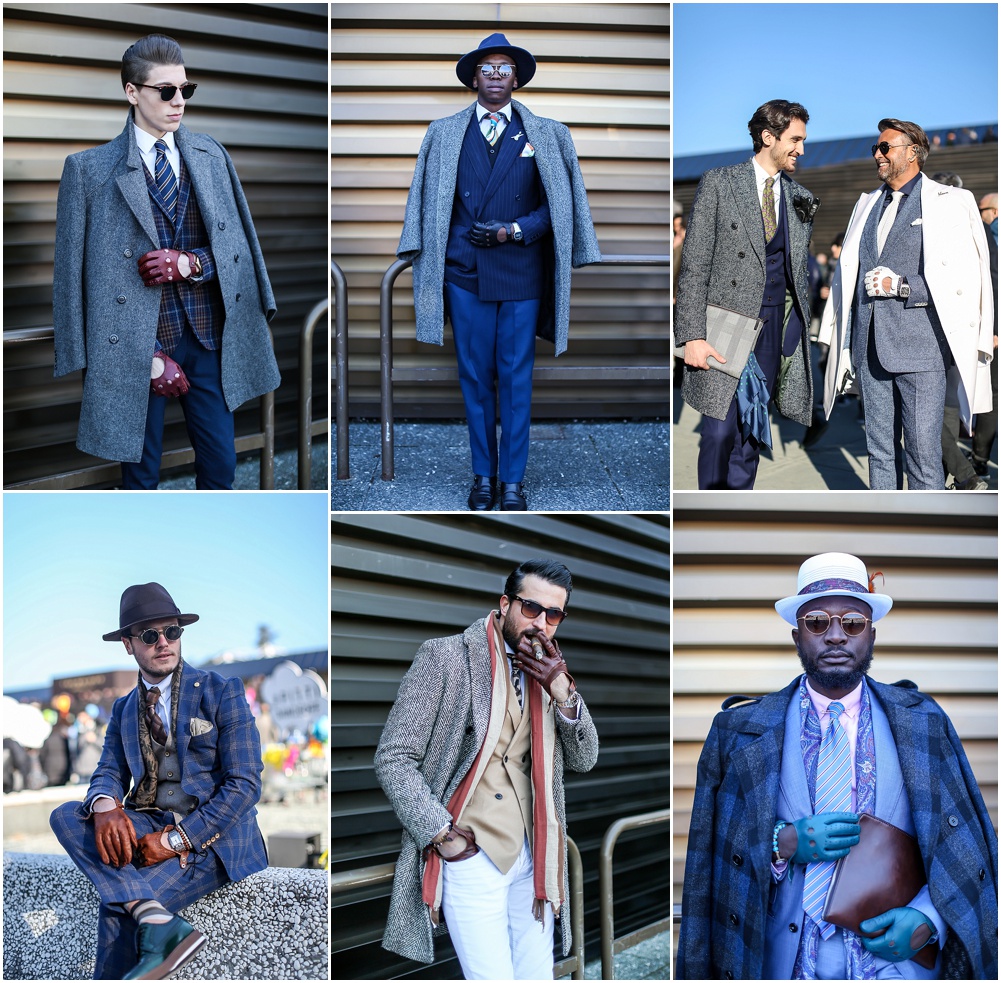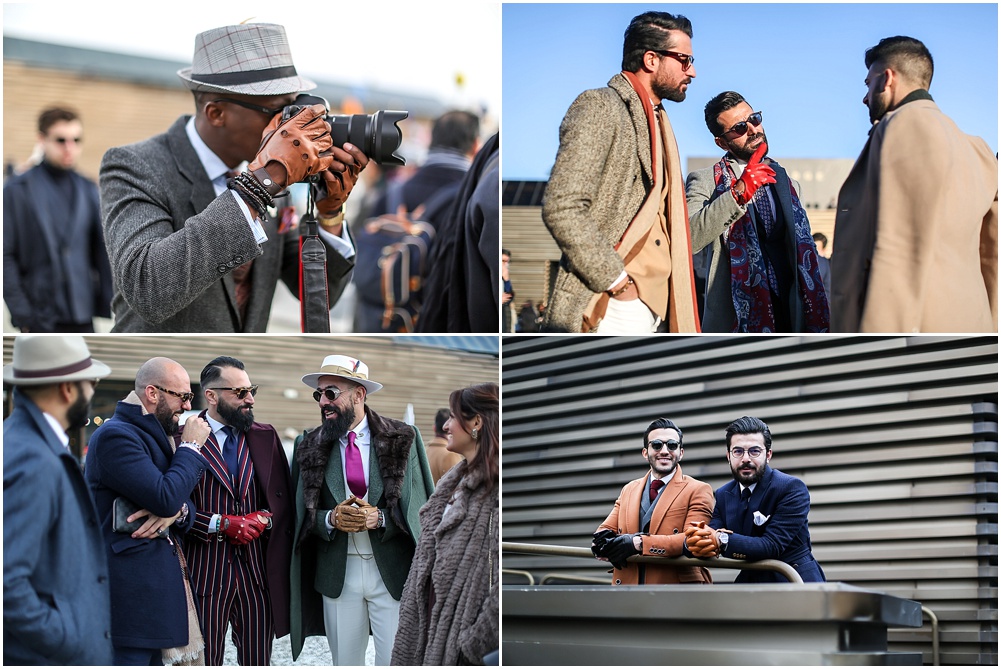 THROW SOME SHADE
Even in the winter light, the sun can prove rather glary, so sunglasses are still an essential accessory. However, unlike the summer edtion of Pitti Uomo where highly reflective, mirrored sunglasses in avant-guarde shapes and neon colours reign supreme, winter saw a return to darker shades and tints in the iconic shapes of wayfarers, aviators, round and horn rims.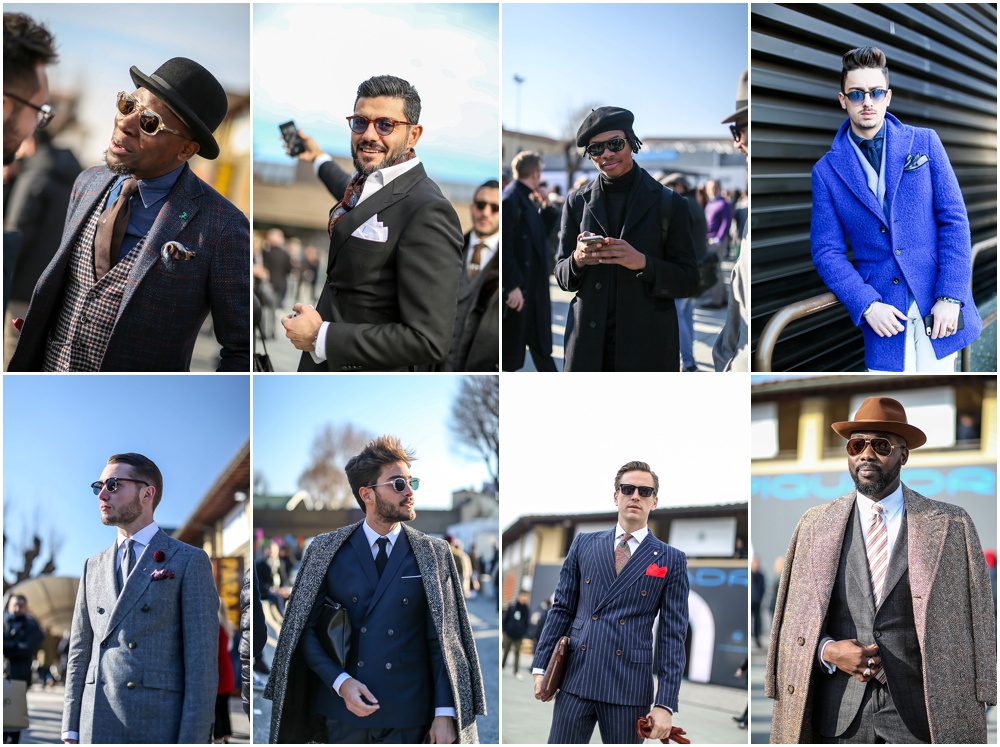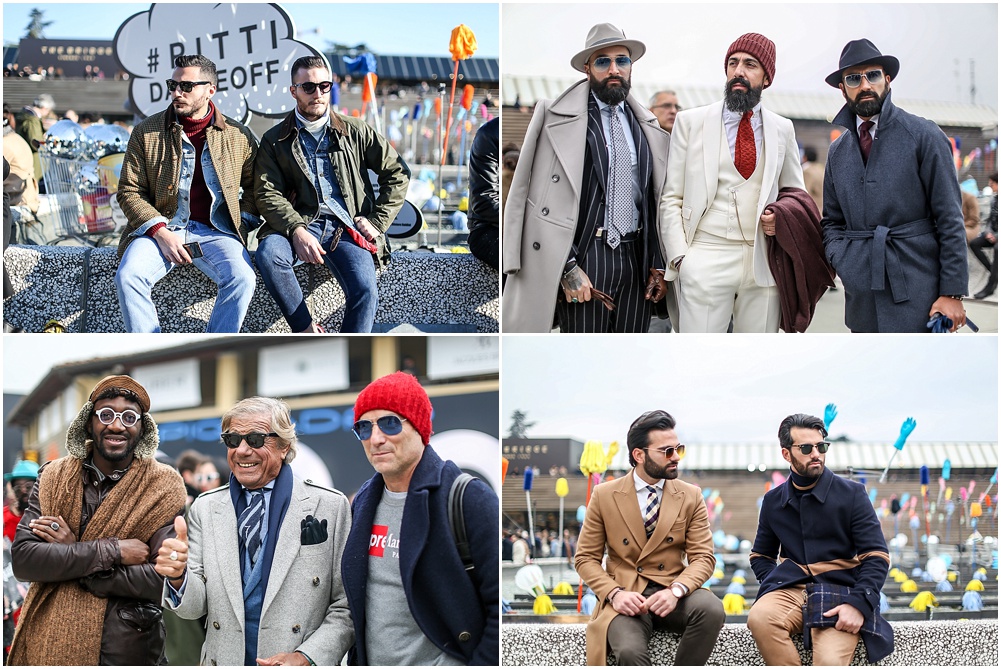 COOL CLIMATE, EASY ON THE TANNIN AND A SOFT FINISH
Undoubtedly, classic navy and camel always look refined and sophisticated but this year, a colour we could only describe as Merlot – a deep purplish red – seemed to be worn with great effect by many Pitti men in statement pieces such as coats, jackets and hats and then echoed elsewhere in their outfits in socks, gloves or other accessories. We love the warmth and richness that this colour brings to winter and is a shade that can be worn easily by all complexions.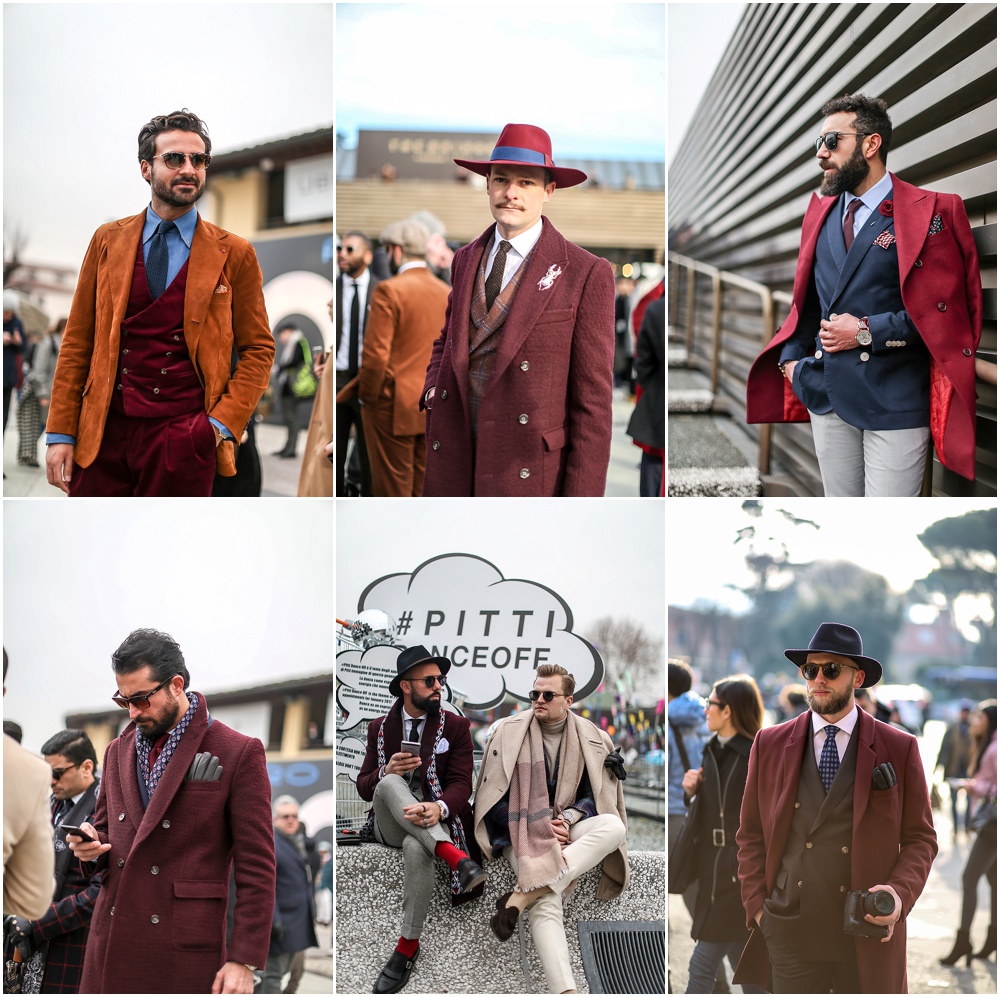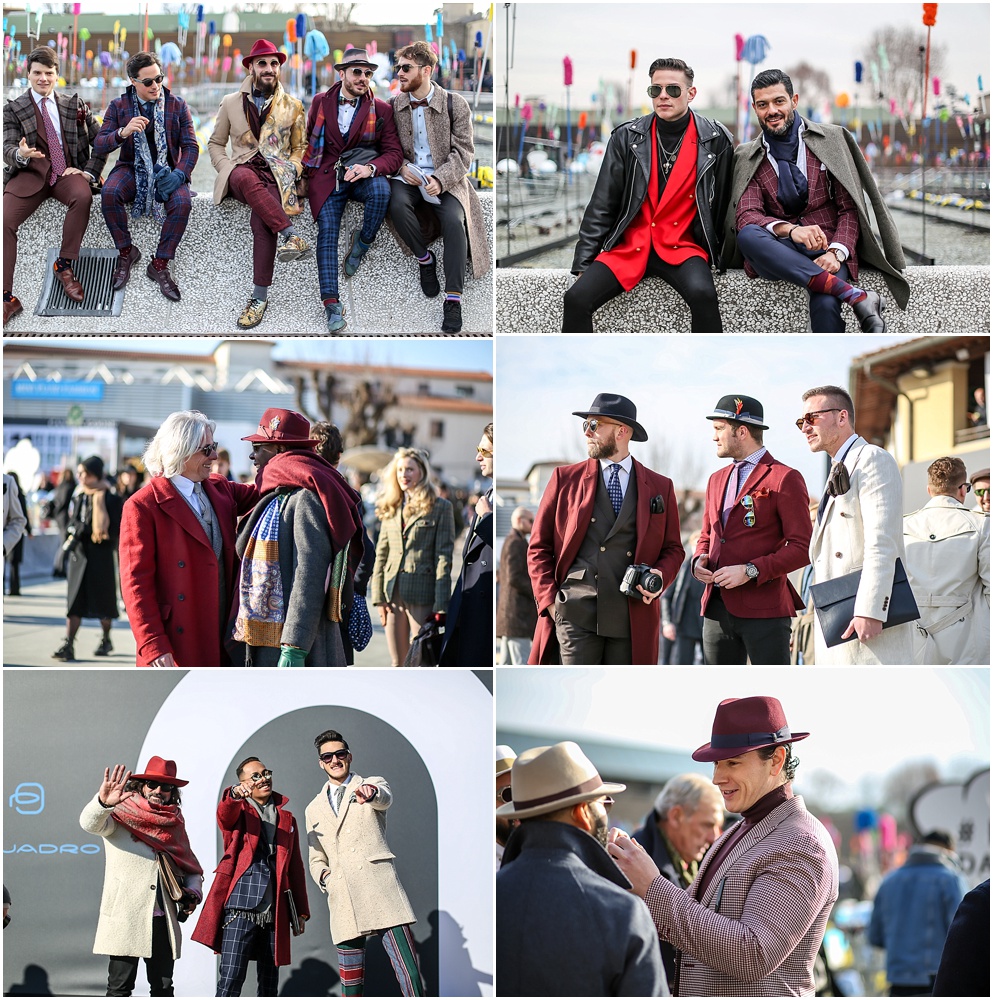 Whilst the Pitti Uomo fair might be over, the good news is there's only 6 months to go till the next edition. Part of what makes Pitti Uomo so special – apart from the sheer scale, size and diversity – is that no matter what is happening in the world outside the Fortezza da Basso, Pitti Uomo is always a hub of energy and optimism; a safe space for the most eccentric and avid fashion lovers to exchange ideas and bask in their tailored glory.