G-SHOCK is always finding new ways to incorporate cultural iconographies into its watches, and one of the brand's latest models is certainly no exception. Infusing a classic aesthetic with all sorts of modern vitality, the new GA700SK interweaves semi-transparent resin and metallic color to superb effect. At its base is the GA-700, a durable and dynamic stunner in its own right. Building upon that is a magnificent skeleton case, which calls upon a stylistic tradition going all the way back to the 1980s.
That said, don't call this watch a retro revival, the GA700 silhouette was introduced into the line in 2017, this iteration strikes a blatant contemporary accord.
One look at the GA700SK and you can already tell it's a special piece. Naturally, the clear case design has a lot to do with it. As you may or may not recall (depending on how old you are), transparent products first took off in the 1980s by way of things like clear landline phones and even transparent eyewear frames. Over the subsequent decades, various products would carry the torch. For example, the 1990s saw the release of the clear Gameboy and then in 2002, Phillipe Starke dropped jaws with its famous Ghost chair.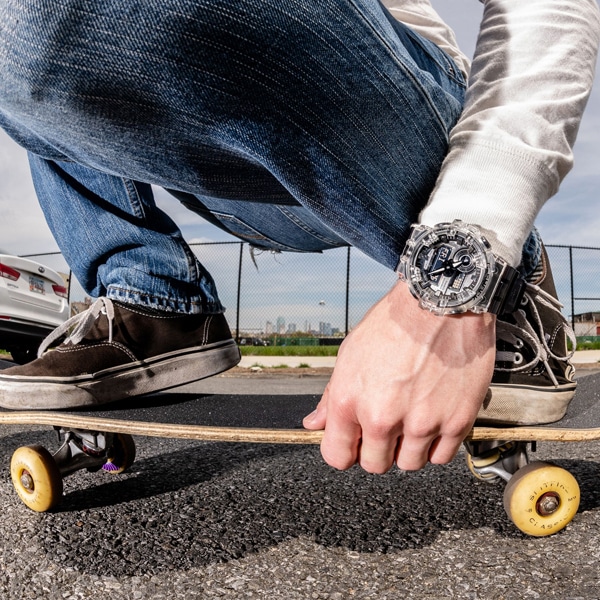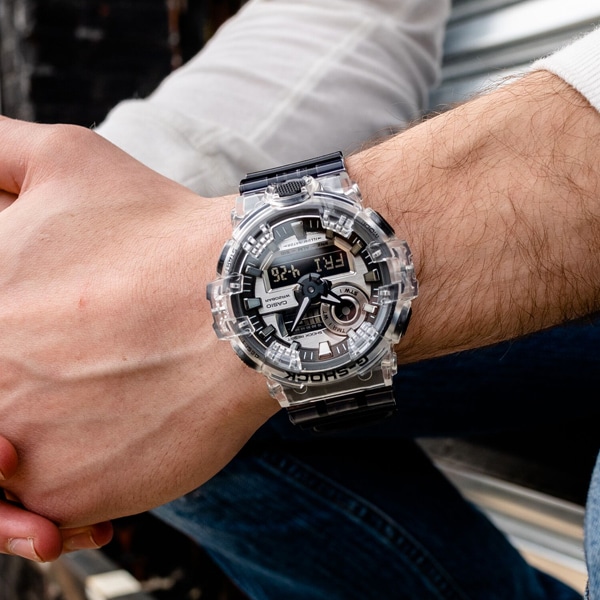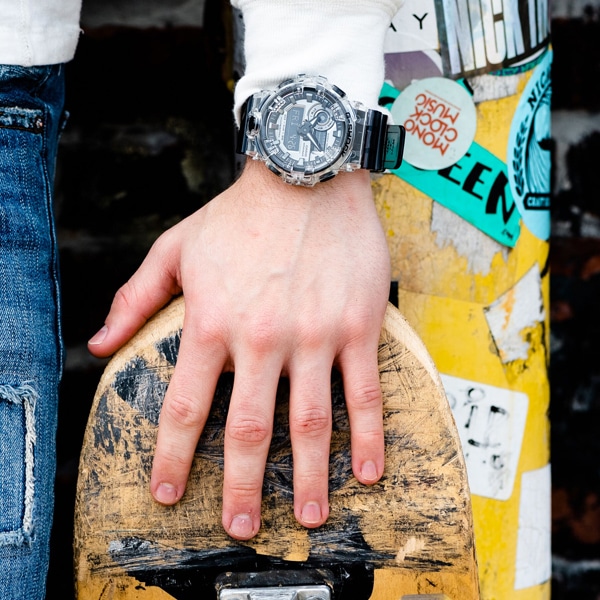 Suffice to say, the clear aesthetic continues to resonate across a swath of product spheres, including watches. That brings us back to the GA700SK and its robust blend of semi-transparent resin and two-tone coloring. Despite its nods to 1980s design traditions, this model serves up a resoundingly fresh and modern take on the concept. Well done, G-SHOCK.
Naturally, the new GA700SK is brimming with functionality. Perched under mineral glass and flanked by transparent resin is a legible display with Super illuminator LED light. Features include world time for 31 time zones, 1/100-second stopwatch with a slew of measuring modes, countdown timer, 5 daily alarms, hourly time signal, full-auto calendar, and seamless button operation.
Not only does the watch offer both digital and analog timekeeping, but the analog hands will shift out of the way to provide an unobstructed view of the digital display. Pair all that with extreme accuracy and approximate 5-year battery life and the GA700SK makes for a truly versatile resource, which isn't even to mention its retro-futuristic allure.
Of course, copious functionality is only half the picture. As a G-SHOCK, the new model is as durable as a modern watch can get. Equipped with mineral glass, a resin case and bezel, and resin band, the watch delivers shock resistance along with water resistance to 200m. Built to last and ready for adventure, it's a sturdy tool and fashion accessory rolled into one. Take it to the pub or to the wilderness or anywhere in between, all without losing a step of your stylish stride.
Oozing with wearability, the new G-SHOCK GA700SK bridges the past and present with considerable panache. Its transparent resin case calls upon decades of design tradition, yet never feels overtly retro. All the while, the watch delivers the kind of robust construction and dynamic utility that you've come to expect from the brand. Should you be seeking a quality G-SHOCK watch with a signature visual edge, the GA700SK is that and more.