History of the NATO Watch Strap
Nothing puts the "fun" in functionality quite like a NATO watch strap. Not only are these interchangeable nylon straps rugged, colourful, affordable and accessible, but versatile too, so much so that you can attach one to an expensive dress watch without compromising your style (though we don't recommend sporting a NATO strap to a stuffy or formal affair). It's therefore no wonder that you'll find NATO straps spread across an entire spectrum of timepieces, from the cheap to the expensive to everything in between. Meanwhile, NATO straps have an interesting, albeit relatively straightforward backstory. In fact, their roots can more or less be tied to a single military trend. Read on for today's history lesson.
You'll also like:
32 Top Luxury Watch Brands
Rolex 'Hulk' Submariner – A History & Review
40 Best Minimalist Watches for Men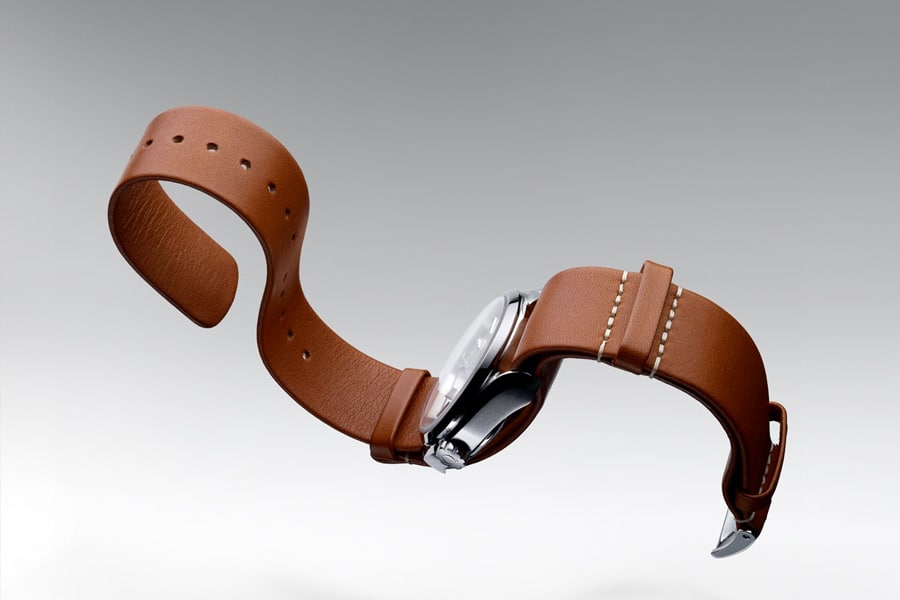 History of the NATO Watch Strap
One might see the word (or abbreviation) "NATO" and assume that NATO watch straps are somehow related to intergovernmental alliances. However, these trusty and dynamic straps have absolutely nothing to do with the North Atlantic Treaty Organization formed in 1949.
In reality, the straps date back to 1973 and the British Ministry of Defence Standard 66-15, aka DefStan. It was here in DefStan that a new wristwatch strap was made available to soldiers. In order to obtain a strap, each soldier was told to "fill out a G10", which was short for the G1098 form. As a result, the watch strap was initially known as the G10. As the trend took off, NATO strap became the common name, making reference to NATO stocking numbers.
Also worth noting is James Bond's association with the NATO watch strap, whereas the iconic spy (played by Sean Connery) appears to have one affixed to his Rolex Submariner in 1964's Goldfinger. That would lead the astute readers out there to ask themselves: if the NATO watch strap came to be in 1973, then how was James Bond wearing one in 1964? The answer is he wasn't. Specifically, Bond's strap employed one-piece construction and a narrower width than the G10. Nevertheless, that hasn't stopped enthusiasts from referring to the spy's iconic striped nylon strap as the "Bond NATO".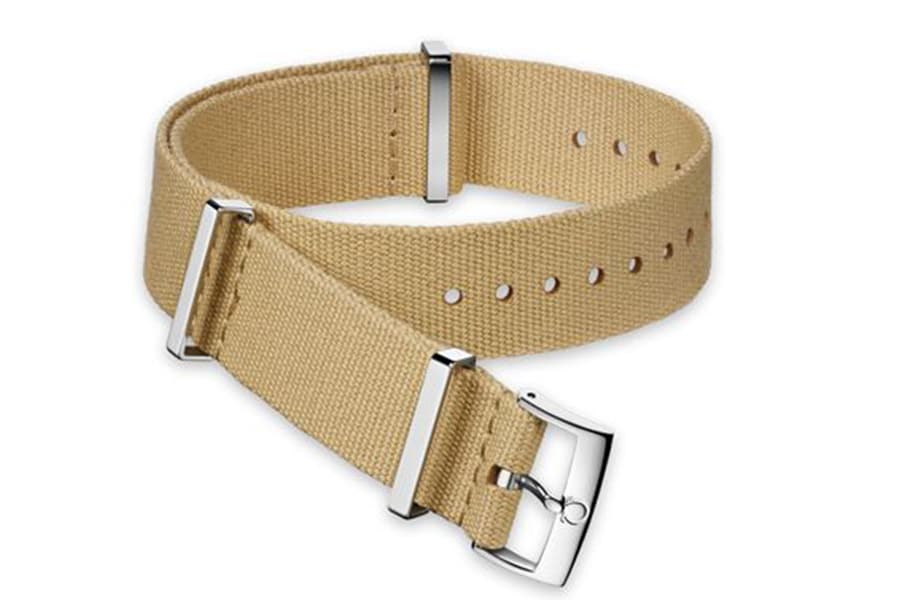 Features of the NATO Watch Strap
While NATO watch straps are synonymous with a variety of colours and patterns nowadays, the earliest versions were available in just one colour of "Admiralty Grey". However, what the G10 strap lacked in colour, it made up for in ruggedness. More to the point, the straps employed steadfast nylon construction, thereby holding their own in the face of extreme weather conditions such as harsh wind or rain.
In addition to nylon construction, original G10 straps included a width of 20mm and a chrome-plated brass buckle with an extra piece of nylon attached to it. That extra nylon had a keeper at the tip, through which the main strap passed after completing one lap around the wrist. This amounted to a much tighter fit, and kept the watch case stable no matter how extreme the activity.
In the time since those early days, the NATO watch strap has seen only minor modifications, namely a reduction in width down to 18mm, and the use of stainless steel on the buckle and keeper. Plus, the aesthetic has expanded, now incorporating more colours and patterns. Meanwhile, the original G10's interchangeability and resilience remains firmly intact.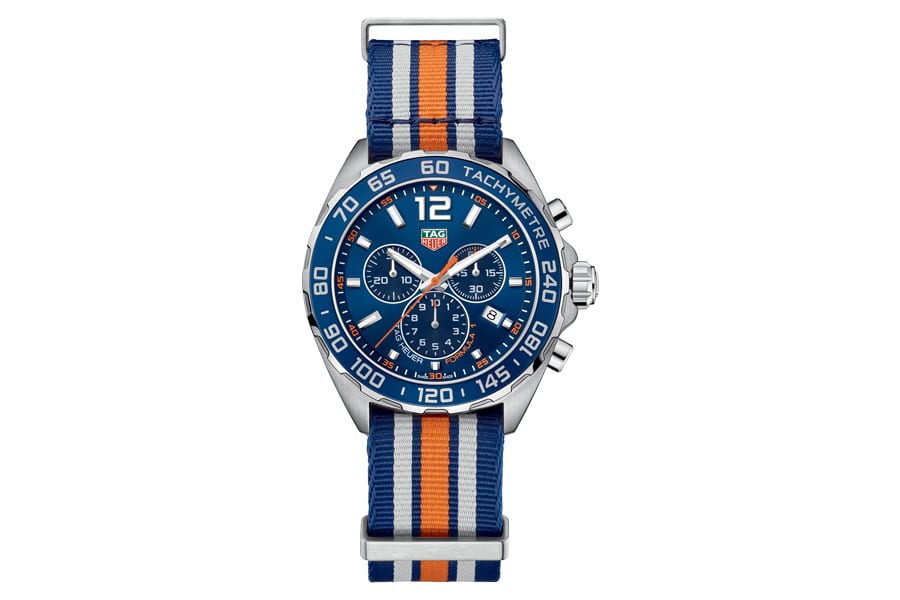 Where to Find NATO Watch Straps
Given their affordability, durability and popularity, modern day NATO straps are fairly easy to come by. Here are a few of our favourites.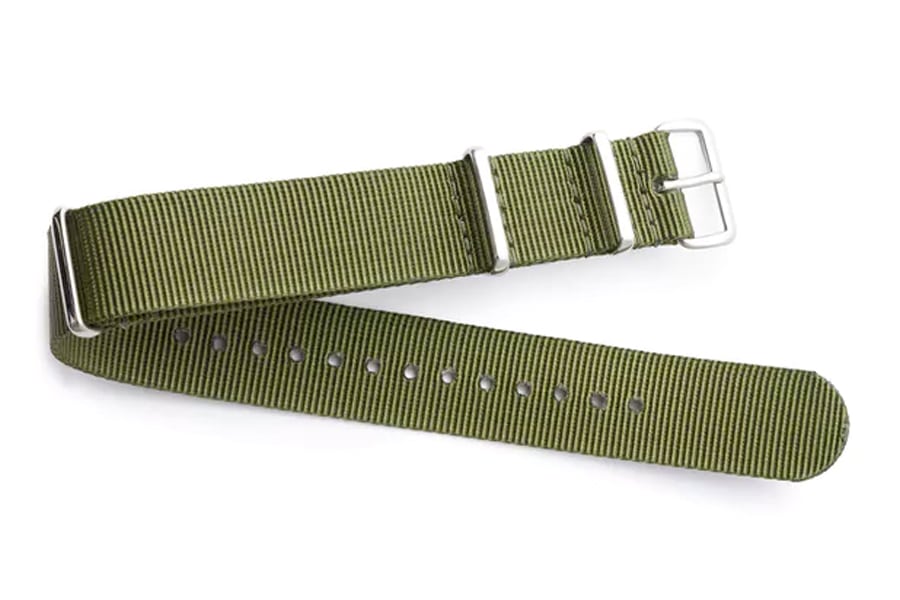 Crown & Buckle Nato Watch Straps
Made from sturdy ballistic nylon, every Crown & Buckle NATO Strap additionally features stainless steel hardware and a thread-through design for easy swap outs.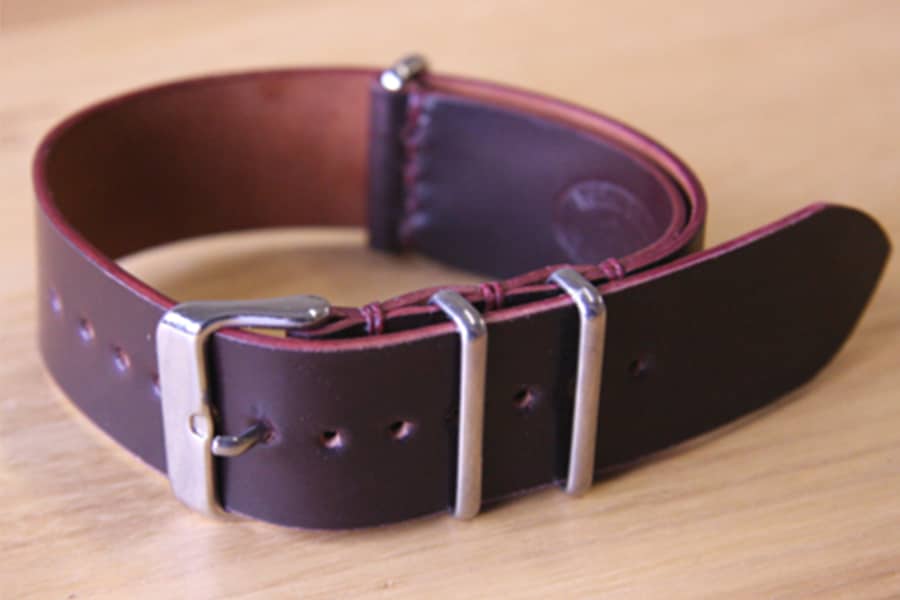 Daniel Lane Design Leather Nato Straps
Daniel Lane delivers their one-piece hand-stitched leather NATO straps in a variety of sizes and colours. Also featured are polished stainless steel pin buckles and loops.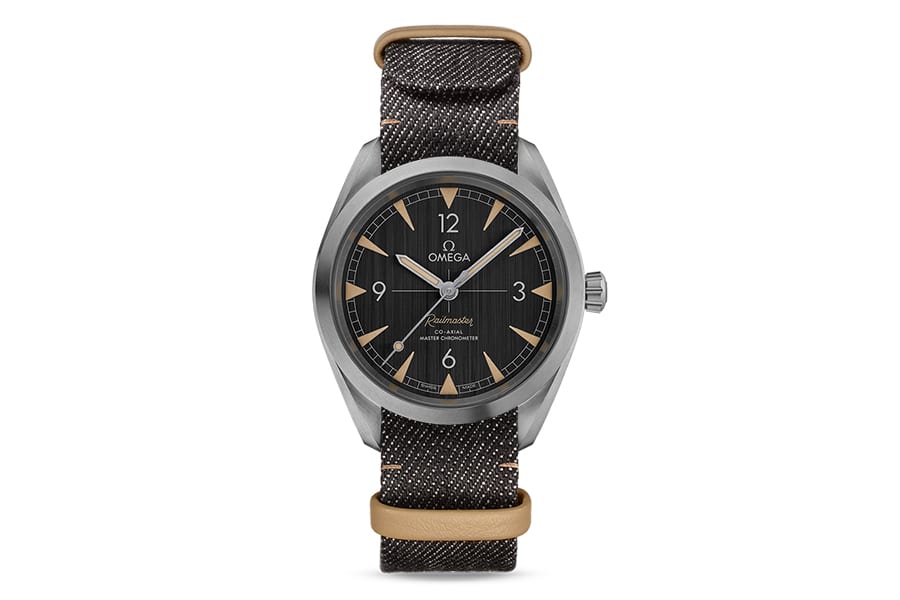 Omega Nato Watch Straps
Offering steadfast Polyamide construction and a striking array of patterns and colours, Omega puts the power squarely in your hands, and on your wrist.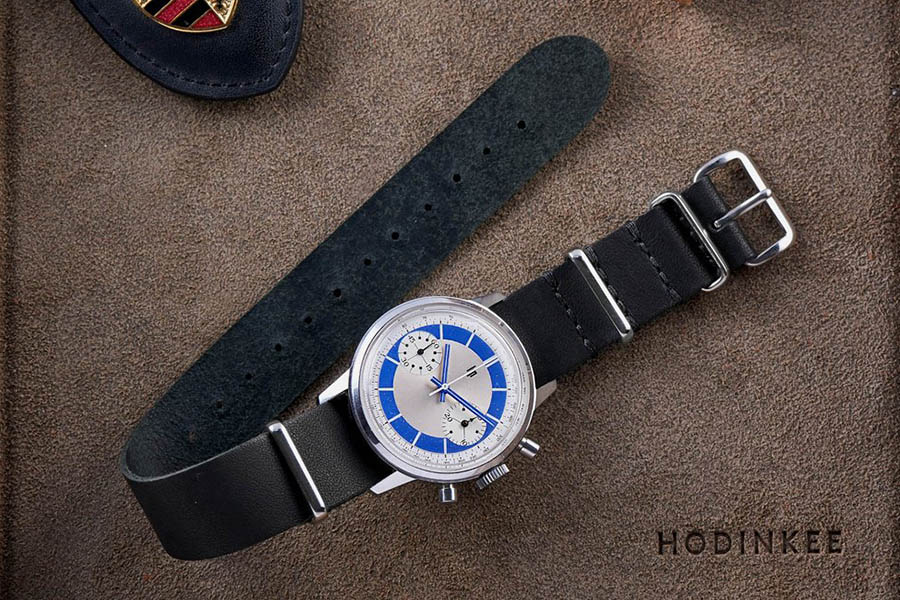 Hodinkee Kangaroo Leather NATO Strap
An accessory after our very own hearts, Hodinkee's NATO strap employs prime Kangaroo leather. As a result, each strap is thin, strong, comfortable, stylish and spectacular.
You'll also like:
32 Top Luxury Watch Brands
Rolex 'Hulk' Submariner – A History & Review
40 Best Minimalist Watches for Men