The Wind Up – Watch News #64
The Winter blues are well and truly upon us, and as we all battle the wind and the cold in the seek for warmth and comfort, you'd be forgiven in thinking that we here at Man of Many have gone into hibernation. It's a miracle we haven't, and for good reason: our regular series focusing on everything watch related The Wind Up! In this instalment, we have some very cool pieces from the likes of Bell & Ross and Raymond Weil, as well as a very avant-garde piece from a brand you might not have heard of before today. So as always gents, sit back, relax and enjoy!
You'll also like:
The Wind Up – Watch News #63

Carl F. Bucherer Manero Flyback
The Manero Flyback is, in my opinion, one of the most delightful and most overlooked timepieces available today. It's a lovely combination of beautiful aesthetics and sound mechanics in a package that, from a monetary point of view, is very hard to beat. We have the traditional look of a panda-dial chronograph layout, and with the touches of red on the dial, coupled with that brown strap, there's every reason to fork out its 5,900CHF. The exposed mushroom pushers look great, as do the twisted lugs and slim bezel, however, I feel as though the crown is slightly oversized and looks a bit odd. The Manero Flyback has some kinks, however on a whole, this is a watch that is highly appealing to me personally, and it's one that I can definitely see wearing.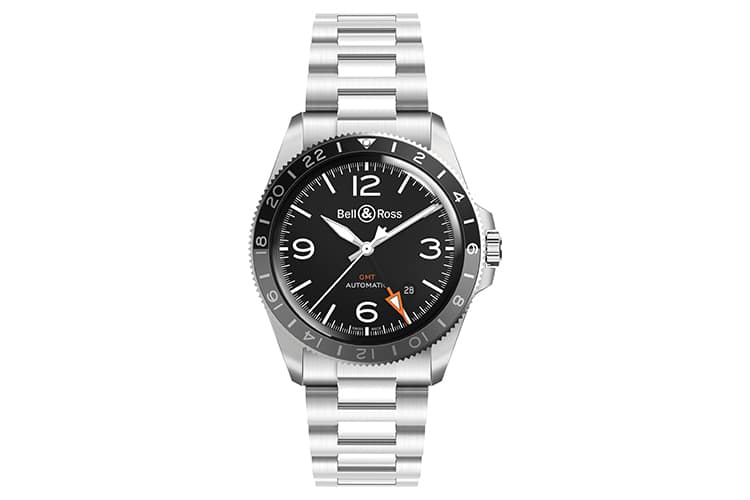 Bell & Ross BRV2-93
I'm a huge fan of Bell & Ross' BRV2-93, no doubt about it. There's a certain feeling when you know something works, and you definitely know when something is slightly askew. The BRV2-93 is definitely on, one-hundred percent. There is the perfect mesh of vintage cool with modern functionality and this harmonious relationship between old and new works advantageously to the BRV2-93's appeal and desire. The orange-tipped GMT hand and the orange GMT inscription breaks up a very monochromatic colour palette. This contrast is further accentuated by the lume-filled hour numerals, outer second track and hands. There is a certain utilitarian look to the BRV2-93, and this is probably with thanks to the durable stainless-steel case. The thin bezel is riveted, ensuring ease of use, and actually adds a third timezone to the BRV2-93. Overall, the piece is really an ode to doing things well and doing things simply. The watch works on so many levels, and I am seriously considering pulling the proverbial trigger on it.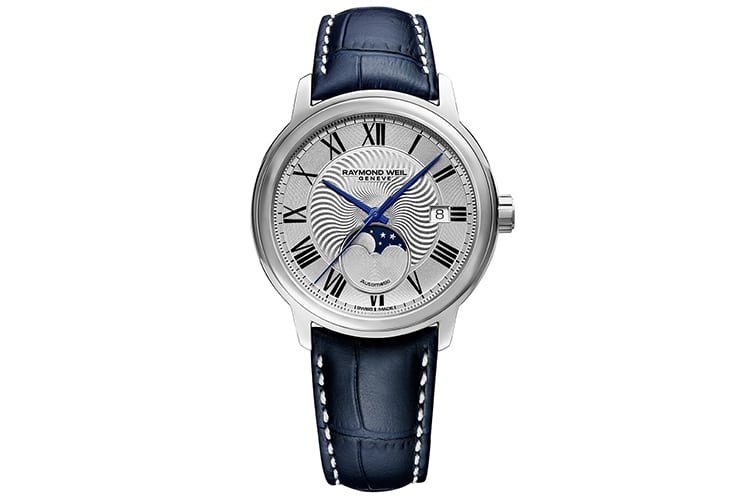 Raymond Weil Maestro Moon Phase
Raymond Weil is synonymous with affordable, quality watchmaking. The Geneva-based watchmakers have released a stunning piece that incorporates the romanticism of a moonphase complication with the beauty of a spiralled dial motif. The result? A truly spectacular timepiece that won't burn a hole in your pocket. This is an aesthetically-based timepiece, no doubt about it. There is a lovely harmony between the Roman hour numerals, the blued steel hands, the cleanliness of the case and the mesmerising motif, and with the added moonphase at 6 o'clock, you get a visual exhibition that is difficult to find, even in watches costing tens of thousands of dollars. The blend of visceral intrigue and sound mechanics results in a package that looks far more expensive than what it actually costs. The mesh of blues, blacks and silvers further add to the Maestro Moon Phase's charm, and on a whole, this is a watch that is obviously the result of some well thought out designs. Very impressive stuff.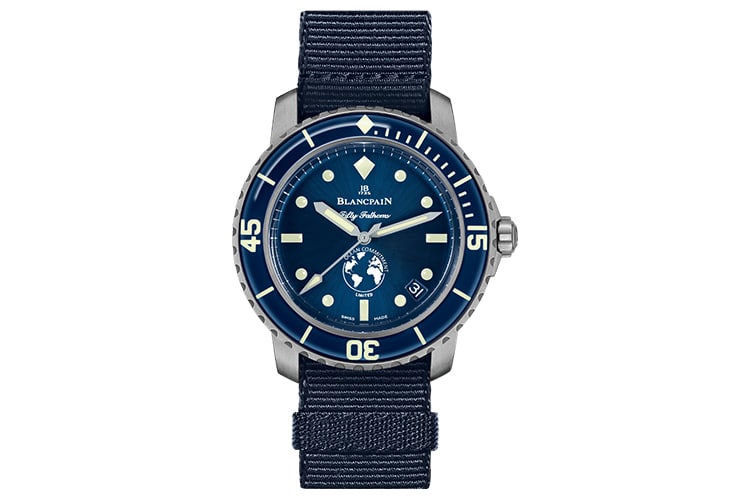 Blancpain Ocean Commitment III
For the third time in the past four years, Blancpain has released a limited-edition timepiece to celebrate the efforts of their Ocean Commitment program. Blancpain has announced a very commendable initiative with the Ocean Commitment III release, too. They stated that for every Ocean Commitment III sold, they will donate €1,000 to the Ocean Commitment program, which will amount to a whopping €250,000 donation sum. This really is an incredible initiative, and it's one that should be recognised and applauded within the watch community. From a horological standpoint, the Ocean Commitment III is an amazing timepiece. The dial is very reminiscent of the deep blue ocean it was built to support. The yellowed luminescent filling that adorns the hour indices, the hands and the bezel numerals will definitely age gracefully and carry with it some beautiful patina. The case has been engineered wonderfully well, and the movement features a black 18k gold hemisphere-rotor that fits the overall look of the Ocean Commitment III. This is a very exciting watch that carries with it some very admirable attributes.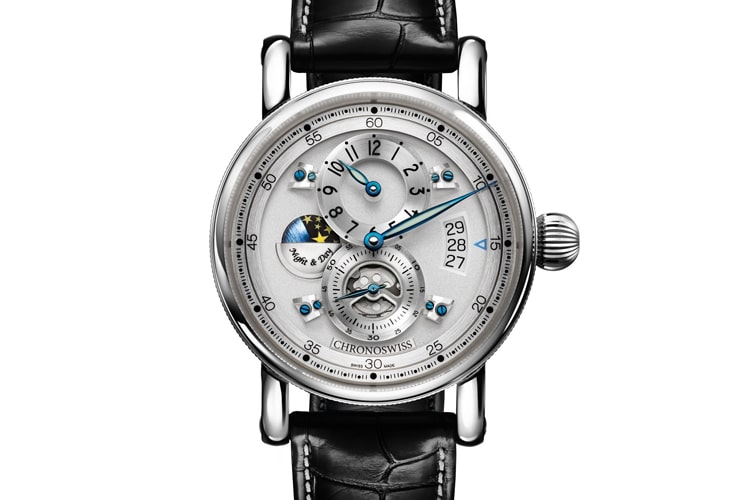 Chronoswiss Flying Regulator Night and Day
Chronoswiss is a brand that probably needs some introduction. Founded 35-years ago, Chronoswiss is a watchmaking manufacturer with a penchant for creating watches with unique designs. Their individualistic approach to watchmaking has meant that their popularity isn't exactly as widespread as some other Swiss-based watchmaking brands, but the pieces they produce are still of amazing quality, nonetheless. The Flying Regulator Night and Day is a celebration not only of Chronoswiss' 35th birthday but also the 30th birthday of their acclaimed Regulator model. From a distance, you'd be forgiven to think that the Flying Regulator Night and Day's dial is messy, albeit ineligible. There's a lot going on. But bring it closer, and you'll see a very systematic spread of functions that quickly become very identifiable. In the centre midline of the watch, you have the passing hours, minutes and seconds. At 3 o'clock you have the date, indicated by an arrow printed on the dial. And at 9 o'clock you have the night and day indicator. The onion-shaped crown is very typical of Chronoswiss, as is the avant-garde case shape and rounded wire lugs. Pricing ranges between 6,590CHF to 15,700CHF, depending on your chosen configuration. Certainly not a watch for everyone, but I can definitely see its appeal.
If you enjoyed The Wind Up and would like to continue reading about watches, you can head on over to my blog, Haulogerie, where I delve a bit deeper into the wonderful world of watches.
View this post on Instagram
Have you subscribed to Man of Many? You can also follow us on Facebook, Twitter, Instagram, and YouTube.
---
You'll also like:
The Wind Up – Watch News #63
The Wind Up – Watch News #62
The Wind Up – Watch News #61
---