11 Superb Lifestyle Blogs in Australia for a Busy Weekend
You're finally off work and now burdened with the task of how to spend your weekend. Decisions, decisions! Well, since we here at Man of Many are right there with all you weekend warriors, we've decided to save you some trouble by listing out the Best Lifestyle Blogs in Australia. Use them wisely, but for goodness sake don't spend the whole weekend reading blogs because Monday will creep around right before you know it!
---
You'll also like:
12 Best Sneaker Blogs
21 Best Watch Blogs
Top 20 Australian Men's Fashion Blogs
---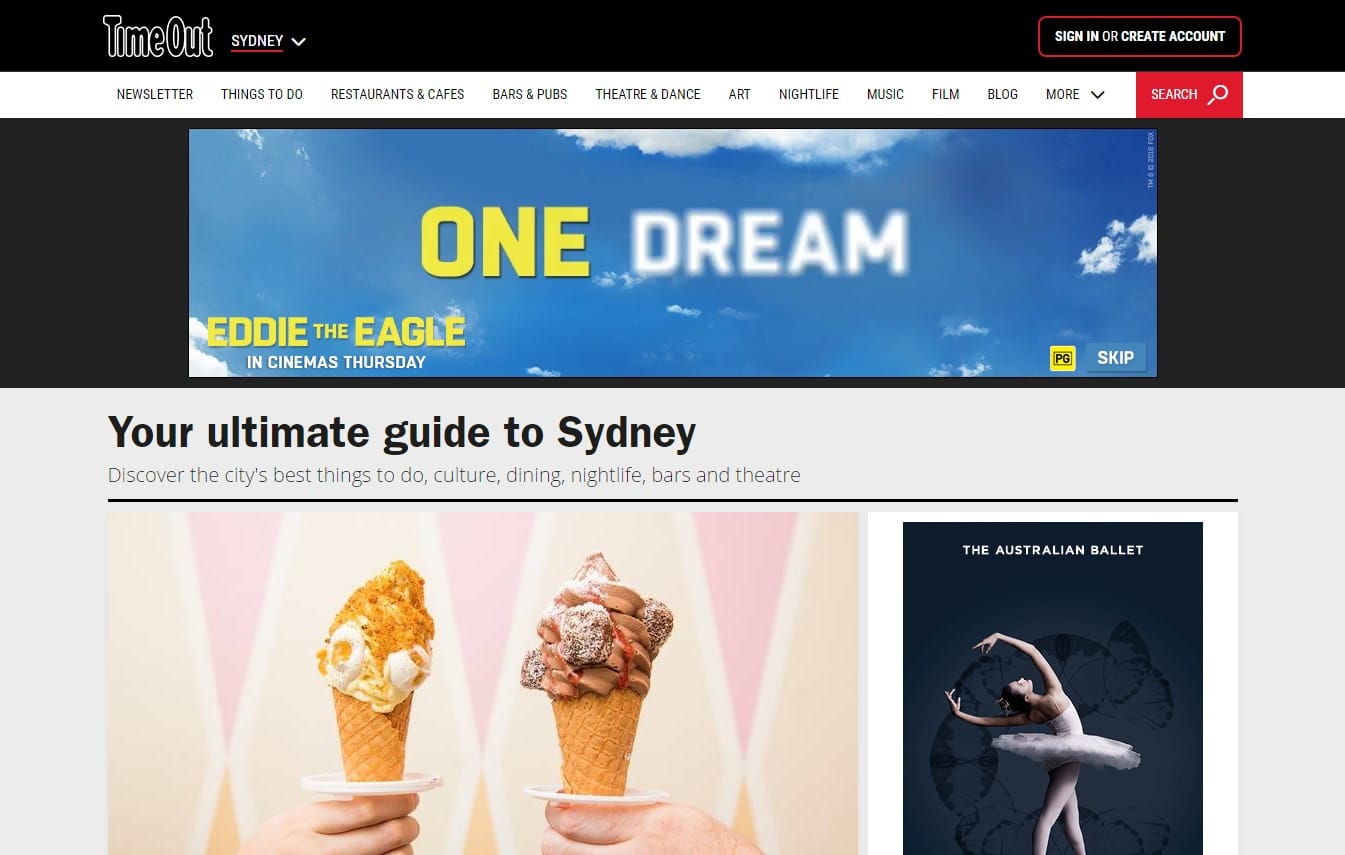 Time Out
If you're like most men, you have a few key goals in mind as soon as that proverbial work-bell rings and the shackles are released: where to meet women (or men) and where to get your drinking and eating on. Time Out is way ahead of you, and it's made a name for itself on the world stage as a resource for the best in local activities. Think of it as the New York Times of lifestyle. The Australia edition is no exception and odds are if it's worth doing in Australia then Time Out has covered it. Their staff is tirelessly dedicated to bringing readers the best in everything from food and drink to movies to nearby travel destinations. Additionally, Time Out enables you to book hotel rooms and make restaurant reservations through their site, as if they couldn't get more convenient than they already were.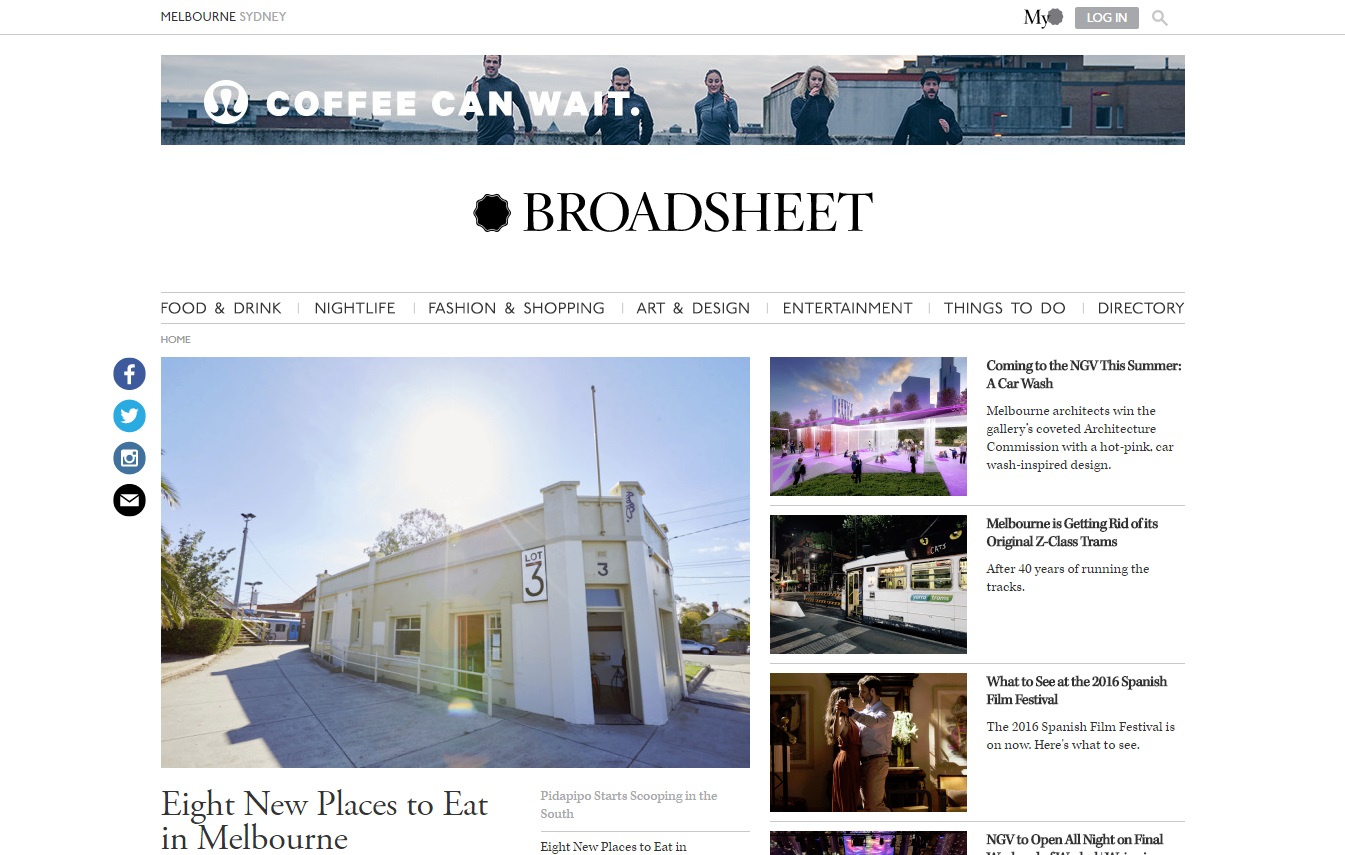 Broadsheet
This comprehensive lifestyle blog operates out of Melbourne and Sydney and utilizes a thorough, albeit playful reporting style to bring you the latest in lifestyle and pop culture trends. Broadsheet is the kind of lifestyle blog one visits in order to find the activities they didn't even know existed in the first place. In addition to providing coverage of everything noteworthy in food, fashion and pop culture, the site also excels at the customized experience by allowing users to create their own MyBroadsheet accounts. That means you can not only use Broadsheet as a platform to explore the best in nightlife and fashion but also as a space to keep track of your own favourite destinations or your wish list of activities.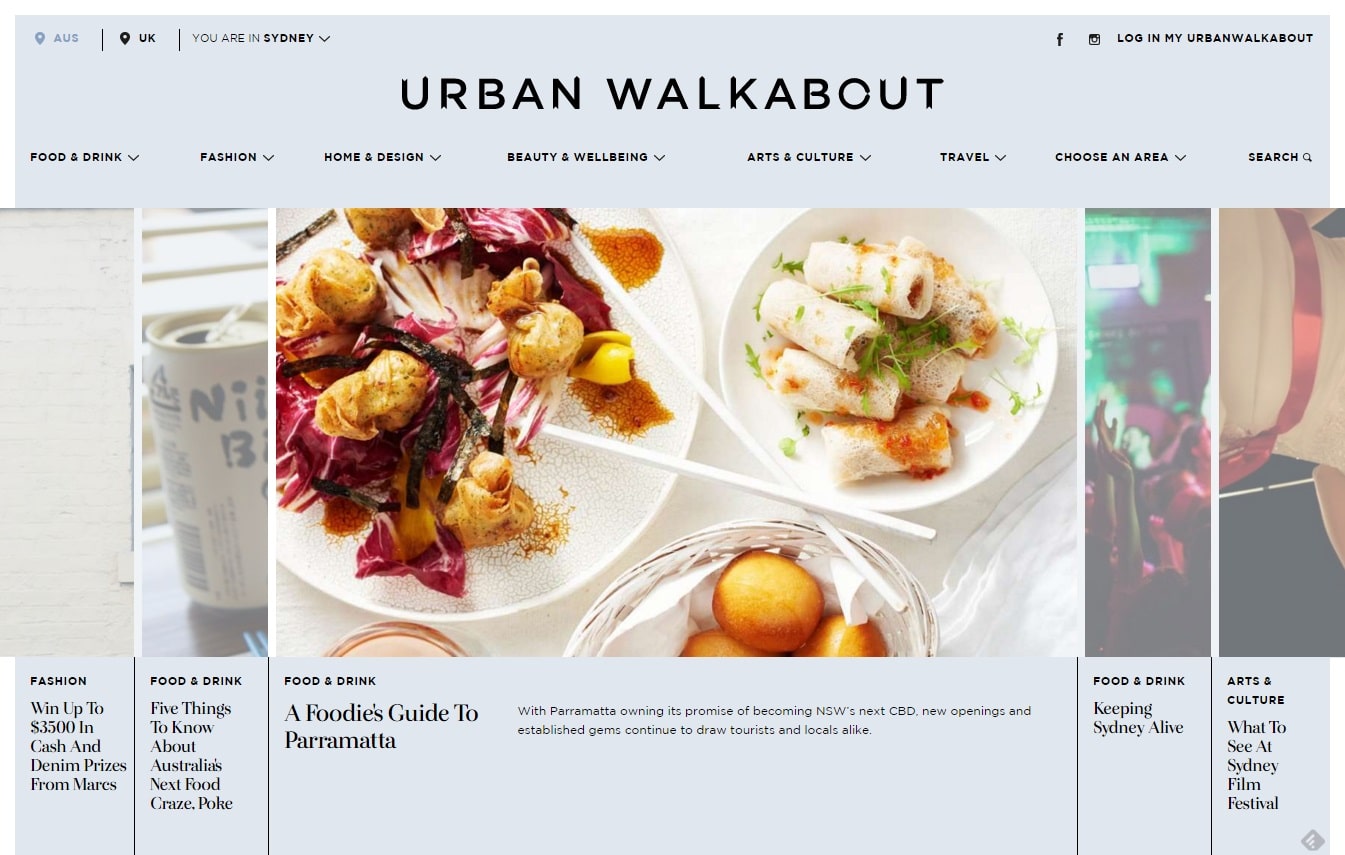 Urban Walkabout
Urban Walkabout is the kind of site we utilize when we've landed smack in the middle of a new area and don't know what to do first. Founded by Victoria Moxey, who had the goal of profiling the best of independent business in any given city, the lifestyle blog has grown tremendously to become a credible resource for people looking to get the best of whatever city they might find themselves in. Urban Walkabout prides itself on exhibiting true local flavor as opposed to the routine tourist traps.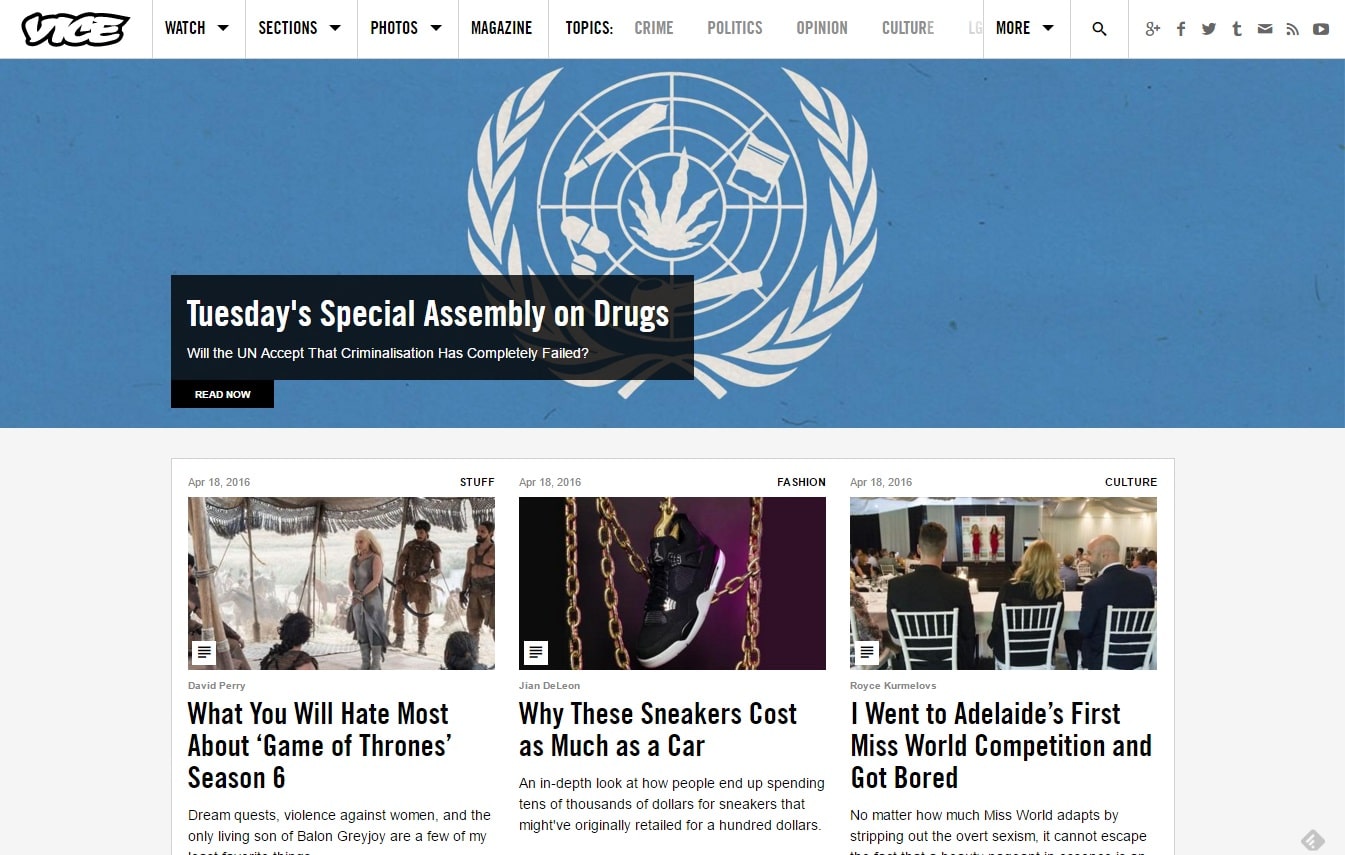 Vice
Vice has been making plenty of waves in the past few years and with good reason. The publication represents first and foremost a return to "real news", with reporters who keep their ears to the streets to bring us international stories that the other outlets have been paid not to cover. Vice is also committed to embracing people from all walks of life so as to heighten a vital sense of cultural awareness. As far as lifestyle blogs go, Vice of course appeals to the adventurous types, those who want to step outside their comfort zones by indulging in the experiences of other cultures and ethnicities. By emphasizing experiences that are truly new and exciting, Vice is perhaps the best resource for the man who's tired of playing it safe or predictable. After all, one adventure usually leads to another.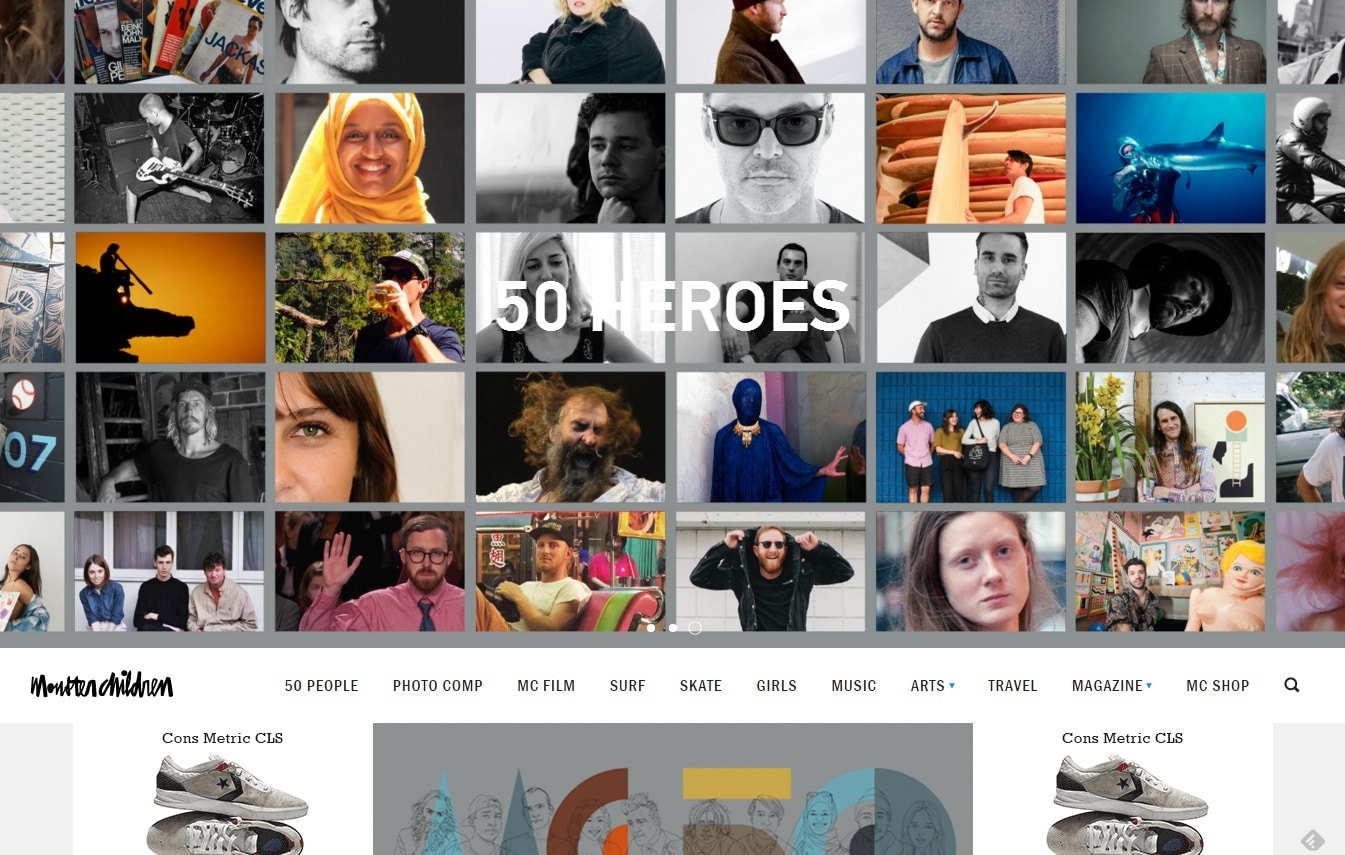 Monster Children
If scientists could tap directly into the mind of a twenty-something Australian male, and then convert that data into a website, Monster Children might very well be the result. Don't be fooled by the name. This is the kind of site that takes a no-nonsense approach to all the nonsense that we young men love so much. Smoke, drink, pop culture, hilarious news bytes, girls, surf, skate, travel, fashion, etc. etc. The lifestyle blog is a wealth of stimuli, almost to the point where you want to stay in and play around on the computer instead of going out at all. Of course, should you choose to get up off your ass and say find the best surf spots or go hear some great music, Monster Children has your back.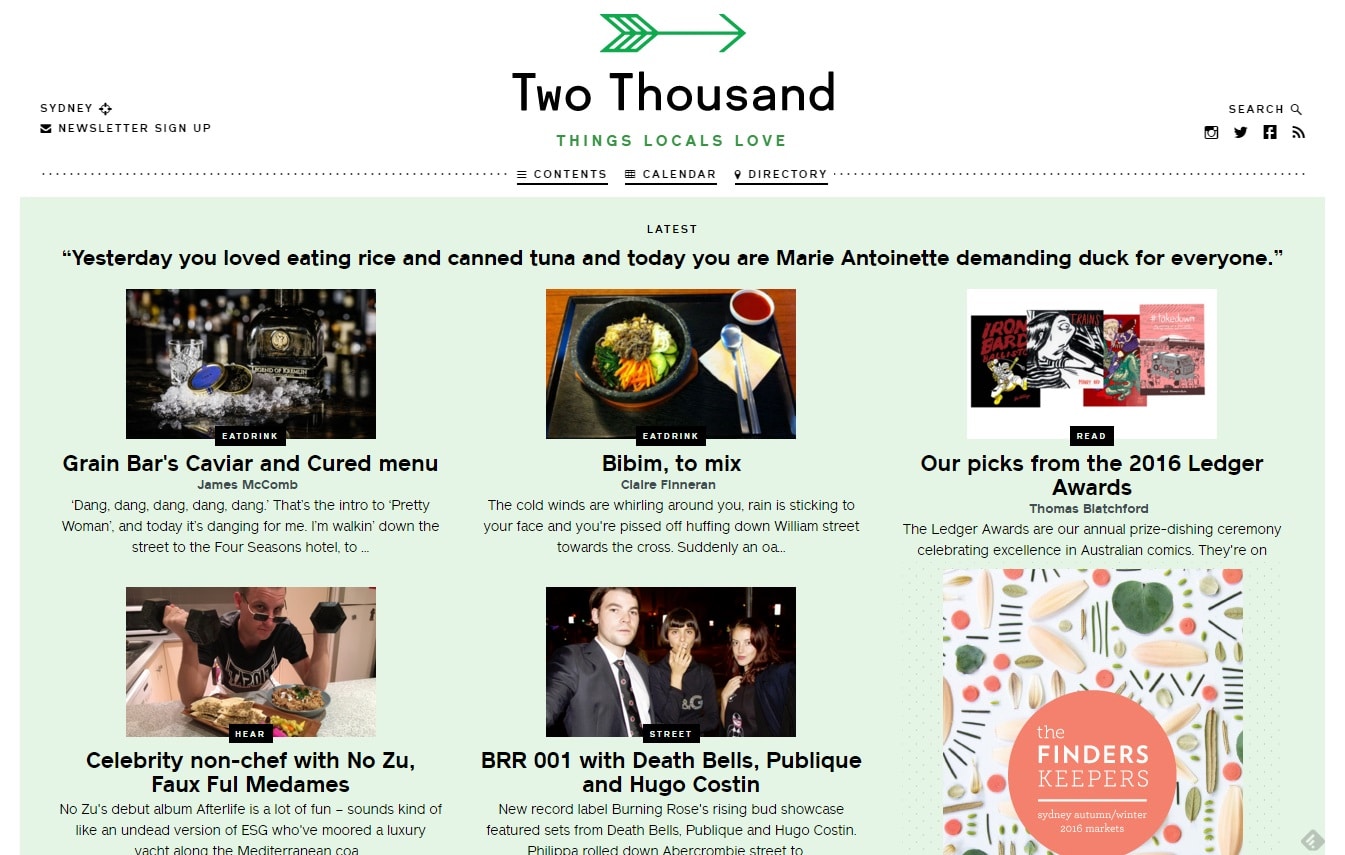 The Thousands
The Thousands is a lifestyle blog that offers the distinct approach of being for the people, by the people. As such, the articles have a very personal feel and retain the essence of blogging in the approachable, whimsical sense of the word. And although one of their claims to fame is an interview gone awry with infamous author Bret Easton Ellis, The Thousands has cemented its status as a veritable resource for all things worth doing through a curated selection of the best in local activities. Think of The Thousands as your personal one-stop resource for random adventures or the occasionally odd news byte.
The Thousands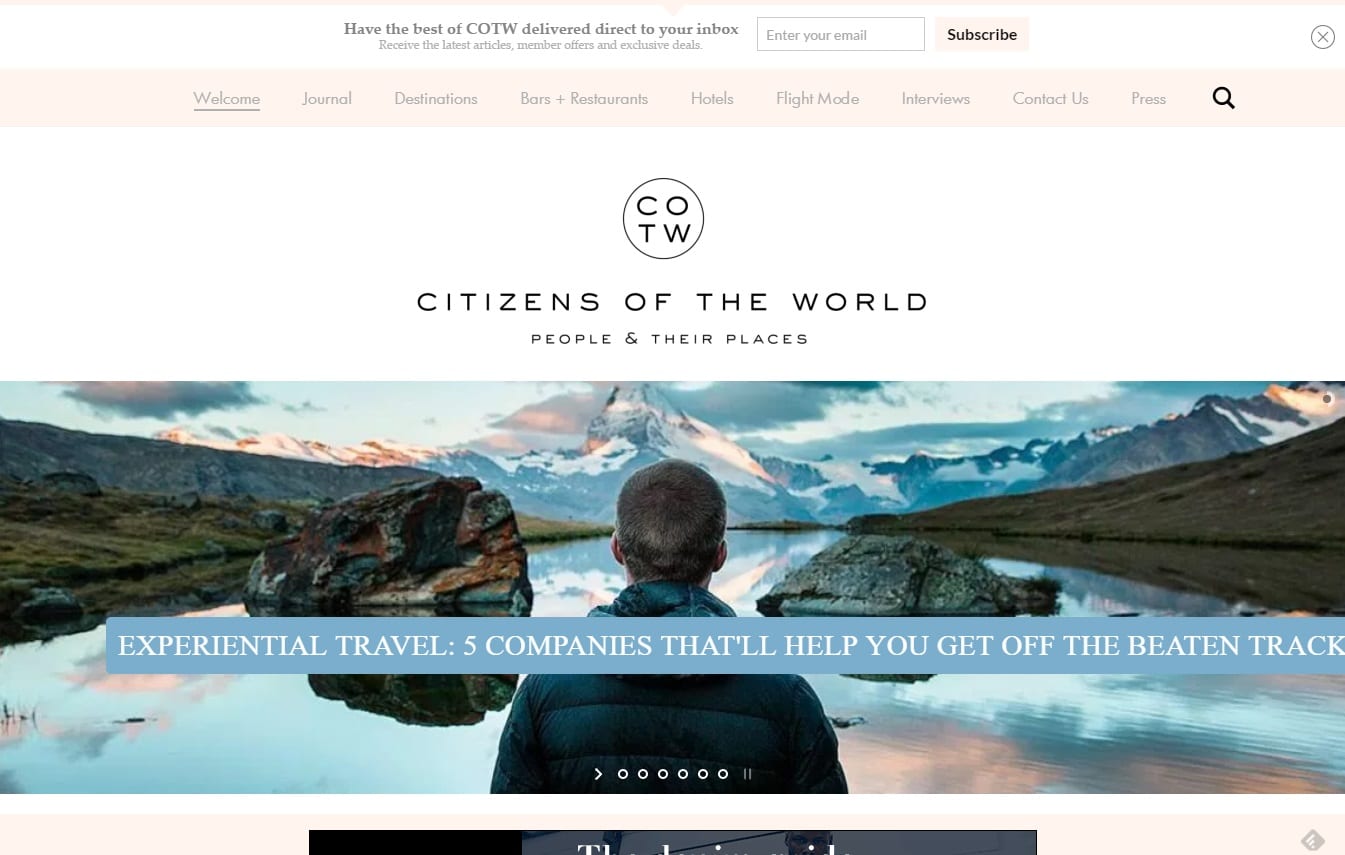 Citizens of the World
Australians are perhaps the most consummate travelers in the world, with an insatiable thirst for new experiences. But there are so many places and so little time, so how does one decide where to go for the next few days? Sure, you can always resort to the old techniques of throwing a dart at a map or spinning a globe and going where your finger stops, or you can get with the times and visit a site that did that already and then focused exclusively on the best results. Enter Citizens of the World. While yes, Citizens of the World is a handy local lifestyle blog for the average Australian, it really shines in the travel department by covering the best that any given global destination has to offer. And if you weren't thinking about leaving the country, you very well might take off for New Zealand or Hong Kong after visiting this site.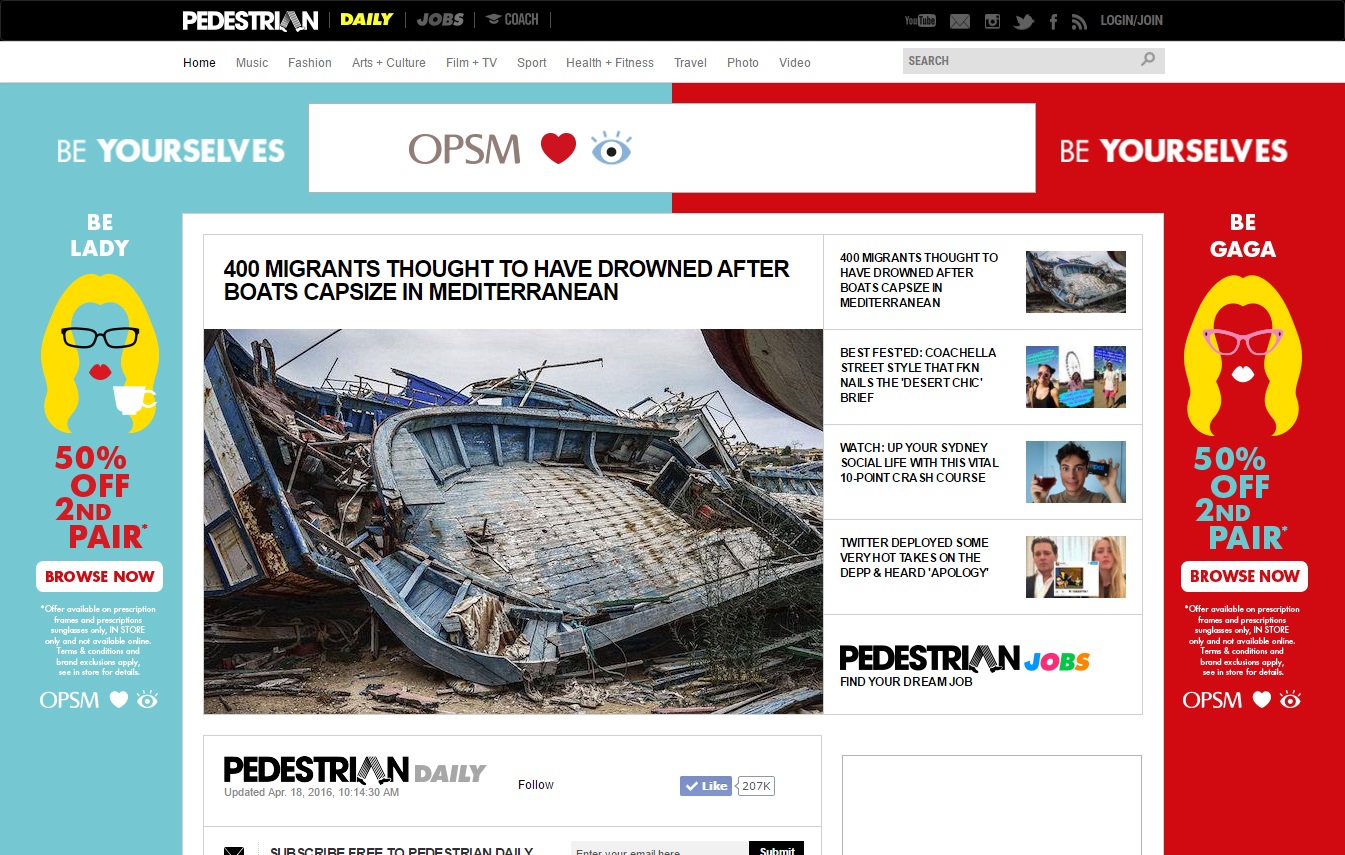 Pedestrian TV
This lifestyle blog has branded itself the "house of pop culture" and it certainly has the content to back up such a claim. The site boasts a tremendous portfolio of lifestyle articles, pop culture news, social media events, and its own recording studio in addition to managing content for artists and companies alike. Pedestrian TV is a refuge for all things pop culture and a immersive world unto itself. It offers an endless range of recommendations for those who want to go out and then an equally endless range of entertainment options for those who'd rather stay in.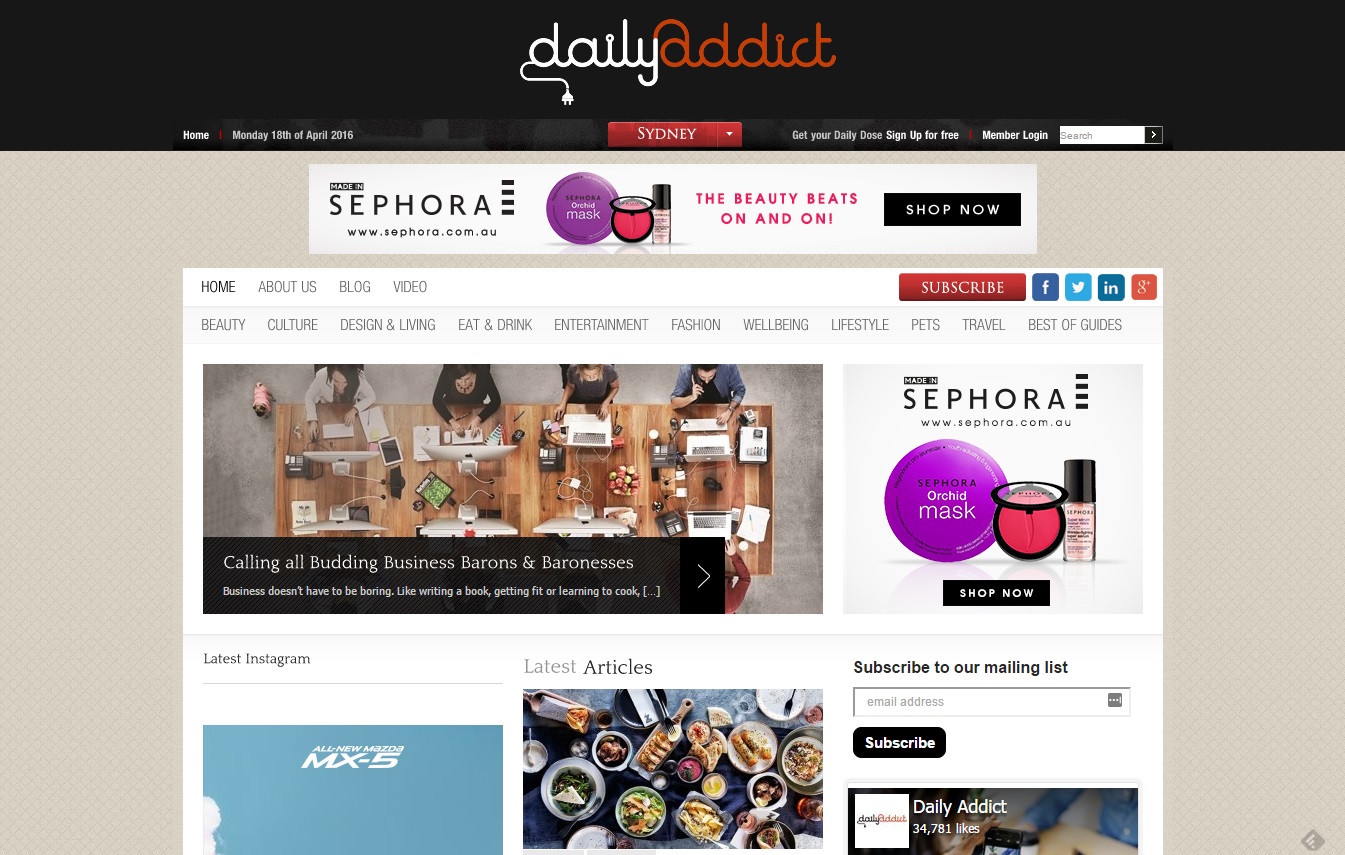 The Daily Addict
In spite of its somewhat low-brow name, The Daily Addict is in fact a lifestyle blog that caters to men with a refined palate for everything from style to dining. Not only does it provide a smorgasbord of places to go and things to do, the site also features helpful articles on living a green lifestyle in the most fashionable way possible. The Daily Addict is the perfect resource for someone who wants to live a long, prosperous and healthy life without sacrificing the indulgences that make a prosperous life worth living.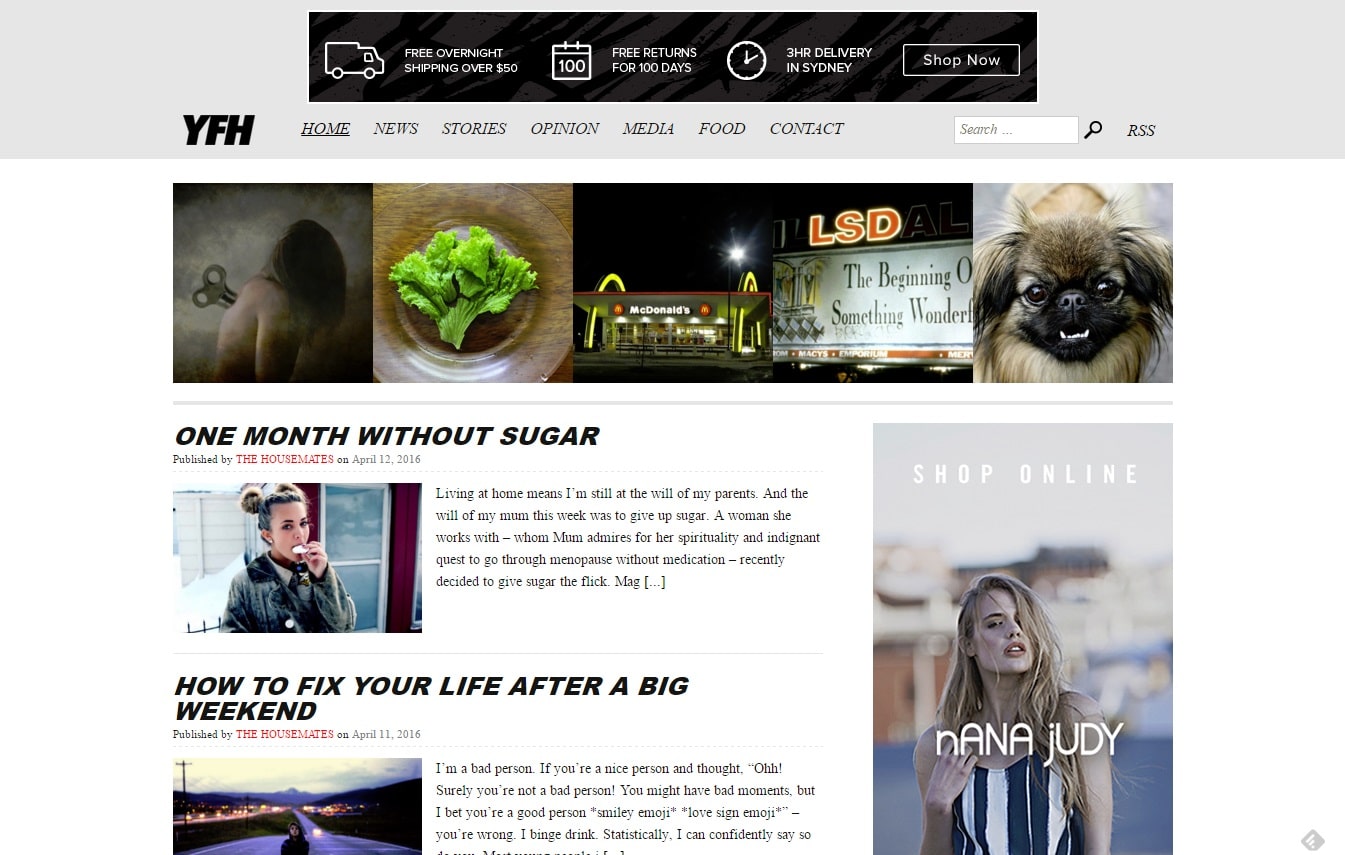 Your Friend's House
You ever know that guy who seems to know something about everything? He seems goofy at first but bring up anything interesting and suddenly he's like a walking Wikipedia. That's kind of what Your Friend's House is, i.e. a refuge of unconventional news and witty banter aimed directly at appealing to the reader. The reporting ranges from casual to serious with an underlying motive to provide articles that never fail to engage. The Food and Pop Culture sections maintain the site's agenda of being informative, funny and familiar all at once. You know, just like that kooky friend of yours who seems to know something about everything.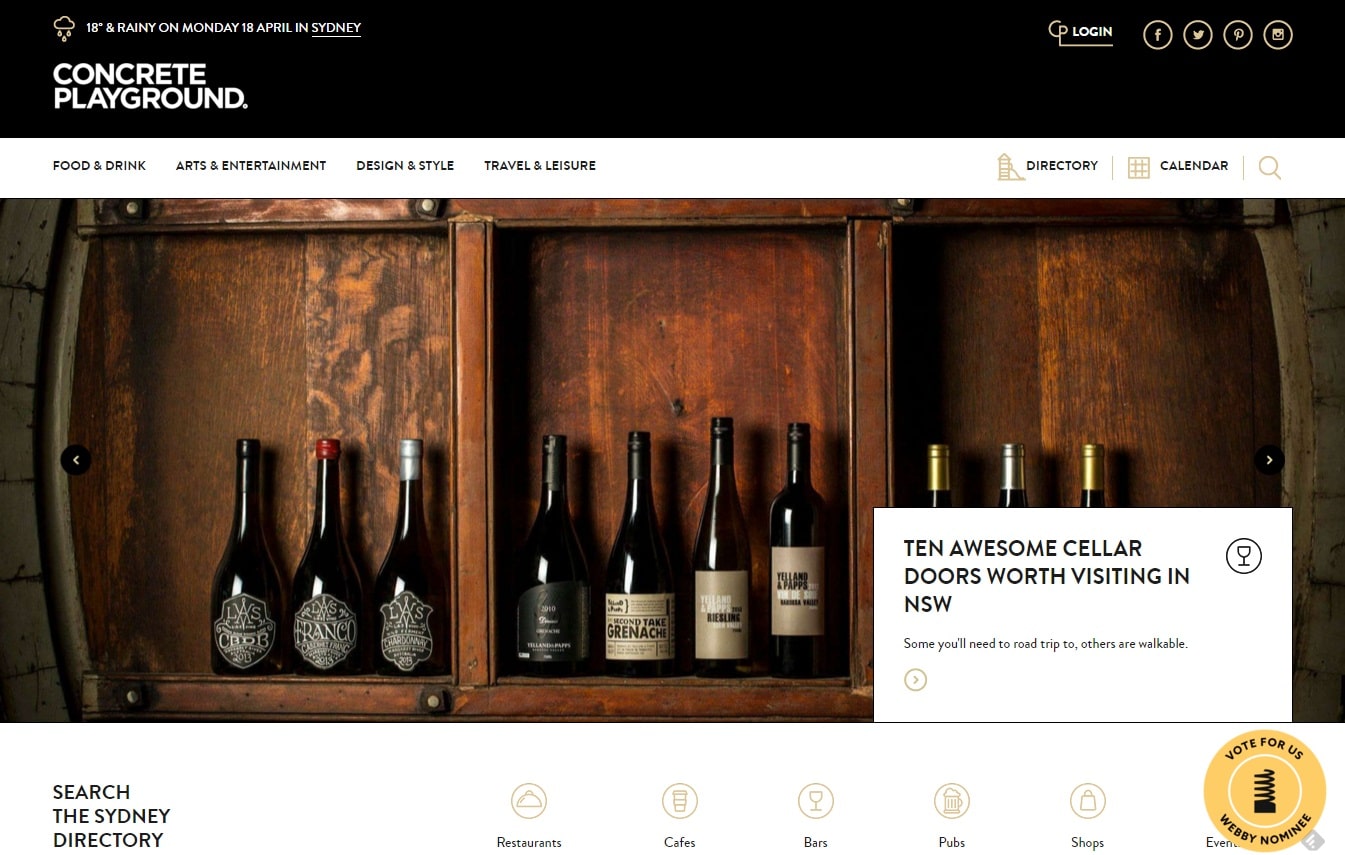 Concrete Playground
This lifestyle blog is like the ultimate guilty pleasure take on front page news, with trending articles and pictures dedicated solely to the latest in food, style and travel. The main page is beyond accessible, going as far as providing star ratings of new restaurants as well as articles on the best things to do for the weekend, which is exactly why you came here in the first place. Concrete Playground is also a lifestyle blog where the layout, design, and photography is as tantalizing as the food and drink. An essential resource.
---
You'll also like:
12 Best Sneaker Blogs
21 Best Watch Blogs
Top 20 Australian Men's Fashion Blogs
---